We have managed to negotiate a great domain.com coupon code deal, exclusively for MakeaWebsiteHub readers.
Domain.com Coupon Code
25% Off All Domains
and Hosting Plans
Simply go to Domain.com and at checkout use the coupon code…SITEHUB to get a massive 25% OFF your domain name purchase.
Domain.com is a one stop shop for new web owners. They offer a number of services that are essential for new bloggers, new website owners and online businesses. These service include domain name buying, email and web hosting and web builders.
Domain Names
Domain.com has a number of different domain name extensions – TLDs (Top level domains)such as .co, .biz, .us, .info .net .com .mobi .space .online .tech and many many more.
With the domain name purchase, they offer URL and email forwarding. You can also manage the domain name's DNS settings as well as locking in your domain to prevent domain name theft.
Web Hosting
Domain.com offers there types of web hosting, should you wish to purchase with your domain name.
Basic. Deluxe and Ultra
All their web hosting packages come with unlimited bandwidth, disk space and subdomains.
Basic plan costs $3.95 per month and is billed annually – with coupon code SITEHUB, this will cost just $2.96 per month
Deluxe plan costs $6.95 per month and is billed annually. It comes with unlimited domain hosting as well as unlimited subdomains. Ideal for those who have more than one domain name to host – with coupon code SITEHUB, this will cost just $5.06 per month
Ultra web hosting plan comes with unlimited FTP logins and MySQL databases. The two previous plans have limitations in these features.
With each hosting account from Domain.com, you get a certain amount of email addresses and cloud storage space.
How to use the Domain.com Coupon Code.
With my exclusive Domain.com promo codes all you have to do is enter the code: SiteHub at the checkout. Your total due will be updated to take in the 25% Discount.
See screenshot below of the checkout coupon code window.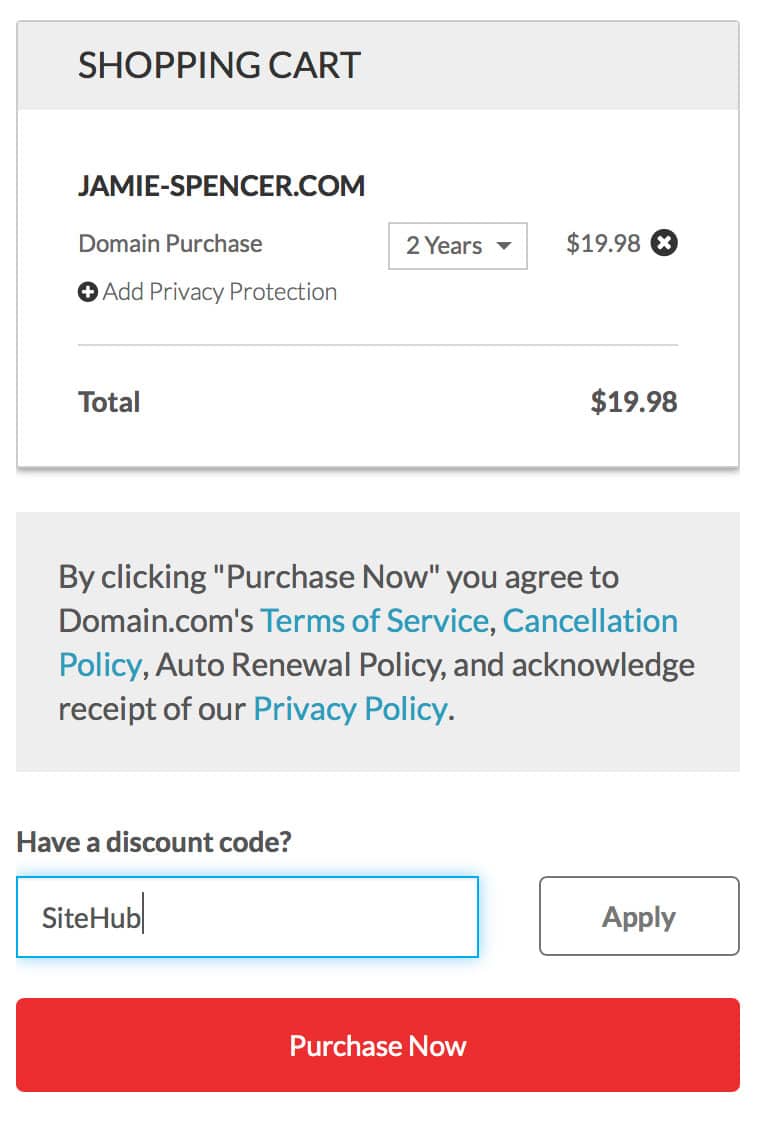 If you were to buy a $9.99 .com domain name from Domain.com and use my exclusive coupon, you will pay just $7.49, that's a saving of $2.50.
If you purchase a domain name and the basic hosting package, normally it would cost you $54.99. With this coupon it brings down the cost of hosting + domain name to just $41.24 for the year!
Discount Coupon Price Examples
Here's a list of domain name extensions prices with the SITEHUB coupon code applied.
.com: $7.49 (without coupon: $9.99)
.org: $7.49 (without coupon: $9.99)
.net: $9.74 (without coupon: $12.99)
.website: $2.99 (without coupon: $3.99)
.space: $2.24 (without coupon: $2.99)
.co: $8.24 (without coupon: $10.99)
.io: $35.99 (without coupon: $47.99)
Can I Pay Monthly with Domain.com?
Unfortunately you can't pay monthly for your domain name or hosting with domain.com.
Some web hosts and domain name service providers do offer monthly payment plans, but these tend to be extremely expensive. Be prepared to pay as much as 60% more for your hosting when you pay monthly.