Since the early days of the Internet, successful domain names have held far more value than what most people think. A thriving domain is like a piece of digital real estate. If you own a sought-after piece of Internet property, there may be people who are willing to shell out a significant amount of money for it.
Some of the most expensive domains ever sold were purchased with eight-figure price tags! While the chances of your domain holding that much value are pretty slim, you may be sitting on a relatively profitable commodity.
To get a better insight into what people would be willing to pay for your domain, you'll have to figure out its estimated value. Domain valuation is a crucial first step in the sales process. However, you don't have to be actively pursuing a sale to do it. Many owners utilize appraisal techniques to see how they can improve their website and increase the domain's overall value.
Evaluating a domain and coming up with a monetary value is a holistic process. There's no magic formula that will provide you with a price tag in a few minutes. The process involves looking at several factors and understanding the market.
Why Domain Appraisal Is Important
Whether you own a simple blog or a thriving e-commerce site, knowing the value of a domain that you own can make a huge difference should you ever decide to sell. In our increasingly digital world, there's a lot of money to be made by buying and selling domains. There are only so many good addresses to go around. Having a general idea of what your investment is worth can give you the upper hand during negotiations.
If you're ever approached by a person or company that wants to purchase your domain, they've probably already looked at the hard data and appraised it themselves. The last thing you want to do is put the ball in their court and get ripped off. By knowing how much it's worth, you can offer a fair price and negotiate from there.
From a practical standpoint, domain names are simply part of a web address. However, they also play a larger role that extends beyond the confines of the World Wide Web. Businesses rely heavily on domains for advertising and brand identity. The domain is also directly associated with the company and how it does business. You can use this to your advantage and gauge how much interest your domain name really holds with a potential buyer. If the buyer is very serious about making a purchase, your knowledge of the domain's worth can help you get the most money possible.
Domain Basics
A domain name refers to the memorable part of the URL. It's what web users type into their browser's address bar to visit the website. Within the domain name itself, there are two elements that could affect the final valuation.
The first part is called the second-level domain, or SLD for short. This is typically the name of the website itself. Companies often use their own name in lieu of a separate identifier. For the address Google.com, "Google" would be the SLD.
Then, there's the top-level domain. The TLD is the short extension that follows the SLD. The most popular TLDs include .com, .org, and .net. However, hundreds of new generic top-level domains are also available.
Factors That Determine Domain Worth
As we mentioned earlier, there's a lot to consider when you're trying to determine the value of your domain name. To perform an accurate appraisal, you need to understand how these factors can make a website successful and why they're important.
Relevant Keywords
Having solid keywords in your domain name can drive up the value significantly. Getting noticed online is all about Search Engine Optimization, which relies heavily on keywords. Keywords are what people use to find new products, sites, and services pertaining to their particular search queries. If you have a keyword right in your domain name, the website will appear higher up on search engine rankings. Thus, increasing visibility.
Companies can spend several thousands of dollars just to get their site noticed. Many will utilize Google AdWords and pay for exposure on certain keyword searches. All of that can be avoided with a solid domain name, which is why this factor is important.
The most lucrative domains have utilized broad keywords that can easily be adapted to the needs of the buyer. Some examples include Hotels.com, Cars.com, and Insurance.com. Big corporations snatched these up for millions of dollars and have gone on to do big things, proving that the large investment was well worth it.
Checking the Popularity of Keywords
If you're unsure about any words in your domain name, you can turn to Google for more information. Google Trends allows you to see how the popularity of keywords rises and falls over time. You can even see how many monthly searches are made. When you're determining your domain's value, use this tool to accurately gauge where those keywords currently stand.
While your domain may consist of a recognizable keyword, that doesn't necessarily mean it's relevant to what end-users are after. Check to see how popular the word is to determine how it affects the domain's overall value.
Top-Level Domain
There are numerous TLDs available. However, most people are only familiar with the generic ones. Domain extensions like .com, .net, .co.uk, and more have been around for a very long time. They're instantly recognizable. As a result, most people stick with URLs that end with these extensions. Despite all of the fun and quirky TLDs that have been made available in the past couple of years, Internet users still view the old favorites as more trustworthy.
Regular Traffic
The success of the domain can also be a driving force during valuation. Established websites already have an audience, which makes things much easier for anyone who purchases the domain. If the site is monetized, the value can go up even further. You would be giving a stream of passive income, so monetization efforts are always considered when appraising a domain name.
Age
Domains that have been around for a long time have a higher value because they help with SEO. Search engines tend to rank established sites higher up on results pages. Though, this only applies if the domain has been active. Parked domains or those that only display ads for monetization aren't as valuable. Search engines like Alexa and Google pay attention to value-driven content, so parked domains don't have as much leverage in negotiations.
You can also use the age of the domain and its contents during sales discussions. Sites with years of content hold a much higher value than those that were established only a few months ago.
Branding
This refers to how the domain name looks and feels. It can be difficult to apply monetary value based on branding, as your domain name's appeal can be different from person to person. Like we mentioned earlier, the domain name is something that going to be associated with the company or person who buys it.
A unique attention-grabbing domain is much easier to market than one that's just a string of letters. Think about how your domain name could be applied to different industries. It doesn't even have to be a real word. If it sounds good as a company name, you may be able to find a generous buyer for it. There have been many instances where businesses changed their name to fit a domain rather than the other way around.
Number of Characters
When it comes to URLs, short and sweet is always preferred. Shorter domain names are easier to remember and can be used a number of different ways. Unfortunately, many short names have already been registered. This is especially true with a basic TLD like .com. Most buyers would rather pay more for an available short domain than save money and have a new domain name that's difficult to type out.
How to Appraise Your Domain Name
Now that you know what makes a great domain name, it's time to start getting information about your own. The details in the previous section, while important, are all theoretical. They should be used as a guide to get a ballpark estimate. If you want more accurate data, you can employ the following methods.
Compare Your Domain to Recent Sales
When people sell a car, they usually check out recent sales data to see how much they can get for it. The same thing can be done with domains. Many websites offer information about recent domain sales. These include sites like DNJournal or ShortNames.
While you can't search these sites and get an exact match for your domain, you can take a look at transactions from the past few weeks. Take a look at the domain itself and how much it went for. You can use the data to compare and contrast the quality of your own domain and come up with a reasonable starting price.
See What Buyers Will Offer For Your Domain Name Right Now
There's no better way to get the real value of your domain than to put it up for sale. This may seem a bit drastic, but it's incredibly effective. You see, estimations will only get you so far. Your domain's actual value is how much real people are willing to pay for it. Just because it seemingly fits all of the criteria doesn't mean that you'll get a ton of money for it. On the other side of the spectrum, you may think that your domain name doesn't hold much value at all, only to find someone who has been searching high and low for something just like it.
This technique can be a bit tricky, but there are ways to minimize the risks. Essentially, you're going to put an ad up for your domain on a marketplace website as if you were selling it. Then, you simply wait to see what kinds of offers come in. To ensure that your domain name doesn't actually get sold, you can apply a reserve to your listing. This reserve prevents the sale from going through unless a certain threshold is met. On domain marketplace sites like Flippa, you can set the reserve amount pretty high and hide the amount from buyers.
Most domain auctions last for about two weeks. During this time, people will view your ad, check out your domain, and make offers based on what they think it's worth. Because your reserve is hidden, there's no outside influence whatsoever. Just real and honest information about the value of your domain.
Invest in Domain Valuation Tools & Services
If you want the most accurate information about how much your domain name is worth, a valuation service is a great option for you. These sites take care of all the research for you. They'll make comparisons to similar domains and consider every factor to come up with an estimate.
The great thing about using a valuation service is that the reports they produce are filled with hard data. Many tools will provide analytics for everything from page views to keyword values.
Domain Valuation Services To Check Out
The following domain appraisal sites offer a convenient service that's accurate and easy to use. They can determine your domain value and provide you with data to back up those findings. Of course, there's no guarantee that you'll actually get what these domain valuation tools tell you. However, the information they provide can provide you with a realistic asking price to get you started when you want to sell.

Estibot.com is a free domain appraisal service that's capable of providing you with some in-depth information you may not have known about your domain. Many aspects of your site are considered prior to determining its worth. In addition to the factors covered earlier, Estibot focuses on the potential a domain may have. To do this, it looks at how keywords are optimized and how much advertisers would pay per click.
Once you make a report, you'll have access to all kinds of metrics. Detailed lists and graphs display how the domain performs against similar competitors, giving you and potential sellers a good idea of what its capable of. If you ultimately do decide to sell, Estibot has its own marketplace. The service can even generate leads to help you find buyers.

GoDaddy is one of the biggest and one of the best domain registrars in the business. It only makes sense that they would offer an appraisal tool. This service is very powerful. It uses machine learning, a proprietary valuation model, and the company's massive data library to determine a final price.
The service takes a look at many different parts of the domain. One of its biggest focuses is search engine optimization. GoDaddy will check the popularity of any keywords in the domain name and assign them a value. The company can also scrutinize the length of the domain name, how much traffic the site gets, and more.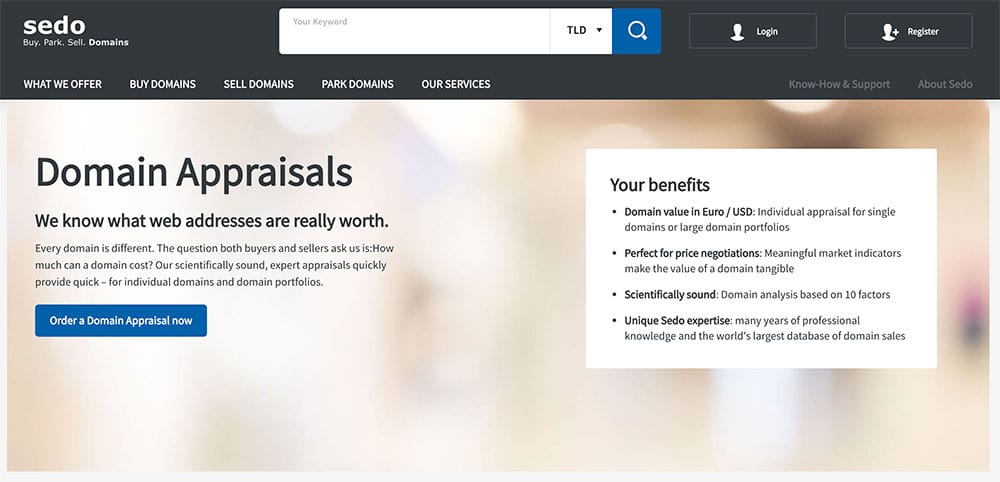 Utilizing the appraisal service from Sedo does come with a higher price tag. However, the company is a premium domain evaluator that analyzes 10 different factors to come up with a final value. Some of these factors include how well it's optimized for search engines and how suited it is for advertising.
Sedo can evaluate a single domain or your entire portfolio. One unique thing that sets this company apart is that they have the largest website sales database in the world. Your domain is compared to information within this database so that you can get a better idea of what to expect.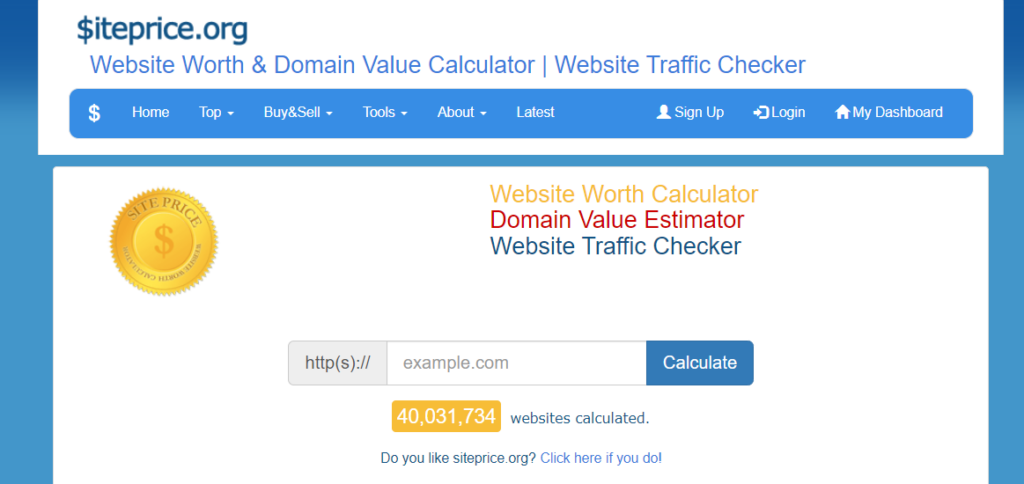 $itePrice uses a variety of metrics, including website rankings, keyword popularity, statistics, and sales of similar domains to arrive at an estimated value for your domain.
One of the key features of $itePrice is its ease of use. Simply enter your domain name into the valuation tool, and within seconds, you'll receive a detailed report on the estimated value of your domain. This report includes a breakdown of the various metrics used to arrive at the estimated value, allowing you to see how your domain compares to other domains in its niche.
Your report will show you an estimated valuation of not just the domain, but the website as a whole, based on data collected from sources including SemRush, Moz, Majestic, social media site and search engines.
In addition to its valuation tool, $itePrice also offers professional appraisal services by experts. For a fee, you can have a professional domain value checker assess the value of your domain, taking into account a wide range of factors and metrics. This can be particularly useful if you're looking to sell your domain and want a more detailed and comprehensive appraisal.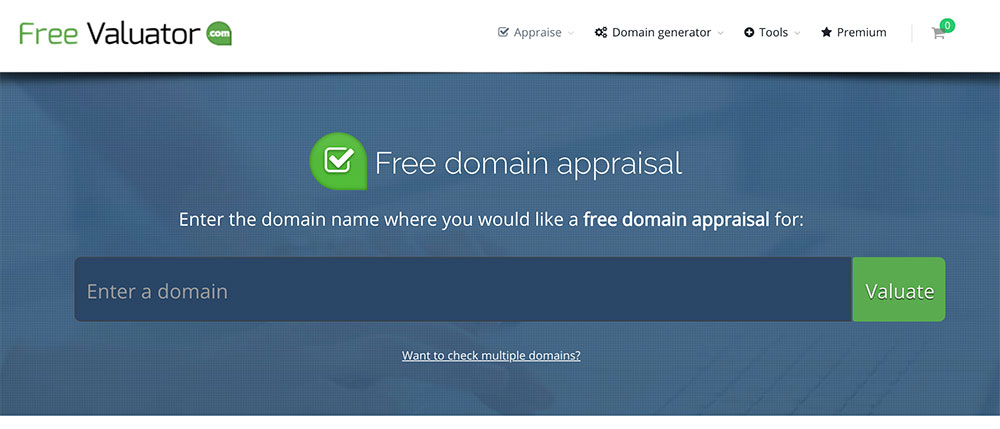 As the name implies Free Valuator is a tool that doesn't cost a dime to use. Though, the tool does offer a couple of paid services if you want more in-depth information. Like many of the tools on this list, the domain is compared to recently sold names. It uses Alexa and Google as well to gather information about SEO and traffic statistics.
Once your free valuation has been completed, you have the opportunity to buy a premium appraisal or crowd appraisal. The premium option is performed by a professional. With the crowd appraisal service, you can get feedback from some of the site's users to see what people would actually pay.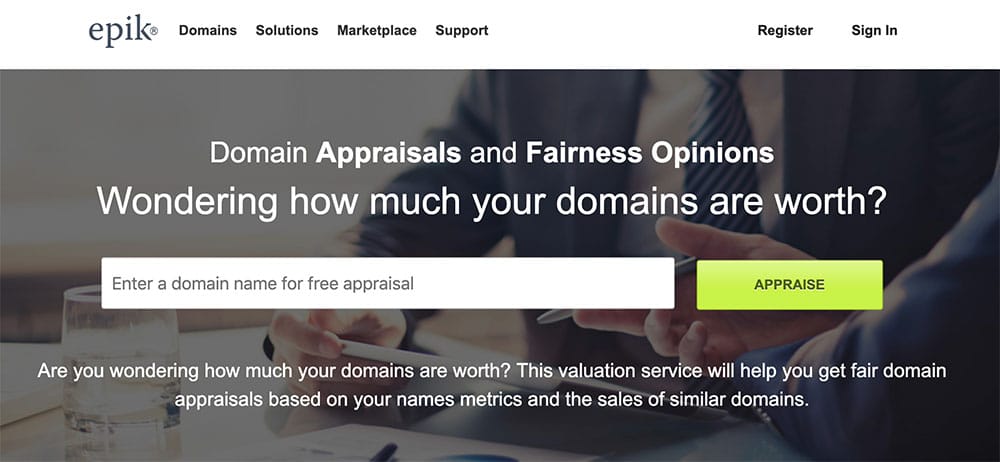 Epik is considered to be the go-to tool for those who are serious about buying and selling domains. The company has a unique feature called "Fairness Opinion." Essentially, you can get a transaction reviewed by a professional to see if the sale is honest and fair. It's a handy feature that can provide you with peace of mind regardless of which side of the transaction you're on.
When it comes to evaluations, Epik has two versions. One is free while the other is a more personalized appraisal by a professional. Both utilize Alexa ranks and information from archive.org to determine the outcome.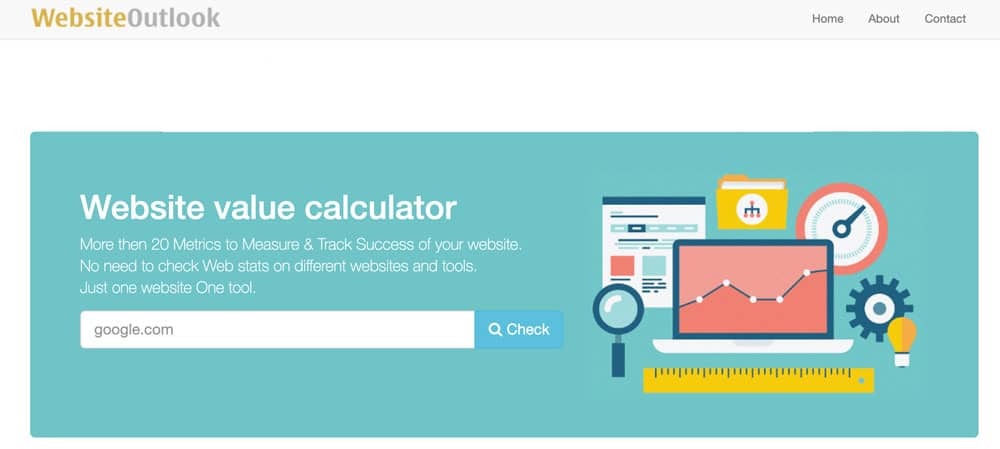 Website Outlook is a free service that provides a surprising amount of information. Over 20 different factors are examined during the evaluation, all of which are driven by hard data. It'll take a look at your daily visitors, keyword usage, and Alexa rankings.
One cool feature of this tool is its ability to show you how much it would cost you to utilize AdWords. This affects the final value of your domain while also giving you the information you need to make improvements.

This appraisal tool is very easy to use. Just input your domain name in the empty search field and the tool will do the rest. It looks at many of the same factors as other valuation companies. However, it also taps into Alexa rankings and Moz.
All of the data produced is color-coded for readability. You can scan through the information to see how your domain stacks up to similar sites. StatChest even provides some safety information. It determines whether or not the domain is trustworthy and provides recommendations to potential buyers.
DomainIndex is a tool that's marketed towards website owners looking to improve. However, it can also be used to figure out the overall value of a domain to see what you can get for it. To come to its conclusion the tool will consider all factors and check with Alexa ranks.
The final report is separated into three sections. It shows you advertisement revenue and page views. Best of all, it can be set to display information daily, monthly, or yearly. This lets you see how traffic and performance have changed over time.
Conclusion
As a website owner, it's always good to know how your domain is doing. Whether or not you actually want to sell is irrelevant. Understanding how much your domain is worth can help you bring your website to the next level. If you do decide to sell your domain, doing a bit of research or using one of the many available appraisal sites can ensure that you're getting a fair deal.
The following two tabs change content below.
Jamie Spencer
My name is Jamie Spencer and I have spent the past 10 years building money making blogs. After growing tired of the 9-5, commuting and never seeing my family I decided that I wanted to make some changes and launched my first blog. Since then I have launched lots of successful niche blogs and after selling my survivalist blog I decided to teach other people how to do the same.
Latest posts by Jamie Spencer (see all)