If you're looking for a web hosting option with a bit more control and flexibility than what you can get from typical hosting plans, VPS is the way to go. VPS stands for virtual private server. It strikes a nice balance between the affordability of shared hosting and the robust resources of dedicated hosting.
These plans let developers dip into the world of server management without all of the stress and costs that come with pricey packages. Premium VPS hosting can cost you a pretty penny, too. However, you don't have to spend a single dime to see what VPS hosting is all about. "Free VPS? Yes, please!"
Free VPS hosting does exist. While free hosting service is never going to be as powerful as paid alternatives, free plans are great if you're just getting started. You can test the waters to see if it's right for you and your needs. In this guide, I'm going to tell you about the best free VPS plans on the market. Whether it's limited free plans, lengthy trials, or respectable money-back guarantees, you'll find it here.
Free VPS Server Plans
Before we get into the good stuff, it's important to manage your expectations. I've managed to find a nice selection of free services you can try out. But, there are some caveats. Don't expect to receive top-of-the-line service with a free plan. In most instances, many of the features will be limited. Furthermore, you might encounter some resource capping or stipulations in the fine print.
Be wary of potential scams. Do your research about the company before you sign up for any free deal. As the saying goes, "if you're not paying for a service, you're the product." Some companies will cover the cost of free service by collecting your private information and selling it to third-parties. Of course, this isn't always the case, but it's important to be careful and understand what you're signing up for before you provide any personal information.
Here are some free plans you should check out.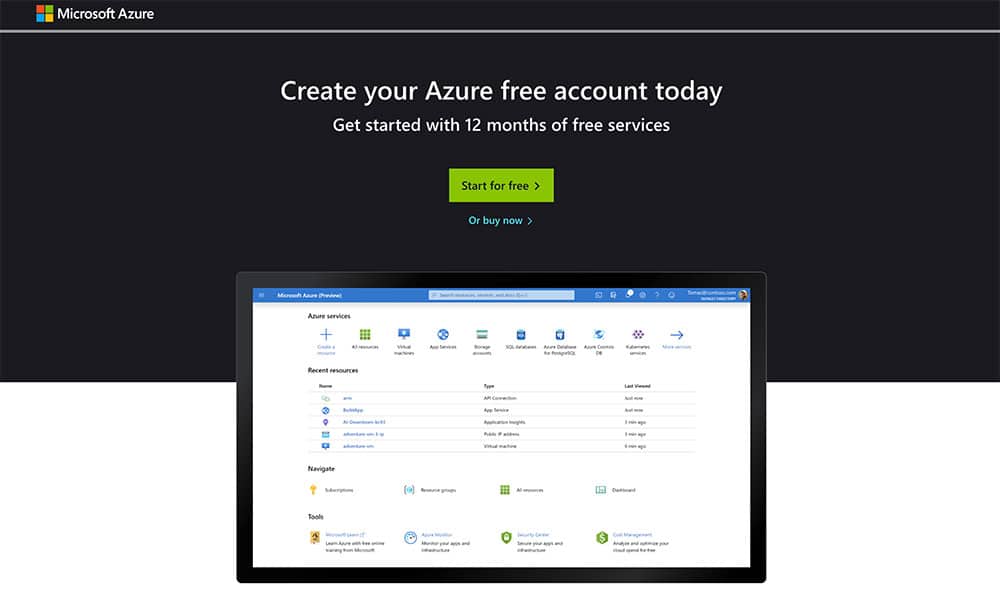 Microsoft is one of the biggest names in tech. The Azure VPS service is incredibly popular among developers and big-name companies. With a simple registration, you can experience the power of Azure all for yourself. A credit card is needed for registration. However, you're not charged for 12 full months unless you decide to upgrade. Then, pricing follows a pay-as-you-go model.
The Azure management system is quite robust. You're able to build blockchain networks, utilize machine learning systems, and so much more. It can be complicated or those who don't have a lot of technical prowess. With that said, you have a full year to get your bearings and learn the system before you need to start paying. Even if you don't upgrade, Microsoft has a great selection of free features to take advantage of.
Why I chose it: Microsoft Azure is a robust platform, and the free tier provides a variety of services that cater to different needs.
Key Features:
12 months of free service
$200 credit to use other Azure services
Linux and Windows systems available
Up to 15 GB of outbound bandwidth
64 GB of SSD storage
Selection of "always free" services
Requires credit card for registration
Can be used for apps and mobile software
AccuWeb Hosting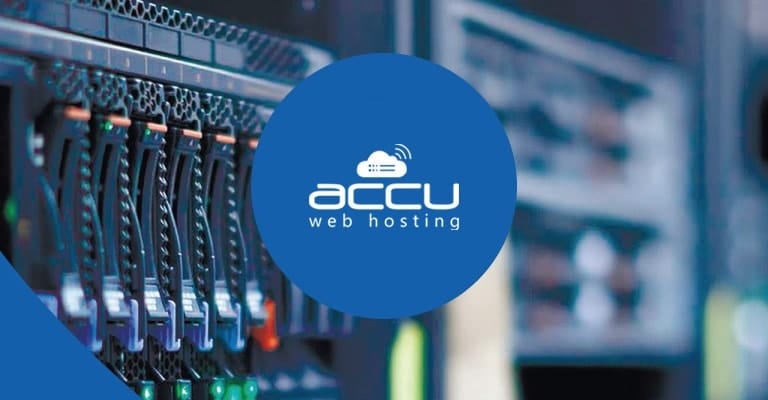 AccuWeb Hosting is a seasoned provider that offers a full 30-day trial. While other companies require a credit card or have strict limitations on what you can do with a free VPS, that's not the case with AccuWeb Hosting.
After signing up, which doesn't require a credit card, you have full access to service. It's completely ad-free and contains most of the same features you would be using with a paid account. For the free VPS service, data centers are in the United States. Paid plans can chose data centers from around the world. To keep your site protected, all plans come with server firewall and free backups.
Key Features:
One month of ad-free service
No credit card required
Windows-based VPS hosting
Full root access
2 CPU cores and 1 GB of RAM
35 GB of storage
500 GB of bandwidth
Weekly Backups
One dedicated IP address
Amazon Web Services – Lightsail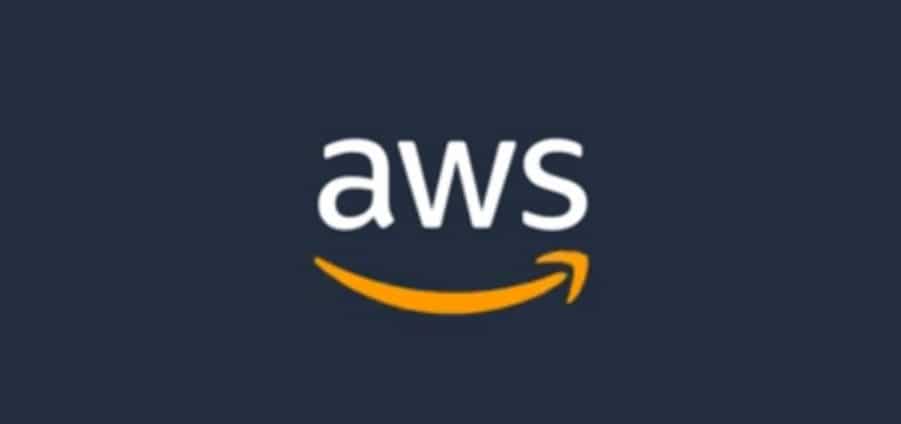 Like Microsoft Azure, Amazon Web Services is a trusted VPS service that's used by developers and huge enterprises. Amazon makes it easy for website owners to learn about VPS systems with the free tier of their LightSail service. Not only are you getting a full service for 3 months without having to pay anything, but the plan comes with tutorials to get you started.
Once you create your virtual machine, you can configure it how you want through web-based tools. There's also a mobile app for remote configuration. Several security features and free AWS products are available as well. One cool thing about AWS is that there is a monitoring system. It helps you keep track of your resources so that you can budget accordingly. In the case of the free plan, it'll prevent you from doing too much and being charged.
Why I chose it: AWS is an industry leader, and their free tier allows beginners to explore their vast range of services without any upfront cost.
Key Features:
3 months of free VPS service
Several "always free" features
Includes 750 hours of use
Comes with 5 GB of storage
No credit card needed
Access to tutorials and guides
Intuitive control panel and management tools
x10Hosting

x10Hosting is no stranger to the web hosting industry. With over a decade of experience, the provider has a proven track record of smooth and reliable success. All of the plans, including the free option, are cloud-based. This has many advantages. The biggest is that the company is able to offer unlimited storage and bandwidth.
It's a scalable solution that will grow with your needs. If you're familiar with web hosting, you'll be happy to know that the service comes with many features you're used to. This includes the cPanel interface and a simple management system. The only downside to x10Hosting's free plan is that you don't have access to everything paid users have. There's no root access and you won't be able to control every aspect of the VPS.
Key Features:
Fast cloud-based service
Unlimited SSD storage and bandwidth
Linux-based VPS
512 MB of RAM
cPanel access
Once-click installs for software like WordPress
Free plan has limited features
Google Cloud Platform

You can sign up for Google Cloud Platform and take advantage of many features for a full year. The registration process is very simple. This is especially true if you're already a part of the Google ecosystem. The free plan comes with some use limitations. However, it's still quite impressive because you're using the powerful cloud infrastructure.
With the plan, you can use a wide range of products. This includes app engines, API platforms, and more. The control panel you use to control your VPS is very user-friendly. The simple design makes it easy to get the hang of things while still giving you plenty of opportunities to get the experience you're after.
Why I chose it: Google Cloud is known for its reliability and performance, and the free tier provides a great opportunity to test its services.
Key Features:
12 months of free service
Many "always free" features
Simple signup process
Has use limitations
Simple control console
Comes with 1 GB of storage
Comes with 120 build minutes per day
ALA VPS

ALA VPS is a provider that not too many people know of. However, they have a strong commitment to delivering quality performance, security, and scalability. They offer a completely free plan that comes with basic but adequate resources. You're not going to get the most powerful virtual machine out there. Though, the resources you do get will be fine for simple websites.
The free VPS package is an excellent choice for beginners and users who have limited resources. With this package, clients can enjoy 100GB SSD storage, adequate RAM, and sufficient monthly data transfer allowances. This allows users to host their simple websites or applications and learn the ropes of server management without incurring any costs. If you later decide to scale up to a chargeable package it's as easy as a few clicks.
The server technology ALA VPS uses supposedly loads sites three times faster than other providers. While there's not a ton of information about the data centers available, the core features included with the free plan are very good. Your VPS is set up within minutes. After that's done, you get full root access and DDoS protection, as well as a free SSL certificate. ALA VPS doesn't require payment information upfront, which is also nice.
Key Features:
Comes with 1 CPU core and 1 GB of RAM
100 GB of disk space and 1000 GB of bandwidth
Linux and Windows-based hosting
Instant deployment
DDoS protection built in
Free SSL Certificate
Root access
Comes with 120 build minutes per day
Digital Ocean VPC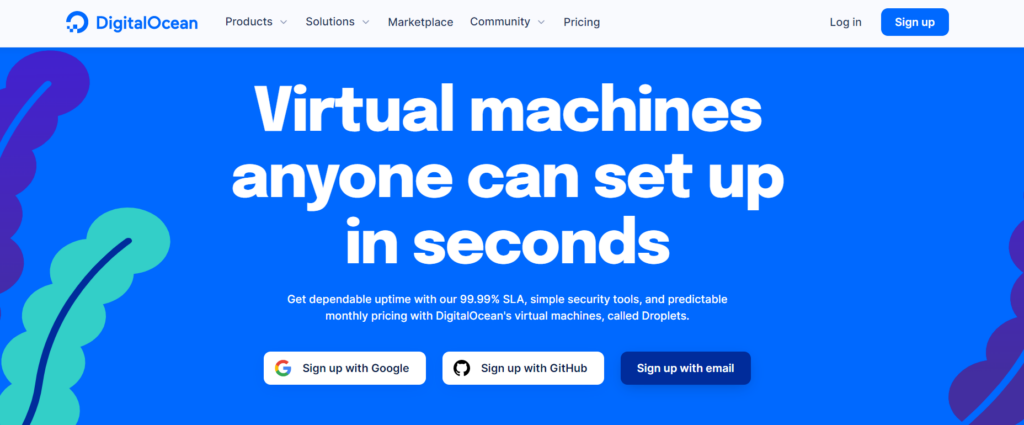 Digital Ocean is an established VPS provider that's known for its great performance capabilities. The VPS plans are all cloud-based (VPC) and come with a 99.9 percent uptime service level agreement. VPS plans are only free for 60 days. After that, you will need to pay the regular monthly fee to retain access.
The good news is that the free trial doesn't limit you in any way. It's meant to give you an idea of what the service is like, so you have access to most of the features available. This includes one-click installers and security features. One thing we like about Digital Ocean is SetupServer.io. This is the provider's control panel. It's very easy to use and lets you manage every aspect of your VPS from one place.
Why I chose it: DigitalOcean's free trial provides a straightforward way to try out their hosting services. They have a solid product with a user-friendly interface.
Key Features:
Cloud-based hosting
60-day free trial
Requires a credit card to sign up
Can signup with Google account
Comes with proprietary VPS management tool
99.9 percent uptime agreement
One-click app installation
Uses optimized servers
VPSWalla

While VPSWalla markets its free service towards students, there are no strict requirements for getting the free plan. You don't even need a credit card. In terms of specs, the free web hosting option comes with enough resources to create a small website or PHP server.
The VPS uses OpenStack and KVM. Whether you choose to use the Linux or Windows-based system, VPSWalla provides you with a unique control panel to configure your virtual machine. The tool is simple to use and provides you with full root access.
Why I Chose It: The free package offers everything you need to host a small website and get familiar with the product. It's easy to scale up if you decide to do so.
Key Features:
No credit card required
Comes with 2 CPU cores and 2 GB RAM
25 GB of SSD storage and 1 TB of bandwidth
Free SSL certificate
Root access
Dedicated IPv4 and IPv6 addresses
Windows or Linux
InstaFree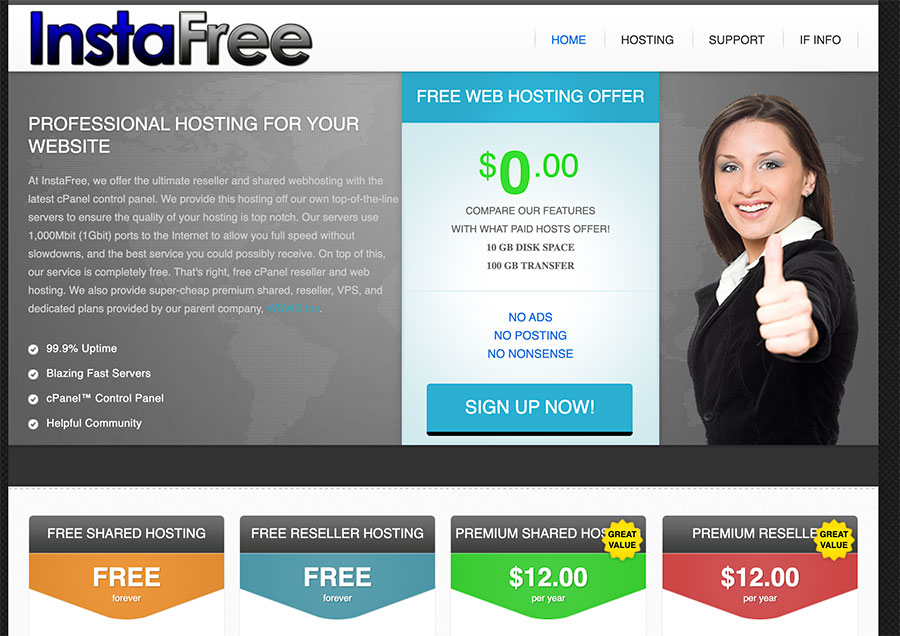 InstaFree is a great option if you're simply looking to learn the ropes. The free VPS plan is quite limited. It has fewer resources than some other options. With that said, you still gain access to many useful features. For example, you can control your VPS through cPanel and take advantage of Softaculous for one-click installs of your favorite apps or scripts.
InstaFree does not offer a free trial. So, you can use the free plan for as long as you like. You'll only need to pay if you decide to upgrade and get more resources. In addition to free VPS hosting, InstaFree offers reseller plans, shared, plans, and more.
Key Features:
1 CPU core and 256 MB of RAM
5 GB of storage and 50 GB of bandwidth
Comes with 2 dedicated IP addresses
DDoS protection included
99.9 percent uptime
cPanel access
One-click app installation
Not available everywhere
Club VPS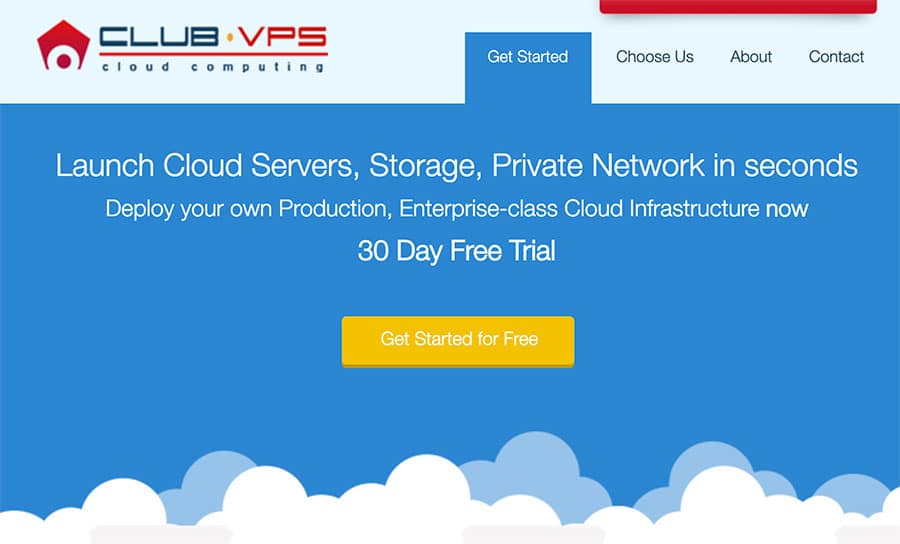 Club VPS has over two decades of experience in this industry. The provider offers several highly customizable plans to suit your needs. While they don't have a dedicated free plan, you can take advantage of the service for up to 30 days thanks to the free trial. There aren't any limitations with this trial, so you can configure your VPS how you want.
Club VPS has data centers throughout the United States, Europe, and the Middle East. There's also a single data center in Hong Kong. You get to choose where your server is located. Furthermore, you have your choice of many different operating systems. Club VPS offers both Windows and Linux-based systems.
Key Features:
Free for 30 days
No credit card needed
Cloud-based hosting
Customizable resources
Several operating systems available
Ability to choose server location
User-friendly control panel
Good customer support
WoomHost

WoomHost offers several different free hosting plans. This includes two VPS options. With a free VPS plan, you're getting a moderate amount of resources to use as you please. The provider lets you choose between Windows or Linux-based hosting. To ensure that you're getting plenty of usable resources, the Windows plans include a bit more RAM, bandwidth, and storage.
It's not easy getting information about WoomHost. While the site is well-designed and there are a few different ways to contact support, you won't find much information about the company or where the data centers are located. Also, you may have to wait for several days or weeks for it the service to become active.
Key Features:
Free cloud VPS hosting
Linux or Windows
2 GB of RAM and 2 CPU Cores
120 GB of storage and 1.5 TB of bandwidth
3 MySQL databases
One-click installation
Live chat support
Nearly Free VPS Hosting Solutions
All of the plans from the hosting companies we went over in the previous section are excellent for those who are just wanting to give the hosting service a try. If you're serious about creating a website and gaining control of your resources, we strongly recommend going with a paid plan.
Spending a few bucks for premium service has many advantages. First, you're likely to get better performance and reliability out of something you pay for. Paid plans come with several features that can help you make the most out of your VPS. On top of that, you usually don't have to worry about the risk of scams or having your personal information sold.
Luckily, you don't have to pay tons of money to invest in VPS hosting. The following VPS hosting plans are very affordable, allowing you to take advantage of the service without breaking the bank.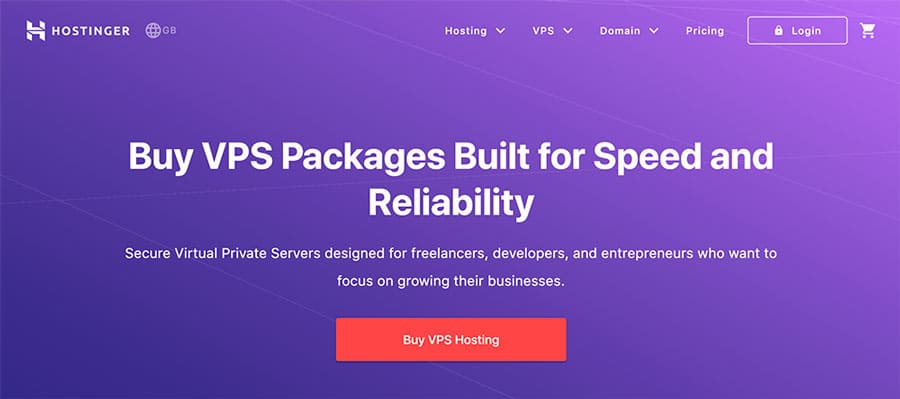 Pricing:
Starts at $3.95 per month with promotion
Hostinger is a popular provider that offers several different web hosting services to choose from. The VPS plans all use cloud servers, making them fast, reliable, and very powerful. The cheapest plan only costs you a few dollars per month. With it, you're getting plenty of resources to make a modest site. Plus, the plans come with some high-quality features.
These include full root access, a well-designed control panel, and SSD storage. Best of all, Hostinger offers 24-hour customer support to help you with any issues that need to arise. Whenever you're ready to upgrade your plan to something a bit more robust, it's easy to do so with Hostinger. You can get up to 8 CPU cores, 8 GB of RAM, and 160 GB of storage. Windows servers are available as well.
Key Features:
VPS cloud hosting
Windows and Linux available
Full root access
Solid-state storage
24-hour support
Simple app and script installer
Intuitive control panel
30-day money-back guarantee
InterServer

Pricing:
Starts at $6.00 per month
For less than the price of a ticket to the movies, you can create your very own virtual server. InterServer has flexible plans that let you customize your VPS to meet your needs. The cheapest option comes with 1 CPU core, 30 GB of storage, and 2 GB of memory. On the other end of the scale, you can top things out with 16 cores, 480 GB of storage, and over 32 GB of RAM!
The service works with all of the latest versions of popular scripts. Thus, you can create feature-rich sites without having to worry about compatibility issues. You can also deploy hundreds of different apps. InterServer has data centers across the United States. When you set up your virtual server, you can choose which data center you want to use.
Key Features:
Cloud VPS hosting
99.9 percent uptime guarantee
Available backup systems
cPanel access
Full root access
SSD storage
7 different operating systems to choose from
Scalable
Hostwinds

Pricing:
Starts at $4.99 per month with promotions
The VPS service from Hostwinds is designed to be as simple or complex as you need it. You can pay for unmanaged hosting if you're already familiar with the operating system and have the technical know-how to take care of things yourself. This is the cheapest option. Alternatively, you can go for managed hosting to keep things simple. Even the managed hosting option is only a few bucks per month.
The managed plans come with tons of great features. The servers are all monitored in real-time to ensure that things run smoothly. Nightly backups are also automatic for peace of mind. Servers can be preloaded with a slew of applications. Hostwinds has a large app library so that you can quickly install everything from WordPress to Minecraft.
Key Features:
Managed or unmanaged VPS hosting
Windows and Linux
Nightly backups
SSD storage
Real-time monitoring
Integrated firewalls
Large app library
24-hour support
Inmotion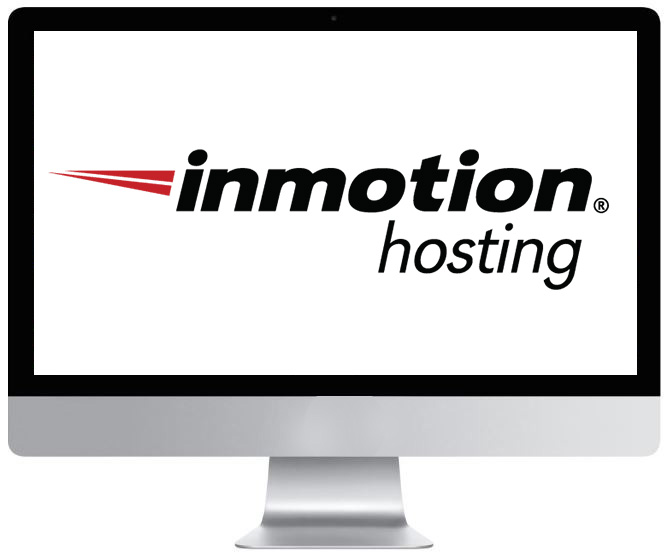 Pricing:
Starts at $9.99 per month with promotion
Inmotion is a bit higher on the price spectrum but it's still worth mentioning. The provider has many promotions available, allowing you to save a significant amount on your subscription costs during your first year.
When it comes to service quality, Inmotion is top-notch. You're getting resources that rival that of dedicated servers. All of the VPS plans use Linux. Plus, they're all completely managed. This can help simplify the process and get you up and running in no time. As if that weren't enough, Inmotion includes many free features to help you transition over to their servers. This includes free site and database migration on an existing site. You can also get two hours of assistance from a dedicated administrator.
Key Features:
Managed VPS hosting
Linux-based
Free SSL certificate
Free site and database migration
SSD storage
Free domain for a year
24-hour support
90-day money-back guarantee
Conclusion
Getting your own virtual private server is often seen as a time-consuming and money-draining endeavor. While this is true with some VPS hosting providers, you can get VPS hosting for free or next to nothing. You won't get the blazing-fast performance and high-limit resources like you would from paid plans, but free is better than nothing! Give these free plans a shot to see how VPS hosting can change the way you run your site.
The following two tabs change content below.
Jamie Spencer
My name is Jamie Spencer and I have spent the past 10 years building money making blogs. After growing tired of the 9-5, commuting and never seeing my family I decided that I wanted to make some changes and launched my first blog. Since then I have launched lots of successful niche blogs and after selling my survivalist blog I decided to teach other people how to do the same.
Latest posts by Jamie Spencer (see all)