Forget about having to remember all the specifications for your Google Ads display ads – let me help you out by doing the hard work and producing a comprehensive cheat sheet.
This post contains all of the most common sizing specs, so that managing your tasks is easier than ever before!
When it comes to making sure that your display ads fit almost any ad space across the internet, our handy guide will make this an effortless process every single time.
Ready to start creating eye-catching display ads? This post has you covered with the top ad sizes and free templates at your convenience.
Plus, learn how to design captivating Google banners whether you're a designer or not!
Most Commonly Used Google Display Ad Sizes
To ensure that your Google Ads display ad is successful, we have provided the standard sizes in pixels.
Don't forget to keep the file size of all banner ads limited to a maximum of 150KB for optimal performance!
250 x 250 – Square
200 x 200 – Small square
468 x 60 – Banner
728 x 90 – Leaderboard
300 x 250 – Inline rectangle
336 x 280 – Large rectangle
120 x 600 – Skyscraper
160 x 600 – Wide skyscraper
300 x 600 – Half-Page ad
970 x 90 – Large leaderboard
If you are uploading display ads for mobile:
300 x 50 – Mobile banner
320 x 50 – Mobile banner
320 x 100 – Large mobile banner
Responsive Display Ad Sizes
Having discussed the standard display ad sizes for uploaded images, let's move on to a more convenient method: responsive display ads.
This is much easier as you don't have to submit countless image sizes for each advert!
Responsive Display Ads are designed to automatically adjust and reformat according to different devices – no fuss involved whatsoever.
Google recommends that you submit between 5 to 10 pictures in two sizes: square (1:1) and landscape (1.91:1).
With Google, you can rest assured your image will look as intended, no matter how much available space there is. They make the necessary adjustments to size and format for a perfect fit.
For responsive display campaigns, you must only upload pictures in square and landscape aspect ratios. I would advise you use a minimal width of 1500px for images to guarantee the best visibility.
To ensure your ads are optimized for the best results, let's dive into some of the most widely used sizes for responsive display advertising.
Responsive Mobile Ad Sizes
The most commonly used responsive mobile ad sizes will be:
330 X 200
300 X 50
300 X 100
250 X 250
200 X 200
Responsive Desktop Ad Sizes
The most commonly used responsive desktop ad sizes will be:
300 X 250
250 X 250
336 X 280
200 X 200
300 X 600
160 X 600
970 X 90
728 X 90
468 X 60
Please be aware that the responsive desktop and mobile ad sizes mentioned previously refer to the size of the ad itself, not the actual size of your uploaded image asset.
Google will automatically adjust responsive display images (1:1 or 1.91:1 proportions) to these ad dimensions for you.
Best Performing Google Ads Display Sizes
Here I've listed the top five best-performing banner ad sizes according to Google.
To make it easier for you, each size is marked with an accompanying illustration that demonstrates its exact position and scale on the page.
Keep in mind that these dimensions are compatible with AdSense ad sizes, making them the optimal choice when you're looking to open up advertising space on your website.
Studies show that using one of these sizes is likely to yield the best results.
1. Medium Rectangle (300×250)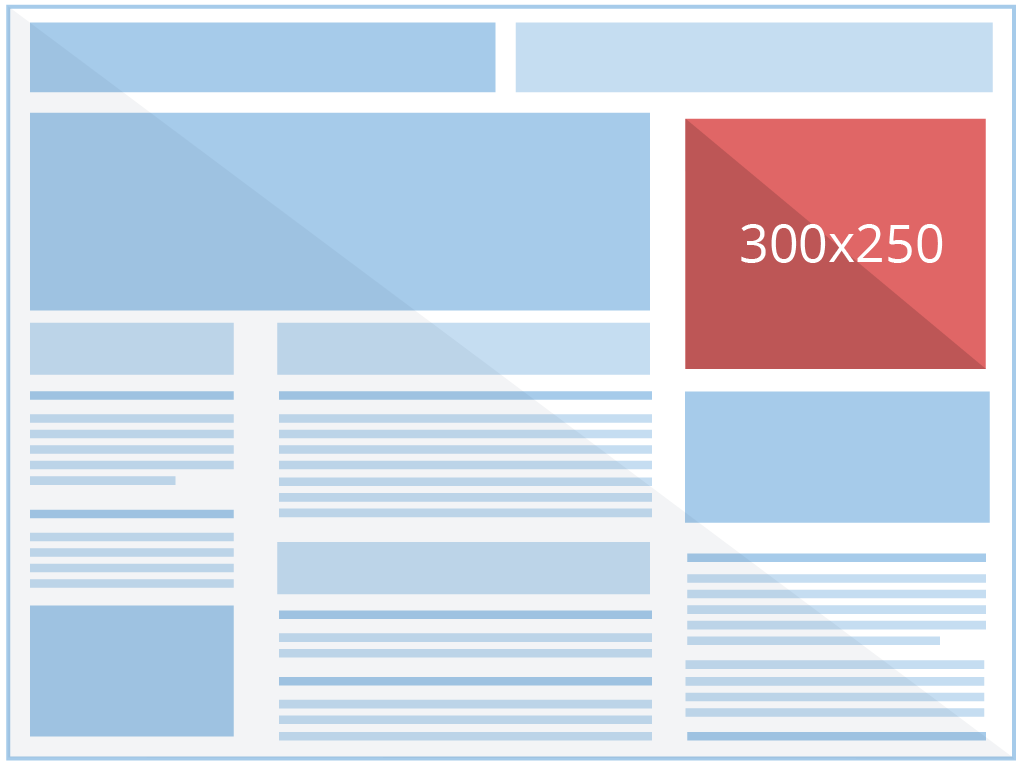 The most popular option among advertisers, the medium rectangle ad size of 300×250 px is preferred for Mobile, Text, and Display. This display advertisement can be found nestled within text content or at the end of articles.
2. Large Rectangle (336×280)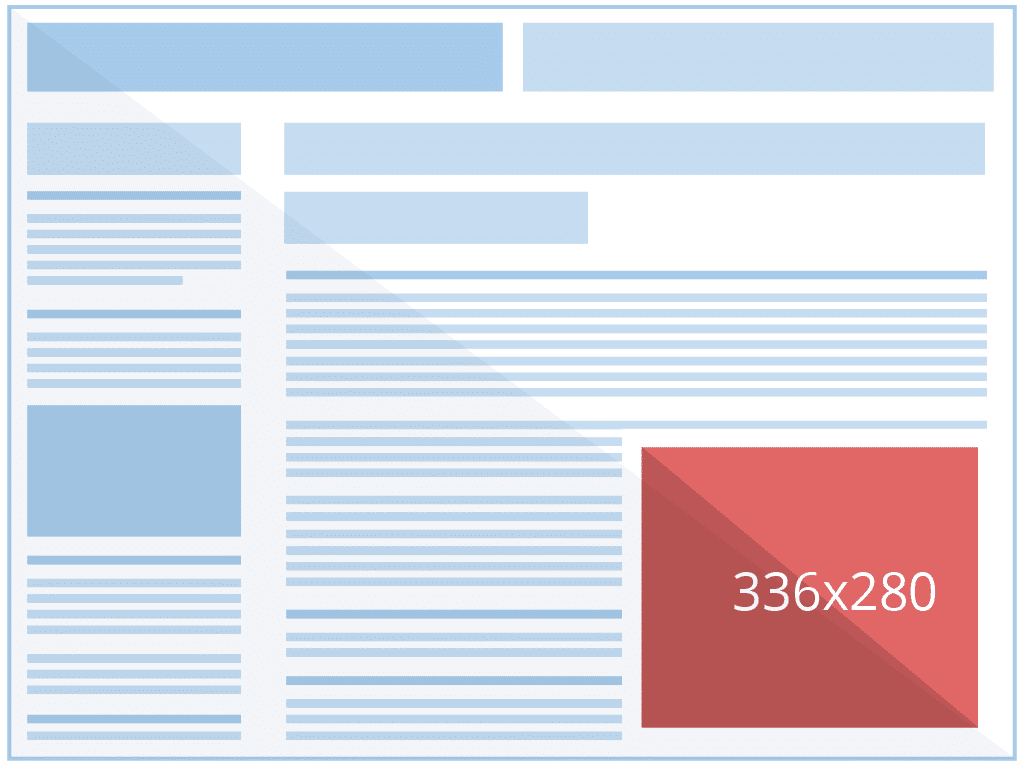 If you're looking to advertise on mobile apps, the Large Rectangle display ad size will not be your best option.
However, it's comparable in performance to Medium Rectangles and is frequently seen at the bottom of articles or within text blocks.
3. Leaderboard (728×90)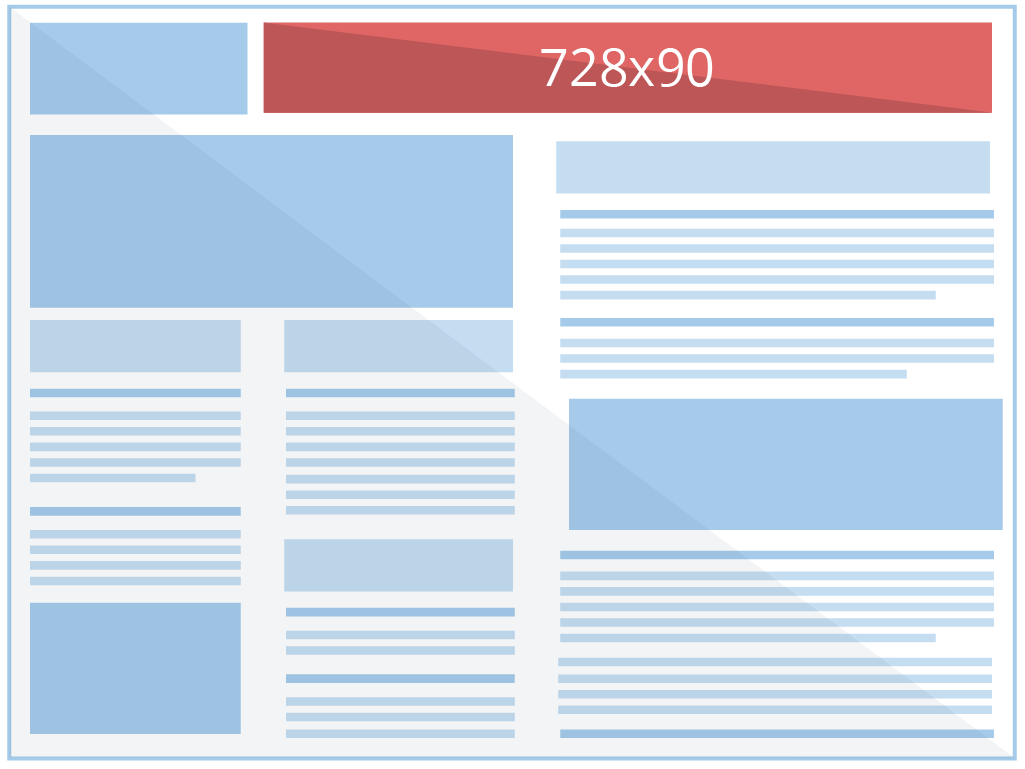 Leaderboards serve as a powerful visual tool to attract attention and engage users, especially when displayed prominently at the top of your page or forum.
4. Half Page (300×600)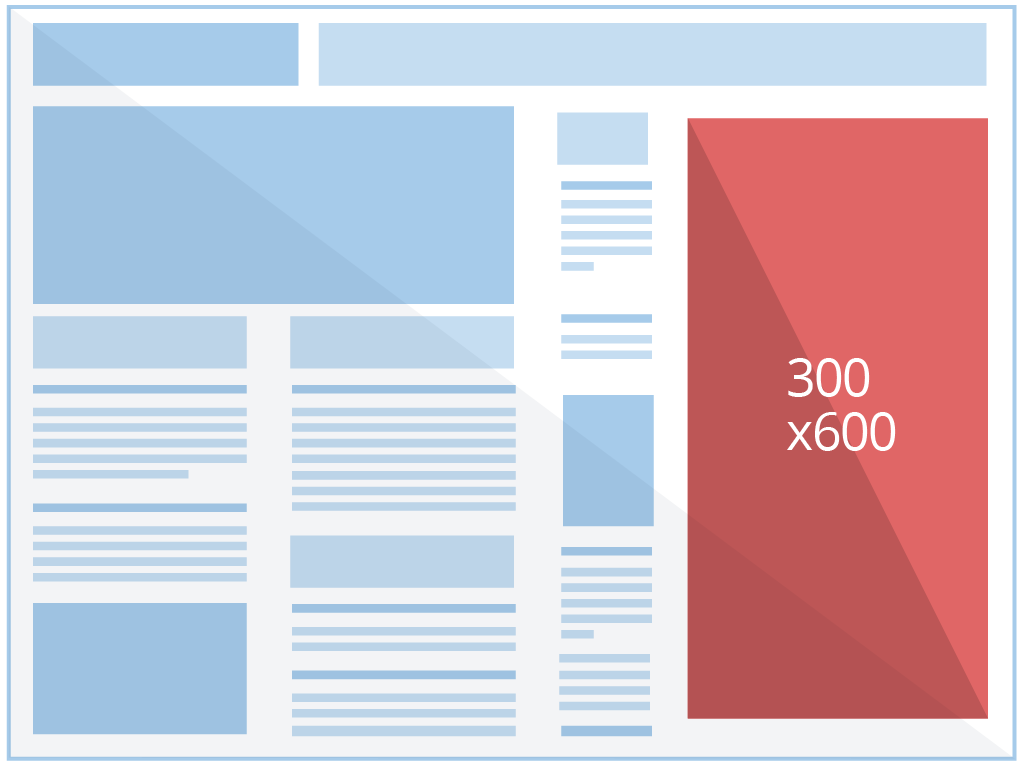 With a Half page ad size, advertisers can make an unforgettable impact on their audience. This sizable format presents ample opportunities to share your message and capture the attention of viewers in unique ways.
5. Large Mobile Banner (320×100)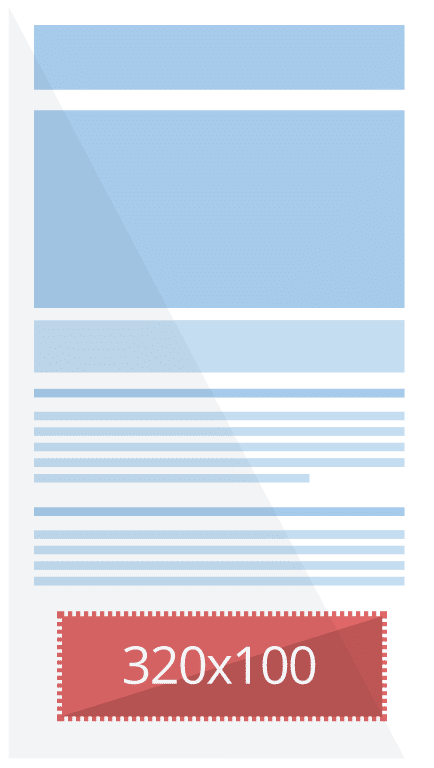 Mobile banner display ads are especially designed for mobile devices, and they provide twice the px height of regular mobile banners.
Accepted Display Ad File Formats
When saving your final designs, make sure that you use one of the following file formats accepted by Google for display ads:
Of these three options, JPEG typically offers the best compression and is ideal to utilize when attempting to minimize file size without sacrificing quality.
How to Compress Display Ad File Size
Finding yourself in a predicament where your image size exceeds the 150KB limit?
Don't worry, with compression tools like Adobe Photoshop or Illustrator 'Save for Web' feature you can easily scale down to make it suitable for Google Ads.
To utilize this incredible tool simply open up the File menu and select Export > Save for Web.
You don't have to compromise on quality though – if your file is small enough without decreasing its resolution then leave it as is!
If the quality is too low, Google will reject your ad.
Successful Display Ads at Any Size
Achieving the perfect size and specifications for your display ads is fundamental, but don't forget to mix form with function.
To help you reach success in designing any sized ad, I have compiled a set of 6 essential tips plus some key elements.
Required Display Ad Design Elements
Google Ads may not require all of these design elements, but having them is an absolute must if you wish to reach your goals.
CTA – It is important to tell people why they should click on your ad. Explain it clearly so that they decide to do what you want them to do.
Image – Choose pictures for your brand that are bright and noticeable. People will look at them.
Text –Write something short and interesting. Let the picture do the rest of the talking.
Logo – Make sure people can still recognize it even if it is small.
Note: Before you launch your campaign, check that you are following Google's advertising rules. Most of these rules are easy to understand but there might be some tricky ones you don't know about. Make sure you follow them all so your ads do not get rejected.
For example, if your ad is all white, you should add a dark border around it.
This will help people to know that the ad is not part of the website they are looking at.
6 Essential Display Ad Design Tips
It is okay if you are not an expert at designing. You can still make ads that work. I will share some tips with you to help make your ads better, no matter what tools you use.
1. Keep it simple
Your pictures should be really good quality so people will notice them quickly. Keep your words in the ad short and to the point too.
It is better to use just one picture instead of a bunch in a collage.
2. Use a strong value proposition
The words that go with the images should be big and easy to read. Use words that will grab people's attention and make them trust your ad.
Most importantly, tell people what they would miss if they don't click your ad.
3. Be brand consistent
When you create an ad, it's okay to use colors that make it stand out. However, make sure the colors match your logo and other branded images. It should also look like the page the ad connects to.
This helps customers trust you more and they will buy more of your product or service.
4. Use a direct call to action
Your CTA should use words like "see," "try," and "watch" that make customers want to click on your ad right away.
These words should tell people they will get what they want when they click the ad.
5. A/B Test Your Display Ads
Your ads are not done until you have made one that is different and tried it out. Test your ads often to make them better.
You don't need to make two totally different ads; just change small things and see if it helps.
6. Utilize Custom Color Options for Responsive Display Ads
Responsive display ads are good because they save time. But you have less control than with other types of ads.
You can customize how your ad looks by using the "More Options" button when setting up a responsive display ad.
Conclusion
Now that you know what to do, it is time to design your own advertisements.
If you don't have any money for a design tool, try Canva. It is free and offers lots of options like post designs, social posts, and ads for mobile phones. These can help promote your business well.
The following two tabs change content below.
Jamie Spencer
My name is Jamie Spencer and I have spent the past 10 years building money making blogs. After growing tired of the 9-5, commuting and never seeing my family I decided that I wanted to make some changes and launched my first blog. Since then I have launched lots of successful niche blogs and after selling my survivalist blog I decided to teach other people how to do the same.
Latest posts by Jamie Spencer (see all)