If you own a website and you're thinking of monetizing it, then you've probably heard of AdSense. Monetizing your site with ads is simple, but succeeding with ads is daunting for most publishers.
Most publishers simply don't make enough money from ads because they don't know how to make the most of them.
Google pays publishers 68 percent of the money their properties generate. Every year, the search giant pays out tens of billions of dollars to publishers.
If Google pays so well, why are publishers struggling to earn money? What can you do to make ad display become more profitable?
To succeed with ads, you must look beyond AdSense. That's what MonetizeMore does for you.
It Takes More Than AdSense to Win with Ads
MonetizeMore uses the best software to help publishers oversee their ad inventory and grow their business.
I spoke with Kean Graham of MonetizeMore.com. Our discussion focused on how to maximize your ad revenue and performance using their software and products.
1. Hello, please introduce yourself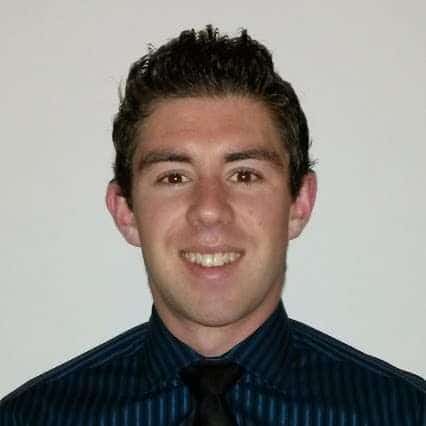 I'm Kean Graham, the CEO of MonetizeMore, an 8-figure ad tech company that is a Google Certified Partner with 100+ full-time team members remotely based across the planet. MonetizeMore was conceived in the mountains of Machu Picchu and has grown to $23M in revenues. I am a huge travel enthusiast as I've traveled to over 90 countries during the 10 years that I've been growing MonetizeMore.
2. Why "MonetizeMore," what does the name mean? What personal experiences or realizations inspired MonetizeMore? Please give us a brief history of MonetizeMore.

10 years ago when I was brainstorming our current business name, I racked my brain for descriptive words of what we do and what we want to achieve. Since we increase ad revenues for other websites, I knew I wanted to have the word monetize in it. I predicted that monetize in the context of online search would be a trending keyword (Which it has been since).
Then the alliteration title came to mind: Monetize More. It's exactly what we do and want to achieve! After a quick search on GoDaddy, it was available! I've never bought a domain so quickly in my life!
3. What would you have done differently if you were to start again?
If I could go back in time, I would advise my younger self to hire our current CTO two years earlier. Our current CTO has done an incredible job building our technology stack and putting it in a position to achieve high levels of innovation.
If I were to hire our current CTO two years earlier, I would have been able to avoid a horrible business partnership and a Google account ban that cost over $2M. More importantly though, MonetizeMore would be two years ahead of where it is today.
Our current CTO and CPO have done an incredible job catching up on our technology to get MonetizeMore to be amongst the trailblazers in the industry. However, I could only imagine the lead MonetizeMore would have if we brought our CTO onboard two years earlier.
4. Of all the business challenges faced by businesses and startups, why is Ad Performance and Revenue maximization your priority problem to solve?
I originally fell in love with the online industry when working for a large online classified network. The job was an immense learning experience but once the recession hit, the company decided to lay off the marketing department. I lost the best job I ever had but I was determined to turn the bad into something great.
Five days later, I'm on a plane to South America to go on a life-changing trip. Four months into my backpacking trip I was on a four-day trek through the incredible Inca trail towards Machu Picchu. By the end of it, I was sitting on top of Wayna Picchu reflecting on my experiences throughout my trip. I have had the most fulfilling time of my life and it finally clicked:
I will work and travel when I want, where I want.
I have to start a digital business to enable this autonomous lifestyle. When I came back to Canada I was set to build my skills and come up with my big business idea. To do this, I made websites and tried out affiliate marketing. I grew important digital marketing and basic coding skills to bolster my capabilities and come up with that big idea.
A big reason for my early success was that I was malleable in that we focused on results and less about the internal business early on. My goal was to achieve measurable revenue increases for businesses. This was originally going to be achieved by the below offerings:
SEO
Social media optimization
Analytics consultation
Ad inventory optimization
Customer usage model optimization
I quickly found out that the greatest opportunity to grow measurable revenues was via ad inventory optimization. Rather than sticking with all offerings I focused on the offering that got the best results and only targeted online businesses that earned revenues via display advertising.


5. Do you have any strategic partnerships? How did you get them to partner with you?
We have developed several strategic partnerships over the years. Many of the partnerships exchange referrals or pay a percentage of referral earnings. However, our most strategic partnership is with Google. Since Google has such a large market share of the programmatic ad industry, our partnership with them is key.
The initial partnership started when I traveled through Europe while running MonetizeMore. I was able to set up a meeting with them in their EU headquarters in Ireland. The meeting went well as they identified MonetizeMore as an ideal fit for their new reseller program. This became a strong revenue stream for MonetizeMore that was more scalable. It led me to begin hiring a full-time team.
Eventually this grew into a larger partnership that has led to major benefits like:
Strategic industry insights
First look at Google betas
Greater technical support
Early insights into Google's product roadmap
Connections in the industry
6. Building and sustaining a business is not an easy task. What challenges did you face while developing MonetizeMore? How did you manage those challenges?
Since the beginning of 2013, we've had a partnership with Google where we had the keys to their most powerful advertising platform for display advertising demand for publishers. It was exclusive to very large websites or partners like MonetizeMore. As a result, we received a lot of demand from publishers to become a client and get access to the best performance ad exchange in the industry. This partnership dramatically grew our business.
In January 2014, our largest client received a spam attack. One of their competitors sent a plethora of traffic that was meant to click on their ads multiple times with the purpose of getting them banned on Google. They were successful because this publisher was getting huge amounts of traffic and they sent such a huge attack that it created an investigation on our master account with Google. About three weeks later, that investigation resulted in a whole master account ban.
When you're banned by Google, that means that they revoke all unpaid ad revenues. The unpaid ad revenues were all our revenues for December and January. That was the highest gross revenue months we've ever had. $2.2 million and 99% of our revenue for those months were revoked.
Since then we bounced back via injection of personal funds into the business to make sure everyone was still paid. We learned from this crisis by implementing the below:
Fraud traffic detection and suppression technology (Lead to developing Traffic Cop)
Very stringent site screening
Diversification of our revenue streams
As a result, we have grown the business sustainably and we've never been stronger. We also were able to strengthen our partnership with Google.
Let's Talk About Industry Trends and Your Products
7. Programmatic advertising has a duopoly. Facebook and Google will account for 63 percent of all programmatic ads in 2020. Could this be why advertising costs are rising on those platforms? What under-tapped ad channels would you recommend and why?
Google and Facebook most definitely have a duopoly and their own walled gardens. Rising media buying costs may have risen (Pre-pandemic) because of this and several other reasons.
With the rise of header bidding, many other demand-side platforms have access to publisher inventory. Since header bidding runs a real-time auction that includes many ad networks, there's no need to only buy from Google. As a result, there are many other great sources to buy media or sell programmatically.
8. An IAB and Ernst & Young report posits fraud and flaws in the ad supply chain costs advertisers $8.2 billion every year. Out of that cost, invalid traffic takes $4.6 billion every year.


There is no doubt that fraud is a major scourge of the ad tech industry. A lot of it happens at the publisher level. However, people don't realize that most of it is unintended. There are organic levels of invalid traffic that browse the internet at all times. They come from all traffic sources too. Yes, even search engine traffic.
Publishers simply are not equipped to handle these unintended levels of invalid traffic that risk their ad revenue accounts and scare premium ad networks and advertisers from bidding on their ad inventories. That is why we created Traffic Cop. To eliminate this scourge in the industry and to protect publishers.
However, it doesn't stop there. There is even more fraud that happens on the publisher level that pubs are completely unaware of:
Short ad render durations that occur via SPA pages, slideshows or page refreshes.
Ad units being removed from the page quickly after page render (either manually or from SPA).
Ad stacking (AKA. overlapping of multiple ad units or content).
Ad units being hidden or loaded off the screen (Not below the fold) either on load or after they've been loaded.
Any of the above violations can cause blacklisting of ad network accounts and advertisers. We have recently added functionality within PubGuru Ad Inspector to be able to detect this type of fraud on publishers and show exactly how to fix it.
How does MonetizeMore's Traffic Cop Feature Combat Invalid Traffic? Are you doing anything about malvertising and infringed ad content?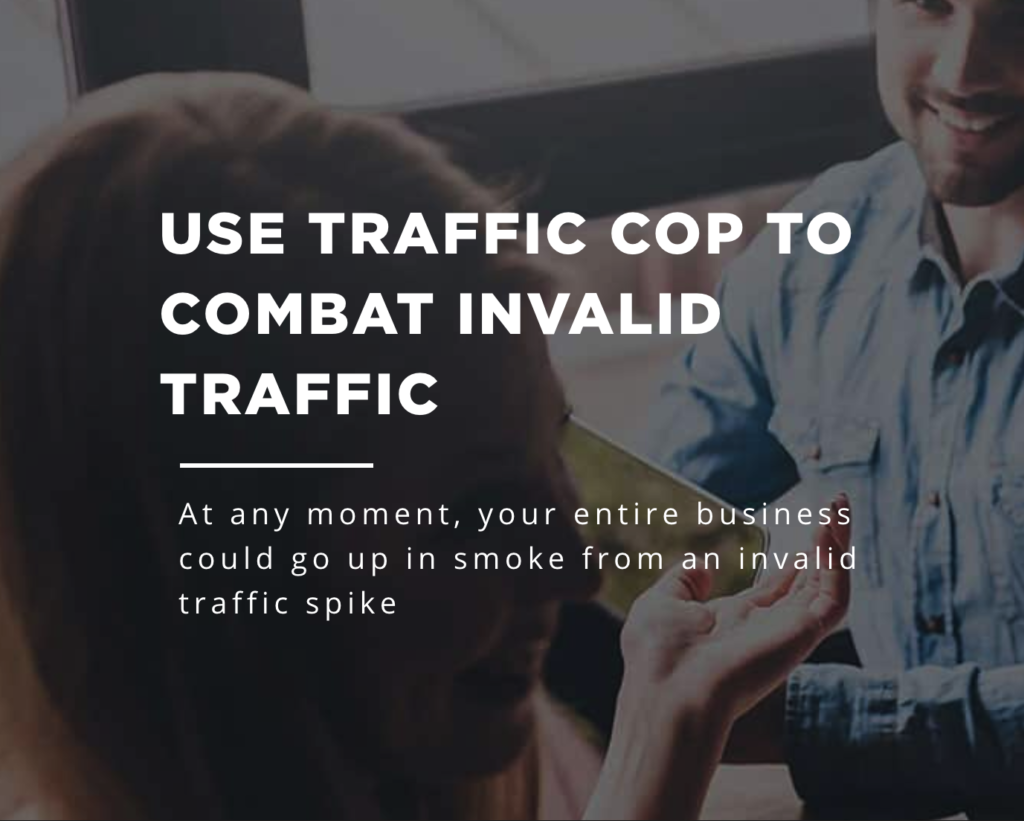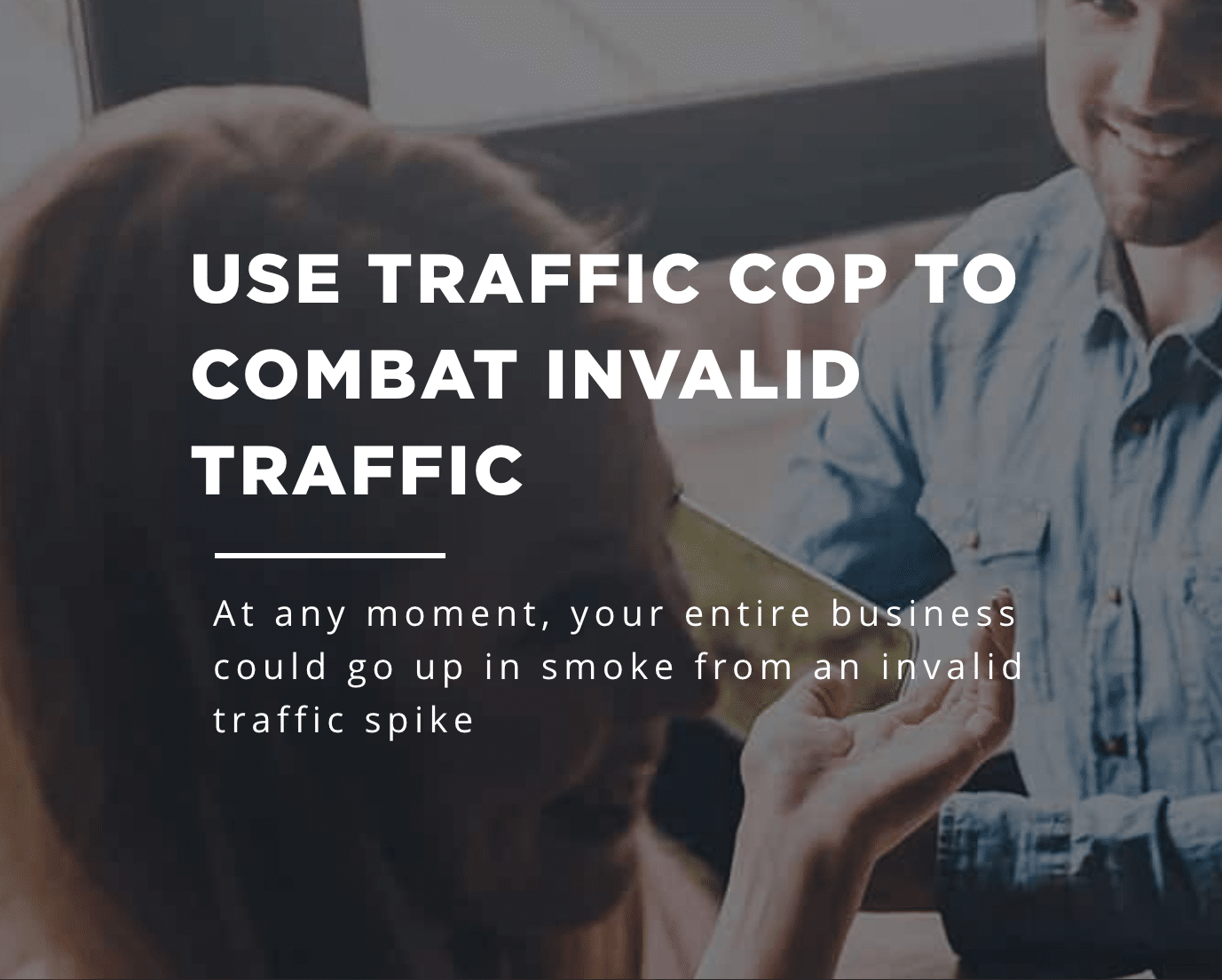 Traffic Cop has over 100 fingerprinting techniques executed via machine learning to determine the percentage chance whether the user is human or a bot. If Traffic Cop determines that the user is a high risk of being a bot, it blocks all ads from showing to that bot so that it can't view or click the ad. This prevents the advertiser from having to pay for fraudulent ad impressions, prevents any fraudulent clicks which minimizes the chances of any ad revenue accounts bans or blacklisting.
Our header wrapper, PubGuru Header Bidding, proactively blocks some of the most malicious malvertising like mobile re-directs. For example, when a user browses an ad monetized page via their mobile device, they could be all of a sudden re-directed to a different page unintentionally.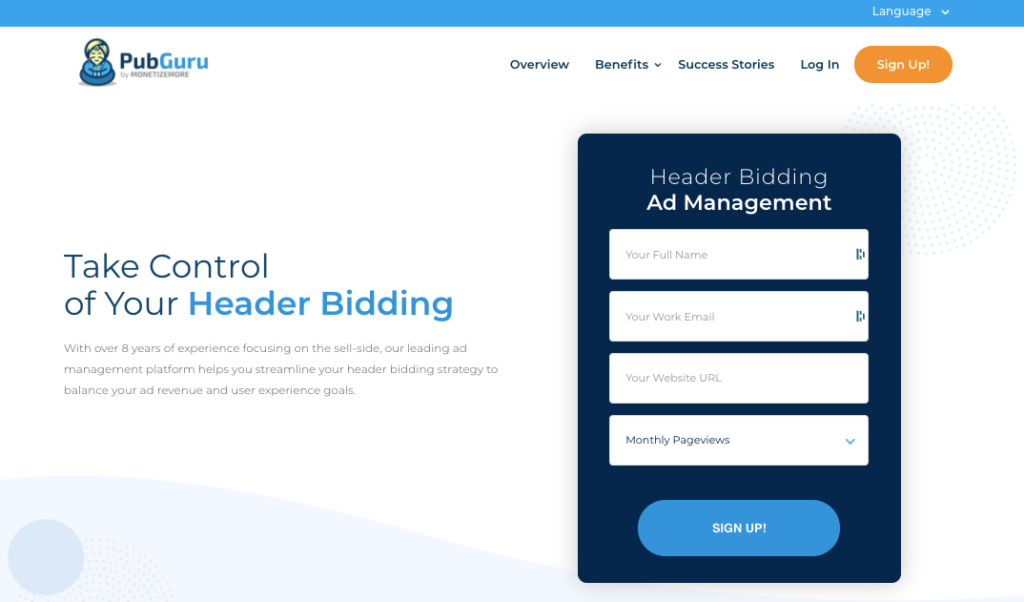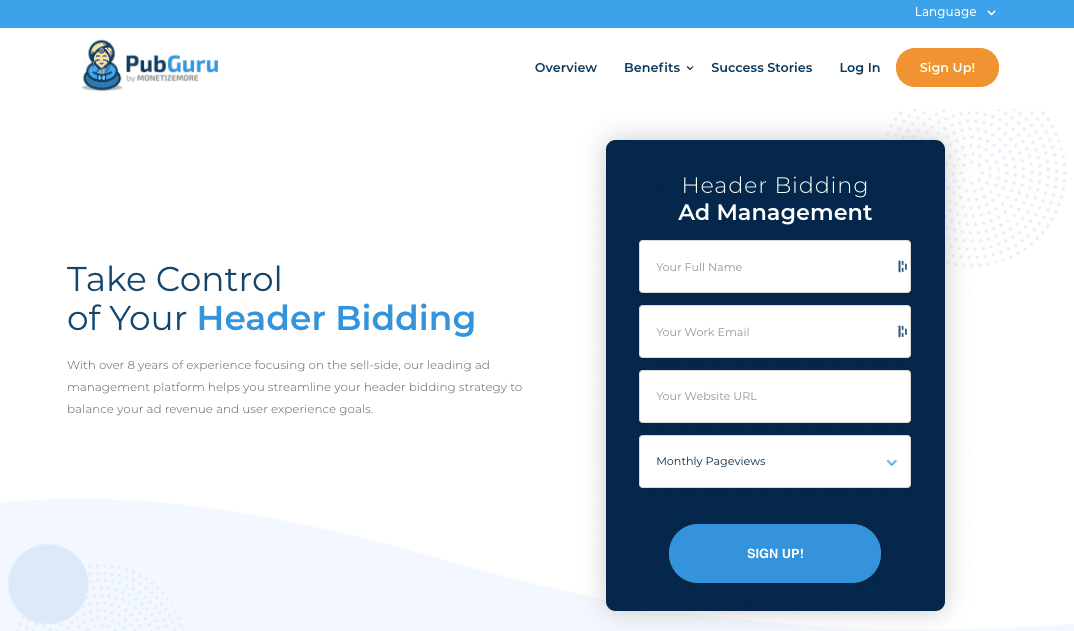 There have been nasty cases where malvertisers have been able to hack their ad creatives to re-direct mobile users to pages like app stores where they get a percentage of any sales generated. It is horrible for UX and publisher reputation which is why we invested in building technology to block this type of malvertising.
9. Amazon, at 7 percent of ad spend, takes the third-largest share of ad spend. Do you help with Amazon ad optimization? Can you elaborate on your answer here?
Yes, Amazon is a compatible bidder via PubGuru Header Bidding. For certain verticals, Amazon can be a very competitive bidder.
10. U.S programmatic TV advertising grew by 236 percent from 2018 to 2019. Advertisers spent $3.8 billion in that one year on programmatic TV ads. The number of connected TVs in the US is going from 182 million in 2018 to over 204 million in 2022.
Is this a channel you're exploring already? Do you offer solutions for publishers in video content creation on streaming services?
Connected TV is a channel we're exploring as it heavily relies on programmatic spending and is growing fast especially during this pandemic when people are spending so much time at home. The Connected TV channel is quite analogous to the web channel. Just like we serve web publishers with auction and advanced reporting technology, we could do the same for Connected TV publishers.
Netflix, Hulu, and Roku are publishers just like Buzzfeed, NYT and Politico. Of the Connected TV publishers that monetize via programmatic ads, they too want to run the highest paying bidder. Therefore, they require auction technology. They also require advanced reporting to make data-driven business decisions. MonetizeMore could offer that as well via PubGuru.
Since Connected TV is a big growth channel and we could serve this market without straying away from our core competencies. For those reasons, we're strongly considering getting into the Connected TV channel.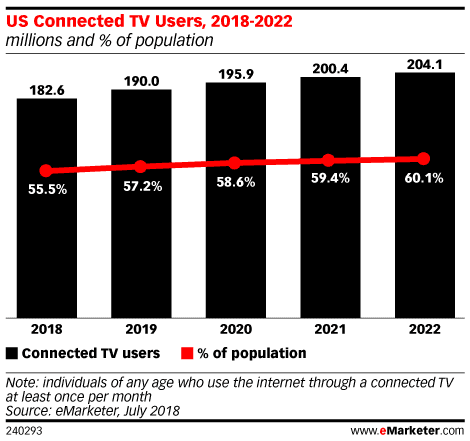 11. The GDPR is two years old now. How has it influenced advertising since its launch? Has ads been better or worse for it? How do you think internet and data usage laws will influence publisher ad revenues going forward?
GDPR has made a big splash in the programmatic ad industry. It caused a lot of publishers and ad tech companies to scramble once it came into effect. We decided to not take our chances and instead build our own consent management platform called PubGuru Data Guard. It is GDPR and CCPA compliant and a free offering for our publisher partners.
Publishers and ad tech firms still struggle to be fully compliant with GDPR. It has caused a lot of ad spend to move from buying in the EU geos (geographical region) to other tier-1 countries like Canada and US. We've already seen other regions follow GDPR like California with CCPA and Brazil as well. We expect other countries to eventually follow after things settle down with the pandemic.
Having to give users the option to consent to tracking them has a negative effect on publisher revenue. Ad impressions with cookie syncs are worth more than ad impressions without cookie syncs. Therefore, if a user does not give consent to track them under GDPR, that user becomes much less valuable to the publisher.
12. In the words of Sacha Berlik, MD, The Trade Desk, "I hope that… brands truly wake up to the fact that advertising should be omnichannel to reflect the needs of today's consumers."
Is omnichannel advertising good for publishers or some channels better than others? How are you responding to omnichannel advertising?
It's tough enough to be a publisher these days. They have to be good at managing so many parts of the business. Web alone has a plethora of potential issues to deal with. Adding in other channels multiplies those potential issues and overhead.
With that said, it is possible to manage these other channels well with a top-notch team, access to state of the art tech, and a healthy level of outsourcing. Some publishers are large enough where it makes sense to create a mobile app. Some are on TV, print, and emerging channels. Whether omnichannel makes sense for a publisher is a case-by-case consideration.
MonetizeMore does offer omnichannel support via app monetization and reporting via PubGuru. We are considering to support other channels in the future.
Let's Talk About Your Processes, Pricing, and the Future
13. Are you making any improvements to MonetizeMore that users should expect soon?
Below are the short to mid-term improvements in MonetizeMore's product road map:
Google Ad Exchange & header bid flooring driven by machine learning
Cost data from traffic acquisition sources like Google Ads, Facebook, Taboola, RevContent and Outbrain
Real-time profit Attribution of traffic acquisition campaigns
Page-level revenue attribution
Advanced Report builder that can cross-reference multiple dimensions
Real-time revenue data from our Revenue Estimator tech-driven by machine learning
Smart notifications tailored to your ad inventory so you know the next highest priority step to increase your ad revenues.
Universal API access for all reports
Big data sandbox that enables you to utilize real-time ad revenue, traffic acquisition and traffic quality data to make better business decisions
Mobile ad layout optimization in real-time
14. What's your publishers' onboarding process like?
Below are the steps for smaller publishers for our Starter Plan:
Marketing lead
Qualified sales deal
Lead reaches support
Screened for policy until 100% compliant
Implementation
Live
Below are the steps for larger publishers for our Pro & Premium Plan:
Marketing lead
Qualified sales deal
Lead reaches sales
Screened for policy until 100% compliant
Sales call
Send contract
Implementation
Live
15. What's the best thing anyone ever said about MonetizeMore?
"So far MonetizeMore ad optimization team has delivered in every way, easily surpassing our most optimistic expectations. They have been a pleasure to work with and we are seeing a very healthy ROI on this relationship. NET RPM increased by 61.3% compared to our yearly average before working with them, and NET Revenues increased by 54.8% compared to the same time period. There is no doubt that turning over the day-to-day management of our ad inventory to MonetizeMore"s team of experts has been the right move for our business."
– Founder & Chief Community Advocate, Investorvillage.com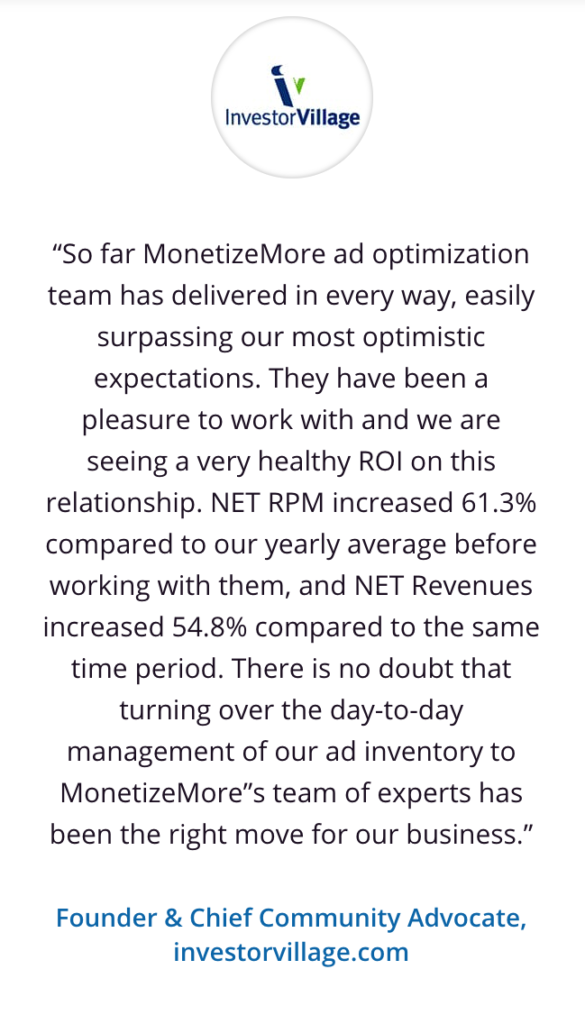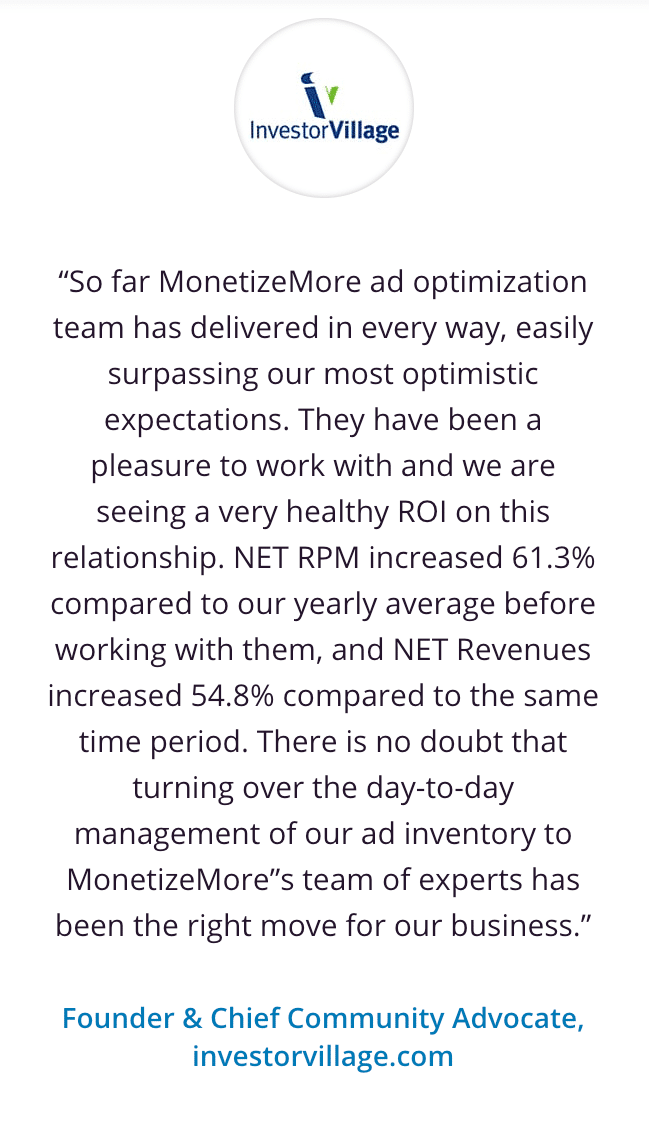 16. Negative comments are normal, every product has had its share of it. What's the worst you've received? And how did you handle it?
After our Master Google Account got banned in early 2014 we got a lot of heat from publishers that were and weren't affected by it. Most of them claimed we were fraudulent assuming that the $2.2 million clawback was made up.
I dealt with each claim one-by-one in a professional manner and provided assurances and proof that the clawbacks were real and that we were doing everything possible to minimize the blow on our publisher partners. Once I provided each one with the necessary context to disprove their negative claims, most changed their minds. This was definitely a crash course on conflict resolution!
17. What makes MonetizeMore stand out from other Ad Monetization Platforms?
The thing that separates MonetizeMore from the alternatives in the ad tech industry is our focus on value creation. We focus on empowering publishers by providing value first. That is why we pour so many resources into our vast content marketing. This is a core belief in the company: create value first, then charge. This is dramatically different than our competitors that are more focused on short-term profits.
How do we create such dramatic increases in ad revenues for publishers? We exclusively manage billions of ad impressions of premium publishers that only work with MonetizeMore. That means we are able to consolidate big data of billions of ad impressions. We are able to find patterns in the data which we use to optimize the ad inventories of hundreds of publishers. These optimization patterns turn into algorithms which we use to automate our ad optimization practices and become more scalable as a company.
The three biggest aspects that make MonetizeMore stand out from the alternatives:
Ad Inventory Ownership: While many of our competitors force publishers to switch to their DNS, ad server and ad network accounts, we provide flexibility to not have to switch each of those to have full ad inventory ownership for the publisher.
Transparency: While some competitors are fairly transparent with stats, it isn't possible to be 100% transparent unless the publisher has access to a third-party ad server and ad network accounts to verify stats with.
Performance: Some competitors only offer tech. Others only offer manual ad optimization. MonetizeMore offers the best of both worlds and combines both to achieve the best results in the industry. We have been able to prove this time-in and time-out via split tests against alternatives.
18. What's one fascinating thing about your product you've never talked about to anyone?
I haven't spoken about our Enterprise Analytics offering which is currently in beta. It is like a sandbox for big data. It enables publishers to get access to session-level data and utilize it however they please to get the most value.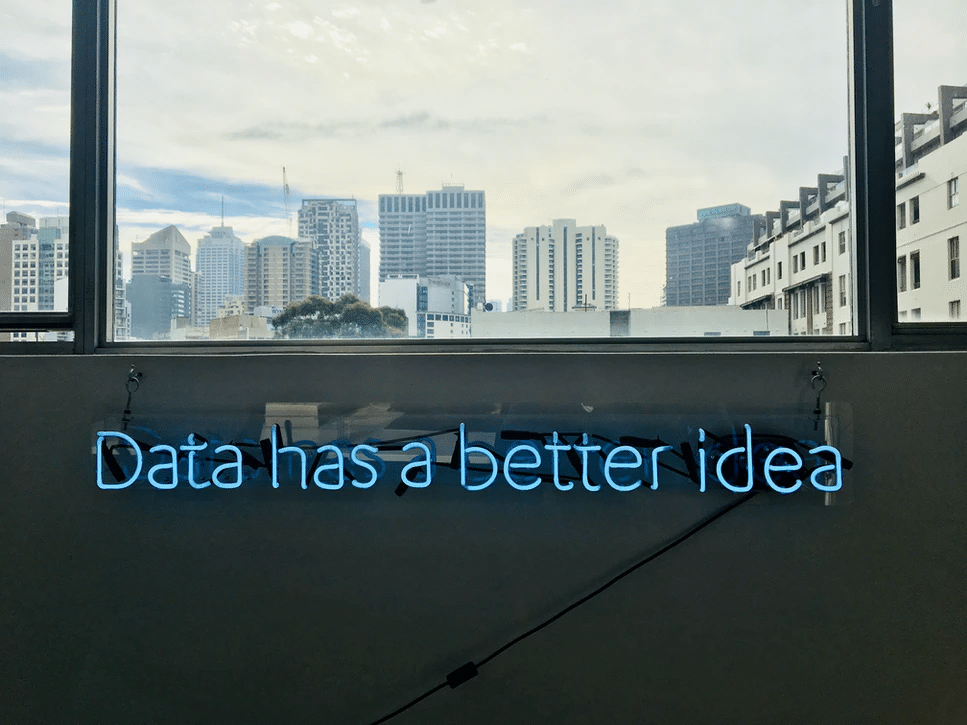 Image Credit: Franki Chamaki
Being able to get access to data at such a granular level in real-time is very powerful. It's how some publishers like Buzzfeed have been able to grow so quickly and ramp-up to the next level. It takes data-driven decisions to guide their ship in the right direction. However, Enterprise Analytics takes it even further. Not only does it enable publishers to add-in non-advertising revenue sources, it enables publishers to connect real-time data to their tech.
For example, if a publisher buys traffic, it could increase or decrease their CPC bids according to the real-time profit of that campaign. Maybe the publisher would like to reward their authors for engaging content. Rather than paying them a salary they could motivate them with a profit share on all the articles they write. With Enterprise Analytics, it's endless what publishers could achieve while skipping years of data engineering work.
19. If someone who's never used MonetizeMore got curious and read this interview, what would be your best advice to them on earning revenue from programmatic ads, using MonetizeMore, and building an online business?
If someone wanted to build an ad monetized website, I'd recommend the below:
1. Implement an ad server called Google Ad Manager (GAM)
An ad server is like the brain of your ad inventory. It allows a publisher to run direct sales ads in the same placements as programmatic ads. Google Ad Manager is by far the best in the industry and it's free to use up to 90M ad impressions.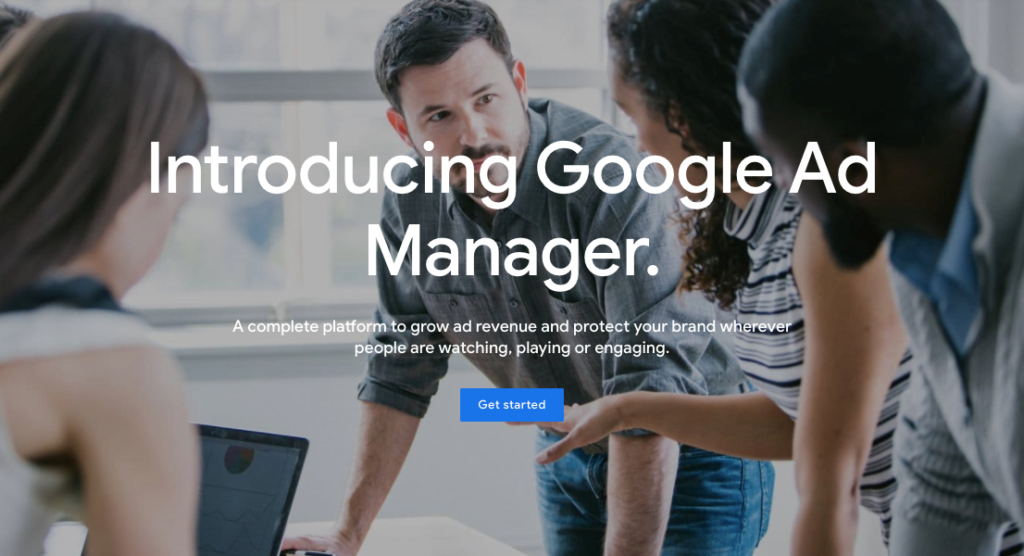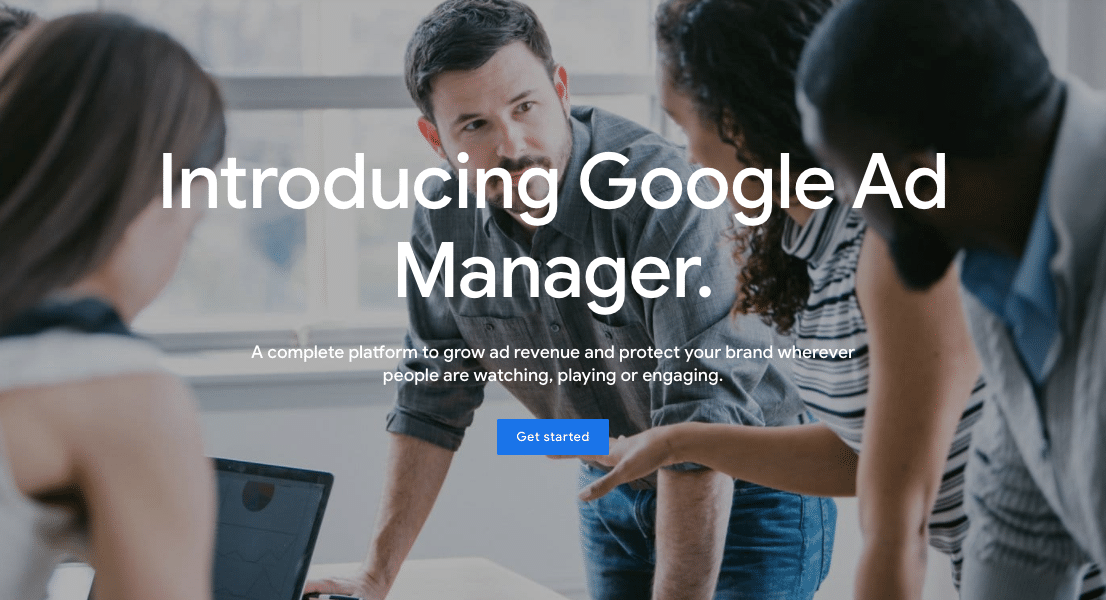 It also prioritizes which ads show for each ad placement and enables optimization to maximize the overall yield (AKA. RPM). To only run Google AdSense directly on-page is to allow Google to have a monopoly of your ad inventory and leave money on the table. There are many other ad revenue sources that you could compete against Google via an ad server marketplace to increase your RPMs and overall ad revenues. If you want to increase the ad revenue return on your traffic, implementing an ad server is the no-brainer first step.
2. Integrate DoubleClick Ad Exchange (AdX) into GAM via Dynamic Allocation
Once you have GAM setup on your site, it's time to integrate the best performing demand source in the World: AdX. Since Google owns GAM and AdX, they were able to integrate both technologies to enable real-time communication between the technologies called dynamic allocation.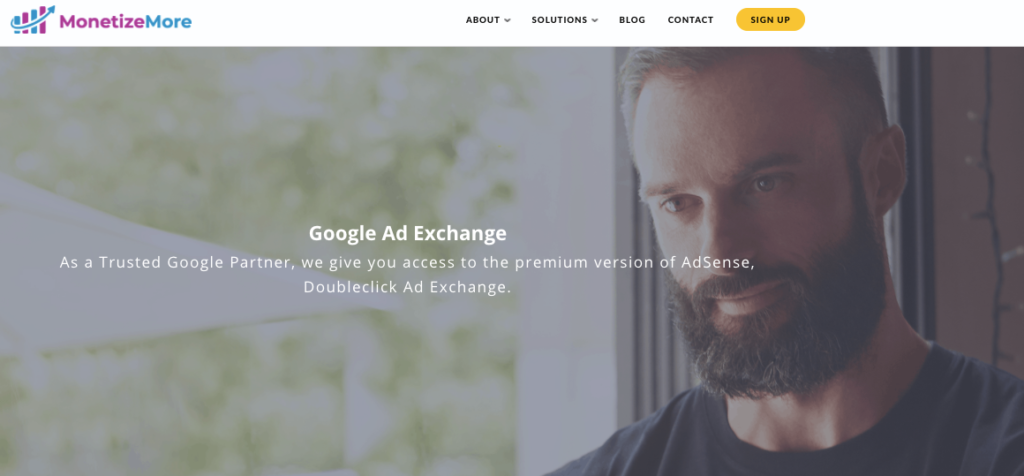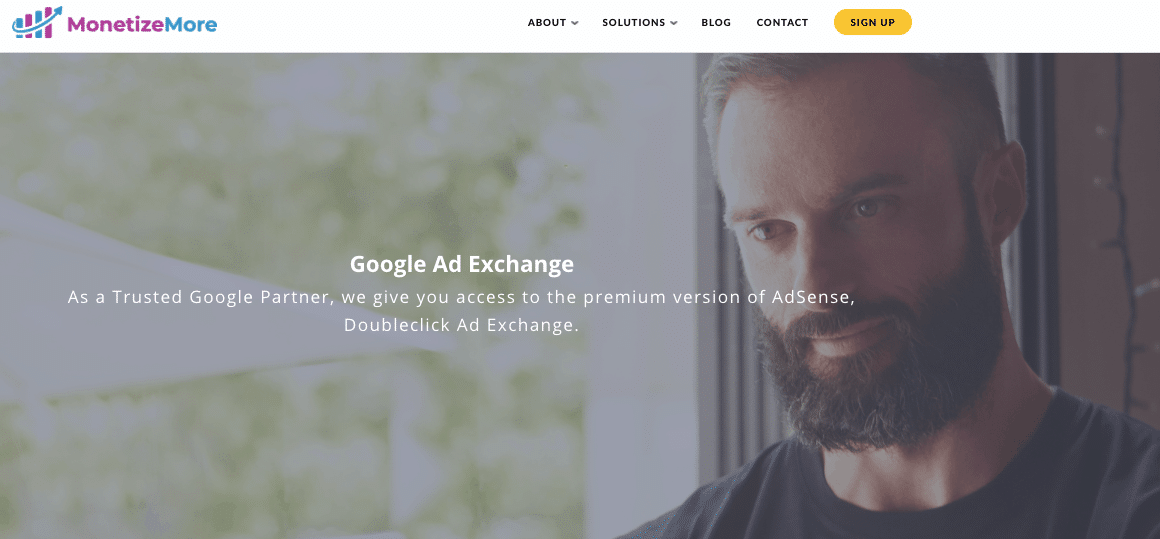 Dynamic allocation enables AdX to tell GAM the bid it will pay on every impression. GAM can take this real-time bid and compete it against all the other competing demand sources at predetermined priorities that the ad optimization expert determines based on past revenue per thousand impression (RPM) stats. AdX dynamic allocation is powerful because you know that AdX will only win the ad impression when it bids the most. When publishers implement AdX dynamic allocation versus other demand sources for the first time, they typically see dramatic increases in RPMs and ad revenues on a consistent basis.
3. Implement header bidding optimally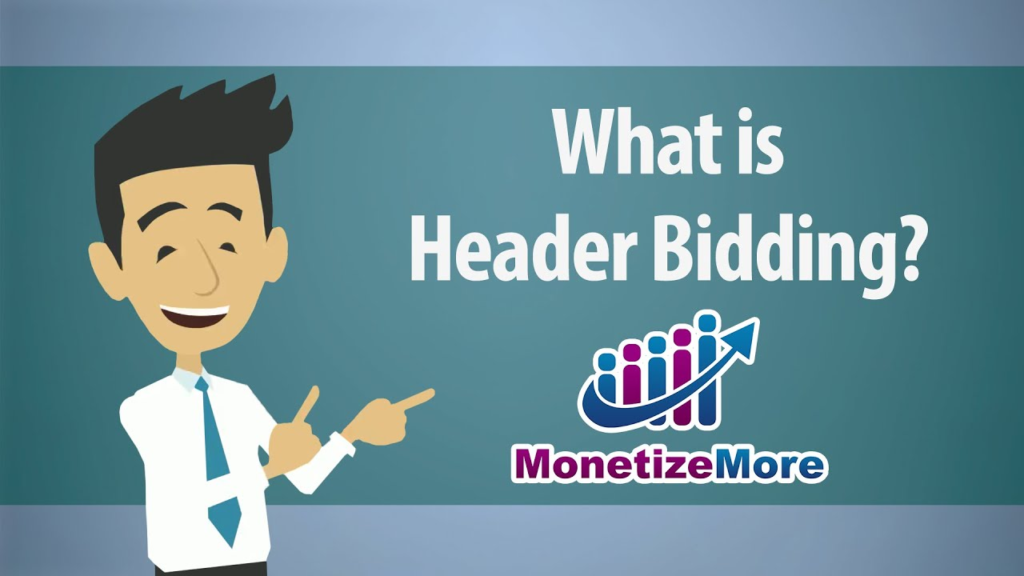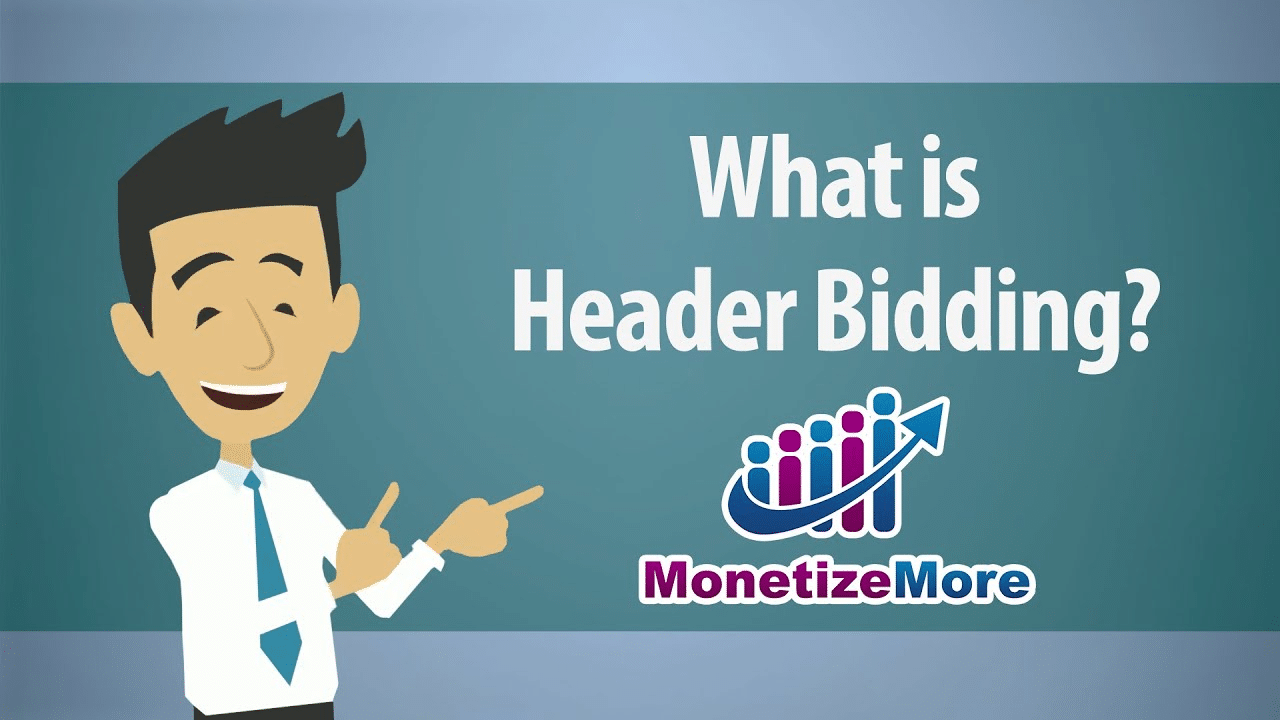 Header bidding is the evolution of the traditional ad server setup. Rather than manually updating campaign priority levels in GAM, header bidding receives real-time bids and communicates that to GAM to accurately compete against AdX on dynamic allocation. This means you can have many ad revenue sources compete against each other in a competitive real-time auction. That way you know that every ad impression that is served goes to the highest bidder. Therefore, header bidding enables you to maximize your ad revenues!
Overall Recommendations
I recommend to complete each step in the order given. Below are my recommended ad traffic thresholds to initiate each step:
GAM setup: 1MM page views per month
AdX integrated into GAM:  2MM page views per month
Header bidding setup: 10MM page views per month
Not only will you be able to increase your ad revenues by 30% – 250% (At the same traffic levels and ads per page) with the above three steps, you will also diversify your revenues.
20. Are any MonetizeMore features or pricing arrangements limited by geographical region or not available to some users? If any, why the limitation?
There are no geo limitations. The only limitations outside of policy screening are below:
Starter Plan: Min 500k page views per month
Pro Plan: Min 10M page views per month
Premium Plan: Min 20M page views per month
Traffic Cop: Min $99 per month
Unified Reporting: Min $99 per month
21. Tell us about your pricing and why it's ideal for small businesses? Do you have any special pricing of any kind, charities or academia, for example?
It is ideal for small businesses because there are no upfront charges. We offer success fees with our typical contracts so that MonetizeMore wins when the publisher partner wins. The Starter, Pro and Premium plans are based on a minority share of programmatic ad revenues.
We have never come across  charity or academia site that was large enough. These types of sites are typically not ad monetized either.
22. Would you say that MonetizeMore has caused a major shift or change in Ad Performance and Revenue? Tell us about it.
Yes, we've dramatically increased ad revenues for many publishers. Here are just a few that were excited enough to tell the world.
23. What is the big picture, where would MonetizeMore be in the next five to ten years?
In five years, PubGuru will become the go-to ad ops platform by achieving a 25 percent market share of the top 1000 ad monetized publishers. It will be the:
Source of truth for deep ad revenue stats
Simplification of their complex ad revenue receivables
Streamlining of their ad operations
Optimal automation of their programmatic auctions
Suppression of invalid traffic to maximize traffic quality
Source of custom notifications to prevent ad op issues and filter actionable ad revenue opportunities to the top
The base tech for their customized big data setup that enables data-driven decisions
Kean Graham is the Founder and CEO of MonetizeMore – A Canadian based company that helps publishers maximize the monetization of their website. MonetizeMore uses a combination of their revolutionary technology and dynamic team to help them achieve glowing monetization results for their users.
The following two tabs change content below.
Nicholas Godwin
Nicholas Godwin is a technology researcher who tells profitable brand stories that tech buyers and businesses love. He covers technology topics on his website
TechWriteResearcher.com
, and has worked on projects for Fortune 500 companies, global tech corporations and top consulting firms, from Bloomberg Beta, Accenture, PwC, and Deloitte to HP, Shell, and AT&T.
Latest posts by Nicholas Godwin (see all)