Nathan Elly: How to Produce Data-Driven Marketing Campaigns That Deliver Reliable Results
Markers are constantly launching campaigns for brands. However, many of them struggle to convert their visitors to buyers.
HubSpot says that the arts and crafts industry has the highest conversion rate at 4.01 percent. That goes to show how dismal most conversions are doing.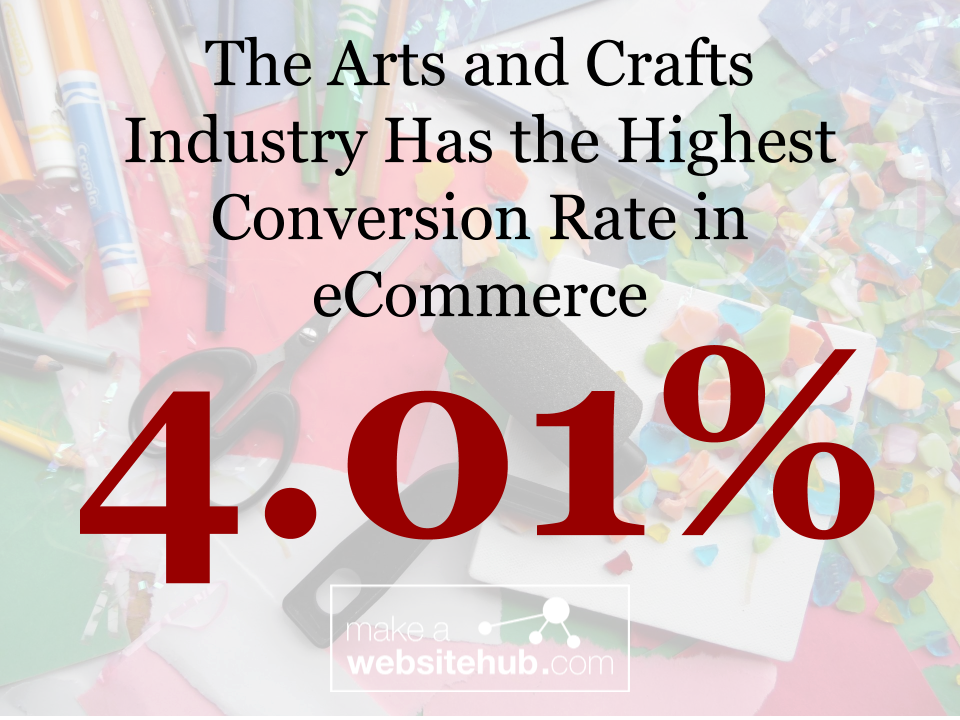 However, data can change that story.
For example, data helps you target the right visitors for your remarketing campaigns. In answering question 15, Nathan pointed out that remarketing to all visitors can ruin your campaigns.
Another point to notice is that people's online shopping habits vary by country. In Australia, for example, shoppers tend to be less likely to buy things from outside their cities online but in places like the UK buying items online from other cities is normal.
Your marketing should adapt to the behavior of your audience too. So if you want to sell things across Australia, then you want to take your local SEO and SEM targeting seriously.
Let's explore Nathan Elly's answers in full.
My Discussion with Nathan Elly of Digital Next
1. Hello, please introduce yourself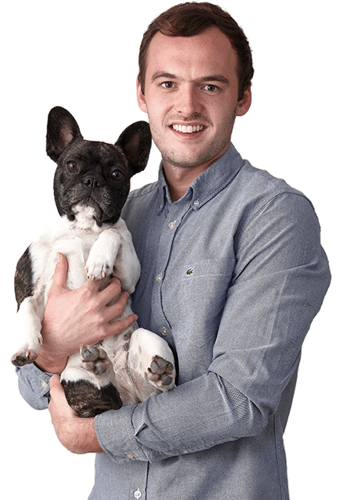 I'm Nathan, Branch Manager of Digital Next, a digital marketing agency in Melbourne. I launched the Australian arm of this business in 2014 after completing my placement year from university for Digital Next in the UK.
Studying marketing, I was fascinated by the new concept of affecting Google search results through various methodologies and the value of acquiring search traffic. After completing the placement and my final year of studies, I returned to the company and planned the launch of the Australian office.
2. Why "Digital Next," what does the name mean? Tell us the story behind the name?
To be honest, it's just a natural evolution of a previous business name, back from when we focused purely on SEO as a service. Over time, our clients asked if we offered more forms of marketing, which organically led to Digital Next expanding our services to accommodate more and more of our clients' needs.
3. What has worked for you at Digital Next for gaining customers and how did you discover the breakthrough?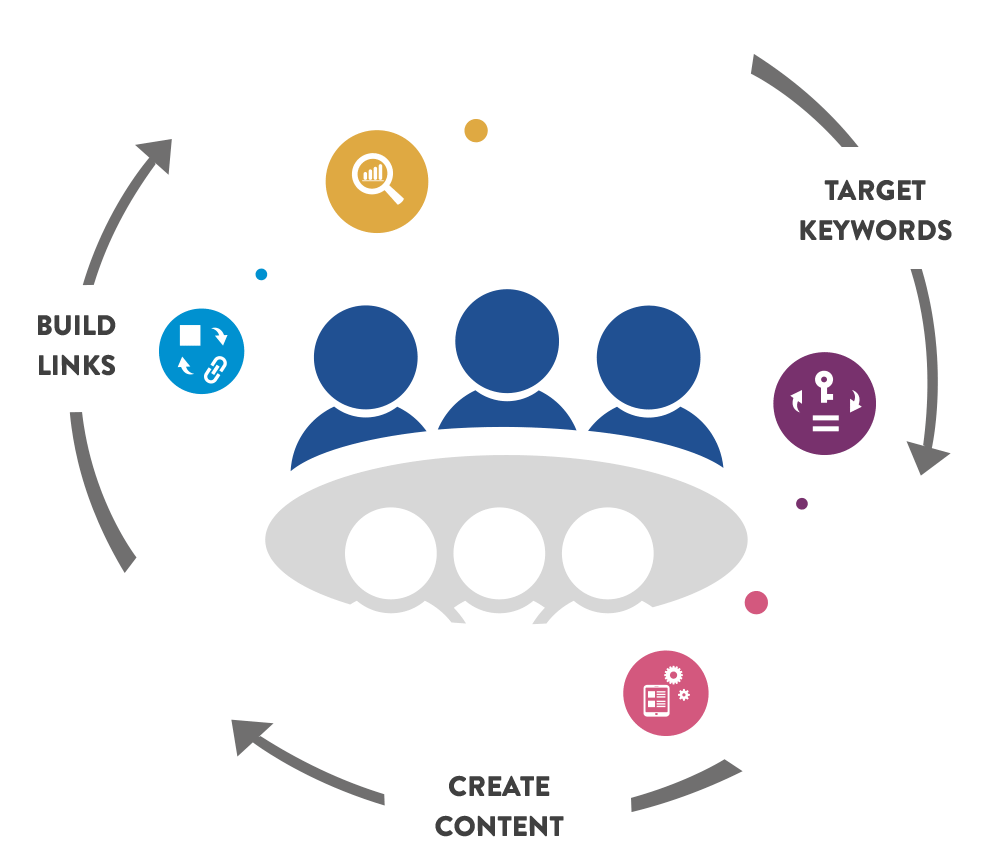 Image Credit: Digital Next
I'm a believer in practising what you preach. We're a strong advocate of pushing for good organic visibility, which has been the cornerstone of our organic growth and the main focus of our online marketing efforts.
Strong rankings, in combination with a good offering and a high-converting website, make up the three pillars of our team's focus. The breakthrough came as an SEO consultant/account manager in the UK whereby I saw the growth and trajectory of clients' organic campaigns first-hand.
4. What wasted your time, money, or other resources in the past? What did you learn from the experience, and how have you used the lesson or lessons?
As a service-oriented business, the immediate pitfalls and shortcomings are often staffing related. Hiring the wrong staff, culturally or performance-wise, can be a huge time and energy drain. Good staffing choices are critical to the continued success of a business.
In our setup, we ideally want individuals who can deliver outcomes independent of other staff member involvement. That said, there are limits to this, hence why management is important. Commercially-minded individuals who can decide what to focus on at the right time are also important, as they can alleviate a lot of potential wasted time and resources.
5. You decided to solve the digital marketing conundrum for businesses. Of all business problems, why did you choose to solve this one? Why not others?
Digital Marketing is data-driven and dynamic. With a background of enjoying and appreciating the sciences, numbers are important in my decision-making process.
However, couple that with an SEO climate that is ever-changing and contradictory, there is no set way to deliver effective digital marketing. This uncertainty creates variables that change from campaign to campaign so there are always new things to learn and evaluations to be made. Then, when you add the tangible ROI from digital marketing activities, it's rewarding to be a part of that customer journey from search to enquiry/sale.
6. You say that Digital Next produces "dynamic, data-driven marketing campaigns that deliver reliable results." Can you give specific examples and numbers? What are the success rates of your marketing campaigns?
Taking a top-level overview, we like to ensure all campaigns are tracking outcomes correctly. Whether that's direct product revenue or contact form fills, it's good to close the loop on marketing spend. This way, you can go back to the client and say you spent 'x' and made 'x.'
At the beginning of a campaign, you look to establish what success is to a client and what ROAS (return on ad spend) we need to hit to ensure profitability. If we are hitting the numbers, we are succeeding, and in an ideal world, more investment would be made for growth.
I'd go out on a limb and say we succeed on 90 percent of the campaigns we engage in. There are always failures on expected delivery only found out once a campaign has started. Cherry-picking a few examples of SEO success, we had an irrigation supplies client generate over $80,000 from organic in one month paying $2,200 in recurring monthly SEO investment.
A pet supplies company recently generated 82 percent revenue growth in the last 6 month period compared to the previous 6 months, hitting $38k of revenue in March 2020, with an investment of $2650 per month.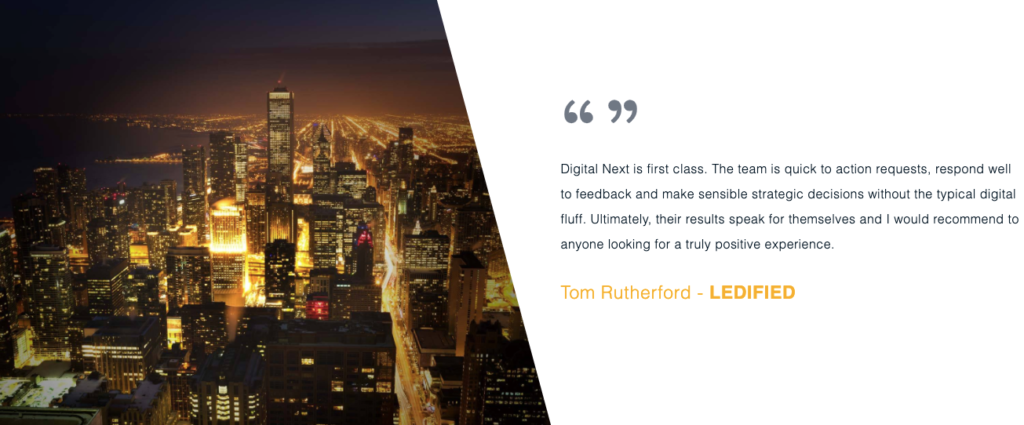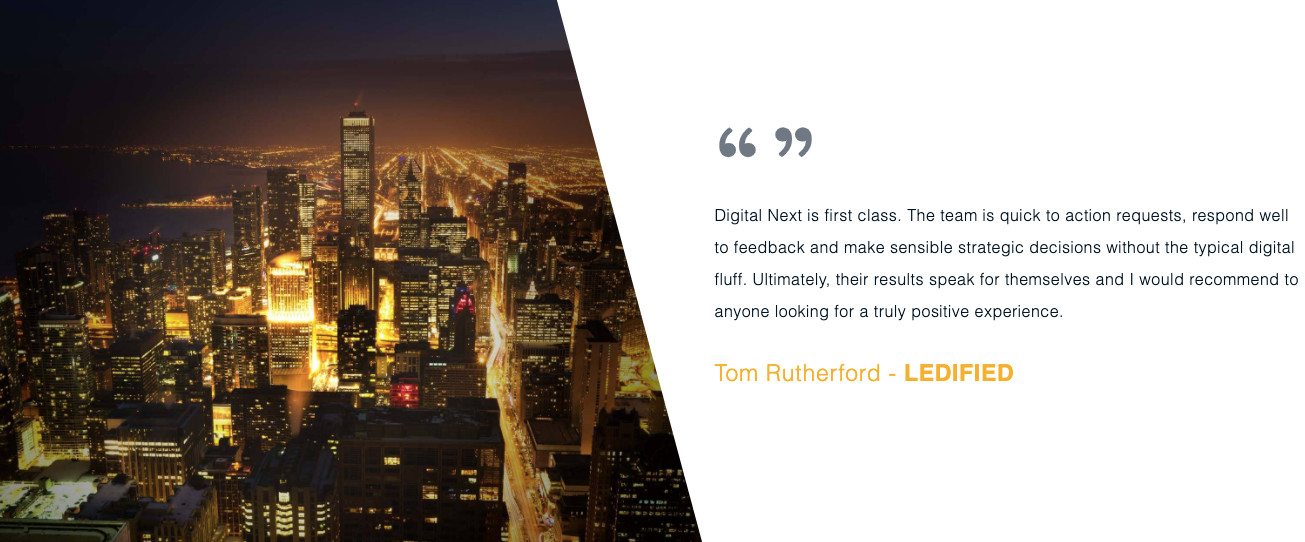 7. What challenges do you face today as a business and how are you solving them?
Well, we had first-world challenges until COVID-19 came along and the rest is now history. As with most businesses, we've been forced to lean up, adapt, and hustle in preparation for the coming months.
8. Nathan, how do you balance your life while managing a business that generates $2 million in revenue?


By investing in good staff that you can trust to manage micro-operations. Naturally, hiring more staff tends to eat into profits, but this is a compromise that can be made to maintain a healthy work-lifestyle balance.
Even then, there is no escaping the spillover, but when equilibrium is lost, exercise is an age-old remedy to stress and certainly helps me switch off and refocus.
Let's Talk About Industry Trends and Your Products
9. What edge do Digital Next's PPC, SEO, and web design services have? And why is this your edge?
Our edge stems from our heritage. The rise of digital marketing in the UK happened many years before Australia and as such, to survive, we were required to always remain ahead of not only best practices but also winning strategies. For every prospect in the UK, there are at least four agencies pitching for the work and, therefore, the weak are quickly separated from the strong.
Image Credit: Digital Next
Bringing this level of knowledge over to Australia, we find that our clients are often pleasantly surprised by our processes and results; having dealt with other agencies in the past. The simple recipe is to not over promise, don't set unrealistic expectations, be honest and the rest (if you believe in your service offering) will fall into place.
10. What trends are you seeing play out in the web design space today? Inc thinks that minimalism and custom illustrations are the biggest trends today, do you agree? Why or why not? How are you responding to the trend?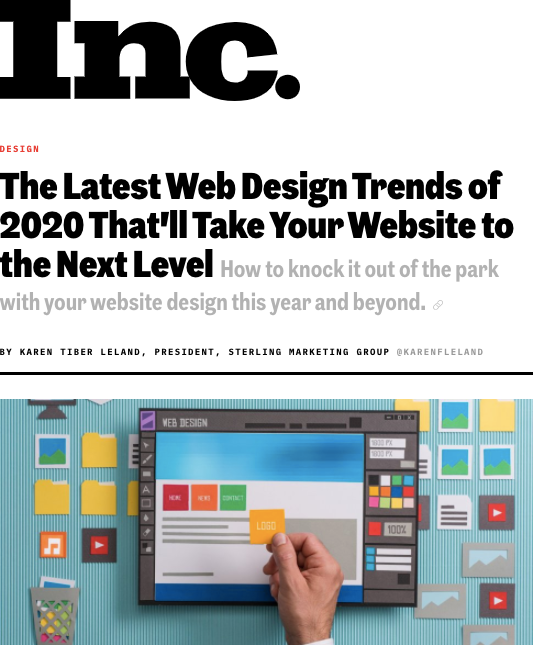 Minimalism has been the dominant web design trend for the better half of the past decade, and while this trend is by no means dead, we have noticed more and more colours and stylistic flairs making their way back into the design sphere.
Custom, hand-drawn icons and illustrations are becoming increasingly popular. They add character, personality, emotion and a touch of playfulness to web design.
Another trend we're seeing a lot of during 2020 is darker themes for websites. We're a big fan of this trend and feel a darker palette allows for key design elements and imagery to take centre stage.
Digital Next is always looking into what's next for web design and how certain trends can best represent our clients and enhance their online presence.
11. In PPC, what trends are you seeing there today? SEJ thinks that automation is the biggest PPC trend in 2020, do you share this opinion? Why or why not? How are you responding to it?
Google has been pushing its AI and automation software within the Google Ads platform in the form of automated bidding strategies, automated ads and smart shopping, to name a few examples.
However, ever since the coronavirus pandemic hit, which affected spending and user behaviour, a lot of PPC managers have seen a decline in performance, especially for campaigns using AI.
Naturally, search habits have been affected by these sweeping changes in the landscape and it has been tough for the AI to adjust accordingly to the drop in volume. This is where manual bidding and using bid automation platforms have come in handy by helping anyone offering Google Ads Management to make the most out of this situation.


We're heading for an automated future whether we like it or not. 5 years from now, Google will look to implement a completely automated platform. It'll be interesting to see what manual input will be needed at this stage.
12. What SEO trends are strongest right now and might continue in the future? Search Engine Watch thinks that Voice Search and Featured Snippets will continue to lead in this space, do you think this is true? Why or why not? How are you responding to these trends?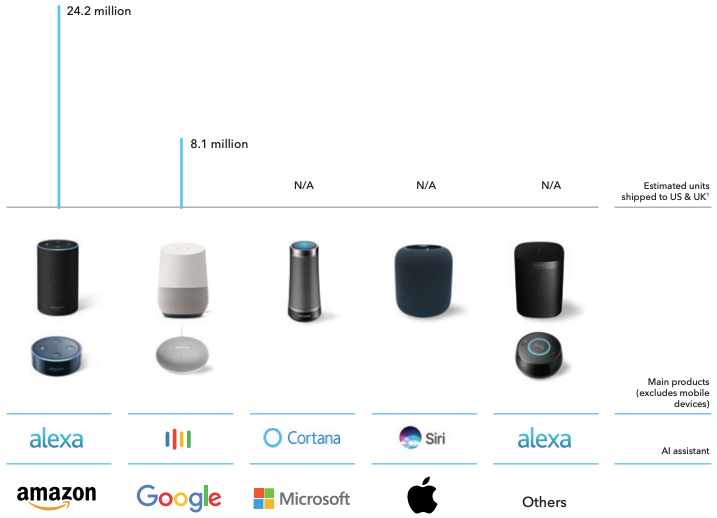 Image Credit: OC&C
I'm more of an off-page SEO guy, so my focus is on relevancy and brand. Link building has always been a huge part of SEO and it likely always will, however, the need for better and more organic links is crucial for long-term sustainability. As a matter of fact, there was a recent update from Google introducing tags on content pieces to flag sponsored content.
Clearly, Google will be looking to clamp down further on over manipulated link building. From what I've seen, there are plenty of sites and marketeers still pursuing "black hat" techniques that deliver positive outcomes.
Featured snippets are prime time real estate and can really help capture users at the top of the funnel in the early discovery phase. Featured snippets are hard to achieve if you're not some form of pre-established authority in the space. That said, from our tests, it is possible to optimise towards these.
In terms of the voice search side of things, I'm not really a subscriber to it leading the space, certainly not from a small/medium business perspective. Voice search is very much tailored to brands with pre-established audiences, an example of which is Pizza Hut/Domino's developing their voice search to enable customers to order with ease.
Research suggests that the vast majority of voice searches are informative and therefore non-commercial. When you are being paid to deliver outcomes on limited budgets there are other, more profitable channels to invest in besides voice search.
At this stage, Google is yet to perfectly fine-tune their organic search results and interpret semantic search correctly, which means the wide-scale implementation of accurate voice search is still a far-off concept.
13. In digital PR, about 73 percent of journalists go online to find press releases daily and 100 percent of journalists say that press release is the number one method for finding stories.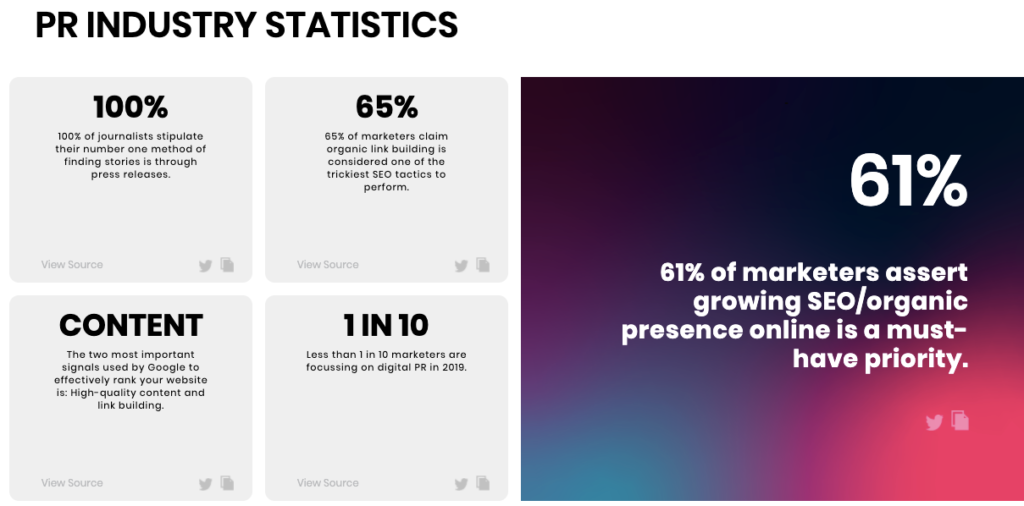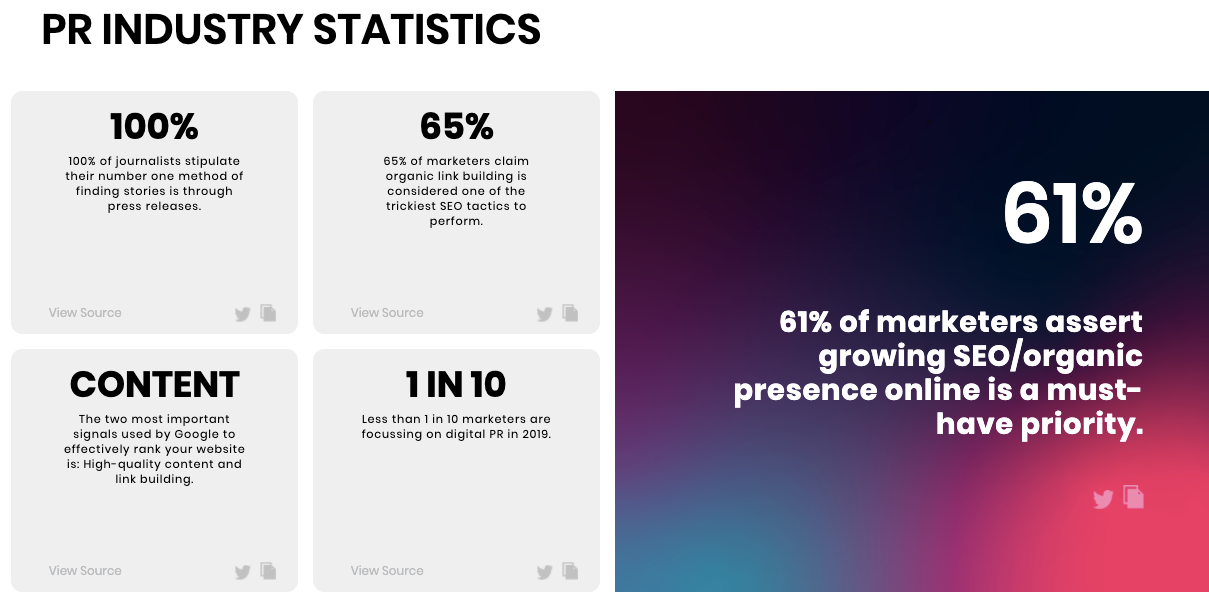 What impact do these statistics have on your digital PR offers? Do you see these trends continuing in the future? Why or why not? How are you responding to the trend?
Naturally, statistics like those mentioned above are why we offer digital PR in the first place. I see the proliferation of journalism through PR continuing for a while, though as with any resource, saturation will inevitably take over.
Now that more and more businesses are seeing the value in PR and online copy, you're starting to see PR pieces pop up for everything. Eventually, I believe that this will make finding valid, viable news stories through digital PR too cumbersome and another medium will take its place.
With all of that said, we tend to prefer other forms of digital content to pure PR. Not that press releases don't have their place of course, but we have seen more value come from link building and guest blogging, which are more in-line with our average client's SEO goals.
14. Remarketing is a popular strategy for converting traffic to leads or leads to buyers. What common mistakes do businesses make with remarketing and what solutions would you suggest?
Remarketing to all visitors – One of the most common mistakes is to retarget everyone who visited the site. Users who have purchased your product or enquired about the service won't be buying again soon. So, immediately hitting them with remarketing will only lead to brand fatigue.
The first rule is always to exclude people who have purchased in the last 7-14 days, or a period that's more suitable for your business/product. Say you recently bought a Samsung refrigerator; would you even consider their ads in 30 or 60 days? I'd say at least a 5-year buying cycle is required.
Ad fatigue – Showing the same ad over and over for remarketing won't help your cause. Limit the frequency of your remarketing ads (possible on display, Facebook and YouTube) to 3-5 a day max. Refreshing ad creative assets every month or few months is a simple way of reducing ad fatigue.
Not segmenting your visitors – Most of the businesses offer multiple services/ products, but when it comes to remarketing, they just roll out generic ads covering their whole business. Segmenting is key to driving increased conversions, and whilst this can be limited by the number of website users, categories with the highest number of users should ideally have individual and custom ad campaigns.
15. According to your website, "eCommerce revenue in Australia has ballooned in recent years and is getting larger… In 2020, it's expected that 1 out of ten items will be bought online."
In spite of all the convenience and safety that comes with shopping online, why is the number of items bought online still 10 percent of all items bought? How might this trend change in the future?
Honestly, I'm unsure as to where that quote originated, as the content was written over a year ago. That said, I did find the following Australian Online Shopping resource which suggests a figure of 9 percent. I expected the figure to be higher but we can only quote what the study details. It's quite likely that there's a lot of research happening online with the final purchase being made in-store.
Another reason could be with regards to how Australians shop within their state and further still respective suburbs. There isn't as much reliance on interstate connections compared to say cities in the UK.


We've also noticed that with our nationwide e-commerce clients who always sell more online in their own city than they do in other cities across AUS.
You have to remember that many businesses are still yet to fully embrace the digital landscape, which means that there are a number of services and products that are still more easily-accessible in-store. This, coupled with many customers still preferring to have a more tangible experience of pricier products before making a purchasing decision, tends to fudge the numbers a little in regard to how effective eCommerce is.
With the COVID-19 situation happening at the time of writing and an increasing reliance on online businesses, buying habits will be forced to transition online, with another month of this at least, the long term effects should see traditional shoppers transition online.
Let's Talk About Your Processes, Pricing, and the Future
16. Do you have a process for onboarding new customers? Can you share it with us?
In a nutshell, our onboarding involves the following:
Define Objectives.
Agree on milestones and ROAS (return on ad spend)
Structure and agree on deliverables.
Educated client on each aspect of the deliverables.
Analytical suite Setup e.g. GTM, GMB, GA etc.
Technical audit.
Setup phase fixing technical audit errors.
Reporting.
17. How do you hire talent?
Depends on the role. If it's specialised we tend to use a recruiter to speed up and optimise the process. Other roles are sourced using platforms like SEEK although the quality of applicants through this has reduced. We also receive a lot of inbound CVs, if there are strong candidates we tend to meet them. Staff are crucial to an agency so always good meeting new people.
18. What's the best thing anyone ever said about Digital Next?
Can't recall an exact example as there has been a number over the years. We're big advocates of Google My Business Reviews, although they too seem to be over-manipulated in recent times. You check a few of Digital Next's GMB Reviews and see what our clients have had to say about us over the years.
19. Every service or product gets negative comments. They are normal. What's the worst you've received? And how did you handle it?
The worst review we had was from a camera blog who had enquired about link building and signed up with our service. They completed one month, at the beginning of month 2 they stopped, refused to pay and left us a bad review on our GMB claiming they have been misled with anti-Google methodologies.
At the time, we were literally gobsmacked. Firstly, the client had enquired about link building, and secondly, they signed off on every single link we provided yet slandered us shortly afterwards. We responded to the claims as any reasonable business would, we refunded the second month and left an amicable response on his GMB review. We have deliberately left the review live as it showcases our approach and openness of our digital marketing. It's a lesson in ensuring both client and agency are on the same page from day one.
If clients don't understand the realities of digital marketing, it can pose issues in the long run.
20. How can brands without prior knowledge of SEO and digital marketing use your service? How do you show them the value you can deliver and simplify high-level SEO, PPC, and marketing ideas for them?
Case studies are huge and help to win new business. If prospects can see a proof of concept, it makes it a lot easier to make than leap into digital. Managers and decision-makers like numbers, and digital is mostly data-driven.
Analytics allows us to track and report on performance. In some cases, we can even agree on a ROAS figure and detail each month for every $ spent how much $ was made. Transitioning from traditional to digital marketing is relatively simple as long as the client has a willingness to understand it's not an overnight fix and is a process of optimising accordingly to data accumulated over time.
21. Tell us about your pricing and why it's ideal for small businesses. Do you have any special pricing like pricing for charities or academia, for example?
Pricing is bespoke depending on a plethora of factors that go into any digital campaign. Budgets can be tailored subject to search volumes of targeted keywords, the competitive nature of the market, intent of the client and how quickly they want results, how they are currently performing.
The range of contributing factors is too vast to offer packaged solutions in a one-shoe-fits-all scenario.
We operate on a month to month basis which gives clients that flexibility and peace of mind that if anything doesn't go to plan or unforeseen circumstances arise, they are not bound to fixed expenses. We've also made concessions with non-for-profits in the past and will continue to do so if we feel that we can offer value to them.
22. Would you say that Digital Next has caused a major shift or change in SEO digital marketing? Tell us about it.
I wouldn't say we have caused a major shift, however, we've been part of a group of agencies who have strived to provide honest, transparent and results-driven marketing. Anyone who has been around the block will know Digital Marketing, specifically SEO, has a controversial history, with many businesses burnt from overselling and under-delivering.
If you aren't aware, check out this Glassdoor feed with some insider stories from a prevalent operator a few years ago. Despite SEO being such a lucrative channel, people were put off investing.
A wave of new vibrant and adaptable agencies flourished off the back delivering tangible results which culminated in a rejuvenated perception of digital marketing.
23. What is the big picture, where would Digital Next be in the next five to ten years?
Ideally, the dream would be to see the company acquired as part of a larger group of agencies that still focused on delivery.
About Digital Next
Digital Next started in 2009 with two brothers and their friend. In eight years, the digital agency had grown to over 100 employees, serving more than 500 clients from four countries. This UK based agency serves users from across industries like legal, retail, travel, sport, and more. They have enlisted brands like Australia's Sportsbet and Servcorp, and forged partnerships with the mobile network powerhouse, EE, and Online Group in Sweden. This company has been named one of the top 100 fastest growing companies and has maintained an annual revenue of £4 million
The following two tabs change content below.
Nicholas Godwin
Nicholas Godwin is a technology researcher who tells profitable brand stories that tech buyers and businesses love. He covers technology topics on his website
TechWriteResearcher.com
, and has worked on projects for Fortune 500 companies, global tech corporations and top consulting firms, from Bloomberg Beta, Accenture, PwC, and Deloitte to HP, Shell, and AT&T.
Latest posts by Nicholas Godwin (see all)