Website monitoring tools, are tools that let you keep an eye on changes to your website or other websites on the internet.
Web page change monitoring tools are at the top of their game in today's constantly shifting digital world, where web pages are much more dynamic and can change several times per day.
I regularly use web monitoring tools in my daily life for a few tasks:
Monitoring my websites
Monitoring my competitors' websites
Finding the latest online bargains and discounts
Let me explain in a little more detail.
As a blogger and website owner, I use web page monitoring tools to track my websites to make sure there are no technical issues.
I have written before about tools that help you monitor if your website is down, but other problems can arise when running a website too.
These types of tools help me to relax knowing if there's an accidental or deliberate change to my website, such as caching issues or if I am hacked and my website is defaced, I will be notified straight away – automatically.
If my website is broken or down then I am losing out on potential customers, these tools help me to mitigate this risk by checking if there are any changes to my website.
These tools provide are also great for monitoring my competitors. I can be notified straight away if they change their sales pages, redesign their website, or edit the copy on a blog post.
Finally, I use these types of tools to help me in my personal life too, with the recent global supply chain issues I have used these applications to let me know when out-of-stock items are back in stock.
If you have ever tried to buy an in-demand product from a website or you have been waiting for there to be a sale on something you have had your eye on for a while you can use web page monitoring tools to help you grab it.
Journalists can use them to monitor social media profiles or company websites for stories too.
Whatever you want to accomplish with these web page monitoring tools, I've got you covered.
I'm going to show you some free tools for monitoring changes on a variety of websites.
Visualping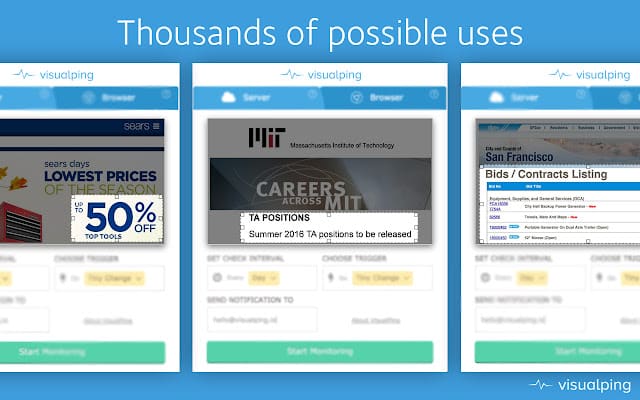 Visualping is one of the best free website monitoring tools. You can use it to monitor changes to any website, including your own or your competitor's websites.
Visualping is a great tool for keeping track of your website's progress because it is very easy to use and its base-level plan is free. To use Visualping, simply enter the URL of the web page you want to monitor into the Visualping dashboard. You can then choose how often you want Visualping to check for changes to the web page.
You can also choose to receive an email notification when a change is detected or you can view the changes in the Visualping dashboard. All of their features are included in a clean and simple interface, making it very easy to keep track of changes.
According to its website, 85% of Fortune 500 companies use Visualping and more than 1.5 million people worldwide use it every day to perform 5 billion visual inspections.
Individual plans begin at $14/month for 25 checks per day or 1,000 checks per month. It also offers Pay Per Use alternatives.
Business plans start at $140/month for 500 checks per day. With their Business edition, you may send your contacts 1-to-1 invitations to visit your workplace and access the software. You can create 5 invites for coworkers to each workspace. In addition to that onboarding and training are also offered.
Visualping offers a 30% discount on all personal and business plans when paid annually and reimburses all unused months.
Pros
The free plan allows you to send two checks every day or 65 per month, whereas the premium plans double this limit.
Visual-compare monitors the visual features of a page, and it offers alerts in easy-to-read pictures with highlighted modifications.
Excellent proxy service
This extension enables users to do things like log in to password-protected sites, receive alerts for particular terms, and turn on/off JavaScript.
Dedicated account manager and additional perks on business plans like extra services, demonstrations, and training for employees.
Cons
The free tier does not come close to the amount of data that some of its rivals listed below provide.
Wachete
Wachete has a lot more to offer than the other content monitoring solutions on this list. Its most distinguishing feature is that it can monitor password-protected sites as well as dynamic and JavaScript websites.
You can also monitor modifications on pages that need a click or an input, as well as monitor URLs from various locations and times.
You can also track certain elements of a web page or site, including sub-pages. Wachete provides real-time or summary notifications (optional) via email as well as notifications about modifications through its mobile application.
It can record and archive web content as well as historic modifications for up to six months, allowing you to track outdated pages or changes when necessary.
You may monitor five web pages for free, which is enough for most users who just want to keep track of price drops and job opportunities. You can also check the site's availability, as well as download all of the data in a spreadsheet.
Versionista
Versionista is a basic yet effective tool for monitoring websites that are both static and dynamic.
You can monitor web pages, as well as PDFs and other documents just like Visualping, with it. It's distinguished by the fact that you may create filters to skip irrelevant content changes and track and manage SEO changes to stay competitive in SERPs.
You can alter the frequency, JavaScript support, proxy address, and more while creating a monitor. It's good because it displays color code comparison to highlight changes and allows for change alerts as well as comprehensive emails.
Versionista allows team collaboration by allowing administrators to manage users and users to collaborate to complete team projects.
The prices for monitoring start at $19 per month for 20 URLs checked and 1860 browser crawls performed each month. Versionista's plans begin at $139 per month if you want to add team members and generate personalized reports.
Pros
For individuals and businesses, the Free plan allows for checking up to 5 URLs each month and executing 465 browser crawls (checks).
Dashboards provide a quick and easy method to add monitors for other pages on the same website by displaying site-wide URLs for each URL checked.
Enterprise Managed Services provides bespoke engineering, process and product integration, analyst-curated intelligence reports, and so on.
Cons
Unlike Visualping and other similar tools, the free plan is severely limited, offering no support for sophisticated criteria like page area selectors or regular expressions (regex).
Unlike Visualping, there are no separate sets of commercial plans. The company offers Gold and Enterprise membership levels with unlimited users for $139/month.
The interface is a bit less user-friendly than some other similar products, such as Visualping.
Fluxguard
Another useful tool for monitoring web page changes is Fluxguard.
Google Lighthouse Audits, are one of its distinguishing features, allowing you to evaluate your site's SEO. You may automate operations like submitting forms, establishing filters for notifications, utilizing proxy networks, and sending alerts through Slack and webhooks.
Fluxguard plans, which cost $99 per month, allow for the monitoring of 10,000 pages at 5-minute intervals. If you want to add team members, Fluxguard's subscription starts at $199 per month and provides 25,000 pages with limitless users.
Pros
You may keep track of 50 pages per month with support for 3 versions per page and immediate or daily alerts on the free plan, which is very generous.
This feature allows you to block advertisements
Kaleidoscope — its business plan — includes unlimited archives, concierge onboarding, compliance assistance, results pre-screening, and more.
Cons
It's not as user-friendly as other similar products, such as Visualping.
Changetower
For free, ChangeTower allows you to keep an eye on three URLs. It's a cloud-based software that may be accessed from anywhere and can detect visual changes. You may observe code modifications, keywords, and page appearance changes.
What I like is that one may also check a website's availability and get alerts if it is not accessible. ChangeTower may alert you or your team via real-time email notifications, allowing you to watch notifications and check out detections in real-time.
You can have a look at three months' worth of data for free, and you may even export it to a spreadsheet.
Distill.io
It's a feature-rich tool for tracking website changes. It has cloud as well as local monitors, unlike the other tools, which makes it unique. It also supports automating processes such as signing in, exporting data, utilizing custom proxies, monitoring document changes such as PDFs, and managing versions.
For individuals, the most basic plan is $15 per month with a 10-minute cloud tracking interval. The Flexi plan begins at $80 per month and has customizable restrictions if you want a more comprehensive solution.
Pros
With the generous free plan, you may utilize 5 monitors in the cloud and 20 monitors on your local machine every 6 hours and 1000 checks monthly.
Complex conditions allow the merger of numerous criteria to create more sophisticated filtering, which can be used to generate alerts without producing false positives.
It does include unlimited phone push notifications, unlike other plans (paying subscriptions).
Cons
Unlike Visualping and Versionista, Distill.io does not allow for team collaboration.
Pagecrawl.io
Another useful solution for monitoring web page changes is PageCrawl.io, which I discovered recently. In terms of insights, PageCrawl.io enables the tracking of numerous elements on a webpage.
You may share a tracked page with friends or coworkers, visualize findings as graphs, send notifications to email or Slack, export data, and much more using this tool
For monitoring 100 pages or URLs with 15-minute tracking ability, PageCrawl.io offers monthly plans starting at $8. For an enterprise plan, you can start at $30 per month for tracking 500 pages with a 5-minute page tracking capacity.
The most generous free plan, allows tracking 16 pages (or URLs) with one check per page each day, or 480 free checks per month.
Google Sheets integration helps you keep track of your monitored URLs.
Zapier integration allows you to connect to other applications and automate your monitoring process – a feature that many of the previously mentioned tools lack.
Honourable Mention – Little Warden
Little Warden is a paid service that monitors your website for changes. It monitors your website for 30+ different events that may affect your website's SEO or performance.
Some of these checks include:
Domain Name Expiration Check
SSL Certificate Expiration Check
URL Response Check
HTTP to HTTPS Redirect Check
WWW to non-WWW Redirect Check
404 Page Response Check
Geo Redirect Check
Nameserver Change Detection
MX Record Change Detection
Title Tag Change Detection
META Description Change Detection
Google Analytics Change Detection
Google Tag Manager Change Detection
Robots.txt Change Monitoring
IP Address Change Monitoring
Rel Canonical Checking
Robots.txt Indexability Check
X-Robots Indexability Check
META robots Indexability Check
Text or Regular Expression Check
Element Monitoring
Sitemap Validation
XML Sitemap Change Montioring
Malware Detection Check
Little Warden will send you an email whenever something on your site changes. Prices start at $34.99 per month for monitoring 20 URLs for changes.
The following two tabs change content below.
Jamie Spencer
My name is Jamie Spencer and I have spent the past 10 years building money making blogs. After growing tired of the 9-5, commuting and never seeing my family I decided that I wanted to make some changes and launched my first blog. Since then I have launched lots of successful niche blogs and after selling my survivalist blog I decided to teach other people how to do the same.
Latest posts by Jamie Spencer (see all)