In the offline world, all types of security monitoring services are used by companies who wish to make sure that their facilities remain secure, their secrets are left untouched, and that nothing stops the business from operating at peak efficiency. In the online world, website monitoring services provide similar peace of mind. To guard against everything from a broken HTTP connection to unauthorized content changes and outright hacks, website monitoring keeps a watchful eye on both a domain's homepage and all of its other directories and subpages.
Alerts are sent instantly if any suspicious activity is found.
Though these services are popular among website owners, the competition is stiff, prices are variable, and outcomes are different with each provider. Before entering the market for website monitoring services, it's worth considering the best free and paid options on the market.
The Best Free Website Monitoring Services
For many small business owners and webmasters maintaining a personal presence online, free is the way to go. Luckily, many companies have developed free website monitoring services that will provide at least basic monitoring and reporting about a site's security, uptime, and suspicious changes. Most of these services also offer an "upgrade path" to a more robust, paid version of website monitoring as well.
Cost: Free ($130/month premium service available)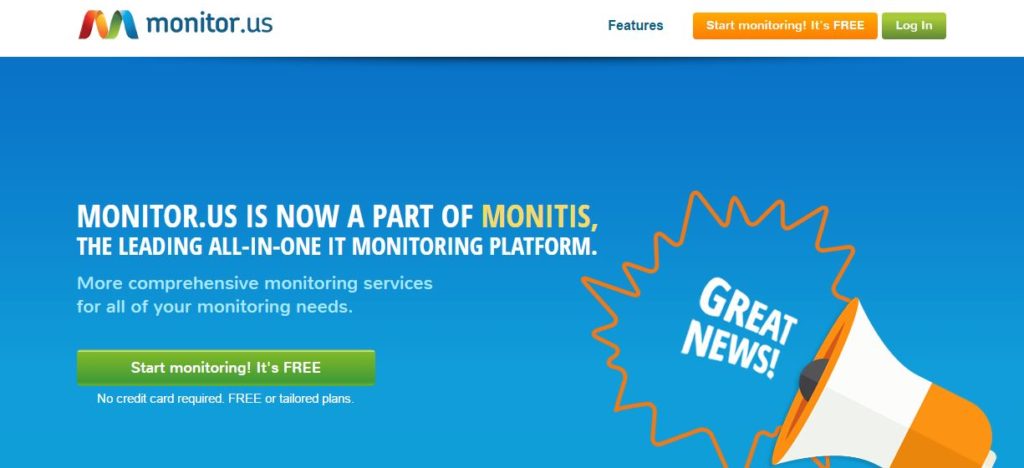 Monitor.us is a great choice for website owners who want insight about both their public-facing website and the server that it resides on. The free version of the service issues regular reports on website uptime issues, server performance, and network performance. Users can even create custom-defined measurements and website metrics that Monitor.us will track in real-time. Unlike some other free services, Montastic.us is based entirely in the cloud and is therefore completely portable between domains and servers. An upgraded package is available, at $130 month, for users who need to monitor multiple servers, many locations, or who need 1-minute monitoring intervals.
Cost: Free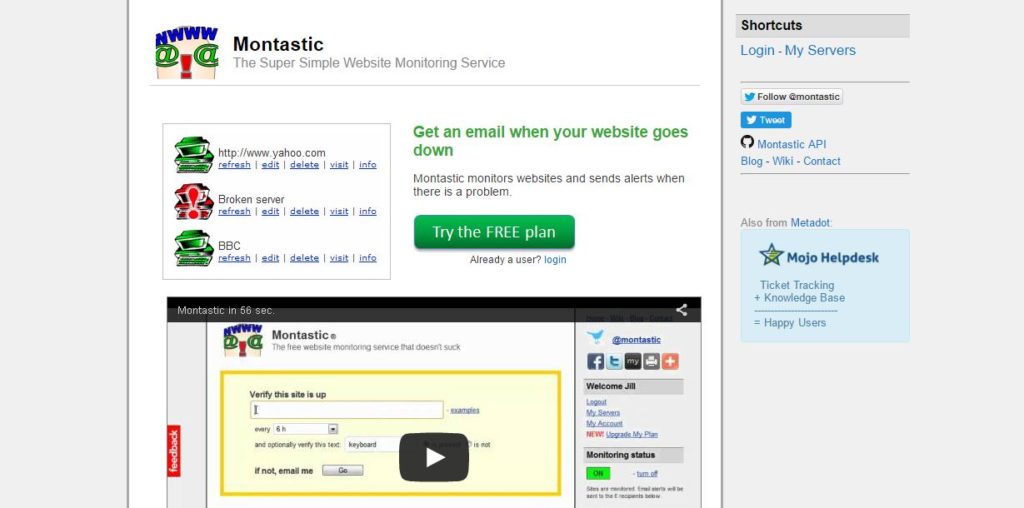 Montastic is an excellent choice for personal website owners and those who are developing a small company website. This completely free service checks the website every five minutes and reports on things like downtime, page errors, multiple user logins, and any error pages that it detects. Error reports are sent via email, but Montastic also maintains a series of apps for Mac, Windows, iOS, and Android. This is an uncommon approach among free website services, since each app allows real-time monitoring of website reports, downtime, and other key information. This service is the best choice for website owners who want constant monitoring as well as constant access to live data.
Cost: Free ($48/month premium service available)

Uptime Robot is one of the oldest free monitoring tools, tracing its roots all the way back to 2010. Since then, the service has grown dramatically as a cloud-based, uptime-focused monitoring tool. Uptime Robot's free incarnation allows for 15-minute monitoring intervals across as many as 50 separate websites. Any instances of downtime will be instantly reported via email.
One thing to keep in mind with this service is that its primary server is in Dallas, Texas, with only a handful of secondary servers located around the world. Competitive premium monitoring tools often have at least 50 servers around the world to provide a better picture of website performance and uptime. While users can upgrade to the $48 monthly service to monitor more websites, they'd likely be better served by a monitoring tool with more international servers and a more comprehensive approach to uptime monitoring.
Cost: Free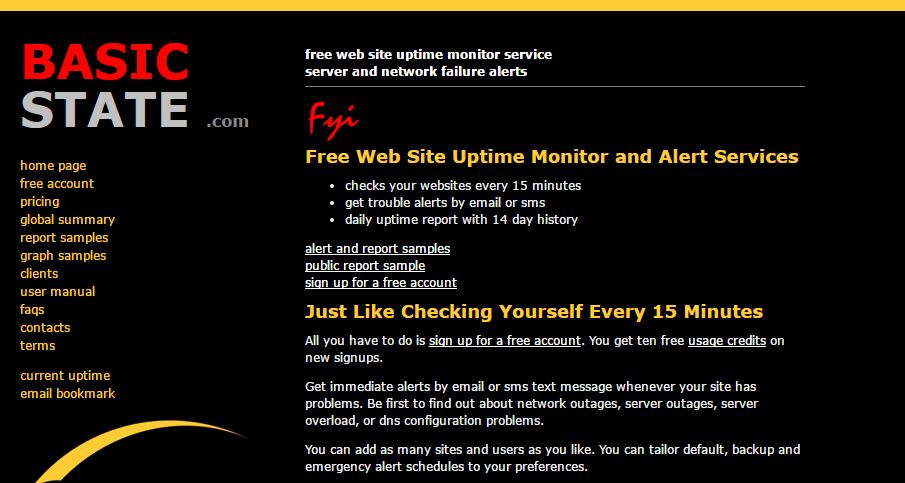 Don't be fooled by the basic website used by BasicState's monitoring service: This is a comprehensive monitoring tool that can work for personal websites, small blogs, and startup business sites. BasicState offers a list of basic, useful features that will help monitor website uptime. The service checks website uptime every 15 minutes, across an unlimited number of websites, and can send downtime alerts via either email or text message.
In addition to frequent interval checks and excellent alert options, BasicState offers its users the ability to run daily reports, with up to two weeks of uptime history for context. Unlike some of its competitors in the free space, BasicState gives subscribers the ability to create different default, backup, and emergency alerts so that it's easier to take appropriate action when something goes wrong.
Uptimia is an excellent choice if you need a broad range of monitoring checkpoints. With 171 checkpoints on six continents, Uptimia can monitor your website from anywhere in the world. They are offering website uptime and speed monitoring, multiple-step transaction monitoring and user performance satisfaction monitoring. Users can get alerted as soon as a website goes down or if there is a problem with a site, such as performance issues. Also, users can get scheduled reports to always know about performance metrics of their websites.
Uptimia is hosted in two data centers 600km apart from each other and can stay operational even if one data center goes down completely. That way the service can guarantee that users will always get their downtime alerts.
Monitoring one website every 5 minutes is free. Premium plans start from $9/mo. The service is suitable for both owners of small sites and enterprise clients.
The Best Paid Website Monitoring Services
Looking for something more advanced than a free service can provide? The Internet is full of premium competitors that charge a monthly fee for website monitoring service. The five best options offer unparalleled service, support, and peace of mind, to corporate websites and growing domains.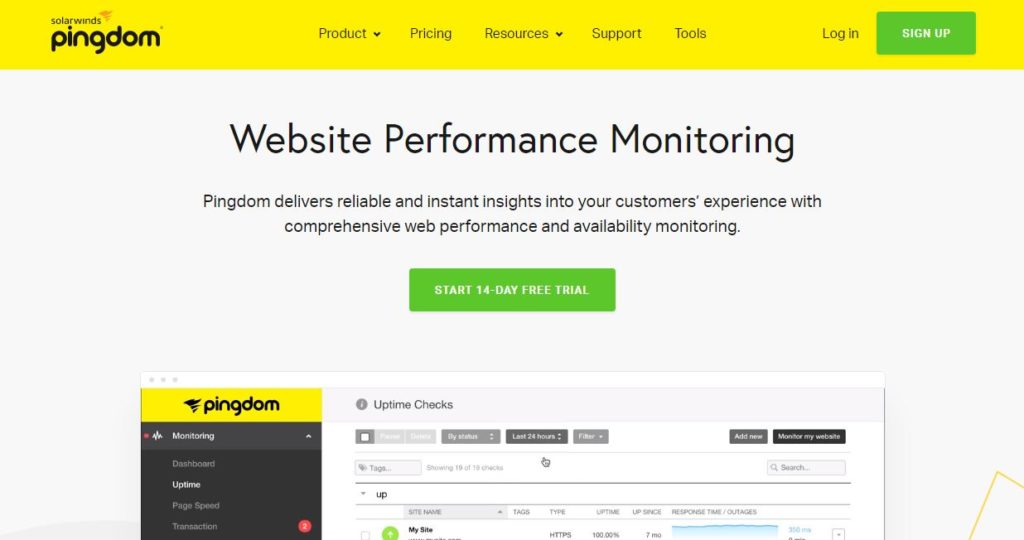 Cost: $11.00 – $454.00 per month
Pingdom is likely the best website monitoring choice for professionals who are looking to monitor website uptime. Unlike many other monitoring services, Pingdom has servers in several countries that continuously, even simultaneously, monitor website uptime. This unique approach ensures that a downtime report isn't issued simply because one country's server couldn't ping the website. In addition to comprehensive uptime monitoring, Pingdom offers excellent online and phone-based support, can send text message alerts when something is wrong with a monitored website, and can run up to 250 random website checks per month. Pingdom also offers a very good site speed test tool which I covered in my article on speeding up WordPress.
Cost: $5 – $99 per month
When it comes to data, few website monitoring services even approach what Host-Tracker.com offers its paid subscribers. This comprehensive, premium monitoring service goes well beyond tracking instances of website downtime. Alongside this virtually standard service, Host-Tracker.com manages to track server performance and downtime, network connection issues between the server and the client, database connection problems, page errors, content changes suspicious logins, and the security of online transactions. Secondary features include the monitoring of multiple simultaneous user logins and suspicious end user activity.
All of the data collected while monitoring the website can be easily manipulated using Host-Tracker.com's excellent charts and graphs. Users can look at long-term trends, daily reports, or specific instances that caused alerts to be sent in the first place. A total commitment to communication means that Host-Tracker.com offers to send alerts via both email and SMS, with no extra fee for critical text message alerts.
Cost: $5 – $89 per month
Another monitoring service with excellent data collection and comprehensive monitoring, Site24x7 gives its users the ability to monitor server responsiveness, network connection issues, traditional website downtime, website loading issues and overall performance, server CPU usage, firewall performance, memory and disc performance issues, and internet service performance. Reports can be run at any time, with data aggregated from the last 24 hours, one week, one month, one quarter, or one year.
Alongside excellent testing and monitoring tools, Site24x7 provides comprehensive, instantaneous alerts if something goes wrong or if the server failed a key performance test in the latest round of monitoring and testing. Like most paid monitoring tools, Site24x7 will dispatch either an email, a text message, or both, depending on user preferences. The cost of text messaging is included in the monthly service plan, which brings down the overall cost of the service relative to some of the company's competitors. With a reputation that stretches back more than half a decade, this combination of communication and comprehensive monitoring makes Site24x7 one of the best tools for large corporate websites and data-obsessed website administrators.
Cost: $199 – $1,999 per month
SmartBear, which recently acquired the competing AlertSite service, was named by PC Mag as one of their top five website monitoring tools available of 2015. Though time has marched on, SmartBear has continued its reign as one of the best, most comprehensive tools for large corporate clients who wish to monitor every aspect of their online presence. It should be noted, however, that this type of top-notch performance and scalability doesn't come at the Internet's cheapest price. With packages ranging from $199 per month to a staggering $1,999 fee each month, this is a service clearly targeted to corporate clients with deep pockets.
Those deep pockets get access to excellent services, however. In addition to near-standard monitoring of website uptime, server bottlenecks, network performance issues, and other key measures of how well a website performs over time, SmartBear offers a whole suite of innovative monitoring options that can't be found elsewhere.
The service monitors Software-as-a-Service tools, like cloud-based productivity software, for security, stability, and performance issues. SmartBear also keeps a watchful eye on mobile applications, mobile websites, and API frameworks that a company might use to connect with developers. Lastly, there are two "bonus" features that add real value: No programming experience is required to get started with SmartBear, and the company operates 340 testing nodes around the world to ensure that its reports are the most accurate among its paid competitors.
5. Uptrends
Cost: $13 – $186 per month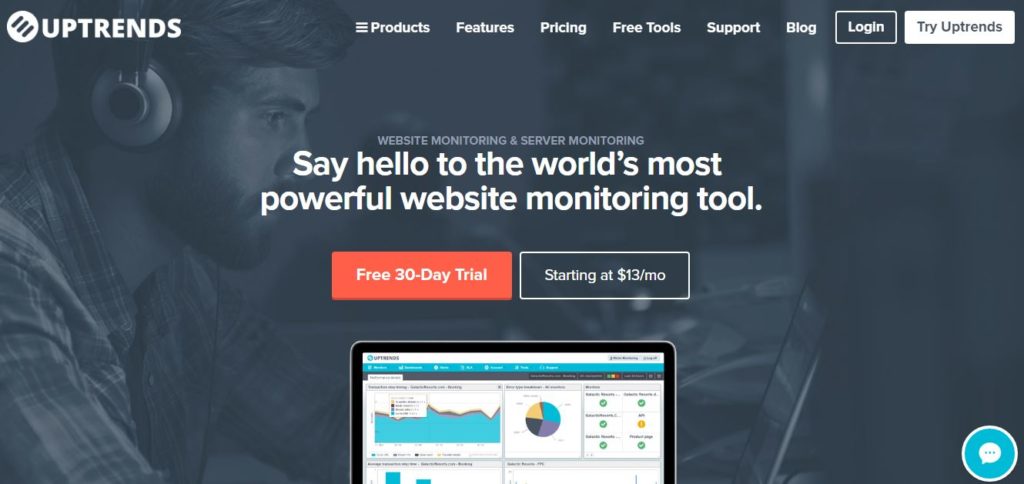 Originally founded as a free tool for monitoring website uptime, Uptrends in the past several years has moved exclusively to a premium subscription model instead. As it has transitioned to a fee-for-service model, the company has also added many features to its typical website monitoring package. Today, with packages starting at $13 per month, Uptrends offers 1-minute interval uptime monitoring, multi-browser monitoring, and even transaction monitoring.
Uptrends' pricing for 2016
For enterprise customers, the Uptrends portal can even be co-branded to fit into a company's broader IT services and support systems. Like several of its premium competitors, Uptrends offers unlimited operators and up to 600 SMS alerts per month for website administrators who upgrade to one of its enterprise or high-end personal monitoring packages.
Free or Paid: Best of the Best Web Monitoring Tools
Now that the best monitoring tools for free and paid customers have been detailed, which one is the best for each need? For premium customers, it perhaps goes without saying that SmartBear is the most comprehensive option and the one most likely to work well for large corporate clients or demanding mobile developers. The service is the only one in this list that offers mobile website and app monitoring, API monitoring, and more than 300 testing nodes around the world. That type of commitment to comprehensive reporting is rare and commendable.
On the free side of things, the competition is a bit tighter. Even so, the best tool for free customers is likely to beMontastic. Unlike many of its free competitors, the Montastic service offers desktop and mobile apps, widgets, and email alerts, making it easy to stay connected to website monitoring data and key alerts. With a growing user base and a solid developer community, Montastic is a service that can grow with free customers as their needs change and evolve over time.
Excellent Choices for Website Monitoring Across the Board
Whether it's something as basic as website uptime, or something as advanced as SaaS monitoring, content monitoring, and security enhancement, these website monitoring tools can get the job done. Even better, each tool offers a wide range of free and paid options that can work with any budget. When shopping for a monitoring service, make sure that the monitoring company offers the right type of monitoring, the right monthly cost, and the best possible customer support. In addition it is important that you invest in a good quality web hosting company – I've reviewed over twenty well known web hosts.
With these four things covered, your website will be in good hands.
Related articles:
The following two tabs change content below.
Jamie Spencer
My name is Jamie Spencer and I have spent the past 10 years building money making blogs. After growing tired of the 9-5, commuting and never seeing my family I decided that I wanted to make some changes and launched my first blog. Since then I have launched lots of successful niche blogs and after selling my survivalist blog I decided to teach other people how to do the same.
Latest posts by Jamie Spencer (see all)