Constant Contact –
Detail Review For 2021
Top Rated Email Marketing Platform
Constant Contact
Constant Contact is a really simple to use email marketing platform that is designed to allow extremely simple operation with mobile-optimized templates and simple WYSIWYG "drag-and-drop" editors. In this review, I delve into the product and find out just what its like to use and give you the pros and cons of this popular tool.
Constant Contact Summary
Prices: From $20 p/m
30 Day Free Trial
Ideal for beginners
Good Template Library
Constant Contact Review
Constant Contact is designed to allow extremely simple operation with mobile-optimized templates and simple WYSIWYG "drag-and-drop" editors that make creating and using sign-up forms, collecting emails and other contact information, managing email lists, starting email campaigns, and analyzing real-time data as simple as easy to use as possible.
Founded in 1995, Constant Contact is a legendary platform that is primarily designed to help small businesses and medium-sized businesses operate intuitive email marketing campaigns and send out newsletters. Often compared to competitors such as MailChimp, Pardot, and Hubspot, Constant Contact prefers to market its email marketing software platform as a cross between marketing automation and email marketing, using the term "email automation."
Constant Contact Pricing
Constant Contact has tried different pricing structures over the years but has now streamlined its email marketing service offering to just two choices called "Email" and "Email Plus."
The "Email" option begins at $20 (€18) a month with one free month at sign-up.
"Email Plus" begins at $45 (€40) a month and also comes with one free month at sign-up.
It's important to understand that the prices "begin" at this price points because the total cost is not fixed but rather based on the number of subscribers or number of contacts. The "Email" plan's $20/month price tag is valid for up to 500 subscribers, but you'll need to shell out $45 if you have up to 2,500 subscribers, $195/month for up to 10,000 subscribers, and $335/month for up to 50,000 subscribers.
In addition to the Email and Email Plus plans, Constant Contact offer an Ecommerce Pro plan for a larger, scalable, AI driven ecommerce solution. But for the purposes of this review, we will stick to the email marketing solutions.
Constant Contact also has separate fees for certain add-on services such as an animated template pack, custom email templates, branded footers for emails, and assistance with growing your subscriber list. Other advanced features that Constant Contact also provides include professional services such as help from marketing consultants on a one-time or reoccurring basis, for an additional fee.
Note: You can sign up and get a six-day free trial of either tier completely free without having to provide any payment information. If you do choose a paid plan, you'll get a 30-day no questions asked money back guarantee, making Constant Contact a great no-risk option for anyone shopping around for an automated email marketing platform.
Features
Constant Contact comes with a number of built-in mobile optimized templates. These can be slightly modified by color and a few other tweaks, but there's no option for creating a new template from scratch other than by paying one of Constant Contact's designers to create one for you or doing it yourself with high-level coding skills.
Constant Contact makes it relatively simple to either upload an existing contact list or use website forms, Facebook, and other embeds/plugins to harvest contacts and automatically add them to your Constant Contact subscriber list. Contacts can be manually added, imported from Outlook, Gmail and other email platforms (including Thunderbird and AOL, or imported from an existing file (in several popular formats, including .csv, .xls, and .txt).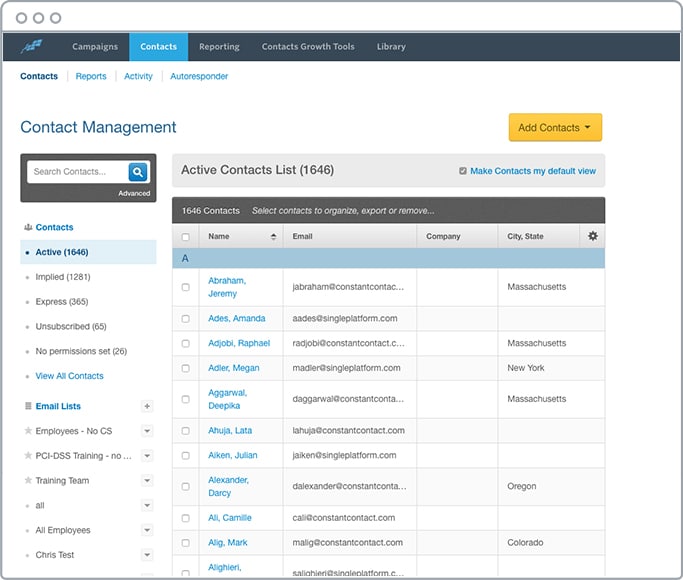 Once you've created or imported your contact list, it's relatively simple to segment it. One particularly nice feature is the ability to add tags to contacts in order to track them or segment them more easily. It should be noted, however, that Constant Contact strongly dislikes contact lists that only contain email address and nothing else, and it's a little clunky to add in information for missing fields later.
Forms
Constant Contact also lets you create forms for use in emails and newsletters to allow readers to sign up themselves to your contact list. You can also easily set up forms for use on WordPress, Facebook, and other platforms to get customers to sign up. Constant Contact will let you further segment your contact list based on the method that they signed up. Constant Contact gives you the option to (slightly) edit sign-up forms (including those embedded on third-party sites), but these choices are somewhat limited.
There are some restrictions on creating contact lists, some welcome, and others less so. For instance, you must verify that you have permission from every single contact to receive emails from you in an effort to prevent spam. Furthermore, Constant Contact won't let you add any group contacts or distribution lists because obtaining permission from each recipient in the list/group is difficult.
Auto-responding & Scheduling
Constant Contact will, however, let you create autoresponder emails based on a limited number of triggers, including on the recipient's birthday, welcome emails, and other events. You can then easily create custom newsletters or emails such as a "Welcome" message for each trigger.
Where Constant Contact shows its strength is in setting up and running a campaign. Constant Contact will let you customize a template (again though, only minimally), including adding your company or organization's logo. Both paid tiers include a media library where you can store your image files.
Once you've created a campaign, Constant Contact gives you a number of scheduling options, including immediate broadcasts or precisely scheduled options (in five-minute intervals). Unfortunately, there's no way to either create recurring broadcasts or to send emails based on the recipient's local time.
Responsive Email
The emails sent by Constant Contact are mobile optimized, so they should be easily viewable even on smaller phones. For an additional fee, Constant Contact will let you use an animated email template, an interesting feature for marketers who want to stand out from the crowd. The standard plans also let you include polls/surveys and the ability to RSVP for events inside an email or newsletter without having to click through to a website, a particularly nice feature.
Email Analytics
The analytics provided by Constant Contact are useful but not as sophisticated as those offered by some of its competitors. The "Reports" tab on the Constant Contact dashboard will display the number/percentage of opens, click-throughs, bounces, and unsubscribes, including if you're logging in via the mobile app.
Constant Contact will also let you compare one campaign to others you have executed, provided, of course, that they were done through Constant Contact. One really nice feature is a Refresh button that will give you real-time results.
Constant Contact also lets you choose five individual emails from a campaign to give you a "deep dive" on how they performed.
Vibrant Support Community
Last, but definitely not least, Constant Contact has a very active online forum with lots and lots of helpful information. And if you get stuck, there's usually someone online who can assist you via the company's helpful "Ask the Community" button. There are a large number of help files online at the company's Knowledge Base webpage as well as some very educational videos.
Having been around for over a decade, you'll probably find the answer to your question on the company's website, which is extremely useful when it's 3:00 AM and you're tearing your hair out over why a scheduled message failed to send.
Constant Contact does provide official customer service via a number of channels, including an online chat, Twitter, and phone support, but these are only available during business hours Monday through Friday. Constant Contact does, however, offer local inbound phone numbers for customer support in the United States, Canada, Britain, and Mexico.
Integrations
Constant Contact works a large number of third-party "plugin apps" that help boost the scope and abilities of the standard platform. Some of these, such as a Gmail plugin (for adding contacts) and a plugin for Facebook are free. Others, such as integrations with MindBody and DonorPerfect, come with an additional charge.
You can find a complete list of Constant Contact integrations here.
Getting Started With Constant Contact
After signing up, the first step is to create or import a contact list. If you want to do this contact management manually, it will, of course, be quite time-consuming, but it'll make the software happy as all the data will be formatted correctly with the required information in all of the fields.
Most of the time, however, you're probably going to be importing a contact list. Constant Contact's website warns that contact lists with over 40,000 entries can cause errors, therefore they recommend splitting big lists into smaller pieces first. Officially, Constant Contact will let you import files in .XLS (Excel), .XLSX (Excel open), .CSV, .VCF (vCard business card), and .TXT (plain text) formats, but it is extremely important that these are formatted very precisely or else Constant Contact will become quite balky.
Things that Constant Contact doesn't like include special characters, extra spaces, hidden fields, columns without a heading that specifically matches their contact field names, and a blank first row. Constant Contact also won't work if the file name itself has special characters, including spaces, parenthesis, or punctuation marks. While these requirements are quite fussy, the import usually goes quite smoothly, if it's formatted correctly, and all of the requirements and specifications are precisely listed in the Constant Contact Knowledge Base section.
You can also choose to import a contact list from Gmail, Outlook, Thunderbird, SalesForce, and other third-party platforms, including AOL! Importing contacts from these platforms usually goes smoothly, but beware if some fields (like first and last name) have no information as Constant Contact will aggressively prompt you to add this information later.
Once you've imported your contact list, Constant Contact will analyze the information and alert you if any contacts appear to be from a known disposable domain or an otherwise red-flagged domain, giving you the option to delete or keep them in your list. You can then choose to segment your list based on a number of variables, including tags and the method by which the contact information was added to your list (i.e. via a form on Facebook, by clicking on an email, etc).
Forms
After you've set up your contact list, the fun can finally begin. You can create forms based on existing templates that are customizable and used for either emails or newsletters. Constant Contact gives you the option to host the forms on its own servers or on a website of your choice (as well as social media embeds like Facebook). You can also use existing templates to create in-line forms for a variety of purposes, including pop-ups that appear when a visitor exits a website.
Constant Contact comes built-in with lots of form templates which you can then customize in the email editor, but your options are rather restricted and more akin to "tweaking" than truly "customized."
For beginning users, the simplicity and guardrails are useful because they'll make sure you can create something simple and useful without having to worry about doing any coding, but more advanced users may find the available tweaks (mostly color, font, and text size options) limiting. Constant Contact does have a marketplace where independent designers can create customized form templates for an additional price or you can do it yourself if your coding skills are up to snuff.
Constant Contact has been around a long time, so there's an easy one-click integration for forms with just about any third-party platform, CRM, or social media that you could ever ask for. Constant Contact also lets you set up triggers for your forms, including the ability to automatically send a welcome or introductory email for new sign-ups.
Campaigns
Constant Contact comes with a large library of templates for setting up emails or newsletters. You can also add your own images, including a company logo, but videos are strictly limited to embeds from YouTube.
Once your newsletter or email is ready to send (to the appropriate segmentation of your contact list, of course), Constant Contact gives you just a limited number of scheduling options. Besides immediate distribution, Constant Contact only lets you pick a single scheduled time for a mass broadcast of your newsletter/email to every recipient on your selected list.
Yes, you can choose a precise scheduling time (narrowed to any clock time ending in a "0" or "5" only), but you cannot schedule repeat broadcasts on a reoccurring basis. Furthermore, Constant Contact does not give you the option to send your messages based on the recipient's local time.
Constant Contact does, however, let you include something they call "Action Blocks" in your emails or newsletters. This allows you to add special features like RSVP-ing for an event or voting in a poll/survey completely inside the email itself instead of a click sending the user to a webpage, a particularly nice feature.
Analytics
After you send your first email/newsletter, you can view all of the analytical statistical information via "Reports." From here, you can see standard metrics data like the number and percentage of opens, bounces, unsubscription requests, and click-throughs. A great feature is a "Refresh" button to get real-time results instead of having to reload the page.
And, although it's not on the Report tab, Constant Contact's comprehensive Knowledge Base lets you compare your statistics to other industries to see where your numbers stack up.
Constant Contact also lets you compare your stats, including one campaign to another (executed via Constant Contact, of course) as well as "big picture" information such as whether engagement levels are improving or declining during the past 90-days. One really nice aspect of these stats is that the mobile app version of Constant Contact gives you all of the same data as the website.
Constant Contact also lets you choose five different emails or newsletters to compare and contrast by the numbers.
Overall, there's nothing flashy or particularly granular about the analytics offered by Constant Contact, but you'll get all of the basics as well as simple charts that you can download which are perfect for internal use and/or presentation reports.
Email Automation
Constant Contact prides itself on being simple yet robust. The platform only allows for two different triggers for automated delivery of messages, either upon joining (i.e. when a new contact signs up) or for specified milestones like the recipient's birthday or the anniversary of when they became a customer.
And while these automatic message triggers are useful, unfortunately, you cannot set up segmented triggers such as when recipients open an email (or don't open it), click on a link inside the email (or didn't click the link), or whether or not the recipient forwarded your email.
Furthermore, Constant Contact does not offer A/B testing. The only A/B testing currently available for Constant Contact is the subject line/text of the email or newsletter.
Building the automated triggers is simple thanks to the WYSIWYG drag-and-drop editor, but marketers looking for advanced, more precisely segmented triggers will be disappointed. Constant Contact excels at setting up reliable, simple, and effective triggers as long as you don't mind being restricted to only a handful of available options.
Knowledge Base and Help
Where Constant Contact truly stands head and shoulders above its competitors is the depth and breadth of its knowledge base. The company has been focused on its email automation marketing platform for over a decade, and it's pretty easy to find the answers to any questions that you might have on the Constant Contact website.
During business hours Monday through Friday (in the United States), Constant Contact offers online help via a live chat, its Twitter account, and by telephone. They even offer inbound numbers for customers in Mexico, Canada, and Britain, which is a helpful feature for users in those locations, but (non-British) European, African, and Asian users may get caught short if they have an urgent need for customer service outside of American business hours, not to mention any applicable long-distance phone charges.
That being said, Constant Contact does have a handy "Ask The Community" feature that will connect you with an expert volunteer. Constant Contact also has a very lively and active online forum, so it's pretty easy to find just about any kind of information you could ever want, including finicky details on how to format files and things like that. There's even a handy "Developer Resources" section for advanced users.
As long as you're looking for help on how to use, set up, integrate, or customize Constant Contact, you're pretty much guaranteed to find what you're looking for in either the Knowledge Base, the "Ask the Community" section, or on the online forum. But if there's an error on Constant Contact's end, you'll be out of luck if it happens outside of their operating hours.
Always Evolving
As we mentioned before, Constant Contact have been in the industry for a long time. A big reason for that is the core product that they offer, but it is also their drive to evolve and improve their offering that keeps them current and in the game. Some of the more recent features they have included in their offering are the ability to create call-to-action landing pages, an array of SEO tools and in-app ad creation functionality for several social media platforms such as Facebook and Instagram. These latest additions help to extend Constant Contacts online marketing offering scope beyond email.
Pros and Cons Of Constant Contact
Overall, Constant Contact is a really great tool, but no single solution is ever going to be perfect.
Pros:
Ease of use – very easy and simple to use (WYSIWYG) operation.
One-click integration with WordPress, e-commerce (such as Shopify), social media, and other websites/platforms.
Simple audience segmentation, including by tags.
Inline "Action Blocks" allows for responses without bouncing out to a website.
Affordable pricing that scales to your needs.
No cap on number of messages you can send per month.
Very knowledgeable and helpful online community.
Cons:
No way to schedule messages based on recipient's local time.
Difficult to set up adaptive workflows or complex triggers.
Customer service support limited to business hours.
Only YouTube videos can be embedded in emails.
Software occasionally behaves glitchy.
Clunky and limited options for teams.
Included templates are very simplistic with limited customization.
Conclusion
Constant Contact certainly has its strengths, but many long-time users have begun to wonder whether the company is starting to show its age. Overly simplistic and sometimes outdated looking templates, occasionally glitchy performance, and a limited number of options for big campaigns might lead some marketers to choose competitors like MailChimp.
However, Constant Contact does offer a number of very powerful and robust email marketing tools, including very simple and easy to use drag-and-drop WYSIWYG editors for creating customized and branded newsletters, emails, and forms, a full-service mobile app, and great multichannel integration, particularly with social media. Constant Contact also has a very comprehensive knowledge base online as well as an active community forum, making it easy to find technical information or answers to most questions.
All told, Constant Contact remains a strong contender as a great, one-stop-shop platform for email marketing, especially for small and mid-sized businesses, organizations, and non-profits. And while it faces strong competition from established competitors and newer solutions such as ConvertKit, Constant Contact is still around for a good reason. Its yeoman-like simplicity and laser focus on automated email marketing show that this old horse is still a contender.