Web Host Review
JustHost
While JustHost doesn't have a reputation as being the highest profile web hosting company, it does offer easy navigation and accessible on their interface and hosting plans that are decent.
You can get JustHost hosting for special price of just $3.95 per month (36 months sign up)
+ a FREE DOMAIN NAME worth $15.
Here's what you get for just $3.95 per month.
FREE Domain Name
FREE Email Address
FREE Website Builder
Access to Cpanel dashboard
Plenty of Disk Space
One-click WordPress Install and 24/7 support.
While JustHost doesn't have a reputation as being the highest profile web hosting company, it does offer easy navigation and accessible on their interface and hosting plans that are decent. With that in mind, JustHost's service is extremely bare bones and lacking regarding the wide variety of hosting types consumers are expecting from competitors including Bluehost, DreamHost, and HostGator.
JustHost History
During 2002, Chris Phillips launched JustHost in Glendale, California. Ten years later, in 2012, the company was acquired by Endurance International Group (EIG). Unfortunately, many of EIG's other brands circulating the Internet have not been receiving good results. Therefore, this doesn't bode well for the results we can expect for JustHost.
However, because all web hosting services deserve a fair shot, it was essential that a shared plan be set up with a WordPress website. In doing so, it's been possible to monitor the service more closely and provide the following results.
JustHost Hosting Package Prices
Below is a quick overview of the JustHost hosting packages and pricing.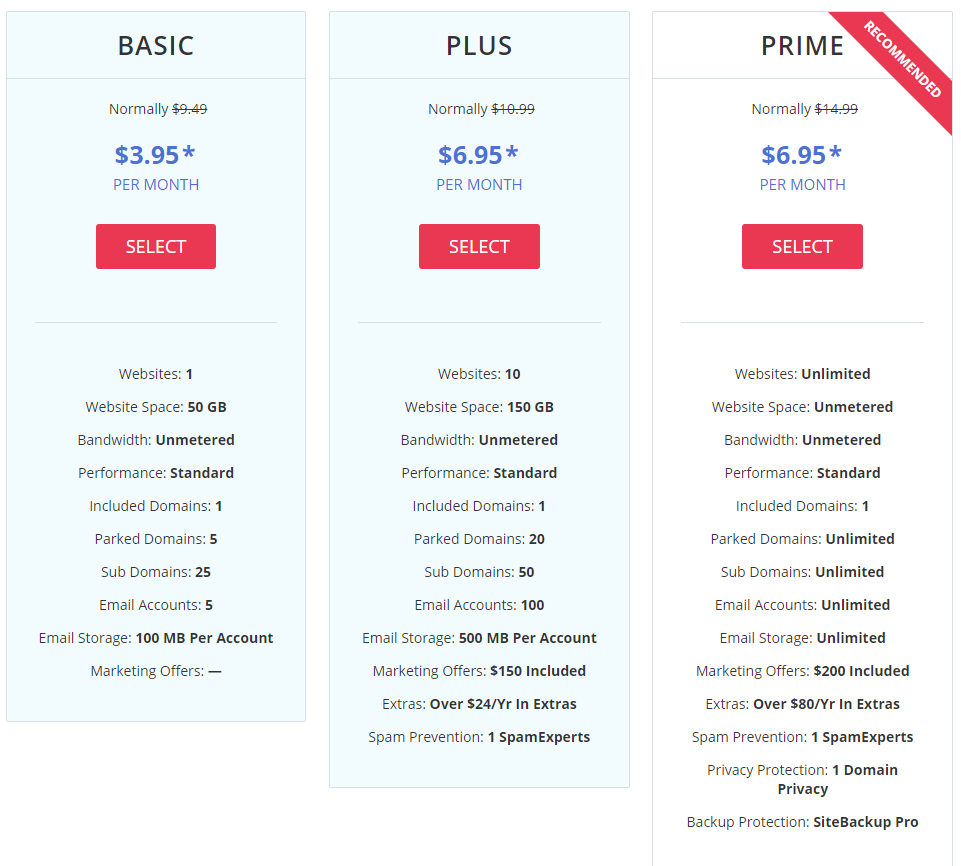 JustHost Basic plan:
At a costs of $3.95 per month, the basic plan supports 1 website and comes with 50GB disk space. You get x5 100MB storage emails accounts (storage per account) and you have the ability to create 25 subdomains.
JustHost Plus plan:
$6.95 per month and you can host up to 10 websites with a total of 150GB disk space. This is apple amounts for 10 websites. You also get a CDN, 50 subdomain names, 100 email accounts (500MB per account).
JustHost Prime plan:
This plan is strangely the same price as the Plus plan at $6.95 per month. You can host unlimited websites and unlimited sub domains. You also get a CDN, unlimited email accounts with unlimited storage. They also throw in 1 free SSL certificate for your domain, back up protection and 1 dedicated IP.
JustHost Quick Facts
Below is a quick overview of the offerings you'll find available through JustHost.
• Free domains: yes
• Simple setup: the two-step setup involves a quick and simple sign-up process.
• Payments accepted: PayPal or Credit Card
• Hidden Clauses or Fees: users who exceed the limits for shared hosting accounts could lead to termination without notice. Limits include 1,000 database tables, 200,000 anodes, and #GB MySQL/PostgreSQL total databases.
• Account Activation: occurs quickly
• Upsells: users can expect to experience many
• Dashboard and CPanel: Heavily customized dashboard.
• Installation of CMSs and Apps: simple "one-click" installation options available for the majority of the popular apps including WordPress and Joomla.
Advantages Of JustHost
1. Simple Site Set-up
One of the most significant aspects of using JustHost is how simple it is to set up the site. For those who pick the "Basic Plan," and choose a domain that's available, a variety of extras will then be presented to you. By default, some of those extras are already checked off for you. For some, this is an immediate turn-off because they have extra costs including Domain Privacy Protection for $.99 monthly or Site Backup Pro for $2.99 monthly.
Upon finishing with that step, users are met with a myriad of website building tools. One of them includes Weebly, a top-ranked free website builder. Weebly allows users to add buttons, slideshows, YouTube videos, and other content quickly to their sites.
2. Instant Server Provisioning
It isn't uncommon for hosts to require lengthy processes regarding signing up for new accounts. What this means is that you may have to hit the phone lines to verify your identity, particularly if you're an international user. That translates into a slow and frustrating—as well as irritating—process. Under some circumstances, being on the phone with customer service has taken up to one hour. However, there is good news. JustHost does offer instant provisioning for consumers who are interested in their Prime Plans.
3. Money Back Guarantee
If you're unhappy with your hosting service for any reason, JustHost offers a standard 30-day money back guarantee. One critical point to make a note of is that their guarantee only applies to the hosting service. So, if you've purchased a domain, that won't apply to your refund request. Therefore, you'll see JustHost deducting a non-refundable fee of $15.99 to cover their costs. However, when you pick another web host, you can transfer that domain name. The only downside is that it isn't possible to transfer a newly registered domain to a different host within 60 days of its activation.
4. Numerous Integrations and Add-Ons
Users will find that, once they begin using JustHost, it easily integrates with Google Apps and other popular platforms. Additionally, integration with more than 100 open source applications is also seamless. For those who are interested in generating online sales, JustHost also offers free Bing and Google advertising credits.
5. Free Domain Names
No matter which hosting plans you decide to go with, new account sign-ups will receive a free domain name. All you have to do is check to ensure it's available. We found this feature particularly beneficial to users who don't have a lot of experience with website building because it gives them an inside view of what it's like to build a site from the point of selecting a name to moving on to the website builder without feeling intimidated by pricing.
6. No-Cost Script Library
Everyone signing up for a JustHost account has full access to a script library at no cost. Users select the scripts they want for their site, and SimpleScripts automatically installs them seamlessly. Some of the scripts that are available include Joomla, osCommerce, phpBB, and WordPress. In doing so, it's possible for users to have scripts on their sites without the need for becoming coding geniuses.
7. Simple Ecommerce Set-up
Setting up an e-commerce store is also simple for users who are interested in doing so. All users must do is visit the Mojo marketplace and pick from one of their "one-click install" offerings. Some of the options include Magento, Opencart, and ShopSite. For example, users selecting ShopSite will find it simple to add a banner, logo, products, and social media links. It's also possible to use a dashboard for monitoring and tracking sales. A Seller's Guide is also available if users need additional assistance.
8. Decent Security Features
In the control panel Add-Ons tab, JustHost offers a variety of security features. Because the use of security should be a priority when selecting a web host, it's a relief to find many options through this one. For example, those who are using the Basic Plan will have free website backup. However, those who would like an advanced plan will experience an annual cost of $19.99. These plans include backups of individual files, as well as folders. It's also possible to purchase SSL certificates for those who would like to secure transactions, and those start at $69.99 annually. SiteLock is also available, which includes malware scanning and removal, beginning at $1.99 monthly.
Disadvantages Of JustHost
When selecting a hosting provider, there are two critical features users should be looking for regarding delivery:
1. Speed: when pages are loading, it's vital you know how quickly it will take for all your pages to load their content to include images, videos, widgets, and so on. What this translates to is, the slower your site is, the lower your conversation is going to be as well.
2. Customer Support: you should be receiving customer support that goes above and beyond by helping you troubleshoot common issues as they appear, as well as figuring out how to make your site experience the most positive as possible. If users aren't the most technically savvy individuals, this should be especially true.
If you've read JustHost's pros, you may have already noticed that these two features didn't appear. With that being said, we're going to look at the service's cons.
1. Slow Page Loads
Page loads are of critical importance for any website user. A website must load in "record time" in order to ensure potential buyers and clients aren't leaving before they have a chance to read about the services you're offering or see the products you're selling. Therefore, when JustHost experiences slow load times for several months straight, it's a concern. When testing the site for five months, the load times experienced a significant drop in performance during each month. One of the main reasons visitors leave a website is because it isn't performing well. If visitors are bouncing, your page views will fall, conversions experience a hit, and you'll experience a decline in customer satisfaction.
2. Customer Technical Support is Lacking
Unfortunately, JustHost's customer & technical support is also lacking. In addition to taking more than 15 minutes to get a connection with a customer service agent, the majority of their answers aren't helpful. For example, the customer service representative merely links users to their Frequently Asked Questions. When researching other's experiences with their customer support, mixed reviews reveal similar results. Dating back to 2014, their customer service team seemed to have taken a turn for the worst with various public Twitter feeds revealing poor customer service or answers lacking adequate detail.
3. If Users Provide Upfront Payments, They'll Get the Cheapest Price
When you initially begin researching the bargain pricing for JustHost, and its low monthly rates, it looks like a good deal considering its features and benefits. However, the only way users can experience the deepest discounts is if they commit to a three-year contract. In doing so, they must also make an upfront payment. Otherwise, they'll experience a higher rate for a twelve-month commitment that is also paid upfront. What's worse is JustHost's promotional rates will end when the user's plan ends, and their pricing will experience an increase.
4. Backups Aren't Guaranteed Weekly
Weekly backups are one of the offers JustHost promises to their users. In comparison to other hosts that offer nightly or daily backups, this isn't a great feature. However, it's still good because backups need to occur in case of an emergency. The only problem with these backups is that they aren't guaranteed.
What does this mean?
Ultimately, JustHost will perform the backup on a weekly basis as promised. However, they don't support the backup that's occurring. Therefore, it's vital for users to have a "backup plan" for their backup. Otherwise, they potentially could be at risk of losing critical data. Another problem is that this poses a significant issue for those who have concerns regarding security, as well. Therefore, it's best for users to perform nightly backups independently if they want to ensure their data is being backed up in a secure and guaranteed manner.
5. Poor Quality Upsells
When you're signing up for a company, it goes without saying that you're going to experience some upselling. That's especially true when you're signing up for a free plan. However, the expectation is that those upsells are going to be good quality and the manner at which that selling occurs is done is with professionalism and integrity. When we signed up for the free plan, we were met with poor quality upsells on a surprising level. The problem with this is that users are not only overwhelmed by the amount of upsells that are occurring by JustHost, but by their poor quality as well.
Do We Recommend JustHost?
As the service stands today, it's not one that we would recommend. Unfortunately, one of the main reasons is because the page loads are too slow and they're not getting any faster. We're also not impressed with how lacking the customer support is, especially if someone is new to website building.
Additionally, when looking at how the pricing is in comparison to the competitors with much better hosting features at similar prices, we couldn't ignore those facts. Therefore, it's our recommendation to check out all hosting options to help save some money in the long run.
What Are Some Good Features About JustHost?
• Users have access to a free script library.
• There's a 30-day money back guarantee if users aren't happy with the service.
• A wide variety of integrations and add-ons are available.
• Every user receives a free domain name regardless of the plan they pick.
• Instant provisioning is available.
• The security features are high-quality.
What Should Users be Wary About Regarding JustHost?
• Despite many months of use, the page loads remain inconsistent.
• The customer support is lacking and needs significant improvement.
• Users must make a three-year commitment and pay upfront to receive the best pricing.
• JustHost doesn't stand behind the backups they perform on a weekly basis.
• Users are overwhelmed by the amount of upsells that occur.