Survey Junkie Review 2021
Written by Jamie Spencer – Updated 22nd August 2021
Survey Junkie is one of the biggest online survey providers in the world. We run through their offering and give you the facts. Are they any good? Is it worth signing up for? Let's find out.
If you have ever been interested in the world of online surveys, there's a good chance that you have heard of Survey Junkie. It's one of the most popular names in the game and has been around for quite some time. The site promises to turn you into an influencer and pay you for your opinions.
But, is looking into Survey Junkie worth the effort?
With this Survey Junkie review and guide, we're going to help you find out. We're going to take a close look at what this survey site has to offer.
Disclosure: When you sign up to Survey Junkie, we earn a small commission. This helps us to keep this site running. There are no extra costs to you at all by using our links.
About Survey Junkie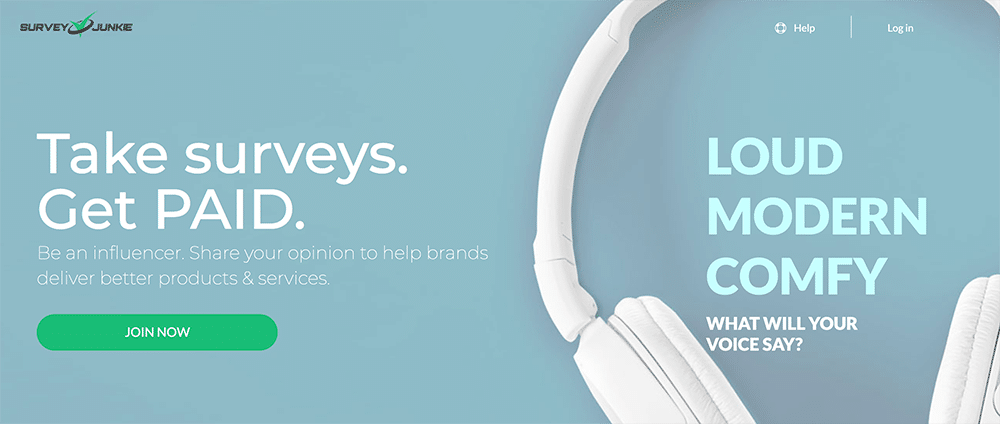 Now that we have answered your burning questions, let's take a closer look at what Survey Junkie brings to the table.
This company has a very long history. The original concept of Survey Junkie started all the way back in 2005. However, it didn't become the site you see today until 2013 when the current name was adopted.
As we mentioned earlier, the site is part of DISQO. Prior to becoming DISQO, the parent company was also known as Active Measure and Blue Media Ventures.
According to Survey Junkie's website, the brand has a large community of over 10 million members.
Ways to Make Money on Survey Junkie
There are a few different ways to earn some extra money with Survey Junkie. This platform isn't as feature-rich as some of its competitors. You're not going to find jobs that will keep you busy for hours on end. But, there are some easy ways to make some extra cash in your spare time.
Surveys
Surveys are this site's bread and butter. You can log in daily to earn points completing surveys that you qualify for. For every survey, you're provided with some basic information so that you know what to expect. While you can't view the topic it covers, you can see how many points it's worth and approximately how long it will take to complete.
Most of the questionnaires have a brief qualifying survey to ensure that you're part of the demographic that it's targeted towards. In most cases, it's just 3 to 4 questions long. As we mentioned earlier, you get a few points even if you don't qualify to take the full survey.
One thing that we like most about Survey Junkie is that you can start earning right away. After you have signed up and provided all of the appropriate information, you can fill out a profile survey.
This profile survey acts as a trial run of the platform. Not only that, but it lets Survey Junkie collect some pretty important demographics information about you. You see, the site can recommend surveys to you based on the information in the profile survey. It will use your answers to show you the surveys you're most likely to qualify for. You still need to answer those qualification questions first, but it's a nice feature that can help you weed through the survey options.
Another great feature is the email system. Surveys aren't as plentiful on Survey Junkie as they are on other sites. Thus, the company will alert you to high-reward surveys as they become available. All emails contain links to take the survey immediately.
We recommend taking advantage of those emails. You'll find that spots fill up pretty fast, so be quick if you have some extra time on your hands! The good news is that Survey Junkie tends to send out a lot of survey emails.
Focus Groups
If you're lucky, you could get invited to a focus group. Usually, these invitations are based on a prescreening process using that profile survey we covered in the previous section.
Focus groups pay more than standard surveys. However, they also require a bit of extra work. Typically, these activities are more personal. You may be asked to participate in a forum discussion or speak to a moderator.
They're not modelled after traditional surveys. Instead, they're designed to let participates give their thoughts on a particular topic in a free and open way.
Product Testing
Typically reserved for Survey Junkie's highest-performing members, product testing opportunities come with a lot of perks. Not only do you get rewarded with more points, but you also get a chance to use products that haven't even been released to the general public yet. How cool is that?
Brands will find participants and send them physical products. Usually, there will be some strict guidelines on what you can or can't do with it. Obviously, things like sharing the new product on social media is a big no-no. Some companies may even require you to sign non-disclosure agreements.
Whatever the case may be, the product-testing process is pretty straightforward. You're given a certain amount of time to use the product in real-world settings before you have to give your honest thoughts about it. It's a fun alternative to traditional surveys. While rare, you could see these opportunities pop up from time to time. Keep an eye on your email inbox!
The Survey Junkie Points System
No Survey Junkie review is complete without talking about the point system. This site does not provide you with cash. Like some of its competitors, it rewards you with points after you complete surveys.
The points are used to request a cashout. Alternatively, you can redeem them for digital gift cards. We'll get to that soon.
Survey Junkie pays 1 cent for every point. So, you'd have to earn 100 points to redeem a prize worth $1.00.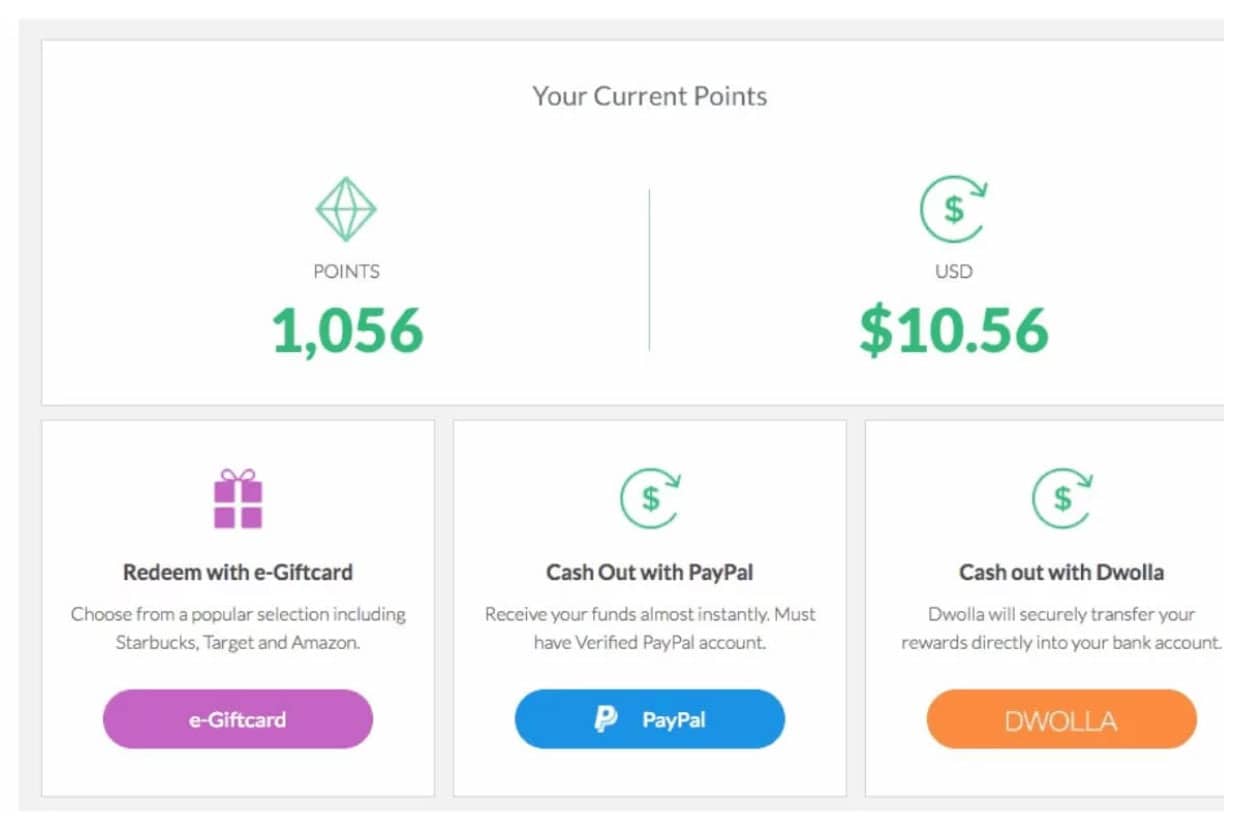 The number of points you will get per survey varies across the board. Typically, you can expect to see surveys that pay between 50 and 200 points. Some high-paying options become available every once in a while as well.
Survey Junkie users have to complete a good number of surveys before they can earn substantial rewards. However, the site does have a low redemption threshold. So, you can start cashing out as soon as you have enough.
Plus, the company keeps your points for a long period of time. As long as you complete one survey every 12 months, you can keep collection points for years.
Available Payout Options
What can you get with your side hustle at Survey Junkie? Well, the platform has several payout options to choose from.
If you want to redeem your points for cold hard cash, you're going to need a PayPal account or bank account. The company does not transfer funds to credit cards or other e-wallet providers.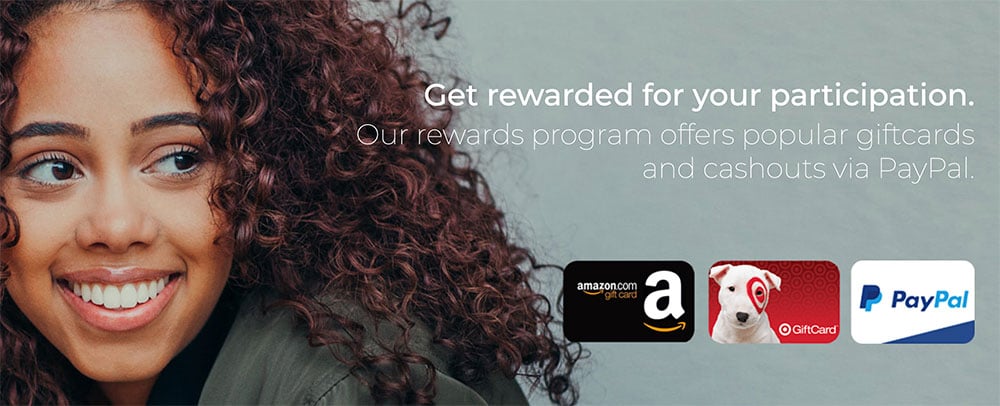 PayPal payments are available to all members. Direct bank transfers, which are performed by a third-party company, are only available to members in the United States.
You can cash out with PayPal or bank deposit once you have accumulated 1,000 points. This will provide you with $10.00 in cash!
E-gift cards are available as well. This option is only available to members in the United States. Survey Junkie may also require additional account verification before you can make a request. Usually, a customer support specialist will call your provided phone number to verify your identity before giving you the gift card code.
There are several cards available. You can get cards for Amazon, Target, and more. These are all digital gift cards rather than physical ones, so you can start shopping right away. Say, for instance, that you request an Amazon gift card. You'll be sent a digital code that you can redeem on your Amazon account. It's quick and very easy.
How to Sign Up For Survey Junkie
The registration process is straightforward and doesn't take more than a few minutes at most. Just head on over to the official website and click on the "Join Now" button. You'll be prompted to provide some basic information. This includes your email address, zip code, birth date, and gender. You'll also need to create a password to help you log on in the future. For that registration process alone, you're awarded 25 points!
After you join Survey Junkie, you can start taking surveys. Remember to complete your profile survey! The site also has a few other easy ways to earn points fast. You can confirm your email, finish up your personal profile, and take a brief tour. Those activities will earn you more than 100 points right off the bat.
Whenever you're ready to redeem points, just click on the "My Points" tab on the dashboard. You'll be presented with various options and instructions on the things you must do before redemption. Depending on the reward you choose, you might have to connect your PayPal account, provide banking information, or verify your identity.
Survey Junkie Pros and Cons
Still not sure whether or not Survey Junkie is for you? Here's a quick lowdown of the pros and cons this survey site has to offer.
Pros:
– Free to useSurveys are easy to complete
– You get points even if you don't qualify for a survey
– Plenty of point incentives to get you started
– Well-designed site and mobile app
– Can redeem points for gift cards or cash
– Email survey alert system
Cons:
– Not as many opportunities to earn points
– Must answer qualifying for every survey
– Low point value
Frequently Asked Questions About Survey Junkie
What exactly is Survey Junkie?
Survey Junkie is a survey site and rewards program. The platform is free to use and provides you with the opportunity to earn points for completing surveys.
The parent company of Survey Junkie, DISQO, works with a wide range of brands, advertisers, and research groups. Its goal is to collect market research about specific demographics that their partners can then use to better their product, service, or marketing campaign.
The Survey Junkie brand is the online arm of DISQO that's designed to connect market research with the demographic they are after.
Is Survey Junkie safe to use?
Before you sign up for a survey platform, it's always important to consider safety. Online scams are more prevalent than ever, so it's no surprise that survey takers have their trepidations about survey sites.
We're happy to report that Survey Junkie is safe to use. The company provides a lot of information on its website regarding how it uses your personal information. At the end of the day, Survey Junkie is a market research platform. So, your information will be shared with researchers.
However, all private and sensitive information is heavily protected in secure locations. All data is protected with firewalls as well. On top of that, the site does use an SSL certificate to ensure that all data travels through an encrypted channel.
The cool thing about Survey Junkie is its transparency. There are no hidden terms. Everything is laid out for you on the site. Plus, there's the option to opt-out of certain policies. For example, the site has a form where you can request that your information is not sold. It's simple and you don't have to go through a complicated customer service line to make that request.
Ultimately, Survey Junkie does a lot to keep your data safe and protect your privacy.
Is Survey Junkie legit?
Survey Junkie is a legit survey site with an established history. The company doesn't publish the amount of money it's rewarded members like some other competitors. However, the brand does have a B rating with the Better Business Bureau (BBB).
Can you make a lot of money with Survey Junkie?
It's a common misconception that working with survey companies can replace your full-time job. That's simply not the case with Survey Junkie or any of its competitors. Survey platforms like this are meant to help you make some extra income on the side whenever you have free time.
You will not get rich using Survey Junkie.
How does Survey Junkie work?
Once you're a member, taking advantage of Survey Junkie's features is pretty easy. You can choose from one of the available surveys on the site and see if you qualify.
You'll answer a few qualifying questions before you're taken to the real survey. After you have finished up, you're rewarded with points. Those points are credited to your account immediately, which is a nice touch that not too many sites offer.
If you don't qualify for a survey, Survey Junkie still gives you a few points for the trouble. Over time, you can save up points until you're ready to redeem them for cash or e-gift cards!
Who can join Survey Junkie?
There are some geographical and age restrictions. Only citizens from the United States, Canada, and Australia can be members. You must also be at least 13 years of age to sign up.
What kinds of things can you do to earn money at Survey Junkie?
At its core, Survey Junkie is all about its namesake. It focuses primarily on traditional web surveys from a wide range of partners. Occasionally, the site may also present you with the opportunity to join a focus group or test physical products. Those activities are quite rare, but they do exist on Survey Junkie.
You're not going to find a ton of activities to do on this platform. While many other survey sites let you earn points completing offers, watching videos, or even playing games, that's not the case with Survey Junkie.
The limited options have advantages and disadvantages. On one hand, it limits the number of points you can earn on the site. However, it also saves you from potential privacy or security issues. Considering that other sites send you to third-party sites to do those activities, it's nice that Survey Junkie limits your exposure to potential issues.
What devices can be used to complete surveys?
The most popular way to access the platform is through a simple web browser. The interface is beautifully designed. It's clean, minimalistic, and very well organized.
If you want to access your account and complete surveys on the go, you can also download the mobile app! Survey Junkie has an app for both iOS and Android devices.
The Bottom Line on Survey Junkie
Ultimately, Survey Junkie is a nice side hustle that you can check out whenever you have a few minutes of time to waste. It doesn't have any participation requirements or minimums that you have to meet. Thus, it's a great way to make some extra income without having to put much thought into it.
This isn't the survey platform for serious survey-takers looking to make it rich. Rather, it's for the casual user who would rather spend their spare time doing something productive like making money.
Survey Junkie Summary
Survey Junkie is an established survey company that's completely legitimate and safe to use. While you can run into a ton of scam sites after performing a Google search, Survey Junkie isn't one of them.
The site is free to use and will reward you for your honest answers to surveys. You're not going to be able to quick your day job, but Survey Junkie can certainly help you pad your bank account.