An app that has been catching a lot attention recently is Swagbucks, but is it really worth your time? That's a million-dollar question i get asked a lot.
As someone who's spent over a decade helping online businesses and individuals make a second income, I've seen it all. Swagbucks might not help you retire any time soon, but it may offer a way to generate some extra spending power.
In this Swagbucks review, I'll dive deep into the platform, weigh the pros and cons, and determine if it's the right choice for you to earn some extra cash online.
By the end of this article, you'll hopefully have a clear understanding of what Swagbucks offers and whether or not it's worth your effort. Before we dive in, let's answer a couple of common questions first.
Common Questions Concerning Swagbucks
What is Swagbucks?
Swagbucks was founded in 2008.
It is a rewards and loyalty program operated out of Segundo, California under the oversight of Prodege LLC. Program members are able to collect and redeem Swagbucks (SB) in a number of different ways. Both a full website and mobile apps are available. Throughout the past decade, Prodege has been nominated for and won numerous awards among business and entrepreneur organizations for their development and advancement of Swagbucks.
Is Swagbucks Legit?
Their numbers should be an encouragement and a good response to this question.
To date in April 2023, Swagbucks has paid out over $620 million to their members and they distribute more than 7,000 gift cards on a daily basis. If the numbers aren't enough to convince you, the fact that this company has maintained an "A" rating with the Better Business Bureau (BBB) for thirteen years should also catch your attention.
Swagbucks is 100% legit and safe to use. However, one thing you need to take onboard is  that by no means is Swagbucks going to make you rich. What it will do is allow you to make a little extra on the side.
As I mentioned above the company has been accredited by the Better Business Bureau (BBB) since 2010 and holds an A rating.
This means they have proven themselves as a legitimate business that deals with customer complaints in a satisfactory manner.
Moreover, Swagbucks has gained recognition in the media and received numerous awards.
This impressive track record, combined with their long-standing presence in the industry, offers a sense of reliability.
When it comes to user experiences, the majority of Swagbucks members seem satisfied with the platform. On Trustpilot, Swagbucks boasts a 4.3-star rating out of 5, based on thousands of reviews. Users praise the website for its ease of use, variety of earning opportunities, and timely payments.
However, it's essential to keep in mind that individual experiences may vary.
Some users report issues with account deactivation or not qualifying for certain surveys.
It is crucial to read and understand Swagbucks' terms and conditions to avoid any potential issues.
Payment methods and rewards
Swagbucks offers multiple payment methods, making it easy for users to redeem their earnings. You can cash out via PayPal, which is a widely accepted and secure online payment platform. Additionally, Swagbucks provides a variety of gift cards from popular retailers such as Amazon, Walmart, and Target.
The platform uses a points system called SB (Swagbucks), where 100 SB is roughly equivalent to $1. The minimum cash out threshold varies depending on the chosen reward, but you can typically redeem gift cards starting at $3 (300 SB) and PayPal payments starting at $25 (2,500 SB).
How do you use Swagbucks?
Using Swagbucks is pretty easy and straightforward. Besides earning cash-back rewards on various types of purchases, users can earn SBs by completing various tasks. After collecting SBs, you can cash them out for prizes, like gift cards to Amazon, Target, Walmart and other retail locations. In addition, you can cash out SBs in $5 increments to a linked PayPal account. Donating to charitable causes is also an option. Here is a list of the things you can do to earn SBs:
• Sign up. You get a $10 welcome bonus when you sign up.
• Shop online and earn cash back rewards.
• Do Swagbucks searches.
• Watch videos.
• Take surveys.
• Play games.
• Become a deal hunter.
• Purchase gift cards.
With some of the most common questions answered, let's take a more in-depth look at the various ways that you can use Swagbucks to make money.
Various Ways to Use Swagbucks to Make Money
Cash Back with Swagbucks
You can get cash back rewards for shopping through Swagbucks. All you have to do is sign into the platform and do your shopping in partner stores in order to begin earning SBs. Earning cash back is easy because more than 1,500 stores, including stores like Starbucks, Groupon, Amazon, Kohls and more are supported by their program. For every dollar you spend while you're shopping, you can earn up to 20% cash back in the form of SBs.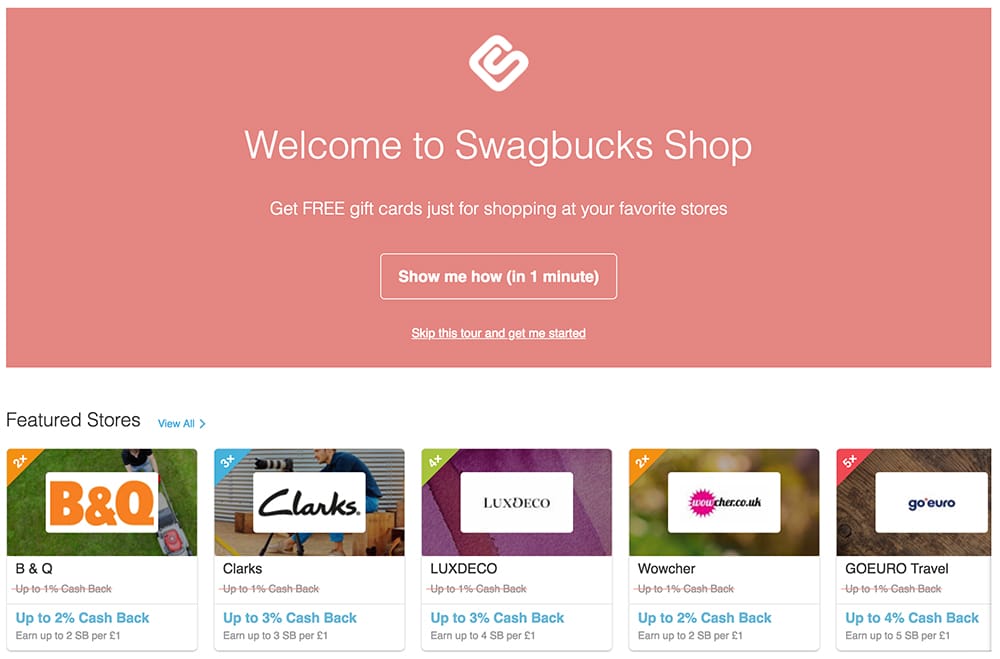 However, to be honest, the average range tends to be between 5% and 8% from the majority of stores, but that's still money you wouldn't get if you weren't shopping through Swagbucks.
Surfing the Web for Profit
Swagbucks has their own search engine powered by Yahoo, so surfing the web making use of their search engine is another way that you can earn SBs. Though it is something of a mystery exactly how many points you earn whenever you do a search using Swagbucks, it is still a way to earn cash for doing what you do on a regular basis.
All you have to do is shift your habit from using that other search engine and make it your default search engine so that every time you browse the web you are earning SBs. Does that bring lots of cash rolling in? Not really, but how much do the other search engines pay you for your browsing?
Earn Cash Watching Videos
If you are like just about everyone else on the planet, you like to watch videos. What if you could earn cash for watching videos? That would be pretty cool, huh? Well, you can earn between 1 and 4 SBs by watching short videos from categories like health, politics, music, entertainment and more.
That doesn't sound like a lot of cash considering the amount of time you spend glued to the screen watching a video. Here is a quick tip: You don't have to actually watch the videos, you can have them playing in the background while you do other work. You can even turn the volume down if you like.
Swagbucks Surveys
One of the more profitable ways to earn SBs on Swagbucks is through responding to paid surveys. For the most part, these surveys are pretty easy and you can do them while you're watching television, riding the metro or bus back and forth to work or while you're waiting in line.

Once you create your Swagbucks account, Swagbucks will ask you for some demographic information about you and your household. From that information, Swagbucks will send you surveys that are a good match to you. Depending upon their length, you can earn anywhere from 1 to 1,000 SBs for each survey you complete. Their surveys are extremely accessible on the website or when using your Android or iOS device.
You will normally see the surveys pop up in your dashboard, as shown above, along with other offers that you can take advantage of.
Earn Money Playing Games
Do you play games in your downtime or during your waiting time? Of course you do, it's okay to admit it. You can play some of your favorite games on Swagbucks and earn SBs while you're goofing off. The first question that will come to mind is whether or not they are games that you actually want to play or enjoy playing. If you like Solitaire, Bingo, Bejeweled,

Trivial Pursuit, Tetris, Deal or No Deal or Wheel of Fortune, to name a few, then you are apt to find the games you want to play on Swagbucks. You don't earn tons of points for playing games, but every little bit counts, right? Here's another quick tip: If you're not a game player, you can always allow your kids or others to play through your Swagbucks account and earn off of their efforts.
Deal Hunting
Everybody loves a bargain. Getting a great deal is not just a national pastime, but is one that is pretty much a global thing. Deal hunting and bargain hunting is made possible through the Discover section of Swagbucks and through the Swagbucks shop. You can earn Swagbucks for signing up for various discounted services like a Hulu subscription, Blue Apron or other services.
You might not want to sign up for every deal that comes along to earn a few SBs, but if you were planning to use the service anyway, then this is just one more way you can earn some extra points and cash.
Making Money Through Gift Cards
There are actually two ways to earn SB using a single gift card on Swagbucks. To being with, whenever you purchase an electronic gift card through Swagbucks, you get a percentage of the gift card value back in Swagbucks. That's the first way you earn points off of it.
The second way you earn points from that same gift card is to use it to make a purchase while shopping through Swagbucks. Our final tip should be an obvious one. If you are planning on making a purchase in a Swagbucks store, purchase a gift card for that store through Swagbucks, and then use it to make your purchase in order to double your points.
Swagbucks Pros and Cons
After showing you the various ways that you can earn a little extra cash by using Swagbucks, it's pretty easy to get excited about signing up, but to really get a feel for whether Swagbucks is right for you, you might want to take a quick look at our list of pros and cons associated with Swagbucks.
Pros:
You can join Swagbucks without spending anything; it's free.
There are seven different ways to earn points, which convert into cash.
The website and apps are clean and simple to access and use.
You are earning passive income without making drastic changes to your current lifestyle, browsing and shopping habits.
Cons:
Earning Swagbucks is not an instant answer to loading up your bank account with cash. It takes time to earn enough points to see a lot of cash.
The mystery of search engine points can be something of a bother for those that like to see everything laid out straight.
It's not available in all countries. Swagbucks is limited to the U.S. and its territories, the U.K. (Britain, Ireland, Australia, New Zealand), Canada, France, Germany, Spain, Portugal and India.
Bottom Line on Swagbucks
Swagbucks can earn you some extra cash through the various avenues of points that you are able to earn. How much cash you earn really depends on how you utilize Swagbucks. There are two different types of users that use Swagbucks and each earns cash at a much different level.
Casual Users
This type of user runs videos in the background to earn extra points, takes an occasional survey, purchases gift cards and shops online through Swagbucks. These users really don't change their normal habits much, but earn points without putting any extra effort into Swagbucks.
Serious Users
This type of user can be referred to an SB Points Chaser. A points chaser will spend hours watching videos, playing games, taking surveys and earning every single point they could get their fingers on. Some people approach Swagbucks in this way initially, but they quickly discover that what they are earning for every hour spent chasing points is simply not worth the time they have invested. There are better ways to spend your time to make extra cash, but Swagbucks is not one to invest all of your time into.
Swagbucks Review – Summary
Swagbucks is legitimate and safe to use. They really do pay out their rewards and carry a BBB "A"rating, but this rewards program is best suited for the casual user, because your path to financial freedom or even that extra income you need to make ends meet does not go through Swagbucks.
You can earn some points and cash back rewards through Swagbucks by using it for shopping, as your default search engine, watching videos, taking surveys, playing games, hunting for great deals and buying gift cards. However, investing all of your time to chase points is just not going to pay off the way you might want it to.
Without making any major changes to your lifestyle, browsing and shopping habits, you can start earning some rewards that will either save you money or provide you with additional cash. Over the long-term, Swagbucks will make a difference, just don't expect to get rich or even earn an income using it.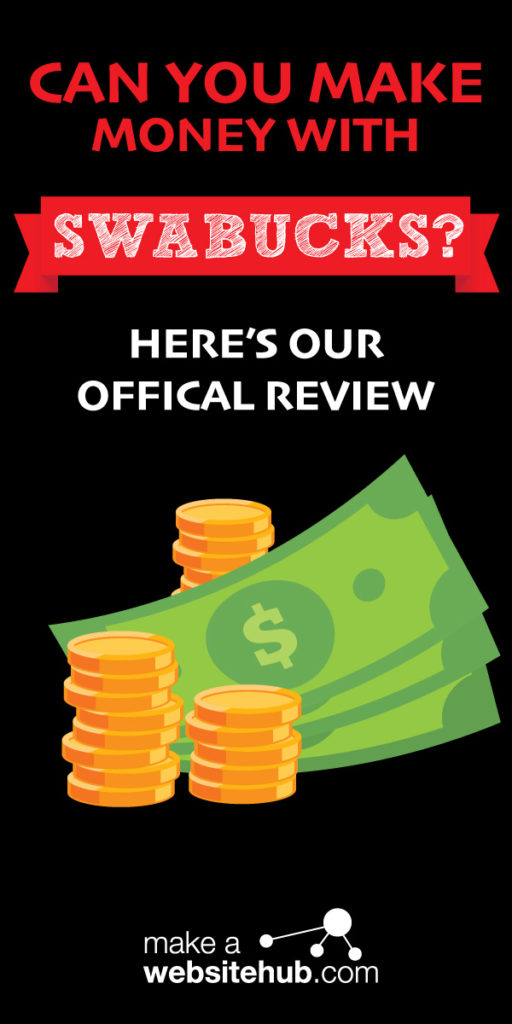 The following two tabs change content below.
Jamie Spencer
My name is Jamie Spencer and I have spent the past 10 years building money making blogs. After growing tired of the 9-5, commuting and never seeing my family I decided that I wanted to make some changes and launched my first blog. Since then I have launched lots of successful niche blogs and after selling my survivalist blog I decided to teach other people how to do the same.
Latest posts by Jamie Spencer (see all)