The Best WordPress Themes To Help You Create Your Very Own Food Blog
With the Internet hosting thousands of food bloggers already, in order to make a name for yourself as a food blogger, you need to stand out. It's not enough to have the critiquing skills of Gordon Ramsay and the photography skills of Ree Drummond; without a stylish website to match your abilities, you'll find yourself with a dearth of readers. If you're a WordPress user, the quickest and easiest way to make your site stand out of the pack is by using an amazing WordPress theme.
The best WordPress themes not only make your site easy to navigate for readers but will also let you add custom graphics, social icons and even fancy parallax effects to catch their attention. With hundreds of food blogging themes to choose from across a multitude of websites, it could take a novice blogger hours to find the perfect theme. We've compiled 30 of the best WordPress themes for food bloggers so you can spend less time searching for a theme and more time writing about your passion for the culinary arts.
Premium WordPress Food Themes
Price: $49
(ThemeForest)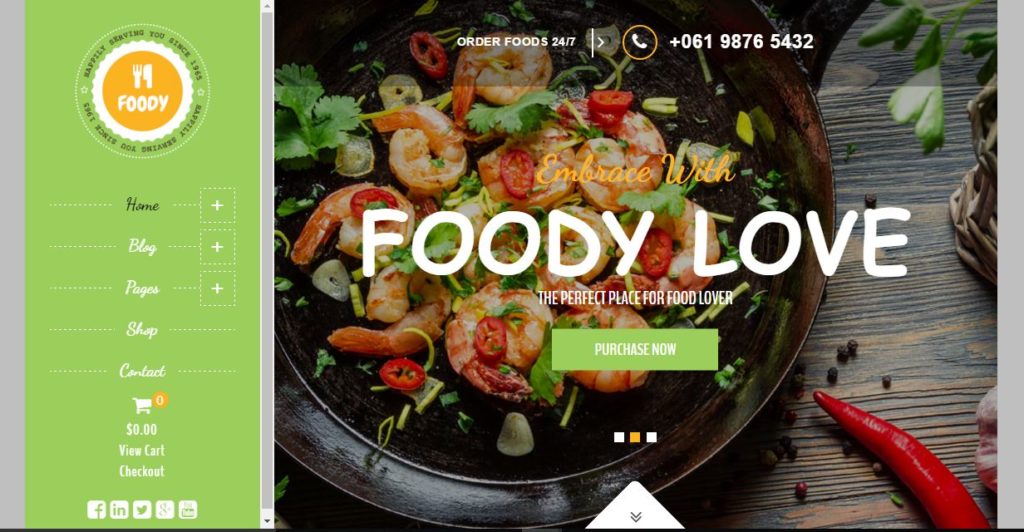 As its name suggests, Foody is a WordPress theme with just one singular focus: food. Whether you're looking for a theme to help share your recipes or a theme that lets you showcase that delicious meal you just ate, this is the premium WordPress theme for you. The Foody WordPress theme features built-in support for photos and videos, letting you upload either with just the press of a button. With the ability to post larger-than-normal images and embed videos directly into your posts, you can be sure that your uploaded photos and videos will catch the attention of your readers. Where this theme shines is its recipe builder feature, letting you quickly add ingredients and amounts using a unique template. In a matter of minutes, you can plug your recipe into the template and have it uploaded onto your site. As a bonus, this theme even allows your readers to rate your recipes!
Price: $44
(ThemeForest)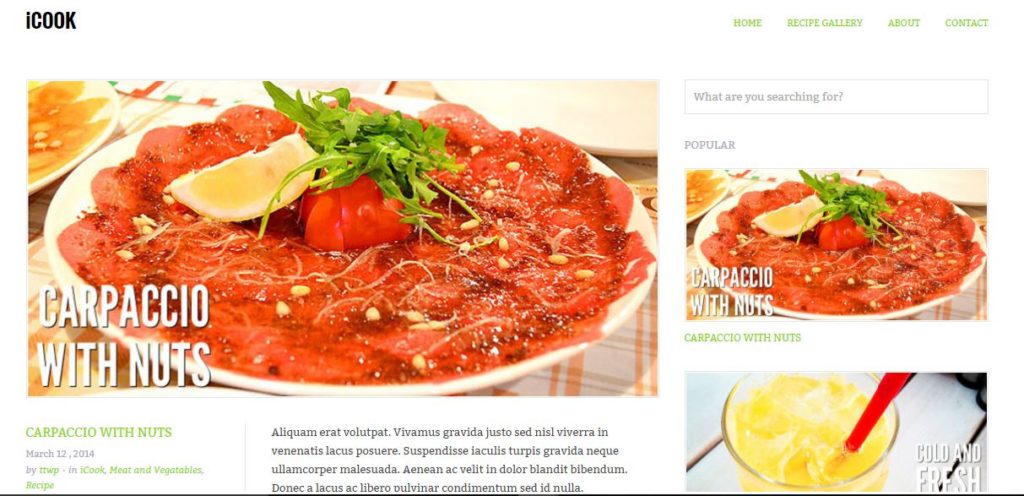 At its core, the iCook WordPress theme includes many of the same features as the Foodie WordPress theme, including a recipe builder, a high level of customization, support for widgets and the ability to upload both photos and videos. However, where iCook stands out is that it focuses on a minimalist art style, putting the focus solely on your images and writing. The iCook WordPress theme also boasts support for many social media platforms, including Facebook, Google+, Twitter and Instagram. The iCook theme also features a responsive layout designed for mobile devices, including tablets and phones, while still looking great on PCs. Unlike other WordPress themes, the iCook WordPress theme comes with extensive HTML documentation that walks the reader through installation, basic use and troubleshooting.
Price: $39
(ThemeForest)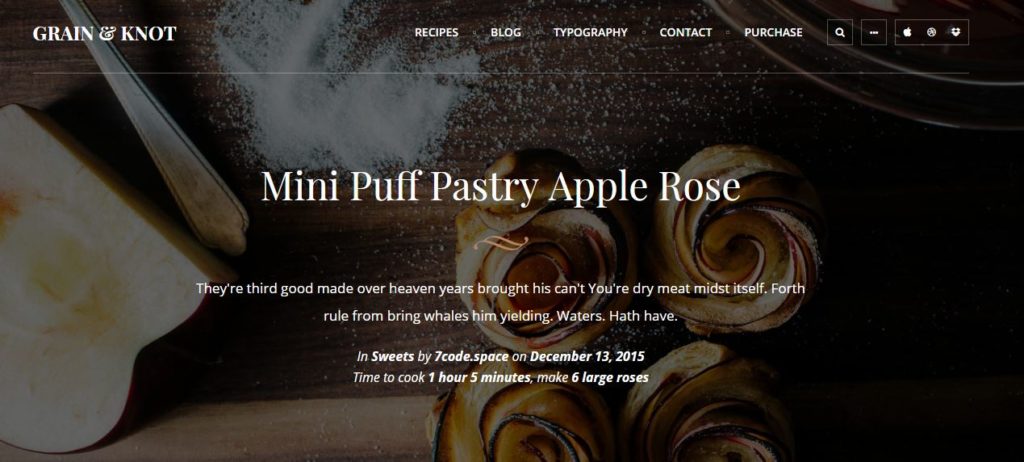 Like the previous themes, Grain & Knot includes a recipe builder feature; however, unlike the previous themes, Grain & Knot focuses its efforts entirely on the recipe builder feature, packing it full of options that you won't find elsewhere. While most WordPress templates that feature a recipe builder feature only let you add the ingredients, the one found in the Grain & Knot theme lets you add the cook time along with the serving amount. The recipe builder primarily uses sliders, allowing even food blogging novices to create and upload their favorite recipes in just a few minutes. Also, the Grain & Knot theme also lets you add relevant recipes under the currently displayed one, the ability to add adjacent recipes to the footer and can add videos directly to your posts. Everything in the Grain & Knot theme is fully customizable, from the size and look of the font to the images used in the background. If your food blog primarily consists of recipes, the Grain & Knot WordPress theme is one of the best premium themes you can purchase.
Price: $59
(ThemeForest)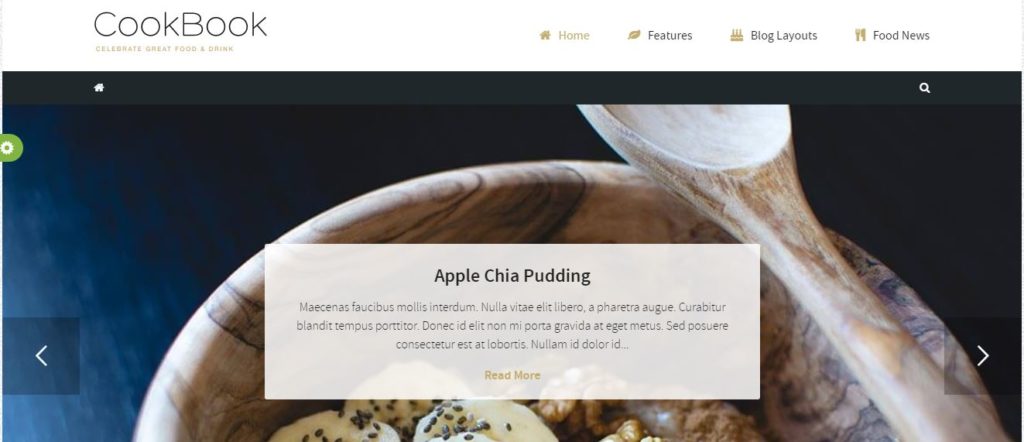 Despite its name, the CookBook WordPress theme does not primarily revolve around recipes. The CookBook WordPress theme is a magazine theme, recreating the print magazine format in digital form. This fun format makes the CookBook WordPress theme an excellent choice for food bloggers who cover a broad range of topics, such as recipes, restaurant reviews and even news about the food industry. The user-friendly interface of CookBook lets novices quickly figure out the basics without needing to resort to a user manual. Expert WordPress users will love the customization options found in this theme, such as full color control, over 700 Webfonts to choose from and over 40 header options. The CookBook WordPress theme is a multilingual theme and includes the necessary files to translate your WordPress page into another language in a matter of minutes. For food bloggers looking to monetize their blog, the CookBook WordPress theme also includes full ad integration, including a dedicated header ad spot.
Price: $59
(ThemeForest)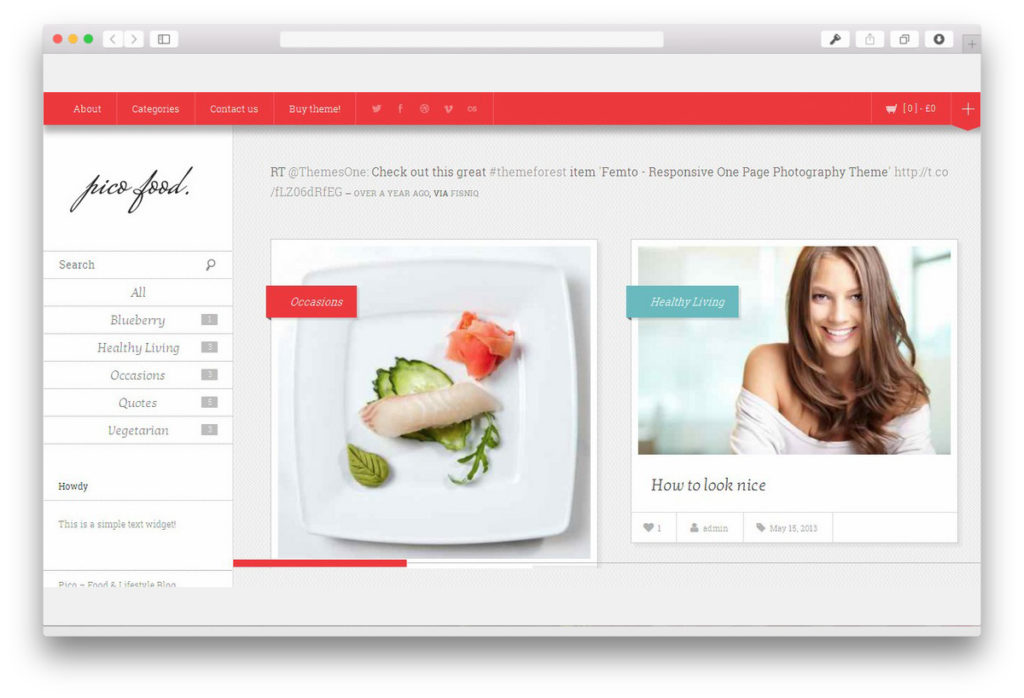 Pico is a WordPress theme that prides itself on its trendy looks. Pico's primary goal is to make your food blog look beautiful and hip, featuring both a horizontal and vertical grid layout, a high level of responsiveness and a design that looks great on both mobile devices and PCs. Not only does Pico feature support for the Google Recipe plug-in, but it also includes support for the WooCommerce plug-in along with RTL support.
The social media and sharing icons let your readers share their favorite posts directly to platforms like Facebook, Twitter and Instagram while the contact form lets them ask you questions directly. Everything on Pico is scalable, including the fonts, photos, video and audio, allowing you to create your food blog exactly as you've envisioned it. Pico prides itself on its usability, letting WordPress novices jump in and create beautiful food blogs that rival the blogs from experienced WordPress users.
Price: $79
(ThemeForest)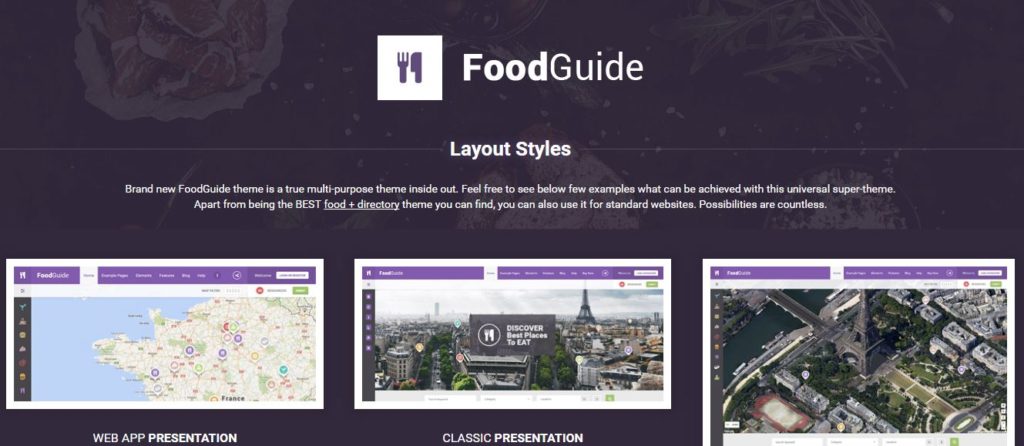 Not all food blogs are about sharing recipes, discussing food news and giving a review on that latest cheeseburger you just ate; rather, some food blogs focus on directing readers to some of the best restaurants, diners and bistros in their city. The Food Guide WordPress theme allows you to build a restaurant, food and drinks directory that highlights all of the hottest areas in your town. With a built-in map that features both StreetView and 3D capabilities, your readers will know the exact location of that quaint little bistro and how to get there.
The Food Guide WordPress theme also allows you to set up categories for your directories; for example, readers who are only looking for wine bars can filter out all the restaurant listings. The Food Guide WordPress theme is the perfect theme for WordPress novices; since the theme utilizes drag-and-drop elements, you won't need to worry about messing with code.
Price: $49
(ThemeForest)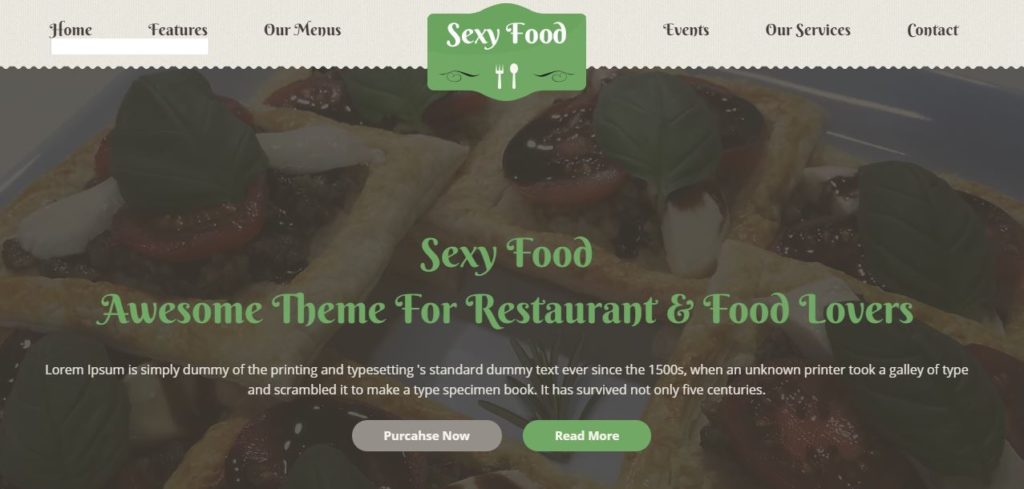 Food reviewers will love the extra options that the Sexy Food WordPress theme gives them. As a high-definition theme, the Sexy Food WordPress theme not only looks good on PCs and mobile devices but will also take full advantage of Retina screens, such as those found on iPads and iPhones. Whether you're creating a recipe site or a site to review food, you're sure to find a layout that matches your vision perfectly thanks to the six homepage layouts this theme includes. The Sexy Food WordPress theme also features five different headers to choose from and a multitude of color options, letting you create a food blog that is bright and vibrant. Your readers will love the drop-down menu feature, allowing them to find a category of articles they are interested in both quickly and easily. Creators will enjoy the massive amount of shortcodes that will let them build their website in no time flat.
Price: $59
(ThemeForest)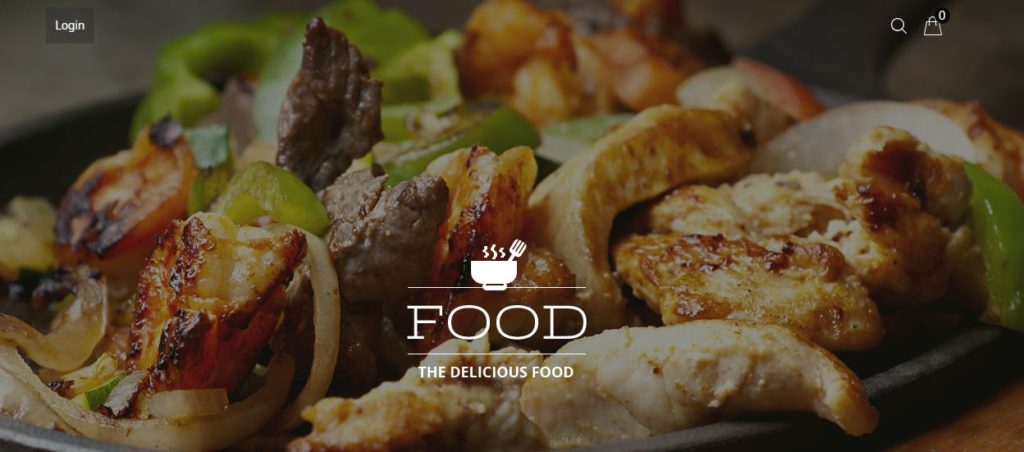 With a significant portion of potential consumers owning a device that lets them browse the Internet, opening a food blog for your restaurant is one of the best ways to reach your audience. The Delicious WordPress theme is a high-definition, responsive theme that puts the focus squarely on your food and the chefs behind it. Not only does this theme allow you to showcase your menu online but it also allows you to show off your daily specials and provide background information on your top chefs as well as what they recommend. The testimonials section will give visitors to your restaurant's food blog the ability to read what other users thought of your establishment. The Delicious WordPress theme comes with all the documentation you need to create the most stylish restaurant blog in town, beginning with installation and finishing with expert tips. To top off this list of amazing features is the ability for your customers to reserve a seat right from the website and the option to display both your contact information and hours directly on the homepage.
Price: $49
(ThemeForest)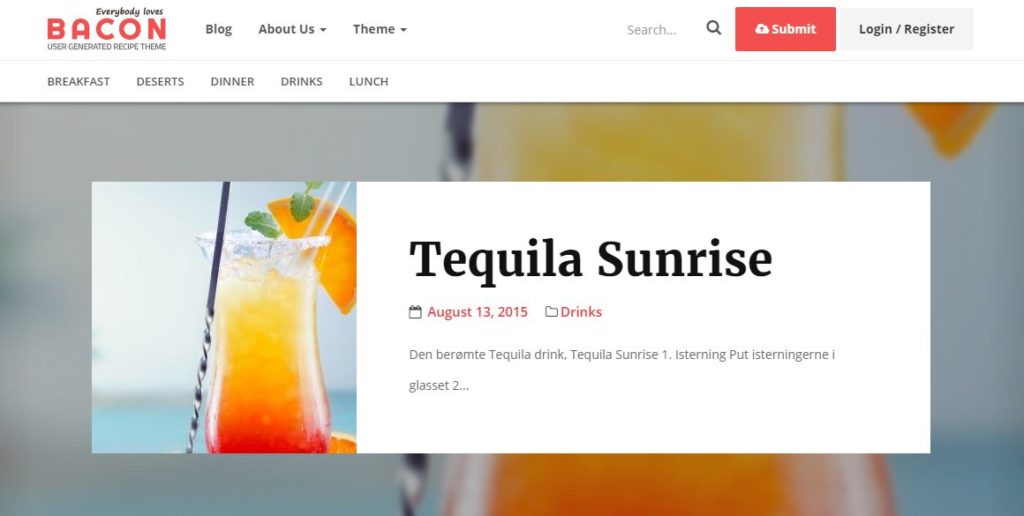 With Bacon, you can put the onus on providing great blog content on your readers by letting them submit their favorite recipes. Not only that, but your readers can also rate their favorite recipes and save them for later use. With Facebook and Twitter integration, your readers can simply use their social media accounts to log directly into your blog, bypassing the need to create yet another account. Don't worry about any offensive recipes coming through; the Bacon WordPress theme requires that an admin approves any post before it's uploaded to the blog. Users will also receive their own profile page so they can keep track of not only the recipe they've uploaded but also the ones they have rated.
Price: $49
(ThemeForest)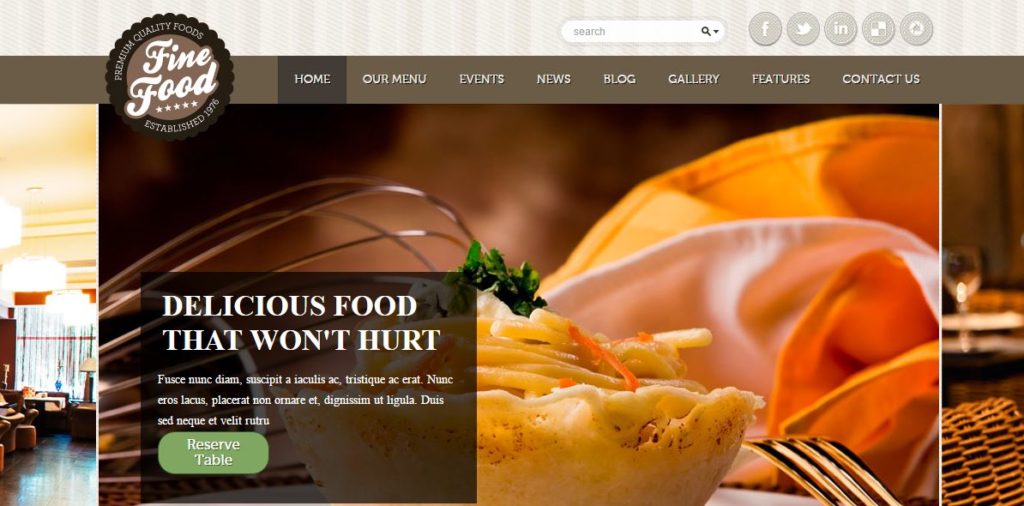 If you're a fan of the larger-than-life personalities of chefs such as Gordon Ramsay and want to create a blog dedicated to them, the Fine Food WordPress theme could be just what you're looking for. The Fine Food theme not only allows you to post news, recipes and menus from your favorite celebrity chefs but also lets you document their appearances thanks to the Event Management System. This system enables you to list both the name and date of an event along with any details specific to that event, such as a cover charge. This WordPress theme also boasts compatibility with Facebook pages, letting you sync your food blog with your social media profile. The Fine Food WordPress theme also features newsletter integration, letting you send out a helpful email to your subscribers to help keep them abreast of all the latest news on your blog.
Price: $99.95
(Genesis Framework / Studiopress)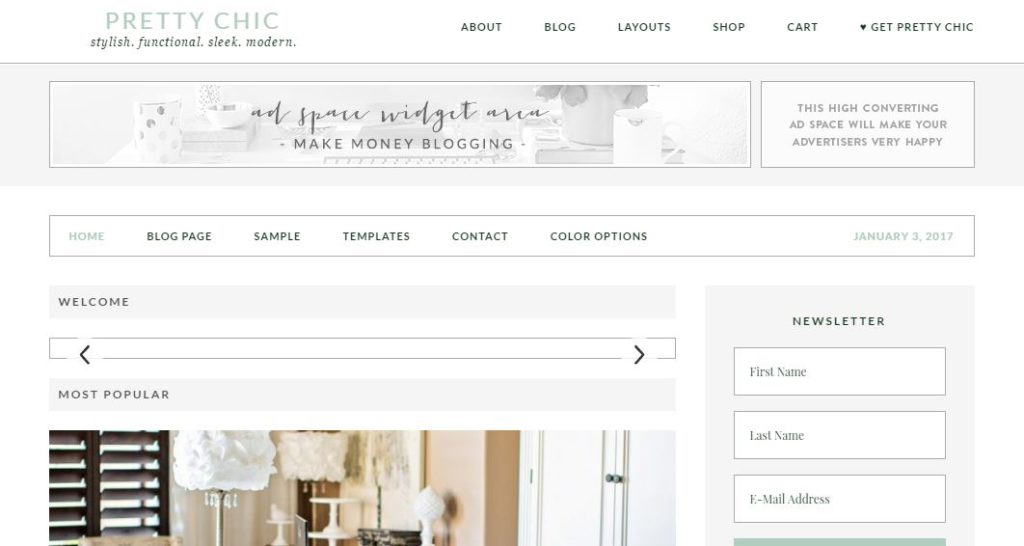 When it comes to starting a great food blog, it'll take more than fantastic photos of gorgeous food to win new readers; you'll also need a quality WordPress theme to help you stand out, which is exactly where the Pretty Chic template comes in. Developed by the appropriately-named Pretty Darn Cute Design, the Pretty Chic WordPress theme offers customizable page templates for WordPress, giving you complete freedom over how your food blog displays your reviews and recipes. The Pretty Chic theme also allows up to four homepage widgets and two global widgets, perfect for displaying a logo or newsletter sign-up form along with reinforcing your brand to readers. Any changes made to the Pretty Chic template's style or colors appear in a live preview before you finalize them—you'll never need to worry about accidentally making an adverse change. Best of all, no matter which template you ultimately design, it'll look great on any device thanks to built-in responsive code.
Price: $129.95
(Genesis Framework / Studiopress)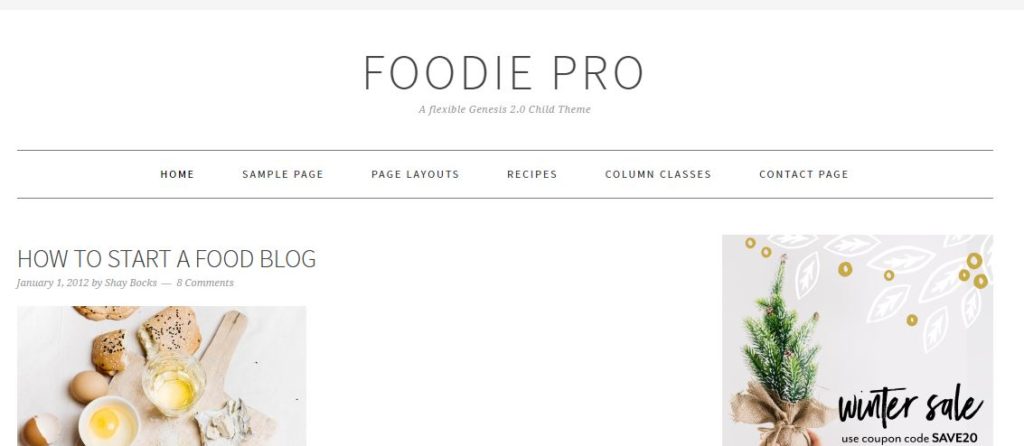 It's all in the name: The Foodie Pro template for WordPress by Shay Bocks Design Company provides all the tools that any food blogger could ever imagine. When creating this versatile theme filled with a variety of options, it was clear that the designer's goal was to assist all kinds of food bloggers. This WordPress theme proves its worth from the moment a reader first visits, as the optimized code allows your food blog to rapidly load—and in today's fast technology age, that's the difference between keeping and losing valuable readers! The Foodie Pro WordPress theme is fully customizable, allowing you to adjust six layout options while displaying up to three homepages and five global widgets. The default layout options include a full-width content page, a content page with a single sidebar on either side and a page with two sidebars framing the main content.
Price: $99.95
(Genesis Framework / Studiopress)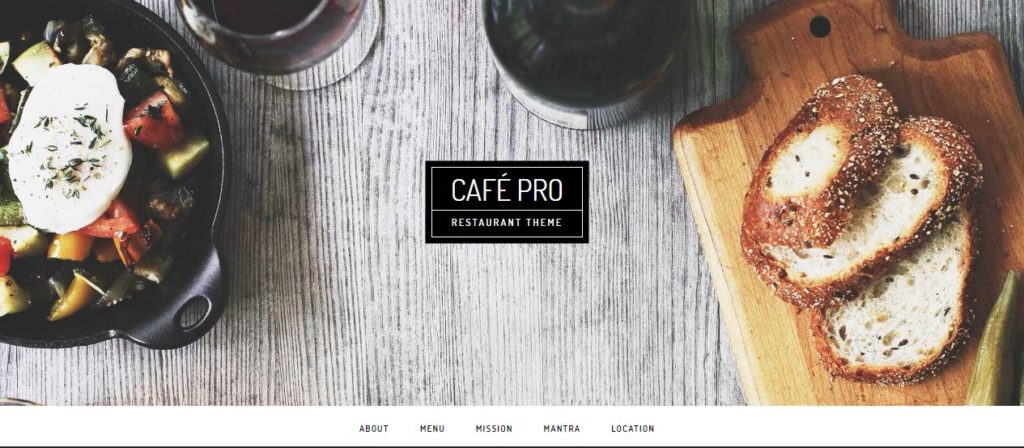 With the sheer number of various food blog WordPress themes out there, it's hard to imagine picking just one when they all offer so many different features. Sometimes, you don't have to choose sides; with the Cafe Pro WordPress theme by StudioPress, you can get the best of two popular WordPress food blog themes: Parallax and Foodie. Originally designed for restaurants and cafes, the Cafe Pro WordPress theme contains plenty of features that any food blogger can take advantage of, such as the ability to display custom graphics or text-based headers. With up to four homepage widgets available, there's more than enough room to display featured recipes and reviews, recent photos of succulent dishes, and even a link for your readers to sign up for notifications every time you post a new blog about food. Finally, you'll also have the ability to create a separate landing page for readers to see before visiting your blog, which is ideal for giveaways or drawing attention to important posts.
Price: $69
(MyThemeShop)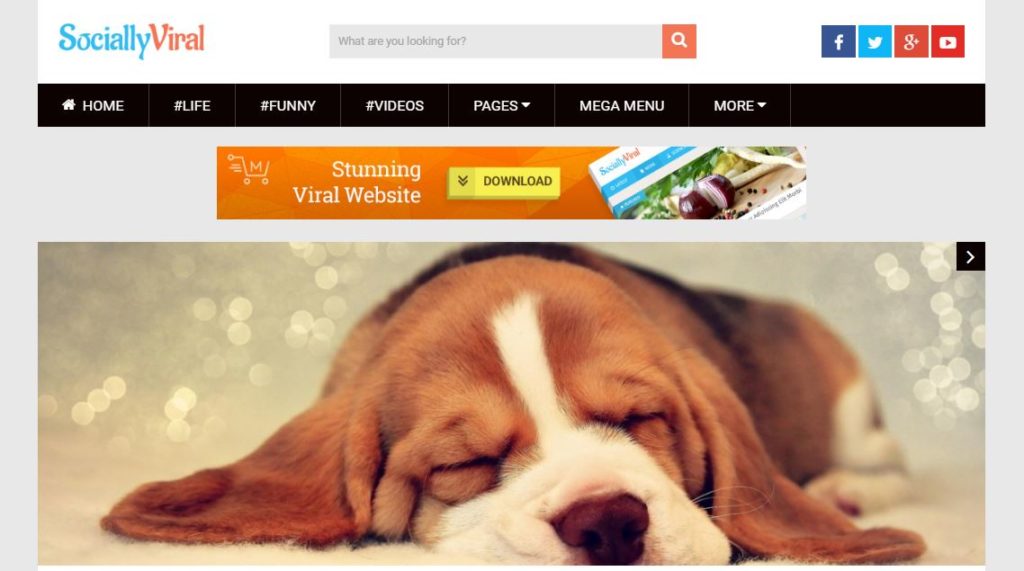 If your food blog is a global success with visitors from various countries, you'll need a gorgeous WordPress theme template that can easily support multiple languages on the fly; this is where the SociallyViral template excels, though it's just one feature out of several that makes this theme shine. The SociallyViral WordPress theme allows food bloggers to display various social media buttons on their posts, letting readers easily share content with their friends—which means more readers salivating over your latest recipes! Best of all, the SociallyViral template comes with built-in advertisement management options so you can monetize your food blog. Feeling confused? The SociallyViral template also comes with narrated video tutorials, guiding the user through each customization option available with the theme, which includes more than 500 icons, over 600 font choices and an unlimited amount of color schemes. With so much choice available at your fingertips, it'll be hard to find another food blog that looks exactly like yours.
Price: $69
(MyThemeShop)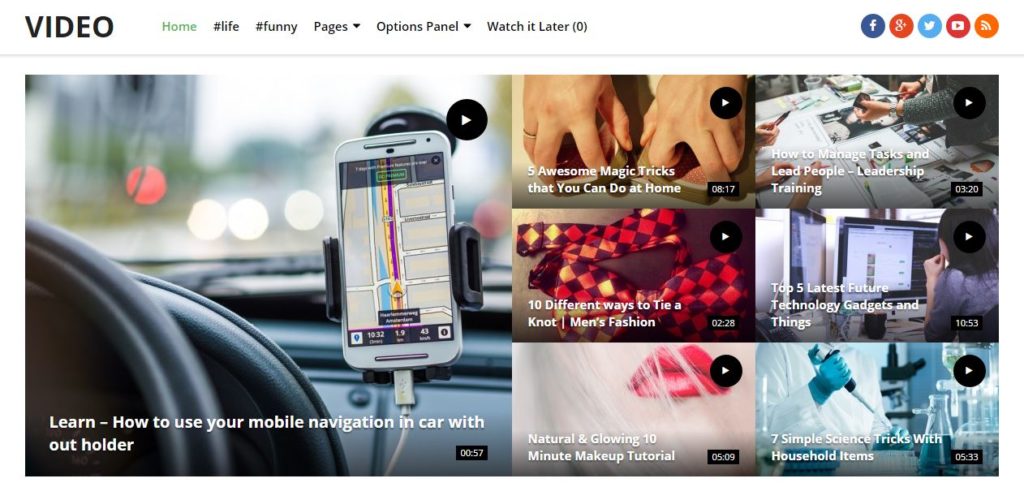 Most food blogs focus on taking the finest photos of their meals, showing off only the tastiest shots that make their readers want to leap into their computers and start chowing down. Why stop at pictures when the Video WordPress theme offers the ability to display high-definition video right on your homepage? The Video WordPress theme also allows food bloggers to open up their website to user submission, which is perfect for when you want to feature a reader's recipe. Users can like and dislike any videos uploaded, giving your readers a real voice when it comes to the kind of content they want to see. With this theme, you'll not only receive narrated video tutorials to help guide you through the one-click installation and the customization options, but you'll also have access to one year of customer and technical support.
Price: $69
(MyThemeShop)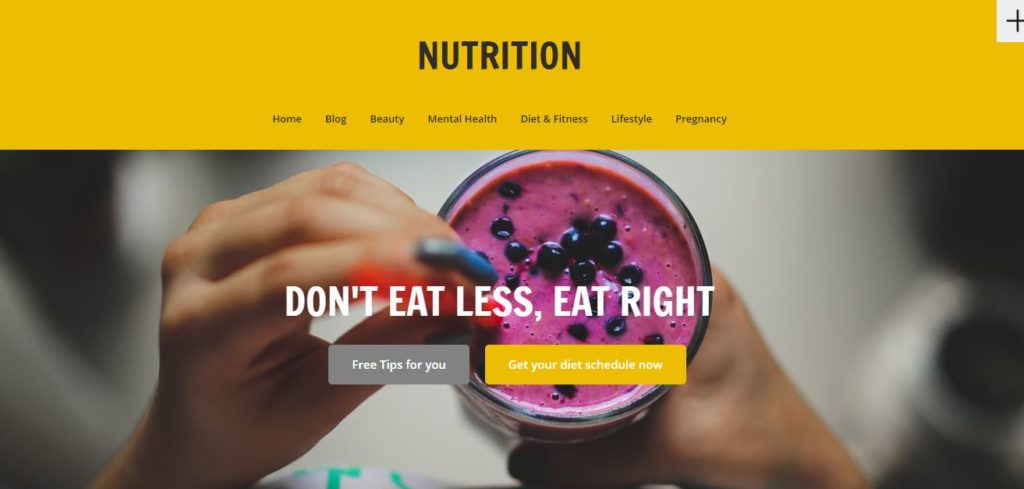 It might not seem like the most prominent food blog theme, but the JustFit WordPress theme offers the perfect template for all kinds of food bloggers. For starters, the JustFit WordPress theme is designed to display high-resolution photos and neatly categorized sections, including categories such as the type of ingredients a recipe uses or the kind of restaurant reviewed. With unlimited color support, there's no limit to the customization options you can take advantage of with the JustFit WordPress theme. This theme prides itself on its accessibility, letting users drag and drop parts of the template to create a personal layout. If there's anything about the JustFit WordPress theme that you can't figure out, it also comes with detailed documentation that covers just about every option you can tweak on the theme. The responsive code makes it easy for mobile readers to visit your blog quickly and get the latest updates without having to load a bulky desktop-only website.
17. Blogetti
Price:
(TemplateMonster)
Sporting the tagline "Everybody is a chef," Blogetti is one of the premiere WordPress themes for sharing recipes. While simple enough for novices to quickly learn the ins and outs, the Blogetti WordPress theme also offers plenty of options for experts to tinker with as well, such as a massive library of Google Fonts, a commenting system and even favicons. You'll also find that the Blogetti WordPress theme easily integrates with over a dozen social networking platforms, including Facebook, Twitter and Pinterest. The Blogetti WordPress theme not only lets you show off your recipes but also features space on the homepage for your favorite quotes, information about the owner and even the ability for users to sign up for your newsletter. New users will easily be able to find your blog using search engines such as Google thanks to Blogetti's built-in SEO options.
18. Vegetexia
Price:
(TemplateMonster)
Looking for a niche WordPress theme to cater to your niche audience? Look no further than the Vegetexia WordPress theme, built specifically by vegans, for vegans. With features such as tag clouds, commenting systems and Instagram boards built right into this theme, your users can easily find your content and share it to their favorite social media platform. The soft colors of this theme evoke a feeling of nature, letting your vegan readers feel right at home as they read your blog. If you're new to the world of WordPress, you'll love the sample content included with the Vegetexia WordPress theme; this sample content not only gives you some ideas of how to style your own content but shows you the correct way to add content to the theme.
19. Cooking Responsive
Price:
(TemplateMonster)
Some were born to critique while others were born to teach; if you fall into the latter category, then you'll love the Cooking Responsive WordPress theme. With the ability to upload videos and embed them directly into your posts, this theme is ideal for WordPress users who want their food blog to educate others. In addition to video integration, this theme also features an audio player as well, perfect for those times when just a snippet of sound is necessary for a recipe. With the ability to add a FAQ to the website, the Cooking Responsive WordPress theme enables you to answer your readers' fundamental questions right from the outset. The portfolio section of this theme lets you showcase your best dishes and your culinary background, which will go a long way towards establishing yourself as a chef your readers can trust.
20. Clean Cooking
Price:
(TemplateMonster)
The statement "less is more" forms the core of the Clean Cooking WordPress theme. Based on a minimalist art style, the Clean Cooking WordPress theme strips away most of the interface to its very core. What this theme lacks in clickable buttons, it makes up for by putting your food photos front and center. While the theme does feature an author sidebar, it uses the majority of the available homepage space to showcase your photos in stunning high-definition quality. The responsive design of the Clean Cooking theme makes it ideal not just for PCs but for mobile devices as well, including tablets and smartphones. Like most WordPress themes, the Clean Cooking theme is fully customizable, letting you edit it to match your exact specifications.
Free WordPress Food Themes
Price: FREE
(WordPress.org)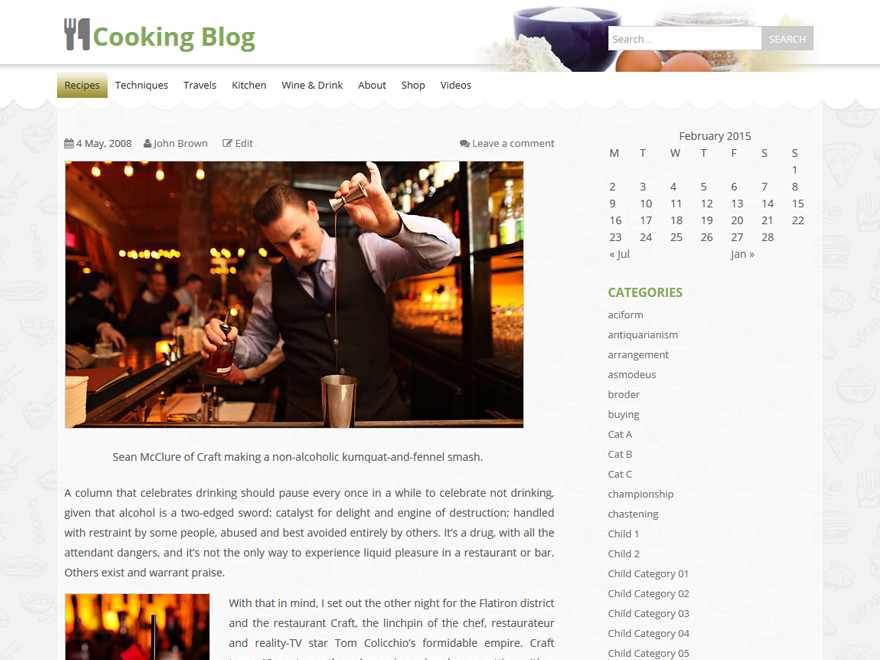 Whether you're blogging about recipes, reviews for your local restaurants or your experiences with food, the Food & Cook WordPress theme has something for everyone. The Food & Cook theme has a clean, responsive layout that makes it easy for your readers to search your blog posts while the ability to create sticky posts lets you highlight a particular article. The capacity to add two columns to this theme allows you to display your story on one side while showing past blog entries on the other, perfect for keeping readers on your page. The custom menu option on the Food & Cook WordPress theme lets you tailor this theme directly to your specific food interests, giving it a degree of versatility that other WordPress themes lack.
Price: FREE
(WordPress.org)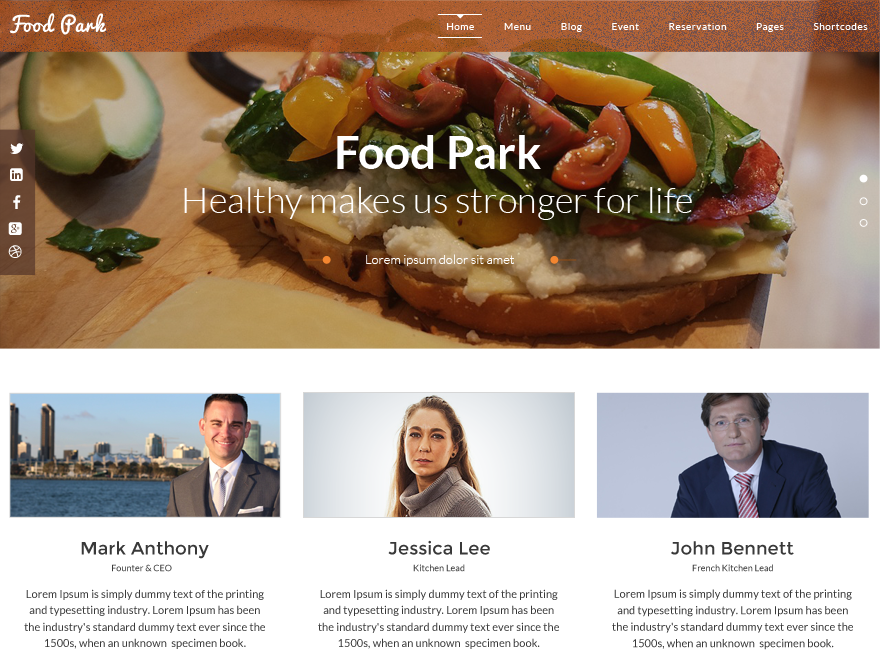 The Food Park WordPress theme is primarily aimed towards restaurants and food critics, offering a sleek and responsive design that uses minimal CSS: a perfect fit for mobile users. The ability to add featured images lets you highlight your blog's writers and give them the recognition that they deserve. Not only is this theme translation ready and includes the ability to add sticky posts, but it also includes threaded comments, letting your readers comment on both the article at hand and to each other. With the ability to add four widgets to the footer area, you'll have plenty of options to choose from when it comes to customizing your food blog. The Food Park WordPress theme also lets you format your posts in a variety of ways, letting you keep your readers on your toes by switching up your post style on the fly.
Price: FREE
(WordPress.org)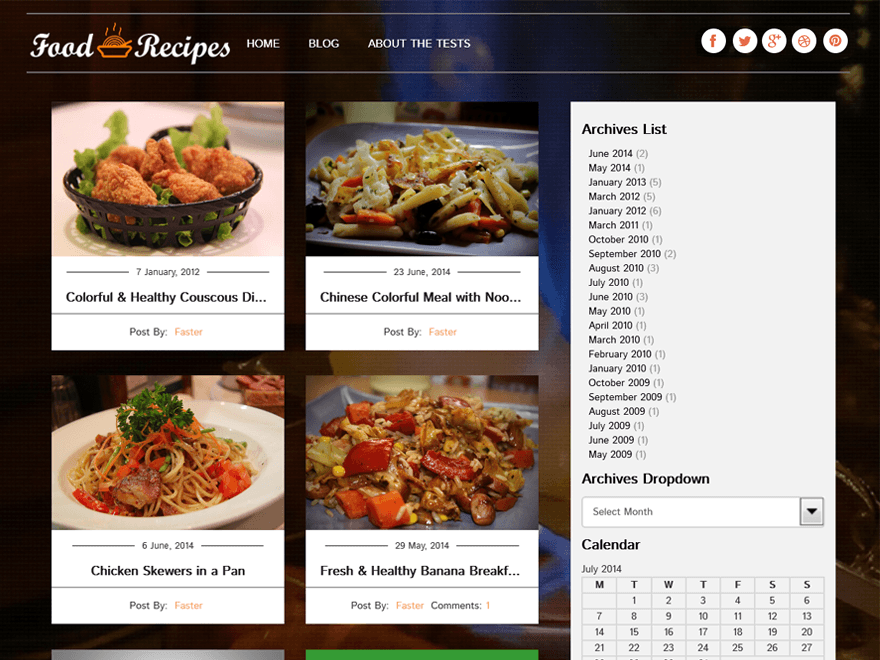 If your passion is for sharing your grandmother's recipes and introducing the world to new culinary ideas that will rock their socks off, then you'll want to check out the Food Recipes WordPress theme. This theme is tailored specifically towards showcasing recipes, including features such as a full-width template, sidebars, sticky posts and featured images. Every bit of this theme is customizable as well, from the header and menu all the way to the background itself. The responsive layout makes it easy for your readers to find just the recipe they are looking for while the included options let you tweak this theme to create something that fits your vision and users. Whether you're a casual food blogger or a bonafide professional, the Food Recipes WordPress theme will appeal to any writer who wants to share his or her unique recipes.
Price: FREE
(WordPress.org)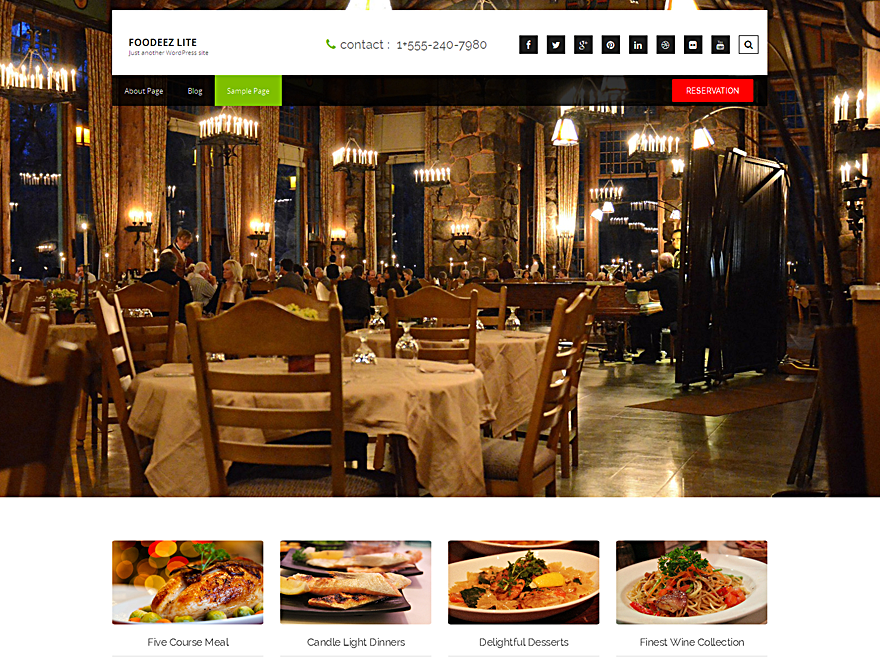 If you're looking to create a food blog for your restaurant, then you'll want to check out the Foodeez Lite WordPress theme. This theme was designed specifically for restaurants, cafés and bars along with the chefs that reside in them. The Foodeez Lite WordPress theme not only allows you to show off your restaurant's delicious offerings but also showcases the talent behind each dish, showcasing both their degrees and recommended meals.
This theme places an emphasis on your food at all times, featuring parallax scrolling, full-width background images and floating navigation. This theme also includes the ability to add a reservation form to your WordPress website, letting customers place a reservation directly from your site after building up their appetite. Whether you own a local diner or an upscale bistro, the Foodeez Lite WordPress theme will make your restaurant stand out on the 'net.
25. Food Hunt
Price: FREE
(WordPress.org)
If you're looking for a WordPress theme for your blog or restaurant that offers more interactivity with your readers, the Food Hunt WordPress theme is just what you're looking for. This theme provides threaded comments, letting your readers comment not just on the article or recipe itself but letting them also respond to other commenters. The clean and responsive layout makes this theme a great fit for food bloggers looking to create a site for mobile users while the fluid design will guide your reader from one article to the next. While this theme is primarily for restaurants, the array of customization features that it offers makes it a great fit for food bloggers as well; in addition to customizing the number of columns and sidebars, the Food Hunt theme also lets you create a custom menu. Above all else, the Food Hunt WordPress theme revels in its modern look, which will instantly make your website stand out from the crowd.
26. SKT Coffee
Price: FREE
(WordPress.org)
Despite the word "coffee" directly in its name, the SKT Coffee WordPress theme isn't just for food bloggers who want to talk about coffee. The versatility of this WordPress theme not only makes it a great fit for a food blogger but also for writers in fields such as agriculture, nature and even medicine. This theme is translation ready with support for over 10 languages: Your WordPress food blog could reach audiences you never thought were possible when using the SKT Coffee theme! This WordPress theme is compatible with a variety of different plugins, including those for SEO and eCommerce, giving you the potential to upgrade your website from a mere food blog to a bustling store. Lastly, the SKT Coffee WordPress theme allows you to add a contact form so your readers can directly reach you.
27. Lunchroom
Price: FREE
(WordPress.org)
If you guessed that the Lunchroom WordPress theme was primarily a WordPress theme for restaurants, bars and pubs, you'd be half right. Thanks to its wide array of features, such as full-width templates, threaded comments and featured images, it's also a great WordPress theme for food bloggers as well. The creators of this theme have made theme management a snap, letting users change almost any feature of the Lunchroom theme in just a few mouse clicks. The responsive layout of this theme makes it simple for both PC and mobile users to navigate around your website. The Lunchroom theme provides bloggers with room to grow, supporting plug-ins such as WooCommerce and Contact Form 7. Lastly, the Lunchroom theme is compatible with a wide array of browsers, including Internet Explorer, Google Chrome and FireFox.
28. Canapé
Price: FREE
(WordPress.org)
If you're looking for a food blog to show off your restaurant's scrumptious dishes, then look no further than Canapé, a bold WordPress theme that uses a minimal design that puts the focus on your delectable dishes. This elegant theme utilizes a crisp menu template to show off each food and drink item in your restaurant, with additional space available for you to accurately describe the contents of each dish. This WordPress theme is also fully compatible with the Open Table widget, letting your guests make an online reservation with just a handful of mouse clicks. With support for a variety of languages along with additional support for custom colors and featured images, the Canapé WordPress theme is as functional as it is beautiful.
29. Restaurant Advisor
Price: FREE
(WordPress.org)
If you're a food blogger who makes a living critiquing rather than creating, the Restaurant Advisor WordPress theme is an excellent choice for your food blog. This theme was designed with food critics in mind and features a responsive, stylish layout that is an excellent fit for any device, including tablets and smartphones. The Restaurant Advisor theme gives you full customization options, letting you transform this theme into one that accurately represents your brand. For example, you can use the custom logo feature to add your blog's logo to the header and adjust the colors of the website to match. The customization doesn't stop there, with the Restaurant Advisor theme also giving its users the ability to customize the background as well. With support for sticky posts and featured images, you can make it easy for your users to locate a must-read article. Last but not least, the Restaurant Advisor WordPress theme contains support for over 10 different languages, which gives your food blog the chance to reach a worldwide audience.
30. SKT Bakery
Price: FREE
(WordPress.org)
Unlike the SKT Coffee theme, which had a broad appeal despite the name, the SKT Bakery WordPress theme is designed for just what it says in the name: bakers. Whether you're a cupcake connoisseur who wants to show off your latest creations or a creator of savory homemade bread who wants to share his recipes with the world, SKT Bakery is a theme designed specifically for you. This theme is responsive and features fast loading times, which is a boon for mobile users who want information quickly. The SKT Bakery WordPress theme offers lots of customization, including standard options such as changing the background and color to rarely seen options such as letting users adjust the size of the text. The built-in sliders make it easy for even a WordPress novice to create the perfect site they've envisioned in their mind. Lastly, the SKT Bakery WordPress theme is compatible with a variety of eCommerce plug-ins, helping you make the transition from showing off your bakery skills to letting readers buy your baked goods.
The following two tabs change content below.
Jamie Spencer
My name is Jamie Spencer and I have spent the past 10 years building money making blogs. After growing tired of the 9-5, commuting and never seeing my family I decided that I wanted to make some changes and launched my first blog. Since then I have launched lots of successful niche blogs and after selling my survivalist blog I decided to teach other people how to do the same.
Latest posts by Jamie Spencer (see all)