One of the best ways to connect with other people is through food. Everyone loves to eat and experience new culinary adventures. Food blogs have given budding chefs, homemakers, and general enthusiasts the opportunity to make their cuisine available to foodies around the world. But it's not just about the good eats. Sharing a recipe lets you share a part of yourself. Recipes can be used to showcase your culture, tell a fun story, relive fond memories, and so much more.
You, too, can start your very own food blog ( or any other blog if food isn't your thing). You can share your love of cooking and connect with other like-minded individuals who are on the constant lookout for the next great recipe. It's even possible to turn a small food blog into something bigger. With some dedication, creativity, and the right tools, your blog can become your full-time career.
If you're thinking about taking the jump and diving head-first into the culinary blogosphere and starting a blog, all you have to do is:
Buy a Domain Name – The catchy name that all your followers will use to access your blog ( We recommend Domain.com – Get 25% OFF )
Purchase Reliable Hosting – Where all of your recipes, photos, and text will be stored – ( Bluehost is highly recommended for Food Bloggers )
Install WordPress – The tool you'll use to craft your blog
Design Your Blog – Create a fun theme and utilize plug-ins to enhance the reading experience – Check out MyThemeShop for Food related themes.
Craft Recipes – Share treasured family recipes and new experiments your readers will love
Promote Your Blog – Use social media to grow your audience
Generate Income – Use your passion and talents to turn your blog into an passive income-generating machine
How Do Food Bloggers Make Money?
Yes, it's completely possible to earn income running a blog. Some of the best food blogs continue to generate a passive income that grows with each passing month. So how do they do it? There are a number of ways that you can monetize a blog.
Affiliate Marketing
Affiliate marketing
is a great way to recommend products to your audience that they will love, all while earning a commission. You can join an
affiliate marketing program
and include links to products on your blog. Each time that one of your audience buys a product with your link, you get a commission. You can join affiliate marketing programs either directly through the company you want to promote or via an affiliate marketing network, such as
Shareasale
or
AWIN
.
Sponsorships
Many companies are willing to pay for the exposure a food blogger can bring. Sponsorship deals can be quite lucrative and fun. Once you establish a deal, you can use your working relationship with brands to expand your audience and earn some income.
Advertising
Don't need all of the screen real estate on your blog? Why not put some ads there? Programs like Google AdSense and other Google Adsense alternatives will pay you display advertisements. The amount of money you can make will depend entirely on how big your audience is, so the possibilities are endless.
Selling Products
Of course, you can use your blog to build your own personal brand. Many top food bloggers have spun their online success into bigger things. Whether you want to create an eBook filled with your most popular recipes or you're developing a cooking product that you believe your audience will love, your blog is the perfect place to sell directly to those who will buy.
These are just some of the ways that you can monetize your blog. Before you get there, you're going to need to develop your digital space and grow your audience. These techniques are only effective if you have a true connection with your audience. Start by producing great content and you'll be well on your way to monetization.
50 of the Best Food Blogs
There are plenty of blogs out there to give you inspiration. These blogs all started where you are. Today, they're thriving and have a huge audience of followers that are waiting for their next culinary masterpiece.
These aren't your mother's recipes. Food52 has recipes and articles that are designed to change your outlook on food. It's all about style and pushing the boundaries of cuisine. You'll find some of your favorite foods, albeit with an exciting new twist. The blog also has tips on how to improve your everyday meals, grocery shopping methods, and more.

This sleek food blog is a daily stop for everyday chefs around the world. Kitchn tackles a wide range of quirky topics, all with a fun and relaxed approach. In addition to some well-tested recipes, the blog provides how-to articles, lifestyle pieces, and shopping tips for young cooks everywhere.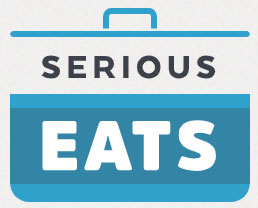 Started all the way back in 2006, Serious Eats has grown into a true powerhouse in the food blog world. The blog's recipes aren't your run-of-the-mill cooking directions. Each piece is designed to teach you something new. Whether the recipe provides you with information about the dish's history or it teaches you distinct cooking techniques, you're bound to learn something new.
Originally started as a way to keep track of family recipes, Simply Recipes has a treasure trove of ideas for everyone. Over 30 years of family history can be found on this blog. New recipes are also made available regularly. The great thing about this food blog is that the recipes are tested and made from wholesome ingredients.

Skinnytaste is a perfect example that healthy eating doesn't have to be boring. This blog's focus is on providing healthy dishes that look as good as they taste. Gina Homolka, Skinnytaste's founder, provides recipes and meal plans that are designed to inspire a wholesome way of living.
Owned by cookbook author Deb Perelman, Smitten Kitchen is all about accessibility. The blog isn't trying to be pretentious or over the top. Instead, the food blog provides fun and easy recipes that anyone can make. They're made with ingredients that you can get your hands on now, giving everyone the opportunity to try them out.

Budget Bytes is an inspiring blog that shows that you don't have to be made of money to eat well. Mouth-watering recipes are plentiful. Options for every meal and a wide range of cultural influences are available. Each article has the estimated cost per recipe, making it easy to budget your meals.

Gimme Some Oven is an awesome food blog that chronicles the adventures of a woman who decided to live her dreams. The recipes are simple and easy to follow. However, each snack or meal is accompanied by a personal story that adds some dimension to the recipe. Gimme Some Oven also has a lifestyle section where you can follow the food blogger, Ali, on her adventures.

You don't have to turn your kitchen into a disaster zone to get a good meal! Minimalist Baker is all about creating simple recipes with limited ingredients and plenty of good flavors. Most recipes have 10 ingredients or less and take a single bowl to create. Best of all, many of the dishes are vegan and gluten-free.

Despite the blog's name, Cookie and Kate has much more to offer than just sweet treats. You'll find a wide assortment of vegetarian recipes that will show you new ways to enjoy your favorite veggies. The blog has a minimalist design, showcasing the stunning photography of brightly colored food.

With its beautiful photography and innovative recipes, Pinch of Yum is an excellent blog for both first-time cooks and seasoned chefs. In addition to a collection of vegetarian dishes, Pinch of Yum offers some practical advice for those who are interested in alternate methods of cooking. You'll find how-to guides for slow cookers, Instant Pots, and more.
Made for readers with a real sweet tooth, Sallys Baking Addiction offers an educational approach to baking. Familiar recipes are broken down to the basics, showing readers how to make their favorite desserts from scratch. Sally also provides some insight on how to do basic techniques that will take your dishes to a new level.

Combining the fun and practicality of a food blog with the personal touch of a baby blog, How Sweet Eats is a place to indulge yourself in the things you love. With unique recipes covering everything from Crispy Chicken Tacos to Crab Avacado Salad, this blog has a lot to offer foodies.
Love and Lemons
Created by successful cookbook authors, Love and Lemon offers a fresh take on local cuisine. Many of the recipes utilize seasonal ingredients from Chicago. As the name would suggest, a sour touch of lemon is also a common theme. Beautiful photography and a well-designed website make this blog a joy to read.
David Lebovitz
David Lebovitz is an established food writer who has released multiple books throughout his career. His self-titled blog provides a closer look at his culinary journey while also giving readers wholesome recipes that anyone can try. Each dish is meant to be accessible by home chefs so that the joy of cooking can be spread across the world.
Two Peas & Their Pod
This cooking blog is a family affair. Started by a food-loving couple, Two Peas & Their Pod has expanded alongside the writers' own family. The blog offers family-focused meal recipes that are healthy, wholesome, and fun. There's also a section focused solely on meal prep to help busy families on a schedule.
101 Cookbooks
Vegetable recipes are the name of the game at 101 Cookbooks. This food blog is run by New York Times best-selling author Heidi Swanson. Each recipe on this blog is unique, showing readers new ways to have fun on a plant-based diet. You'll find a number of drink recipes, Instant Pot meals, and much more.
Oh My Veggies
As the name would suggest, Oh My Veggies is a vegetarian's dream. Flavorful recipes utilizing whole ingredients can be found throughout the blog. Some of the recipe developer's ideas will challenge the way readers look at seemingly bland veggies. Whether you're looking for exciting ways to cook tofu or want meatless alternatives to popular dishes, you can find it here.
Alexandra's Kitchen
Want to learn some new healthy recipes? Alexandra's Kitchen has you covered. This blog is dedicated to seasonal cooking. The twist is that most of the recipes involve making simple components from scratch. Not only will you learn how to create the things you eat regularly, but you'll gain a whole new appreciation for the foods you love.
Healthy. Happy. Life.
If you're vegan, you may already know who Kathy Patalsky is. This chef and recipe developer is a popular face in the vegan community, having been featured in mainstream publications and television. Healthy. Happy. Life. is her personal blog. Here, she shares fun recipes while giving some insight into her life.
Green Kitchen Stories
One thing that sets Green Kitchen Stories apart from other food blogs is its aesthetic style. The blog is covered in editorial-style photos that showcase everything a dish has to offer. David and Luise, the blog's proprietors, constantly develop vegetarian dishes that are colorful and tasty.
A Couple Cooks
What happens when a writer and a photographer get together and create a blog? A Couple Cooks. This beautiful cooking blog showcases food in all of its colorful and dynamic glory. The recipes are all simple. They're focused on sustainability, making the blog a haven for Earth-conscious food enthusiasts.
The Pioneer Woman
If home-cooked comfort food is what you're after, The Pioneer Woman is for you. Country style cooking is at the forefront of this blog. It's run by Ree Drummond. When the blog was started, Ree was simply a farmer's wife who loved to cook. Now, she's the owner of the Pioneer Woman empire, which includes books, cooking tools, and even a television show.
Delicious Everyday
Delicious Everyday is a cooking blog that offers vegan and vegetarian meals. The recipes take advantage of fresh whole ingredients. Despite the focus on vegan cuisine, you'd be hard-pressed to find a dish that even non-vegans won't want to try.
Alton Brown
Alton Brown is one of the most iconic figures on the Food Network. He hosts many different shows, offering his scientific approach to food at every turn. His blog, aptly named Alton Brown, is no different. Here, you'll find great recipes, detailed how-tos, videos, and much more.
Brown Eyed Baker
Brown Eyed Baker is a cute and quirky blog with a large collection of recipes to try out. The brown-eyed baker herself shares delicious recipes for everything from salads to homemade pickles. Sprinkled in with the recipes are posts about her everyday life. You'll find pictures of her family and her adorable Golden Retriever pup.
While chocolate and zucchini might not sound like a delicious combo, the recipes on this blog have a lot to offer picky palates. It's run by Clotilde Dusoulier, a French food writer. Many of the dishes presented on the blog are inspired by French cuisine. Clotilde's approach to food is to create easy and delicious meals with high-quality ingredients.

Love and Olive Oil is run by two bloggers, each with their own unique personalities and tastes. As a result, the recipes are quite varied. However, there are some things that each one share. They're all quick, easy to make, and very budget friendly.

Baking has never seemed so easy. At Joy the Baker, recipes are detailed and easy to follow. This helps to make baking accessible to everyone, even those who are new to the kitchen. There are plenty of fun desserts and interesting meals to have a crack at.

This tasteful blog puts aesthetic at the forefront. One visit to The Vanilla Bean Blog and you'll be captivated by the crisp theme and stunning artwork. All of the colorful dessert recipes and photos are set behind a white backdrop, letting the food really shine.
Pastry Affair
Pastry Affair shows that cooking doesn't have to be perfect. Indulgent sweets and confectionary delights are the focus of this blog. Despite the beautiful photos and clean aesthetic, the blog is all about home cooking and being a bit rough around the edges.
My Baking Addiction
Whether you want to learn how to make that perfect chocolate chip cookie or you're looking for something a bit more exotic, check out My Baking Addiction. This food blog is incredibly detailed. There are recipes for just about anything. Not only that, but you'll find tips and tricks on how to become the master of your kitchen.
Oh She Glows
Oh She Glows is a wonderful resource for people who want to be healthy and sustainable. The website is devoted to vegan recipes that are free of soy, gluten, and processed foods. There's a large collection of colorful and creative meals that are all plant-based.
Sprouted Kitchen
The first thing you'll notice about Sprouted Kitchen is its stunning photography. The blog really puts the beauty of food at the forefront. They even have articles on how to push your food photography even further. Beyond that, Sprouted Kitchen includes family recipes and unique twists on old classics.
Steamy Kitchen
Steamy Kitchen is run by Jaden Hair, an established food columnist who has published work in a variety of platforms. She's also a professional recipe developer who's been featured on television. Her blog offers authentic Asian recipes. Many of them are classic dishes that have remained unchanged for generations.
My New Roots
My New Roots is a unique plant-based food blog. In addition to providing readers with innovative recipes that are sure to challenge anyone's idea of a vegan diet, the author takes a holistic approach to food. The recipes are designed to be physically and mentally healthy.
Our Best Bites
This colorful food blog is the perfect place for getting simple recipes your entire family will love. They're all easy to make and have beloved flavors that are sure to be a hit at your next family gathering. Many of the dishes are also kid-friendly, allowing the young ones to get started in the kitchen early.
Bakerella
Take your next party to a whole new level with a recipe from Bakerella. This whimsical blog is filled with colorful desserts covering everything from cake to ice cream. It's not just focused on taste, but also presentation. There are step-by-step guides on how to create memorable decorations for every dessert.
Spoon Fork Bacon
Spoon Fork Bacon is dedicated to all things delicious. It's filled with flavorful recipes that cover all types of dining situations. From side dishes to the main entree, Spoon Fork Bacon offers unique recipes that are sure to be a hit.
BakersRoyale
No meal is complete without an awesome cocktail. That's where BakersRoyale comes in. While the blog has recipes to cover pretty much every flavor palate, the thing that makes it unique is its large collection of cocktails. These drink recipes can complement the main course and help you unleash your inner bartender.
EatMee
This South African food blog covers many different cultures. Not only can you find recipes for authentic African cuisine, but you'll find selections from cultures around the world. Whether you're feeling like Indian food, want something Turkish, or fancy a traditional American meal, you'll find it here.
The Healthy Apron
The Healthy Apron is all about providing you with facts. The blog was started by a former line cook who wanted to offer well-researched information about food. This blog offers healthy recipes that are tested. Any information is backed by credible sources for your peace of mind.
In Jennie's Kitchen
In Jennie's Kitchen is a very personal cooking blog that offers some insight and reflection. The blog's namesake, Jennie, is a mom who's just looking for balance in the journey of life. Recipes are accompanied by stories and word of wisdom.
My Pure Plants
My Pure Plants is a unique blog that chronicles the culinary journey of a couple that cooks together. This family-focused blog records what the home chefs make for their pack every week. Most of the recipes are plant-based, making it an excellent resource for vegans and vegetarians.
Inspired Taste
Looking to get inspired? Inspired Taste offers a large collection of recipes for any occasion. You can browse the available dishes by category. Or, you can find dishes that are centered around a specific ingredient. Whatever the case may be, the recipes are approachable and fun to make.
Molly Yeh
Molly Yeh is a food blog run by a very intriguing person. Molly is a Jewish Asian who studied music in New York and now lives in the Mid-West. Needless to say, her journey through life has given her an interesting perspective on food. Her recipes are unique and beautifully made.
Baking Bites
From delectable waffles to olive oil pound cake, Baking Bites has it all. The food blog is centered around all things baking. It offers recipes that vary in difficulty and uniqueness. There's something for everyone, no matter what your skill level is.
Vegalicious Recipes
Vegalicious has recipes to keep any vegan or vegetarian busy for quite a while. Foods are separated by meal and main ingredient. This makes it easy for home cooks to find recipes that they can make now. The flavorful meals offer plenty of inspiration for those who want to adopt a vegetable-based diet.
Big Girls Small Kitchen
Let's face it, cooking in a small kitchen is never fun. Big Girls Small Kitchen takes that idea and turns it on its head. The blog offers practical solutions to space limitations and provides some guides on how to make things work when you don't have all the necessary resources you need to cook a great meal.
The Chubby Vegetarian
At first glance, you'd never be able to tell that the recipes on The Chubby Vegetarian are all plant-based. It's filled with delicious burgers, indulgent quesadillas, and mouth-watering noodles. The blog aims to break down stereotypes about vegetarian meals by providing readers with recipes that will have you wanting more.
The following two tabs change content below.
Jamie Spencer
My name is Jamie Spencer and I have spent the past 10 years building money making blogs. After growing tired of the 9-5, commuting and never seeing my family I decided that I wanted to make some changes and launched my first blog. Since then I have launched lots of successful niche blogs and after selling my survivalist blog I decided to teach other people how to do the same.
Latest posts by Jamie Spencer (see all)