Creating an Amazon affiliate niche website is an effective way to make money from the comfort of your own home. The Amazon marketplace sells thousands of products to millions of customers across the globe. So whatever your website niche, you will be able to find a range of relevant and popular products to promote, enabling you to easily generate a passive income.
So what exactly is affiliate marketing, how can you sign up with the Amazon Associates program, and how can you set up your own profitable affiliate niche website? These are all questions we will answer in this in-depth step-by-step Amazon affiliate guide. By the end of reading, you will have a good understanding of what Amazon affiliate marketing involves, and how to get started on this journey.
What is Amazon Affiliate Marketing?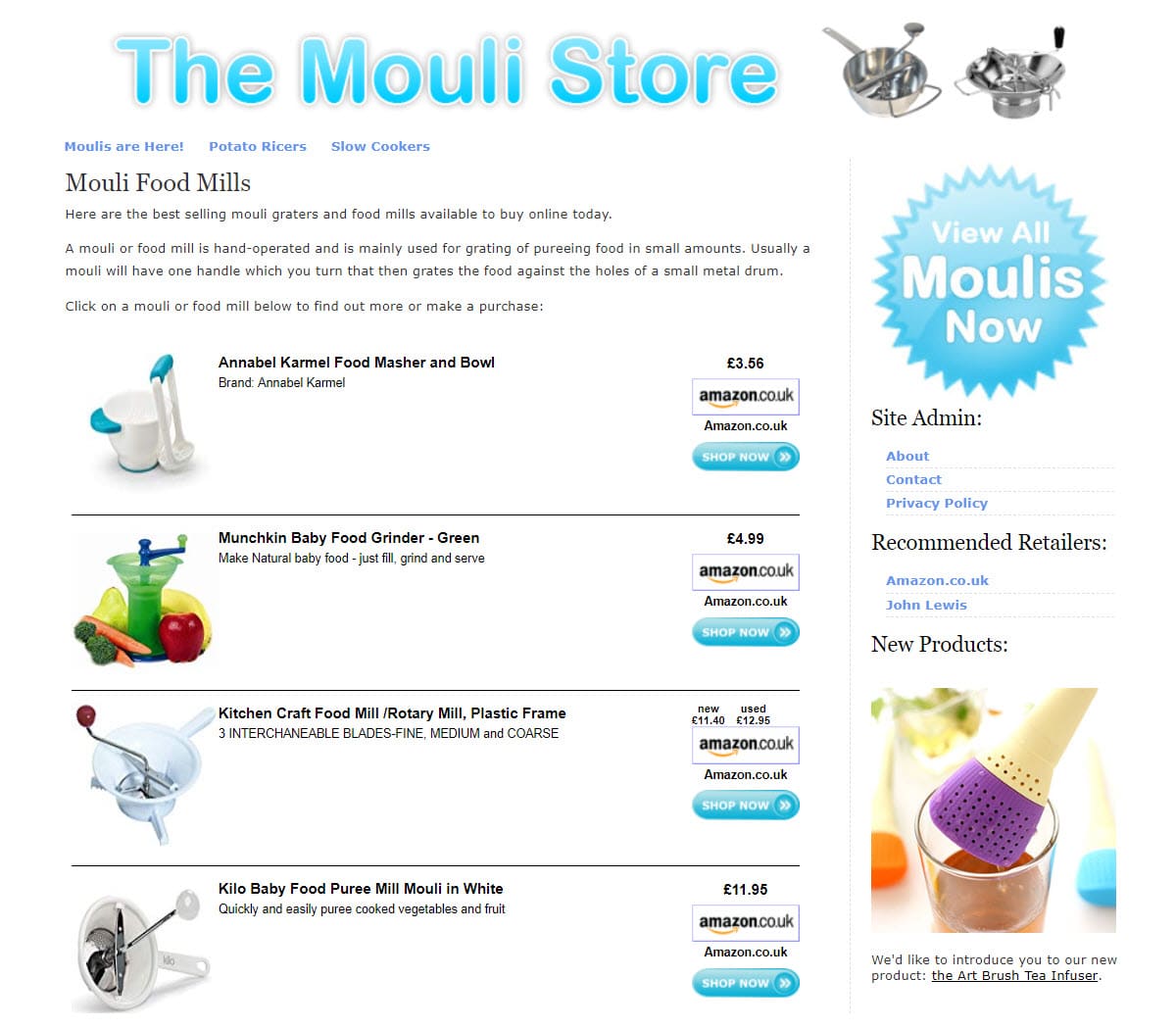 In a nutshell, Amazon affiliate marketing is the process of promoting Amazon products on your website, which will then earn you a commission if your visitors click through to Amazon and make a purchase. If you have a website that receives high levels of traffic, or you have found a lucrative niche without too much competition, your site can end up making big money through commission fees.
Affiliate marketing is a popular marketing method and many companies, businesses, and individual sellers offer affiliate programs to encourage people to promote their products. So why should you opt for the Amazon affiliate marketing program?
FREE Profitable Amazon FBA Seller eBook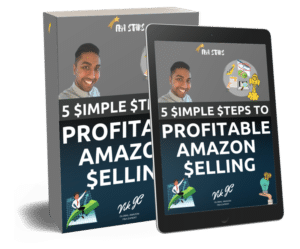 Here's a little bonus for MakeaWebsiteHub readers. This free eBook from FBA Stars will show you the 5 easy steps to selling highly profitable products on Amazon.
If you've ever dreamed about becoming your own boss and making money online, then this ebook will inspire you to start that journey. 100% Free. You have nothing to lose!
Download FREE Profitable Amazon Seller eBook
Amazon Associates Program: The Pros
The Amazon Associates program is set up specifically to help individuals promote Amazon products. Once you have joined Amazon Associates as an affiliate, you can take advantage of the numerous tools and help materials Amazon provides, helping you to quickly and easily display products and product links on your website.
Let's have a look at the pros of signing up with the Amazon Associates program…
Free to join.
Choose from over a million products to advertise to your customers.
Earn up to 12% in advertising fees in certain categories.
Easily add affiliate links to your site within your Amazon dashboard, using Amazon's purpose-built front-end SiteStripe toolbar, or the Amazon Associates Link Builder WordPress plugin.
Promote products from numerous Amazon marketplaces all over the globe.
Extensive support is provided, including a resource center and discussion forums, as well as email and phone support.
Comprehensive and well-managed payment system.
Another pro is that when your visitors click on an Amazon affiliate link on your website, you will receive commission from any product they purchase on Amazon during the next 24 hours, not just for the products you promote. This can help to greatly increase your earnings.
Overall, Amazon Associates is a well used and well-organized program, helping you to easily get started and advertise Amazon products. But, as with everything, there are some cons…
Amazon Associates Program: The Cons
The pros of the Amazon Associate program far outweigh the cons. However, it is important that you are aware of the downsides of Amazon as well as the benefits before you get started. Let's take a look…
Commission fees vary from product category to product category, with some being as low as 1%.
If you are looking to promote digital products or services, then Amazon probably isn't the affiliate program for you.
Amazon has very strict terms and condition. If you break the rules you can quickly be banned from the affiliate program.
So now we know what affiliate marketing consists of, and the pros and cons of signing up as an Amazon affiliate. Let's next find out more about how the Amazon Associates program works…
How the Amazon Associates Program Works: An Overview
Amazon Associates has a quick and easy sign-up process (we will look at this in more detail further on). However, before you can sign up with the affiliate program and promote Amazon products, you will need to have one of the following up and running…
Website – Create an affiliate niche website, specifically focused on reviewing and selling products in your niche. Once you have joined the Amazon Associates program you can then use the numerous Amazon tools to help you add various affiliate product links, images, and carousels to your website.
Blog – Blog on a particular subject, and then promote Amazon products within your articles. Again, once you have become an Associates member, you can easily add Amazon affiliate links to your site, encouraging your readers to click through to Amazon and make a purchase.
App – Created an app and now looking to monetize it? You can do so by displaying Amazon products and links to your users.
Social Media Channels – If you have a large social media following you can register with Amazon Affiliates and then share product links on your social media channels. Amazon has built-in support for Facebook and Twitter.
After registering with Amazon, you next need to add product links to your website, app or social channels.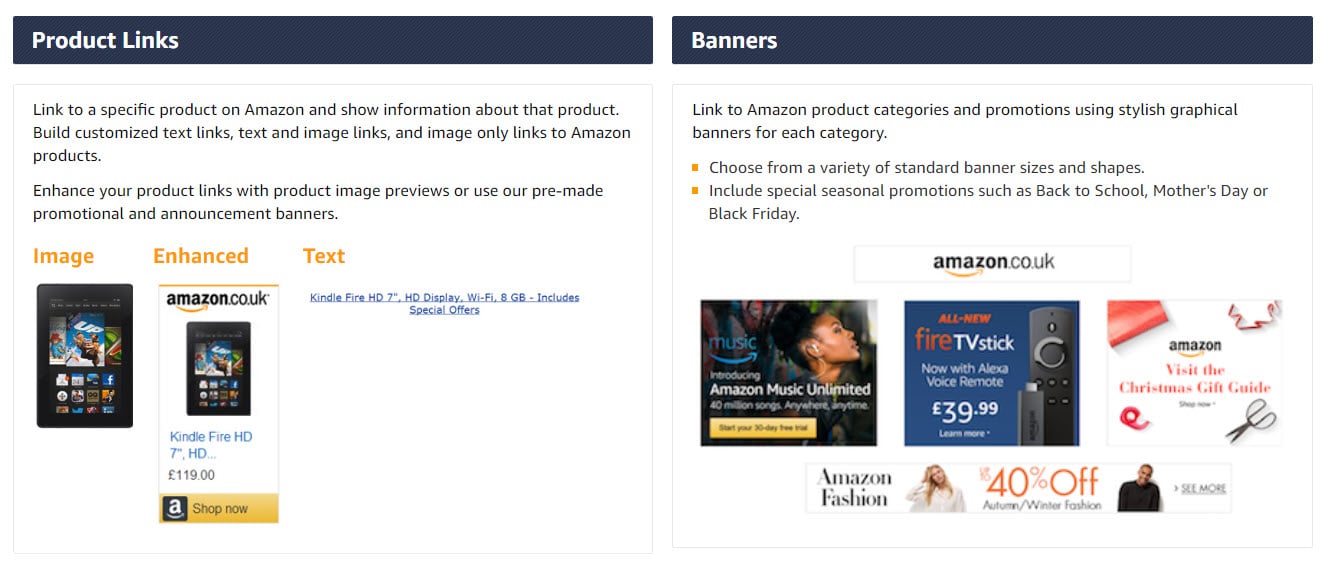 Amazon provides a number of ways to add links and promote products on your affiliate website. These include…
Product Links – Within the Amazon dashboard, or using the Amazon SiteStripe tool or WordPress plugin, you can search for relevant products that you would like to display on your website. You can then copy the links of these products and add them as hyperlinks in your website content. This is the easiest and most effective method to promote Amazon affiliate products on your site.
Banners – Display banners on your website promoting specific categories, gift cards, and up-to-date promotions. As with product links, banners can be added to your site by simply copying and pasting the code into your WordPress editor on the pages or posts you would like the banners displayed.
Mobile Popover – Streamline the mobile buying experience by adding product info, reviews, and prices to existing links. To access this feature, you will need to add HTML code generated by Amazon to your website </body> tag. (Amazon provides thorough instructions on how to do this).
Native Shopping Ads – Place relevant and dynamic ads within your content. You can handpick products to display, or let Amazon select products based on page content and visitors' searches.
Facebook and Twitter – Tweet and share product links, alongside product images and extra information, with just a click of a button directly from Amazon.
You should be careful not to add too many promotional banners and ads as this may put visitors off your site. First and foremost your affiliate website needs to be informative, helping your readers understand the pros and cons of the products they are considering buying. Therefore, adding product links to your content is the best way to link to Amazon without affecting the user experience.
When your website visitors, app users, or social media followers click through to Amazon and make a purchase, you will then receive a commission, which is a percentage of the product price.
As you can see, earning through the Amazon Associates program is very straightforward. We will now look in more detail at how to set up your own affiliate niche website with Amazon, walking you through the process step-by-step…
Step One: Choose a Niche
Before you can join up with Amazon Associates, you will need to prove that you have an active website up and running. (Alternatively, you can create a blog, app or social media channel with a large following, but in this guide we are looking at how to create an Amazon affiliate niche website).
Choosing your Amazon niche is one of the most important decisions you are going to make in this process. So take your time and do your research before coming to a final decision.
Here are a few key points to consider when searching for a niche…
Your Own Interests – You will spend hours and hours researching and writing about your niche and its products. If possible, it is best to have an interest in the topic otherwise your enthusiasm for the project may quickly dry up.
Find Products on Amazon – If you have a niche in mind, you next need to check there are suitable products on Amazon to promote. You need a niche that will cover multiple products, giving you plenty to write about. Check out the types of products you could advertise on your website, the prices they sell for, and the number of reviews they have received.
Check there a Market for Your Niche – It is important that there is a big enough market for your niche out there. If your site is too niche, then there just won't be the traffic to make large numbers of sales. By checking on Amazon you can see how many reviews products have received. Ideally you want products with reviews in their thousands, indicating that there is a market for these types of products and this niche.
Check out the Competition – A quick Google search will give you a good idea of your competition. It is highly unlikely you will be the first person within the Amazon affiliate sphere to target your niche. Therefore, expect to see a number of websites promoting products in your niche in the search engines – but don't let this put you off. Check these site out and consider their quality. If you think you can do better than these pre-existing sites then this could be the niche for you.
Commission – Crucially, you want to choose a niche that makes you good commission. The commission you earn will depend on numerous factors, but the price of products, the market for them, and the commission percentage you earn per sale are key areas to research. Amazon commission varies depending on the product category, with some categories as low as 1%, whereas others are 12%.
Also, be wary of choosing a 'seasonal' niche. A niche that relies on hot weather, a sporting term, or a celebrity being popular, is risky as you may attract no sales for half of the year, or find your site has quickly gone out of fashion as trends change.
Step Two: Pick a Website Platform

Once you have decided on a niche, you are now ready to build your Amazon Niche website. There are numerous web building platforms, blogging platforms and open source software that you can use to create your new website.
Let's take a look at some of the most popular options available…
The software you choose should always depend on the site's needs and your own web design experience, as well as your budget. However, whether you are a website novice or an experienced designer, here at Make a Website Hub, we always recommend using WordPress.
The free WordPress software gives you total control over your website, letting you customize every aspect and easily extend its functionality as your business grows. Crucially, the software is free to use, so you won't have ongoing monthly outgoings just to keep your website live.
Step Three: Select a Domain Name and Hosting Service
If you have opted to build your website using WordPress, the first step in the process of creating an Amazon niche site is to register a domain name and select a hosting service.
Register a Domain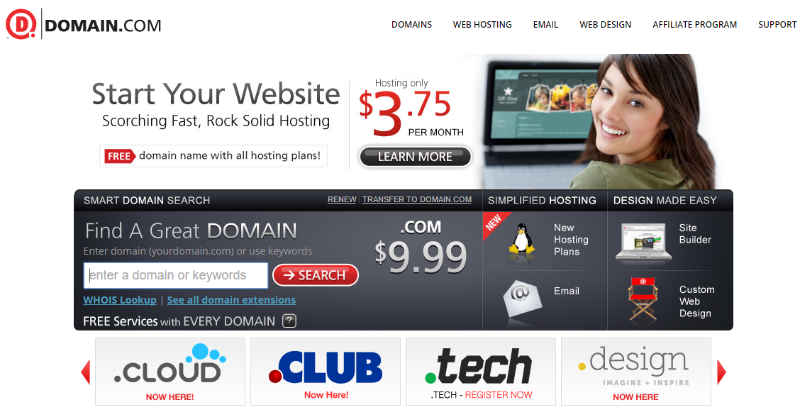 A website domain can be easily registered with a third party domain registrars like Domain.com and NameCheap. Domain names can vary dramatically in price from a couple of dollars a year to thousands-plus. However, most domain names will cost you about $10 a year. If you want to go for a new domain name extension like .guide, .ninja, .tech or .io, these might cost you a lot more. Hosting providers also sometimes include a free domain in with their hosting packages, so this is worth checking out before purchasing your domain name.
When selecting a domain, try and choose a name that contains a keyword that represents your niche or main product type. This will not only help potential customers find your site, but it will also improve your site's SEO for that keyword. You may need to combine your keyword with another word as so many domains have already been taken. Try using a domain generator to help you come up with a suitable domain name for your affiliate site.
Select a Hosting Service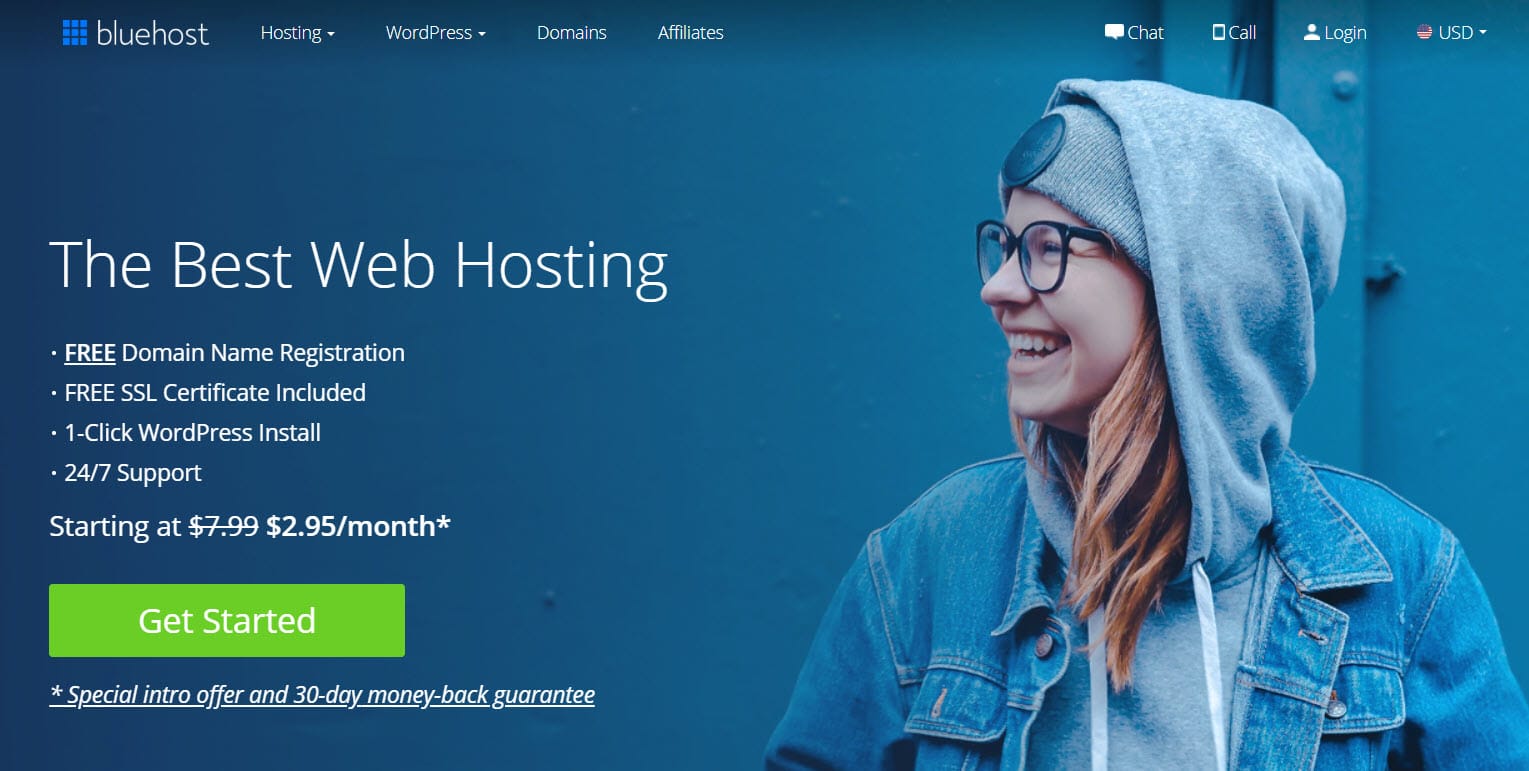 As well as a domain, you will also need to purchase hosting for your website. Again, hosting services and packages greatly differ in price and features offered. However, for those just starting out with an affiliate website, a basic hosting package will suffice. Let's take a look at a few options…
Bluehost – A great budget option, the Bluehost plans include a free domain, an SSL certificate, a one-click WordPress install, and impressive support. Prices start at just $2.95 a month.
SiteGround – A favorite of mine, SiteGround offers fast and secure hosting, SSL and HTTPS, Cloudflare CDN, 24/7 support, and much more. Prices start from $3.95 a month.
HostGator – Geared up for WordPress, HostGator provides WordPress specific hosting, which includes free migration of your website, daily backups, and automated malware removal, to name a few features. Prices for WordPress hosting start from $5.95 a month.
As your website grows, and the amount of traffic your receive increases, you can easily upgrade your hosting package to ensure your site's needs are catered for.
Step Four: Choose a WordPress Theme
After you have purchased a hosting plan, follow the instructions to connect your domain name and install WordPress. On install, by default WordPress will use the twenty Nineteen WordPress theme until you choose a more appropriate theme option.
There are thousands of WordPress themes, both free and premium. However, to help your site look professional and ensure the layout and content engages with your audience, it is best to opt for an affiliate marketing theme. Here are a couple of the best options currently available…
AzonBooster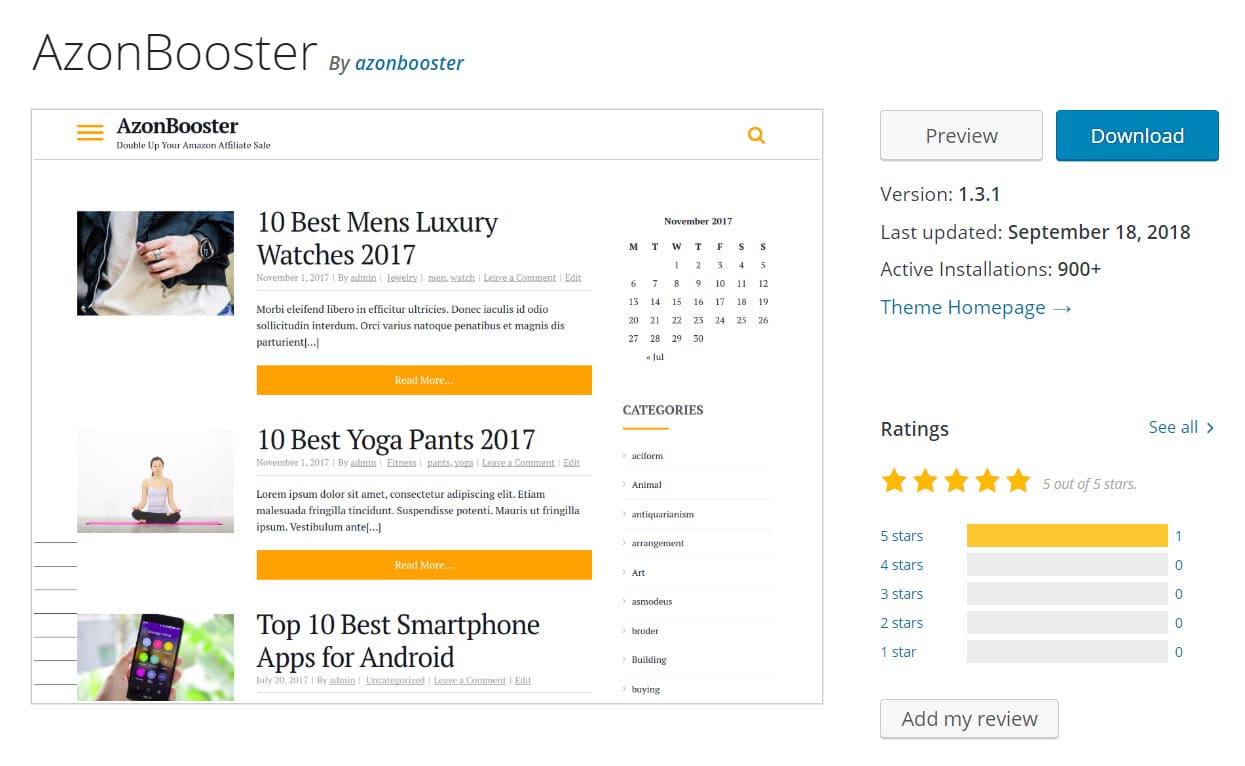 AzonBooster is a free Amazon affiliate theme with a focus on boosting your conversion rates. Its clear layouts, array of blogging features, and support for key affiliate plugins like Amazon Associates Link Builder, make it a great option for those on a budget, or just starting out in the affiliate world.
REHub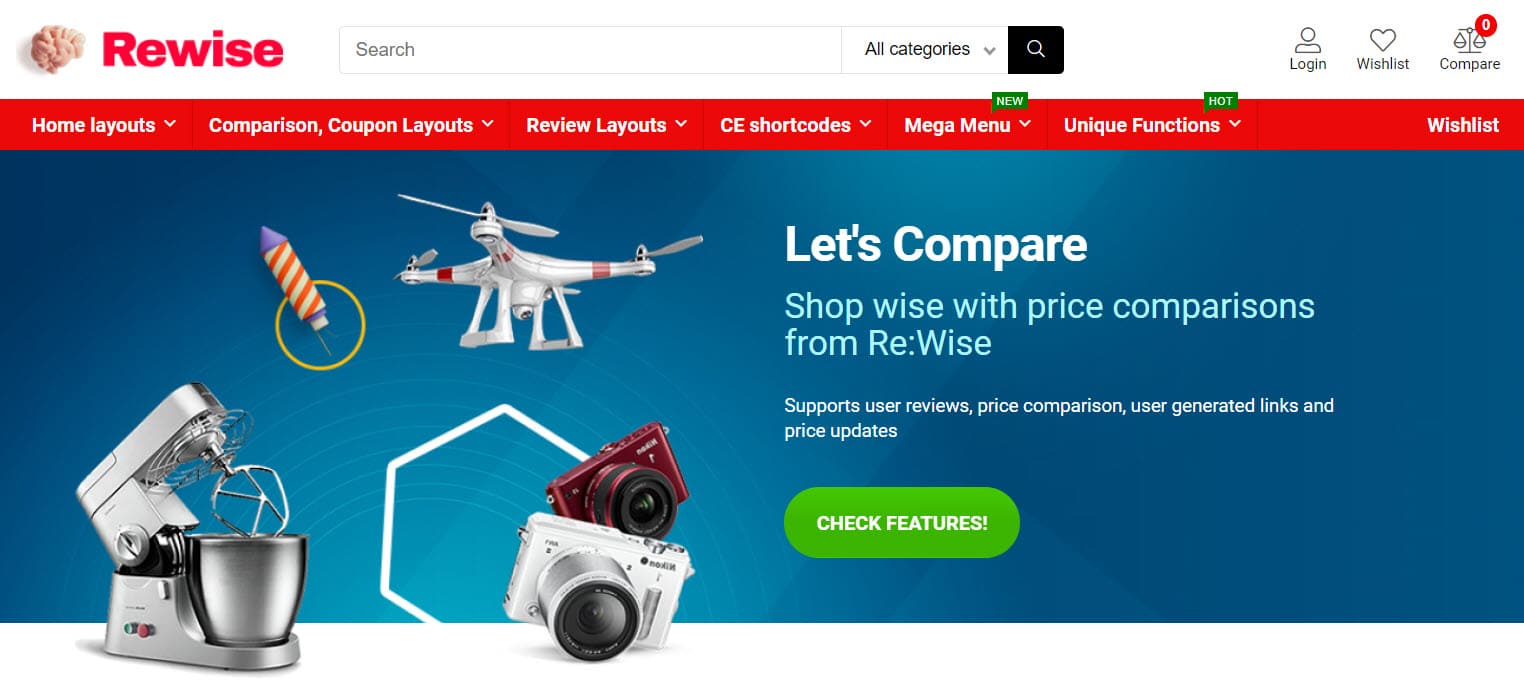 REHub is a premium WordPress theme that you can purchase from ThemeForest. This modern theme ships with a range of built-in features ideal for creating an affiliate marketing website. Features include price comparison charts, advanced product filtering, support for affiliate plugins, and much more.
Once you have installed your new theme you are ready to start creating your content.
Step Five: Create Content
There are a number of different types of content that will help you promote affiliate products. These include product reviews, round-ups of products, and product vs product articles, as well as individual problem-solving tutorials and experience sharing articles. Let's take a look at each of these in turn…
Individual Product Reviews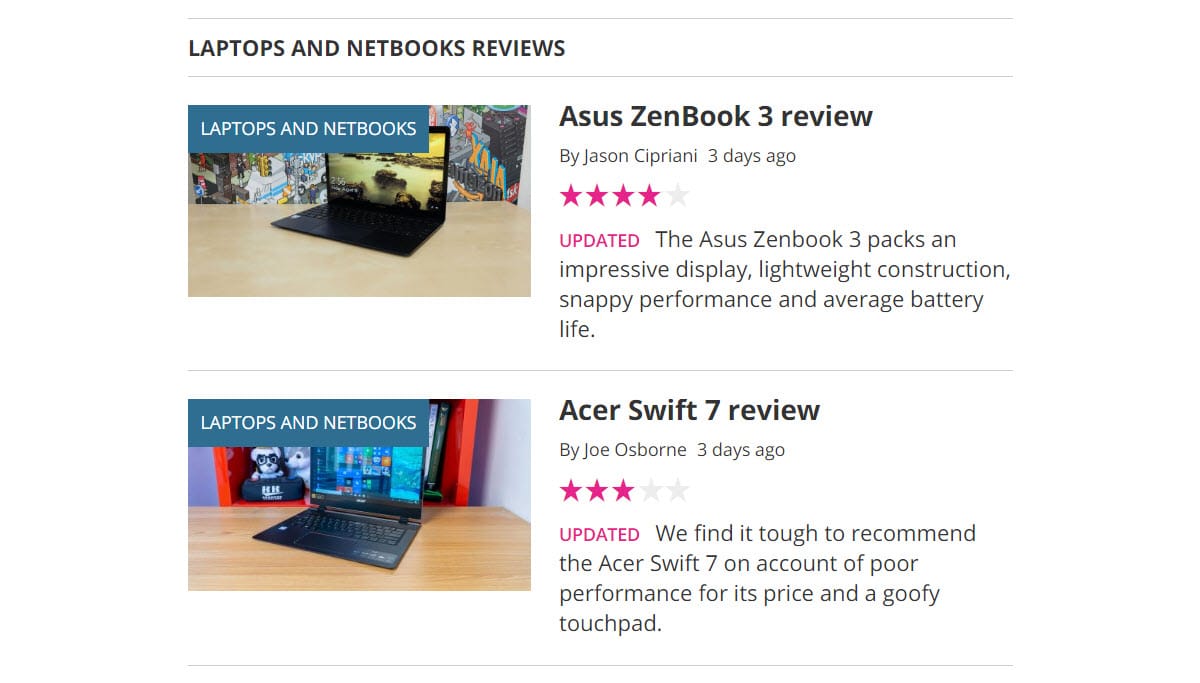 Individual product reviews dive deep into the features and user experience of a product. These reviews aim to provide all the information a potential customer may need before making a purchase. They are also often the content that drives the most conversions, so make sure your reviews are detailed and high-quality.
Alongside product facts and statistics, give your own opinion and experience of using the product, making your reviews personable and trustworthy. Stylish images of the product in use, or from different angles can also help drive sales. And do your keyword research before you start writing. This will help your reviews to rank well in the search engines and bring traffic to your site.
Round-up of Products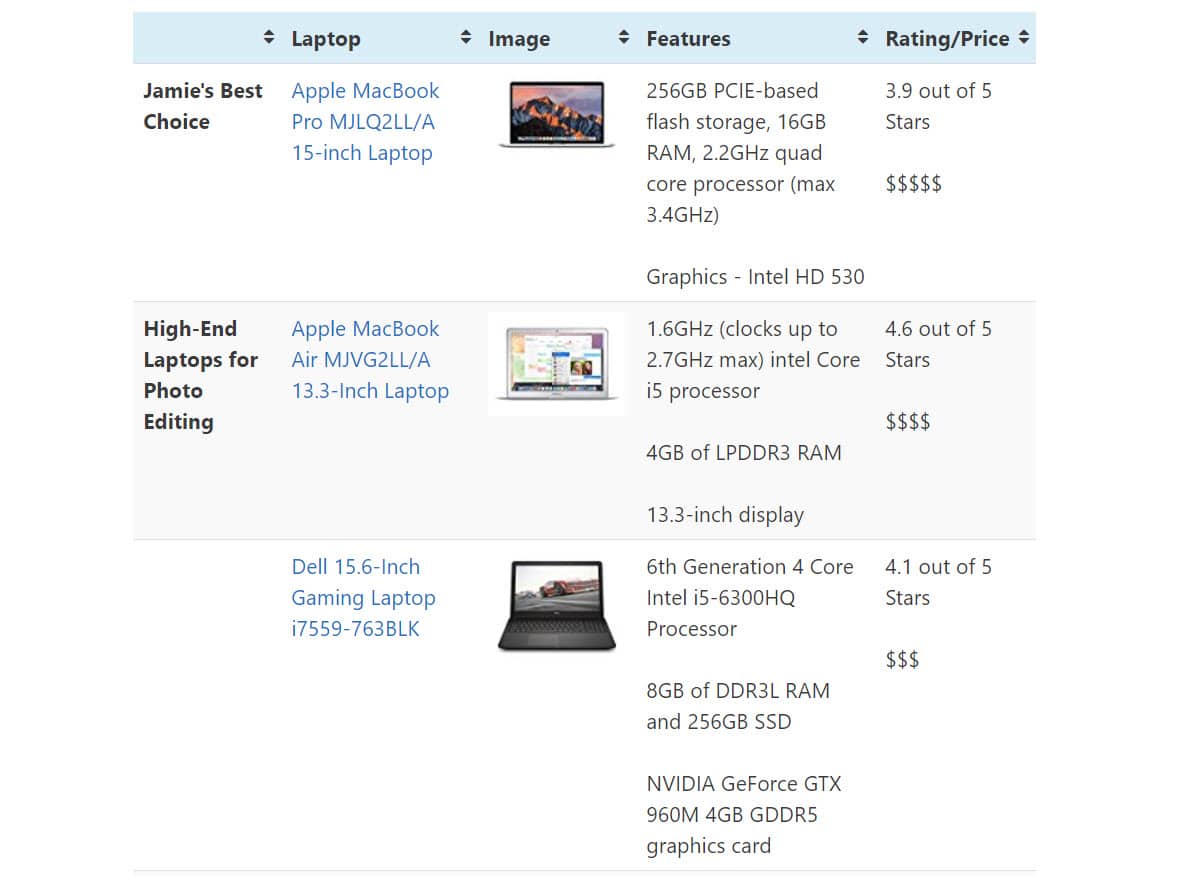 A round-up of products can help potential customers narrow down their options. Discuss each product in turn, focusing on key points including…
Top Features
User Experience
Reviews and Ratings
Price
Using a comparison table, displayed either at the beginning or end of an article, can help clearly display how the prices of different products compare, and/or show an overview of their features. Link the products in the table directly to Amazon to increase conversions.
Product vs Product Articles
Creating product vs product articles enables you to outline the features of two different products in-depth. Like with product roundups, you can compare the different features, discuss the user experience, and consider who the product would best suit. However, these comparison articles between just two products enable you to go into more detail than the round-up posts, whilst still providing your audience an overview of two top products.
Problem Solving or Experience Sharing Articles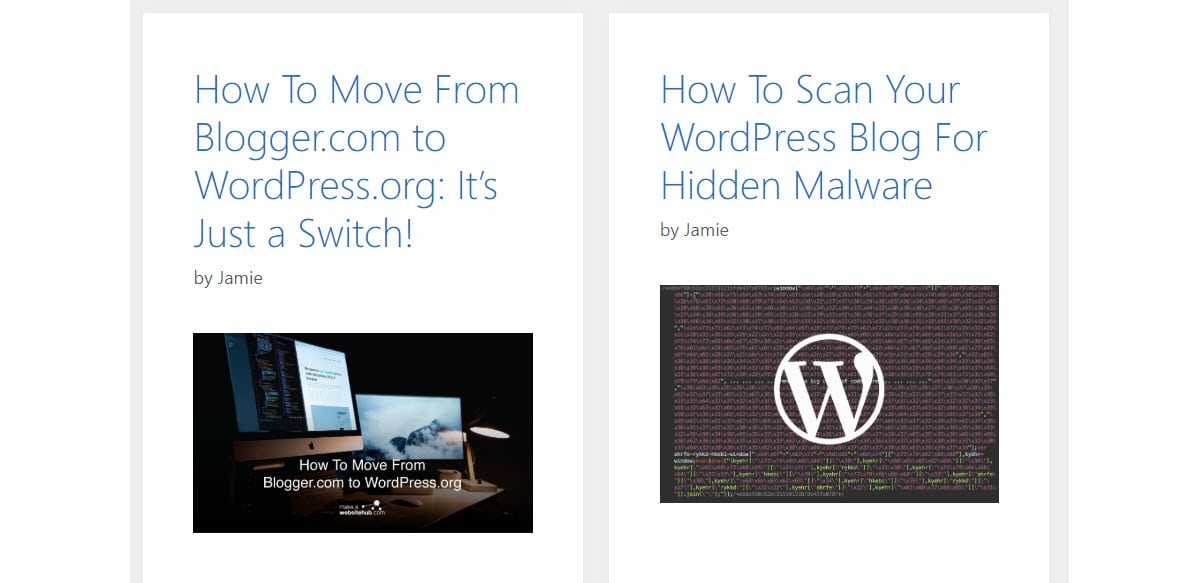 Writing articles that aren't aimed at the hard sell is another effective option. Create articles helping readers solve a problem that is relevant to your niche, or share your experiences or ideas on a particular topic. Examples of this include…
Experiences – If your niche is travel, then share experiences of your expeditions. Discuss the places you have visited, the sights you have seen, and the hotels you have stayed in. Not only will this be interesting and useful information for your audience, you can also weave affiliate opportunities into your writing. Promote the equipment you took, the books you read, and the travel clothes you wore.
Tutorials – If your niche is cookery, then add cooking tutorials to your website. Share different recipes, ingredients, cooking methods, and presentation details. Importantly, you can promote the cooking equipment people will need when attempting these dishes.
How To's – Chosen a niche selling bikes and bike parts? Then write how-to articles on all things bike related – how to self-service your bike, how to replace an inner tube, or how to check your gears. Not only will this help with SEO, but you can also then promote products, bike parts, and bikes throughout your articles.
As you can see, there are numerous content options for affiliate websites. Make sure your content is well written and useful to your readers, helping them to make a decision on which products they should purchase. Large beautiful images break up text and help your pages engage with potential customers, so ensure your website looks as good as it reads.
Amazon specifies it needs to see a fully developed website before it approves your Amazon Associates account. Therefore, it is advisable to have key pages and a number of product reviews and comparisons published before applying to become an Amazon seller. This way they know your application is serious.
Step Six: Sign Up with Amazon Associates Program
After creating a basic affiliate website, it is time to apply to the Amazon Associates program to become an affiliate seller. To do so, open up the Amazon Associates homepage and select Join Now for Free.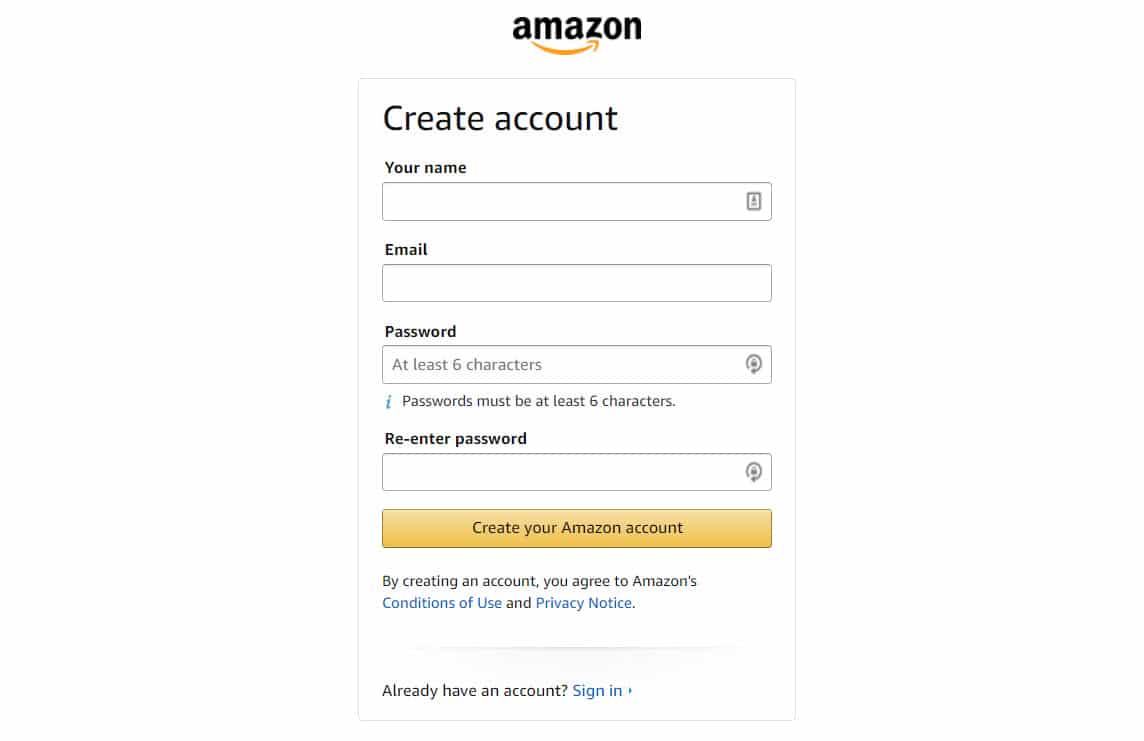 Log in to your Amazon account, or if you aren't registered with Amazon, you will need to enter some basic information to create a new account.

You will now need to complete the Amazon Associates registration process. Let's take a look at that…
Account Information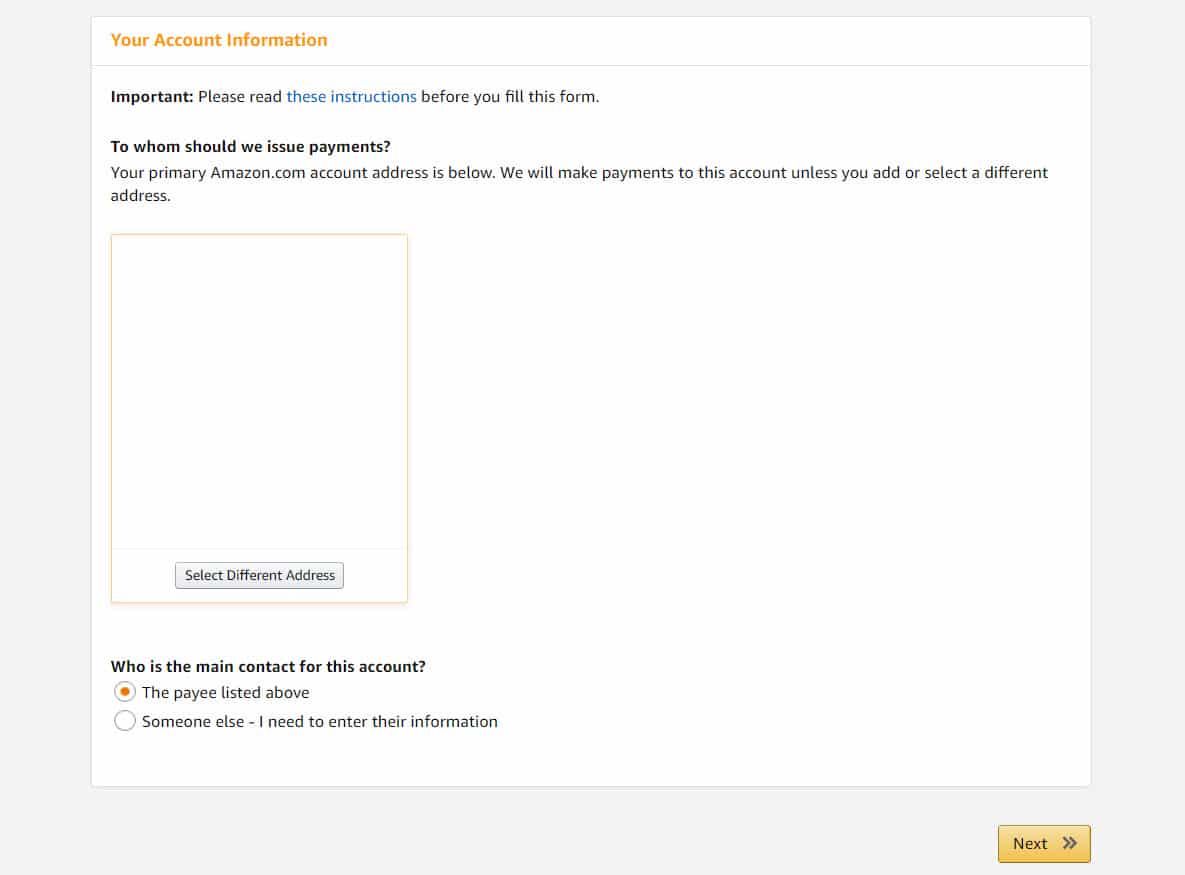 Add your physical address, signposting to Amazon that you are the main contact for this account.
Website and Mobile App List
Here you will need to list all websites and/or mobile apps that you plan to add Amazon affiliate links to. You can add up to 50 websites and apps, but for those just starting out, just add your one website domain.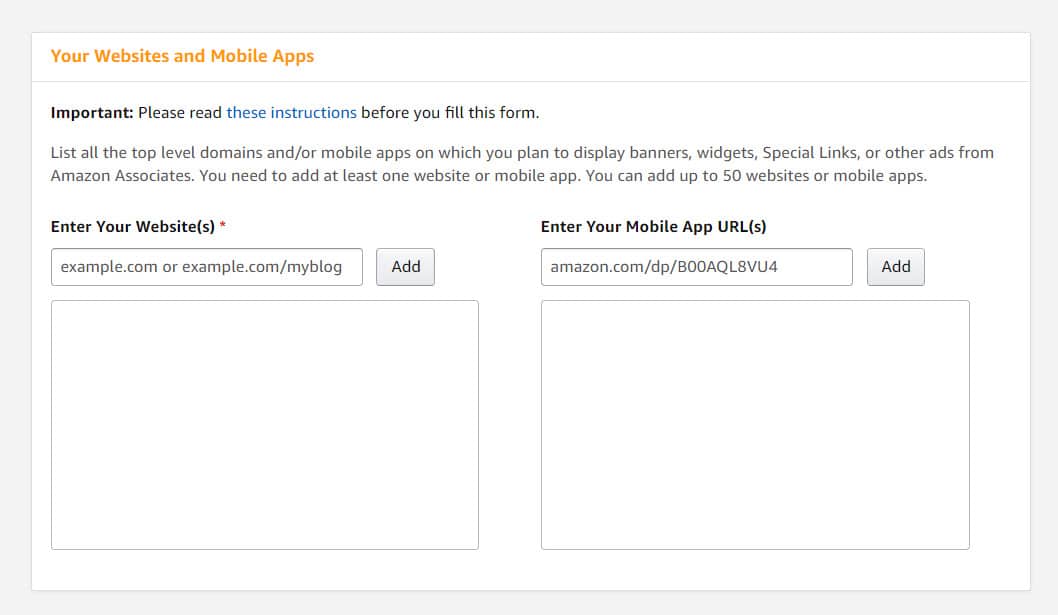 Other important information that you may need to know before you complete this stage of the application process includes…
Websites will only be accepted if they are fully functioning and are owned by the Amazon Associates applicant.
Apps must be available on either Amazon, Google Play or Apple.
Facebook pages and Twitter accounts will be considered if these are active accounts with followers.
There is no guarantee Amazon will approve your website for its affiliate program, so as mentioned earlier, it is best to ensure your website is fully functioning before you submit an application to the Amazon Affiliate program.
Profile
Under Profile, you will be asked to provide information about your website.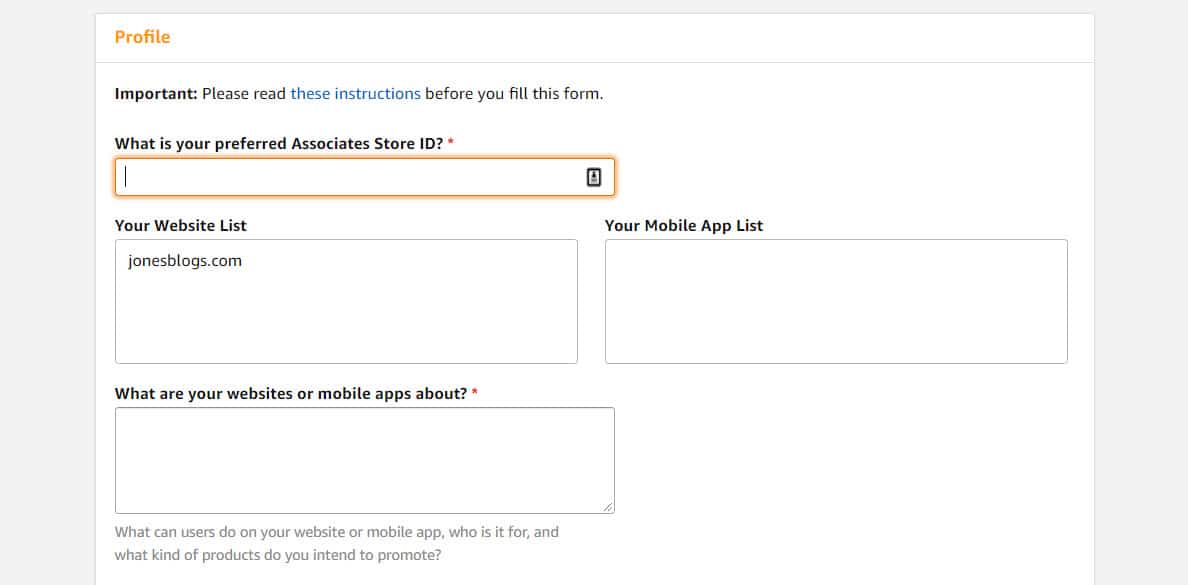 Here you need to tell Amazon a bit about your site – what it is about, who it is for, and what sort of products you want to promote.
Identity Verification
Amazon will ask you to enter your phone number. You will then receive an automated call where you will need to enter a pin number that will be generated after you click on Call Me Now.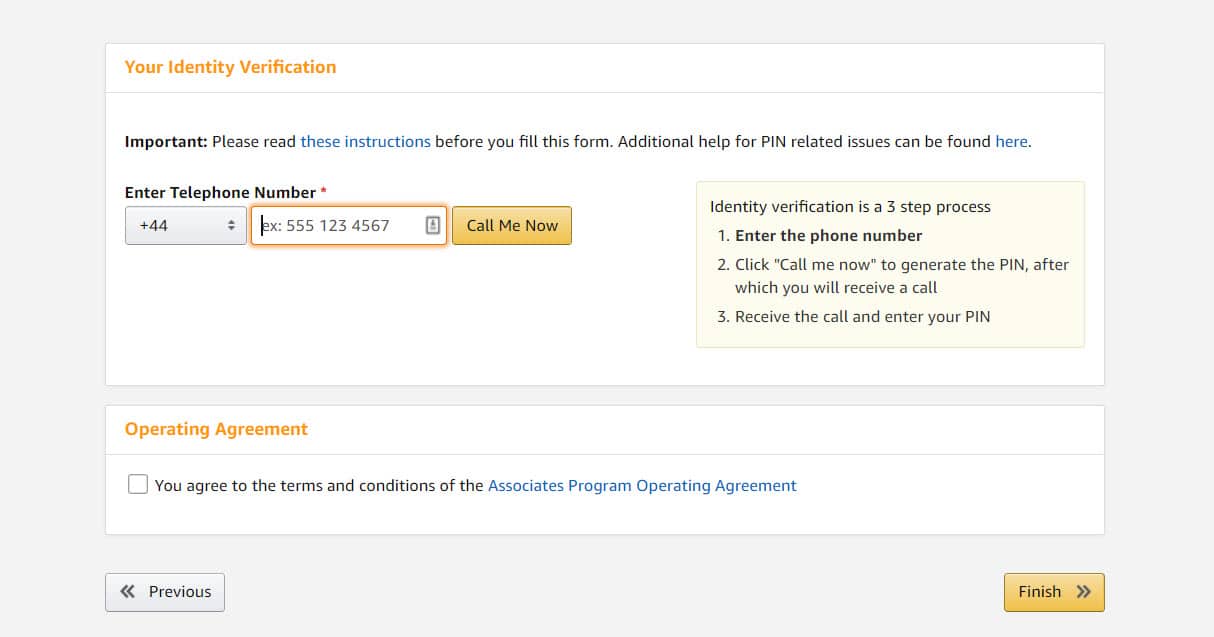 Once you have completed the verification process, Amazon will provide you with your unique Associate ID. Your account is now set up and you can begin adding Amazon affiliate links to your website.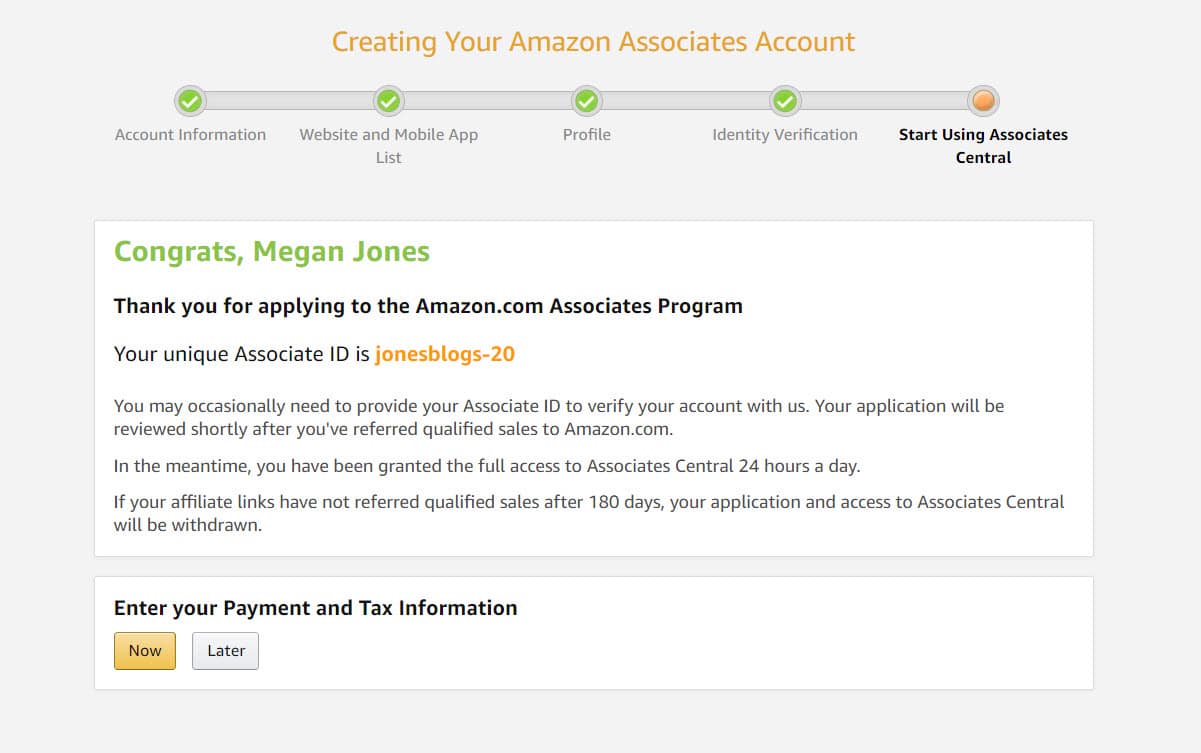 It is important to note that you now have 180 days to drive at least three qualified sales from your site, otherwise your account will be terminated. Only after these sales will your account be reviewed for acceptance.
Payment and Tax Information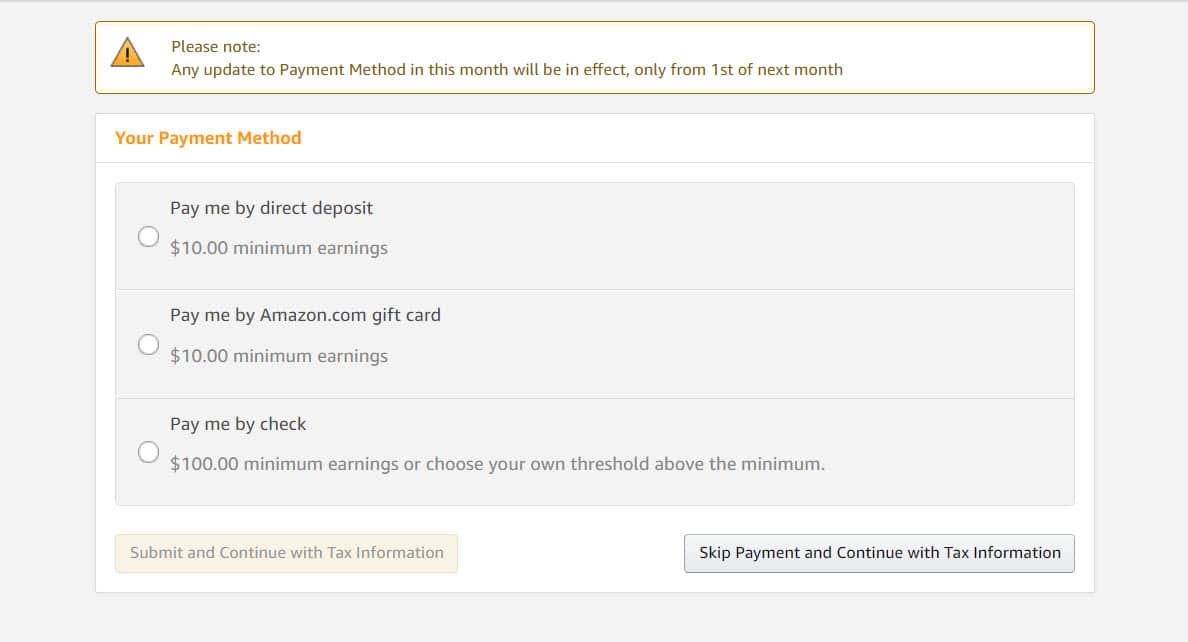 Before you start adding Amazon affiliate links to your website, you should enter your payment and tax information. There are three payment options to choose from…
If you opt for direct deposit you will need to provide your bank details. You will also be asked for tax details, including your name as it appears on your income tax return and your tax identification number.
You have now completed the registration process for the Amazon affiliate program. Next, you need to add product links to your website…
Step Seven: Add Amazon Affiliate Links to Your Website
There are a number of ways to add Amazon associate links to your website. You can…
Add affiliate links from your Amazon dashboard.
Use the Amazon tool SiteStrip to add links to your website.
Install the WordPress plugin
Let's have a look at each of these in detail…
Add Links from Your Amazon Dashboard
After registering with the Amazon affiliate program, log into your Amazon dashboard. Within this dashboard you can access pre-generated product links that you can add to your website.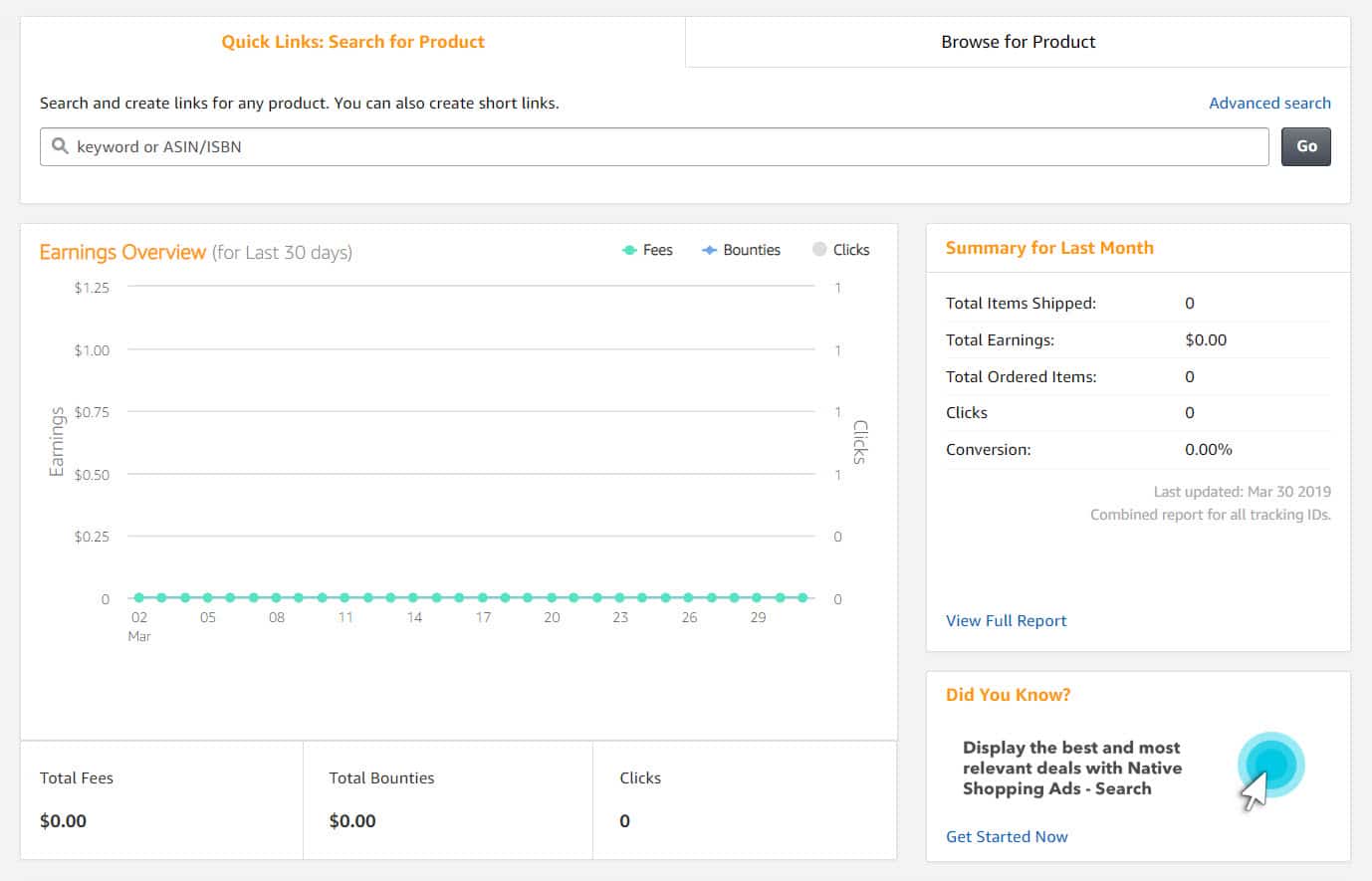 To get started, select Quick Links to search for a specific product, or alternatively, you can click on Browse for Product, where you can scan the numerous categories to find products that best suit your needs. Once you have found an appropriate product that you would like to promote on your website, select Get Link.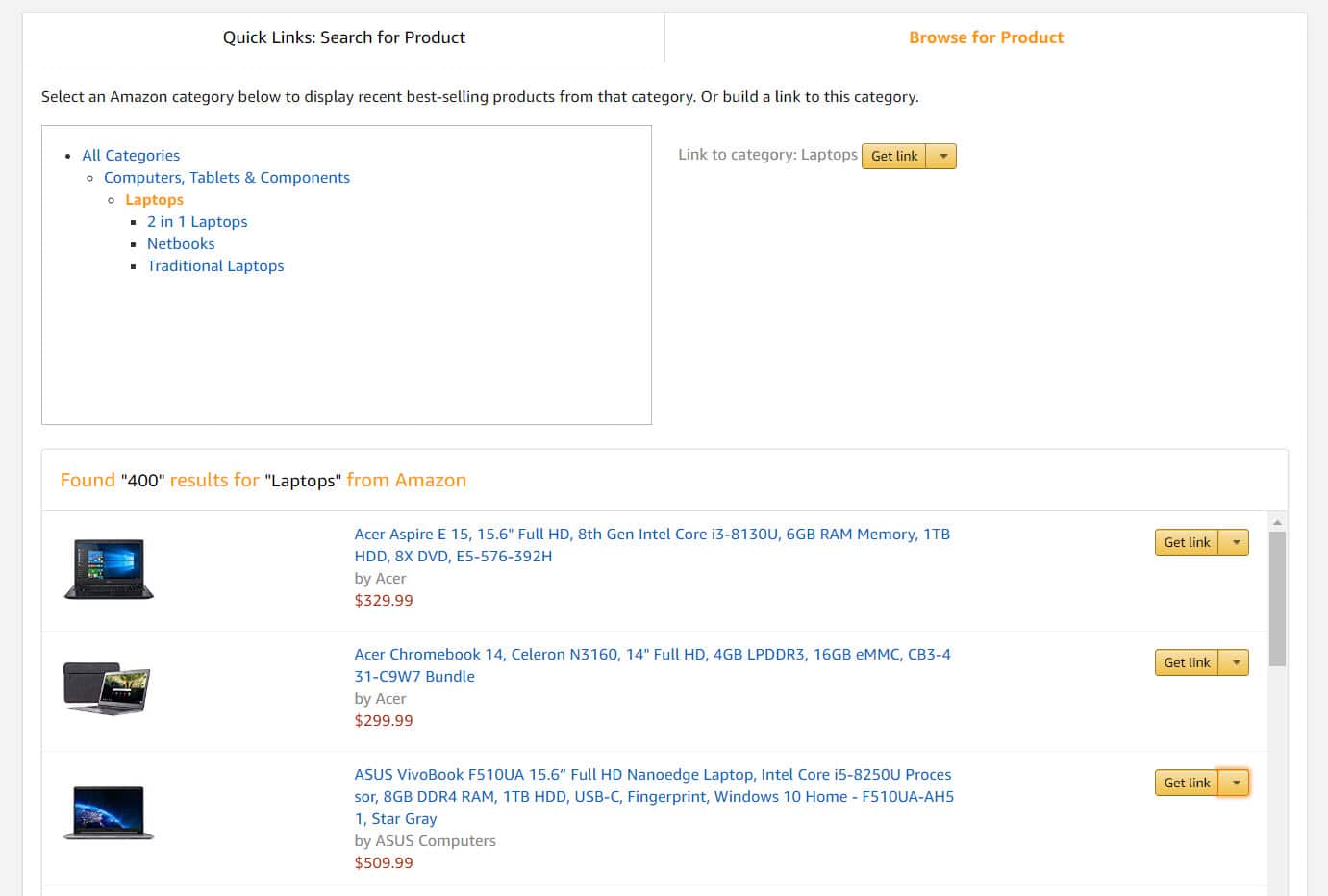 You now have three options…
Text Only – To simply add a product link to text within a page or a post, select Text Only. You then have the option of displaying a text link on your site via HTML Code, or simply adding a hyperlink to pre-existing text. The most popular option is the later, so select Short Link, and then add this as a hyperlink within your WordPress Visual editor.
Image Only – Display the product image by copying the HTML code and again adding it into your WordPress Text editor on a particular page or post. This image will link to the Amazon product page.
Text and Image – Display an image, text, and button on your site, all provided by Amazon. This will display as a stand-alone interactive graphic that you can embed within any page or post. Simply copy the HTML code provided, then within your WordPress website, paste it into the Text editor for the appropriate page or post.

All of these options are quick and easy, simply involving copying the code or link and pasting it into your WordPress editor. Let's look more closely at how to do this…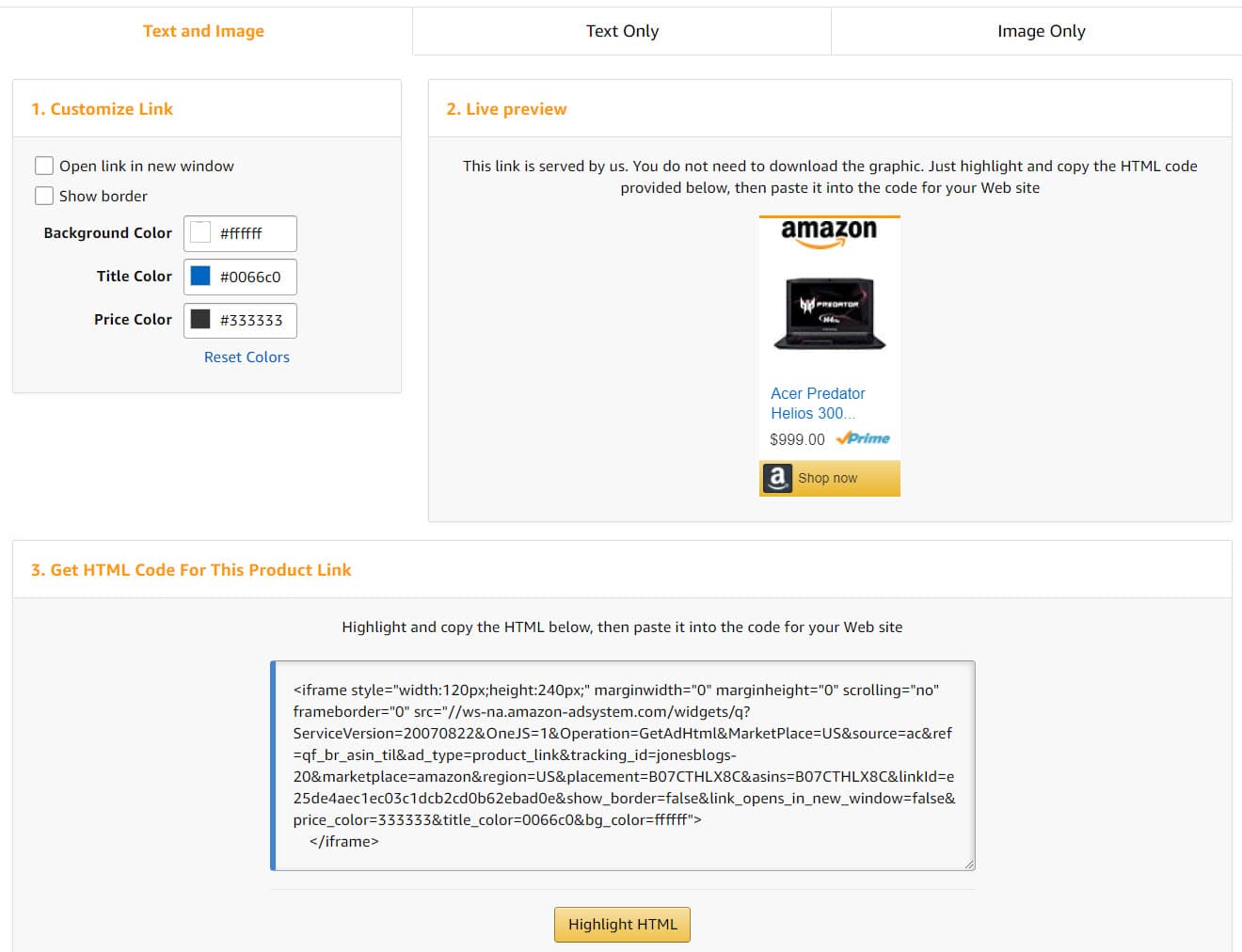 From the image above, you can see I have selected Text and Image. There are then three steps to follow before you can insert the link into your WordPress website…
Step 1: Customize the Link – Here you can alter the background color, as well as the title price color to help the image and text match your branding. You can also choose to open the link in a new window and show a border.
Step 2: Live Preview – Check you like the look of the graphic and are happy with any changes you have made to it.
Step 3: Get HTML Code for the Product Link – Here you will find the HTML code that you need to add the product link to your WordPress website. Click on Highlight HTML to copy the code.
You will now need to switch your WordPress dashboard and open the page or post where you want to insert the product graphic. Within the WordPress editor, toggle to Text and then paste the code in the appropriate position.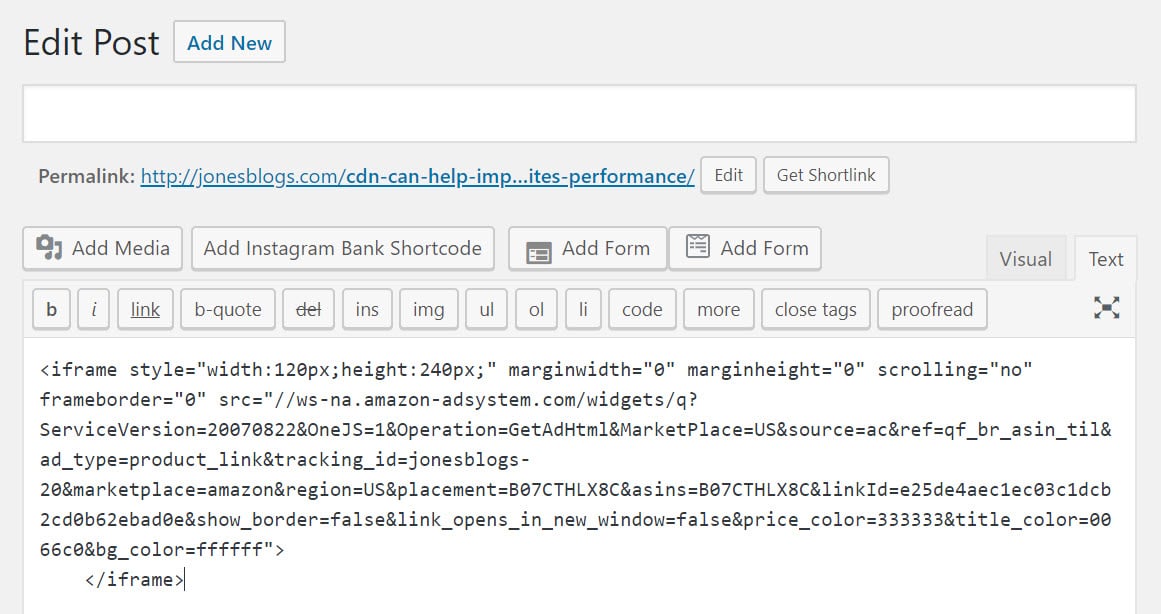 Switch back to the Visual editor – here you should find the Amazon product graphic…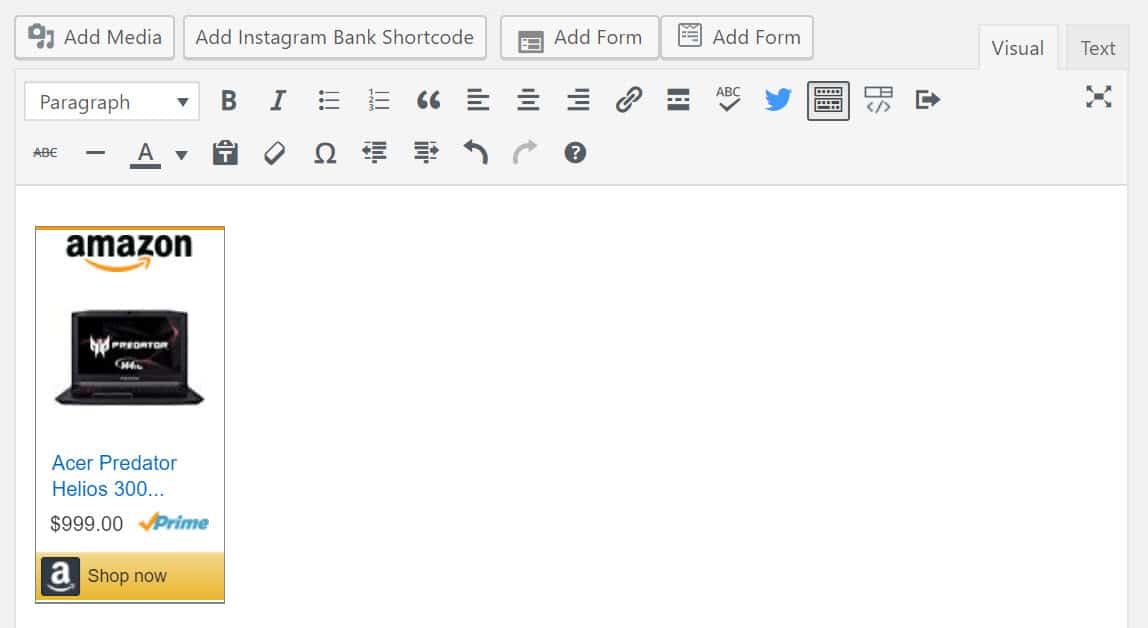 Lastly, Save, Preview, and then Publish the post or page. Remember to click on the graphic on the live side of your site to check that it is linking to the correct product page on Amazon.
Add Links via Amazon Associates SiteStripe

The SiteStripe tool from Amazon allows you to quickly link your website to Amazon products without even having to open your Amazon dashboard. Providing you are logged into Amazon, you will find the SiteStripe menu bar displayed at the top of each page of the site.
Simply search Amazon on the front end of the site, browsing products as if you were a customer. When you find a product that is suitable to promote on your site, you can then select from one of the options from the SiteStripe menu bar. These include…
Just Text – Add a product link using just text to your website. You can choose from a short or full link, which can then be added as a hyperlink to any text in your Visual editor.
Just Image – To display an image of the product, with a link attached, on your website simply paste the HTML code provided into your WordPress Text editor.
Text and Image – Display text and an image of a product on your website by pasting the HTML code into the Text editor on your WordPress website.
Facebook – Post an image and description of a product on your Facebook page.
Twitter – Tweet a link to the product on Amazon for your Twitter followers to view.
Custom Native Shopping Ads – Embed the code into your </body> tag to display product ads on your affiliate site.
As you can see, SiteStripe is a quick and easy tool that will enable you to insert links on your website.
Install the Amazon Associates Link Builder Plugin
The Amazon Associates program has its own Link Builder WordPress plugin that you can download from the WordPress repository for free. (Although it is worth just mentioning that this plugin is still in Beta). This plugin will enable you to search for products in the Amazon catalog, access real-time price and availability information, and easily add product links to your posts and pages. And all this can be done without even having to leave your WordPress dashboard.
However, it is important to note that this plugin cannot be used until your account is verified by Amazon. Therefore, when you are first starting out with the Amazon Associates program you will need to add links via the Amazon dashboard or SiteStripe. Once you have made three sales and had your account verified, you can install and connect the Link Builder plugin. Let's have a look at how to do that…
To get started with the Amazon Associates Link Builder plugin, open your WordPress dashboard and select Plugins > Add New. Then type Amazon Associates Link Builder into the search filter.
Once WordPress has retrieved the plugin, click Install Now > Activate. You will now find an Associates Link Builder menu in your WordPress menu bar.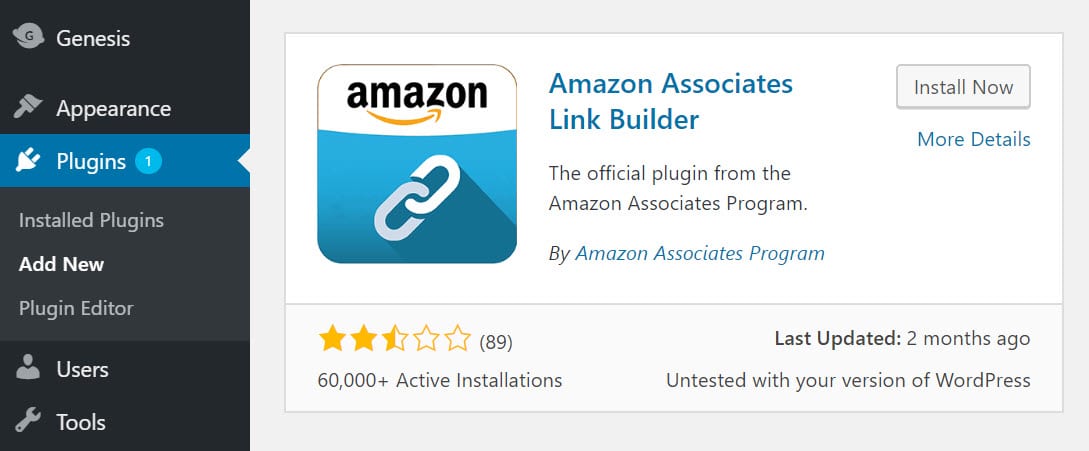 Next you will need to sign up with Amazon Product Advertising API. To do so, switch back to your Amazon Associates dashboard and select Tools > Product Advertising API. Select Join and then copy the Access Key and Secret Key.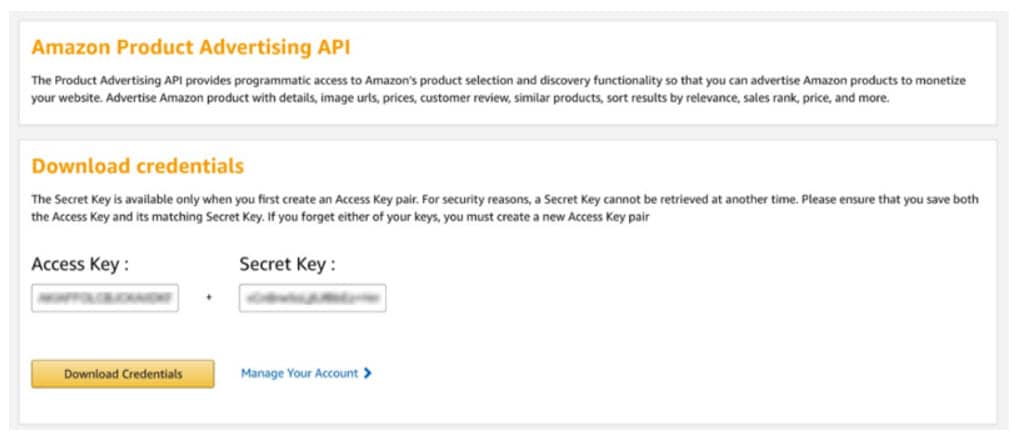 Now toggle back to your WordPress dashboard, select Associates Link Builder > Settings, and paste in the keys. Your Amazon Associates account and WordPress website will now be connected.
Once set up, from within the WordPress editor you can…
Search and select products from Amazon.
Add dynamic hyperlinks to your content, linking to specific products on Amazon.
Display a range of chosen products in a carousel (which you can embed anywhere within a page or a post).
Select from a number of product carousel templates, including a grid carousel template and a single product carousel template.
If you sell on more than one Amazon marketplace, you can opt to use the geotargeting feature, which will display location-dependent content.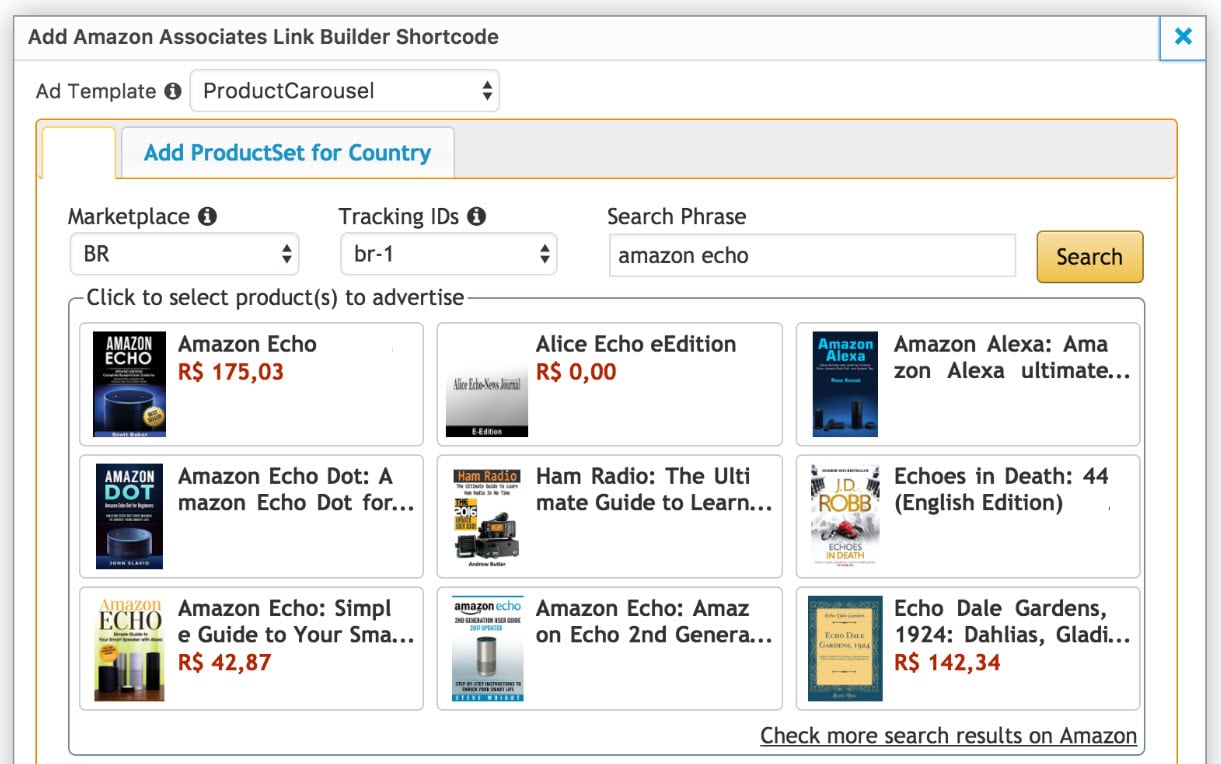 Evidently, using the WordPress plugin is an effective way to ensure your affiliate website is automatically kept up to date. Therefore, once your Amazon associates account has been approved, your next step should be to install this plugin.
Step 8: Promote Your Amazon Affiliate Website
After you have added product links and images to your affiliate niche website, the next step is to promote your content and drive traffic to your site. By receiving high levels of traffic, made up of your target audience, you will boost click-throughs to Amazon and ultimately increase sales.
So let's now have a look at some key ways to promote your Amazon affiliate website…
Produce Relevant Content
Keeping your website updated with relevant content is a key strategy to attract new visitors, as well as entice return visits. Let's quickly recap on effective content types for an affiliate niche website…
Individual Product Reviews
Round-ups of Products
Product vs Product Articles
How To's and Tutorials
When writing these posts, identify the keywords that your target audience are searching for. This will help your content rank in the search engines and reach new potential buyers.
Installing the free WordPress plugin, RankMath, on your website can help you optimize your posts for your audience and the search engines. RankMath will highlight how to enhance your articles' SEO, help with metadata, give tips on how to improve your writing, and much more.
Grow Your Mailing List
Collecting emails from people who have visited your website is a must. By creating a mailing list, you can then reach out and contact those who have shown a genuine interest in your niche. Email your subscribers when you post new content, add new products, or have news or announcements to share. This will help encourage email receivers back to your website, increasing the chance of sales on Amazon.
OptinMonster is a premium lead generation solution that will enable you to add beautiful opt-in forms and pop-ups to your WordPress website. By displaying stylish, targetted, and highly optimized forms to your audience, you will quickly grow your mailing list.
Build a Following on Social Media
Building a following on social media is another key strategy to help you promote your Amazon affiliate website. Social media helps you not only keep in contact with returning visitors, but it also allows your site exposure to new audiences.
Monarch by Elegant Themes is a premium plugin that will allow you to add beautiful social sharing buttons to your website. Display buttons in up to five different locations, including on images and videos, above and below content, on a floating bar or as automatic fly-ins. This tool will not only get your content shared, but it will also encourage your on-site visitors to follow you on social.
Write Guest Posts
Writing guest posts on competitor sites, and other websites in your niche, is a key strategy to help you engage with your target audience. Contact sites in your industry and ask to contribute guest posts. These should display your bio box at the bottom of the article with a link back to your site.
Make sure the articles are interesting and high-quality. This will impress readers and encourage them to click through and check out your website. By getting your name out there as an expert in your field, your target audience will be more like to read and trust your reviews. And ultimately make purchases based on your recommendations.
Final Thoughts on the Amazon Associates Program
If you have followed all the above steps, you will now have a fully-functioning Amazon affiliate website. It is now important to keep your website updated – keep publishing new content and adding links for new and relevant Amazon products, as well as continuously promoting your site. Good luck!
Have you got any questions about how to sign up with the Amazon Associates program or how to create your own affiliate niche site? If so, please ask away in the comments below…
The following two tabs change content below.
Jamie Spencer
My name is Jamie Spencer and I have spent the past 10 years building money making blogs. After growing tired of the 9-5, commuting and never seeing my family I decided that I wanted to make some changes and launched my first blog. Since then I have launched lots of successful niche blogs and after selling my survivalist blog I decided to teach other people how to do the same.
Latest posts by Jamie Spencer (see all)