When you're launching a new company, building a website or starting a blog, there's one thing that can help you start out on the right foot. Your name. Sure, having a great idea and concrete business plan helps too. But what good is all of that hard work if no one even gives you a chance?
A great name can help you stand out among the crowd. It can ultimately make or break your chances of success. While it's important to put energy into the fine details prior to your launch, you should not ignore your name. Finding the right name is so important that naming firms and brand consultants charge thousands of dollars just to help companies get it right.
Luckily, you don't have to break the bank to get help. Business name generators are a cost-efficient alternative to expensive firms. These convenient tools can come up with suitable options based on a few descriptive keywords about your company. Whether you're starting an e-commerce site or plan to operate out of a brick-and-motor office, a generator can help you choose a distinct name that's memorable and easy to market.
Why a Good Name Matters
When it comes to finding the perfect name, it's all about brandability. Think about all of the stores you love and the services you use every day. The one element they all have is a name that stands out. Brands like Google, Coca-Cola, and even Kleenex have become synonymous with the particular products and services they offer. These names are highly recognizable, look great on marketing materials, and are unique enough to pique the interest of consumers.
While you could easily come up with a generic title that utilizes your family name or a set of initials, it could prove to be detrimental to your bottom line. Consumers are savvier than ever. With access to millions of products and services online, shoppers have more control over who they choose to work with. To be successful, you need to find a way to stand out in a sea of companies vying for attention. Your name is going to be the first introduction potential customers have to your company. So, it needs to be something that pops.
Internet Domains
Business name generators do double-duty as domain name generators. These days, having a website for your company is a must-have. To create a cohesive shopping experience for your clients, your company name should match your domain name. If you're a web-based business, it's more important than ever.
Unfortunately, finding a suitable business name and an available domain name is not always easy. While companies in different industries and locations can share a similar name, the same doesn't go for domains. Your domain name is going to the main part of your site's URL, which can be accessed globally. It's what your clients will use to search for your site and should be treated as an extension of your company name.
The generators you'll find below understand the importance of an online presence and will often present you with ideas based on the domain availability. Some also take search engine optimization into account, which can ultimately help your site get noticed even more.
Related guides:
Best Domain Name Registrars
Domain Name Value Guide
The Elements of a Great Name
Finding the perfect name for your business is like an art form. There's no tried and true formula that will guarantee success. Instead, you have to approach this task creatively. Here are some tips to help you out. Many company name generators use these principles to provide you with a list of names that work.
Easy to Remember
No one is going to remember a string of random letters and numbers. The key to success in the business world is repeat business. Having a name that your customers can easily remember makes a huge difference.
One tip for making your name memorable is to keep it short and simple. The shorter it is, the higher the chances of it sticking in people's mind. Brand names like Google, Twitter, Supreme and Nike are all made up of a singular word that people instantly know.
Easy to Say
When you're brainstorming for names, say each one out loud. Does it roll off the tongue or do you need to repeat it several times just to get the correct pronunciation? Your customers will have the same reaction to it. Some of the most successful company names are fun to say.
Consider using interesting linguistic tricks to make your name unique. Alliteration is a commonly used tactic. This trick involves using the same letters or sounds on words that are close together. Some examples of this would be Krispy Kreme, Chuck E. Cheese, and American Apparel. These names are easy to say and very memorable.
Descriptive
Sometimes, the perfect name can be found within your business itself. You could create a name that's functional and descriptive. These types of names are memorable and can serve you well in terms of marketing. You don't have to choose real words. Get creative and come up with unique spellings.
Some good examples of descriptive names include Facebook and Malware Bytes. Both of these names reflect what the company does and gives consumers a good general idea of what they can expect when they visit the website.
Looks Good
The best business names look just as great as they sound. You're going to utilize this name a variety of different ways. It will be proudly displayed on your website as digital content, printed on business cards, and written down. Consider your name's aesthetics to ensure that it stands out.
Trademarks
One of the most important factors to consider when choosing a name is its availability. The last thing a new small business needs is to deal with trademark issues from a larger corporation. Most generators will perform automatic searches to prevent you from choosing a domain name that already exists. However, it's always good to check for yourself as well.
You can perform a quick Google search to make sure that your desired name is not taken. You can also check with your patent and trademark office or use third-party service. Do your due diligence before you adopt a name so that you don't have to deal with the hassle that comes with a trademark violation.
Adaptability
Finally, good names are easily adaptable. In the best-case scenario, your company is a success and starts to expand. When this happens, will your name limit your growth? To avoid these types of issues, it's recommended that you choose a name that's broad enough to meet your needs as they change.
Another thing you can consider is how the name adapts to other important pieces of marketing material, such as a logo. While talented artists can usually create a work of art based on any name, you still want things to make sense to your customers. Take, for example, Apple. The company's logo has changed many times throughout its history, but each one shares the same literal apple to represent the brand.
We Recommend Domain.com
Use Discount Code "Sitehub" to get 25% OFF your domain name purchase.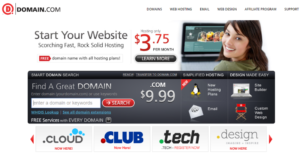 Snap up your business / brand name quickly before someone beats you to it. Use Domain.com and get an extra 25% OFF your purchase with our exclusive Domain.com coupon code. You can get a .com for as little as $7.49 using our coupon code Sitehub.
20 Business Name Generators to Check Out
Brandroot is a feature-rich service that's very easy to use. You can search through specific categories or have the site create a random name that stands out. If you know how much you plan to spend on your domain, you can also perform a search for unique names based on price and availability.
The generator doesn't come up with ideas at random. It gives you options that are assessed for their memorability and overall appeal. To give you as much inspiration as possible, every name that's purchased even comes with its own unique logo.
NameMesh
Despite the simple look of this generator, it does a very comprehensive search to provide you with some great potential names. When you input keywords that are related to your business, the site can generate thousands of options that are separated into categories. These categories help to establish the vibe you're going for. For example, you'll find fun names and short names.
NameMesh also provides you with names with unique top-level domains. Once you find something you like, the generator makes it easy to register the domain with a list of popular registrars.
Cool Name Ideas
This site has three separate generators. It can be used to find names for businesses, blogs, and products. Before the search is performed, there are several options to choose from. In addition to providing relevant keywords, you can select the overall feeling you want, specific domain extensions, and more. The generated names are listed from shortest to longest. You can also check the domain's availability on social media for convenience.
IWantMyName is a no-frills generator that's designed to help you find a name that's effective and consumer-friendly. There aren't as many fields to fill out as other generators. There's just a single field where you can input keywords. It will then provide you with a list of available domains.
Brandings
Brandings gives you the tools to find a name that works within your respective industry. Like other generators, you can perform a quick search based on some keywords. However, you can also browse names. There are various categories to search through. Within those categories, there are subcategories as well. This helps you to really narrow down your options.
The generator even provides you with reasons why the specific name may be successful for you. It's like having a personal consultant who walks you through the process.
Panabee is a great generator to get the creative juices flowing. The colorful site lets you perform a search based on a few descriptive words. It will then produce a long list of domain name ideas. You can then expand your search further by checking out unique extensions and variations. If you choose to go with a name you find on Panabee, the generator will direct you to GoDaddy for registration. Before that, it will check for social media availability and app names to ensure that it's free.
Shopify
One of the Internet's most popular e-commerce platforms has its very own name generator. This tool is very simple to use. Just type in a keyword to view available domains. It will also provide you with some unique variations of applicable keywords that you may not have thought of. Shopify specializes in creating online stores, so it will suggest domains with its own extension.
BizNameWiz
With BizNameWiz, you can come up with a long list of potential names in minutes. The generator produces results based on keywords. On the results page, you can refine the names even more by limiting the number of characters you want and selecting the industry your company is a part of. Once you select a name, the site will check to see if it's available and direct you to BlueHost for domain registration.
Names4Brands
Names4Brands is an in-depth generator. It can create new business names at random or use specific keywords. The great thing about this site is that you have the opportunity to quickly come up with quirky titles using alliteration techniques. Just choose what the starting letter should be and how many words you want. The generator will do the rest.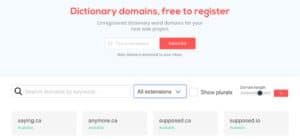 One word domain names are easy to remember and have a lot of gravitas online. One word dictionary domains are few and far between. Finding them can be a long and arduous task. With DictionaryDomain.io, you can quickly find out what one word dictionary domain names are available in a number of different extensions such as .com, .org, .net, .co.uk, .io, .co and .ca.

This free business name generator is designed to be as simple as possible. All you have to do is type in keywords and adjectives to come up with some ideas. There are also drop-down menus to specify what your company and website will be about. If you want to narrow down potential names based on aesthetics, you can do that as well. The menu lets you choose between names that are small, colorful, bright, and more.
FreshBooks
FreshBooks is a piece of cloud accounting software that's built to help online businesses like ecommerce and drop-shipping firms keep track of their finances. However, there's also a manageable name generator on their site. The generator takes you through the process step by step. First, you select your industry. Then, you select a keyword. It will then show you a handful of names that may benefit your company.
FitSmallBusiness
While it's touted as the "ultimate business name generator," FitSmallBusiness is pretty limited in terms of creativity. However, that doesn't stop it from providing effective options. There are only three fields to fill out. Just provide your industry, geographical location, and the name of the founder. The generator will then provide you with some suitable names.
Brand Bucket
Brand Bucket is not like normal generators. Rather than creating name suggestions on the spot, it pulls from a list of over 28,000 names. They are all created by branding experts. As a result, you'll find many options that aren't available from other generators.
You can choose between names that consist of normal words or made-up words. Brand Bucket offers options for all budgets.
Namerific
If you need a creative business name and a logo design, Namerific may be for you. This generator allows you to search based on keyword, budget, and category. You can also specify how many letters you want in your name. Namerific will then produce results that include an optional logo. To help you get a better understanding of why those names may work for, the generator provides a full explanation.
WordLab
With over 7 million names to choose from, you won't have any issues finding an option with WordLab. It's a rather simple generator that doesn't give you a ton of options during your initial search. Yet, once it has produced results, you can narrow down the names to fine-tune your business niche.
Naming
The Naming generator uses many different combinations to provide you with business name ideas. Once you provide some information about your company, it will use unique Greek or Latin suffixes, prefixes, rhyming techniques, and much more to create interesting possibilities. You can also choose the number of syllables your name has and what type of extension you plan to use.
Mithril and Mages
While this generator has an early-Internet design to it, the service itself is quite comprehensive. There's a huge list of categories that pertain to various industries. You can narrow down your choices even further thanks to the subcategory list as well. This is a great generator for those who are looking for a broad name that's versatile.
Name Station
The Name Station generator uses simple keywords to display suitable names. It also checks for name availability. The site won't show you any potential names if you can't register the domain, which is very convenient. If you're feeling creative, the site also holds contests with cash prizes to those who can come up with the most unique names for a given industry.
Instant Domain Search
If you're looking for a quick generator, Instant Domain Search is for you. It produces results as you type. The service uses keywords to provide plenty of creative names. It shows your options based on availability. If a name is up for sale, it can also point you in the right direction to buy it.
NameLix
NameLix is a sleek and professional-looking generator. It walks you through the process of selecting a name. You start out by choosing how long you want the name to be. Then, you can decide if you want unique spellings, rhymes, foreign words, and more. Like some other generators on this list, the available names will display logos that you can use for your own business.
The following two tabs change content below.
Jamie Spencer
My name is Jamie Spencer and I have spent the past 10 years building money making blogs. After growing tired of the 9-5, commuting and never seeing my family I decided that I wanted to make some changes and launched my first blog. Since then I have launched lots of successful niche blogs and after selling my survivalist blog I decided to teach other people how to do the same.
Latest posts by Jamie Spencer (see all)