Since the early days of the Internet, blogging has been a time-honored staple. The blogging arena has evolved a lot in the last few decades from new blogging platforms to even more ways to monetize your blog. But it's still a viable way to connect with people all over the world.
It's not just amateur bloggers and influencers who can take advantage of blogging. Creating a blog and writing posts is also an effective marketing strategy for businesses. Business blogging can attract attention, drive traffic, and effectively improve your bottom line!
Still not sure if blogging is the right choice for your content endeavours? Maybe these blogging statistics will change your mind!
We've collected some of the most impressive blogging stats of 2021. Use these stats to guide your blogging strategy and create the most impactful content possible!
General Blogging Statistics
1. There are an estimated 600 million blogs on the Internet.
No one knows for sure how many exist. But, many reliable sources estimate that its around 600 million.
2. Millions of blog posts are published every single day.
It's estimated that more than 2 million blog posts go live daily.
3. A majority of Internet users read blogs.
According to Statista, around 70 to 80 percent of Internet users read blogs frequently.
4. Most people spend more time reading blogs than reading emails.
On average, Internet users spend three times as long reading blogs as they do managing their email.
5. Many Internet users trust blogs.
Blogs are the fifth most trustworthy source for gathering information.
6. The first blog started in 1994.
Blogs as we know them today got their start in 1994. Justin Hall, a student at Swarthmore College, created a blog to give visitors a tour of the Internet. It's still up and running to this day.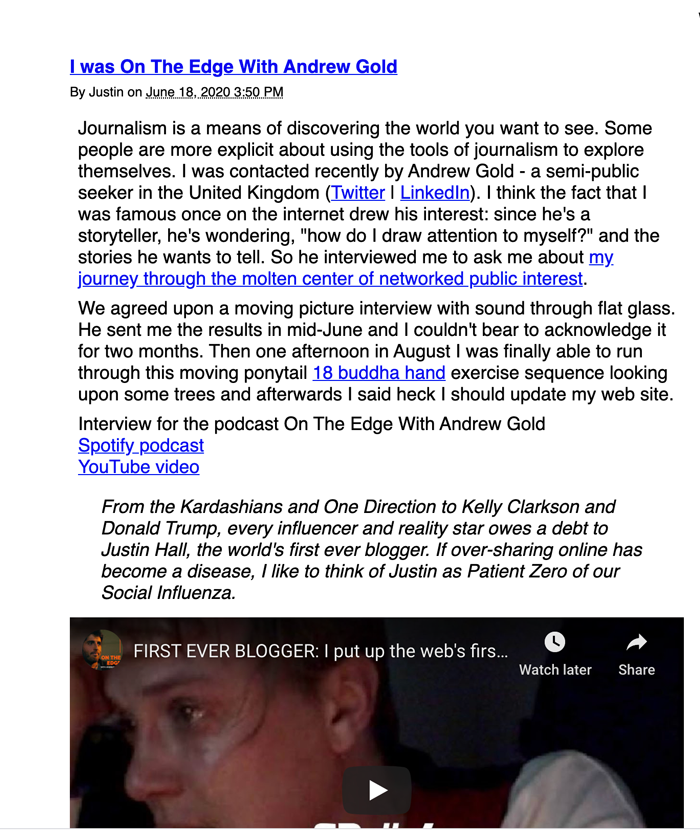 7. The term "Blog" didn't take off until several years later.
Originally, blogs were referred to as "Weblogs." The term was coined by a blogger named Jorn Barger. It meant "logging the web."
Jorn Barger in 2008
Blogging Platforms
8. WordPress is the fastest-growing blogging platform.
WordPress is one of the most popular content management systems in the world. It's particularly popular with bloggers. There's about 650 WordPress sites created daily.
9. 70 Million blog posts are published every month on WordPress alone.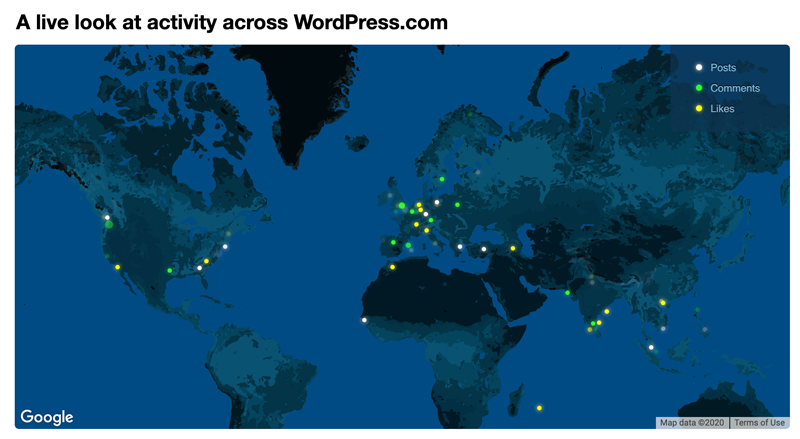 This data comes directly from WordPress. Imagine how many other posts are published on other platforms!
10. Several big-name brands and celebrities use WordPress.
WordPress is so beloved that even huge companies and celebs use it. It's the platform of choice for James Bond, Sony Music, the New Yorker, and even Beyonce!
11. Blog readers leave around 77 million comments on WordPress every month.
With so many comments being made on WordPress, it's the perfect platform for engaging your audience.
[source:
WordPress
]
12. Every month, Internet users read 20 billion blog pages on WordPress.
Those 20 billion pages are read by 409 million people!
[source:
WordPress
]
13. There are over 496 million blogs on Tumblr.
Tumblr is another widely popular platform. It's grown massively in the last decade. In 2011, it was home to only about 17.5 million blogs.
14. The most popular blog analytics plugin is JetPack.

This WordPress plugin has more than 5 million uploads on WordPress blogs! It's been around for quite some time. But it continues to evolve. It shows all kinds of information. This includes traffic numbers, uptime monitoring, and even email subscriptions.
15. Yoast SEO, JetPack, and Contact Form 7 are the most popular WordPress plugins.
These plugins are must-have for any WordPress blog. They cover analytics, search engine optimization, and email subscriptions.
16. Most blog hacking incidents are caused by outdated plugins.
About 75 of exploited WordPress blogs were infiltrated because of plugins or themes that were out of date.
17. Hacking attempts are very common on blogs.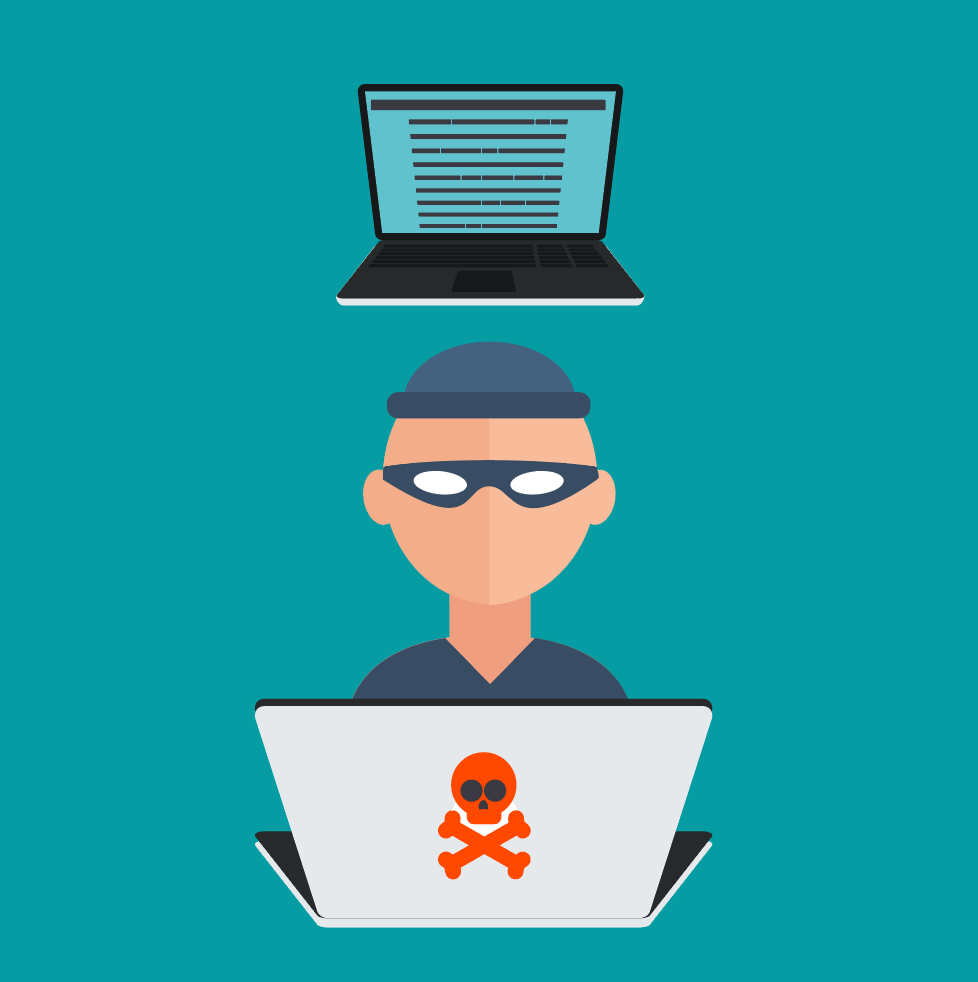 About 90,000 attempts occur every minute on WordPress alone.
18. The most popular browser is Chrome.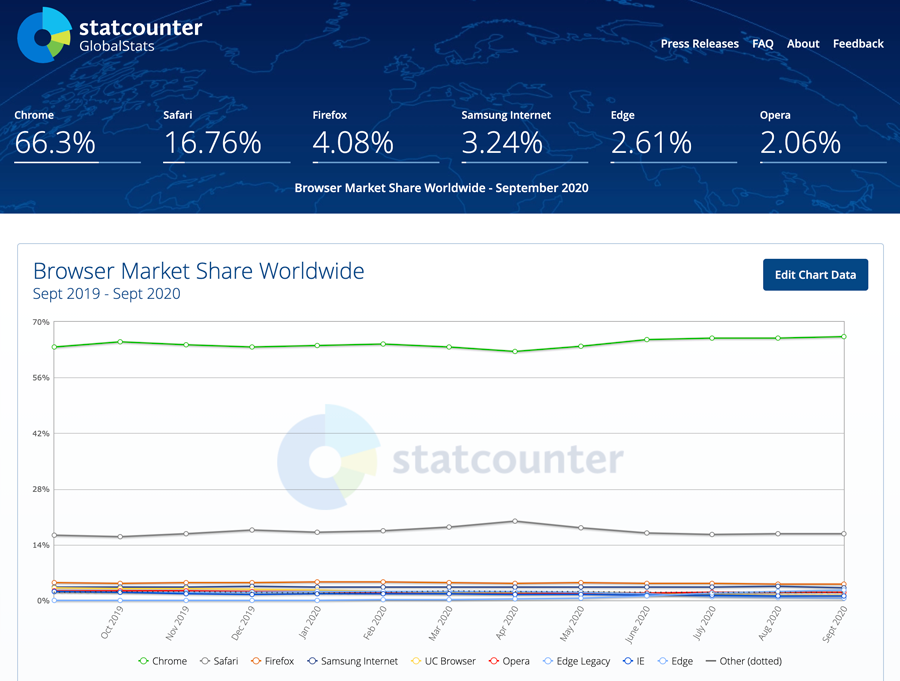 According to GS Statcounter, 66% percent of all Internet users take advantage of Google's web browser.
19. Google is the most-trusted content platform.
In a survey of nearly 3,000, Google beat out popular social media sites like YouTube, LinkedIn, and Twitter. Google is the platform Internet users trust most to find content.
Current Blogging Trends and Statistics
20. The average blog post is around 1,050 words.
Blogs can vary quite a bit in terms of length. But the average blog post length is just over 1,000 words.
21. Longer titles are more attractive.
Headlines between 6 and 13 words consistently get the most hits and traffic.
22. Longer posts are more successful.
Like long titles, in-depth blog posts garner the most attention. They produce about nine times more lead generation.
23. Shorter URLs perform better.
An analysis of 11.8 million Google search results shows that shorter URLs were more likely to reach closer to the top 10 results. The average character count for the first page of search results? 66 characters per URL.s
24. Lengthier blog posts get more backlinks.
Longer posts generate about 77 percent more backlinks than short-form content. This usually only applies to useful content, such as factually correct blogs and how-to guides.
25. The most-visited articles contain a lot of words.
According to a SEMrush report, top-performing articles in a wide variety of niches had well over 2,000 words. In marketing, the top articles had an average word count of 5,714!
26. The average ranked blog post has between 1,140 and 1,285 words.
While the average post length is just over 1,000 words, slightly longer blog posts are more likely to rank on search engine result pages.
27. Colons and hyphens can make titles more attractive.
Interestingly enough, these punctuation marks provide a 9 percent improvement.
28. Titles and headlines with a question mark get more shares.
A simple question mark at the end of the title results in 23 percent more shares on social media.
29. The most popular blog post style is listicles.
These list-style posts are the most favored out of all blogging niches.
30. List posts get more shares than any other post style.
List-based blog posts reportedly get 213 percent more shares on social media!
31. "How-To" headlines are one of the most popular blog styles.
How-To" articles are the third most popular blog type. In fact, these types of articles increased by about 60 percent over the last two years. More specifically, that increase occurred on mobile searches.
32. "Which is Best" searches are increasing in popularity.
Like "How-To" articles, "Which is Best" queries rose significantly on mobile devices int he last two years. These searches saw a boost of 65 percent.
33. Odd-numbered Listicle articles are more successful.
Compared to their even-numbered counterparts, lists with an odd number of entries perform 20 percent better.
34. About a third of all readers prefer list-based blog posts.
36 percent of readers preferred list blogs for their simplicity and useful content.
35. More than half of all consumers feel better about a brand if it has a blog.
60 percent of readers feel more engaged or positive about brands after reading some of its blog.
36. Negative messaging results in a higher click-through rate.
While many bloggers like to stay positive, negative messages result in a 63 percent click-through rate boost!
Blogging Images and Interactive Content Statistics
37. 71 percent of marketers use visual assets.
That's a surprisingly small number given how much consumers respond to visual content.
38. Infographics have grown in popularity in the last year.
In just a year, the demand for infographics has grown by about 800 percent! They are now a big part of Google search results. Infographics are one of the most utilized strategies to target consumers according to the Content Marketing Institute.
39. Posts with infographics are usually shared three more times.
Infographics and downloadable plugins result in a 3X boost in social media sharing.
40. Nearly have of content marketers say photography is critical to success.
46 percent rely on high-quality photography for blog posts and their overall content marketing strategies.
41. Images of real people result in a 35 percent boost in conversion rates.
Consumers are smart. They can detect if stock images are used and will often gravitate towards authentic photography.
42. Bloggers more likely to report success when 10 or more images are used.
According to findings from OrbitMedia, bloggers are 2.5 times more likely to report strong results with image-rich content.
43. Only a small percentage of bloggers use 10 or more images.
A mere 3 percent take advantage of that potential increase. About 47 percent will only use two or three images in a blog post.
44. In the last year, 69 percent of marketing professions increased video marketing budgets.
The budget covers both in-house conferencing and direct-to-consumer marketing through blogs and social media.
45. A little more than half of all content marketers use interactive media.
About 53 percent utilize content that readers can interact with.
46. Videoblogs that are three to four minutes long get the most shares.
This statistic applies to Facebook shares. The three to four-minute mark garners the most engagement. It's followed by videos that are four to five minutes. Longer videos have less engagement
Blogging Traffic Statistics
47. Companies with blogs experience 3.5 times more traffic.
When a company publishes 16 or more blog posts per month, they experience a significant traffic boost over those that produce less than four.
48. Companies with blogs often get 4.5 times more leads.
This figure applies to companies that publish 16 posts or more per month.
49. Most web pages get zero traffic from Google.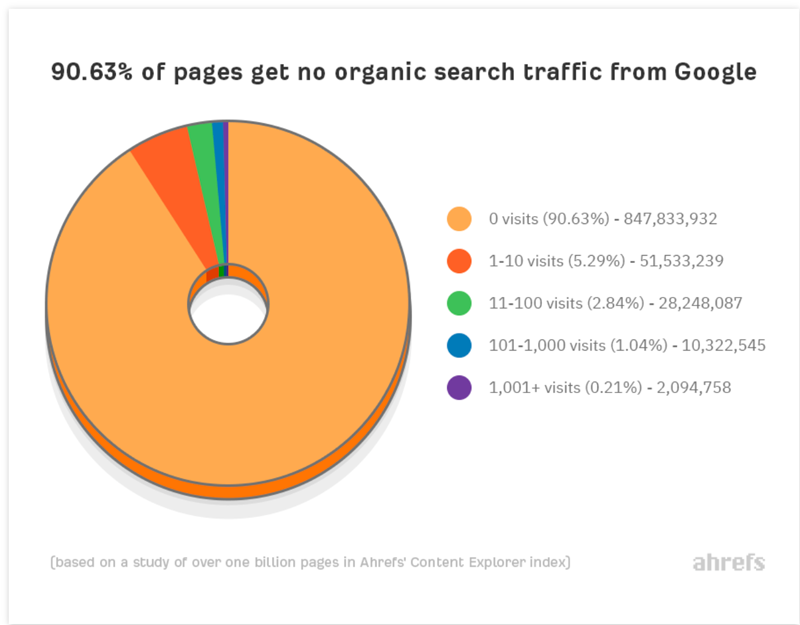 Believe it or not, more than 90 percent of all sites get no traffic from Google whatsoever. If you manage to get some, you're already in the top 10 percentile!
[source:
ahrefs
]
50. Search engines provide the most traffic for blogs.
Across all niches, search engines are the number-one source of traffic for high-performing sites. For the automotive niche, search engines contribute 64 percent. For fitness and health, it's 56 percent!
51. Blogging creates more indexed pages.
Blogging is responsible for 434 percent more indexed pages. It also helps create 97 percent more indexed inbound marketing links.
52. Only 10 percent of blog posts are compounding.
When a post is compounding, it means that organic searches steadily increase website traffic and lead generation over time.
53. Compounding posts generate more traffic.
A single compound post can create about six times the amount of traffic than a standard one.
54. Compounding blog posts make up more than a third of all blog traffic.
According to HubSpot, compounding posts generate about 38 percent of all blog traffic.
55. Positive headline changes can boost traffic.
Something as simple as changing a headline can result in a 10 percent traffic boost.
56. Titles and headlines of around eight words can lead to a significant boost in traffic.
Anywhere between six and 13 words can produce the most traffic. But eight words seems to be the magic number.
57. There's been an increase in promotional techniques in the past year for blog posts.
Bloggers have creates a 93 percent increase in promotions. This includes paid ads.
Blogging and Social Media
58. Most bloggers utilize social media to drive traffic.
97 percent of bloggers to be exact! Social media usage is more common than SEO, email marketing, paid services, and even influencer outreach.
59. Organic traffic increases with social media marketing.
81% of marketers found that organic traffic increases rose with just 6 hours a week spent on social media marketing.
60. Facebook is less effective than it was in the past.
According to a GrowthBadger study, 53 percent of low-income bloggers and 51 percent of high-income bloggers have noticed the change in Facebook efficiency. Less traffic is coming from the social media heavyweight than years before.
61. B2B marketers use an average of 5 social media platforms.
There are many platforms that B2B marketers use. It's not just limited to business-minded platforms, either.
62. LinkedIn is one of the most popular for audience engagement.
With LinkedIn's focus on business, it's no surprise that 93 percent of B2B marketers use it.
63. Almost 3/4 of B2B marketers use YouTube.
73% of B2B marketers use Youtube to share content
64. Nearly 70 percent of bloggers use social sharing buttons.
About 69 percent utilize sharing buttons for their various social media platforms. Considering how important social sharing is for blogging, this is a relatively low number.
65. Snapchat is an effective marketing tool.
Billions of pieces of content flow through Snapchat. Even bloggers and businesses are getting in on the action.
66. Email marketing has a high ROI.
Even for blogs, emailing content marketing techniques generate a 38x return for every dollar spent.
67. Personalized emails are more likely to be opened.
Personalized elements, such as names in the subject line, make a difference. People are 26 percent more likely to read them.
68. More than half of Internet users share articles without even reading it.
59 percent of readers do this. That shows just how important a killer headline is!
69. 1,000 to 2,000-word articles are shared most.
According to Backlinko, articles in this range are best for sharing. Bloggers must create a healthy balance between long-form and short-form articles to see success in all aspects.
Blogging and Content Marketing Statistics
70. Content marketing is more cost-effective than traditional marketing.
Content marketing is much more affordable. In fact, it's about 62 percent cheaper than traditional marketing. However, it generates three times the leads!
71. On average, content marketing results in higher conversion rates.
Compared to companies that don't utilize content marketing strategies, those that do generate six times as many conversions.
72. Marketers who prioritize blogging will experience a higher ROI.
Focusing on blogging pays off! Marketers who prioritize their blogs are 13 times more likely to have a positive ROI.
73. Generating sales isn't the only goal of content marketing.
Sames are important, but other big content marketing objectives are to engage with the company and increase brand awareness.
74. 60 percent of content marketers use personalization strategies.
Personalization strategies might include adding names to emails or sending custom messages.
75. Most consumers believe that companies using content marketing are trying to develop a better relationship with them.
Around 90 percent of consumers think that these companies are trying to create a long-term connection.
76. Almost half of all content marketers consider the buyer experience.
Roughly 49 percent of marketers try to cater content marketing techniques to the buyer's journey.
77. More than half of marketers say that blogging helped gain customers.
57% of marketers say that blogging directly brought more customers in.
78. Companies that put most of their resources towards content marketing generate more conversions.
When a company focuses the budget on content marketing rather than search engines, they usually experience five times the conversions.
79. Many marketing professionals prioritize blogging.
About 53 percent of marketers make blogging one of their top priorities.
80. Large companies spend more than $1 million on content marketing per year.
In 2015, the average annual budget for content marketing was 1.75 million for large companies.
81. Smaller businesses are more likely to adopt content marketing strategies.
While large companies spend big money on content marketing, smaller companies are more likely to try it out first. 48 percent have a documented strategy and business blog. Meanwhile, only 41 percent of big organizations have a content marketing strategy.
82. The number of marketers who feel comfortable tracking metrics is low.
Only 30 percent of marketers are confident in their ability to see how content marketing affects their bottom line.
83. Innovative content is more effective than derivative content.
In terms of year-to-year growth, innovative sites with new blog posts generate 7.8 times more traffic through content marketing than those that use the same old tactics.
84. As a whole, the content marketing industry is expected to grow immensely in the coming years.
The industry is expected to reach $300 billion!
85. Around 74.2 percent of companies have seen success with content marketing.
These companies say that content marketing improved the quality and quantity of their leads.
86. Most Chief Marketing Officers view content marketing positively.
78 percent of these marketing executives think that content marketing is the way of the future.
87. 73% of organizations have someone in place to oversee their content marketing strategy.
This is an impressive number that shows how serious content marketing can be to a company's bottom line.
88. Most marketing professionals view content marketing as a more successful technique than traditional marketing.
When compared to direct mail and traditional public relations, 69% of marketing professionals say content marketing is better.
89. Trends show that most effective organizations have a Head of Content Strategy.
86 percent of those most successful organizations have this position.
90. More than half of all marketers reuse blog content.
Roughly 60 percent of marketers reuse content. They don't just do this once. Most will do it two or three times!
91. Automated marketing tools are on the rise.
By 2023, spending on automated tools is expected to reach $25.1 billion annually.
92. A relatively small percentage of marketers prefer long-form content.
Long-form content refers to blog posts that have an average word count of 3,000 or more. About 38 percent of marketers said they used long-form content at some point in the last year.
Blogging and Consumer Habits
93. 86 percent of consumers consider themselves "ad-blind."
This means that they do not respond or even notice traditional digital advertisements on websites.
94. Over 198 million Internet users have some form of Adblock.
Adblock removes digital advertisements, rending traditional marketing efforts useless. Blogging is a way to market towards consumers without having to worry about blocking efforts.
95. 70 percent of shoppers would rather learn about a company through a blog.
They prefer more honest blogs than learning about companies through paid advertisements.
96. Most consumers think that blogs add credibility to a website.
Of those surveyed, about 68.5 percent said that blogs make websites more credible.
97. A vast majority of shoppers prefer blogs to ads.
Take it as an opportunity to share who you are and what the company is all about. There are several types of posts consumers look for. These include open letters, behind the scenes posts, aspirations, update posts, and more.
98. 59 percent of consumers do research before making a purchase.
They want to learn more about the product before making a commitment. Shoppers will look for blog posts, reviews, and anything else they can find to gain some confidence about where their money is going.
99. 95 percent of buyers go with companies who gave them content throughout the entire purchasing process.
Shopping online isn't a single event for most shoppers. People will learn about a product, express interest, and do research before they hit the "Buy" button. Providing unique content at every stage in the buyer's journey will increase your chances of making a sale.
100. Web design plays a big role in a blog's credibility.
The design of your own blog matters. In the eyes of a reader, about 75 percent of your blog's credibility comes down to how well it's designed.
101. Most readers leave a blog if they think it's "Badly Designed."
Roughly 90 percent of surveyed Internet users won't give your blog the time of day if the design doesn't work for them. Potential issues could include cluttered content, difficult to read fonts, or clashing colors.
102. Half of all Internet users will leave a website if the content doesn't load properly.
50 percent of Internet users will not stay if the site content has issues loading. Slow load times, pop-ins, and other issues prevent the user experience.
103. Even more will leave if the images don't load.
If your images don't load in, 53 percent of readers will leave. Images play a big part in telling your story, so make sure they are cached and ready to go!
104. 39 percent of consumers find poorly written blog posts annoying.
In a survey conducted by Adobe, consumers found "wordy" articles annoying. Three out of five said it would stop them from making a purchase.
105. About 73 percent of consumers skim over articles.
Most consumers are not going to spend time to read every single word of your blog post. That's a fact you have to work around. Implement bold works, images to break up content, and plenty of headings.
Visual changes slow readers down and force them to pay attention to more of the content you created.
106. The average consumer spends less than a minute reading a blog post.
You read that right! Most consumers spend, on average, just 37 seconds reading a post! Eye-catching content and visual aids can slow them down a bit to consume more of your post.
107. 62 percent of consumers spend a lot of time on video blogs.
More than half of all consumers say that they "thoroughly consume" video content according to HubSpot.
108. 73 percent of readers think data-rich content is more persuasive.
According to a survey by Survey Monkey, 73 percent think that blogs with actual data and statistics are more reliable. Most don't care about personal opinions. They want cold hard facts!
109. Roughly 68 percent of Google clicks are on the first five results.
Most consumers will click on one of the first five results of a search.
Blogging Demographics
110. Most Boomers distrust bloggers.
96 percent of Baby Boomers, those born between 1946 and 1964, don't trust bloggers and influencers.
111. Those over the age of 55 want more news blogs.
According to a HubSpot study, 59 percent of Boomer-aged Internet users want more news-style blogs in the future.
112. About 90 percent of Gen Xers distrust bloggers.
Generation X users are those born between 1961 and 1981. Most of them don't trust bloggers either.
113. Younger Internet users want more video content.
65 percent of readers between the ages of 18 and 24 want more video-based blog content in the future.
114. Most of the traffic to high-performing blogs comes from a desktop.
Desktop users are more likely to spend time on a blog than mobile users. It's no surprise than 83 percent of the traffic to top blogs comes from desktop.
115. Mobile performance affects ranking.
Despite the prevalence of desktop visitors, mobile browsing is becoming more common. As a result, mobile performance has a big impact on site ranking.
Blogging and B2B Marketing Statistics
116. Content marketing adoption is growing among B2B marketers.
70% of B2B marketers plan to create more content in 2018 as compared to 2016
117. Nearly all B2B marketers use content marketing to some extent.
93% of B2B marketers use content marketing
118. On average B2B marketers use 13 different content marketing tactics.
These tactics include everything from inbound link building to email marketing. Social media sharing is also a big tactic marketers use to gain traffic.
119. B2B marketers excel with non-traditional blog posts.
B2B content isn't limited to simple posts. In fact, marketers get better results with things like infographics and webinars.
120. Most B2B marketers use short-form content.
About 89 percent of marketers in the B2B arena use short blog posts as part of their content strategy.
121. B2B marketers with blogs generate more leads than those that don't.
On average, they tend to generate around 67 percent more leads than the competition.
122. 74 percent of B2B buyers share blog posts.
That's more exposure for your company! The B2B world is tight-knit. So, buyers will often share posts with colleagues.
123. B2B buyers spend more time reading a blog post.
While the average Internet user spends less than a minute reading blog articles, B2B buyers are different. 41 percent commit between 5 and 10 minutes. You can use this to your advantage and implement for attention-grabbing content.
124. For B2B marketers, the average budget allocation for content marketing is nearly 40 percent.
For most in the B2B world, a larger chunk goes to content marketing than search engines.
125. For B2B marketers, the user experience has a great impact on content creation.
About 71 percent take the client's journey into account to create content.
126. In the B2B world, high-quality content is the main priority.
76% of B2B marketers focus on the quality of the content rather than pumping out tons of it.
127. 61 percent of B2B marketers meet with content creators regularly.
This percentage report meeting daily or weekly.
128. Most B2B marketers outsource content creation.
About 64 percent will turn to copywriters.
129. More than half of all B2B marketers say they have a hard time creating engaging content.
60 percent say that they have trouble creating suitable content.
130. Nearly all B2B buyers consider vendor-related content trustworthy.
About 95 percent of buyers trust blog content that's published directly from vendors.
Blogging and SEO
131. 72 percent of marketers say that blogging is their strongest SEO tactic.
Blogging allows you to use relevant keywords in a meaningful way. As a result, you have a better chance of ranking on search engines by using blogs as your main SEO driver.
132. SEO leads offer a bigger close rate than outbound leads.
Search engine traffic results in a 14.6 close rate. Compare that to outbound leads, such as direct mail or traditional advertising, and it's very effective. Outbound leads only provide a close rate of about 1.7 percent.
133. 34 percent of bloggers say that updating content brings real results.
Evergreen content is the key to SEO. Updating blog posts can result in a significant uptick in traffic and lead generation.
134. Less than half of bloggers update content.
Despite its efficiency, only about 38 percent of bloggers spend the time to update old content.
135. Only a small number of bloggers don't have access to SEO analytics.
A measly 5 percent of bloggers don't use analytics to drive their content creation strategies. Those 5 percent are missing out! Analytics can help you come up with effective blog posts that work with your target audience. Plus, analytical tools let you see how current posts are performing and what changes you need to make.
136. Google Analytics is the most popular SEO tool.
About 30 percent of marketers use the tool. 25 percent use Google Search Console and Keyword Planner.
137. Google performs 1.2 trillion searches every year.
That's roughly 40,000 searches per second! Needless to say, ranking on Google is one of the best ways to gain traffic. The sheer reach of the search engine makes it second to none.
138. 61 percent of marketers have issues with SEO changes.
Google's SEO parameters are mysterious. To make matters worse, they change all the time. Most marketers do not like changes when they occur.
139. A higher position on SERPS will result in a higher domain rating.
The goal for SEO should be to get as high up on search engine results pages as possible.
Blogger Statistics
140. More than half of bloggers create and publish posts on the same day or the day before.
Successful blogging requires careful planning and advanced scheduling. But, for many niches, it also requires commentary on what's current. 52 percent of bloggers report publishing posts the same day or the day after it was written.
141. Most successful bloggers have an established content marketing strategy.
Marketing Profs and Content Marketing Institute conducted some case studies to determine how organized bloggers were. About 68 percent of the most successful in the blogger sphere say that they have a well-documented strategy. Roughly 39 percent said they had no strategy at all!
142. It takes time to generate real traffic.
In most cases, bloggers don't see any substantial traffic in the early stages. According to a study by Traffic Generation Cafe, real traffic start to build after publishing 24 to 51 posts.
143. 12 percent of bloggers don't check blog analytics.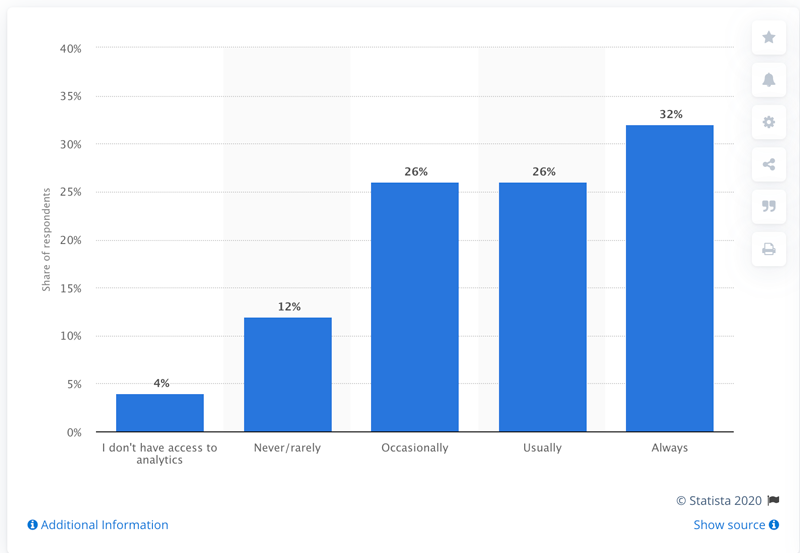 Blog analytics covers everything from traffic to engagement. Most bloggers check statistics daily. But a small percentage (4%) don't check them at all!
[source:
Statista
]
144. It takes, on average, nearly 3.5 hours to write a post.
According to OrbitMedia, it takes in the neighborhood of three hours and 16 minutes to complete a post.
145. 19 percent of bloggers spend nearly double the time creating a post.
These bloggers spend upwards of six hours! Roughly the same percentage of bloggers will spend between three and four hours.
146. 38 percent of bloggers who put in more than six hours into a post got good results.
Of those previous bloggers surveyed, 38 percent reported getting good results after publishing.
147. The most difficult part of running a blog is having enough time.
According to ConverKit, the biggest challenge bloggers face is just having enough time to keep the blog going.
148. Bloggers with a formal editing process have better results.
According to OrbitMedia, those with a strict editing process garner better results in terms of traffic, leads, and engagement.
149. Only a small number of bloggers made round-up-style posts.
Round-Up posts are one of the most effective! It's an opportunity to create relevant backlinks, tons of shares, and plenty of click-throughs.
Plus, it's a great way to engage with your audience. Generally, round-up posts are also longer, helping you gain more traffic.
Unfortunately, only about 29 percent of bloggers are creating these posts. The rest are just missing out.
150. Bloggers report greater success when they promote multiple headlines before publishing.
This is something that very few bloggers do. But those that do experience great success. OrbitMedia found that 67 percent of bloggers who promote articles with 20 or more headlines experience strong results.
151. 21 percent of bloggers use site visitors to gauge success.
While that might seem low, it beats out all other parameters. It's the single most important parameter for most bloggers.
Guest Blogging Statistics
152. Almost 62 percent of readers believe that posts with multiple authors are more authoritative.
Having guest authors or opinion roundups builds credibility.
153. More than half of all blogs have guests post every month.
About 60 percent of bloggers report having one to five guest blogs per month.
154. Over half of guest bloggers publish for more than one site.
56 percent will work with multiple sites.
155. 84 percent of guest bloggers reach out to other blogs.
Very few rely on waiting for requests. Most will reach out to relevant blogs to inquire about publishing guest posts.
156. Only a small percentage of bloggers write more than 100 guest posts per month.
Writing guest posts is beneficial to both bloggers. But only 3 percent report writing more than 100 posts for other blogs every month.
157. Some bloggers publish most of their content as guest posts.
About 6 percent of bloggers report that most of the original content they create goes to other bloggers.
158. A large majority of guest bloggers come up with their own ideas for posts.
An outstanding 87 percent brainstorm to come up with original ideas for other blogs.
159. 93 percent of editors use page views to gauge success.
Page views let editors see how a guest post is performing. Most will use those metrics to measure the success of the post.
160. The most commonly accepted guest posts are from experts and innovators.
Editors are more likely to accept contributions from those who offer expert insight into the relevant niche and fresh ideas.
161. 79 percent of editors think that guest posts are too promotional.
Guest posting is a two-way street. But some guest bloggers take things to the extreme according to editors. Most of them think that guest contributors create posts that are far too promotional for their liking. There's more demand for guest bloggers in the summer.
162. More than half of editors get content that's not relevant to their readers.
56 percent report that they receive guest post applications that aren't relevant to their blog readers. Most of those get rejected!
163. 71 percent of editors say that editing guest posts takes up a lot of time.
According to most editors, editing guests posts to fit the blog is the most time-consuming aspect of publishing.
164. June through August are the peak months for guest blogging.
Bloggers can still get contributions throughout the year, but the summer months are when the practice is most prevalent.
The Future of Blogging
165. If the trends continue, roughly 20 percent of online searches will be voice searches.
Smartphones are making voice searching more accessible than ever. Bloggers need to start planning ahead to cater to this audience.
166. The number of professional bloggers will rise.
By the end of 2020, many believe that the number of bloggers in the United States will increase to 31.7 million!
167. The blogging industry will continue to grow.
Since 2015, blogging has grown by 12 percent. While not a huge leap, the growth has been steady. There's no sign of the blogging world to slow down any time soon.
Conclusion
As you can see, blogging is even more successful than ever before! It plays a big role in content marketing and will only get bigger with time.
Blogging isn't easy. But if you work hard and do things right, it can do a lot to engage your audience. Whether you're a business looking to generate more leads or an Internet entrepreneur wanting to dive headfirst into content marketing, there's a lot to love about blogging!
We have even more stats for you!
Chinese Social Media Statistics
The following two tabs change content below.
Jamie Spencer
My name is Jamie Spencer and I have spent the past 10 years building money making blogs. After growing tired of the 9-5, commuting and never seeing my family I decided that I wanted to make some changes and launched my first blog. Since then I have launched lots of successful niche blogs and after selling my survivalist blog I decided to teach other people how to do the same.
Latest posts by Jamie Spencer (see all)