Choosing the right host for your WordPress site is an incredibly important decision. You've 100% made the right decision in choosing the best blogging platform ( WordPress ) and now it's time to make sure you get the right hosting. Your website's performance, security, and reliability are all influenced by your host.
But, since you're here you're looking for the best cheap WordPress hosting available. It's easy to find an incredible WordPress host when you have a limitless budget. But, when you're trying to keep expenses low, the search gets a little more difficult.
This doesn't mean it's impossible–far from it. But, you'll need to know what kind of features to look for in an affordable WordPress host that extend beyond price alone.
Overall, the fierce competitiveness of the hosting market does help to keep costs low. Web hosts are looking to gain new users by any means necessary, often this means providing high-level web hosting services for the fraction of the price.
Below we dive deep into the best budget WordPress hosting available today. By the end of this post you'll know exactly what to look for in a cheap WordPress host, and have your eye on a few hosts that are worthy of your investment.
Here's my top 5 Best Cheap WordPress Providers
#1 – Hostinger – $0.99 /pm
#2 – Domain.com – $2.81 /pm (with coupon code applied – SITEHUB)
#3 – Bluehost – $2.95 /pm + FREE DOMAIN
#4 – Hostgator – $5.95 /pm
#5 – iPage – $3.95 /pm
What is WordPress Hosting?
Put simply, WordPress hosting is a hosting environment that has been optimized for WordPress. WordPress is a very powerful CMS. But, with this power, it can tend to be a little slower right out of the box.
By utilizing a WordPress hosting environment that's been completely optimized for WordPress you can ensure you're getting the highest levels of security and performance possible.
It typically includes other features like one-click WordPress installs, automatic software updates, dedicated customer support and more. The kind of features you'll get access to depend upon the level of hosting that you choose.
Shared WordPress Hosting vs Managed WordPress Hosting
There are a few different types of WordPress hosting available. The most common are shared WordPress hosting and managed WordPress hosting.
Here's a little bit more about these two forms of WordPress hosting:
Shared WordPress hosting is usually the cheapest form of WordPress hosting. With shared hosting, your website will be sharing server space with other WordPress websites.
The shared server will still be optimized to run WordPress, however, you don't have the entire server to yourself. This will probably be the best option for most website owners.
You'll get access to a server that's optimized for performance, has one-click installation of WordPress, and usually comes with automatic WordPress updates as well.
Basically, you still get all the benefits of WordPress hosting, but at a much cheaper price.
Managed WordPress hosting is the higher-tiered offering. Managed WordPress hosting offers you everything in the shared WordPress hosting plan, plus much more.
Here are some of the most common features of managed WordPress hosting:
Better performance and security. Managed WordPress hosting can offer you better hardware. This means better performance and security across the board. Plus, fewer sites will be hosted on a single server, and you typically get access to much more space and bandwidth.
Site staging areas. Site staging areas are a separate area of the server that lets you test changes to your site before you push them live. This is a must-have feature for a lot of WordPress developers.
Server caching ability. Server-side caching can lead to massive boosts in website speed. Usually, you'll need to install a plugin on your site for this feature, but with managed WordPress hosting it's built into the server.
A dedicated team of experts. Most managed WordPress hosts also have a dedicated support team behind them. Not only will they assist with site optimization and management, but you'll also get access to premium level support.
Of course, all of these upgrades do come with a cost and managed WordPress hosting will be significantly more expensive than shared WordPress hosting.
Is Shared or Managed WordPress Hosting Best for Me?
The typical answer is that beginners should go with shared WordPress hosting, it's cheaper and provides new site owners with more than enough to get started.
However, there is one more thing you'll need to consider. Are you the type of person who is okay handling technical website tasks?
Now, WordPress is pretty easy to manage on its own. You can update your plugins, themes, and WordPress core all from within your WordPress dashboard. Most shared WordPress hosts have pretty responsive support teams as well.
But, with managed WordPress hosting you do get the advantage of having a team of WordPress experts manage your site for you. It's an entirely hands-off experience.
So, yes, cost should be a big consideration. But, consider the time cost of managing your website as well. For some website owners, paying more per month might be worth the trade-off.
How to Find the Best Cheap WordPress Hosting?
To find the best cheap WordPress hosting there are a few things you'll need to be on the lookout for.
To lock in a cheap monthly rate for WordPress hosting you'll need to purchase a long-term plan (however there are some outliers). Essentially, this means you'll be signing up for at least a yearly plan to lock in this super-low monthly rate.
However, this can be very beneficial. First, you'll lock down an incredible deal on high-quality hosting. Second, signing up for hosting for a longer-term makes it so you can avoid a lapse in hosting. There's nothing worse than losing your site because you forgot to renew your hosting.
It's also important to remember that price shouldn't be the main factor to take into account. It should be judged against the accompanying features.
For example, a lot of hosts will bundle an SSL certificate when you sign up (which is a necessity for having a website online today). But, other hosts will make you add an SSL certificate during sign-up, which can add an additional $9.99 to your bill.
Keep an eye out for bundled extras like a free domain name, website backups, malware scans, and more. Then, evaluate everything you're actually getting for the total price.
Here are some of the most important factors to consider when looking for the cheapest WordPress hosting:
1. Speed and Performance
As a general rule, the faster your website can load, the better. If your site takes longer than a second to load, you're doing yourself a disservice. A large proportion of your visitors won't stick around to wait for your site to load.
If you're migrating to a new WordPress host, then you can get a benchmark speed for your site by running it through a tool like GTMetrix or Pingdom.
2. Overall Uptime
Uptime is another important factor that's easy to overlook. Your server uptime should hover around the 99.99% mark, if it's consistently below this, then you'll need to upgrade to another host.
With a poor server uptime, your site will be offline a lot of the time. So, when your users try to access it, there's nothing there. If your site is making money, then this can actually eat into your profits too.
3. Server Requirements
WordPress has pretty basic server requirements, but you'll still need to meet these to run WordPress properly. Make sure your host is using the latest WordPress server requirements, and not using the outdated requirements as a baseline. Here are the current WordPress server requirements.
4. Support Quality and Availability
Even if you're going with the shared WordPress hosting plan it's still a good idea to see how their support performs. Make sure you choose a host that offers 24/7 support, along with multiple different support methods: live chat, email ticketing, and even phone.
Keep in mind that managed WordPress hosting will have premium-level support, but even on a shared plan, you should still get access to a responsive and helpful support team.
5. Price
With WordPress hosting you're looking for the perfect balance of price, speed, and features. It's important you evaluate hosts not just on the price point alone, but on the additional features that accompany that price point.
You'll also want to look out for "hidden fees". Offering a cheaper introductory rate is a standard industry practice, but the fee increase after the first term should still be something you can afford.
As you're evaluating the cheap WordPress hosts featured below make sure you keep the above points in mind.
Best Cheap WordPress Hosting Providers
By now you're well equipped to find the best WordPress hosting provider for your needs.
Instead of having to sort through every WordPress hosting company out there, we've compiled a list of the absolute best WordPress hosting options that you can get for an affordable rate.
Here are eleven of the best WordPress hosting providers out there today, that all offer cheap WordPress hosting packages:
1. Hostinger – from $0.99 per month – sign up here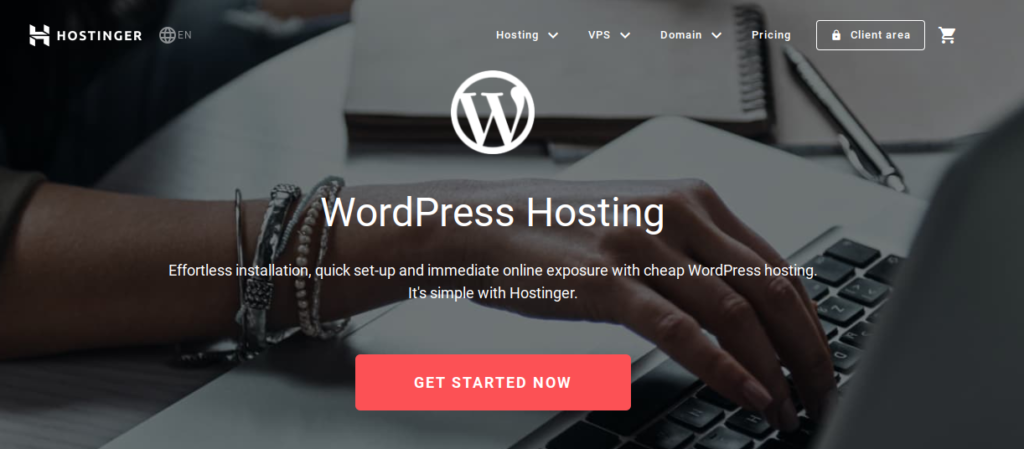 Hostinger has grown quickly due to its super cheap introductory WordPress hosting prices. They offer the cheapest hosting out of any other host on this list.
Hostinger is based in Europe, but they have data centers all over the US and the rest of the world. They have a unique server hardware setup that offers some of the latest server hardware available. This means high uptime and super-fast loading speeds for your site.
Once you sign up for your cheap hosting plan you'll be able to get started building your site right away. It's very beginner-friendly and the intuitive platform will make it easy to create and manage your WordPress site.
You'll also get access to a bundled WordPress website builder, which can be useful for people just getting started with their sites.
Plus, you can get started for as low as $0.99/mo!
On this super cheap plan you can host a single website and you get up to 100GB of bandwidth. However, the starter hosting plan doesn't include an SSL certificate, so you might need to purchase this add-on.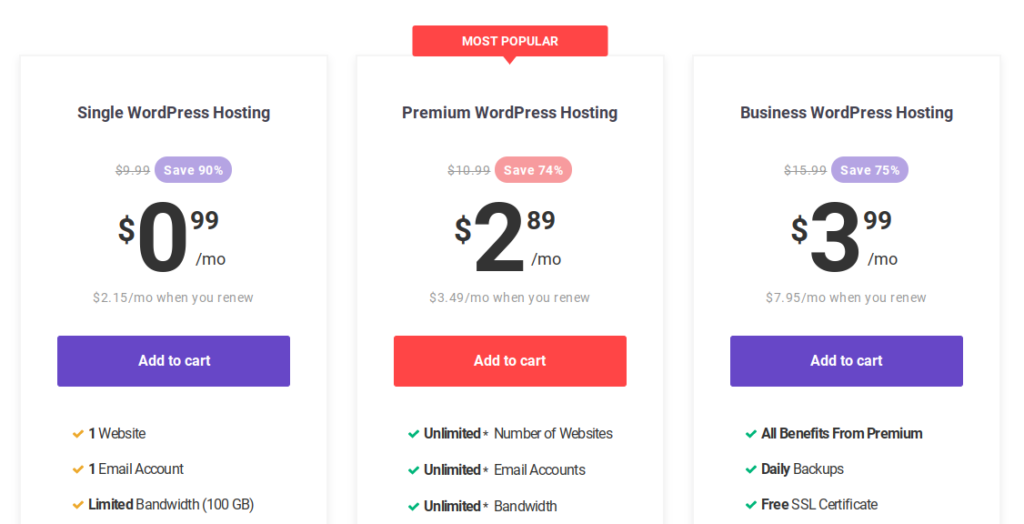 The Single plan is great for users who are launching their first sites, at $0.99 per month this is a hard deal to pass up. The Premium plan starts at $2.89 per month and is great for people who want to launch multiple websites, plus you get a free domain name. The highest-level Business plan is $3.99 (which is still incredibly cheap) and comes with a free SSL certificate, daily backups, plus a free domain name.
Read our full Hostinger review
2. Domain.com – $2.81 /pm – Use coupon code "SITEHUB" to get 25% OFF ( Normally $3.75 pm )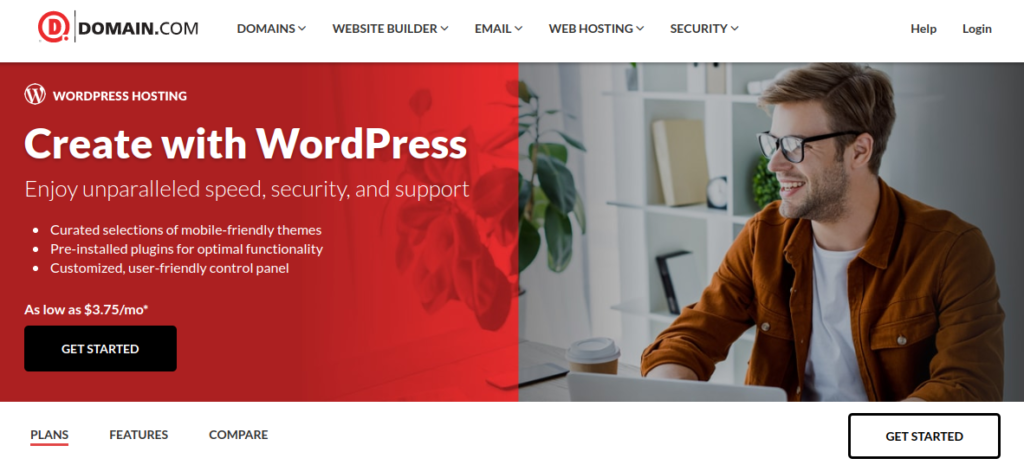 Domain.com is a rock-solid all-in-one host. They offer a variety of online services that'll help get your website online, you'll find everything you need to get your site online, build your site, register your domain and more.
You'll get access to unlimited storage and bandwidth for your site, plus advanced security tools and malware removal on the higher level plan.
Plus, they offer some pretty unique features for WordPress website owners. For example, once you choose a WordPress hosting plan you'll automatically get access to a collection of curated WordPress themes, plus a handful of pre-installed plugins that'll enhance your website. Finally, you'll get access to a customized WordPress control panel that makes managing your site even easier.
At Domain.com you'll find two different hosting plans specifically for WordPress site owners. The cheapest plan is called WP Stater, which costs $3.75 per month (Drops down to $2.81 /pm when you use my coupon code SITEHUB) and comes with unlimited storage, bandwidth, and a collection of pre-installed themes and plugins. The high-level plan, called WP Essential, is only $6.95 per month ( $5.71 pm with coupon code SITEHUB ) and comes with advanced features like speed and uptime optimization, SiteLock security, expert support, and malware removal.
If you want to get Domain.com hosting or a domain name, then make sure you use our code 'sitehub' during checkout.
3. Bluehost – from $2.95 /pm + free domain name – use this link to get free domain

Bluehost is one of the most popular hosting providers out there today. If you're new to blogging and about to start a blog, then Bluehost is one of the best hosts to help you do just that. Not just in the WordPress space, but across the hosting industry as a whole. They're recommended by WordPress.org as well, which can tell you a lot about the quality of service they provide.
They have all the features you need to launch and manage your WordPress site. You'll also find a custom control panel where you can manage your WordPress hosting environment.
Also included in your affordable plan is a free domain name, and a one-click WordPress install. So, you can get up and running with WordPress in a few seconds.
They offer a few different WordPress-specific plans: shared WordPress hosting, Managed WordPress hosting, and a WordPress eCommerce hosting plan.
The cheapest plan is going to be the basic shared WordPress hosting plan. This plan starts at $2.95 per month.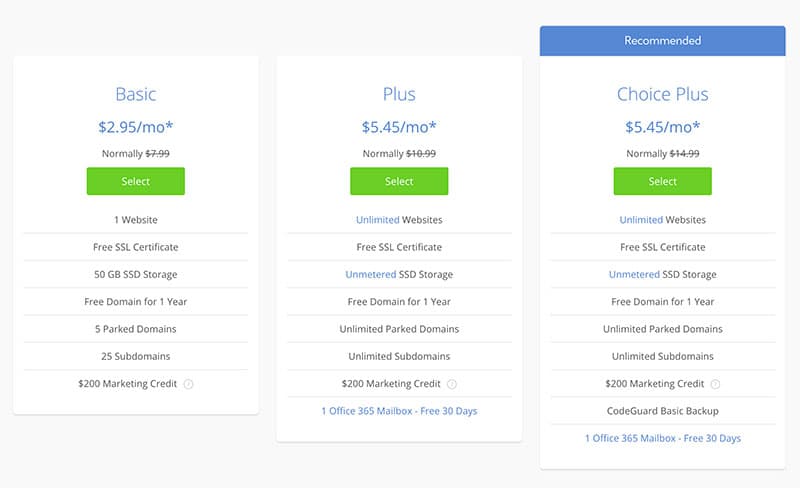 It's equipped with more than enough features to help you get your site off the ground. For example, you can host a single WordPress site and you'll get up to 50 GB of site storage. The performance is very fast, even on the starter plan.
When you sign up for your plan you'll also get a free SSL certificate, and access to the Cloudflare CDN. An SSL certificate is a must-have today and a high-quality CDN will help to speed up your site and give you improved security.
The support team is also top-notch and can answer your website and hosting-related questions 24/7.
The cheapest plan with Bluehost starts at $3.95 per month and gives you 50GB of disk space, and a free domain name. The mid-level Plus plan costs $5.95 per month and can support unlimited websites and email accounts, plus you get unlimited storage and bandwidth. The highest level plan is the Choice Plus plan which costs $5.95 per month and includes automated website backups.
Or read our more detailed Bluehost Review >>

HostGator is another very popular brand in the online hosting space. They're primarily known for their beginner shared hosting plans. But, you'll also find very cheap, high-performing, WordPress hosting as well.
HostGator offers a pretty impressive hosting architecture for such an affordable rate. The servers have multiple layers of caching, a bundled CDN, and supercharged cloud architecture.
You can get all of this for a cheap price of $5.95 per month.
You'll also get access to the WordPress site management dashboard, which makes managing your site a breeze. Plus, you get a free SSL certificate, one-click site restoration, and automated site backups.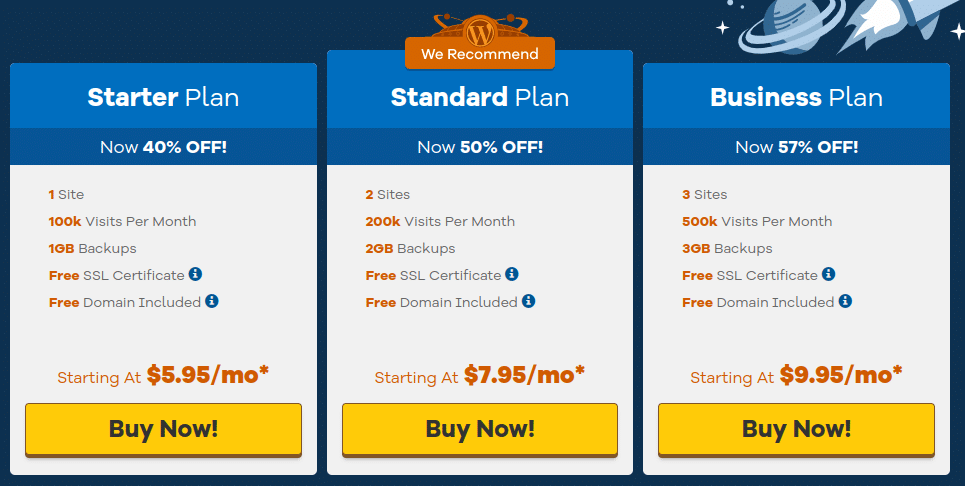 The plans are all equipped with unlimited bandwidth and high-quality security tools to help keep your site safe from hackers.
You can reach HostGator's support team 24/7 through email ticket, phone, and live chat support. The support team is always very responsive and helpful.
If you're migrating an existing WordPress site over to HostGator you can take advantage of the free site migration that's bundled with your plan.
HostGator has three different WordPress hosting plans. The Starter Plan costs $5.95 per month and can support up to 100k visits per month. The Standard Plan costs $7.95 per month and can support 2 websites and up to 200k visitors per month. The Business Plan costs $9.95 per month and can support up to 3 websites and 500k visitors per month.
Or read our more detailed Hostgator Review >>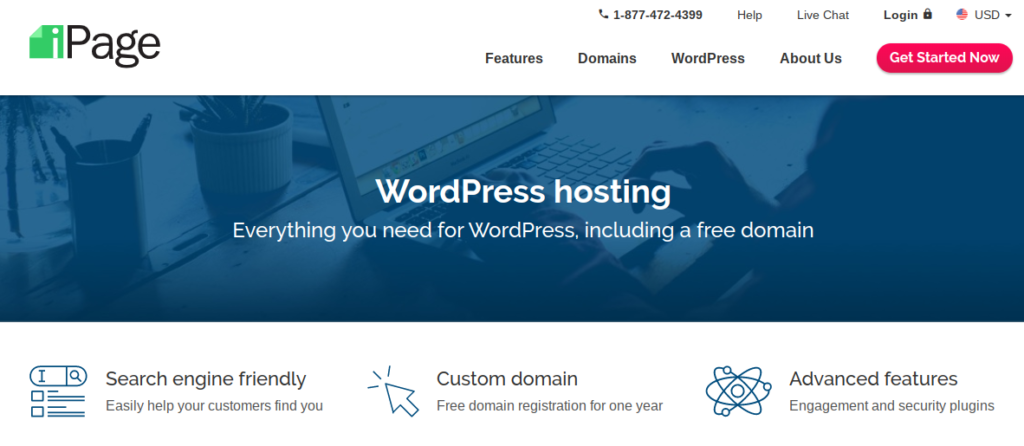 iPage is one of the best value WordPress hosts. It's not the cheapest plan on this list, but it does pack enough features that you'll be able to stick with this host for quite some time.
iPage offers pretty fast loading times, along with some helpful features for those new to WordPress, like a handful of popular WordPress plugins come pre-installed, plus you get an easy-to-use customized control panel.
You'll also get access to site security tools like a custom firewall and the popular SiteLock security suite.
Finally, the WordPress support staff is very helpful and knowledgeable, although the wait times can be a little long at times.
Overall, iPage makes WordPress hosting simple and is perfect for website owners and small business owners who don't want too much complexity. This host will support you in growing your WordPress site through the initial stages.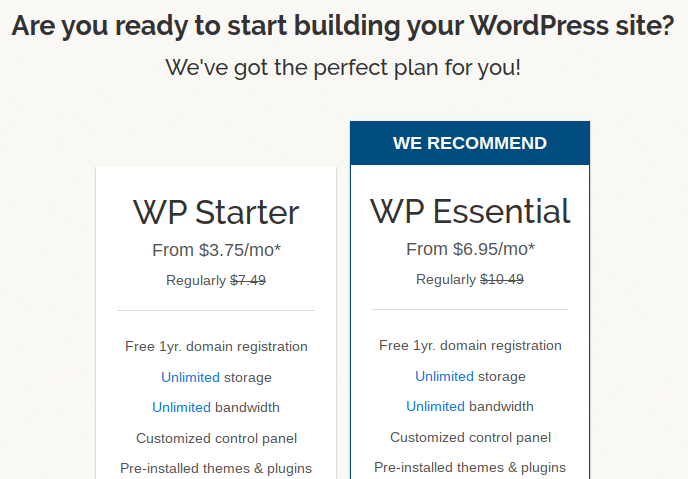 iPage keeps things simple and offers two different WordPress hosting plans. The WP Starter plan costs $3.75 per month and is perfect for those just getting started online, you also get unlimited storage and bandwidth. The second plan is the WP Essential plan which costs $6.95 per month and offers improved performance and security.
Or read our more detailed iPage Review >>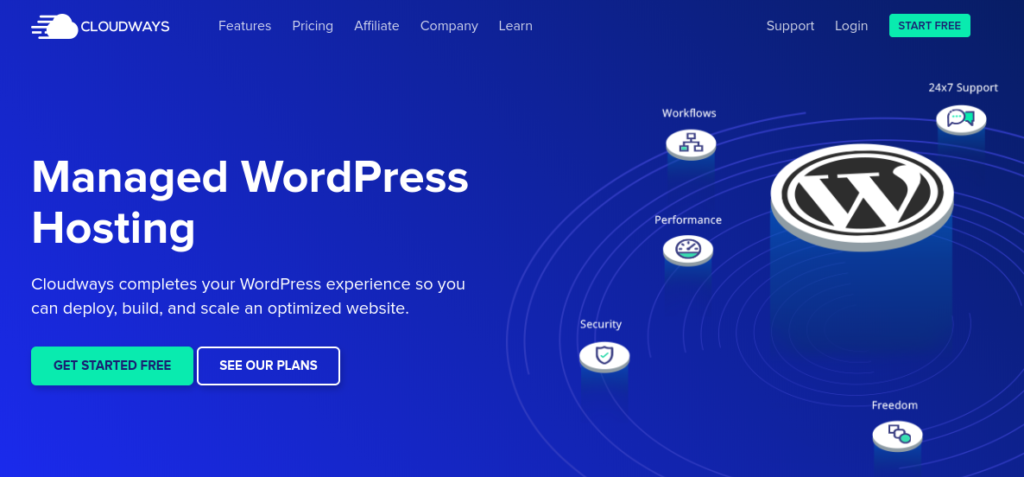 Cloudways is a high-performance managed WordPress host. They offer a scalable solution with high-quality support.
Primarily, they're a hosting solution for developers looking to deploy their own sites and sites for clients. However, they can be used by beginners. One of the reasons they can be a great hosting solution for beginners is due to their unique sliding scale pricing.
They have a relatively cheap introductory hosting plan, and on top of that, you only pay for what you use. No need to get locked into a long-term contract.
Beyond the attractive pricing model, you'll also get free SSL certificates, 24/7/36 support, and get the ability to host unlimited applications.
They're one of the highest performing and highly customized WordPress managed hosts out there.
Cloudways has a variety of hosting packages available, but since this is a guide to cheap WordPress hosting, we'll just focus on their two most affordable packages. The cheapest plan starts at $10/mo and includes 1GB of RAM, 25 GB of storage, and 1TB of bandwidth. The second most affordable plan is $22/mo and includes 2GB of RAM, 50GB of storage, 2TB of bandwidth, and scales up from there.
Or read our more detailed Cloudways Review >>
More Cloudways Comparison Guides

A2 Hosting is a powerhouse when it comes to WordPress hosting. They're one of the fastest WordPress hosting providers out there today and have a highly optimized WordPress hosting environment.
They also have unique pricing in that you can pay per month and still lock down a low monthly price.
Plus, at that super cheap monthly price, you'll get a free SSL certificate, free Cloudflare CDN, along with unlimited site storage and bandwidth. You can even host multiple websites on a single plan, which isn't normally offered at the introductory level of WordPress hosting.
If you want to migrate over to A2 Hosting, then you'll be happy to hear that a free website migration is included with the entry-level WordPress hosting plan.
WordPress installation is already handled for you once you sign up for an account.
With A2 Hosting you can also customize your plan during sign-up. So, you can start with the cheapest option and add additional features your site requires. This will increase the monthly fee you pay, but it's very hard to find a customized hosting solution for this price. There's even a generous money back guarantee included.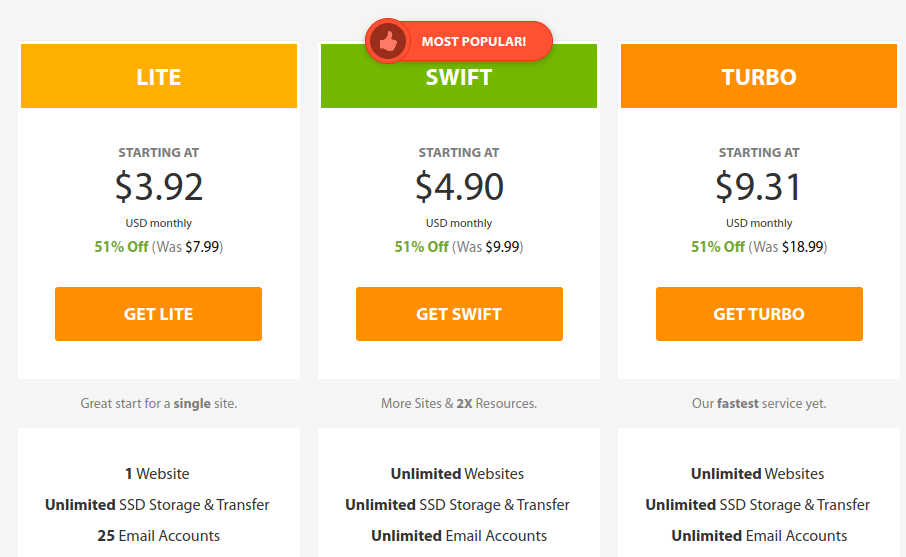 The cheapest plan is the Lite plan which costs $3.92 per month and can support a single website. The Swift plan is just a little bit more expensive at $4.90 per month and can support unlimited websites. The Turbo plan is $9.31 per month and includes everything in the plans above, but is 20x faster than the other plans.
Or read our more detailed A2 Hosting Review >>

GreenGeeks has been a leader in the green hosting space for years, providing an eco-friendly solution to the often energy-intensive hosting business.
Beyond their business practices, they offer a fast and secure WordPress hosting solution. No matter which hosting plan you choose you'll get a free SSL certificate, a free bundled CDN, along with unlimited email accounts, storage, and bandwidth.
Your website will have super-fast loading speeds with GreenGeeks, plus your WordPress updates will be taken care of automatically.
You also get the choice between multiple different data center locations, so you can host your site in the closest physical location to your visitors.
WordPress site migrations are also free and included with your plan. Same goes for your domain name, you can bring your existing domain or register a new domain free of charge.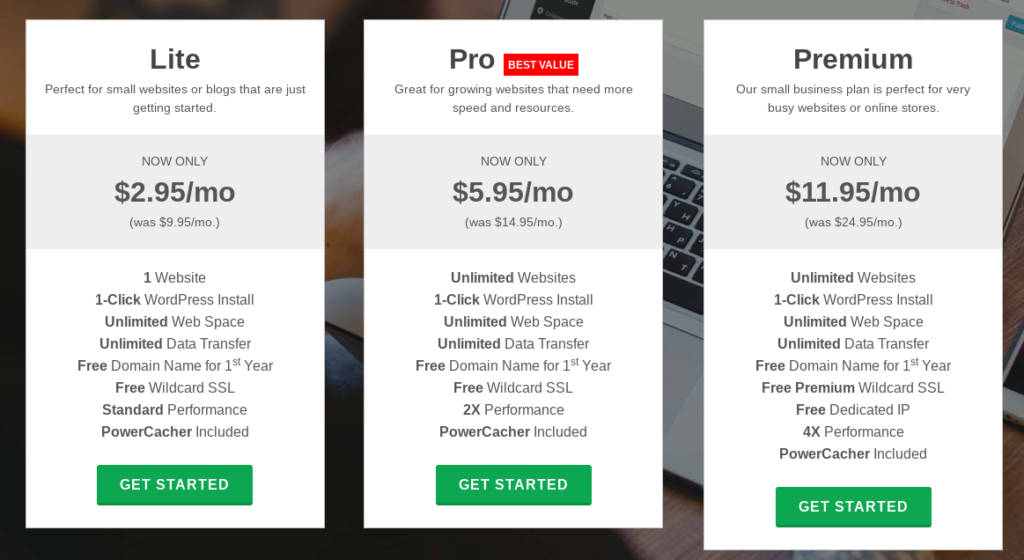 The Lite plan starts at $2.95 per month, supports a single website, and comes with unlimited storage and bandwidth. The Pro plan is $5.95 per month and supports unlimited websites, plus you get faster performance. The Premium plan is $11.95 per month and has four times the performance overall.
Or read our more detailed Greengeeks Review >>
9. SiteGround

SiteGround is an incredibly high-performance host. They are one of the top-performing hosts out there today, including their WordPress hosting packages.
They're another host that's recommended by WordPress.org. Even on the basic WordPress hosting plans you'll find some advanced features like the ability to choose your data center locations, free WordPress site transfers, and a bundled CDN.
But, the biggest selling point of SiteGround hosting by far is it's performance. Its hardware configuration allows it to provide super-fast loading speeds that outperform premium level hosts.
For example, it regularly boasts an uptime of at least 99.99%, has data centers spread out across the globe, uses SSD storage, and its own SuperCacher technology.
The basic shared WordPress plan currently costs $3.95 per month. With this, you can host up to one website, and will get other things like an SSL certificate, and daily website backups.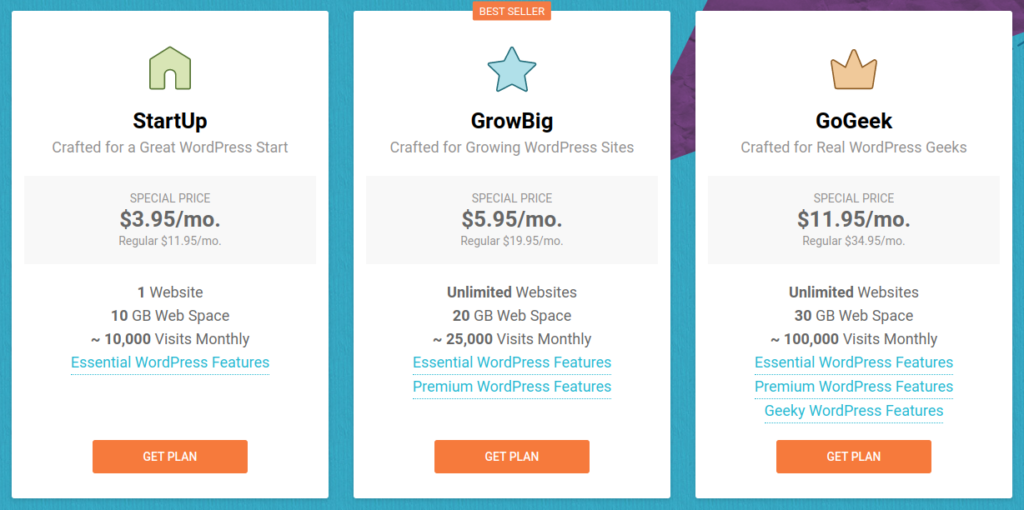 The basic plan is the Starter plan which costs $3.95 per month and is perfect for people building their first websites. The GrowBig plan costs $5.95 per month and offers more storage and bandwidth and is best for those who want to build multiple websites. The highest level plan is the GoGeek plan, which costs $11.95 and is better suited for large WordPress sites that get a ton of traffic.
Or read our more detailed Siteground Review >>
10. Namecheap

Namecheap is relatively new to the hosting game (originally starting as a domain name registrar). However, they offer incredibly good rates and high-performance WordPress hosting packages. Plus, they're currently running a special where your first month of hosting is just $1.
The hosting packages are very fast and feature-rich. Since it's hosted in with Namecheap's cloud hosting you get very high levels of reliability and uptime. It can also be scaled up easily since it's based in the cloud.
It's also very easy to use. The dashboard is incredibly streamlined and their team will manage all of the technical aspects of your hosting for you. It's one of the few hosts that offers managed WordPress hosting for the cost of standard shared WordPress hosting.
When you sign up you can also choose between a UK or US-based data center to host your site.
The support staff is highly knowledgeable, plus there's a large tutorial library and knowledge-base to help you through any issues you're experiencing.
The intro plan is called EasyWP Starter which you can get for $3.88 per month, with this you get 10GB of SSD storage and support for 50,000 visitors per month. The mid-level plan is EasyWP Turbo, which is $7.88 per month and comes with 50GB of SSD and support for 200,000 visitors per month.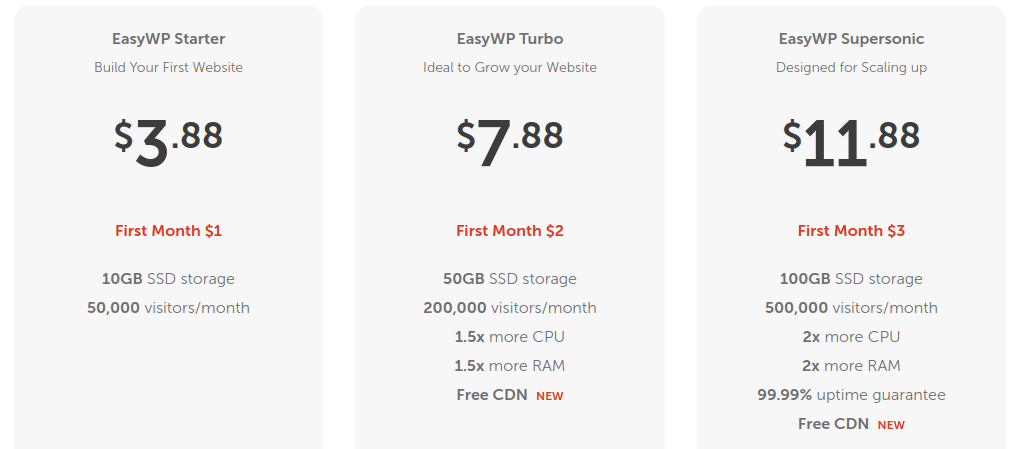 The highest level plan is EasyWP Supersonic for $11.88 per month, which is equipped with 100 GB of SSD storage, support for 500,000 monthly visitors, and a 99.99% uptime guarantee.
Ready my EasyWP Hosting review>>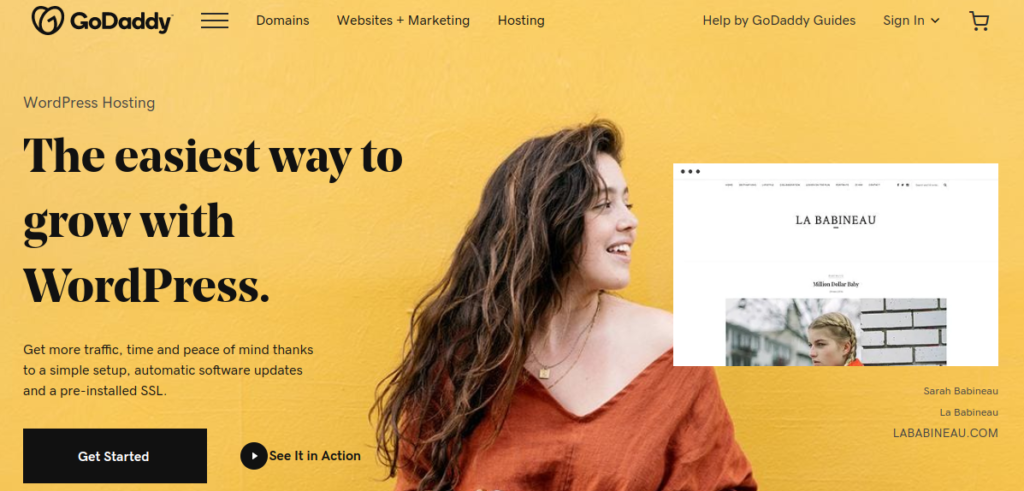 GoDaddy is probably one of the most familiar names in the hosting space. Partly due to its controversial Super Bowl ads of years past, or it's reputation as a domain name provider.
Although it's been in the hosting space for quite some time, they didn't introduce WordPress hosting until 2014, so it's a relatively new offering for the company. But, even though it's newer to the WordPress hosting arena, it still offers an incredible product.
The WordPress hosting plans start at $6.99 per month and are equipped with everything you need to run your site. Even on this cheap plan, you'll get advanced features like automatic WordPress core updates, backups, and malware scans. This will help to keep your site secure as possible, without any additional work on your end.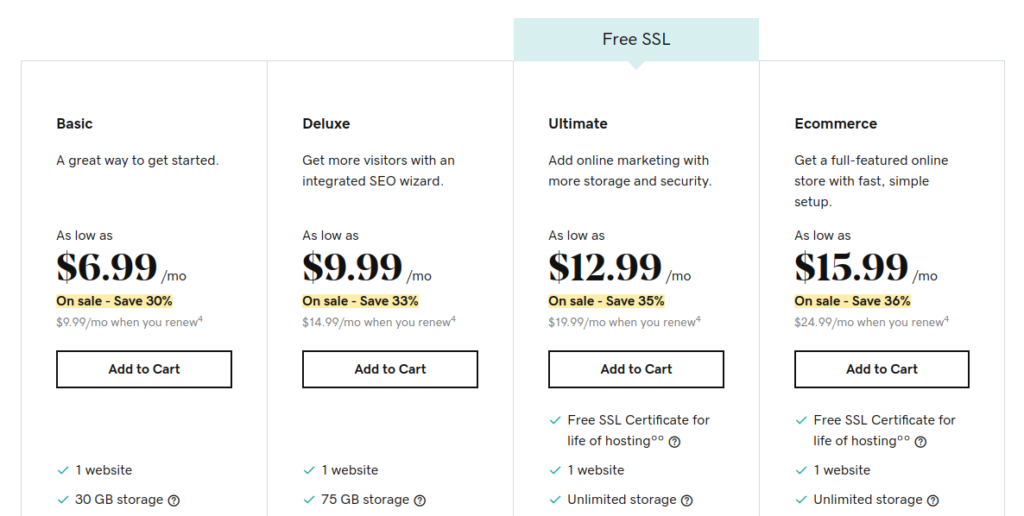 Some other cool features include automated site migration (if you have an existing site you're bringing over), and a bundled CDN.
With the $6.99 starter plan, you'll get a free domain name, 10GB of storage, and support for a single site up to 25,000 visitors per month. The Deluxe plan is the mid-level plan for $12.99 per month and can support up to 100,000 monthly visitors. The highest level plan is the Ultimate plan for $19.99 per month, which can support up to 400,000 monthly visitors.
Which WordPress Hosting Company is Best for Your Site?
From my own personal experience, you can't go wrong with either Bluehost or Hostinger. These I would class as the "best" cheap WordPress hosts. Although every website owner's needs and overall budget will be different, so it's very difficult to recommend the best host for you personally.
But, by now you should be equipped to make the best decision for your unique needs and goals.
By going through all the information above you should be well equipped to find the best host for your needs. Maybe you're making the decision based on price alone? Or, you want a plan that includes a free domain name and SSL certificate? Or you're looking for the fastest host on the market?
Whatever type of WordPress host you're looking for, you'll be able to find the perfect host for your needs.
Other guides you might be interested in…
The following two tabs change content below.
Jamie Spencer
My name is Jamie Spencer and I have spent the past 10 years building money making blogs. After growing tired of the 9-5, commuting and never seeing my family I decided that I wanted to make some changes and launched my first blog. Since then I have launched lots of successful niche blogs and after selling my survivalist blog I decided to teach other people how to do the same.
Latest posts by Jamie Spencer (see all)