Cloudways and GoDaddy are two of the most well-known web hosting providers around. But when it comes to deciding between the two, which one is better? Today we are going to be comparing Cloudways vs GoDaddy side by side, to see who offers the best service and the best value for money.
Choosing the best hosting provider for your website or blog is more important than you think. You will want to know that your website is secure, easy to manage, and doesn't experience any downtime.
There are loads of web hosting companies to choose from, but some will suit you better than others, depending on the type of website you want to build and the business you are running.
Although Cloudways and GoDaddy are both reliable companies, there are quite a few differences between them. This means that one is probably better suited to you than the other. After reading this article you will have a better understanding of what they each offer, and be able to decide for yourself which one is the right choice for you.
Things to Look for in a Web Hosting Provider
There's a lot of choices out there when it comes to web hosting, so finding one that's the right fit for you is key. Here are a few things to look at when you are choosing a managed hosting service for your website.
Ease of Use – Is their user area easy to navigate?
Security & Backups – Do they offer automatic backups? How often?
Scalability – As your website grows, will they be able to handle the traffic?
Speed – The ideal page loading speed is 0-2 seconds. Any slower than this can impact your conversion rates.
Uptime – Do they offer a 100% uptime guarantee?
Customer support – How easily can you speak to a member of the support team if you are having issues with your site?
Pricing – Is their service good value?
Cloudways vs GoDaddy: Everything You Need to Know
Before we start the side-by-side comparison, we're going to find out a little bit more about each of these web hosting services. We will take a look at how long they've been around, what their values are, and take a look at their main features.
About Cloudways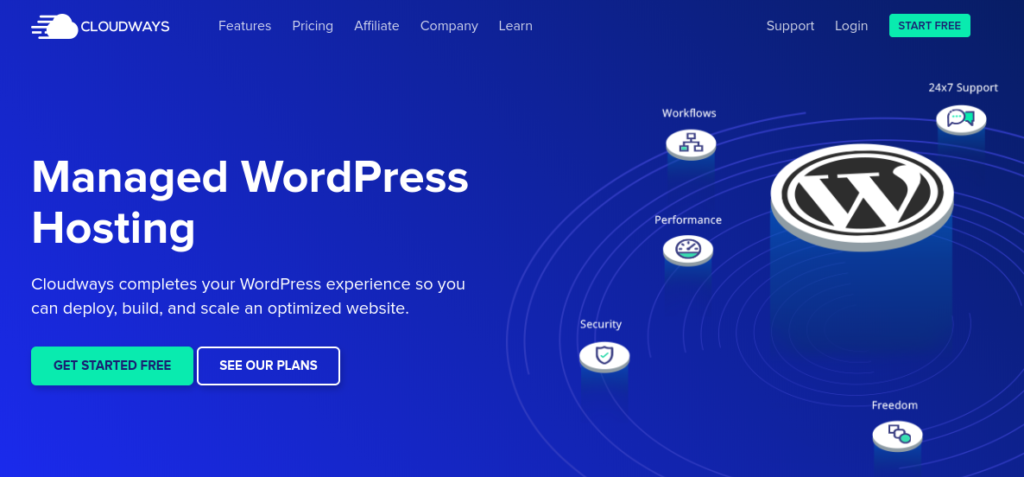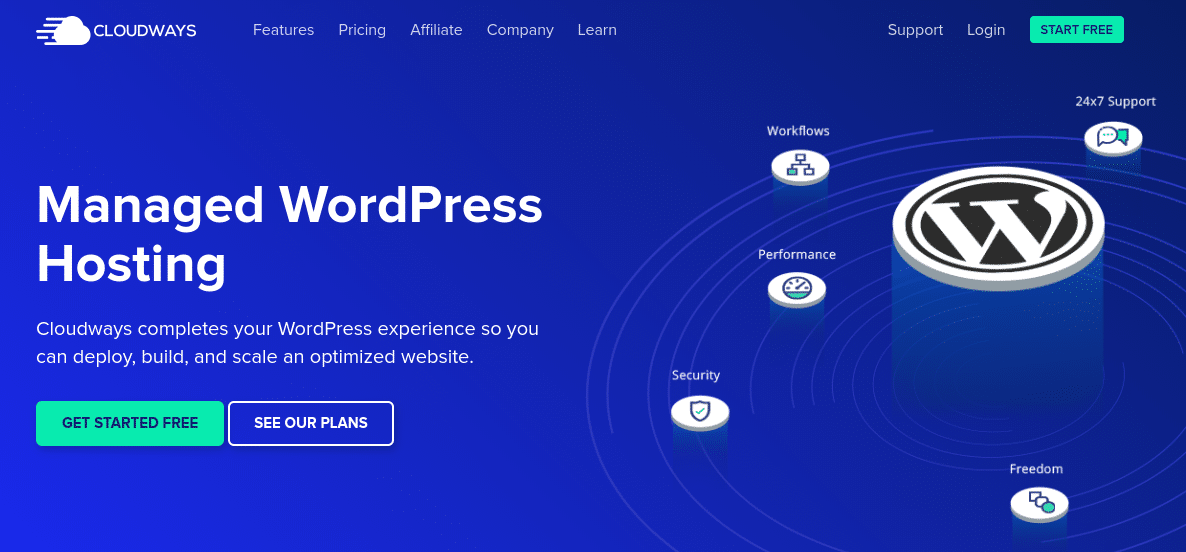 Cloudways is a managed cloud hosting platform that will take make it easy to host and manage your website. One of their key values is 'simplicity in everything and they really do make it simple to use their services. Thanks to their 24/7 customer support which is available 365 days a year, managing your website is incredibly easy, leaving you more free time to focus on the part of your business that you love.
Cloudways has been around since 2011. Since launching, they have provided hosting services for over 600,000+ sites. They offer dedicated managed WooCommerce and WordPress hosting, as well as Joomla hosting, Magento hosting, and many other hosting solutions.
The Main Features of Cloudways
These are the main features Cloudways offers:
5 Different Cloud Providers to choose from
Unlimited Applications
Managed Security
Free SSL with every site
24/7 Monitoring
Phone Support (premium add-on)
High-Speed Performance
All PHP Apps Supported
Innovative Control Panel
24/7/365 Customer Support
Automated Backups
Pay-as-you-go Payment Model
Multiple Integrations and Add-ons
Now let's take a look at GoDaddy to find out a bit more about the company and its main features.
About GoDaddy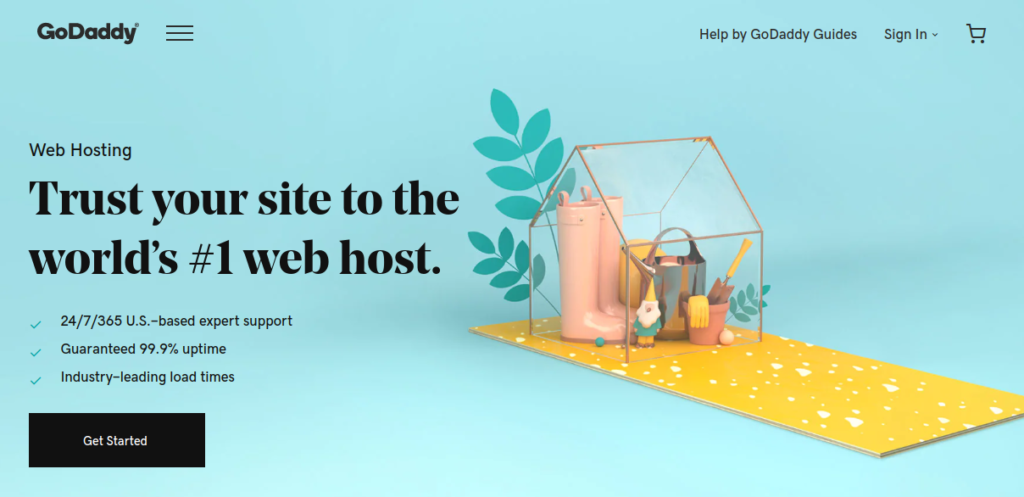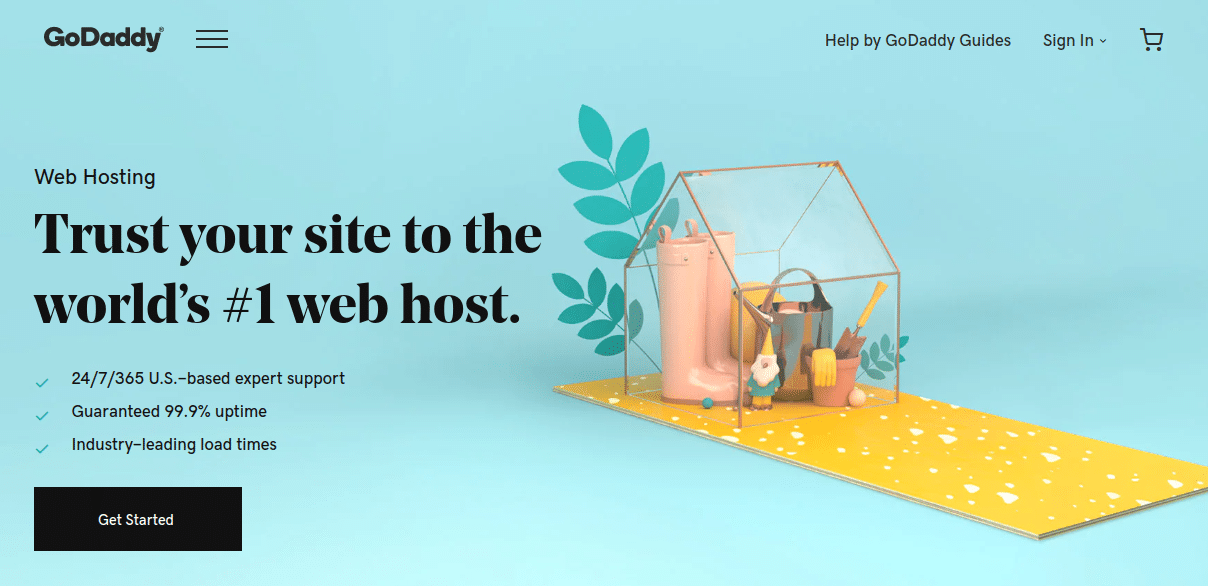 GoDaddy launched back in 1997, so it's been around a while now and has grown to become a household name. Since their launch, they have grown to become a huge company with over 9,000 employees globally, and data centers around the world. They are the largest platform for online services for small businesses and entrepreneurs around the world, having served over 20 million customers to date.
GoDaddy is the world's largest ICANN-accredited registrar. They manage more than 82 million domain names worldwide!
The Main Services Offered by GoDaddy
These are the main services offered by GoDaddy:
Domain registration
Domain Auctions
WordPress Hosting
VPS Hosting
Dedicated Servers
Domain name generator
Expert services: Maintenance, web design, and SEO Services
Email and office services
GoDaddy offers a huge range of services designed specifically to help bloggers, entrepreneurs, and small businesses succeed online.
Cloudways vs GoDaddy – Which One is Better Overall?
To help you decide which of these hosts is the best choice for you, we are going to be comparing each hosting feature offered by Cloudways and GoDaddy, side by side.
Let's see how they measure up against one another…
Cloudways vs GoDaddy Uptime –

( Cloudways Wins )
Both Cloudways and GoDaddy do well when it comes to uptime, both coming in at over 99.9%.
GoDaddy has achieved an impressive uptime of 99.99% in the last 7 days. They also offer a 99.9% uptime guarantee. If your website's uptime falls below the promised 99.9% you can take advantage of this. Simply contact their customer support teams and they will credit you with 5% of your monthly hosting fee. (Note: This credit can only be used to purchase more services from GoDaddy).
Cloudways, on the other hand, offers an impressive 99.999% uptime guarantee to its customers. In a similar way, customers are compensated by receiving credit on their account for every hour the service falls below what's stated in their service level agreement (SLA).
When it comes to uptime, Cloudways is the winner. Although it's a close call, Cloudways offers a better uptime guarantee to its customers of 99.999%.
Performance and Speed –

( Cloudways Wins )
Speed matters. Humans have short attention spans, especially when they are browsing the internet! Slow page loading speeds can affect your conversion rates, losing you money and future customers.
Choosing a reliable web host that can help you achieve lightning-fast performance on your website is key. Thankfully, both Cloudways and GoDaddy excel when it comes to speed and performance.
GoDaddy's servers run on Intel Core i7 processors which will allow you to opt for either Linux or Windows hosting. It is fully optimized with high-performance features and load-balanced servers.
Cloudways uses an industry-leading combination of caches and PHP 7.3 ready web servers to ensure optimal performance for your site. They use an optimized stack that includes ready-to-use caches such as Redis, Varnish, Nginx, and Memcached to deliver speedy responses no matter how large your site is.
If you're a WordPress user, Cloudways has its own Cache plugin called Breeze. This plugin is completely free, and works in combination with Varnish Cache, to increase your page-loading speeds. CloudwaysCDN also helps improve speed and performance for image-heavy and content-heavy websites.
Both Cloudways and GoDaddy can be counted on to provide excellent performance, but overall, Cloudways has the edge when it comes to performance.
Security and Backups –

( It's a Draw )
Cloudways takes security very seriously. All of its servers are protected by OS-level firewalls which keep intruders at bay. This also ensures that any malicious activity is stopped before it can cause any damage to your site. Let's Encrypt SSL is included free with every website you build.
Backing up your site frequently is important, and Cloudways makes this very easy. You can choose from automatic backups, or use a 1-click backup and restore, depending on what works best for you. Cloudways stores all backups at another location, so if anything should happen you will always have access to a backup.
GoDaddy performs well when it comes to security and backups too. They have even won awards for their security features, so you can be sure you're in safe hands. Their security team works 24/7, 365 days a year to monitor suspicious activity and deflect any DDoS attacks. You can enable automatic daily backups and you also have the option to schedule, create on-demand backups, and download your backups as you need to. They also offer two-factor authentication.
Like Cloudways, GoDaddy also offers free SSL certificates with their hosting plans, so you can be sure any personal data that is stored on your website is secure.
When it comes to security for your website, you can be sure that you are in safe hands with either hosting provider. Both Cloudways and GoDaddy provide excellent security 365 days a year. They also both provide a free SSL certificate and automatic backups.
Customer Support –

(GoDaddy Wins)
Both Cloudways and GoDaddy provide a wide range of ways to get in touch with their customer support teams.
Cloudways' primary method of support is live chat. This is available 24 hours a day, every day of the year. You can expect a quick response to your query, and usually a quick resolution too. More complex issues can be tracked using their online ticketing system.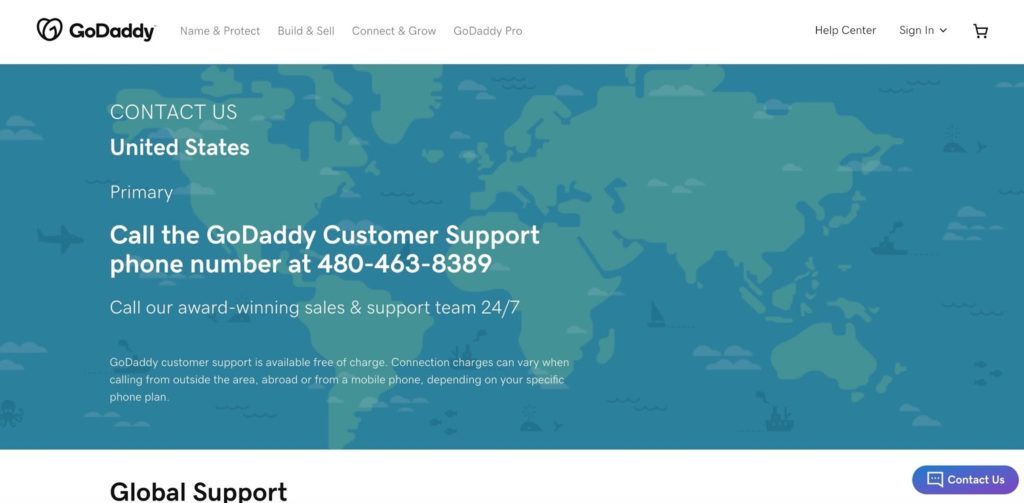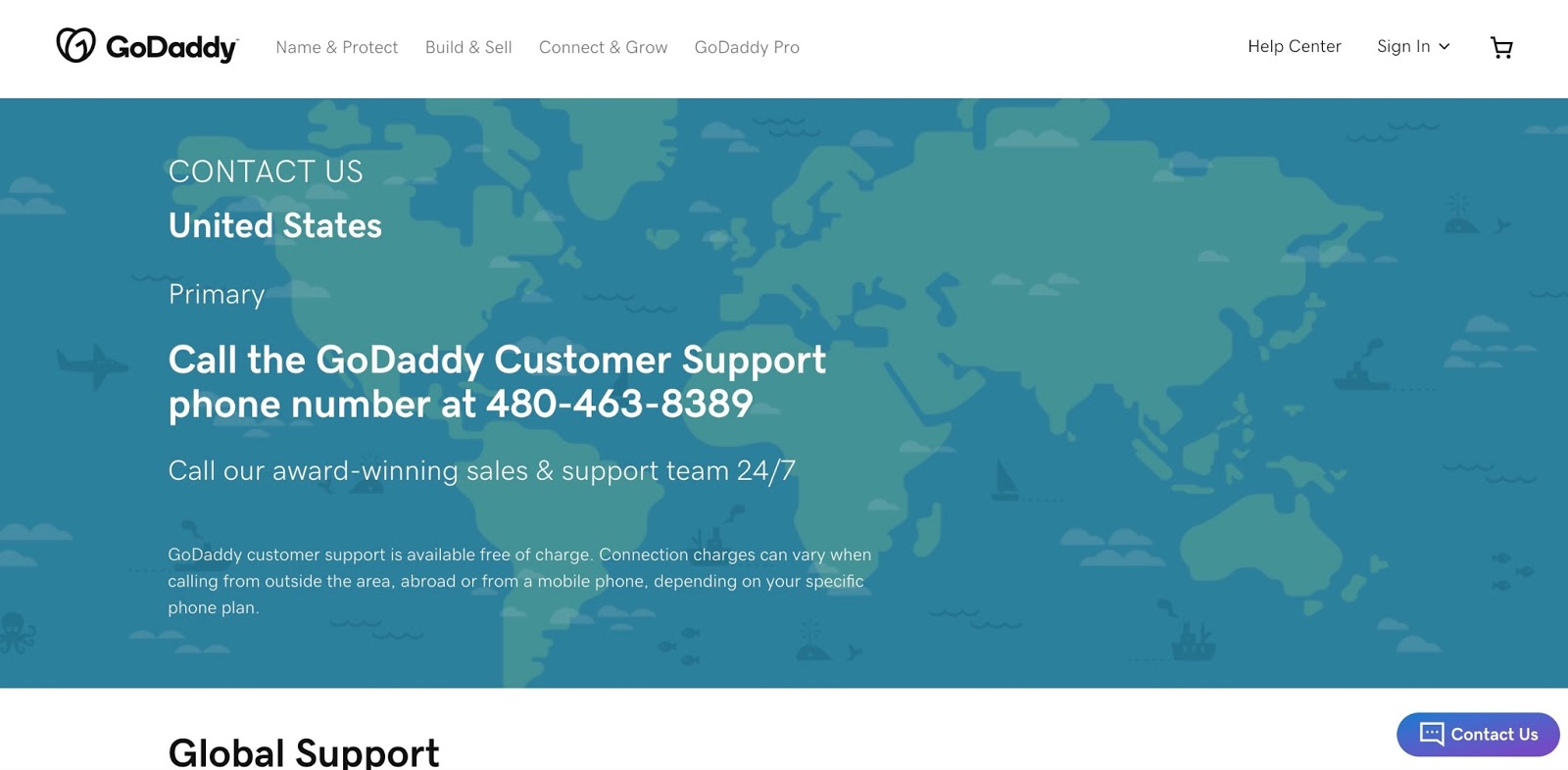 Cloudways also offers the option to purchase a 'premium support' add-on. This gives you access to phone support, a dedicated account manager, and priority ticketing. They even have a private Slack channel that gives you the chance to chat directly with their senior support engineers. They also have an extensive knowledge base as well as a resource center where you will have access to ebooks, case studies, and webinars to help you grow your business.
GoDaddy also offers 24/7/365 support to its customers. They offer phone support free of charge as standard and have a global directory of different numbers you can call, depending on where you are in the world. You can also access support by live chat and WhatsApp.
GoDaddy also has a help center where you can find answers to frequently asked questions and solve small issues on your own.
When it comes to customer service, both of these companies provide a great service. However, GoDaddy is the winner when it comes to customer service. This is because they offer phone support as standard, wherever you are in the world.
Cloudways vs GoDaddy: Customer Reviews –

(Cloudways Wins)
Although we have personal experience with these hosting services ourselves, it's always interesting to hear what other users are saying. In this section, we're checking out the reviews from independent review sites: Trustpilot and TrustRadius.
GoDaddy has an impressive 19,110 reviews on Trustpilot at the time of writing. From these reviews, they have managed to achieve a very respectable 4 out of 5 stars, which shows that in general customers are very happy with the service they provide.


They also do pretty well on TrustRadius, with a score of 7.3 out of 10. This is from a tidal of 128 reviews, so not bad at all.
Cloudways have knocked the ball out of the park when it comes to customer reviews. They have an outstanding score of 4.8 out of 5 on Trustpilot, which is rated as excellent. They also have 9.4 out of 10 on TrustRadius, so it's very clear that they have a lot of happy customers under their belt.




There's a clear winner when it comes to customer service, and that's Cloudways. They have better reviews overall on both independent review sites.
Money-Back Guarantee –

( It's a Draw )
A money-back guarantee can give you peace of mind when signing up for a new hosting plan. After all, if you're not satisfied with the service provided, you don't want to be locked into a lengthy plan.
GoDaddy offers a 30-day money-back guarantee to all its customers. If you're not happy with the service you will need to cancel your plan by contacting customer service. This can be done within 30 days of purchasing an annual plan, or within 48 hours of purchasing a monthly plan. Services that have already been performed are non-refundable.
Cloudways doesn't have a money-back guarantee, but they do offer a completely free 3 day trial of their service with no credit card required. Since they offer a pay-as-you-go service charged in arrears, there is no need for them to have a money-back guarantee.
This is because you will only ever pay for the services you have used. You can leave at any time if you are not happy with the service, but you will not receive a refund for the services you have already consumed.
There is no clear winner here; Both Cloudways and GoDaddy have fair refund policies.
Cloudways vs GoDaddy – The Pros and Cons
Each hosting company has its own pros and cons, so it's important to consider these carefully. It's particularly important to look at the 'cons' section, to see if any of these downsides will affect you.
Pros and Cons of Cloudways
Pros:
Flexible pay as you go plans
Free migration for your first website
Almost 100% uptime
6 Cloud Server Providers to choose from
Free 3-day trial – no credit card required
Innovative Control Panel
24/7 Monitoring
Phone Support (premium add-on)
High-Speed Performance
24/7/365 Customer Support
Automated Backups
Free SSL
Cons:
It can be confusing choosing which cloud provider you want to go with
You have to pay extra if you want phone support
GoDaddy Pros and Cons
Pros:
Trusted household name
Uses industry-standard cPanel
Simple user-friendly interface
Reliable
Fast page loading times
Cost-effective hosting plans
30-day money-back guarantee
99.9% uptime guarantee
Free automatic nightly backups
Phone support included free of charge
Cons:
Lots of upsells
The website builder isn't the best
Both of these companies have pros and cons, so it's important to think about your personal needs.
Cloudways vs GoDaddy: Plans and Pricing
Now it's time to look at the plans and pricing offered by GoDaddy and Cloudways, to see who offers better value for money.
Cloudways Pricing
Cloudways offers pay-as-you-go pricing. This allows you to pay at the end of each month for the services you have used. This means you will never be overcharged, and you can leave at any time if you are not happy with the service.
[vc_btn title="Go To Cloudways.com" color="primary" size="lg" link="url:https%3A%2F%2Fmakeawebsitehub.com%2Fgo%2Fcw-vs-gd||target:%20_blank|"]
Use coupon code SITEHUB to get 25% off for 3 months.
You can choose from any of their plans, and scale up or down as you need to, depending on your business and traffic needs.
There are five different cloud infrastructures to choose from, including:
DigitalOcean
VULTR
Amazon AWS
Google Cloud
Linode
Each cloud infrastructure has a wide range of plans to choose from, depending on your needs
The most affordable plan they offer is with DigitalOcean. This starts at $10/month, and the pricing goes up from there depending on how much bandwidth, RAM, and storage you need.
GoDaddy Pricing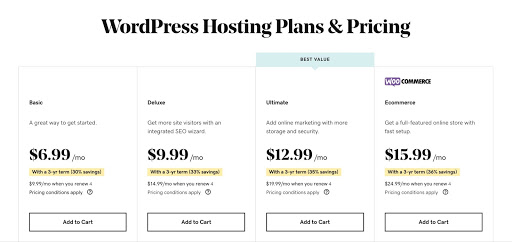 GoDaddy has a range of different hosting plans and pricing available. For this comparison, we are going to be looking at GoDaddy's WordPress hosting packages.
They have four different WordPress hosting packages available: Basic, Deluxe, Ultimate, and E-commerce.
The Basic plan starts at $6.99/month and includes 30GB SSD storage, up to 25,000 monthly views, and automatic backups and malware scans. It also includes a free domain, free SSL certificate, and a free Business email for 1 year.
The Deluxe plan starts at $9.99/month and includes everything from the basic plan. It also includes 75GB of storage, up to 100k visitors per month, SEO optimizer, and a 1-click testing site.
The Ultimate plan starts at $12.99/month and includes everything from the Basic and Deluxe plans. It also includes unlimited storage and unlimited visitors.
There is also a WooCommerce plan which costs $15.99/month and is the ideal choice for eCommerce businesses. This plan includes appointment scheduling, real-time shipping rates, unlimited products, no transaction fees, and free access to premium WoCommerce plugins.
Overall, GoDaddy offers cheaper plans. It's important to remember though, that the prices go up after the initial 3-year period, so long term, the monthly pricing is about the same.
If you want to give GoDaddy a try, head over to their website to check out their hosting plans in more detail.
Cloudways vs GoDaddy: The Verdict –
Cloudways Wins!
After comparing Cloudways and GoDaddy side by side, it's a close call. Both of these companies offer a great service, but they are very different from one another, so one will suit you better than the other depending on your business needs.
We have chosen Cloudways as the overall winner due to its flexible pay-as-you-go pricing plans. This makes it a great option for growing businesses who want hosting that can grow as their business grows. They provide excellent customer service and have countless raving reviews from their customers. Their only downside is that you have to pay a premium for phone support.
That's not to say that GoDaddy isn't a great choice too though. GoDaddy is a great option for small businesses and bloggers who are looking for affordable pricing plans for a WordPress site. They offer hosting plans starting from as little as $5.99/month and have managed WordPress hosting plans starting at just $6.99/month.
Want to give Cloudways a try? Head over to their website to check out their plans and start a 3-day free trial.
If you think GoDaddy might suit you better, head over to their website to check out their hosting plans in more detail.
Still undecided? If you're looking for really affordable hosting, then check out Bluehost. They offer outstanding customer service at an unbeatable price. Read our full Bluehost review here.
You might also want to look at Hostgator and SiteGround which are some other great WordPress hosting options.
More Cloudways Comparison Articles:
The following two tabs change content below.
Jamie Spencer
My name is Jamie Spencer and I have spent the past 10 years building money making blogs. After growing tired of the 9-5, commuting and never seeing my family I decided that I wanted to make some changes and launched my first blog. Since then I have launched lots of successful niche blogs and after selling my survivalist blog I decided to teach other people how to do the same.
Latest posts by Jamie Spencer (see all)