In this article, we are comparing Cloudways vs Siteground to see which is the better option for you. Cloudways and SiteGround are both well-known web hosting companies. They both have excellent reputations – so which is better?
This side-by-side comparison guide will explore the services offered by both companies. We have dug deep into both Cloudways and SiteGround, and we're going to be looking at everything from features to value for money.
Cloudways and SiteGround each have their own strengths and weaknesses. Because of this, one will probably suit you better than the other. But the one that's right for you will depend on your company's priorities. It will also depend on the type of website you are looking to host. You need a company that you can trust, after all.
Researching a company to ensure they can provide the service you need is essential. After reading this guide, you will have all the information you need to decide which one is right for you.
Things to Look For in a Web Hosting Provider
The number of web hosting providers out there can be overwhelming. And a casual glance at the services that they offer can leave you feeling even more bewildered! Here are some of the things you should look for when assessing a web hosting company:
Cost. establish your budget and know the signup and renewal price.
Reliability. Amazon went down briefly back in 2013, and it cost the business $66,240 each second.
Uptime. Aim for 99% or above.
Estimated traffic. Be realistic. Consider a plan with upgrade options if you expect growth.
Ease of use. Do customers report that the software is intuitive and easy to navigate?
Features. Does the web hosting provider include services you need, like DNS management?
Backup support. Does the service provide regular backups in an emergency?
Cloudways vs SiteGround: Everything You Need to Know
Now, let's find out more about Cloudways and SiteGround. In this section we will cover the background of each company as well as their main features. Let's start with Cloudways.
About Cloudways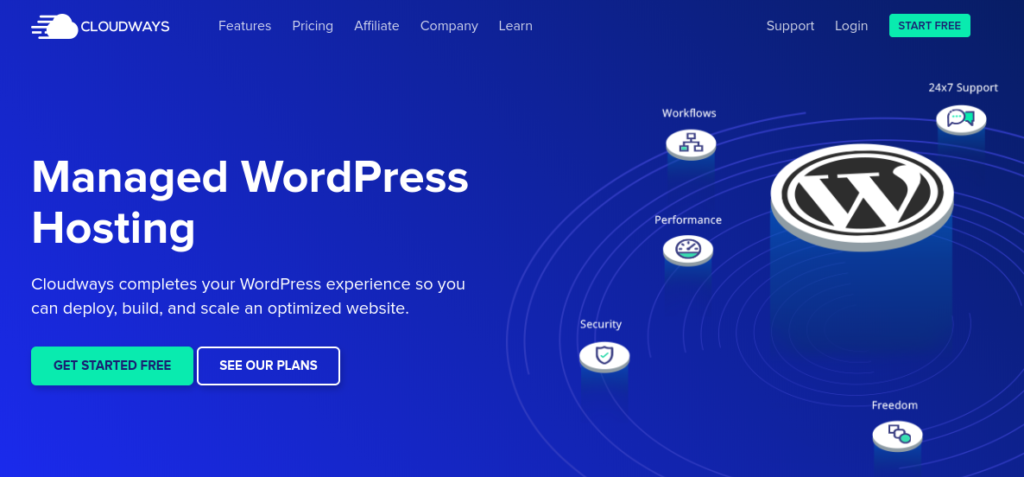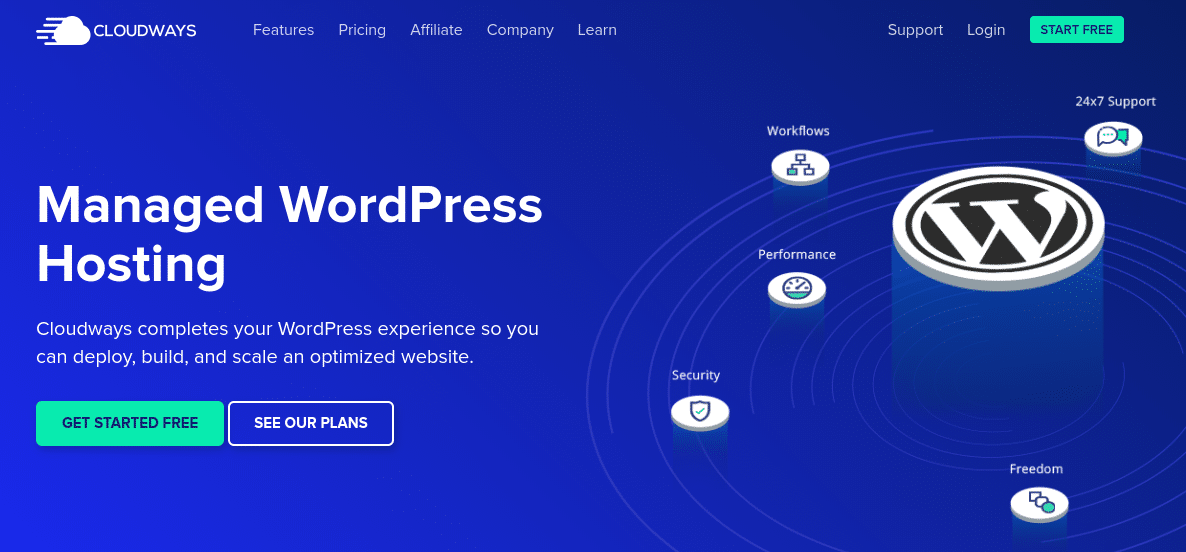 Cloudways is a managed cloud hosting platform. They were established in 2009 by Uzair Gadit, Pere Hospital, and Aaqib Gadit. Their headquarters are in Malta, which is a member of the European Union.
Values are at the heart of Cloudways and inform their company ethos. "Innovation at heart" is one of their five core company values. This reflects their commitment to constant creativity and innovation of products and services. Cloudways also emphasizes simplicity and a customer-centric approach.
They are focused on supporting small and medium-sized businesses primarily. Cloudways has been featured in many publications, including Forbes, VentureBeat, and PC Magazine.
What makes this company so unique? Well, firstly, they have an excellent reputation. Cloudways offer flexible cloud hosting deals, reliable customer service support, and industry-leading uptime. As a result, you can get your website or e-commerce site set up and online very quickly, even if you're a complete beginner. The navigation and features on this innovative cloud platform are also easy to use.
Use this link to get 25% OFF for 3 months on Cloudways
The Main Features of Cloudways
To summarise, here are some of Cloudways' main features:
Wide variety of servers to choose from
High-speed performance and uptime
Affordable and easy to understand pricing structure
User-friendly interface
Real-time monitoring
API and third-party integrations
IP whitelisting
Reliable security, including advanced firewall protection
Automatic site backups
24/7 live chat support
Read more on our Cloudways review
About SiteGround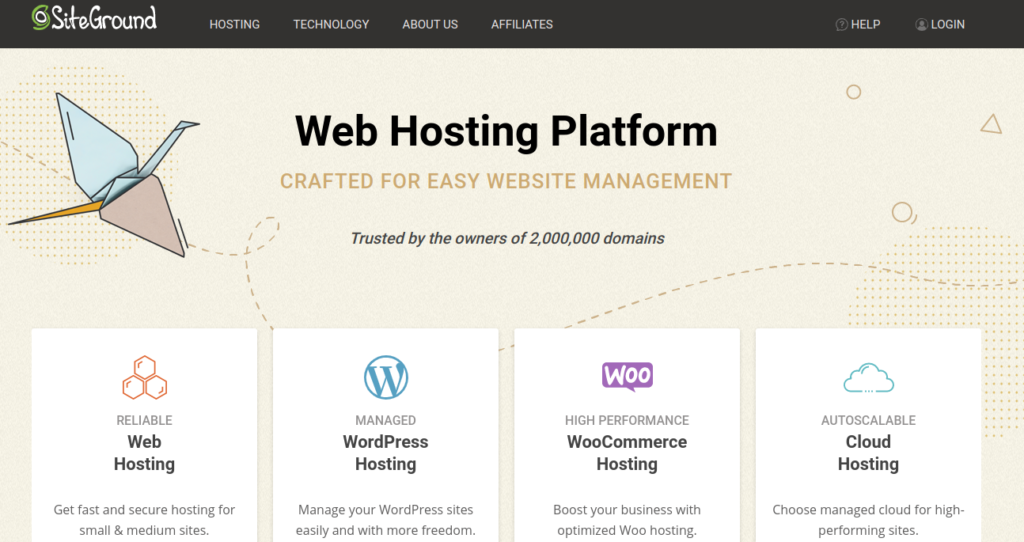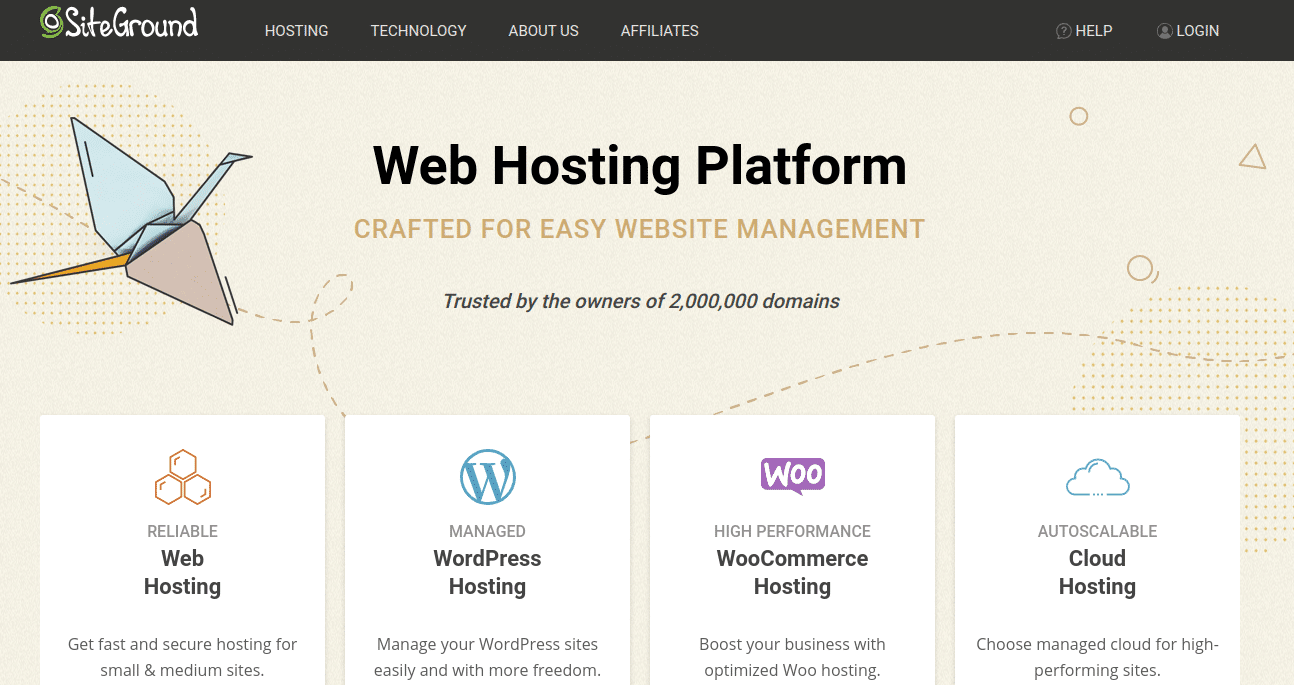 SiteGround was founded in 2004 in Bulgaria. The company employs more than 500 people in its team worldwide. It also currently hosts over 2 million websites globally. SiteGround has offices in Singapore, London, and Madrid.
SiteGround is proud of its organizational culture. Their values include commitments to purposeful working, innovation, and respect for diversity. A core part of their institutional mandate is promoting employee well-being. They have policies in place to promote a healthy work-life balance.
One of Siteground's many positives is its guarantee of free service if uptime falls below 99.99%. They offer a wide array of hosting plans including cloud, shared, and WordPress. Performance-enhancing tools are offered as well as a reputation for responsive customer service.
The Main Features of SiteGround
Here are some of the key features that SiteGround provides:
Shared, VPS and dedicated hosting
Control panel integration
Many integration options, including e-commerce
Global data centers
Fast server speeds
Uptime guarantees
Security functions including spam detection and firewalls
Excellent customer feedback
As you can see, SiteGround focuses on providing a fast, reliable service to its customers.
Cloudways vs SiteGround – Which One is Better?
Let's compare some of the core features of Cloudways and Siteground. You can decide which is best for your business.
Cloudways vs SiteGround Uptime –
( Cloudways – Wins)
Uptime is critical for website hosting services. If your website is down, that can mean lost revenue. There is not much to separate Cloudways and SiteGround in this regard.
Both offer uptime guarantees of above 99.9%. Both companies will compensate customers for downtime losses. Yet, Cloudways offers a near-100% uptime guarantee. Most customers report that this record is well upheld. Their recent record is also exemplary.
While the difference for uptime is marginal, Cloudways is the winner in this area.
Performance and Speed –
( Cloudways – Wins )
Alongside uptime, the other critical feature of a web hosting company is speed. For bloggers and e-commerce businesses, speed is critical. Page loading speeds have a direct effect on your bottom line. In fact, your bounce rate increases with every extra second of loading time.
Scary, right?
So how do Cloudways and SiteGround compare? Both companies focus on speed and performance. But, there is a difference between the company's claims and real-world experience.
Cloudways is well-suited to websites that have high traffic. Their servers offer different amounts of processing power. This means you can choose one that fits your needs. Memory, and bandwidth, and storage, are also variable, depending on your needs.
Cloudways uses a combination of caches and PHP 7.3 ready web servers. This ensures optimal performance at all times for your site. They also use an optimized stack. Their stack includes ready-to-use caches such as Nginx, Redis, Varnish, and Memcached. This delivers super-fast responses, even for larger sites.
Cloudways collaborates with some of the best cloud providers around. This helps them stick to their impressive uptime guarantee of above 99.9%. Page load times are extremely fast. This is vital for search engine optimization (SEO). This also gives them a valuable edge for those all-important Google rankings. Not to mention customer satisfaction!
SiteGround also has a reputation for high speed, thanks to their SSD drives. Like Cloudways, they also offer different plans. This means you can choose one according to your traffic and storage requirements.
Overall, Cloudways is the winner in this category. This is mainly due to their superior page load times. They also handle high traffic volumes better than SiteGround.
Security and Backups –
( Cloudways – Wins )
Security should be a core consideration for a web hosting software provider. Ensuring your website remains safe and accessible is critical to maintaining your website.
Both SiteGround and Cloudways are managed services. This means that security protocols are advanced with both options.
Cloudways offers managed security on its hosting plans. This includes routine security patching and dedicated firewalls to keep your website secure. SSL certificates are also provided for free for users.
Auto-healing functions work to address any issues before they can cause problems. They also have two-factor authentication to reduce the risk of your site being hacked.
Security is provided via firewalls and security upgrades from SiteGround. Servers are constantly assessed for safety and any issues addressed.
It is worth noting though that anti-malware tools are not provided as standard. SiteGround offers daily updates, with automatic setup available for most customers. However, on-demand updates are not available unless you have a premium package.
WordPress users can install one-click SSL certificates free of charge with SiteGround. Cloudways and SiteGround often have many of the same security protocols. However, Cloudways is the marginal winner in this category.
Customer Support –
(SiteGround – Wins)
Both Cloudways and SiteGround have invested in high-quality support for their customers. We will start with Cloudways.
Cloudways has a fantastic customer support team available at all hours of the day. You can always reach a member of the Cloudways support team, no matter which time zone you are based. A FAQ portal, known as the knowledge base, can locate answers to commonly asked questions. This guide is also useful for completing tasks and learning to use the software.
The simplest way to contact the support staff is via live chat, but they are also available via email. There is also a ticket tracking option if you want to log a technical issue.
Telephone support is only available on the higher-priced plans, or as an add-on.
SiteGround also has a well-regarded customer service team. Their reputation is for fast and efficient response times. Staff are well trained and knowledgeable and can help to solve most problems in a matter of minutes.
Like Cloudways, SiteGround offers email, live chat, ticket, and telephone support. The difference here is that SiteGround offers telephone support to all customers. The company aims to solve all issues in as little time as possible and in a way that is convenient.
Again, there isn't much difference between the two – but SiteGround just clinches it.
Cloudways vs SiteGround: Customer Reviews –
( Cloudways Wins)
Customer reviews online always need to be taken with a pinch of salt. Not every blog and post is a fair assessment of the company. We are looking at Trustpilot and TrustRadius which are both trusted sites.
Even so, it is useful to refer to customer reviews on trusted review sites. This will give us a well-rounded view of feedback from other existing customers.
Cloudways has over 900 reviews on Trustpilot. They have an impressive rating of 4.8 out of 5 stars at the time of writing. Meanwhile, on TrustRadius, Cloudways has another good ranking of 9.4 out of 10 stars. Bear in mind that this is only based on 7 reviews to date.
SiteGround has over 8,600 reviews on Trustpilot. They are also doing well with a rating of 4.7 out of 5 stars at the time of writing. However, the company has only got 23 reviews on TrustRadius to date. Therefore, the rating of 7.6 out of 10 is only reflective of feedback from a small number of users.
The winner in this round is Cloudways! The difference in the feedback is negligible when you look closely at the number of reviews.
Money-Back Guarantee –
( SiteGround – Wins )
Money-back guarantees mean you won't lose out if you're not happy with the service. Cloudways does not offer a simple money-back guarantee.
They actually have a very complicated service user policy. The policy indicates the circumstances in which a refund might be possible. You can access a short 3-day trial (no credit card required) with no obligation to buy. But, there is a good reason for this lack of money-back structure.
Because the Cloudways plans are pay as you go, you can cancel at any time. This is arguably better protection than a money-back guarantee. SiteGround has a 30-day money-back guarantee for shared hosting plans.
They also offer a 14-day money-back guarantee for cloud hosting plans. This is great for peace of mind if you would like to test the service but not commit long term.
Overall, Siteground wins this round!
Migrating From Another Host –
( Cloudways Wins )
If you are looking to switch from another hosting provider, you will want to know that the process will be stress free.
The good news is, both companies make this very easy!
SiteGround has an automatic migration plugin for WordPress users, so you can migrate your WordPress site in minutes! Alternatively, if you don't feel confident doing this yourself, you can request a professional manual migration. This involves filling out a quick form and paying for the service. After that, your site will be professionally migrated by one of SiteGround's experts.
Cloudways provides a migration service too, and they will migrate your first website free of charge. The migration process with Cloudways is super easy. After talking to one of their team, your site will be migrated with no downtime. As a result, the migration process is completely hassle free!
Overall, the winner of this round is Cloudways! Cloudways' professional migration service is completely free for your first site.
Cloudways vs SiteGround – The Pros and Cons
Let's look at some of the unique pros and cons that Cloudways and SiteGround have. This may help you identify weaknesses that could cause a problem to your business.
Pros and Cons of Cloudways
Pros:
Industry-leading servers
Free SSL Certificate
Choose the cloud provider that suits you
Round-the-clock customer support
Good value for money and pay-as-you-go pricing
Global coverage
Free migration for your first website
Almost 100% uptime
Free 3-day trial – no credit card required
Innovative Control Panel
Tutorial library
24/7 Monitoring
Phone Support (premium add-on)
High-Speed Performance
Automated Backups
Cons:
No unlimited data transfer
Navigation can be too technical
No unlimited email
No access to cPanel – You will have to learn their custom-interface
SiteGround Pros and Cons
Pros:
Ease of use.
Regular backups
Free SSL
Shared hosting plans
Email hosting with unlimited email accounts
One-click install for a WordPress website
Customer service has excellent feedback from customers
First-year discounted prices with up to 70% off
Cons:
Renewal prices are high
Doesn't offer truly global coverage
Customers report migrations can be slow
Can't choose a cloud server
No Windows hosting available.
Cloudways vs SiteGround: Plans and Pricing
Let's take a look at the all-important costs. Here we will look at the pricing of Cloudways and SiteGround so that we can assess the best value for money.
Cloudways Pricing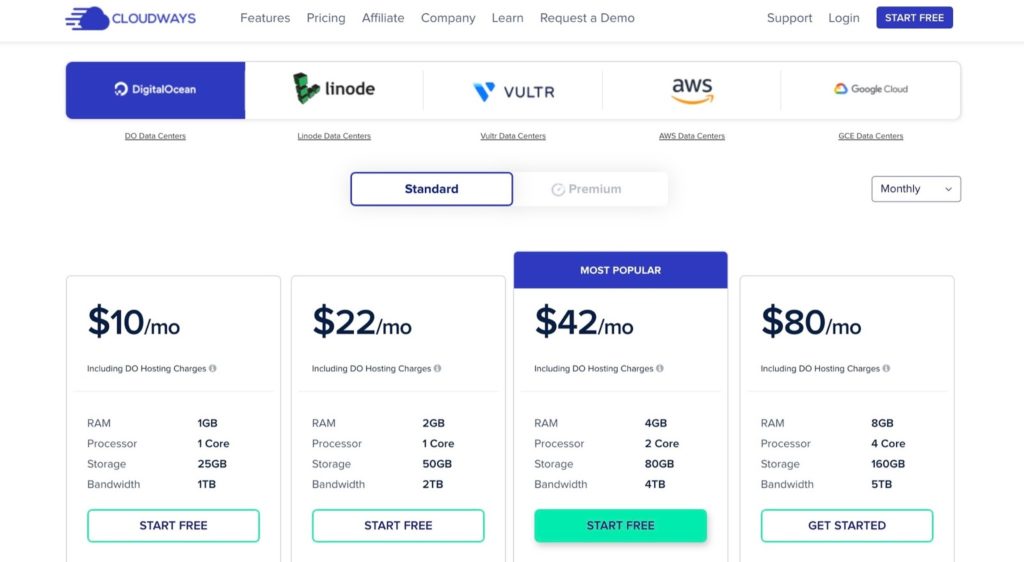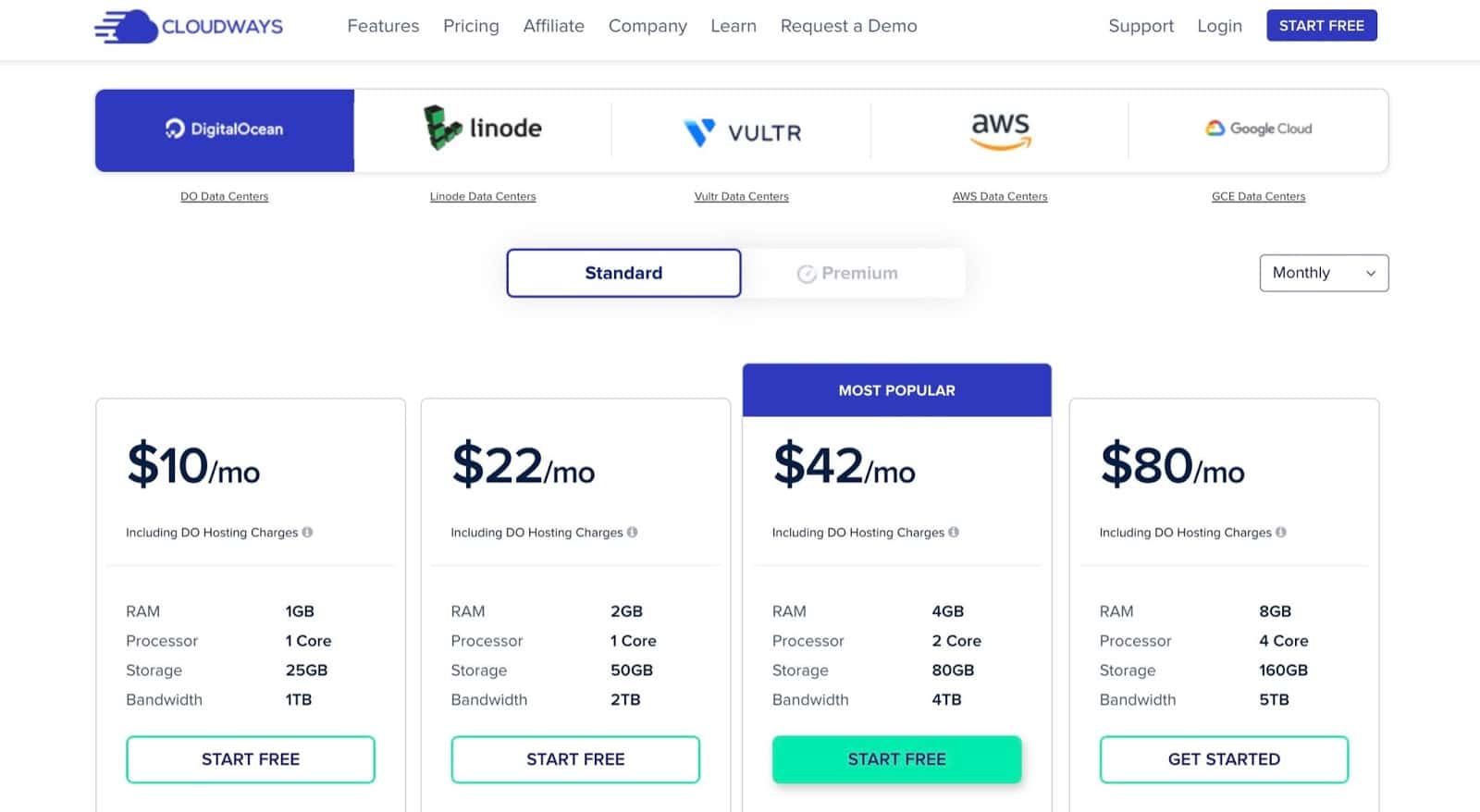 One of the reasons Cloudways is so popular is their flexible pay-as-you-use plans. Prices start at $10 per month up to $80 for more RAM, storage, and bandwidth.
These plans would accommodate almost all business websites. Once registered, it is simple to upgrade and downgrade your plans as your needs change. Costs include iO hosting, SSL, and 24-hour access to the support teams.
They also include free migration of an existing website. There are five cloud infrastructure options available. You can choose from Google Cloud, AWS, VULTR, Linode, and Digital Ocean. Each infrastructure has its own pricing. This allows you to choose from a range of different services and extras.
SiteGround Pricing
SiteGround offers a variety of different hosting packages. You can choose from managed WordPress hosting, dedicated server hosting, web hosting, WooCommerce hosting. They also offer Cloud Hosting plans.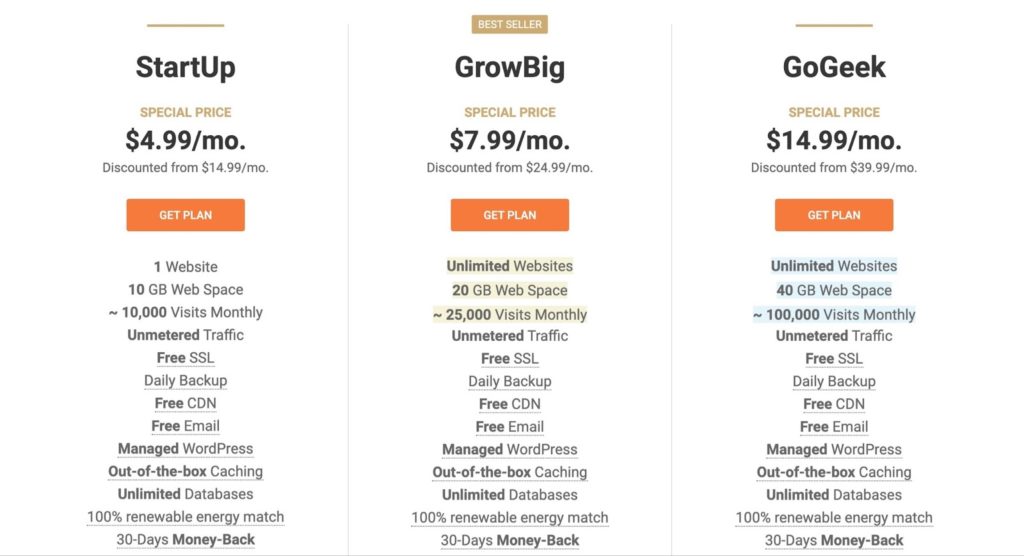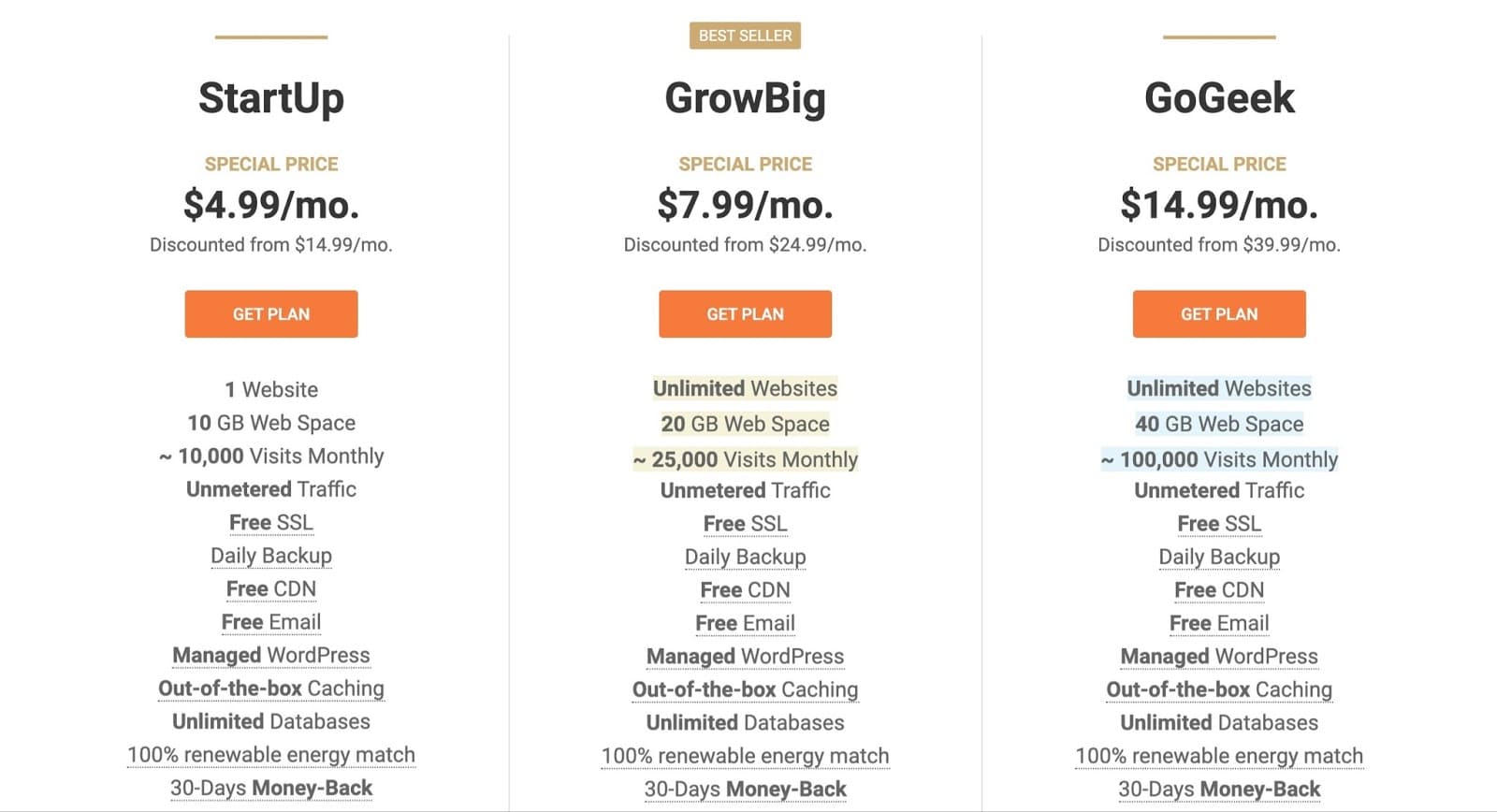 Here, we're going to take a look at SiteGround's web hosting plans. SiteGround's price structuring is arguably easier for a non-tech person to understand. They offer three main plans. StartUp, GrowBig, and GoGeek.
Firstly, we have the StartUp plan. The StartUp plan costs $4.99/month, which goes up to $14.99/month when your plan renews. This plan includes 1 website, 10GB of webspace, and is suitable for about 10,000 visitors a month. It includes unmetered traffic, and a free SSL. Daily backups, free Cloudflare CDN, out-of-the-box caching, and free email and also included.
Next up is the GrowBig plan. This plan starts at $7.99/month and goes up to $24.99/month at renewal. This plan includes everything from the StartUp plan. It also includes 20GB of webspace and 25,000 monthly visits. It also allows you to create unlimited websites.
Finally, we have the GoGeek plan. This plan starts at $14.99/month and renews at $39.99/month. This plan includes everything from the GrowBig plan. It also includes 40GB storage, and 100,000 monthly visits.
As with Cloudways, it is simple to upgrade your plan if your traffic increases. Although SiteGround doesn't offer a pay-as-you-go plan, there is a 30-day money-back guarantee. That means you can trial the service and cancel if you wish.
Cloudways vs SiteGround: The Verdict – Cloudways Wins!
Now that we have compared both companies side-by-side, what is the conclusion?
It's a victory for Cloudways!
The most important categories – speed, cost, and security see Cloudways come out on top.
Although SiteGround offers world-class customer service, they can't compete in other areas. So when it comes to offering a fast, reliable, and secure service, Cloudways is the clear winner.
Speed is another area where Cloudways really stands out. Their world-class server infrastructure means that Cloudways' site speed performance cannot be beaten. Including by SiteGround who also offers industry-leading speeds. Unfortunately, they can't compete when it comes to traffic-heavy sites.
On price, Cloudways offer more for the same price. On the more expensive plans, Cloudways has higher space GB for customers. Plus, you don't have to factor in a renewal price and the loss of the introductory rates.
SiteGround has plenty of useful features too. For instance, their email service, daily backups and updates. They also have a responsive customer support team. So if these things are important to you, then you might want to consider using SiteGround.
Want to check out Siteground? Head over to Siteground.com to see their plans in more detail.
Do you think Cloudways is a better choice for you? Visit their website here to find out more about what they have to offer.
Related articles
The following two tabs change content below.
Jamie Spencer
My name is Jamie Spencer and I have spent the past 10 years building money making blogs. After growing tired of the 9-5, commuting and never seeing my family I decided that I wanted to make some changes and launched my first blog. Since then I have launched lots of successful niche blogs and after selling my survivalist blog I decided to teach other people how to do the same.
Latest posts by Jamie Spencer (see all)