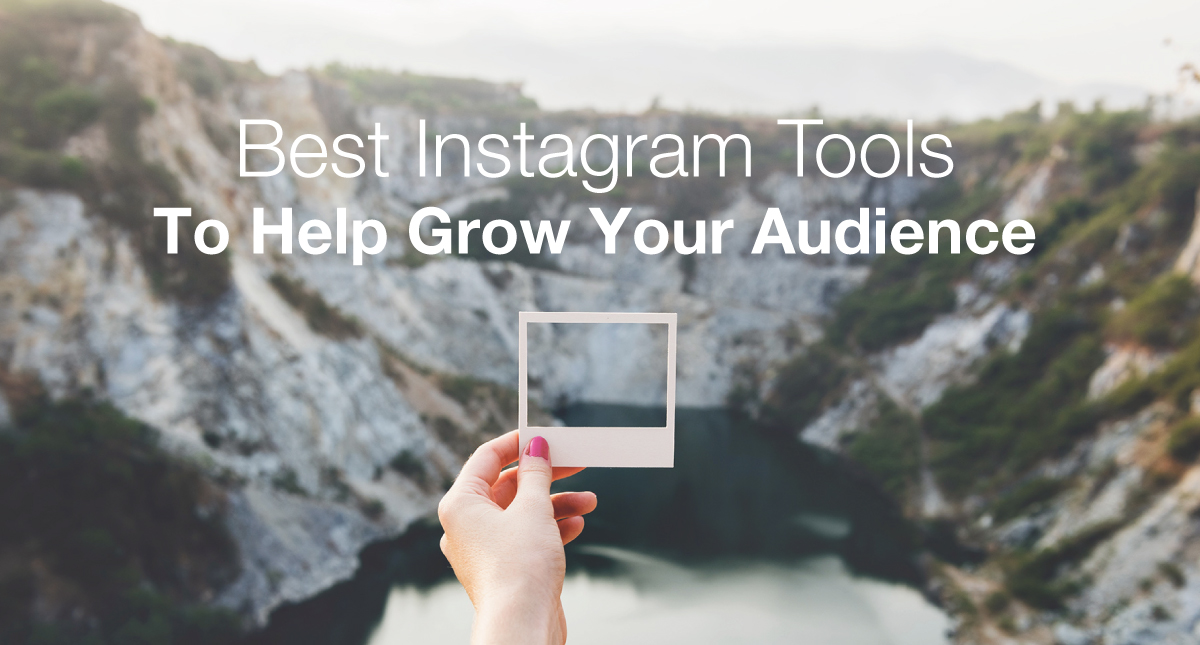 Grow your audience with the help of some of these Instagram tools
Ah, the world wide web. A place where, knowing your success can hinge on your social media presence, it is very easy to feel like a small fish in a big pond. If you are feeling overwhelmed at the prospect of building an internet following, don't resign yourself to 'minnow' status just yet; there are plenty of applications designed to help you market yourself to the world.
We are here to give you the lowdown on our top ten tools to improve your Instagram's popularity and boost your business, personal brand or just your own personal accounts.
Wait, you might be thinking, Instagram?
Yes, the site once famous for viral photos and teenage girls flashing their best duck face has become an excellent tool for networking, marketing, and even for selling products.
Analysis, Marketing, Scheduling and Networking
Figuring what to post, who to follow, what hashtags to use, and even when to upload content can be a vital part of connecting with the right audience. Since it is not exactly practical to while away your days scouring Instagram for trends and blindly following people in the hopes that they will follow you back, let's take a look at some tools that do the heavy lifting for you.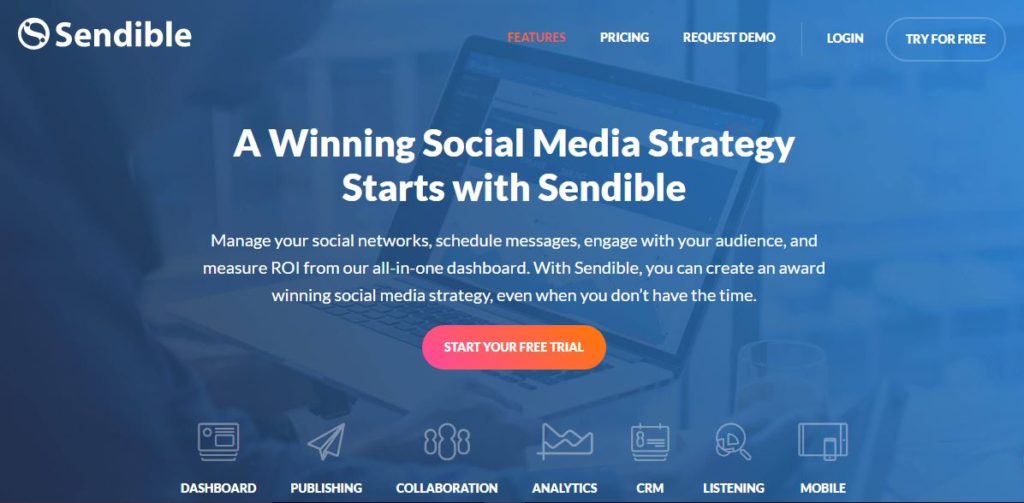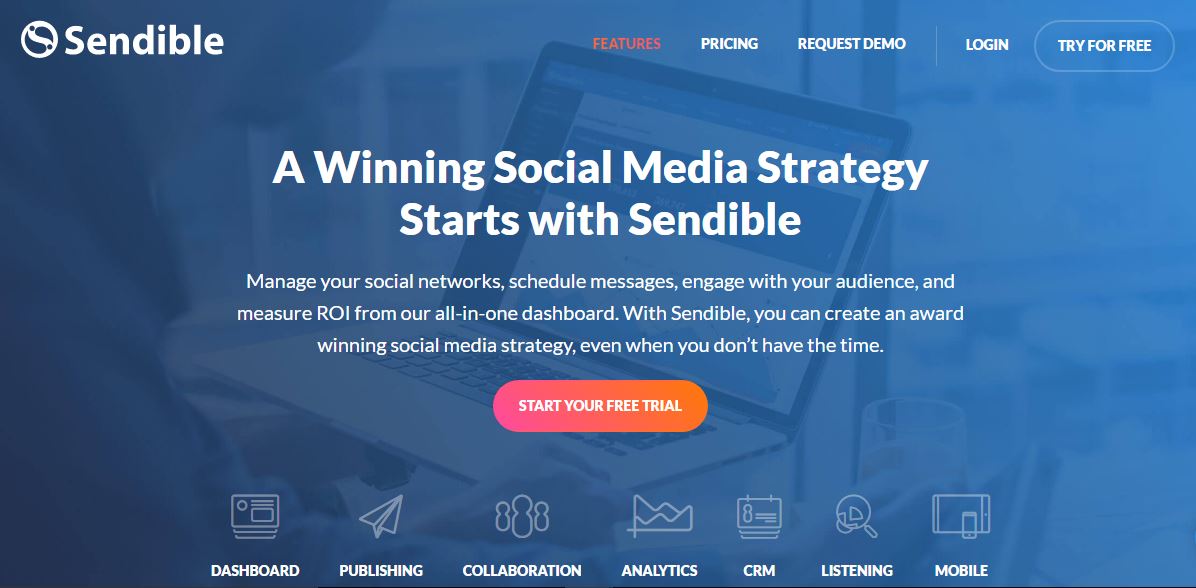 A popular leader among social media management tools and one that is a real contender to Hootsuite's throne, Sendible provides you with the ability to run accounts on different platforms (e.g. Facebook, Twitter, Instagram, and others) from one convenient dashboard. You can schedule posts, easily manage and track collaborative projects among your employees, and streamline the way you receive feedback from your posts.
Sendible is unique in several ways, the most notable being the array of social media platforms with which you can connect. Aside from Instagram, you will be able to access Twitter, Facebook, LinkedIn, Tumblr, WordPress, and numerous others, from the dashboard.
Sendible also shines in how it works with other online programs. For example, its collaboration with Canva allows you to design and post your unique creations seamlessly.
Connecting your Instagram and other social media accounts to this online tool is a quick and straightforward process. After clicking the appropriate icon, you will be prompted to enter in some basic information, and then you are off to the internet races.
Once you have all of your accounts linked to Sendible's dash, your online world will open up. This tool can generate detailed analytics reports within minutes, while some other applications can take an hour or more.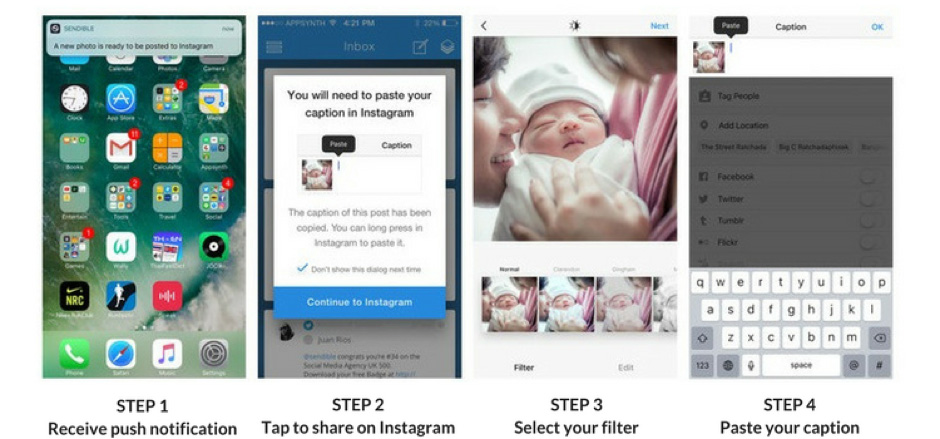 Whether you are creating reports for clients or for your own personal reference, Sendible can tell you how many people you are reaching, which posts are your most popular, the rate of the growth of your audience, and even determine the optimal time to post content during the day. You can generate reports for each account individually, as well as get the statistics for all your social media accounts combined.
All in all, Sendible is pretty great if you are looking for one-stop shopping for managing your online profiles and not just an Instagram scheduler.
Mobile App Available: iPhone & Android
Free Trial: Yes – Sign up here
Plans: $$ – $$$$$ / Billed Yearly
Customer Support: Live chat, phone, and e-mail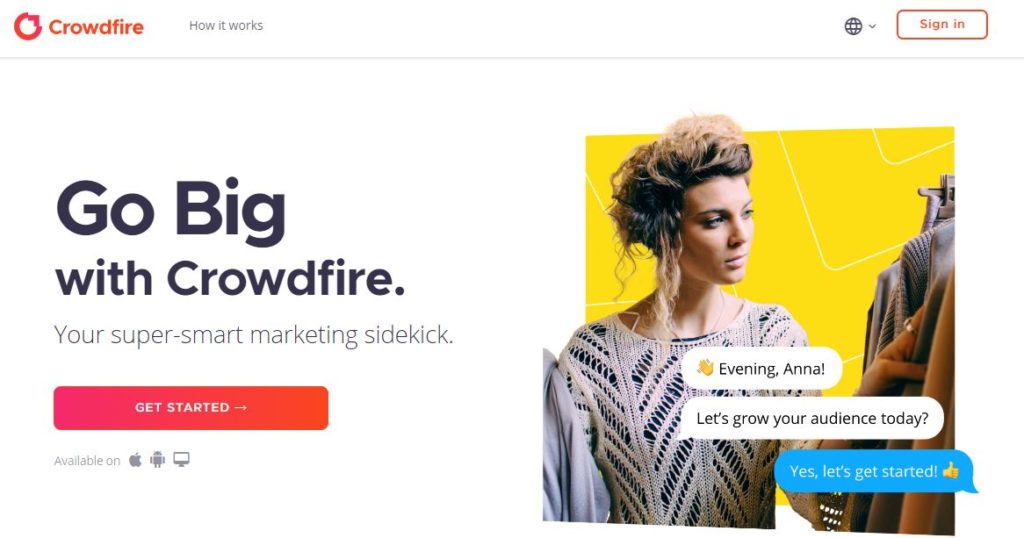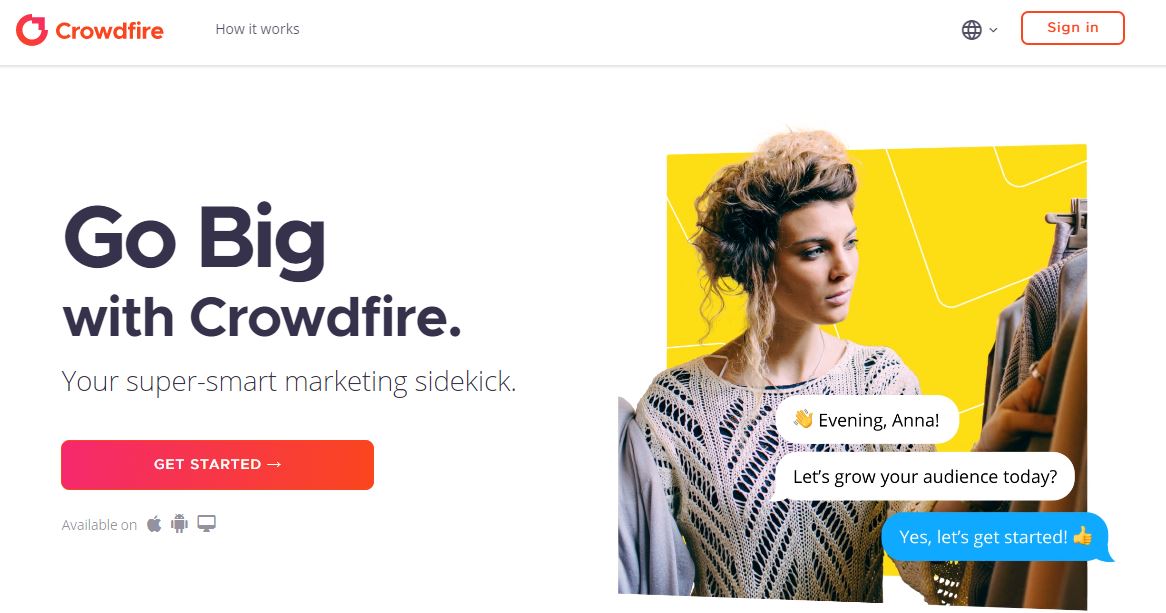 This A.I. driven tool is easy to set up, so you will have no problem adding your social media accounts. Once you connect your Instagram profile, you will receive notifications of any new followers you gain, as well as of those you lose. If you have followed a user, but he or she neglected to return the favor, this program will automatically unsubscribe you from that account. With these features, your contacts will always be relevant and organized.
Crowdfire can suggest hashtags to bring more viewers to your page, and even help you monitor the competition so that you can make sure you always have an online edge.
Mobile App Available: iPhone & Android
Free Trial: n/a
Plans: Free – $$ / Billed Monthly
Customer Support: Ticket, Live Chat, E-mail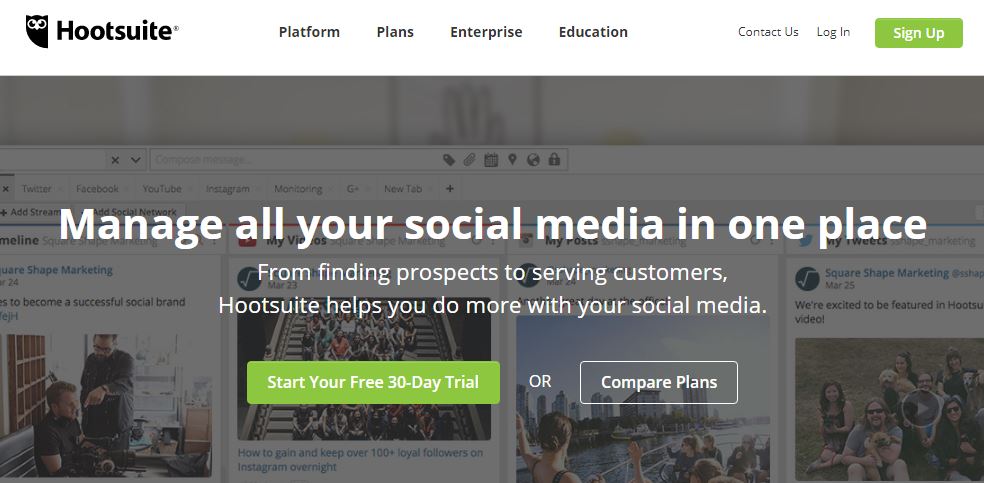 With three monthly plans, Professional, Team, and Enterprise, Hootsuite can simplify your social media experience and expand the reach of your brand on Instagram, although services like Sendible offer a far superior offering to Hootsuite.
From its convenient dash, you will be able to examine businesses that are similar to your own. By looking at their existing hashtags and successful posting strategies, you will likely be able to incorporate that into your own marketing plan in order to reach a broader audience.
Hootsuite also allows you to analyze the strong and weak points of your profiles, easily reply to customer comments across your social media pages, and schedule posts. It's worth noting that while you can schedule Instagram posts, you will still have to authorize them, as per Instagram's TOS. Luckily, this is simple enough; Hootsuite will send you a push notification to approve. Just make sure you have Instagram on your mobile device.
This tool will also help you keep an eye on what customers are saying about your brand, allowing you to improve in any areas receiving negative feedback.
Mobile App Available: iPhone & Android
Free Trial: Yes (Team and Professional plans)
Plans: $ – $$$$$ / Billed Monthly (Enterprise Plan requires you to contact the company for a quote)
Customer Support: One on One training (Team Plan), Live Chat, Twitter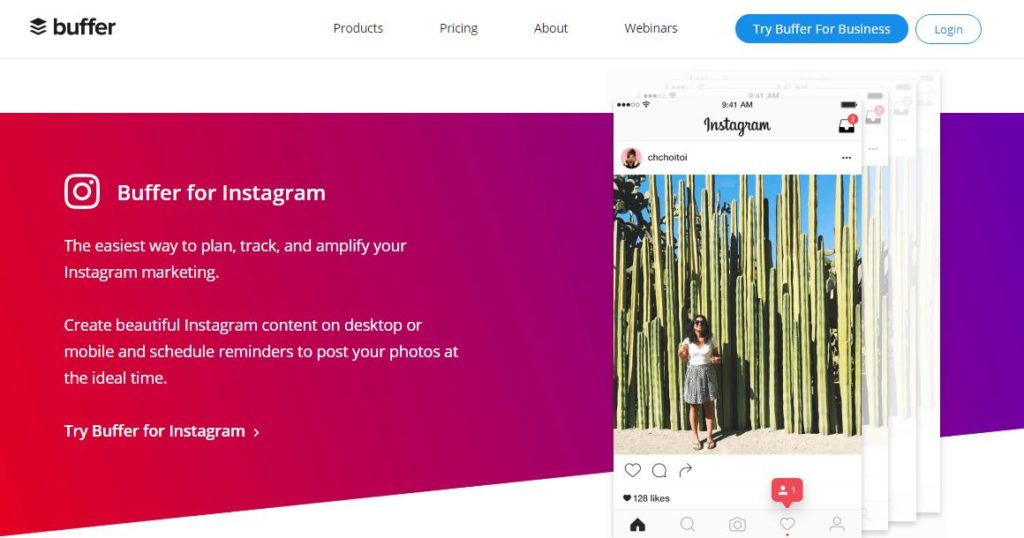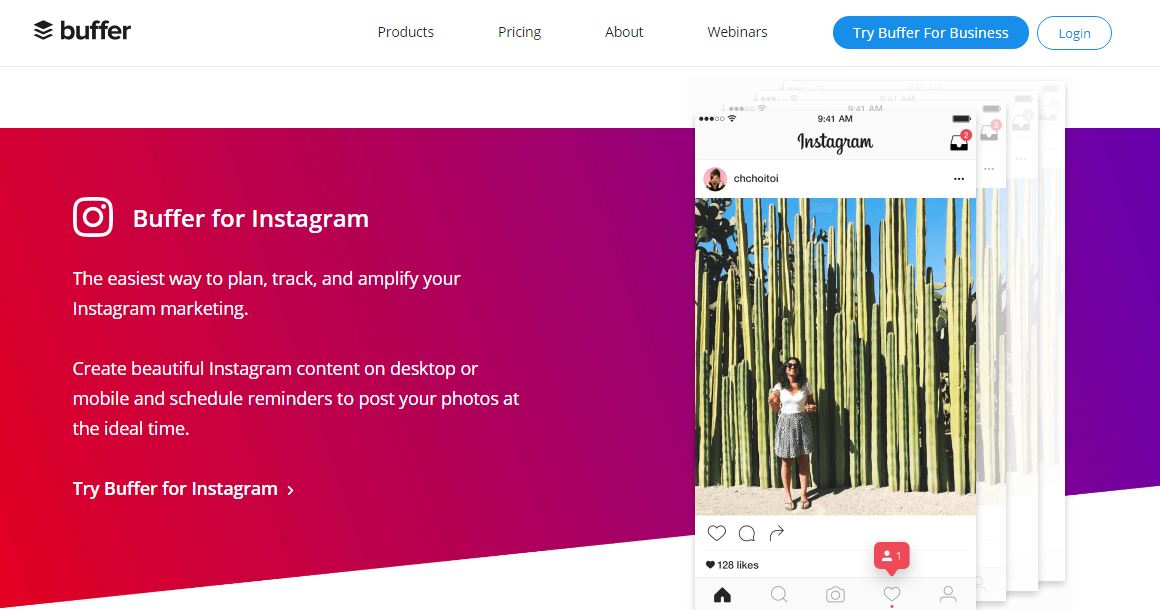 Offering a freemium option, as well as several subscription plans, Buffer condenses all your social media platforms into one streamlined dash. You can schedule your Instagram posts, which you then authorize through a push notification, obtain statistics on your accounts' growth, and easily view how your audience is engaging with your brand.
It is easy to create a consistent Instagram presence by planning posting reminders for yourself and collaborating with other users or employees who have access to your account. However, it currently lacks that ability for you to interact with your followers directly from its dashboard.
Mobile App Available: iPhone & Android
Free Trial: n/a
Plans: Free – $$$$ / Billed Monthly
Customer Support: E-Mail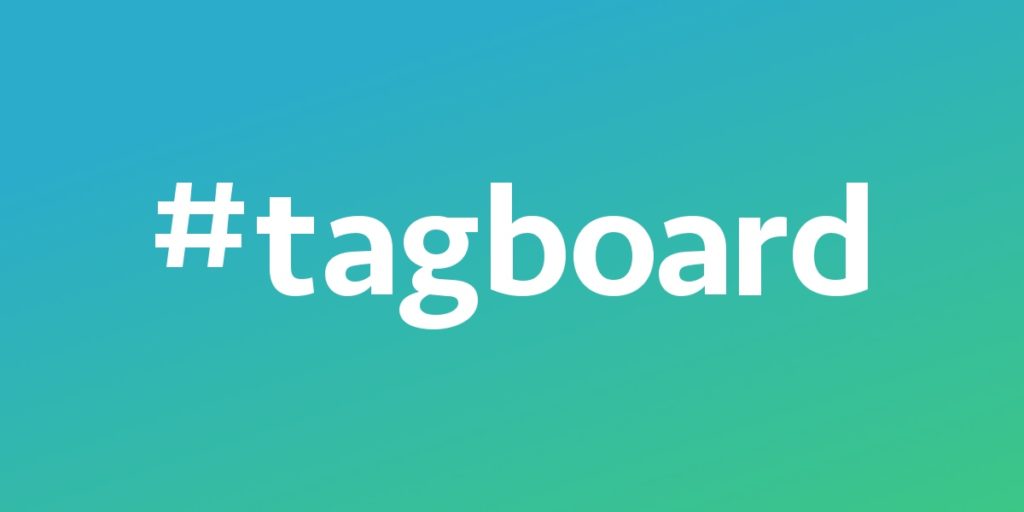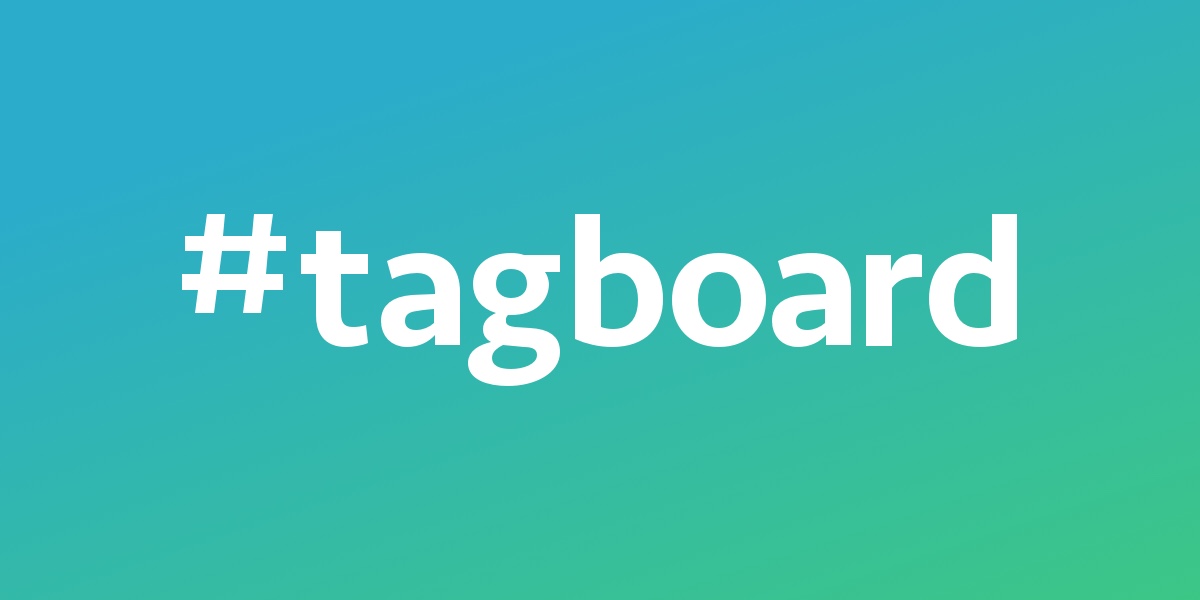 Whether you are on your mobile device or computer, Tagboard is designed to filter through Instagram's content and identify relevant and popular postings. On the flip side, you can also block sites and users that you don't approve of so that you won't stumble upon their content.
If you are having trouble picking hashtags for your posts, you can run a search for items similar to that which you are posting and view their popularity. You can repost or share followers' favorite content, allow multiple employees to access your account, and you will receive an automatic notification if a social media site features you.
Tagboard extensions, designed to work with Google Chrome, Hootsuite, and Eventbrite, make it a user-friendly tool as you navigate through the social media jungle. Some add-ons, such as the ability to have polls on your site or run an analysis on ROI, cost extra and each feature must be bought one at a time.
Mobile App Available: iPhone & Android
Free Trial: No
Plans: $$$-$$$$ / Per Event (annual pricing available)
Customer Support: Live Chat, E-mail, One Site Support (available through add-on purchase)


Although relatively new to the social media management market, eClincher brings quite a few features to the table for Instagram. Its simple design makes this Instagram scheduler very user-friendly, so scheduling posts, monitoring hashtags or keywords, and recycling your most popular content is a breeze.
It includes a basic analytic section for you to monitor how your social media pages are performing, but more in-depth reports require payment. Another feature incorporated into their second-tier and up plans is a unified inbox, so you can respond to messages without jumping from account to account.
Mobile App Available: iPhone & Android
Free Trial: Yes
Plans: $-$$$$$ / Billed Monthly or Annually
Customer Support: E-mail, Phone, Ticket, Live Chat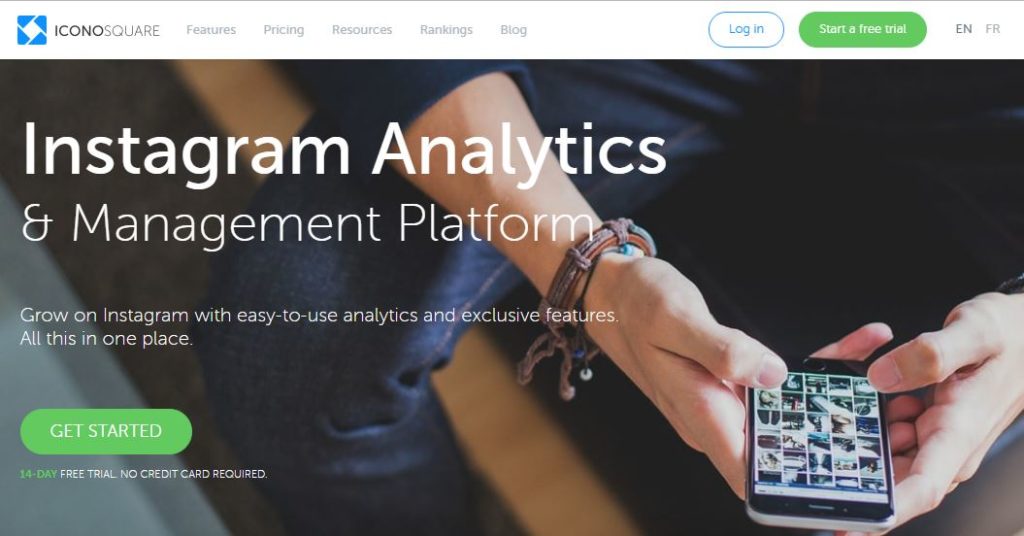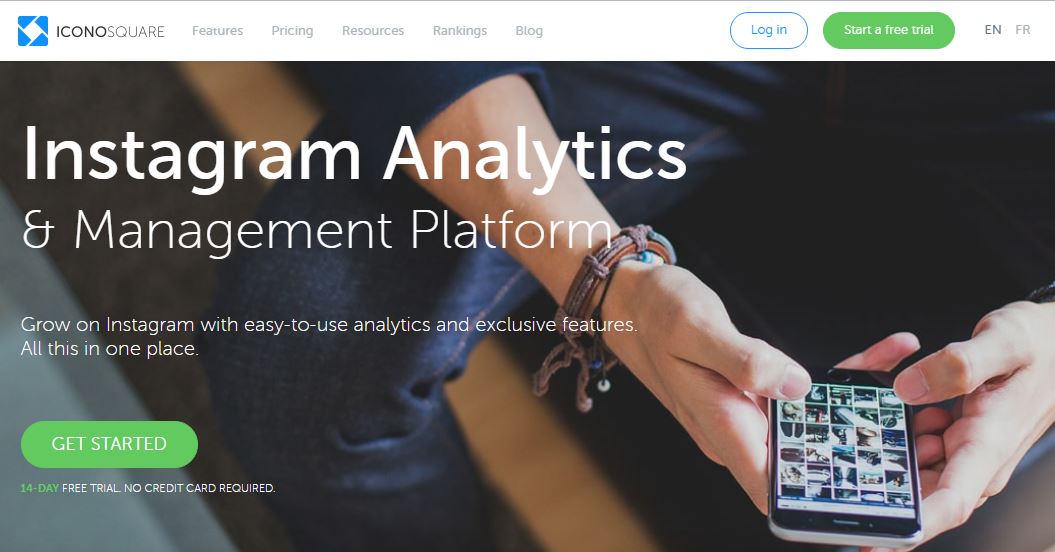 Available in over 30 languages, this internet tool boasts a large Instagram search engine, a user-friendly platform, the capability to respond directly to comments on your page, and much more.
The ability to engage with Instagram in such a well-rounded way can be extremely beneficial to building your audience. You will easily be able to find Instagrammers who are interested in topics relevant to your brand, see which hashtags are receiving the most attention, and view an analysis of not only your account but of other Instagram users' accounts as well.
Mobile App Available: iPhone & Android
Free Trial: Yes
Plans: $ – $$$ / Billed Monthly or Annually
Customer Support: E-mail, Phone, Ticket, Live Chat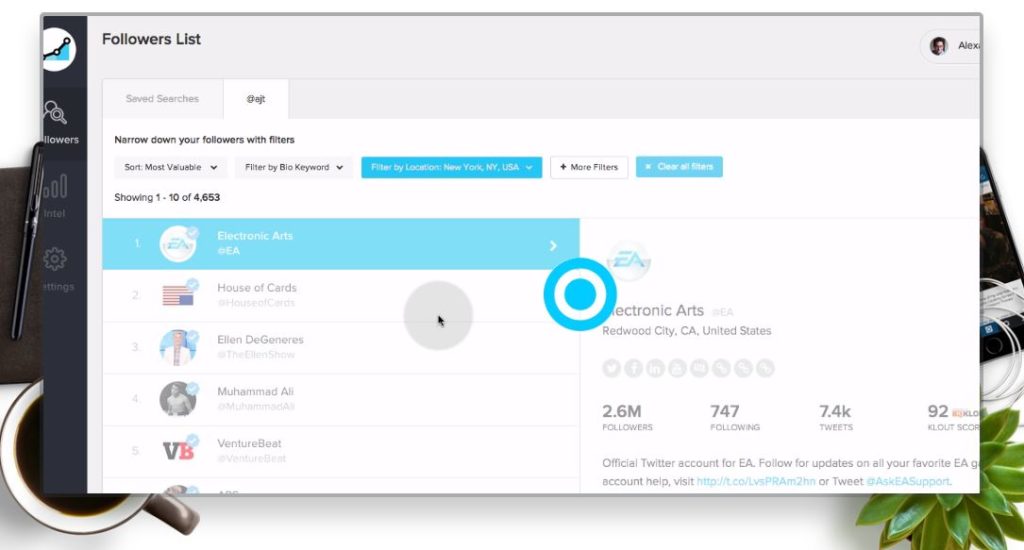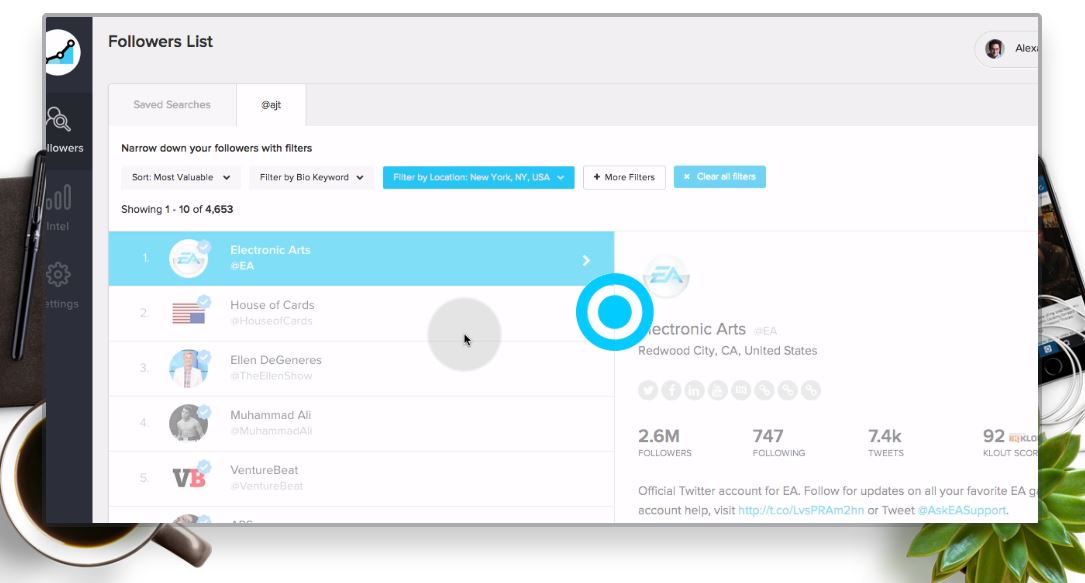 This tool allows you to track, sort, and categorize your followers. Find out who has the most influence on Instagram, who has been actively engaging with your brand and with what frequency, and who the verified users are on your follower list.
You can also search for bio keywords, hashtags, and more. All of this allows you to create an experience your followers appreciate and find relevant to their interests.
Mobile App Available: iPhone & Android
Free Trial: n/a
Plans: Free – $$$ / Billed Monthly (Contact company for Market Intel plan prices)
Customer Support: E-mail
E-Commerce & Instagram
Once you have a handle on engaging your target audience and monitoring your successes, you might want to utilize Instagram to make some actual sales. It is no secret that Instagram itself is a bit lacking in this area; you only get one hyperlink, and that is in your Bio section.
However, it offers such a great medium for posting pictures of your inventory that it would be a shame not to be able to allow people to buy right from your Instagram account. Luckily, these tools have that ability to do just that.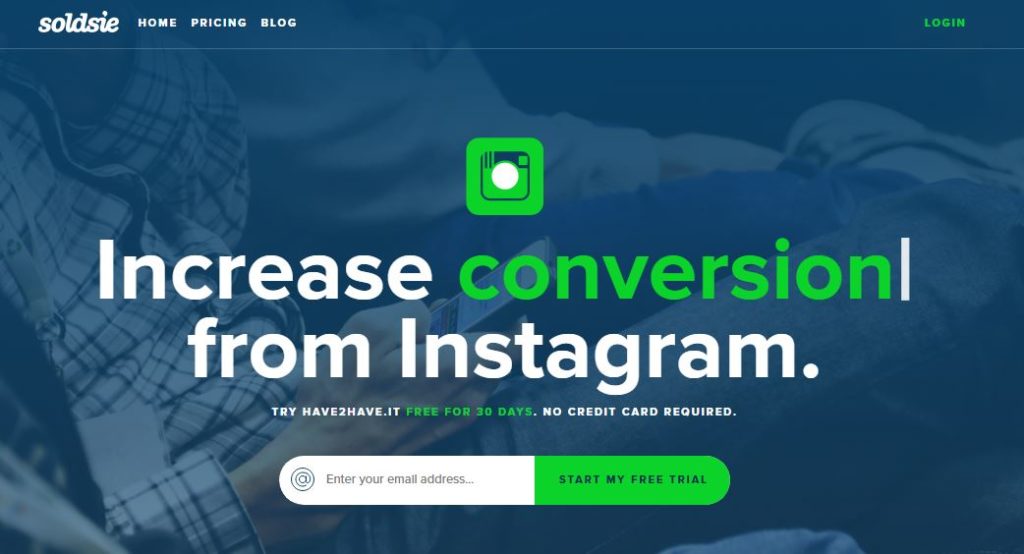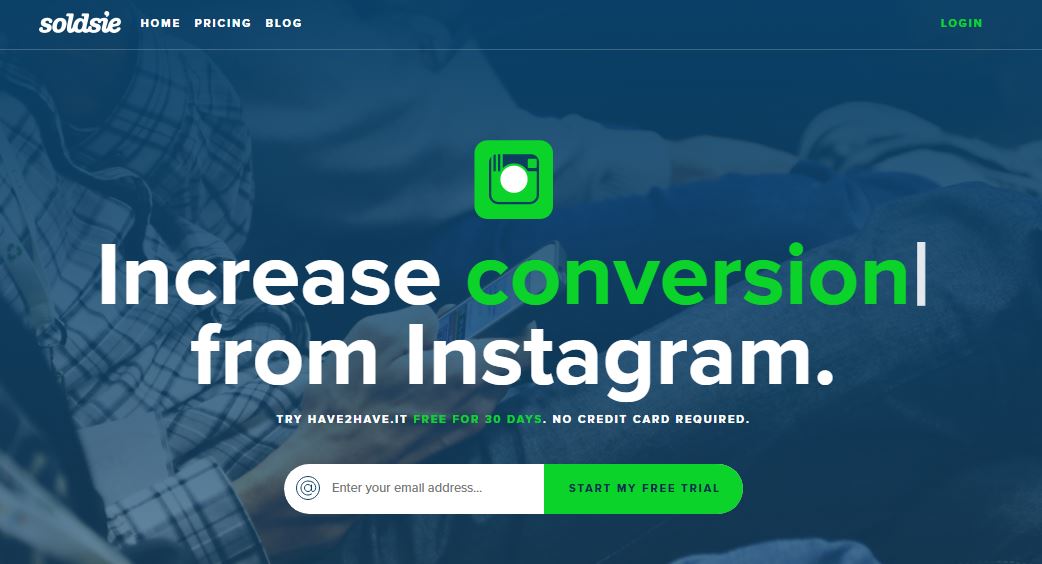 This web-based tool enables you to utilize comment selling on Instagram. You upload your product picture, along with any relevant selling information (price, size, etc.) and all a user has to do is write "Sold" in Instagram's comment section. At this time, the buyer will be automatically e-mailed an invoice and can pay their bill.
There are transaction fees, which go down as you purchase higher plan tiers, and it's worth noting that Soldsie will not mediate any purchase disputes between buyers and sellers.
Mobile App Available: n/a
Free Trial: No
Plans: $$-$$$$ + transaction fee / Billed Monthly (2400)
Customer Support: E-mail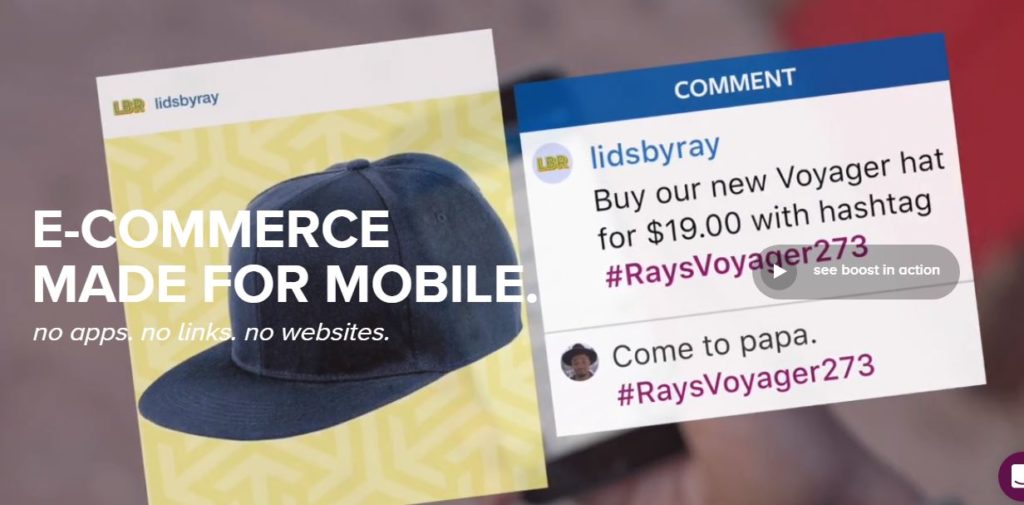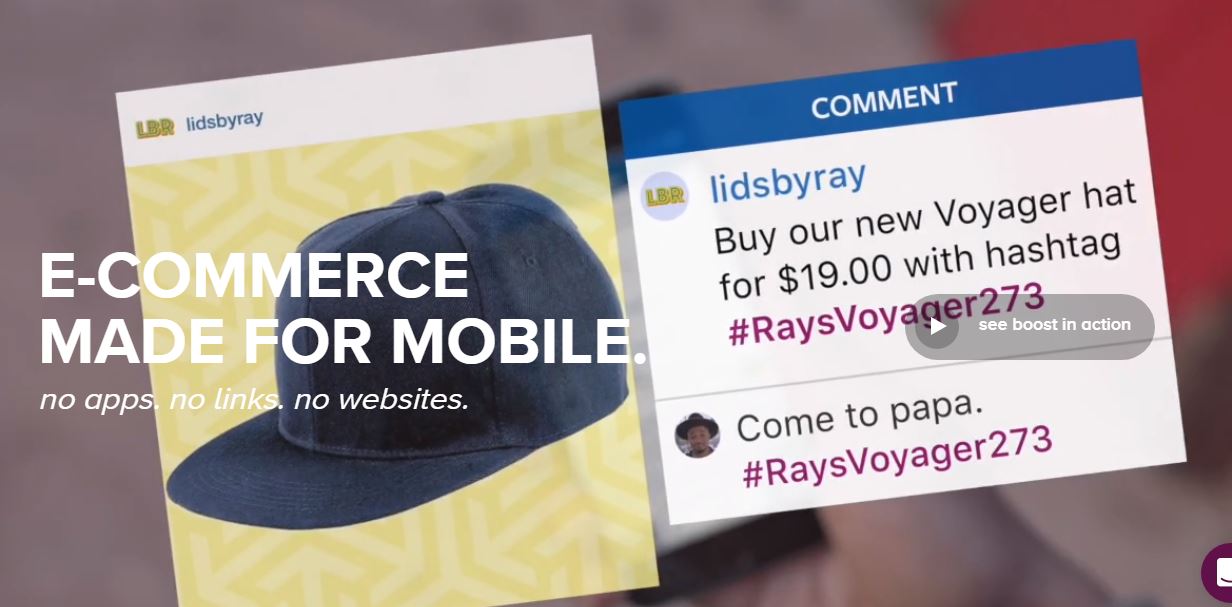 Accredited by the Better Business Bureau, this app allows users to buy straight in Instagram's comments. You come up with a hashtag for each piece of merchandise, which will be followed by a Boost-provided 3-digit number to ensure its uniqueness. When you post your product on Instagram, your followers can comment with that designated hashtag from their mobile devices or computers. They are then sent a text to confirm their order, you are notified, and your products are out the door in no time.
While there is a fee for sellers, buyers can sign up free to use this service.
Mobile App Available: n/a
Free Trial: Yes – Sign up here
Plans: $$ + transaction fee / Billed Monthly
Customer Support: E-mail
Last words on Instagram Tools
As the demand for a more streamlined and versatile social media managing experience grows, companies are taking notice and creating some great platforms. Anyone of these tools is sure to cut the time you have to spend organizing your social media sites in half, leaving you free to expand your business and maintain an active personal life. Whether you are looking to monitor trends, grow your audience, or sell your products, we are sure one of these Instagram tools will improve your social media presence.
Instagram is getting bigger and bigger by the year, especially for businesses.  Jump on this platform now, as its exactly the right time to do so. Instagram has more users than Twitter and are constantly releasing new features that will help businesses reach new audiences and increase engagement.
The following two tabs change content below.
Jamie
My name is Jamie Spencer and I have spent the past 5 years building money making blogs. After growing tired of the 9-5, commuting and never seeing my family I decided that I wanted to make some changes and launched my first blog. Since then I have launched lots of successful niche blogs and after selling my survivalist blog I decided to teach other people how to do the same.