In the past, work-at-home jobs were considered a luxury that was delegated to only a select few. Today, it's much more accessible. Thanks to advancements in technology and digital communications, getting a job that allows you to work from the comforts of home isn't so farfetched.
Virtual assistant jobs are one of the most popular online employment opportunities out there. It has the potential to become very lucrative and doesn't require any advanced degrees or certifications. Instead, these types of jobs allow you to take advantage of the skills you already have to help businesses and individuals who need it. Best of all, it's completely scalable.
Whether you're looking to start a side hustle or you want to become a virtual assistant full time, we're here to help. This guide will provide you with some valuable tips and tricks on how to get started in the business and nab your first client.
Disclosure: When you purchase products or purchases through links on this page, we earn some commission. This helps us to keep this site running. There are no extra costs to you at all by using our links.
Virtual Assistant Basics
First, what exactly is a virtual assistant? Virtual assistants are people who provide administrative or technical help to others. The type of work is quite versatile. Oftentimes, businesses and entrepreneurs need some extra assistance taking care of day-to-day tasks. Rather than hiring someone to become a part of their company, they will seek out help from virtual assistants.
The great thing about being a virtual assistant, or VA, is that you're not an employee for the person hiring you. Instead, you act as a self-employed independent contractor. The business who hires you for your work pays you for the services you provide and nothing more. This has several benefits.
First, you aren't just limited to one potential client. As an independent contractor, you're free to take on as many clients as you please. You can expand your VA business to fit your needs. For clients, hiring virtual assistants can help save money. Hiring an employee comes with considerable costs. Because they don't have to worry about paying employee taxes providing benefits, virtual assistant services are cost-effective.
As a result, many small businesses will seek help from virtual assistants. However, you may also find big corporations and busy individuals who want to take advantage of your services as well. It's a win-win all around.
Who Can Benefit from Becoming a VA?
Once you establish your VA business, you'll notice that virtual assistants come from all walks of life. It's a great way to earn a part-time income while you stay at home with family. Whether you're caring for children, elderly parents, or anyone in between, virtual assistant jobs provide you with the flexibility you need to balance your work and home life.
Many virtual assistants are also just people who want a bit more freedom. Instead of being tied down to one place, you can work from anywhere that has access to the Internet.
Do I Need Experience?
You don't have to have the administrative experience to start your VA business. In fact, many people go into this line of work completely green and hone their skills as they gain more experience. Obviously, having the right skill set can open you up to more job opportunities. But, you don't have to be a tech expert to get started. As long as you know how to use a computer, you're good to go.
There are plenty of free resources to gain more experience. Many sites offer courses on how to use popular administrative programs. You can easily pump up your resume as time goes on to earn more money.
What Types of Work Do Virtual Assistants Do?
Virtual assistant work covers a wide gamut of tasks. The type of work you'll be doing depends entirely on who you're working for and what their unique needs are. Here's a collection of some of the most popular services that virtual assistants offer. Many of them are in high demand and can be done by new virtual assistants with no experience. For a more comprehensive list of services, check out the Horkey Handbook VA course.
Customer Service
Many retail brands turn to virtual assistants for customer support. Tasks may include everything from answering questions about a product to processing refunds. Clients will typically provide virtual assistants with all the tools and information they need. Not everyone has a "customer service" personality, so these types of jobs are in very high demand. Depending on your client, you may have to answer phone calls, emails, Skype calls, and live chat messages.
Email Management
Email management services can be used by individuals and companies. We all know how frustrating dealing with a congested inbox can be. Oftentimes, there's more spam and useless messages than there are emails of importance. Virtual assistants can be hired to sift through all the unnecessary emails. Many VAs will create separate folders for their clients, making it easy for them to get to the emails that matter.
Social Media Management
If you love spending time on social media, why not get paid to do it? Social media management tools can help you offer a first class service to companies. Having a solid presence online can make or break a business. However, not every company has the personnel or know-how to manage accounts. That's where a virtual assistant comes in. Your tasks may include creating posts, responding to messages, and so much more. Some virtual assistants even move on to provide project management services for unique social media campaigns.
Website Management
Like social media, having a good website is a necessity for any modern business. While it may seem daunting to think about if you're not the most tech-savvy person, it's not as difficult as you may seem. One of the most profitable skills you can have on your resume is proficiency with WordPress. Most companies utilize this content management system. It's very user-friendly and easy to pick up. Once you learn it, you'll have all the skills you need to make blog posts, reply to comments, format copy, and maintain the overall site.
Some companies also hire virtual assistants with blogging experience. Bloggers know how to connect with audiences and keep them engaged. It's not uncommon for businesses to delegate all blog posting, proofreading, and content management tasks to someone who has a bit of experience with those tasks already.
Administrative Assistance
This type of service can cover many tasks. Generally, it covers all of the things an administrative assistant would do if they were actually in an office. You may have to create schedules, order supplies, make travel arrangements, and more. Some clients may also hire temporary work for data entry tasks and big projects. All of these administrative tasks can be done remotely, so it's one of the simplest jobs that companies will outsource.
Creative Tasks
If you're a naturally creative person, you can find some great VA work that utilizes your unique skill set. Many businesses go to freelancers whenever they need help with graphic design or copywriting. While some hire people for one-off jobs, companies who need help regularly will hire virtual assistants. You may be tasked to create graphics for websites, text for social media posts, scripts for a podcast, and so much more. As long as you're proficient in your craft and have all the necessary software to get the job done efficiently, people will take advantage of your services.
Money Matters
As we mentioned earlier, when you work as a VA, you're considered to be an independent contractor. You own your own VA business and provide a valuable service to clients. So, you'll get paid a bit differently than if you were an employee. How much do virtual assistants get paid?
This all depends on how often you work and what you can bring to the table. As of 2019, full-time virtual assistants make, on average, around $60,000 per year. As an independent contractor, you get to set your hourly fee. Most VAs make $30 or more per hour, though you could easily raise that price as your experience increases and you learn more skill sets.
Starting Your Virtual Assistant Business
Starting your own business doesn't have to be difficult. While most new companies require a lot of time to get established and find work, that's not the case with a VA business. All you need to do is figure out what types of services you'll be offering, market to your potential clients, and nab your first job. Follow the tips below.
Determining Your Skills
The first step in the process is figuring out what you can provide to clients. Consider all of your experience and create a service package that is of value to different clients. Do you have any experience working with office software? Have you had a job that required customer service skills? Do you enjoy spending time on social media? The answers to all of these questions can help you find understand what types of services you can offer to others.
Also, don't be afraid to expand. As we said earlier, there are many different resources on the web to help you learn new skills. Complete a few courses and learn how to make spreadsheets or use different types of professional software. These new skills can make you stand out during your job search.
Once you have figured that out, create a resume. Prospective clients are going to want to see a resume or list of skills that you are proficient in. As you gain more work and experience, you can update your resume to reflect that growth.
Understanding Who Your Clients Are
Another crucial step is understanding your clients. Understanding who you want to work for and what types of industries need your skills the most can help you market yourself to the right people. Consider who your ideal client is. Think about the hours you're available, what level of involvement you want, and how you prefer to communicate.
If you have experience in a particular niche market, you may want to see what types of services they require. For example, real estate agents may need administrative assistance or help managing listings. Retail companies typically need customer support specialists and freelance writers. Understanding who you want to work for can make a huge difference when you're searching for jobs. Businesses and individuals like to see pitches that are catered to them instead of a simple list of skills that could apply to anyone.
Create a Website
What better way to show off your technical expertise than a website? As a new online business that operates entirely over the web, having a high-quality website is crucial. It gives prospective clients a place to check out your work, learn more about who you are, and see what you have to bring to the table.
It doesn't take much to launch a website nowadays. Bluehost offers a range of shared hosting plans that are perfect for small business owners looking to establish an online presence. Their most affordable Basic plan only costs $2.95 per month + you get a free domain name.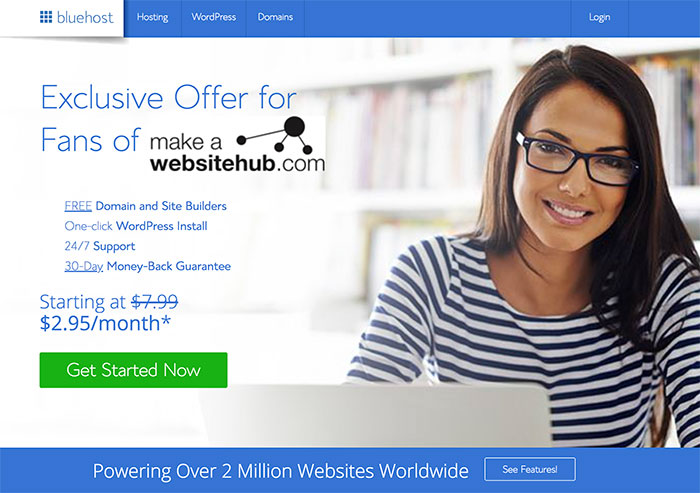 You can use WordPress to create a blog, host it with Bluehost, and advertise your services to potential clients. On your website, you can talk about the types of tasks you can do and provide a digital resume.
Use Social Media
Social media can be a very powerful tool for marketing your virtual assistance services. Make some posts to get the word out. You can also create a page that lists out all of the specific services you offer and how you can be reached.
There are many social media platforms that you can take advantage of. The most obvious would be LinkedIn. As a social media network for professionals, it's a place for businesses to find new talent. Create a page for yourself and provide a list of skills.
Other platforms can be used as well. A good way to learn more about being a VA and how you can improve your business is by networking with others. Join a virtual assistant Facebook group or forum. Making connections with other VAs can help you expand your business and get more clients.
Training from an Expert
Whether you want to become a virtual assistant full time or simply want to make some extra money on the side, the best way to learn all the ins and outs of the job is to get professional training. Gina Horkey is one of the most successful virtual assistants in the industry. After becoming a virtual assistant success story, she decided to help others who want the freedom and comfort these jobs provide.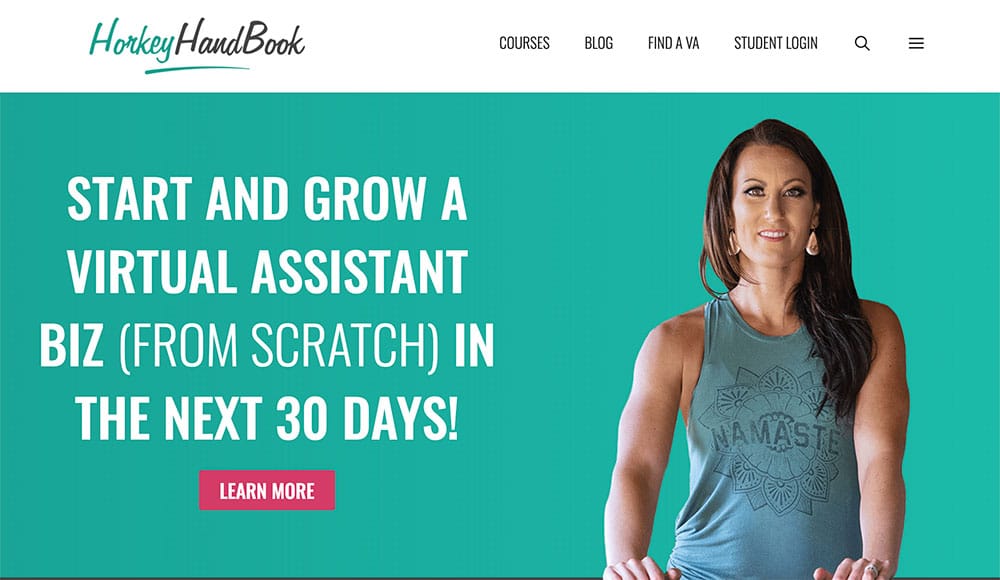 So, she created a step-by-step course. Called the Horkey Handbook VA course, this program covers every detail of being a virtual assistant to help you establish your business. It includes information about the services you can provide, where you can go to find some of your first jobs, and so much more.
If you want to make money as a virtual assistant quickly, this course is a great way to get started. Gina has made the course as simple as possible, making it accessible to anyone.
Learn More About Horkey Handbook
Finding Your First Gig
Once you have set up your website and have a clear idea of what you want to do, it's time to get your first clients. As a new business, you need to hit the ground running. You don't have a reputation just yet, so you'll have to reach out to businesses and individuals directly.
Freelance Platforms
There are a handful of sites that cater to freelancers looking for work. Platforms like UpWork make it very easy to connect with clients looking for virtual assistants. Most clients will provide some information about what they're looking for, programs that you need to be proficient in, and what hourly rate they will pay. Freelance sites are great for new virtual assistants. You can find jobs pretty easily, even if you have zero experience.
With all that being said, we recommend that you don't stick with these sites for too long. While they do make the process easier, they charge you for their services. UpWork takes a 20 percent cut of the first $500 you bill to clients. Not only that, but these sites are open to anyone. As a result, you can encounter scams and fake job postings. Use your time on the platform to build your reputation and make connections.
VA Firms
There are VA firms out there that you can work for. Essentially, they are large companies that hire you to provide your service to their clients. There are some major trade-offs. First, you can't control your hourly rates. Secondly, you are paid much less for your time and services than if you were to work for yourself. VA firms are a great place to gain some experience before you branch out on your own. Like freelance sites, we don't recommend staying with a firm for an extended period of time.
Local Businesses
Don't forget to think about small businesses in your area. Some of the biggest clients for virtual assistants are small business owners. Consider visiting small mom-and-pop shops. The idea of having a virtual assistant on hand is still relatively new. You may encounter small businesses who need help but didn't know that this type of service was offered.
Reaching Out to Potential Clients
It's not enough to simply wait for someone to contact you for work. The best way to nab a new client is to reach out to them directly. You can create pitches for clients that you want to work with. While there's no guarantee that a cold pitch will result in a job, it's better to be proactive than not do anything at all. Who knows, your pitch could result in a referral or lead.
Creating a pitch is much more involved than just writing an email that says, "Hire Me!" You need to make your services attractive and communicate with the client on a more personal level. It also needs to be professional and concise. Introduce yourself, talk about the services that you can provide, and direct them to your website for more information. It's as simple as that.
Conclusion
The need for virtual assistants is growing every day. Whether you're looking to make a career change or just want to some extra income while you stay at home to raise your children, becoming a virtual assistant may be the solution you're after. Check out the Horkey Handbook VA course for some more in-depth information about starting your very own virtual assistant business.
The following two tabs change content below.
Jamie Spencer
My name is Jamie Spencer and I have spent the past 10 years building money making blogs. After growing tired of the 9-5, commuting and never seeing my family I decided that I wanted to make some changes and launched my first blog. Since then I have launched lots of successful niche blogs and after selling my survivalist blog I decided to teach other people how to do the same.
Latest posts by Jamie Spencer (see all)