YouTube is not just a site for watching funny viral videos anymore. In the 18 years since the platform launched, I have witnessed the platform transform into a digital powerhouse. It's the second most visited website on the Internet and is the second most popular search engine. YouTube only comes second to Google.
Vlogging, or video blogging, is a YouTube mainstay. In the early years of the site, people simply used the platform to create video diaries for friends and family members. Today, it's a multi-million dollar industry. PewDiePie and Mr Beast, the most subscribed individual YouTubers of all time, reportedly each have an eight-figure net worth. All from creating fun gaming videos and content that people love to watch. Logan and Jake Paul are another couple of examples with a similar net worth, all stemming from humble YouTube beginnings.
The beauty of YouTube is that anyone can get started. Whether you're someone who simply wants to share their life with others or a business owner wanting to engage with your audience on a more personal level, YouTube is the perfect place to so.
While it may seem simple, establishing your channel and growing an audience takes time and a lot of dedication. In this step by step guide, I will give you the tools and know-how to launch your vlog and start gaining subscribers.
1: Understand Your Audience and Find Your Niche
It's not uncommon to hear some not-so-nice things about vloggers from those who aren't familiar with the world of YouTube. Because the platform is accessible to anyone, a lot of people have a hard time understanding why large amounts of people decide to follow particular content creators.
Truth is, vlogging on YouTube is a business on its own.
Some of the most successful vloggers are smart business people who cater to their audience's needs.
The first thing that you should do is figure out your niche and get a better understanding of who your vlogs are going to target.
Your niche is going to be the core theme of your channel. Are you going to focus on one particular topic or are you going to publish random videos? If you're looking to be successful, go with the former. Millions of video bloggers have tried to find success on YouTube. Yet, only a small number of them actually end up being successful. Why do you think that is?
Well, let's take a look at some of the biggest names on the platform. PewDiePie has tens of millions of subscribers. While he has expanded his channel a bit to include different kinds of content, his main niche is still gaming. He gained recognition by creating enjoyable commentary and showing his reaction to popular games. Eventually, that gaming niche became massive.
Then, we have beauty YouTubers. Vloggers like NikkieTutorials, RCLBeauty, and more have attracted attention by reviewing products and creating unique makeup tutorials that their followers can try out at home.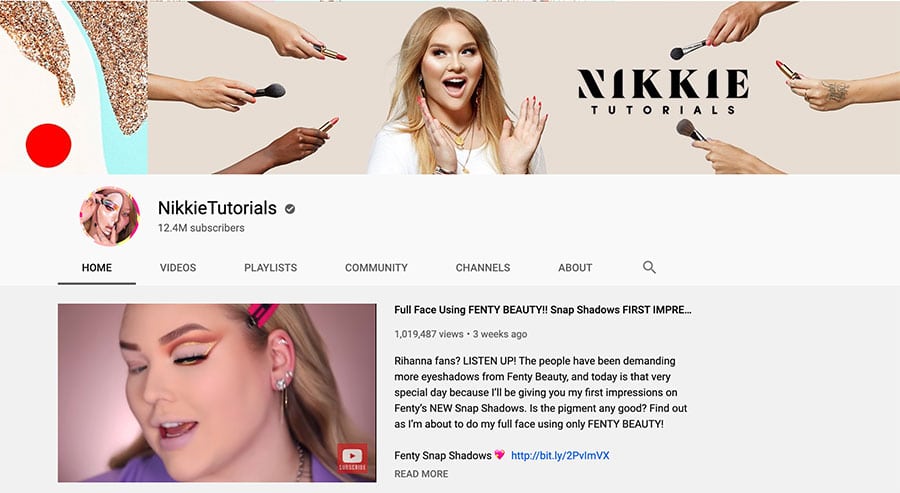 Those are just a couple of niche examples. Truth is, your niche can be anything. There's a lot of interest in crafts, travel blogs, art, and more. As long as there is a sizable audience that's willing to watch your vlogs, you can see success in any niche. Consider doing something that you're truly passionate about and will enjoy vlogging about.
If you're a business, you already have your niche covered. You can then start to think about branching out and learning more about how your company fits into the YouTube landscape.
The Importance of Knowing Your Audience
Once you have found your niche, you need to learn more about who your audience is and what they'll like. YouTube is a colorful platform and you're going to find a wide variety of video styles. The same fun and flouncy video style that beauty vloggers use are not going to cut it if your target audience is primarily middle-aged professionals.
To increase your chances of success, you have to cater your content to your audience.
2: Get Some Vlogging Inspiration
When you launch your channel, you have the opportunity to stand on the shoulders of giants. So, why not take a bit of inspiration from them? Take a look at all of your favorite vloggers and check out some popular channels that are related to your niche.
What are they doing well?
Is there anything that you can provide that audience that those video bloggers aren't?
The goal of gaining inspiration is not to become a clone-copy of another YouTuber. Viewers are looking for originality. They want a new take on the things they love.
That doesn't mean that you have to come up with an idea that has never been seen before. You just need to add your own personal touch that helps you stand out. Take some time to see what the platform has to offer and work from there.
3: Familiarize Yourself With the Platform
One of the biggest mistakes you can make is not understanding how YouTube works. There are thousands of examples of this on the platform. Big-name companies create tone-deaf content all the time thinking that it's going to be a hit with audiences. However, their lack of knowledge on the platform is plain as day. Ultimately, those videos end up getting lost in the shuffle and not seeing any success.
Spend some time familiarizing yourself with how YouTube works. Use the search engine and see what kinds of titles come up. Look at channel pages, thumbnails, and keywords. When you're watching videos, pay attention to how your favorite vloggers are promoting other videos through interactive links or subtitles.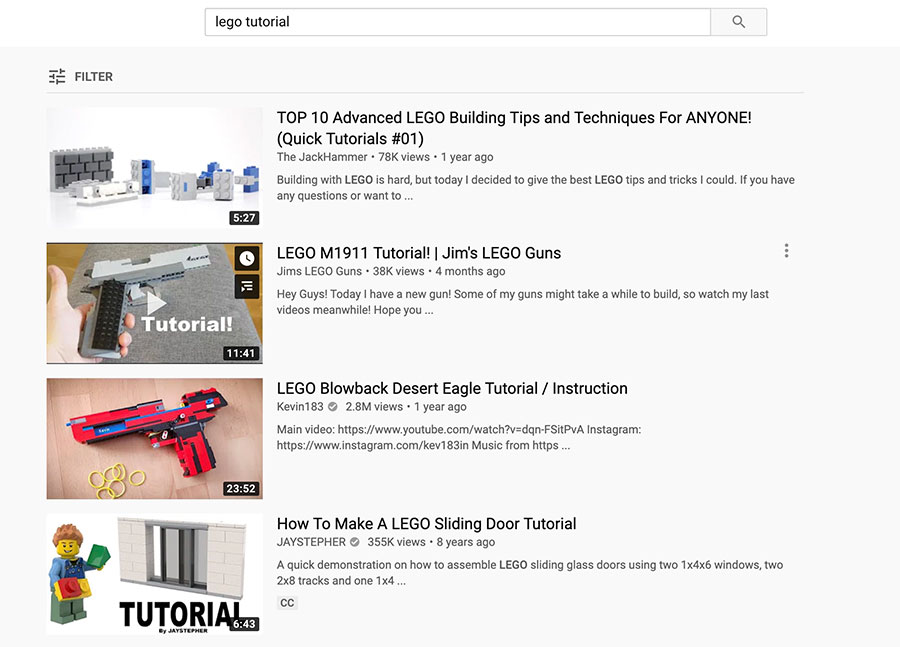 All of those fine details can make all the difference in the future. Understanding how they work now will give you the knowledge you need to start your channel off on the right foot.
It's also a good idea to familiarize yourself with the technical side of things.
Take a look at the YouTube Creator Studio.
This is a platform that vloggers use to upload their content. It has a few handy tools, such as an audio library and a video management system. Most importantly, you'll find information about the video formats that YouTube supports. YouTube accepts many different kinds of video files, but there are some limitations with file size, aspect ratio, and more. Get familiar with these specs so that you don't end up producing a video you can't even upload.
You should also pay attention to the overall YouTube environment as well. One good way to do this is to visit the trending page. The trending page shows you what's currently popular. Not only can this give you some video ideas for the future, but you can pull playback information from those popular videos and use it to guide your own. For example, you'll find that a vast majority of those videos are longer than 10 minutes.
4: Make Your YouTube Channel and Brand Yourself
Now we're getting to the fun stuff. It's time to create your YouTube channel! Creating a channel is very easy to do and won't cost you a dime. If you have ever subscribed to another vlogger's channel or written comments under a video, you probably already have one. Every user has the opportunity to upload videos, so every user name is attached to a channel.
If that's the case, consider creating a new channel from scratch. It's always a good idea to separate your professional vlogging channel and your viewing account. This can help you maintain your brand and prevent any of your activity from ruining all of your hard work. All you have to do is provide some basic information and you'll have a channel set up in minutes.
At this point, you should spend some time building your brand. Take a look at any professional vlogger's channel page and you'll see strategic branding throughout. Most have a profile photo that represents what their channel is about, an attractive banner photo, and links to any social media accounts they may have.
While it might not seem like much, those small details make your channel look legitimate, even if you haven't published any videos yet. Keep things simple and make sure that you use high-quality media that will interest your target demographic. Gaudy graphics and cheap photoshop work aren't going to cut it. Follow modern advertising principles and treat your channel page as if it were a billboard for your upcoming content. If you're a business that already has some branding, half of the work is already done.
You can also make a short video intro or channel trailer. You don't have to do this right away, but it's something to consider.
5: Invest in Good Gear
It's a common misconception that you have to spend thousands of dollars on a high-end video camera. Many successful YouTubers indeed use gear that rivals what professional filmmakers have. However, they didn't start off that way.
With today's technology, you can create some great videos with your smartphone. Modern mobile devices are capable of shooting up to 4K video quality. Most viewers are only going to be watching in 1080p or lower resolutions, so that device in your pocket should do just fine.
Alternatively, you can go with a DSLR, mirrorless camera, or dedicated camcorder. It's good to go with a model that has a reversible screen that you can use as a monitor. Though, it's not completely necessary. Just don't spend thousands of dollars to upgrade your gear to the very best. As long as your equipment records high-resolution video, you should be good to go.
Mics, Lighting, and Other Gear
Your recording arsenal doesn't stop at your camera. You also need to be able to pick up good sound. This is one of the biggest issues with vlogging. Far too many people are uploading videos with awful sound. No one wants to listen to the wind roaring outside. They don't want to have to turn the volume up to max to hear you speak either.
Investing in a simple external microphone can make a noticeable difference. You can get a standard boom microphone that attaches directly to your camera or go the extra mile and get a lapel microphone. Windscreens are also essential if you plan on going outside to film. Either way, they're easy upgrades that can take your videos to another level.
Next up, you'll need something to mount your recording equipment on. Tripods are relatively affordable and come in a variety of designs to meet your needs. Traditional tripods are great for DSLR cameras and basic vlogging cameras. You can also get stabilizing selfie sticks, flexible outdoor tripods, and more.
Finally, there's the lighting. What's the one thing that all professional vloggers have in common? They use ample lighting. A simple ring light can illuminate your face and provide a professional touch to your vlog. If you have a vlogging set, a couple of box lights will ensure that the background is lit, too. Lights are quite affordable and easy to set up.
You'll also need some quality editing software, but we'll get into that in a bit.
6: Create an Outline
Once everything is set up and ready to go, it's time to make an outline. This can be as complex or simple as you want it to be. You don't have to write out a full script. In fact, we don't recommend that at all. Some of the best YouTube videos were made on the fly. Reading from a script will only make you seem unauthentic and monotonous.
Instead, consider creating a basic outline of the topics you want to cover or what you want your video content to contain. If you're doing a basic talking vlog, jot down some keywords and put the paper in an area that you can see. This will help you stay on track as you talk.
It's a good idea to plan out videos ahead of time. While you can always edit out awkward pauses later, there's no way to make quality content materialize when you're not prepared. By creating an outline you can hit all the points you want to cover efficiently and focus on having fun.
7: Lights, Camera, Action!
Now, you can finally make your first video. This is often the hardest step in the process. Despite all of the preparation, many would-be vloggers get nervous when it's time to hit that record button. If you want your own vlog to be successful, you have to start somewhere.
Use your outline to create your first vlog. Just relax and be yourself. YouTube users reward authenticity. They prefer it when vloggers are natural, comfortable, and having fun.
We have some great vlogging tips that can help you feel at ease and make the most out of your time on-screen.
The first is to interact with your audience. Don't think of your future viewers as simple numbers and statistics. They're people with unique opinions and thoughts. Speak to the camera as if you were speaking to them directly. Ask questions and invite them to leave comments.
Next, don't be afraid to have fun. Your video is not live, so take this opportunity to try new things and have a good time. You can always watch the footage back later and take out anything you don't like. The key is to not feel pressured to say the right thing ever sentence.
Another tip is to be personal. Again, YouTube users like it when people show personality in their videos. It makes it easier to connect with the person on the opposite side of the screen. Convey personal stories and speak passionately about the topic.
Finally, consider using personal phrases to start and end your blog. This is pretty common among the vlogging community. Most YouTubers have their own signature phrase or hand gesture. It's a nice personal touch that also becomes part of your branding for new videos in the future.
8: Take Some Time to Edit
Video editing is one of the most important parts of creating a good video. Some vlog channels have launched empires based on quirky editing alone. You don't have to come up with a groundbreaking editing style to be successful. But, you do need to make sure that things are clean and professional looking.
There are a ton of video editing software options on the market. While you can go all out and invest in Final Cut Pro or Adobe Premiere Pro, you can also get a lot done with free apps on your Windows or Mac. You can even get away with using Windows Movie Maker or iMovie on your computer to make simple cuts. There are even some great apps for iPhone and Android that you can take advantage of if you recorded on your smartphone.
During your edits, you should focus on making the video look as good as possible. Cut out any awkward silences and compile clips into one cohesive story. You can also implement graphics, perform color correction, and balance audio. How much editing you choose to do is entirely up to you.
If you're not that knowledgeable in editing, you can also hire contractors to get the job done for you. You can easily find freelance editors on gig sites. Just make sure that you present your ideas clearly so that they know what you're after.
9: Upload and Optimize
Uploading a new video to your channel is pretty simple. Though, it may take some time depending on the resolution and overall file size.
As you wait for the video to upload and render, you can start optimizing it to ensure that it's seen. There are several ways that you can do this. YouTube is, essentially, a large search engine that provides access to millions of videos. You can treat your video like a webpage and perform search engine optimization techniques to increase your exposure.
Write eye-catching titles
The first way you can do this is through the title. Eye-catching titles are the best way to attract viewers. Your title should be clear, concise, and fun. Before you publish the video, write down some keywords that pertain to your vlog. Use the most powerful keyword in your title. This will increase the chances of your video popping up on a results page for that query. You can also implement some secondary keywords into the description text that's found below the video player.
YouTube SEO
Next, you'll want to provide tags for the video. Tags are an important factor in SEO ranking for YouTube. These tags can be added to the video through the Creator Studio for your channel. Choose tags that pertain to the content, as these tags are used by YouTube to get a better understanding of what the video is about. They may be used to recommend your video to viewers or to include your content on a results page.
Create attractive thumbnails
Last, but not least, there's the thumbnail. The thumbnail is a visual representation of your video. Think of it as the box art for a DVD. It gives viewers a quick glimpse of what you have to offer. So, it needs to be eye-popping.
The YouTube Creator Studio can automatically select a thumbnail from a screenshot of your video. But, most professional YouTubers make their own. This can be done on a photo editing software. There are a ton of thumbnail style to model yours after. The general consensus is to use bright colors, attractive backgrounds, and simple text.
Nick Nimmin has created a very good video on how to create the perfect Youtube Thumbnail. Check it out…
I would recommend using a tool like Canva. There's a free version which could be enough for what you want to create. They have pre-built templates that you can work from and can speed up the process of creating thumbnails and images.
10: Engage Your Audience and Utilize Social Media
If you optimized your free video well, you should start seeing some views pop up. Don't expect to see a massive influx of viewers. YouTube is all about slow growth and consistency. To get those viewers to come back for future content, keep them engaged.
Reply to comments and interact with your audience. Don't take criticism personally. The last thing you want to do is get into a fight with someone in the comment section. This is the Internet. People can be unreasonably rude just because they're anonymous. As they say on YouTube, "Don't feed the trolls."
Respond to viewers who want to engage with you. Create social media accounts and invite those viewers to follow you on other platforms. You can then start promoting new vlogs on those accounts to produce organic growth over time.
11: Use Analytics to Improve
The great thing about the YouTube Creator Studio is that you're given access to some important analytics information. As your channel grows, you can use this information to adjust your content accordingly. There are many types of data available for you to see. You can find information about where your viewers are located, how old they are, and more.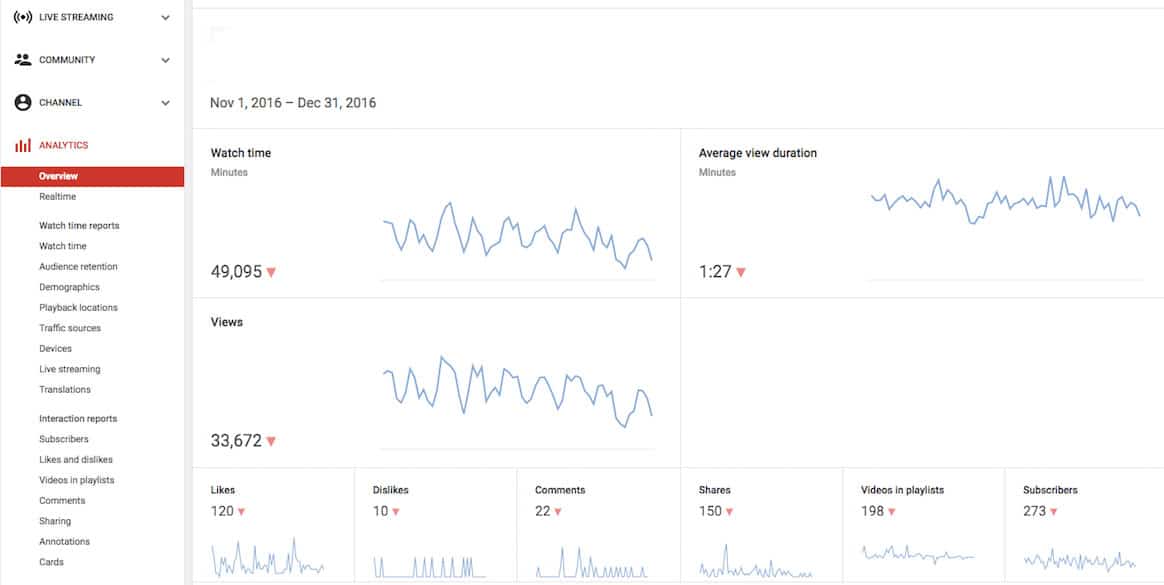 YouTube even provides audience retention graphs. These graphs can tell you how long people stay on your video, when they decide to click off, and more. After viewing the data, look at your video and see what made people click off. Make adjustments to your next video until you find something that works for both you and your audience. Once you find that sweet spot, you can improve your retention and gain even more followers.
Beyond the information that's provided by YouTube, you can use general Google analytics to craft your future content. Making videos about current trends is always a good idea. People are already searching for related content. So, why not jump on the train and give the people what they want. Google Analytics can show you popular keywords and topics that you can use for video ideas.
12: Stay Vigilant
This is an important step in the process.
It's easy to give up when your view count isn't climbing as fast as you want it to. Just remember that many big vloggers went unnoticed for years before they amassed a large audience.
Getting a large viewer base takes time.
You're not going to get there if you just stop producing content.
Consider creating a production schedule that you can stick to. Many YouTubers publish at least one new video a week. Some do more and some only release videos every few months. The key is to keep the quality up and continue making relevant content that your audience enjoys.
13: Grow Your Brand
Many new YouTubers have a lot of questions about when they can start monetizing their channels. YouTube has changed its policies quite a bit in recent years. Currently, you have to have at least 4,000 watch hours and 1,000 subscribers to become a Google AdSense partner.
Once you've hit that milestone, YouTube will review your channel. If you're approved for the program, you can start showing ads before your videos to earn some income. Google will pay you a certain amount of money based on viewership and impressions.
This is the easiest way to monetize a channel. But, it's not the only solution. The sky is the limit when it comes to money-making opportunities. That is, as long as you have a large audience of viewers who are willing to support you.
Once you've reached a certain level of success, you can expand your brand and start looking at other revenue streams. Many vloggers take on brand deals. Some also release merchandise and unique products.
Before you do any of that, you have to build your brand and gain an audience.
Now that you know what it takes to get started, what are you waiting for? YouTube is an excellent way to build a brand or grow your company. There's nothing more personal than a vlog. You can easily connect with others and build an audience that will follow everything you do. All you have to do is get started.
Further Reading:
The following two tabs change content below.
Jamie Spencer
My name is Jamie Spencer and I have spent the past 10 years building money making blogs. After growing tired of the 9-5, commuting and never seeing my family I decided that I wanted to make some changes and launched my first blog. Since then I have launched lots of successful niche blogs and after selling my survivalist blog I decided to teach other people how to do the same.
Latest posts by Jamie Spencer (see all)