Have you ever thought about ditching your 9-5 and actually earning a full-time income, and possibly much more, playing video games?
Want to learn how to make money on Twitch and turn those thoughts into making money online a reality?
Of course you do, and the good news is you're in the right place.
People are making money hand over fist on Twitch these days – just by playing video games.
Did you know that 185 million unique streams were broadcast in 2019!!! (Twitch stats)
Twitch gets over 15 million unique visitors daily, and an average of 1.1 million active streamers daily.
If you want to get off the sidelines and join them, you need to know what you're doing.
While it sounds great, learning how to make money from Twitch is not always easy. Don't get me wrong, it's super simple compared to other online business models like Amazon FBA or dropshipping, but it can take some time.
Everyone begins their Twitch journey streaming to an empty audience, which can definitely take the wind out of your sails.
In order to begin gaining a following and earning a consistent income from Twitch like the thousands of others who were once Googling "how do I make money on Twitch" just like you, you need to make streaming your day job. You need to consistently create fun and engaging content.
Like I said, it's not quick, but it is simple and extremely doable.
If you follow this guide and you're committed to turning your dreams into a reality, you could quit your day job with the money you'll be earning from Twitch.
Some popular streamers are earning six figures. Some are even earning millions. Ready to join them?
Let's get started.
How to Make Money on Twitch – What We'll Cover
Part One – The Basics
• What is Twitch?
• How to Make Money from Twitch – Your Options
Part Two – Getting Set Up
• Creating an Account
• Equipment You'll Need
• Getting Started
Part Three – How to Make Money with Twitch in Six Steps
• Step One: Be Picky in Your Game Selection
• Step Two: Reach Out to Popular Streamers
• Step Three: Utilize the Power of Social Media
• Step Four: Grow Your Following
• Step Five: Engage Your Audience
• Step Six: Create a Website
Part One – The Basics
What is Twitch?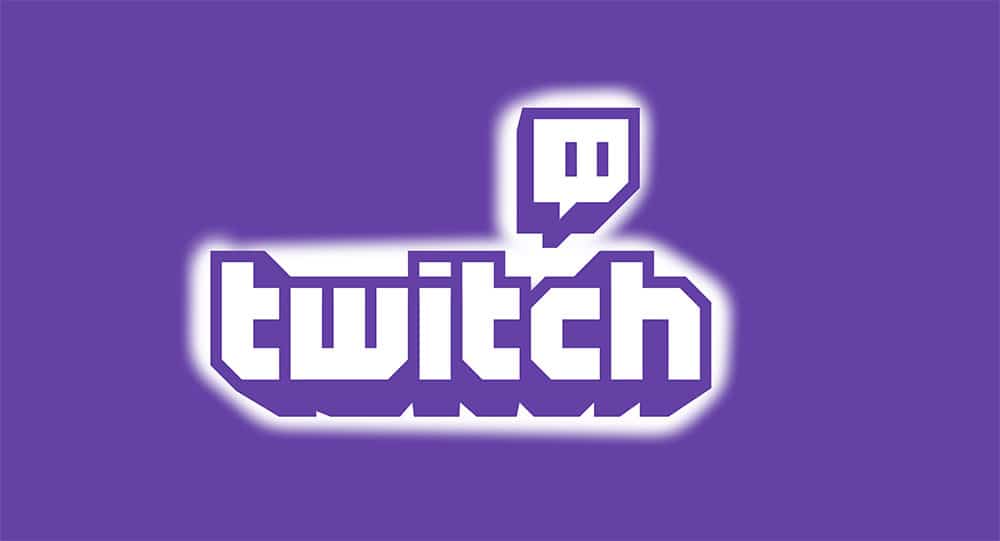 Before we get into how to earn money from Twitch, let's start with a little background info.
Twitch is the world's top streaming platform for today's gamers, providing them with a platform for live streaming their gameplay and making money in the process.
Twitch got its start in 2005. At that time, however, it was called Justin.Tv after its founder Justin Kan.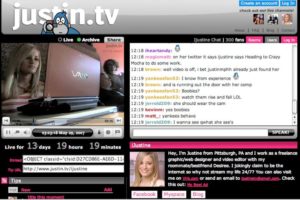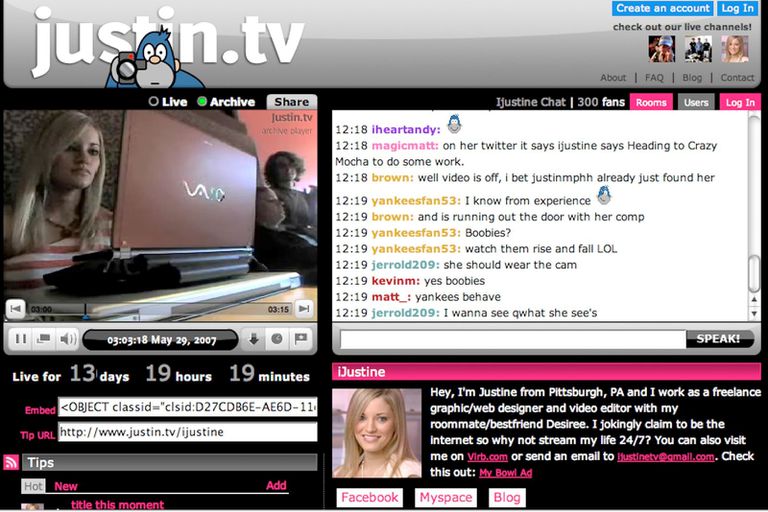 It was originally formed as a 24/7 life broadcasting or streaming service. However, after receiving some mixed reviews, viewers were eventually allowed to join the party by setting up their own streaming channels. This gave rise to the modern phenomena we now call Twitch.Tv.
In 2014, Twitch.Tv was ranked fourth globally in traffic only behind Google, Apple, and Netflix. With such off-the-charts traffic numbers, it was sold to Amazon later the same year for a whopping $970 million!
So, is there money to be made on Twitch? You bet there is.
Today, Twitch averages an insane 140 million unique monthly viewers who use the platform to follow their favorite streamers day in and day out. That's a lot of eyeballs to get in front of, and the numbers just keep growing.
In fact, the platform has continued to grow by 60 percent year-over-year, and it's not showing any signs of slowing down. Its growth is actually just beginning to kick into high gear, resulting in more income opportunities for new gamers just like you.
In addition to broadcasters, who I'll refer to as streamers from here on out, media outlets and gaming publishers also have their own channels on the Twitch platform to give sneak peeks of upcoming game and product launches. Twitch also hosts several competitive and charity gaming marathons, tournaments, and eSports events.
Whether it's competing in eSports, chatting with fellow gamers, or just playing games, there are endless possibilities with the Twitch platform. There are endless money-making opportunities too.
How to Make Money from Twitch – Your Options

Now that you know all about Twitch and its massive popularity, let's get to the meat and potatoes – how do you make money on Twitch?
Well, there are actually quite a few different ways beyond simply playing video games. To give you a good idea of your options and Twitch's income possibilities, let's start by breaking down the income of the platform's most popular gaming streamer: Ninja.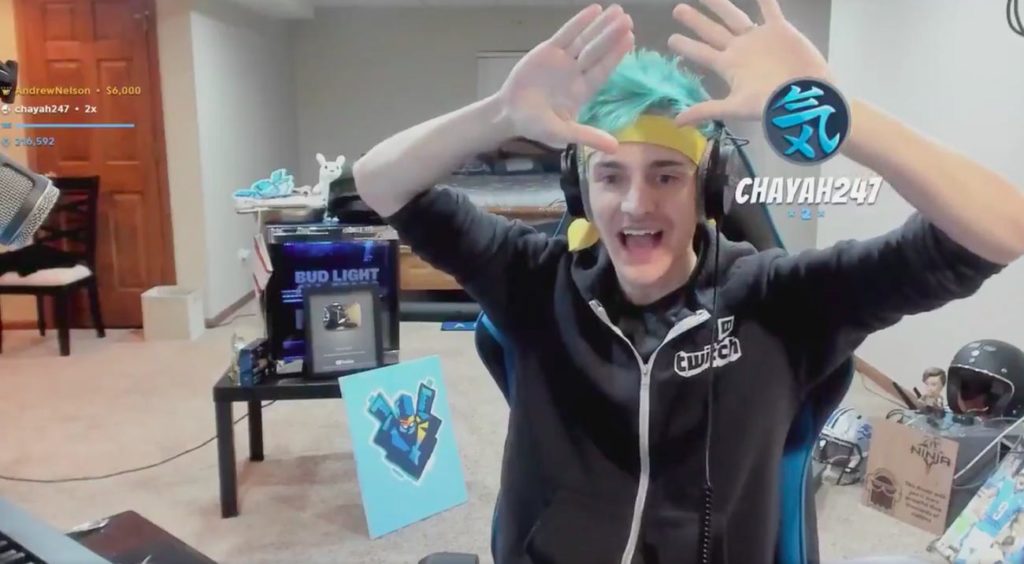 There are a lot of Twitch streamers making a good living from the platform, but Richard "Tyler" Blevins, aka Ninja, is the world's top Twitch streamer. Last year alone, he earned over $5.5 million by streaming his gameplay of Fortnite and other hugely popular titles.
Needless to say, if you want to learn how to make money on Twitch, he's a good example to follow.
Here's a look at each of his Twitch-related income streams:
• Subscriptions
• Paid sponsorships
• Ad revenue
• Bit donations
• YouTube
Like all of the top Twitch streamers, the bulk of Ninja's income comes from subscriptions. In fact, he earns nearly $4 million a year from Twitch subscriptions alone.
However, he also earns a pretty penny from sponsorships, ad revenue, bit donations, and YouTube as well, all of which are important pieces to the Twitch income puzzle. Let's dive into each.
Subscriptions – Twitch Affiliate and Partner Programs
As you can tell from Ninja's income, Twitch streamers earn the bulk of their income from their subscriber base.
Viewers can choose from three different subscription levels on Twitch:
• $4.99
• $9.99
• $24.99
When first starting out as a Twitch streamer, the income from your subscribers will be split 50/50 with Twitch. However, as your subscriber base grows, Twitch will begin taking less and less of a percentage. Some Twitch streamers even earn up to 100 percent of their subscriptions.
Best of all, the subscriptions are recurring. You'll earn money from your subscribers month in and month out.
That said, Twitch doesn't let just anyone earn revenue this way. In order to begin gaining subscribers and making money from them, you must become a Twitch Affiliate or Partner, which are both invite only.
To get invited to become a Twitch Affiliate or Partner, you'll have to get busy streaming and laying your foundation. Don't worry; you'll learn all about this in just a minute.
Paid Sponsorships
Similar to becoming a Twitch Affiliate or Partner, making money from paid sponsorships can take some time. However, once you're able to grow your audience and develop relationships with gaming companies and others with products to market, you can get paid to wear, use, and promote their products on camera during your live streams.
For example, if you follow Ninja, you'll see him promoting both DXRacer gaming chairs and Bud Light, and he probably earns a tidy sum just by displaying them on camera in his room for his large subscriber base to see.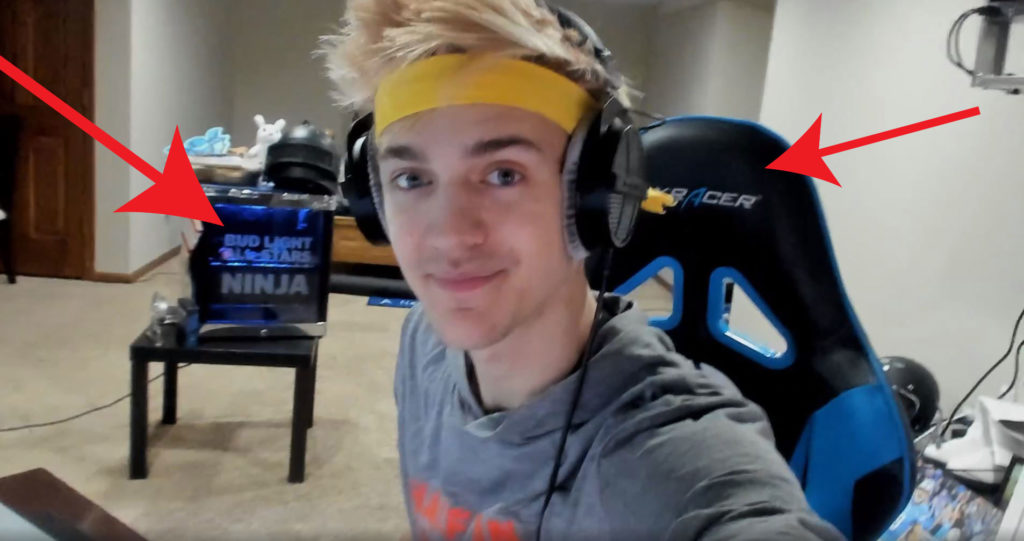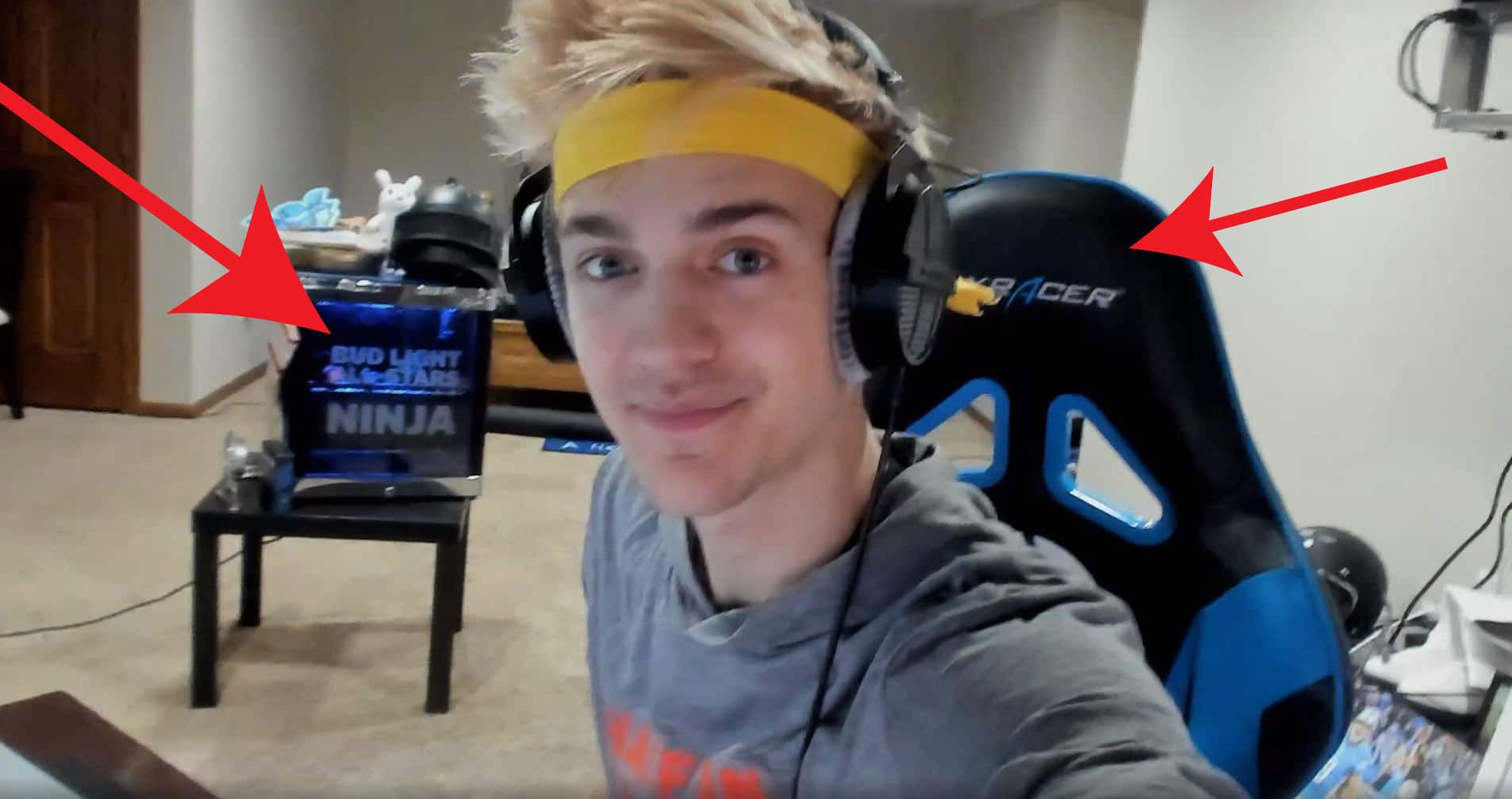 Beyond this, you can also get paid directly from game developers to live stream their games for added publicity and exposure.
Ad Revenue
Once again, ad revenue is reserved for Twitch Partners. However, once you get to this level, which won't be hard if you follow the advice below, the payoff can be huge. In fact, the average Twitch Streamer earns $250 in ad revenue for every 100 subscribers he or she has.
For it advertising, Twitch offers both display and pre-roll ads, and each streamer is paid based on the popular cost per impression, or CPM, model. The more people who see your ads, the more you make.
Bit Donations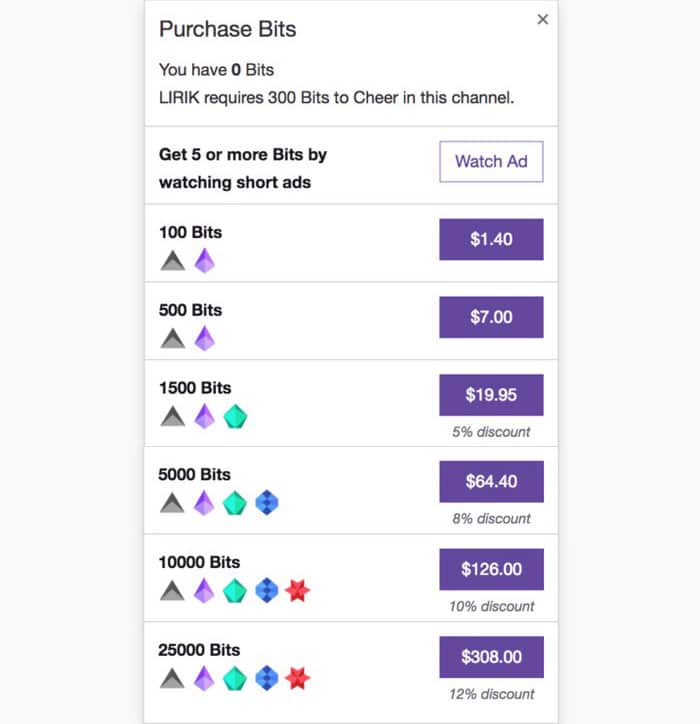 When first starting out and learning the ropes of how to make money as a Twitch streamer, your first revenue will likely come from bit donations given to you by your audience.
Similar to Bitcoin, a Twitch "bit" is a virtual currency. The platform's viewers can purchase and redeem bits in order to use emotes in the chatrooms of their favorite streamers.
These animated emotes are known as "bit gems," and Twitch will pay you $0.01 each time someone uses one in your chatroom.
YouTube
YouTube is another great way of making money from your Twitch streaming activity. By uploading your twitch videos to YouTube, you can reach new audiences, increase your Twitch subscriber base, and earn income from YouTube as well.
Affiliate Marketing
Along with bit donations, becoming a Twitch affiliate and joining and affiliate program is one of the first ways many Twitch streamers begin making money on the platform prior to becoming a Twitch Partner.
Being an affiliate is similar to gaining sponsorship. Except, as an affiliate, you don't get paid a set rate. Instead, you are paid a commission of the sale whenever someone clicks on a link.
You can become an affiliate of any company, usually gaming related, and earn a commission by promoting a product or service to your audience. Most Twitch users earning affiliate commissions do so through the use of coupon codes. When someone makes a purchase using your coupon code, you receive a percentage of the sale.
For example, you can promote your favorite gaming chair as an affiliate and share a coupon code given to you by the chair's manufacturer with your followers. When one of them uses the coupon code to purchase the chair, you'll get a portion of the sale amount, which can be anywhere from 10-75 percent!
Of course, the amount of money you can make with Twitch and affiliate marketing depends on the size of your audience, how engaged they are, and how much they actually buy. You can earn a little, or you can earn a lot.
For more info on affiliate marketing, head over to our best affiliate networks guide.
eSports
Did you know some eSports players make up to $3 million a year?
How about the fact that the average eSports salary is $60,000 a year?
Pretty cool, right?
Although this income doesn't come from Twitch directly, showing off your Madden or FIFA skills on your Twitch stream can get you noticed, signed, and paid by an eSports team.
Sure it's a long shot, but if you're skilled, it's a shot worth taking.
Part Two – Getting Set Up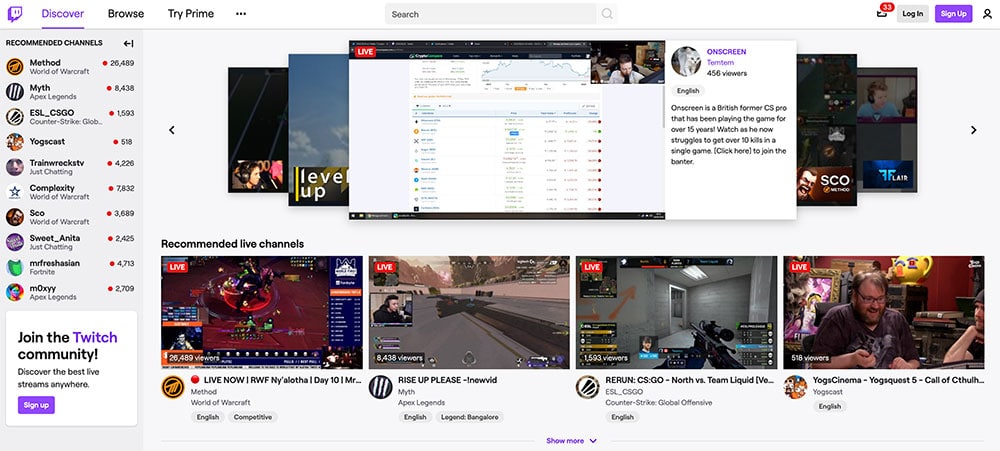 Now that you know how to make money on Twitch and live streaming, it's time to actually get started.
Similar to social media marketing or blogging, making money with your Twitch account is all about growing and maintaining an engaged, active audience.
To start making money consistently with Twitch, you will need to have at least 300-500 concurrent viewers. This means at least that many people should be watching your Twitch channel for most of your stream.
It may seem daunting at first, but it can definitely be done. First, however, you need to get all set up.
How to Get Set Up to Make Money on Twitch
If you want to make money live streaming with Twitch, there are some things you'll need to do to set yourself up for success. You'll need to set up a Twitch account and make sure you have the right equipment. Since setting up a Twitch account is free, let's start there.
Create a Twitch Account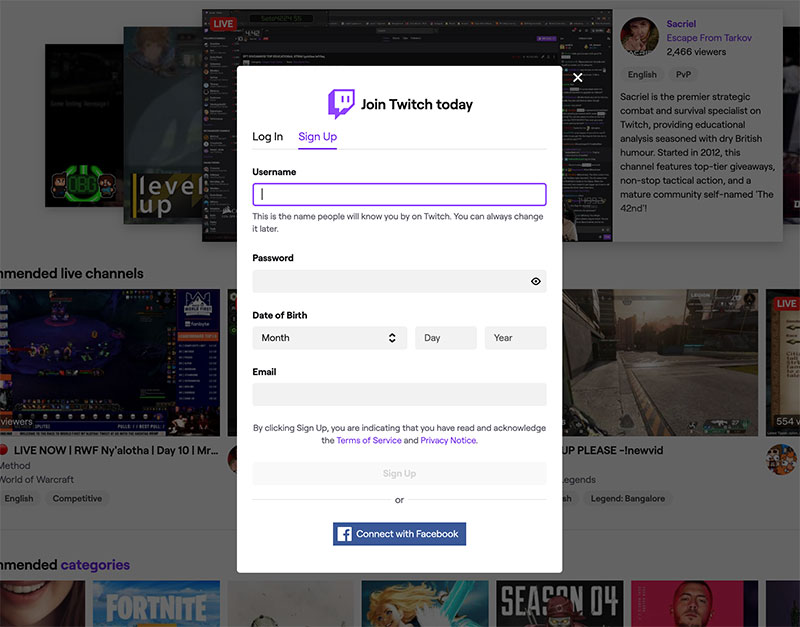 In order to stream your gameplay to the vast Twitch community, follow your favorite streamers, and interact with them and their audiences via chat, you'll need to create a Twitch account.
To do so, simply click the "Sign Up" button located at the top right of the page. When you do, a form will appear ( see above image ). Fill it out.
In addition to choosing your username and password, it will ask for your email and date of birth. However, if you'd rather not provide this info, you can also create a Twitch account via your Facebook account. Just select the "Connect with Facebook" option and you'll be good to go.
Get Set Up with the Right Equipment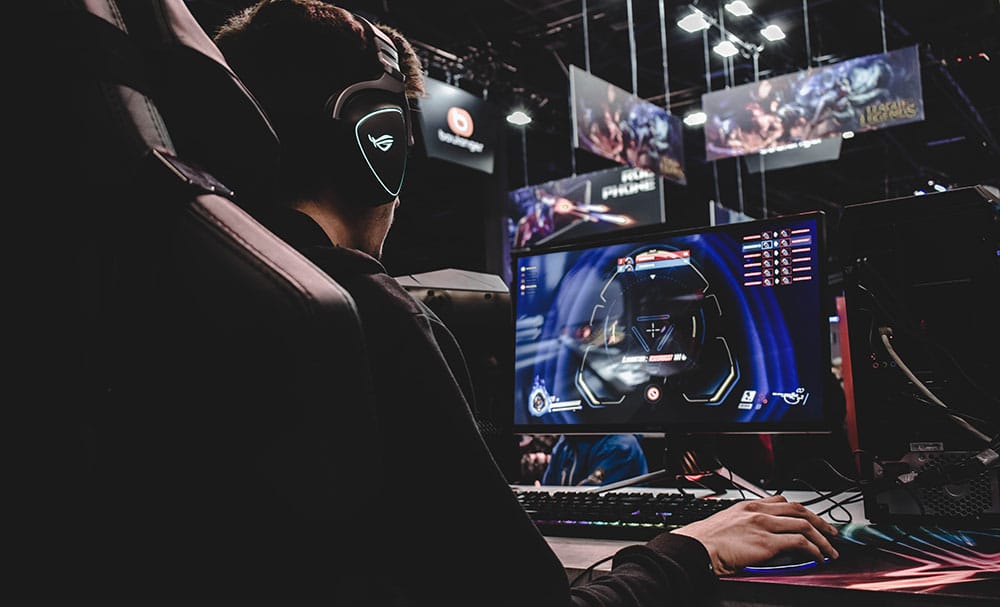 Whether you want to know how to make money on Twitch PS4, make money on Twitch XBox One, or make money on Twitch with a PC, it will take the right equipment.
If you go the gaming console route, which is a popular option for many gamers, you'll need to equip it with a capture card for live streaming.
On the other hand, if you choose to live stream with a PC, it will need to meet the following recommended minimum specifications:
• CPU – Intel Core i5-4670/AMD FX-6300
• OS – Windows 8 Home Premium
• Memory – 8GB DDR3 SDRAM
To live stream on Twitch with a PC, broadcasting software will also be needed. I recommend using the following
In addition to these hardware and software requirements, you should also consider purchasing a microphone and a webcam. Using these will allow your audience to see and hear you, helping you increase engagement, build rapport, and make more money.
Gaming Microphone Recommendation
The gaming microphone that I recommend is Blue Yeti X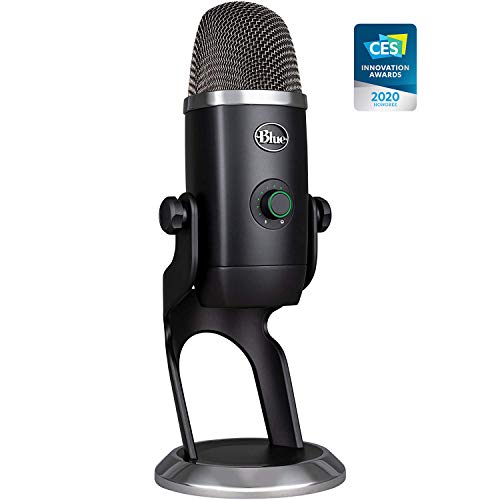 Super easy to set up and beginner friendly.
Gaming Web Cams
Again for ease of use and beginner friendly, I'd go for the Logitech C922 Pro Stream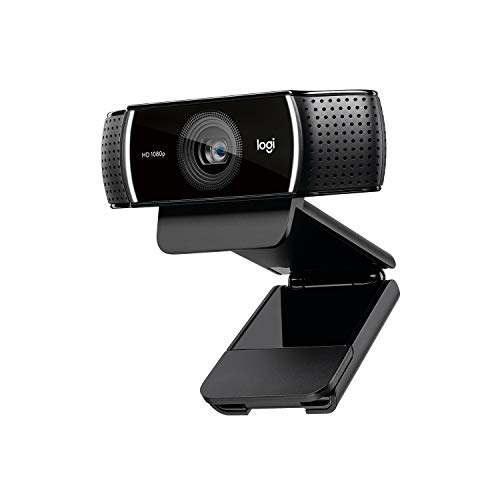 While it isn't necessary, it would also be smart to invest in a good gaming chair. Since you'll be playing video games for hours a day, you need to be comfortable. Plus, it will allow you to pursue sponsorships or affiliate sales from gaming chair and equipment makers.
Gaming Chair
My choice recommendation would be the Merax Racing Gaming Chair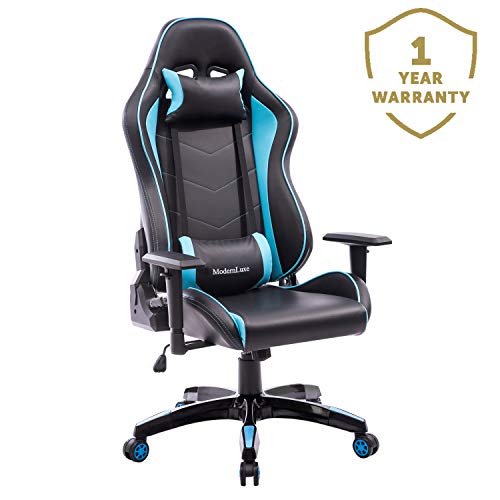 You want to look good on your gaming streams, so it's important to get yourself a chair that looks good as well as being super comfortable. This is a great option that won't break the bank.
So, you're all set up to start raking it in on Twitch. Now what?
How to Make Money with Twitch – 6 Steps to Streaming Success

Okay, you have the right equipment and your Twitch account all set up and ready to stream. Now it's time to start streaming, get people to watch you, and most importantly, keep them sticking around and coming back for more.
To do this, you'll need to:
• Pick the right game to stream
• Connect with other streamers
• Engage your audience
• Grow your community
• Leverage social media
• Create a website for traffic generation (not necessary but highly recommended)
Step One – Pick the Right Game to Stream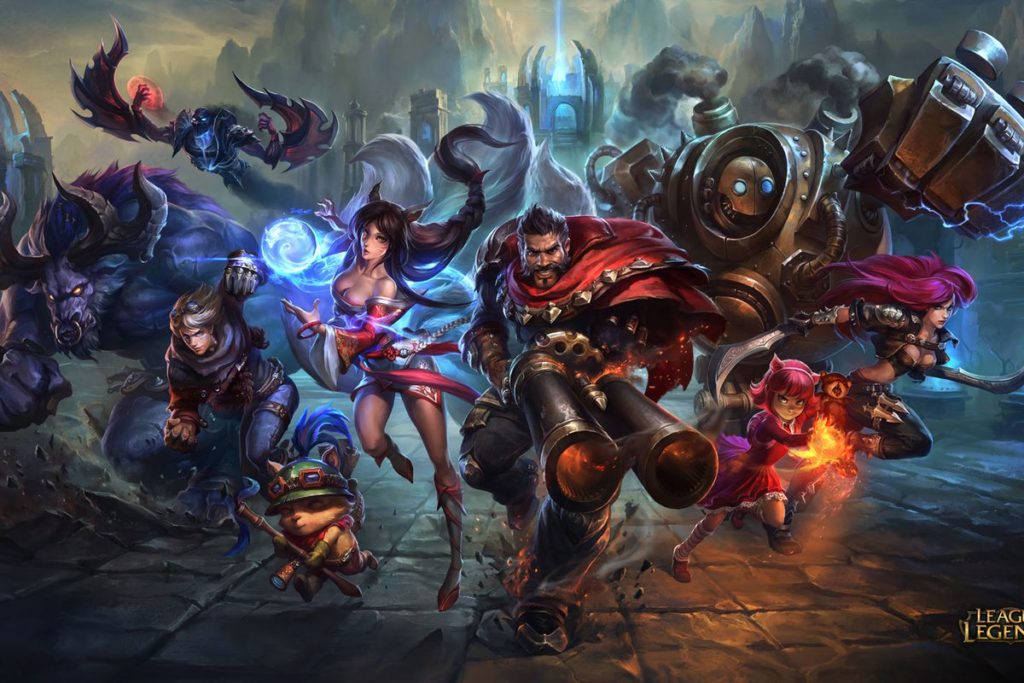 Rather than going with one of these hugely popular games with hundreds of streamers, you're best off browsing Twitch and looking for games with only 10-20 streamers.
If you want to attract Twitch viewers and profits, which is why you're here, then it pays to be strategic when picking video games to play and stream.
Since video gamers are always into the latest and most popular games, going for an older or less popular video game will more than likely backfire.
On the other hand, choosing a super popular game will have you competing against a lot more streamers, so breaking through can be tough.
At the moment, the top five video games being live streamed on Twitch include:
• League of Legends
• Just Chatting
• World of Warcraft
• Escape from Tarkov
• Counter Strike Global Offensive
Rather than going with one of these hugely popular games with hundreds of streamers, you're best off browsing Twitch and looking for games with only 10-20 streamers. This many streamers usually means the game is still well-ranked on Twitch but you'll have more room to shine and gain viewers.
If you want to learn how to make money on Twitch, do yourself a favor and follow this advice. You'll thank me later.
Step Two – Connect with Other Streamers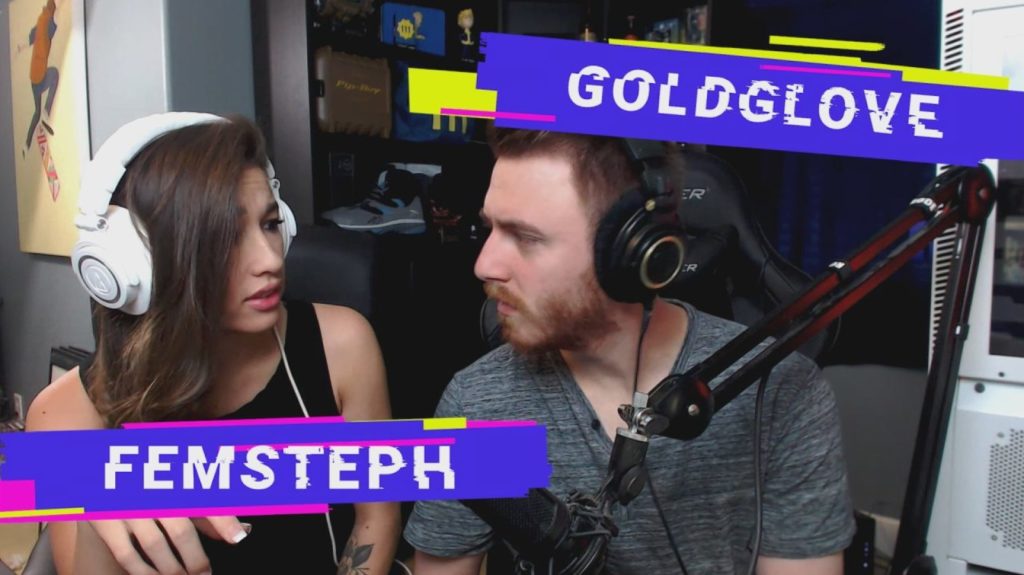 Like any money-making venture, you'll get plenty of conflicting advice on the topic of how to make money with Twitch. However, all successful Twitch streamers will tell you how important it is to reach out and connect with other popular streamers.
Creating friendships within the Twitch community can provide you with helpful strategies and tips, increased exposure, and more viewers of your own.
So, engage with other gamers and streamers in their chat rooms. If you're interesting, knowledgeable, and seem like a good person, some of their viewers will follow you on your channel as well.
Some of the most popular streamers are:
• Ninja
• Tfue
• Shroud
• Myth
• XQc
Step Three – Engage Your Audience


To make money with Twitch, the key is to draw in as many followers as possible, which goes beyond simply having exceptional gameplay. This requires actively engaging your audience.
The Twitch platform allows you to do much more than just stream yourself playing video games for hours on end. You can also stream yourself cooking, painting, or doing anything else to engage your audience on multiple levels.
You can stream these and other activities in Twitch's "Creative", "IRL" or "Just Chatting" sections, and each option can help you engage with your audience, attract more followers, and earn money through bit donations, affiliate sales, and more.
Step Four – Grow Your Following

A lot of people wonder how many followers on Twitch to make money? It's a great question, but there's no clear cut answer.
Why? Well, because not all Twitch viewers are created equal. Some are simply more valuable than others.
While you can never have too many, the people who frequent your channel shouldn't be trolls, bots, fair-weather viewers, or quiet lurkers. These viewers offer no real value.
So, to grow your Twitch following, you never want to use Viewbots or pay others to grow your twitch channel for you. Each of these tactics will boost your view count, but they won't boost your bank account.
Instead, if you want to grow your Twitch following, focus on:
• Interacting with other streamers
• Hosting other streamers on your channel
• Joining other gaming and streaming communities
• Holding giveaways for your loyal followers
• Commenting on gaming websites
• Uploading your streaming videos to YouTube
• Other proven tactics
Just make sure to use your Twitch handle when networking and promoting yourself outside of Twitch.
Step Five – Leverage Social Media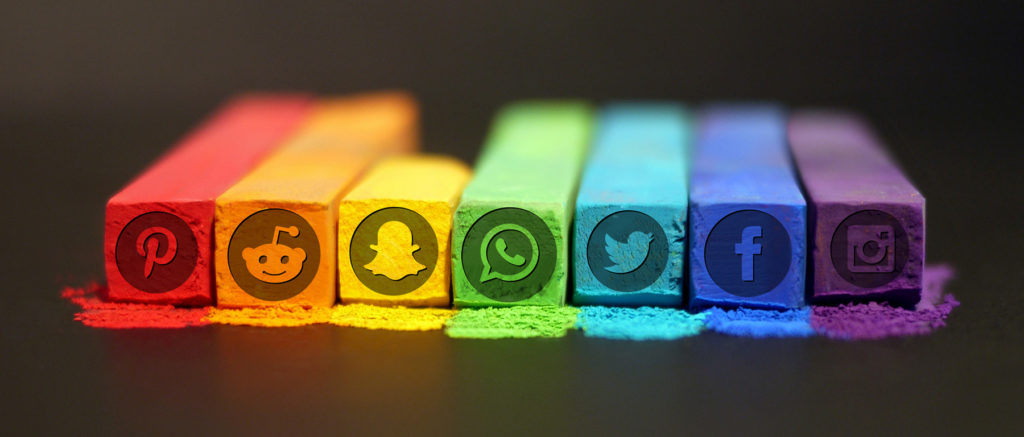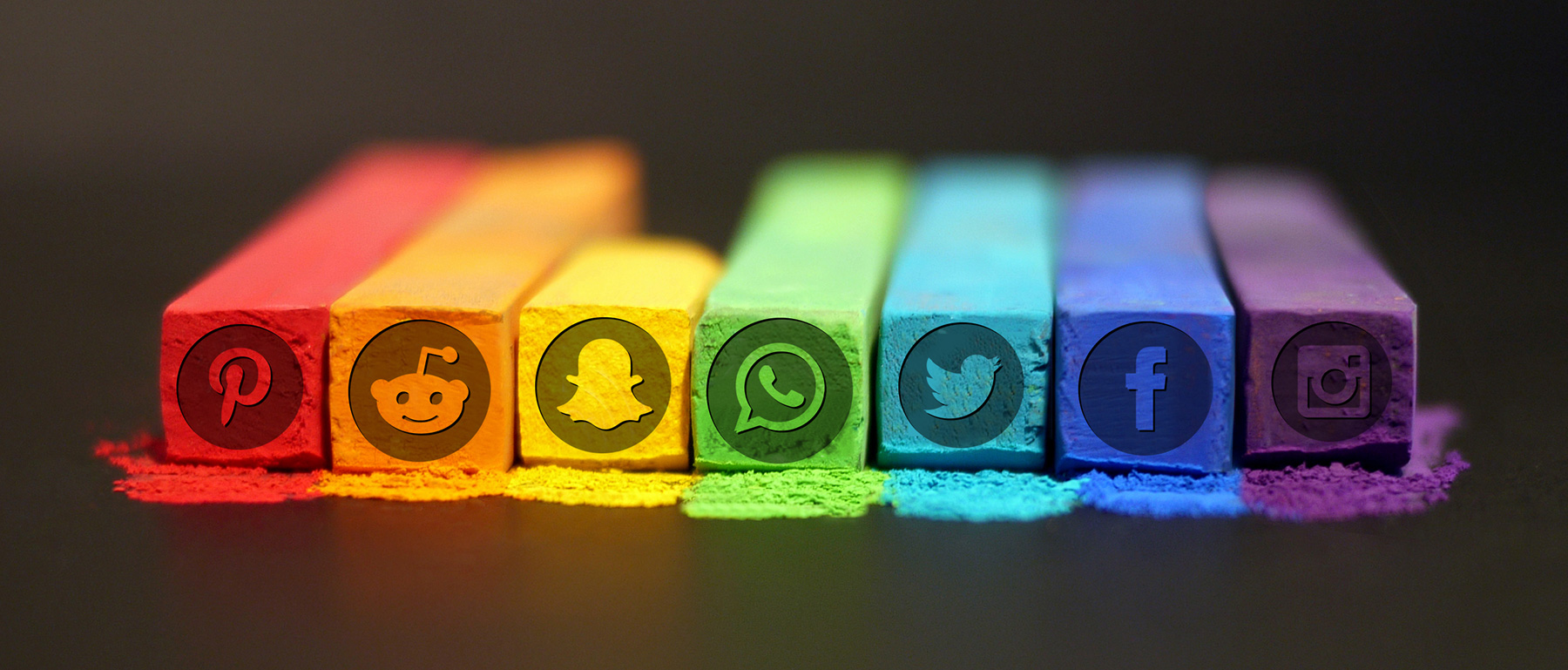 Like other money-making endeavors, social media can help build your brand and play a significant role in your Twitch success.
In fact, many successful Twitch streamers use Instagram, Twitter, and Facebook to connect with fans on a more personal level and keep them up-to-date with both their gaming and daily life.
Social media can also boost your exposure and get you seen by potential new followers. Fans of other gamers may stumble across your social media accounts, like what you're doing, and choose to follow you as well. This can do wonders for your Twitch channel and possibly your bank account as well.
Step Six – Create a Website for Traffic Generation
The last step for streaming success isn't as necessary as the others, but it can definitely help. A lot of gamers and streamers overlook this tactic and pigeonhole themselves to just the Twitch platform. This is a big mistake.
Creating a website will open up more money-making possibilities and let you attract an entirely different audience. There are always people looking for written content online, not just videos. Your website will allow you to provide this content, reach more people, and send them to your Twitch channel.
Intimidated by the thought of creating a website? Don't be – building a WordPress website is actually pretty easy. In fact, you can have it up and running in under 30 minutes. Then, all you need to do is create some content for Google to find and you're good to go.
I recommend using Bluehost. You can get hosting + email + free domain name for just $2.95 pm. Use this link to get a free domain.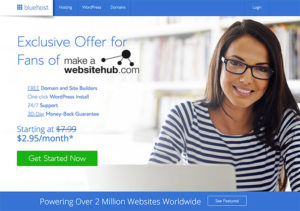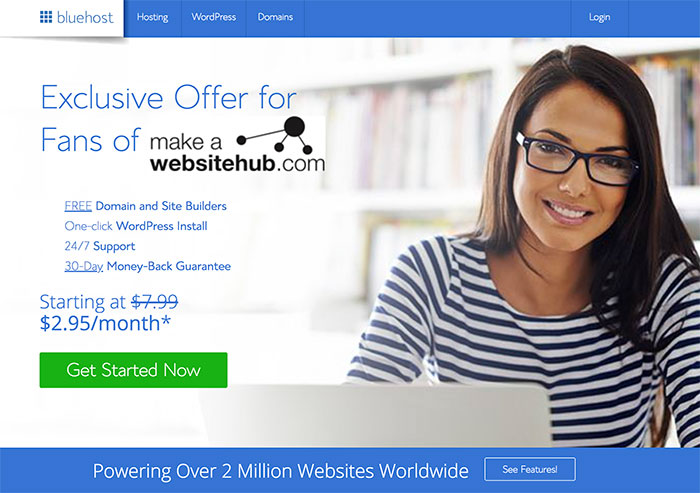 Looking for something cheaper?
Check out my Cheap Web Hosting Providers guide.
Your website won't receive a ton of traffic right away. However, if you follow the advice provided throughout this site, you'll be able to produce a great looking website that works on autopilot to attract visitors around the clock.
You can then send that traffic to your Twitch channel. In addition to boosting your Twitch income, you can also place display ads on your website or promote products for affiliate sales. The possibilities are endless!
Head over to my Start A Blog page to get started.
Twitch.tv FAQs
What type of content should I stream?
This is a common question, but unfortunately, there's no specific answer to the type of content you should stream.
Stream what you feel happy and comfortable streaming. Some people stream a single game they're passionate about. Others stream a variety of games to showcase their versatile gameplay and skills.
Just remember, the more streamers a game has, the tougher your competition and the harder it will be to get noticed and gain a following. eSports games can also be tough to break through with as they're usually dominated by pros who have already established huge followings.
If you need a hand deciding what to begin screening, check out Twitchstrike.com. It's a great resource stuffed with Twitch stats.
What is Twitch Affiliate?
Twitch Affiliate is one of the best ways to begin making consistent money on Twitch. However, you won't be able to become a Twitch Affiliate right away. It will take at least a month to be approved.
Today, there are around 250,000 Twitch Affiliates. To become one of them you must achieve the following goals within a 30-day period:
• Stream for eight hours
• Stream on at least seven different days
• Gain 50 followers
• Minimum average of three viewers per stream
Once accepted as a Twitch Affiliate, you'll be invited to go through the on-boarding process, where you'll provide all the necessary info to begin generating revenue from both bits and subscriptions.
What is Twitch Partner?
Twitch Partner is Twitch.tv's elite-level program. Currently, there are fewer than 30,000 Twitch Partners, and like Twitch Affiliate, the program is by invite only.
Like Twitch Affiliate, to earn an invitation to join Twitch Partner, you must achieve the following goals within a 30-day period:
• Stream on at least 12 different days
• Stream for 25 hours or more
• Minimum average of 75 viewers per stream
With Partner status, you'll be able to earn revenue from bits, subscriptions, and ad revenue from advertisements displayed on your channel. You'll also receive a lifetime chatbot subscription, verified user badge, extended on-demand video features, and priority support.
How Does Twitch Handle Payouts?
Twitch processes payouts on the 15th of each month. To be eligible for payouts as a Twitch Affiliate or Partner, you must have at least $100 in bits, subscriptions, and ad revenue combined.
You choose your payout method during the onboarding process, but your options are:
• PayPal
• Direct deposit
• Wire transfer
• Paper Check
PayPal and wire transfers only take 1-2 days, while direct deposits take 3-5 days and checks are mailed within 1-2 weeks.
How much do Twitch streamers make?
If small Twitch streamers who are affiliates work diligently to increase their viewers, followers, and subscribers, they can typically earn anywhere from $50 to $1,500 per month. However, as per a leak from October 2021, the top 100 Twitch streamers make a minimum of $32,850 each month solely through the Twitch platform.
How much does Twitch pay per 1000 views?
Typically, an average streamer can expect to earn around $250 in ad revenue for every 100 subscribers or $3.50 for every 1,000 views they receive.
How to Make Money on Twitch – Final Thoughts
The sky is the limit when it comes to Twitch and its income possibilities. In fact, if you're a first-time streamer, it can honestly be a little overwhelming.
However, you're not going in with blinders on like most new Twitch streamers out there. Armed with this info, you can not only begin gaining followers and traction with this massively popular live streaming platform – you can absolutely crush it!
The following two tabs change content below.
Jamie Spencer
My name is Jamie Spencer and I have spent the past 10 years building money making blogs. After growing tired of the 9-5, commuting and never seeing my family I decided that I wanted to make some changes and launched my first blog. Since then I have launched lots of successful niche blogs and after selling my survivalist blog I decided to teach other people how to do the same.
Latest posts by Jamie Spencer (see all)