You may have the best content on your website, but, if it does not reach readers, then you need to seriously think about ways to get people to read your site's content.
And, we are not talking about marketing your content or site to people who have not yet visited it. You also need to make the most out of those who visit your site to read an article.
If a reader likes an article, your website should be extremely easy to navigate, make it easy for them to share your content on social networks and should direct them to similar articles on your site. In this way, you can increase the reader loyalty for your blog or website.
And, with a platform like WordPress, it is possible to have links to related posts at the bottom of your article. There are plenty of top related posts plugins available for WordPress sites. This makes it easy for your readers to find related articles on your site and thus increases the length of time they spend on your site.
The related content strategy also helps you increase your site's page views and reduces the bounce rate. All these factors combine to improve the overall SEO of your site, which benefits you as your site will get a higher rank in search engine results.
This is also definitely a very smart way to get visitors to read some of your very old articles or posts.
So, we have identified some of the best WordPress related posts plugins. In this article, we list the detailed features of these popular plugins for WordPress to enable you to choose one that fulfils your requirements.
Top Free WordPress Related Posts Plugins

Having being downloaded more than 3.4 million times, YARPP is easily one of the most popular related posts plugins available on the WordPress platform. It is pretty flexible and introduces other relevant content on your website to your site's readers in the form of pages, posts or various custom post types.
YARPP also allows you to display the related posts links in the sidebar or at the bottom of your post or article. You can also have a "list view" (text) or "thumbnail view" of the related posts.
This free WordPress plugin possesses an amazing template system and extends support for the RSS feed display. It has the ability to identify related (or relevant) posts by using a built-in unique algorithm that takes into consideration the body content, titles, tags, categories and so on of the concerned post.
Current Compatibility
Compatible with WordPress Version 4.4.2 (with YARPP Version 4.3.1).
Drawbacks
YARPP is highly resource-intensive, especially for big websites which leads to inefficient queries for your database, increasing the strain on it. The integrated caching is also not good and complicates matters for your site.
This problem has resulted in some highly popular managed WordPress hosting service providers, such as WP Engine and Media Temple, blacklisting YARPP.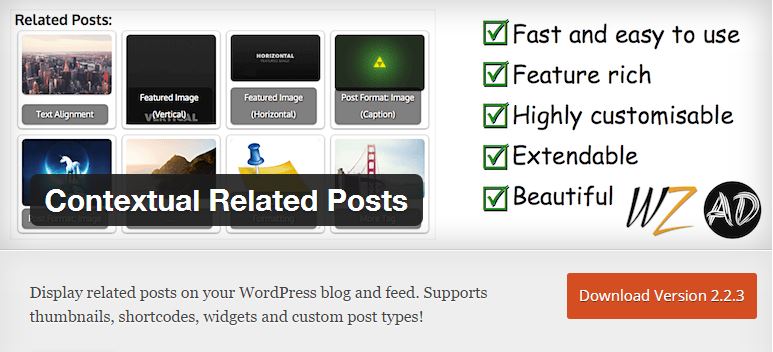 This plugin enables you to showcase a list of related posts on your blog, website or feed. It is quite flexible in terms of the areas where it allows you to display the links to these related posts.
For example, not only does it allow you to display the related posts links at the bottom of your article or in the sidebar by using a widget, it also lets you display them at specific areas of your post with the help of a shortcode [crp].
And, there is no need to edit the template files, as the display happens automatically once you activate the plugin.
The CRP algorithm helps it prepare a list of related posts based on the content of the title and that of the post. With this plugin, you get greater control over the related posts that are displayed. So, you can decide how many are displayed, how recent the related posts should be and which categories or posts are excluded from being displayed in the "related posts" section.
If that was not enough, you can even get a short excerpt displayed below by deciding how many characters need to be visible to the reader.
It consists of built-in cache that allows you to have these related posts, without any additional load on the server.
Just like YARPP, this plugin offers support for custom post types and pages as well as posts. Moreover, CRP supports widgets, short codes, CSS styles and thumbnails. The CSS styles give you the power to restyle your related posts, as per your requirements.
In addition, this free WordPress plugin uses the images present inside a post thumbnail, especially when it is unable to find a relevant featured image or post thumbnail. And, yes, this plugin also allows you to switch between thumbnail and text display for your related posts.
Current Compatibility
Compatible with up to WordPress Version 4.4.2 (with CRP Version 2.2.3).
Drawbacks
Its algorithm does not consider categories or tags when determining the list of related posts.
It displays the thumbnail images in a bulleted list, due to a lack of templates. And, using CSS may prove difficult for absolute beginners with WordPress.
This is also incredibly resource-intensive and slows down large websites. Due to this, several managed WordPress hosting providers, such as WP Engine, have blacklisted it.
Jetpack (Related Posts Module)

If you have been using WordPress for quite some time, you are likely to have used the Jetpack plugin or at the very least have heard about it. It is one of the most downloaded WordPress plugins and offers more than 35 different functionalities, including analytics, commenting system and related posts.
These functionalities are offered as part of the different modules of Jetpack. One such module is the Jetpack related posts module, which is discussed in my Jetpack guide.
Similar to YARPP, the Jetpack algorithm performs analysis of the content, tags and categories of the concerned article to determine the relevant posts to which links can be shown for that article. Despite this extensive analysis, there is no impact on the speed of your website.
This is because the analytics functionality is also carried out by Jetpack, which prevents any possible slowdowns of large websites, which was a serious drawback for the YARPP and CRP plugins. This explains why managed WordPress hosting companies, such as WP Engine, encourage the use of the Jetpack plugin.
Moreover, you can get your own custom choices preferred over that of the Jetpack algorithm in terms of the related posts. This is because this free plugin gives you the liberty to customise the related posts functionality to a great extent.
Just like CRP, you can fix the number of related articles that you wish to display and exclude certain posts or categories from this section.
You can also display the related posts links at the top of your post, at the bottom of your post or inside your post by using a short code.
Current Compatibility
Compatible with up to WordPress Version 4.4.2 (with Jetpack Version 3.9.4).
Drawbacks
The only drawback to this plugin is the fact that you have to download the entire Jetpack plugin, even if you only want to use the related posts module. However, the plugin offers so many functionalities that you are likely to use this plugin for more than just the related posts module.

Yuzo is a free WordPress plugin for related posts on your website's article pages. This can be set up quickly and is absolutely easy to use. It has a built-in cache that uses SQL and images to increase the speed of your website. It is thus no wonder that it delivers a slightly better performance than other popular related posts plugins, such as CRP and YARPP.
It is known for its ability to select the most relevant posts to appear in your "related posts" section. And, it has an algorithm to do so, which can be over-ruled if you manually select related content posts.
It also offers a comprehensive set of customisation options that enable you to design and structure the related posts section, as per your liking. Whether it is custom text, thumbnail dimensions or background colours, you can get what you want. You can even select your preferred style (horizontal or vertical) by simply clicking on it. This allows you to showcase your list of posts vertically or horizontally.
Moreover, it allows you to display the visits counter, namely the number of visits to your posts, which gives you an idea of the increase in page or post views. And, you can even make use of Yuzo's super widget to display related posts with the use of different customisation options.
This plugin is highly popular as it is one of the quickest plugins going around. Just like CRP and YARPP, it does extend support for all content types, including pages, posts and custom post types.
Current Compatibility
Compatible with up to WordPress Version 4.4.2 (with Yuzo Version 5.12.31).
Drawbacks
Many users of this plugin complain that there are too many updates from Yuzo. That is perhaps the only major drawback experienced by the Yuzo plugin users.
Top Paid WordPress Related Posts Plugins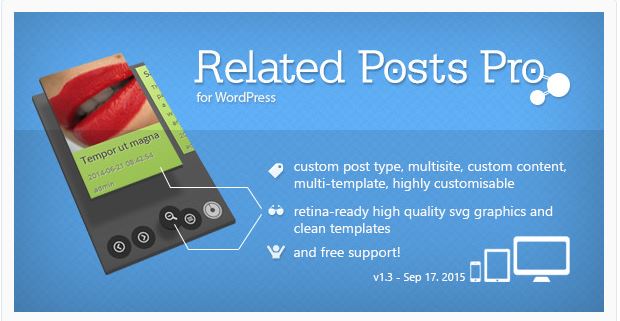 This premium, user-friendly and highly customisable related posts plugin offers support for a wide range of content types. These content types include multisites, custom post types, pages, posts, categories, terms, mixed content, and custom content.
It comes with the following three beautiful, stylish and unique layouts:
Slick and Slide – related posts merry-go-round (carousel)
Isotopic – large section for related posts (up to 20 items)
Transitioning – single related post display at a time (followed by transition to the next post)
Each of these layouts entitle you to 65 different pre-defined templates (neo, curvy, magazine, and so on), with a variety of buttons, colours, typography, designs, and more on offer. It also provides retina-ready, high-quality svg graphics.
The algorithm compares keywords from your content to determine the most relevant posts. The backend is extremely simple to use with more than 200 customising options that do not require you to get technically involved.
So, this plugin is a breeze for webmasters who wish to use it for their WordPress blogs or sites.
The best part about this plugin is that the extensive filter option is visible and available for use by your site visitors. Your post readers can thus sort and filter your related posts section on the basis of post type, relevance, taxonomy, title, and so on. In this way, they are more likely to find posts that are of interest for them.
Pricing
The regular licence costs $15.00 (with six months' support from wpdreams) and support extension to 12 months costs $4.50.
Current Compatibility
Compatible with up to WordPress Version 4.3.
Drawbacks
It basically does all that you may require from a related posts plugin, but some may find it a bit expensive for such a plugin.

This plugin for WordPress is an alternative for the related posts feature, if you wish your plugin to work well with shared WordPress hosting. It is an extremely simple related posts plugin, without much options to customise it, like some of the other free WordPress plugins that we have discussed earlier.
It does not rely on any algorithm to determine the relevance of posts to be displayed in the "related posts" section.
The ease of use of this plugin is also well suited for absolute beginners. Once the plugin is activated, a meta box gets added to the "Add or Edit Post" screen, where it is possible for you to select the related posts.
All you have to do is click on "Add related posts", find your preferred post and click "Add". That is it! There is no automatic or random allocation of post links to the related posts section. You do it manually.
A key thing to note is that this plugin does not place any restrictions or limitations on the number of related content posts possible for a single article.
Moreover, when you link an earlier post to appear in the "related posts" section of a new article, the new article automatically gets displayed in the "related posts" section of the earlier post.
It extends support for short codes and allows the display of pages, posts, custom post types, and more. You will also be delighted to learn that this premium plugin works for multiple languages, including FR, GB, US, DE, NL, ES and RU.
In addition, it gives the filtering option to your related posts viewers which is especially useful when selecting interesting posts from a large list of relevant posts.
You can even easily remove a post from the "related posts" section by unselecting the related post and then updating the actual post. You can download this plugin from CodeCanyon.
Pricing
The regular licence costs $8.00 (with six months' support from seandelaney) and support extension to 12 months costs $2.40.
Current Compatibility
Compatible with up to WordPress Version 3.9.11 (with Manual Related Posts Version 1.8.8).
Drawbacks
If you like to save time with automatic selections of related posts, then this plugin is not for you. Also, if you prefer to have more customisation options, then this plugin may disappoint you to a certain extent.
The Verdict On These Best Related Posts Plugins for WordPress
It is not possible to highlight any particular plugin as the most ideal one for adding the related content functionality to your WordPress site.
All the plugins discussed above are highly effective and you can select any one of them, as per your liking. Your objective must be to make your site visitors go through more content, which ultimately gives your website a better chance to create an impression on your readers or visitors.
Of course, it is a win-win situation with regard to bounce rate, newsletter subscriptions, page views, social media sharing, and more. More than anything, it makes your readers feel wanted, as they realise the efforts made by your site to recommend posts for them in which they will really be interested.
We hope that you will find the above review of some of the best WordPress related posts plugins to be useful. Be sure to check out our best WordPress plugins for business.
If you have used any one of these plugins, please feel free to share your experiences in the comments section below.
The following two tabs change content below.
Jamie Spencer
My name is Jamie Spencer and I have spent the past 10 years building money making blogs. After growing tired of the 9-5, commuting and never seeing my family I decided that I wanted to make some changes and launched my first blog. Since then I have launched lots of successful niche blogs and after selling my survivalist blog I decided to teach other people how to do the same.
Latest posts by Jamie Spencer (see all)