Cloudways Review 2023 – Managed Cloud Hosting At It's Best?
Written by Jamie Spencer – Updated 1st January 2023
Looking for managed WordPress web hosting? Want something affordable yet high-performance too?
Cloudways delivers on all fronts. Read our Cloudways review to see whether or not it's the right WordPress hosting solution for you.
Best Choice Managed WordPress Hosting
Cloudways
Use coupon code "SITEHUB"
Get 25% OFF for 3 months
Looking for managed WordPress web hosting? Want something affordable yet high-performance too? Cloudways delivers on all fronts. Read our Cloudways review to see whether or not it's the right WordPress hosting solution for you.
Not many hosting companies manage to strike the perfect balance between functionality and affordability, but Cloudways is one of them. With their managed WordPress cloud hosting services, Cloudways delivers on their promise of providing WordPress site owners with a fast, fully managed hosting solution with zero headaches.
Their cloud hosting platform comes with a multitude of features and is based on a rock-solid infrastructure optimized to the max for performance, speed, and security. If you want scalable cloud hosting and the ability to grow your server resources right along with your website, Cloudways is an excellent option. Keep reading to find out why.
Best Uptime: 99.99%
Fast Load Speeds
Extremely Secure
One-click Installs
Scalable
Pros of Cloudways
• Fully managed
• Super-fast servers
• Five cloud hosting services to choose from
• Very scalable
• User-friendly control panel
• One-click WordPress staging
• Free SSL certificates
• 24/7 customer support
Cons of Cloudways
• No file manager
• Email hosting not included
• Must register a domain separately
• Support is often a little technical
Disclosure: When you purchase web hosting from Cloudways through links on this page, we earn some commission. This helps us to keep this site running. There are no extra costs to you at all by using our links.
About Cloudways
Most Cloudways reviews skip over the actual details about the company itself, but this isn't your ordinary Cloudways review.
Based in Europe on the island of Malta, Cloudways was founded in 2009 by Uzair Gadit, Aaqib Gadit, and Pere Hospital. Since then, Cloudways has grown by leaps and bounds.
Today, Cloudways is run by a staff of 30+ and now has offices in Spain and Dubai as well. With 12,000+ servers and 8,000+ users from over 40 different countries around the globe, it's a serious company catering to serious WordPress site owners.
That said, Cloudways is just as affordable as it is functional. When it comes to low cost WordPress hosting, they offer a complete solution and packages suited to all needs and budgets.
Cloudways Managed WordPress Hosting
Cloudways provides managed cloud hosting services for sites developed with the hugely popular WordPress open source website builder software. Unlike other types of hosting, sites are stored on cloud servers, allowing for multiple copies of your website content to be replicated throughout whichever data center you choose.
A complex algorithm handles all of the switching of data and a copy of your site is delivered from the next available server should your main server go down. This type of system allows for the rapid deployment of server resources, much greater performance, and perhaps most importantly, reliability.
Why Choose Cloudways Over Traditional Hosting Services?
With traditional hosting, your website is stored on a single server with a single back-up. Cloudways is different. With Cloudways, your site is stored in the cloud on multiple servers for greater protection and performance.
Since your site is stored on multiple servers, you'll have several back-ups and you'll be able to easily migrate it should an incident occur.
Cloudways hosting also offers improved uptime, because any server in the cloud network can take over for another if something were to go wrong. In other words, downtime with Cloudways is next to zero.
As you may have read in other Cloudways reviews, the hosting provider usually delivers faster load times than traditional hosting as well. Their servers can detect customer locations, allowing them to transmit data from a server closest to them. They also utilize top-notch solid-state (SSD) drives for superior site performance and security.
Speaking of security, cloud providers like Cloudways generally offer greater security than traditional web hosts due to their use of a wider range of security techniques when processing WordPress sites.
Nonetheless, perhaps the biggest reason to choose Cloudways over traditional WordPress hosting is its scalability. Cloud servers are able to scale extremely quickly, making them ideal for large product launches, one-off campaigns, and rapidly growing companies who might experience sudden traffic spikes.
Saving the best for last is Cloudways' pricing structure. While most traditional hosting providers offer annual, bi-annual, and tri-annual subscriptions requiring you to pay more up front for the best possible deal, Cloudways operates via a pay-as-you-go pricing structure. In other words, you only pay for the resources you use. This is a big plus.
The Problem with Other Hosting Services
In terms of reliability and speed, VPS and dedicated servers are better options than shared hosting solutions. Although several hosting providers offer VPS and dedicated server hosting, not many offer managed hosting.
What does this mean? Well, if you go the dedicated route with a hosting provider like DigitalOcean, Google Cloud, or Amazon Web Services (AWS), you'll find yourself doing all of the heavy lifting. You'll need to manually install a cPanel and set up your hosting environment. You'll also have to handle the ay-to-day maintenance and operation of your server.
This can be a real headache, but the good news is there's Cloudways. Cloudways is a fully managed hosting provider, which means they do all of this for you. Cloudways is designed to make your life as a WordPress site owner easier yet still provide high-performance hosting features.
Key Features of Cloudways
As a WordPress hosting provider, Cloudways will take care of whatever your WordPress site needs, including backups, https redirects, SSL installations, and a variety of other tasks that often prove tricky for inexperienced site owners.
However, not all Cloudways servers are the same. In fact, there is a variety of server options with varying amounts of bandwidth, memory, storage, and processing power.
That said, regardless of which managed WordPress hosting package you choose, you'll be able to benefit from the following great features:
1. Free Site Migrations
If you're switching to Cloudways from another hosting service, Cloudways will migrate your site over to their servers for you for free.
2. Very Fast Server Speeds
The Cloudways CDN provides improved server speed. Fast loading times are important for every website, but they're especially important for ecommerce sites where an extra second of wait time can mean the difference between a sale and a lost customer.
3. Auto-Healing
Not only is Cloudways fully managed to take care all server-side needs, but they also utilize a unique auto-healing feature to effortlessly identify and resolve any issues and reduce the risk of your website crashing.
4. Dedicated Firewall
As the world's most popular CMS, WordPress is constantly being targeted by hackers. Fortunately, Cloudways is able to consistently thwart attacks on its servers and protect their customers' WordPress sites through the use of a dedicated firewall.
5. Let's Encrypt SSL
Cloudways also employs a built-in Let's Encrypt SSL feature, allowing you to add SSL encryption to your site for free and create a secure connection for your site visitors and customers.
6. Two-Factor Authentication
In addition to a dedicated firewall and SSL encryption, Cloudways employs two-factor authentication as well in order to provide an added layer of security against malicious hackers.
7. One-Click App and Plugin Installation
There's nothing worse than jumping through hoops and spending 15 minutes to install a WordPress app or plugin. With one-click app and plugin installation, you don't have to do any such thing with Cloudways.
8. One-Click Setup
Not only can you install apps and plugins with the click of a button, but you can setup new WordPress sites on your Cloudways server with a single click as well.
As you can see below, it is literally just a click of a button to install the WordPress application onto your server.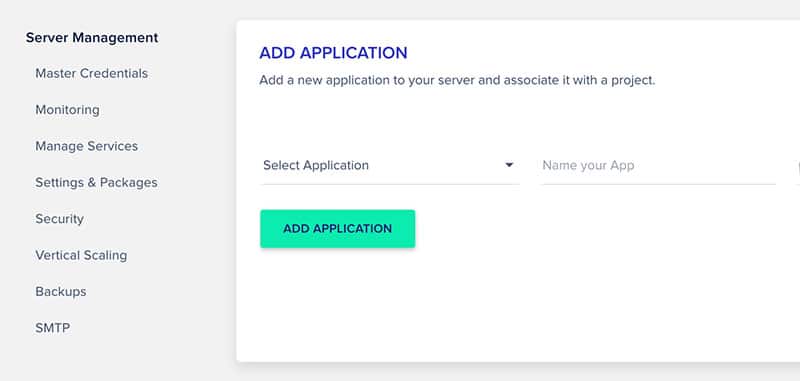 9. Staging and Cloning
With Cloudways' staging, you can test any changes to your site and make sure they look good and function properly prior to taking the changes "live" and putting them into action.
In a similar vein, you can also clone sites and make several copies, which is handy for backing up your site, switching servers, and showcasing your site to current and potential clients.
10. Advanced Caching
Cloudways' cloud infrastructure comes from five different cloud providers: Digital Ocean, AWS, Vultr, Linode, and Google Cloud, all of which offer SSD dedicated and VPS servers for lightning-fast performance.
Additionally, Cloudways utilizes several caching mechanisms for maximum server optimization. One of these is their proprietary caching plugin dubbed "Breeze," which supports CloudwaysCDN, the hosting provider's very own content delivery network. Other popular caching plugins like Varnish and Redis can also be used, but Cloudways recommends only using one of these and not both.
11. Vertical Scaling
If your traffic continues to grow and you need to upgrade your server, you can use the "Vertical Scaling" function to do exactly that. Located under the "Server Management" tab, Vertical Scaling will allow you to increase or decrease server resources and hosting plans with just a few clicks.
12. 24/7 Support
As you'll read in most Cloudways reviews, the managed WordPress hosting provider delivers in the customer support department as well. Not only do they offer 24/7 live chat support, but you can also send an email, request a call, visit the community forum, check the blog and knowledgebase, and have a gander at the company's social media pages to find the answers to any questions you might have.
The live chat is particularly impressive.
I tested the live chat at various times of the day and the response was always lightening quick.
Before you can live chat with a support agent, the support bot will try to find out what the issue is from your side and solve it for you. If not it will then pass on the information to a live chat support agent.
The whole process is really fast and I've always found the support agents very helpful, knowledgable and can solve 99% of issues there and then.
How Easy is it To Launch Your Website On Cloudways?
In short, very easy!
With Cloudways, you can launch and configure your server however you want right from their intuitive hosting control panel.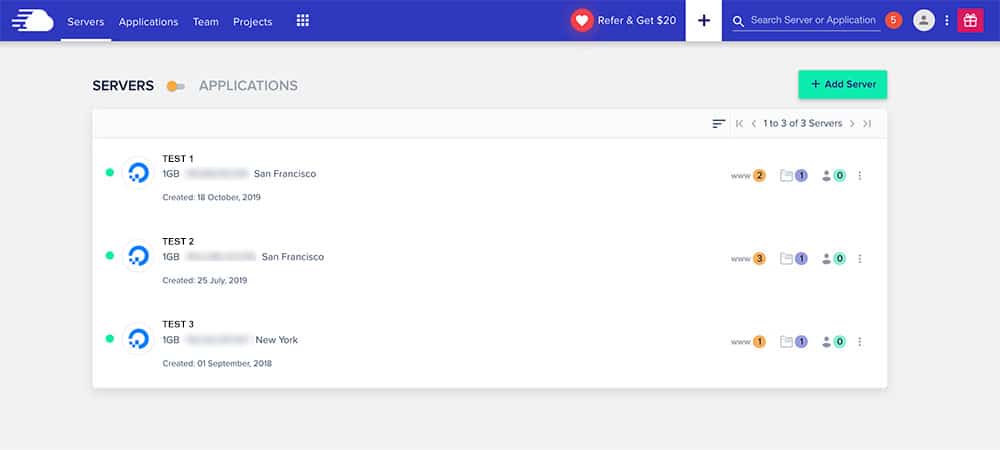 Choose Your Cloud Provider
Before you can begin configuring your server, you must first select a cloud provider from the Cloudways control panel. If you're new to managed cloud hosting, a cloud provider is basically another hosting company who provides the server infrastructure to managed hosting providers like Cloudways. In other words, it's Infrastructure-as-a-Service.
Cloudways works with five of today's top cloud providers:
• Digital Ocean
• Amazon Web Services
• Vultr
• Linode
• Google Compute Engine
Below you can see the screen shot of the server choices. It's very easy to set up. I have selected the type of application that I want on the server (WordPress) and now it's telling me what cloud hosting provider I want to use. I tend to go for Digital Ocean as my sites don't require that much server power.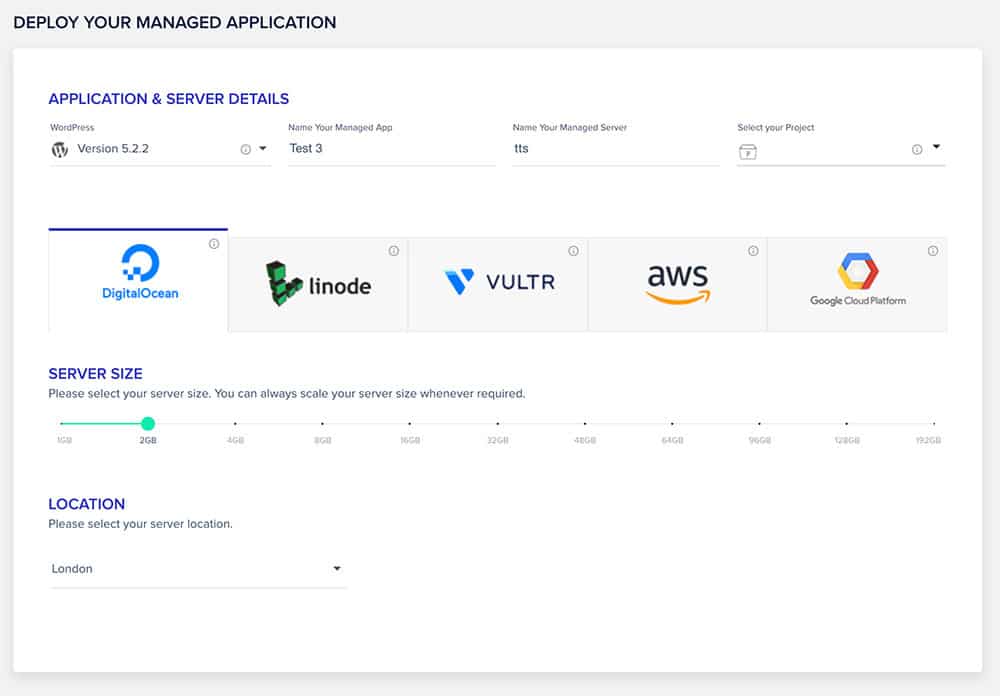 When you've chosen your cloud provider, you can then configure your server by using the slider in the cPanel to select your anticipated number of monthly page views. Cloudways will then recommend a server with the right amount of resources for your specific WordPress hosting needs.
If you're more experienced, you can also manually set your server specifications by selecting how many core processors and how much RAM, storage, and bandwidth you need.
As you play around with the server configurations, Cloudways displays the price of each option, so you know exactly what your going to be paying.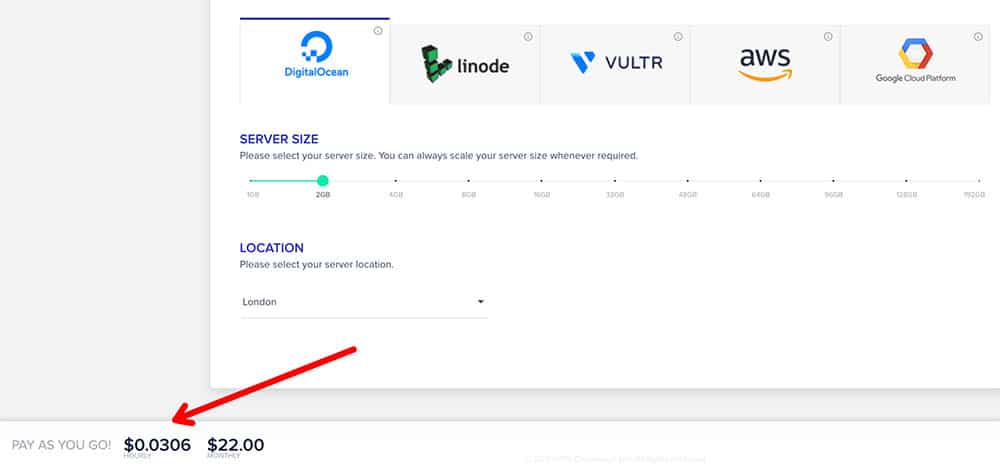 After you've done the above, you'll then be asked to choose your server location.
Then, you're all set to install WordPress.
Installing WordPress
After you've configured your cloud server, you can then install WordPress. To do so, go to the "Application Management" tab and select one of the following WordPress applications:
• Standard WordPress
• WordPress with WooCommerce
• WordPress Multi-Site
Regardless of which installation you choose, you'll benefit from the pre-installed and configured W3 Total Cache plugin for optimum site speed and performance.
What Else Can You Do From the Cloudways Control Panel?
In the Cloudways control panel, you'll find a ton of features and settings ready for tweaking under the "Server Management" tab.
Security
In addition to a dedicated firewall and the overall secure nature of cloud hosting, the security feature allows you to keep a log of "white list" IP addresses for you to use to access your server.
Monitoring
The ability to monitor your server is one of Cloudways' most impressive features. In this section, you can view a graph to easily monitor your server resources and how much of them you're using. You can monitor up to 15 variables, including disc space, incoming traffic, reads per second, Idle CPU, and more.
Backups
You can also set up automatic backups every day, every two days, every three days, and so on for up to one week. Of course, you can also manually backup your site with the click of a button whenever you want.
Crash Protection
There's nothing worse than shelling out for an add, getting a surge of traffic, and having your site crash because it can't handle so many visitors. With the "Vertical Scaling" feature, you can adjust your cloud server resources as needed with a simple click or two. It's a brilliant feature, and best of all, you only pay for the resources you use.
Other Handy Tools
Cloudways offers a number of other tools as well. For instance, you can use the "Manage Services" option to configure Apache, MySQL, cache memory, and more. There's also an "Application Add-On" section for installing application add-ons for email management, DNS management, and so on.
Plus, there's a "WordPress Migrator" tool and extra tools to restore backups, install free SSL certificates, integrate GIT, and perform other valuable functions.
Can Cloudways Be Used For e-Commerce?
A Cloudways review would be complete without bringing up the topic of e-commerce. Cloudways offers a wide-range of e-commerce features designed to make selling online as easy as possible.
Currently hosting 10,000+ e-commerce stores, the WordPress host provides 100 percent reliability and lightning-fast page loading speeds as well, which are two things online store owners need above all else.
Supported Platforms
Cloudways supports several popular ecommerce platforms, including WooCommerce, Magento, and Prestashop.
WooCommerce
WooCommerce is a popular e-commerce platform. With one-click installation, Cloudways makes installing WooCommerce easy as can be. Meanwhile, its e-commerce hosting plans feature free site migrations, one-click server scaling, WP-CLI support, and a number of other useful tools for WooCommerce and e-commerce as a whole.
Magento
Similar to WooCommerce, Cloudways offers one-click Magento installation to completely streamline the process. With multi-SSL deployment, built-in SSH, and other great features, the hosting provider is optimized to power super-fast Magento stores for smoother performance and higher conversions.
How's the Uptime on Cloudways?
As you can see from the list a little further up in this Cloudways Wordpress review, the managed hosting provider has partnered with some of the industry's top cloud server providers, allowing them to provide a solid uptime of over 99 percent. This means your site will be online and ready to view virtually all of the time just like it should be.
What About the Load Times on Cloudways?
Page loading speeds are critically important for website startups and small businesses as slow loading times can have a negative impact on Google's search rankings and also drive customers away.
The good news is WordPress sites hosted with Cloudways are up to 50 percent faster than sites with standard hosting. This is thanks to the use of Cloudways' cutting-edge VMAN technology stack, which was developed for one thing – speed.
This technology involves the use of:
• Varnish
• Memcached
• Apache
• Nginx
If that weren't enough, it also deploys:
• MySQL
• Redis
• PHP-FPM
In other words, Cloudways hosting is fast, real fast.
Globally Located Datacenters
If you use the Stackpath CDN, you'll also benefit from a global network of points-of-presence datacenter nodes. These nodes can store copies of your site, automatically detect the geographic region of visitors, and quickly serve them your site from the node nearest them.
Can You Use CloudFlare?
Yes, if you prefer the CloudFlare CDN, Cloudways provides step-by-step instructions on linking it to CloudFlare's global network of over 150 datacenters.
Are Site Changes Needed for Speed?
Regardless of the size and type of website you have, there are always things you can do to boost its page load speed and performance.
If you're not sure where to start, have a look at the Google Page Speeds Insights tool. It will analyze your website pages for speed and provide you with specific recommendations to make them faster and more responsive.
Is Cloudways Safe?
Cloudways hosting reviews always gloat about the hosting provider's security, and for good reason. Cloudways takes server security seriously. As a testament to this, all of its cloud servers are safeguarded with sophisticated firewalls.
The company's technical experts also use specific "security hardening techniques" as an extra measure to keep Cloudways servers safe from hackers. With automatic site backups as well, it's safe to say your site is safe with Cloudways.
Application-Level Security
Security is also taken seriously at the application level. An additional layer of security is utilized to help prevent external threats to your site via its applications.
Cloudways Suppport
While not necessarily the most personable bunch, as is the case with most IT people, the support team is extremely knowledgeable and available to help 24/7 via phone, live chat, and email.
You can also find answers to most questions in their knowledgebase, the FAQs page, and the company's social media pages.
Cloudways Plans and Pricing
Unless your website is already pulling in millions a month, chances are you're reading this Cloudways review with your budget in mind. If so, you'll be happy to know Cloudways offers a variety of flexible "pay-as-you-go" pricing plans.
The pricing may seem a little complicated at first as there are several different plans for each of its five partners – Digital Ocean, AWS, Vultr, Linode, and Google Cloud.
If you're just starting out, the basic plans for Digital Ocean and Linode will likely be more than enough. However, if you're site is already receiving heavy traffic, one of the Google Cloud or AWS plans may be a better option.
Prices start from just $10 per month.
Regardless of which plan you go with, it's hard not to like the "pay-as-you-go" pricing structure. With it, you only pay for the resources you need and keep from getting locked into expensive plans with subscriptions for up to a year or more.
If you find yourself needing an upgrade, you can use Cloudways' Vertical Scaling feature to do exactly that, making the service both affordable and flexible.
As far as payments go, Cloudways accepts payments via credit card and PayPal. They're actually one the few web hosts that offer payments via PayPal. However, if you'd rather test the waters first, you can always take them up on their free three-day trial. This allows you to try out their servers and features first before handing over your credit card details.
Why Not Go Directly to the Cloud Providers?
You may be wondering since Cloudways uses the server infrastructures of other cloud providers, why wouldn't you just go to them directly?
Sure, you could probably get a lower price by going directly to Digital Ocean, AWS, Vultr, Linode, or Google Cloud, but you would be on your own to set everything up all by yourself.
With Cloudways Managed WordPress Hosting, you can let them handle all of the complicated tasks for you and begin receiving traffic sooner rather than later.
Get Started With CLOUDWAYS – Discount Code Applied
What We Like About Cloudways – Pros
If you can't tell by this Cloudways CDN review thus far, we like Cloudways. Here are a few reasons why:
Completely Managed
Unlike other hosting providers, Cloudways offers a fully managed hosting service. This means you can spend less time worrying about your site's back-end performance and more time focusing on profits and growth.
One-Click Installs
Cloudways is super easy to use. Not only can you set it up and install apps with just a click or two, but WordPress, WooCommerce, and other apps can be automatically installed if you wish.
Quick and Easy Site Migration
Thanks to the hosting provider's custom migration plugin, you can migrate your site over to Cloudways with zero experience and in no time at all.
Intuitive cPanel
Although Cloudways uses its own control panel, which is a little different than the standard cPanel most users are familiar with, it's surprisingly intuitive and easy to use. There are large tabs for "Monitoring," "Vertical Scaling," and more. it's easy to navigate and nothing takes more than a few clicks.
Speedy Page Loading
Cloudways uses several advanced technologies to deliver responsive pages, fast load times, and optimized site performance.
Flexible "Pay-as-You-Go" Pricing
Lastly, it's hard not to like the Cloudways pricing structure. It allows you to easily scale up or down and only pay for the server resources you need. Honestly, all hosting providers should organize their pricing this way.
What We Don't Like About Cloudways – Cons
Despite everything Cloudways has going for it, nothing is perfect. Here are some things about the hosting company you might not like:
Lack of Control
While Cloudways is ideal for those wanting to sit back and watch their website perform like a well-oiled machine, it may not be ideal for users who want a little more control.
Apps Limited to PHP
You're also out of luck if you would like to create a custom application in a language other than PHP, but this should only be an issue for developers and advanced users.
No Domain Name Registration or Email Hosting
Unlike many other hosting companies, Cloudways also doesn't offer domain name registration. it also doesn't support email hosting, which may or may not be a big deal. For me it's not that much of a hassle as I tend to keep all my domains at either Namecheap or Domain.com
Do I Recommend Cloudways?
Yes. 100%
All in all, we really like just about everything Cloudways is doing. Although you can go directly to the cloud hosts it partners with, but for a slight premium, you can benefit from Cloudways' managed services, streamlined control panel, and expert support.
Cloudways is also completely scalable and comes with a fantastic set of features designed to support your site through every stage of its growth. If you have a WordPress site or want to start one and would like maximum performance and minimal headaches, Cloudways is worth checking out.
More on WordPress and Managed WordPress Hosting
If you want to read more of our reviews and guides about WordPress Hosting then check out the following: