Google Domains Review 2023
Written by Jamie Spencer – Updated March 17th, 2023
Top Rated Domain Registrar
Google Domains
When it comes to all things Internet, Google is a name that everyone knows. The company has its hands in everything from advertising to streaming. It's an industry powerhouse that only continues to get bigger.
Google Domains is one of the organization's newest product offerings. The service is designed to make domain registration quick, easy, and cost-effective. But how does it stack up to competitors?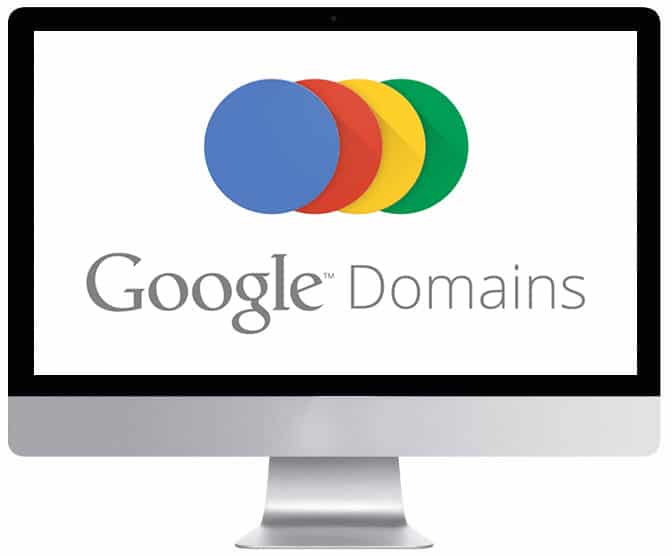 List of The Best Domain Registrars
Google Domain Pros
Website Builder Integration
Free WHOIS Privacy
G Suite Compatibility
Access To Google DNS
Sleek User Interface
Domain registrars are a dime a dozen these days. While the launch of Google Domains certainly attracted attention from webmasters and tech-lovers, many also questioned the need for Google to step into the domain registration arena. Does the service provide something that established companies like Namecheap, GoDaddy, or Domain.com don't? In this Google Domains review, we're going to find out.
Latest Domain Deal!
Get 25% off all domains + hosting from Domain.com with our exclusive coupon "Sitehub"
Disclosure: When you purchase web hosting or domain names from Google Domains, Domain.com or Namecheap.com through links on this page, we earn some commission. This helps us to keep this site running. There are no extra costs to you at all by using our links. 
About Google Domains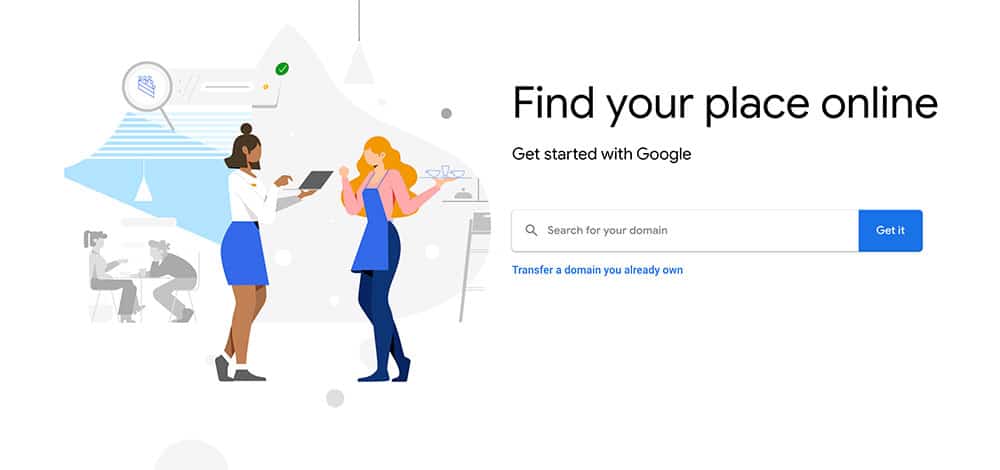 At its core, Google Domains is no different than other domain registration companies. It's a service that allows you to purchase a new domain for websites, emails, and more. The company will take care of the complex registration tasks. All you have to do is purchase the domain and remember to renew every year.
Google Domains is not a website builder or web hosting company. It's strictly a domain registrar.
The service was originally launched in 2015. As of 2020, it's still in the beta phase. Essentially, this means that Google is still testing the viability of the service. It's not available worldwide just yet. However, it is already accredited by ICANN, which is the organization that manages the domain name system.
Advantages Of Google Domains
First, let's go over some of the things we like about Google Domains. While all registrars work to provide the same core service, it's the finer things that set these companies apart. Here are some things that Google Domains does well.
1. Website Builder Integration
Once you purchase your new domain name, you're going to want to start creating your website! Google makes that task pretty easy by giving you quick access to some of the most popular building services on the web.
Google partners with other companies that focus on the design and construction of your site.
Some of the tools you can access include Squarespace, Wix, Weebly, and Shopify.
Of course, the domain service also has integration with Google's own site-building tools like Blogger, Google App Engine, and Google Sites.
This simple integration makes it easy to get a site up and running. This is especially true for those who don't have a ton of experience creating websites just yet. Typically, you use one of those tools are services to create your site, then connect it to your domain.
With Google Domains, you can do it all from one place. Plus, the built-in integration lets you compare and contrast building tools quickly to find one that works for you.
If you prefer using WordPress, Google Domains does have integration with Bluehost.
For now, Bluehost is the only official WordPress option that Google provides. Luckily, the registrar does not place any hard restrictions on how you choose to use your new domain name. You're free to use any website builder you want to. The integration is completely optional.
2. Free WHOIS Privacy
One of the best perks that come with Google Domains is free WHOIS privacy protection. WHOIS is a massive database that allows you to look up contact information about any domain name owner. Typically, the database is used to facilitate the buying and selling of domains between two parties.
Whenever you register a new domain, your basic contact information is automatically put into the WHOIS database. That is, however, unless you invest in privacy protection.
Most domain registrars charge you an annual fee for this feature. The exact cost depends entirely on the registrar. Usually, it's around $12 a year.
With Google Domains, it's free. It's available with most domains registered. There are some exceptions for certain country code domains.
3. G Suite Compatibility
If you're already familiar with the Google ecosystem you already know how great it is when all of your services sync up seamlessly. You can do the same with Google Domains. It's compatible with G Suite, formerly known as Google Apps.
The service is optional and will cost you an additional fee. However, it may be worth the investment for many companies and website owners. With G Suite integration, your team is getting access to applications like Docs, Calendar, Gmail, and even Drive.
Even if you don't use G Suite, you can still take advantage of the Google ecosystem. Your Google Domains account will be automatically verified with Google's other products, which can improve your workflow significantly. Plus, the account remains secure with two-step authentication.
4. Email Flexibility
Not only are you able to use your domain with great Google email services, but you also get tons of flexibility in how you do so. Every domain comes with up to 100 email aliases for email forwarding. This is particularly useful for small businesses that want to forward multiple email addresses to one inbox.
Sometimes, this feature costs extra in other domains. So, it's nice to see that Google includes it for free.
5. 100 Subdomains
Domains registered at Google Domains come with 100 subdomains. Subdomains are great for keeping your digital space organized. Many webmasters use subdomains to separate different kinds of content while keeping everything under one single domain.
100 subdomains is a lot. Not every registrar provides this free perk. Chances are, you won't even use them all. But, it's good to know that those subdomains will be available if the situation ever arises.
6. Access To Google DNS
Good DNS server access is a crucial part of keeping the Internet running smoothly. DNS servers are basically giant address books. Whenever you type in a web address on your computer or mobile device, your system will connect to a DNS name server to find out which IP address is connected to the particular domain you're trying to contact. All of this happens very quickly to keep the browsing experience smooth.
Unfortunately, not all DNS servers offer that same lightning-speed performance you need.
Google DNS servers are considered to be one of the fastest and most reliable servers around. When you register your domain with Google Domains, your domain is going to use these servers. This ensures that your visitors are getting the best experience possible.
7. Sleek User Interface
Most people aren't going to spend a ton of time on their domain registrar's site. However, it's still nice to have a well-designed interface that's easy to navigate. The Google Domains site has the iconic minimalist design that Google products are known for. Thus, you can easily find most menus and options without any issues.
It's not a huge factor or dealbreaker, but it's a nice perk worth noting.
8. Transparent Pricing Model
When it comes to pricing, Google Domains is quite transparent. The biggest issue that many website owners have with registrars is steep renewal fees. Registrars will offer amazingly low prices for the first year. Sometimes, you can get domains for only a dollar. While that's great for keeping your startup costs low, those savings are often lost during renewal.
Google Domains charges the very same price for registration and renewal. There aren't any unexpected price hikes or hidden fees. It's all laid out clearly. This is great if you're on a tight budget and want to plan your domain fees ahead of time.
Disadvantages Of Google Domains
Now that we've sung Google Domains praises, let's go over some of the negative aspects of the service.
1. Not as Feature-Rich as Other Options
At the end of the day, Google Domains is a domain name registrar, nothing more. It's designed to be as simple and stress-free as possible, so you're not going to find any extras.
Usually, we'd chalk this up as an advantage. However, it can be a detriment to those who need complementary products. Extras like multi-year registration or integrated hosting services are not available. You can invest in those features separately, but that can make the entire process more confusing for some.
Most registrars will offer hosting plans, SSL certificates, and everything else you may need to get your site up and running. People often take advantage of those add-ons because it's easier to get billed by one company than several. Unfortunately, Google Domains is a simple service at this moment and doesn't offer any extras.
2. More Expensive
Despite the transparent pricing model, Google Domains isn't the cheapest option out there. You have to remember that Google is a mega-corporation. It isn't focused solely on providing domain registration services. Thus, the service isn't really trying to be competitive when it comes to pricing.
Domain names at Google Domains typically cost a bit more than those you'd find on Domain.com or Namecheap. The difference isn't major, but it's worth considering if the costs are a priority for you.
3. Limited Availability
Currently, Google Domains is only available in select countries. For a while, it was limited to customers in the United States only. However, it has since expanded to include those in the United Kingdom, France, Australia, and more. As of 2020, it's only available in 14 countries.
This doesn't just affect your access to the service, but it can also limit the country-code top-level domains that you can use.
4. Beta Status
As we mentioned earlier, Google Domains is still in beta status. It has been since launch. Why should that matter to you? Well, take a look at Google's track record. The company is notorious for discontinuing products and services, even if they have a relatively large user base or decent public interest.
Google has killed off Google Reader, Google Glass, and even the much-hyped Google+. What's stopping the company from discontinuing Google Domains?
This could be said about any product out there, but the fact that this service is still in beta is concerning to many. If Google Domains were to go out of business, the fate of many domain names would be unknown.
5. Customer Support
This isn't going to affect most people. However, it's worth mentioning that the Google Domains support system isn't the best out there. Even with the well-designed user interface, finding access to support lines is easier said than done. A lot of that information is buried, making it difficult to get true email or phone support when you need it most.
Generally, website owners won't need to contact the registrar. The process is simple and usually straightforward. But, registrars will offer support just in case.
The issue with Google's support is that the company is quite large. Not only are you faced with having to wait to speak to a real person, but you also have to make sure that you're getting in touch with the right department. This is what makes the difficulty of finding contact information so frustrating.
The good news is that once you find that contact information, you have several customer support options at your disposal. Google Domains has dedicated phone, email, and live chat support.
What TLDs Are Available with Google Domains?
There are a fair number of TLD options at Google Domains. TLDs, or top-level domains, refer to the last part of your web address. That small extension is important, as it can convey a sense of professionalism or give web browsers an idea about what your site is about before they visit.
Google Domains offers all of the TLDs you would expect. Simple .net, .org, .co.uk, and .com domains available. The .com domains are fairly affordable at $12 per year.
More expensive generic top-level domains are available as well. You can find everything from .ninja to .graphics is up for grabs. Pricing varies based on the demand for the TLD and its general availability.
When compared to other established registrars, the collection of domain extensions you can get from Google Domains isn't the biggest. Namecheap and Domain.com offers several options that you can't get with Google.
Google Domains Pricing – Google vs Domain.com vs Namecheap
Here's how Google Domains' compare with domain.com and Namecheap in terms of pricing for their most popular TLDs.
| TLDs | Google Domains | Domain.com | Namecheap |
| --- | --- | --- | --- |
| .com | $12 | $9.99 ($7.49) | $7.88 |
| .org | $12 | $14.99 ($11.24) | $9.98 |
| .net | $12 | $12.99 ($9.74) | $9.98 |
| .co | $30 | $6.99 ($5.24) | $3.98 |
| .io | $60 | $58.99 ($44.24) | $28.88 |
| .ai | N/A | N/A | $52.88 |
| .co.uk | $12 | $29.99 ($22.49) | $5.88 |
| .space | $20 | $2.99 ($2.24) | $1.28 |
| .site | $20 | $4.99 ($3.74) | $1.28 |
Prices in brackets show prices with coupon code Sitehub applied at checkout.
How To Use Google Domains
You can access Google's domain name registration service by visiting domains.google.com. As we said earlier, Google Domains takes on the simple design scheme that the brand is known for. So, you should have any problems navigating the site.
Once you've created your account or logged in with your existing credentials, you can start searching for available domain names. This is all done on a minimalist page with a simple search bar. Simply type in your keywords. Google Domains will display available extensions.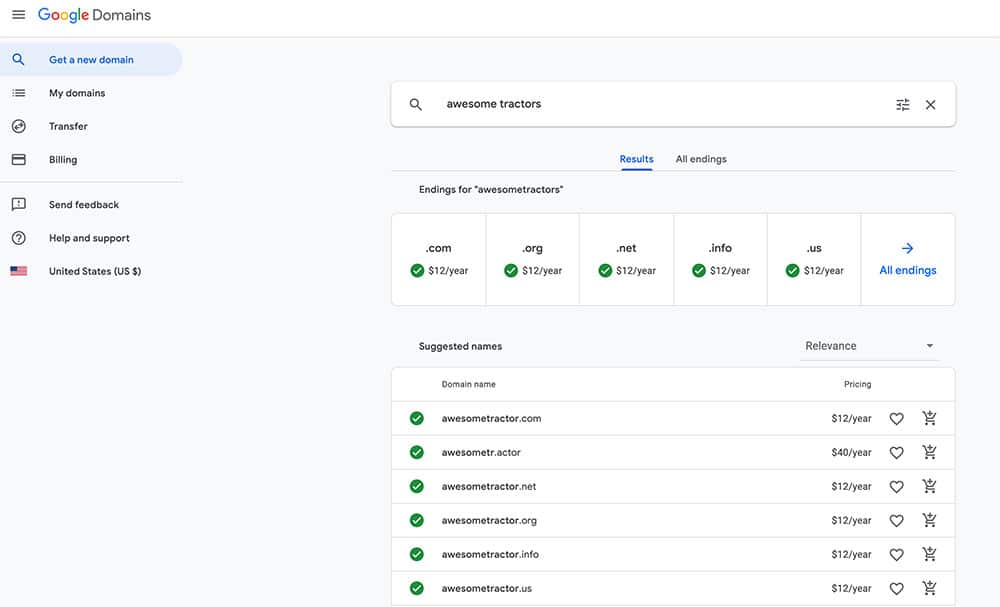 If a domain has a cross-out symbol next to it, this means that it is taken. However, you can click on the icon next to the "Unavailable" label to see the owner's WHOIS information. Google Domains brings this page up directly on the website, so you don't need to open up another browser tab.
When you see an available domain that you like, just click on the shopping cart icon. The price of the domain should be displayed next to this icon. From there, you'll need to provide some personal information. This includes billing information and any data required by ICANN. You can switch the privacy protection feature on or off. Remember, this is free with most domains.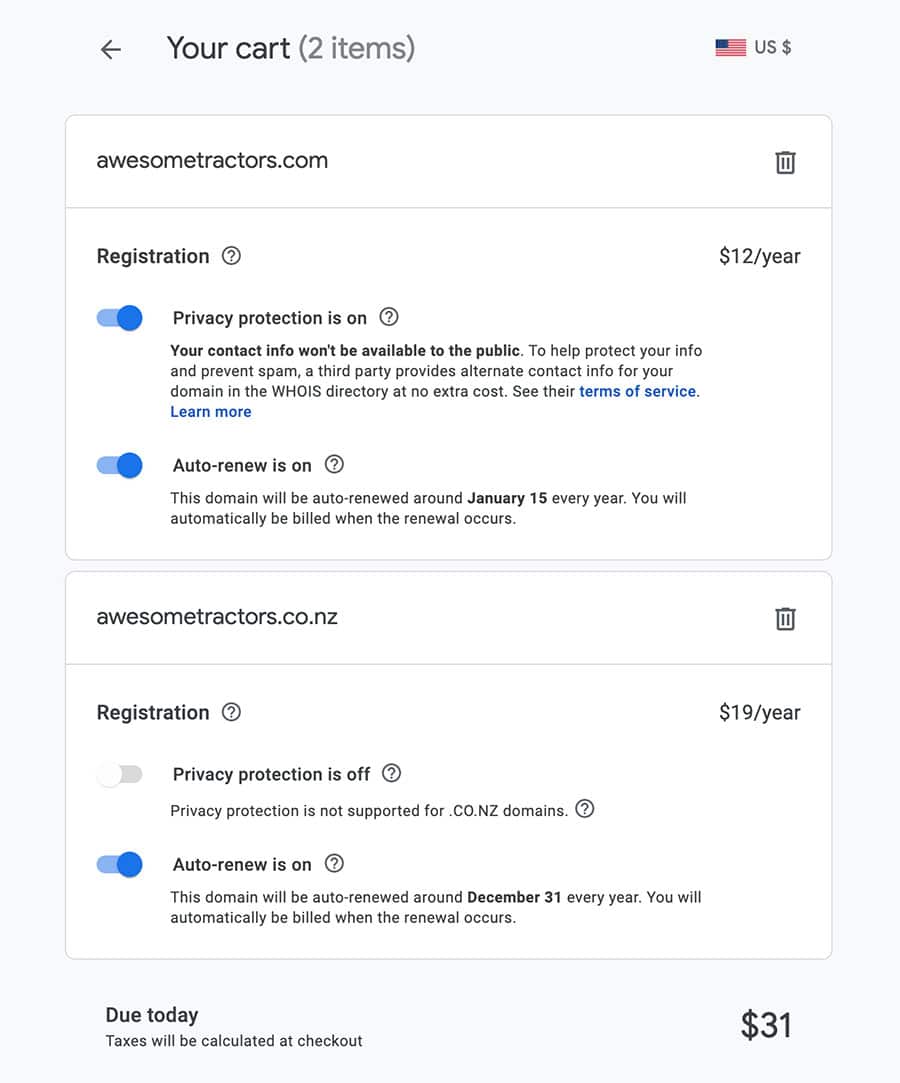 You'll also be presented with the option to auto-renew. After you have paid for the registration, you should confirm your email address with ICANN. This is required for all new registrations. After that, you can start building your site!
Is Google Domains Worth It?
All in all, Google Domains is a decent service with some nice perks. The free WHOIS private registration is great. Accessing the website is fairly easy and registering your new domain is a straightforward process. Thanks to the transparent pricing, there are no surprises.
With all the good it has, is Google Domains a game-changer? No, it's not. Google Domains is fine, but it's not the best option you'll find on the market.
Truth is, you can do a lot of the same things with registrars like Namecheap and Domain.com. In fact, those two alternatives offer even more than what Google Domains does. They both have integrated hosting services, domain privacy add-ons, and more. Both of those services can also guide you in the right direction to get your site up and running in no time.
Despite its best efforts, Google Domains just doesn't offer anything special that Namecheap and Domain.com don't. In fact, Google may place more limitations on you instead. For example, the lack of integrated WordPress support and higher registration costs put the service at a disadvantage.
Google Domains offers a solid domain registration service. But, there's no reason to go with this company over other established registrars.
VISIT DOMAIN.com – GET 25% OFF – Coupon Code SITEHUB
More Domain Name Related Content
If you want to read more about all things domain names then check out the following guides: