HostPapa Hosting Review – 2023
Written by Jamie Spencer – Updated 22nd August 2021
Decent Entry
Level Web Host
HostPapa
Free Domain Name + Hosting + Web builder + 1 to 1 training: From $3.95 per month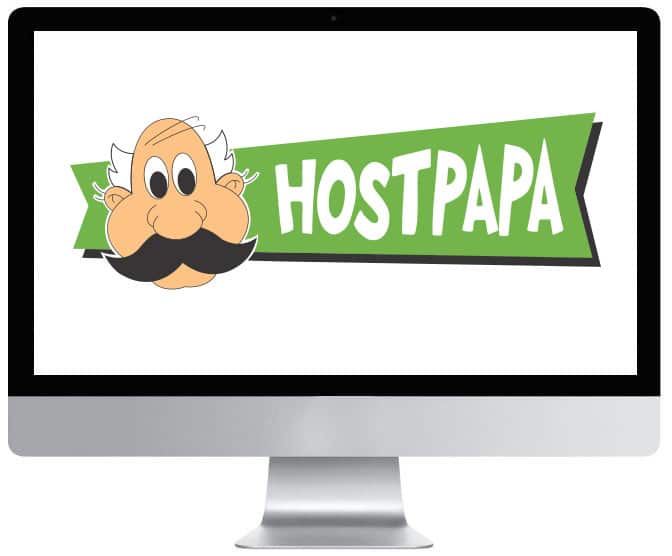 In our ongoing effort to bring you in-depth, stat-driven information about all of today's top web hosting options, we monitor and test a variety of hosting providers all of the time. It's what we do day in and day out. In this HostPapa review, you'll learn all about this hosting services up-and-comer and see why they score so highly in regards to reliability, affordability, beginner-friendliness, and more.
HostPapa Pros
Good Uptime: 99.5%
Free Domain Name
New Blogger Friendly
One-click Installs
Unlimited email accounts
Latest Deal!
You can get Hostpaps's Business hosting plan for special price of just $3.95 per month (Normally $12.99 per month)
+ a FREE DOMAIN NAME worth $15 ( free for the first year ).
A FREE domain name
Unlimited email accounts
Unlimited space
Unlimited websites you can host
Fast, high quality & reliable web hosting
Free Site Builder
One-click WordPress Install and 24/7 support.
Disclosure: When you purchase web hosting from HostPapa through links on this page, we earn some commission. This helps us to keep this site running. There are no extra costs to you at all by using our links.
It's not a market leader, but as you'll see in this HostPapa hosting review, it's a solid hosting company with great uptime, good page loading speeds, and excellent customer support options. With a variety of hosting plans ideal for smaller websites and all-inclusive hosting packages offering a free domain name, SSL certificate, security features, and unlimited bandwidth, they really swing for the fences.
But, do they strike out? As you've probably read in other HostPapa reviews, this Canadian web hosting company has a lot going for it. However, as you'll see, not every at-bat is a home run.
Pros:
• Excellent value for the money
• Solid uptime and speed
• First-class customer support
• Focus on using renewable energy
• Very beginner-friendly
Cons:
• Fewer data centers to choose from
• No automated website backup option for lower-level plans
• Additional fees
It may have a silly name, but HostPapa has proven to be a legit hosting provider with a bevy of hosting services designed to deliver everything you need to get a site online and running like a charm.
It sets itself apart from other hosting companies with its beginner-friendly tools, above average uptime, and focus on sustainability. However, not every hosting company is right for everyone.
In this review of HostPapa, we'll dive deep into HostPapa.com and go over my experience with this underestimated hosting company to see if it's a good choice for you.
The Importance Of A Quality Host Like HostPapa
HostPapa isn't the most popular web host out there today, but as you'll see from my experience with them in this HostPapa review 2020, they're pretty darn good.
Most web hosting providers are a dime a dozen. You need a provider who focuses on performance, uptime, and user-friendliness. You need one equipped with the features you need to create, launch, and grow your site from the ground up.
HostPapa currently hosts more than half a million websites in its data centers throughout Canada and the US, which is really impressive considering they were only founded a little over a decade ago. They must be doing something right.
To find out for ourselves, we put HostPapa to the test. Let's see how they measure up.
History & Background Of HostPapa
HostPapa's roots date back to 2006. In the years since, the company has grown steadily around the globe and now hosts over 500,000 sites.
Headquartered in the Toronto suburb of Burlington, Ontario Canada, the Canadian-based provider offers reliable service and an array of hosting products to website owners in Canada, the US, and around the world.
That said, HostPapa's plans are mostly catered towards beginners and small business owners.
Pros Of HostPapa
HostPapa has plenty going for it. It's certainly not perfect, but I dare you to name one hosting provider who is. All in all, its pros definitely outweigh its cons.
1. Good Reliability and Uptime
In our tests, HostPapa lives up to its 99.9 percent uptime guarantee.
It might sound obvious, but you would be shocked at how much trouble web hosts have doing the one thing they're supposed to – keep websites alive and running.
HostPapa hosting doesn't have these downtime troubles. While they offer a free domain and a bunch of other goodies, where they really excel is with their servers.
During our extensive testing, they've managed to post a noble average uptime of 99.95 percent, beating its uptime guarantee. Some months, they even reached an uptime of 100 percent!
2. Above Average Load Times
HostPapa's uptime was above par, and the web host's page loading speeds are also above average.
During our testing, HostPapa had an average load time of 760ms. The industry standard is nearly 900ms, so while they're not blazing fast, HostPapa is definitely faster than most.
3. Extremely Beginner-Friendly
Read any hosting reviews of HostPapa and you'll find a similar thread woven into each one: HostPapa makes hosting simple for beginners and smaller business owners.
We'd like to stray from the pack in this HostPapa web hosting review, but we can't. Like HostGator and other newbie-friendly hosting providers, HostPapa excels in making their hosting services as user-friendly as possible. In fact, they cater mostly to small businesses and first-time site owners.
Beyond their wide-variety of beginner-friendly shared hosting packages, which take care of your domain name, domain registration, and a lot more, they also offer a drag-and-drop website builder and have features in place to make managing your hosting a breeze.
One of these features is their control panel. While some hosting companies develop their own control panels to try to differentiate themselves from the competition, HostPapa takes the "If it isn't broke, don't fix it" approach by using the same classic cPanel as HostGator, BlueHost, Google, GoDaddy, and all of the other top web hosts.
If you've ever used or read about cPanel before, then you know it's one of the world's most popular and widely used control panels. The cPanel environment is very intuitive and laid out well. You can access it directly from your cPanel's URL, or you can find it in your HostPapa dashboard.
4. Extensive Support Options
If you ever do run into trouble, HostPapa offers an extensive lineup of support options to help you out. You can feel free to browse through their extensive knowledgebase and huge library of help resources and video tutorials, or you can contact them 24/7 by email or phone. They even have a separate support fax number!
Phone support is available any time of day to users in 18 countries throughout the world, which is more than just about any other web host we've run across.
As you may have read in other HostPapa hosting reviews, they're also one of the only hosting providers to offer phone support in multiple languages, including Spanish, French, German, and of course, English.
Whether you're reading HostPapa reviews Canada, a HostPapa UK review, HostPapa review Australia, or you're located in one of the other 15 countries HostPapa offers phone support, help is just a phone call away.
If that weren't enough, they also have the expert "Papa Squad" support team on standby to take HostPapa support to the next level.
5. Enhanced Security Features
Security should be a main talking point in any review of HostPapa or any other web host. Fortunately, HostPapa scores well when it comes to the security of their web hosting services.
The company's hosting plans each come with Panda Cloud antispam protection. They also feature a server firewall and server monitoring with intrusion detection.
While they don't offer SiteLock, each plan also comes with domain privacy protection and free SSL from Let's Encrypt. Some plans also offer dedicated IP addresses.
With nearly 40,000 websites getting hacked daily, all of these proactive security features are definitely reassuring.
As a busy website owner focused on growing your business, you shouldn't have to worry about spam protection and other security details that are important but often overlooked. It's nice having a web host like HostPapa watch your back.
6. Green Hosting
Servers and the data centers that house them consume a lot of energy. Unlike many hosting companies HostPapa actually thinks about the environment and their energy consumption.
Now, I'm not saying they power their servers with wind turbines, water wheels, or solar panels. However, like a few of the other "green" hosting services out there today, they offset their energy usage by purchasing renewable energy credits.
So, if you're concerned about the environment and your impact on it, HostPapa is just about as good as it gets.
7. Bang For Buck
A lot of HostPapa customer reviews rave about the company's affordable hosting plans. In fact, the basic shared hosting plans start at just $3.95 a month when you sign up for three years. Of course, you can sign up for two years or even one year if you like, but you'll have to pay about $1 more in both cases.
Like many hosting providers, HostPapa has priced their plans lower for new customers. So, when your initial plan expires and it's time to renew, the price will jump to $7.99 a month instead of $3.99 for the same Starter plan. This practice is a bit sneaky but definitely not uncommon.
The good news is you get some serious bang for your buck during the initial pricing period. In addition to unmetered bandwidth and plenty of disc space, you also get a domain name, cPanel, SSL certificate, Cloudflare CDN, and many other freebies other hosts charge money for as add-ons.
Not bad, right?
But wait, there's more. You also get access to a website builder, 400+ apps, and more of their included "Essential Features."
So, HostPapa is a pretty solid value overall. Many other hosts make you pay for the things HostPapa offers for free, which can add up to a pretty penny each month.
8. 30-Day Money-Back Guarantee
To top it all off, HostPapa also offers a 30-day money-back guarantee. It's worth noting, however, that this is pretty much standard across the industry.
If you're not happy with any of their hosting plans for any reason, just let them know and you'll receive a refund – easy peasy.
Disadvantages Of HostPapa
HostPapa is loaded with useful features and high-quality servers to provide an above average web hosting environment at a below average price. That said, no one wants to read HostPapa reviews or reviews of any other hosting company and only hear the positives. The negatives are important too.
Like most web hosts, HostPapa isn't perfect. In fact, here's a look at two of their biggest drawbacks:
1. Additional Fees
Now, we've been pretty kind so far in this HostPapa review. However, this is where the buck stops, so to speak.
Like many web hosting providers, HostPapa offers a "30-day money-back guarantee," but if you take them up on their offer, they won't really give you all of your money back.
That's right; you'll be charged a $29.95 setup fee whenever you cancel. Hmmm, that's not playing nice. It's really like a "money-back minus $30 guarantee."
As always, read the fine print.
2. Poor Response Time to Support Tickets
When contacting HostPapa's customer support for this HostPapa review, our experiences were mostly positive and everything went pretty smoothly.
However, when reading through user reviews to get their feedback, they didn't paint quite as rosy a picture.
Sure, they offer a slew of different customer support channels to turn to for help, but the response times for phone and email seem to be a bit lagging, and overall customer experiences seem to be below par or average at best.
HostPapa Hosting Packages: A Breakdown
Like we've already mentioned, HostPapa offers a wide-variety of hosting packages designed to suit most website owners. Although they place much of their focus on beginner-friendly shared hosting and WordPress hosting plans, they offer some other hosting options as well.
Here's a breakdown of every HostPapa hosting plan, so you can know exactly what they offer and decide whether or not they're the right web hosting services provider for you.
Shared Hosting From HostPapa
Most HostPapa reviews spend the bulk of their time talking about the Canada-based provider's shared hosting plans, and we're no different. After all, since they're geared towards beginners, shared hosting probably makes up 80 percent of the company's business.
Often, shared hosting packages limit disk space, bandwidth, and/or features, but HostPapa is different. They deliver a lot more value and bang for the buck than most.
For instance, the Starter Plan, which is the most basic plan, isn't just super affordable but it also lets you host more than one website. It also offers a generous helping of disc space, so you won't be going hungry with Spartan-like limits here either.
If you're looking for the most affordable option, HostPapa's Starter Plan is the way to go. However, if you have or plan on building out a larger website in the near future, the Business and Business Pro shared hosting plans are worth a look.
Here's a quick rundown on each of HostPapa's shared hosting packages:
Starter Plan:
• $3.95/month
• Two websites
• 100GB SSD storage
• Unmetered bandwidth
• Free domain name
Business Plan – BEST VALUE – Sign-up here
• $3.95/month
• Unlimited websites
• Unlimited SSD storage
• Unmetered bandwidth
• Free domain name
Business Pro Plan:
• $12.95/month
• Unlimited websites
• Unlimited storage
• Unmetered bandwidth
• Free domain name
All shared hosting plans feature:
• Free website transfer
• Free Cloudflare CDN
• Free Let's Encrypt SSL
• cPanel
• Starter website builder
• Softaculous with 400+ free apps
• CloudLinux servers
• 24/7 support
Business and Business Pro plans also feature:
• Unlimited add-on domains
• Unlimited email accounts
• Unlimited MySQL databases
• 2x more CPU and MySQL resources
Business Pro Plan also features:
• Rocket fast servers
• 300 percent performance boost
• Fewer accounts per server
• Website builder upgrade to unlimited pages
• 4x more CPU and MySQL resources
• Premium Wildcard SSL
• Automated website backup
• Protection Power Pro
• Domain privacy
Who Does Shared Hosting Benefit Most?
Shared hosting is ideal for most small businesses and first-time website owners. If you fall into this category, then shared hosting is more than likely the way to go. As your site grows along with your need for resources you can upgrade to another hosting package.
Shared hosting is the cheapest hosting option and will give your site all the features and resources it needs to not only sprout but grow. Shared hosting is also a good fit for any site in general without a high traffic demand.
HostPapa VPS Hosting Plans
VPS is similar to having your own dedicated server, but rather than renting out your very own physical server, it uses virtualization technology to essentially create a dedicated virtual server from several hared servers.
I know it may sound complicated, but VPS technology has been around for awhile and is the perfect bridge between shared and full-on dedicated hosting, which can cost a pretty penny. It's also something HostPapa doesn't offer.
However, unless you're running a super popular blog, news, ecommerce, or another type of site with thousands of visitors each day, HostPapa's VPS plans will provide all of the speed, performance, and resources you need.
With VPS hosting, you can also scale both rapidly and indefinitely. Since you're not bound to the actual physical constraints of a dedicated server, all of the server resources you could ever need are at your fingertips.
With HostPapa's reasonable VPS pricing, it's the logical next step when you've outgrown shared hosting.
HostPapa's VPS pricing starts at $19.99 for your initial month. After that, the basic price is $49.99 a month, but with it you get fully managed hosting with 4 core CPU, 50GB storage, 1.5GB RAM, 1TB bandwidth, cPanel, Softaculous, Cloudflare CDN, and a lot more.
Although you're admittedly not getting a whole lot of bandwidth or RAM for your money, itp;s a pretty good deal for a fully managed VPS.
Here's a quick breakdown of this and HostPapa's other VPS packages:
Mercury Plan:
• $19.99/month
• 4 Core CPU
• 2GB memory
• 60GB SSD storage
• 1TB transfer
Venus Plan:
• $59.99/month
• 4 Core CPU
• 4GB memory
• 125GB SSD storage
• 2TB transfer
Earth Plan:
• $109.99/month
• 8 Core CPU
• 8GB memory
• 250GB SSD storage
• 2TB transfer
Mars Plan:
• $169.99/month
• 8 Core CPU
• 16GB memory
• 500GB SSD storage
• 4TB transfer
Jupiter Plan:
• $249.99/month
• 12 Core CPU
• 32GB memory
• 1TB SSD storage
• 8TB transfer
All VPS plans feature:
• Root level access
• 2 IP addresses
• Enhanced SSD servers
• Unlimited domains
• SolusVM VPS panel
• Free VPS migration
• Let's Encrypt SSL
• Softaculous 400+ free apps
• Private nameservers
Like HostPapa's shared hosting plans, the main differences between the provider's VPS hosting plans is the amount of disc space, RAM, and bandwidth you receive. However, the higher-level plans also offer more IP addresses.
Ultimately, the best VPS plan for you largely depends on your storage and bandwidth needs.
Who Does VPS Hosting Benefit Most?
VPS hosting is reliable, fast, and incredibly scalable. If your site begins experiencing higher and higher traffic volume, then VPS hosting will be able to deliver the performance you need.
VPS hosting also gives you a lot more freedom and flexibility with your customization options. Since you basically have your own dedicated server, which is simply virtual rather than physical, you can do with it what you please.
If you've outgrown the constraints of shared hosting, then VPS hosting is seriously worth checking out. It costs a little more, but you get a lot more flexibility, scalability, and performance power.
HostPapa WordPress Hosting Plans
With the popularity of WordPress, it's only natural that any review of HostPapa should talk about its optimized WordPress hosting solutions.If you're website is run on WordPress or you plan on using it to create your site, then you should consider HostPapa's optimized WordPress hosting plans. They will allow you to optimize your site for WordPress right from the start, achieve higher levels of security and performance, and take care of all of the technical issues related to running a WordPress site.Here's a quick rundown of HostPapa's WordPress hosting plans:
WP Starter Plan:
• $3.95/month
• Two websites
• 100GB SSD storage
• Unmetered bandwidth
• 100 email accounts
WP Business Plan:
• $5.95/month
• Unlimited websites
• Unlimited SSD storage
• Unmetered bandwidth
• Unlimited email accounts
WP Business Pro Plan:
• $12.95/month
• Unlimited websites
• Unlimited SSD storage
• Unmetered bandwidth
• Unlimited email accounts
All HostPapa WordPress plans also include:
• SSL certificates
• Integrated CDN
• WordPress Super Cache
• Varnish
• Jetpack Free or JetPack Premium and moreAll in all, the plans come with a decent set of features, and like Hostpapa's other hosting options, the primary difference between them is the amount of RAM, storage, and visitors each plan allows.
Although the plans lack the power of more advanced optimized WordPress hosting solutions, they deliver solid value and performance, and we can recommend them with confidence in this HostPapa WordPress review.
Who Does WordPress Hosting Benefit Most?
Obviously, WordPress hosting benefits anyone with a WordPress site. It takes the headache out of managing your hosting, optimizes it for WordPress's unique environment, and helps maintain the right levels of security and performance.While you may not need it if you're just starting out online, it's worth checking out once your site content and traffic begins to grow.
HostPapa Reseller Hosting Plans
HostPapa offers reseller web hosting as well, so if you manage client sites, this is the plan you need.With one of HostPapa'a reseller plans, you can manage multiple websites, provide clients with the freedom to manage their own accounts, or manage each client under your brand using an intuitive yet deceptively powerful dashboard.You can also install hundreds of apps like Joomla, WordPress, WoCommerce, and more.
Here's a brief breakdown of HostPapa's reseller hosting plans:
Bronze Plan:
• $29.99/month
• 4 Core CPU
• 2GB RAM
• 50GB SSD storage
• 500GB bandwidth
• 20 cPanel accounts
• Free SSL certificates
Silver Plan:
• $39.99/month
• 4 Core CPU
• 4GB RAM
• 100GB SSD storage
• 1TB bandwidth
• 40 cPanel accounts
• Free SSL certificates
Gold Plan:
• $64.99/month
• 8 Core CPU
• 8GB RAM
• 150GB SSD storage
• 1.5TB bandwidth
• 60 cPanel accounts
• Free SSL certificates
Platinum Plan:
• $89.99/month
• 8 Core CPU
• 16GB RAM
• 200GB SSD storage
• 2TB bandwidth
• 100 cPanel accounts
• Free SSL certificates
Titanium Plan:
• $119.99/month
• 8 Core CPU
• 32GB RAM
• 250GB SSD storage
• 2.5TB bandwidth
• 150 cPanel accounts
• Free SSL certificates
Essential features of each plan include:
• Brandable cPanel or WHM control panel
• Private nameservers
• Wholesale domain reseller account
• Free dedicated IP addresses
• CDN
• Raid10 redundancy
• Acronic server backup
• Unlimited domains, database, and more
Like the other plans we've looked at in this HostPapa review, the only big differences between each plan is in the amount of server power each one provides. Each tier higher you go, you also get access to create more accounts.
That said, unless you're running a full-fledged digital agency with dozens of clients, the Bronze, Silver, or Gold Plans should serve you well.
General Hosting Features
By now, hopefully you've learned a lot about the features and services HostPapa offers. However, just to brush up, here's a quick glimpse at the general features of HostPapa and most of their plans:
Quality Server Hardware
The most important thing to look for when choosing a web host is their server hardware. Here's a shocker: some companies try to keep costs low by running antiquated server hardware with outdated technology. In today's day and age, this simply won't cut it.Fortunately, HostPapa takes an opposite approach. Each of their servers are high-quality and utilize high-tech SSD drives, which is why they're able to deliver above average speeds and uptime.
User-Friendly Control Panel
There's no two ways about it – HostPapa is extremely beginner-friendly and easy to use. Part of this is due to their use of the classic cPanel control panel versus some poorly conceived product of their own.From setting up your hosting and managing domain names to installing WordPress, every task can be easily done from a dead-simple dashboard for maximum ease of use.
Ecommerce Features
HostPapa doesn't have any dedicated ecommerce hosting plans, but they do equip their plans with all of the features and functionality needed to create, launch, and support an online store.For example, even with the basic shared hosting Starter Plan, you can easily install WordPress, WooCommerce, Magento, OpenCart, Zen Cart, and more with just a few clicks from your control panel.
Security Features
Finding a good hosting provider with an ample supply of security tools, both stock and add-on, is a must. HostPapa does a good job of fitting the bill in this regard.In addition to Cloudflare to help prevent DDoS attacks and a variety of spam prevention tools like Apache and SpamAssassin, HostPapa also provides SSH server access, giving you a secure way to upload and modify your website files.Beyond these security features, SSL certificates and two-factor authentication also come with each hosting plan. Plus, you can install the SiteLock security add-on as well. It isn't included, so it will cost you a couple of bucks. However, it's definitely worth it and highly recommended.
One-Click Installs
Like most hosting providers aimed at beginners, HostPapa offers one-click installations to quickly install a multitude of applications on your new site.If you want to install WordPress for example, just select WordPress, enter a little info, and watch as the installer makes quick work of installing WordPress on your site. The process is the same for any other CMS, app, or even ecommerce software like Shopify or Magento.
Multi-Support Channels
If you have questions or run into any problems at all with HostPapa, you can always reach out to one of their many support channels.Not only do they offer 24/7 live chat and email support, but they're one of the few hosting companies in Canada or anywhere else that provides 24/7 phone support as well.If you would rather go at it alone, as a HostPapa client, you also have access to a huge knowledgebase filled with video tutorials and other helpful content.
HostPapa Hosting FAQs
Hopefully, we've been able to answer all of your questions about HostPapa with the information above. However, in case we haven't, here are some answers to some of our most common HostPapa questions.
Do HostPapa servers use HDDs or SSDs for storage?
Every HostPapa plan features high-quality servers with SSDs, or solid-state drives, for faster speeds, greater reliability, and improved data security.
What types of security measures are in place?
Like any good hosting company, HostPapa takes security seriously. As proof of this, you'll get access to a variety of malware and spam protection tools, a Cloudflare CDN, SiteLock, and other powerful security tools which usually cost extra with other hosting providers.
What about SSL certificates?
HostPapa offers free Let's Encrypt SSL certificates for each of their hosting plans. More expensive plans also have access to Wildcard SSL certificates.
Does HostPapa provide domain names too?
Yes, HostPapa also provides a free domain name and registration for almost every type of hosting account. You can easily manage your domain through your cPanel.
Does HostPapa offer an uptime guarantee?
Yes, like many other top web hosts, HostPapa offers a 99.9 percent uptime guarantee. However, in our tests, they exceeded this guarantee with an average uptime of 99.6 percent.
What about a money-back guarantee?
HostPapa also offers a 30-day money-back guarantee on all of their hosting plans. If you cancel within 30 days, you'll receive your money back minus the borderline deceptive $30 setup fee you'll be charged. Also keep in mind this doesn't include any domains or add-on services you've purchased.
Do I Recommend HostPapa Hosting?
Yes and no. On one hand, HostPapa is a super reliable web host with above average performance results, a ton of great features, and almost as many support options. On the other, their support is kind of a mixed bag across the board and there are some hidden fees to look out for.
All in all, HostPapa is a great value and probably won't let you down. However, there are just too many other high-quality hosting providers out there that pick up where HostPapa falls short.
Who do you recommend over HostPapa?
The better web host I would recommend over HostPapa is Bluehost. A far superior product that's cheaper and who is recommended by WordPress.
More Web Hosting Reviews
If you want to read more of our reviews about web hosting then check out the following: