Namecheap Review 2021
Great With Domains
But What About Hosting?
Written by Jamie Spencer – Updated 22nd August 2021
Namecheap is known for their excellent domain registry service.
But how does their web hosting fair with the competition.
This review hopes to reveal just that.
Reliable Web Host
Namecheap
Most of us will know Namecheap as one of the best domain registrars around, but are they any good when it comes to providing customers with best in class hosting services? Let's find out if they've another string to their bow in our Namecheap review.
You can get Namecheap shared hosting from just $1.18 per month (12 month sign up)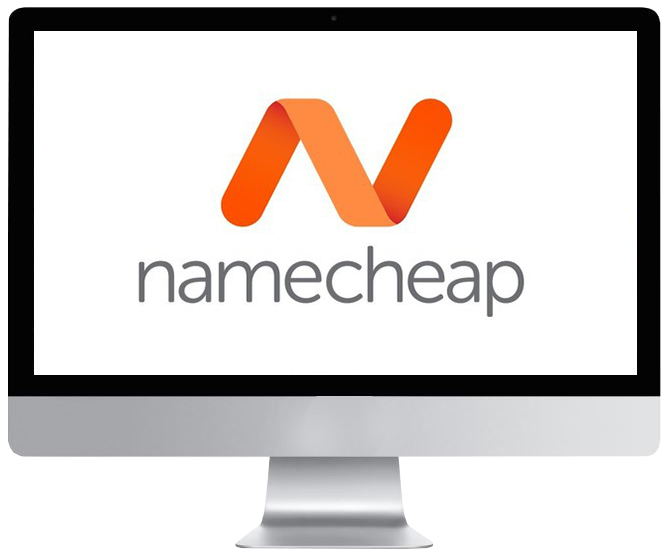 Here's what you get for just $1.18 per month.
Quick, high quality & reliable web hosting
20 GB SSD-Accelerated Disk Space
Founded in 2000, NameCheap.com is an independently owned domain name registrar that's ICANN-accredited. Not only do they offer domain registration but they also provide consumers with a plethora of hosting services as well.
For users who are in need, NameCheap also provides various additional services including a website builder, email hosting, and SSLs all complete with 24-hour customer support and standard 30-day money back guarantee.
While the company primarily focuses on offering name registrations, we're going to be discussing their hosting during this review. The main reason for that is because the company provides incredibly cheap hosting plans and we'd like to know why.
Under most circumstances, I prefer keeping my domain registration and hosting reviews separate from each other. However, in this case, I have a project I'm launching. Therefore, I chose NameCheap to determine how the service would hold up.
Features and Advantages Of Namecheap
Let's take a look at some of the key features that make Namecheap a good hosting service provider.
UPTIME 99.88%
Namecheap has an OK uptime level. Not great but by no means bad.
SUPPORT
7/10 for support and assistance. Helpful and quick get in contact with them, but some advisors lack expertise.
COMPATABILITY
WordPress hosting which has 100% compatibility with all WordPress features and plugins.
Users will find a myriad of pros when using NameCheap Hosting plans. Before making an ultimate decision, you'll see there are quite a few reviews available across the Internet. The majority of these reviews are either based on personal experiences or user-generated anecdotes.
While this isn't a problem, I tend to approach things differently. In my opinion, there's no such thing as a web host that's considered "the best" in comparison to all the rest. When determining the "best," you're looking at which one will fit your project's budget, experience, expertise, and goals most appropriately.
Namecheap's Hosting Costs
One of the most significant benefits of Namecheap is the fact that its pricing is cheap. We're talking; its inexpensiveness is shocking. However, it's crucial to keep in mind that when pricing is low, that doesn't mean you're receiving good value. Therefore, an essential part of this review is determining the structure of the hosting pricing.
When consumers visit hosting companies, they'll find they're all selling the same services which are homes for websites. However, each company offers different plans and caps, differing renewal prices, and a variety of bonuses. Therefore, it's often necessary to break down the different parts to determine what their values are for the money.
When looking at comparisons in an "apples to apples" manner among hosting companies, its clearer when doing so in a breakdown between Bonus hosting features and Core hosting features.
Core hosting features offer consumers databases, disk space, and domains, which are most commonly referred to as the "3 D's." When an individual types in your domain name, the primary purpose of a hosting company is to serve website files each time this occurs.
Domains are those names pointing to the hosting account a user selects. For those who want to have multiple websites; they'll need to have many domain names. Users must ensure they also have enough email addresses for their domain because some have caps.
Hosting servers have databases consisting of pieces of software that their websites are allowed to run. For example, users need one database for a WordPress installation. If users use apps, like Listserv, for instance, they'll need more databases.
The disk space is the number of files their server allows them to use including texts, images, videos, and so on.
Breaking it down like this allows users to make comparisons better and develop a sense of the value based on what they need.
Namecheap's Pricing Breakdown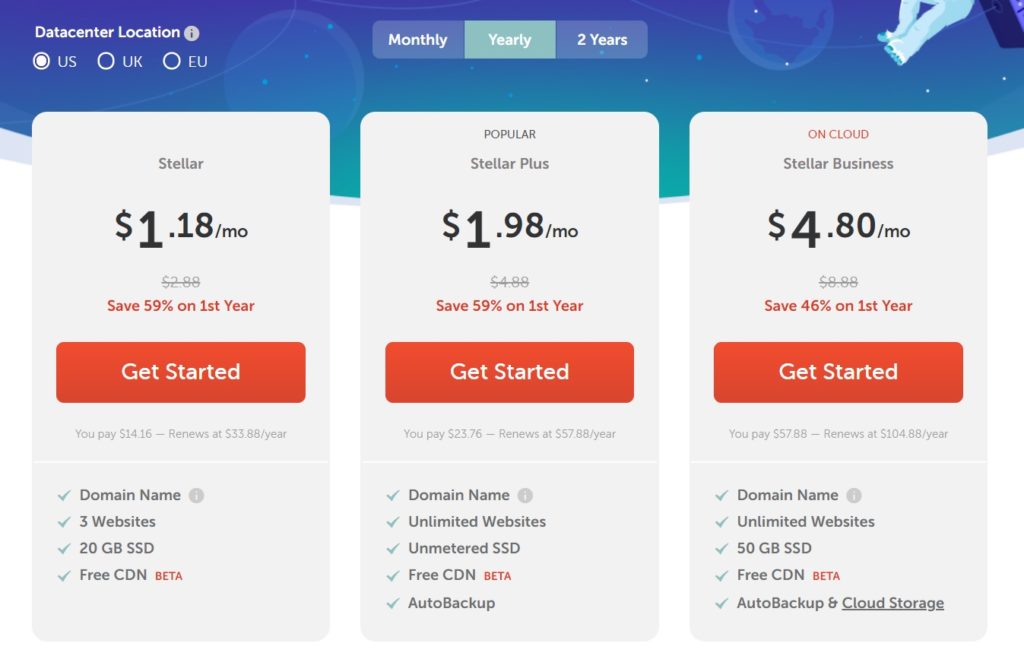 Namecheap have restructured their package pricing from four tiers down to three. These three tiers include:
• Stellar hosting package renews: $33.88 annually after a heavily discounted initial first year at $1.18 per month – billed in one payment of $14.16.
• Stellar Plus hosting package renews: $57.88 annually after a heavily discounted initial first year at $1.98 per month – billed in one payment of $23.76.
• Stellar Business hosting package renews: $104.88 annually after a heavily discounted initial first year at $4.80 per month – billed in one payment of $57.88.
Each of these plans is available on a monthly plan or a 2-year plan. While the monthly plan provides flexibility in spreading the cost across the year, these packages are more expensive and not discounted.
The 2-year plans require a greater payment at sign-up, but offer you a discount on price for the whole initial 2 year period. For example, for the Stellar hosting package on a 2 year plan, you would pay $1.44 per month billed in one payment of $33.44 at sign up for the full initial 2 year period, renewing at $66.88 every 2 years. This offers less of a discount percentage than you get for a 1 year contract, and a greater initial payment, but a greater saving overall over. After all, a 50% reduction over 2 years is a greater saving than 59% for one year and full price for the next.
What is the catch?
Two of the plans have a cap of at least one of the "3 D's," as well as other plan caps. This is an improvement however, as only 2 years ago there were 2 caps on the "3 Ds" on each package. We'll go over more on that when we discuss NameCheap's cons. However, let's first talk about how this plan held up.
• Stellar Package: there's a limit of three domains, 20GB of SSD disk space, 30 email accounts, and 50 databases.
• Stellar Plus Package: there's unlimited domains, unmetered SSD disk space, unlimited email accounts, and unlimited databases.
• Stellar Business Package: there's no limit to domains, there's a limit to 50GB of SSD disk space, and unmetered bandwidth.
Namecheap today have significantly less limitations than they did as little as two years ago. They have made real strides in improving the hosting packages on offer. In a previous review, we had concluded that:
"For users who plan to remain below the cap limitations, Namecheap almost always falls under the pricing of other plans you'll find with other hosting companies.
However, if users remain unsure, they'll likely receive more significant value from hosting companies with fewer caps including HostGator, InMotion, and Web Hosting Hub.
No matter which direction consumers decide to go, Namecheap does offer a substantial advantage regarding pricing".
While most of this previous summary remains true, Namecheap's offering has significantly improved in this time, with far fewer caps and limitations across all packages.
Namecheap's Values and Branding
As we've previously mentioned, Namecheap is an independent and privately-owned hosting company. In a technology world where a select few corporations own the majority of the hosting companies, this is a rarity.
It isn't necessarily a positive thing to be private and independently owned, though. However, being held by large corporations isn't necessarily a negative thing for hosting companies, either.
The one thing that's making Namecheap excel as an independent company throughout the industry is their desire for transparency and how they define their brand values, which are each notorious for causing industry-wide confusion.
One of the companies most positive features is that they remain transparent regarding all their pricing and services. I like the way they prominently display their renewal rates, as well as have a list of hosting features that are expandable.
Ultimately, I believe this is a trustworthy company with a culture that's solid. When picking a company with whom do business, this matters considerably.
Namecheap's Onboarding and Account Managing
Signing up for a new web host, just like with any new product, involves a mix of emotions ranging from daunting to exciting.
One of the most significant features of using Namecheap is you'll move from the onboarding process, which is signing up for your account, to the guided tutorial seamlessly. Once you reach the tutorial, you can move on to your new dashboard without any problems.
Once users are finished with the sign-up process, they'll receive a welcome email that allows them to log directly into their services or one that provides them with directions regarding how to do so.
Users will find an account backend featuring minimalist can clean designs. There are no hard upsells or flashing banners causing distractions or overwhelming users. Namecheap also uses CPanel, which is a familiar control panel across many hosting companies for managing servers and sites.
Users can install WordPress software quickly and use a clean version without any additional themes or plugins. Alternatively, every package comes with a user friendly, free website builder. As with most website builders though, you have more freedom and flexibility with WordPress.
Datacenter and Backup Choices
Bonus features are another area in which NameCheap does exceptionally well.
When users sign up, they can choose between US, EU and UK data centers. In doing so, this allows users who are servicing visitors closer to the UK or Europe the opportunity to cater to them better. There is an additional $1.00 per month charge for using UK or EU datacenters.
Backups also occur twice per week for hosting accounts through NameCheap. It's critical for users to perform backups independently but, when the company is performing them as well, this is an incredible safety feature. NameCheap includes all backups free of charge. Competitors including HostGator and Web Hosting Hub will often charge for this as a limited bonus feature.
Namecheap Disadvantages
Just like any web hosting company, there are disadvantages to using Namecheap. Now I'm going to discuss the cons I found when using hosting through Namecheap.
Plan Limitations
As I stated in the section for Pricing, there are areas where caps occur across Namecheap's database, disk space, domains, and email addresses. These have vastly improved in the last few years, but some capping issues still occur with the cheapest and most expensive packages.
For those who are operating one or two websites and have plans for remaining small, then Namecheap is going to be an excellent option. For those who are running multiple sites, the issue of overlapping caps no longer exists as it used to, but some caps of the '3 Ds' still exists.
Under most circumstances, a hosting company will have their plans tiered out. In these cases, they'll typically place focus on one or two caps to help keep their plans separated. For example, when you select HostGator's Hatchling Plan, you're allowed one domain. However, their Baby plan will enable you to have unlimited domains. You can see a very straightforward difference. You'll need to upgrade if you want to add another site.
While Namecheap originally lacked this clear cut distinction between packages and caps, it is much more in line with this in the new packages on offer.
Those using Namecheap have several triggers for upgrading. When you're running one website that operates with the heavy use of video and images, you'll like be triggered for an upgrade. If you're managing several different domains for multiple projects, you may be triggered for an upgrade.
What's also ironic, if users pay for the top plan through Namecheap, they could still encounter limitations regarding disk space. Even though they're selling the plan to eCommerce websites that require a lot of memory, the plan features heavy disk space caps.
Performance and Allocations
As mentioned previously, the sole purpose of a web hosting company is to serve web files when an individual types in a user's domain name. What's missing from this scenario? If you think that it should read, "serve web files quick," then you're correct.
Because we're living in a mobile age, website speed is vital. Even though server speed isn't the only factor to take into consideration for the website's overall speed, it's an essential factor.
What's worse is users could be experiencing what's referred to as the "bottleneck" factor. What this means is, no matter how fast you speed or compress your site, it will only go as fast as the server responds.
Measuring response and speed is complicated. Only NameCheap's network engineers can provide a definitive answer regarding what's happening regarding the speed of the server. However, they do make the promise that, under most circumstances, "our Shared Hosting is 50% faster than the other guys."
However, it's possible for anyone to develop a ballpark measurement regarding the performance of a server.
This metric is referred to as TTFB (Time to First Byte), and it displays how fast servers will deliver the first byte of information following the receipt of a request.
Hosting Performance: My Own Experience
Here are my results a few days after I began testing:
Memory Caps
Just like with the caps for plans, it's not necessarily a bad thing for server allocations to exist. For those who are running small websites that aren't loaded down with images, you probably aren't going to notice a difference.
I will add, however, it isn't my recommendation to purchase NameCheap's hosting for their performance and speed.
Customer Support
It's incredibly challenging to place judgments on their customer service. It's difficult to have a full understanding of what's occurring behind the scenes. The same holds true for knowing whether the company is going to be helpful when you're contacting them.
When you cruise the Internet for other user-supplied reviews, for any company for that matter, you'll find negative experiences that are exaggerated or naively positive ones online. The problem with anecdotes is no one knows if they're reading something trend-worthy or a one-off.
Instead, it's my recommendation that users look for indications as to whether the company treats their customer service as an investment or a cost. What this means is, is the company trying to develop long-term, happy customers, or are they attempting to maximize short-term profits?
Two of the best indicators that I've been able to find are the availability of a broad range of support channels, as well as investment in a troubleshooting section, FAQ, and other DIY customer support features. In our first look at Namecheap a few years back, we concluded that in this regard they were "mediocre in providing both of these." They are still a little thin on the ground when it comes to support channels. However, they have significantly improved their knowledge base in this time, with a substantial offering of documentation on hosting and how-to videos.
Hosting Customer-Support Through Namecheap
For those who are seeking immediate responses and availability, they can utilize the helpdesk and chat support team. When I used the chat feature, the wait time wasn't significant. My service was also good, as well. However, when you are experiencing a complicated technical issue, text-based support can become tedious.
Regarding DIY customer support features and resources, NameCheap does offer a knowledge base with decent information. There is now a significant section on the ins and outs of hosting.
Why is that an essential part of this review? Mainly because NameCheap previously lacked specialized services for those seeking hosting and have made notable improvements in this area.
Should Namecheap just stick to Domain Names?
NameCheap isn't primarily a Hosting Company. Domains are their thing.
In reality, while NameCheap does offer hosting services, it isn't a hosting company and doesn't specialize in these services. Instead, they're a domain registrar. One of the main reasons user select this company as their hosting provider is because it's easy to do so once they've registered for their domain. That being said, they do offer a variety of different hosting solutions now, including VPS hosting, dedicated hosting servers, WordPress hosting and reseller hosting packages. This signals that hosting is not an after thought but an area in which they seek to develop a competitive offering.
When you think about the Internet services industry in a broader sense, hosting and domains are a natural complement for each other. However, one single company never seems to do it very well.
When hosting providers offer domain registrations, it isn't uncommon for them to feature prices that are too high and make the management process difficult. Under most circumstances, domain companies lack the resources or expertise to provide world-class hosting infrastructures adequately.
I'm not saying it's impossible and that some companies aren't coming close. However, it seems as though domains and hosting are like tea and cookies.
Even companies should sell them together; this doesn't mean the situation is ideal.
Even if NameCheap did have hosting that was superb, I'd still be hesitant to use them because all of my Internet-presence components would be placed with one company.
For the sake of diversity, I prefer to keep my hosting and domains with different companies. Though that typically doesn't apply to holding domains and only does with hosting companies, it also applies to the companies where my hosting servers are run.
Bonus Features
Even though NameCheap's plans offer a complete set of features, they do have exclusions of some of their bonus features.
For example, you'll find that the length of their money back guarantees incredibly short. It's only thirty days for NameCheap. However, corporate competitors including HostGator feature forty-five-day money-back guarantees. Independent competitors including InMotion, Web Hosting Hub, and DreamHost all feature at least a ninety-day money back guarantee.
Another example is that some of their add-ons and upgrades, including dedicated IP addresses that you typically need for the installation of SSL certificates, are overpriced. Most companies will either bundle it in for free or charge approximately $2.00, but NameCheap charges $24.00 annually.
While neither of these points significantly pose as a disadvantage for the company, they are certainly things consumers should be aware of before making their decision.
On the positive side, they have more recently offered a free beta of their Supersonic CDN on all packages, (which can be upgrade via purchase options) and free SSL installation for the first year.
Hosting Comparisons For Namecheap
I've used several well-known web hosting services both as a consultant and a consumer, and here's how the hosting for NameCheap compares with each of them directly.
Hosting: iPage vs. NameCheap
HostGator features a separate sister brand called iPage that focuses on low-price, budget web hosting. This company is owned by Endurance International but, unlike the experiences with HostGator, their investments don't seem to be as active. iPage's primary focus seems to be providing users with short-term pricing that's incredibly cheap. While this is good for those who want to save money, it's a shot in the dark regarding their sub-par performance and lack of decent customer support. Even though iPage offers unlimited features, my choice remains with NameCheap.
Hosting: HostGator vs. NameCheap
Throughout the hosting industry, you'll find that HostGator is incredibly well-known. This is another company that Endurance International owns, making them another sister brand to iPage and Bluehost. HostGator is one of the leading brands Endurance International owns and they're known for their strong balance among good support, long-term pricing, and decent performance.
Users will find Hostgator's support and performance far superior, as well as fewer plan limitations with HostGator. However, if you're running one small website that you don't anticipate getting a lot of traffic to, then my recommendation is to use NameCheap. For those who are going to build multiple, more substantial sites, the optimal choice is HostGator.
Hosting: InMotion vs. NameCheap
Regarding the fastest independently owned companies in the industry, meaning they're owned by the employees and not a large corporation, InMotion is one of the largest accomplishing this goal. I've used a VPS server in the past through InMotion. Users will find that InMotion has better features for their plans, better customer support, and better performance in comparison to NameCheap. Their prices are higher in comparison to NameCheap's for everything all across the board, but you really do get what you pay for, so would choose InMotion.
One thing users should make a note of regarding InMotion and that that the company also owns a starter hosting brand referred to as Web Hosting Hub. That company provides users with excellent performance and unlimited pricing options that are much better than InMotion's. Both of these companies are in head-to-head competition with NameCheap. While they're still more expensive, they're an excellent option for those who prefer working with independent hosting companies.
Final Thoughts On Namecheap
Ultimately, my thoughts regarding NameCheap hosting are that it's a good option for those who are seeking low prices and budget-friendly cheap hosting plans. Users who are starting out with a very small site and who have concerns more about their pricing than their plan limitations, then NameCheap is the optimal choice. They are making notable improvements to provide a more thorough hosting solution – with VPS hosting and dedicated server hosting options in the offering alongside their shared hosting plans. This signals that they don't just see hosting as a 'side course' to their domain registry solution, but as an area in which they are keen to provide a very competitive product.
More Namecheap Reviews
If you want to read more of our reviews about Namecheap then check out the following: