Top 18 Best Paid Online Survey Sites That You Can Make Extra Money & Easy Cash.
From The Comfort Of Your Own Home or In Your Lunch Break You Could Be Earning An Extra $200 per month!!!
Back in the day when I first started out in making money online, surveys were my first port of call. I remember reading an article about surveys and how they could help you create a small but regular monthly income on top of your day job wages. This excited me as back in those days I had just become a dad and husband and needed that extra money to help support my young family.
I signed up to about 12 paid online survey sites. The first one was purple profile. They used to send me emails saying "You have a survey waiting for you". I used to check my hotmail account at work during lunch, with the hope there was some cash there for me to earn. I once made £150 in one month, which was awesome as it helped pay for my baby daughter's swimming lessons, and no cash had to go out from my regular wages.
It's little sources of income like these paid online surveys that made the difference for me. Even though it was a small amount of cash each month, it helped me to cover additional costs that cropped up each month without having to dip into savings or wages.
By taking part in paid online survey sites, you will be able to supplement your day job wages and enable you to create an additional income source. You can do this all from the comfort of your own home or even in your lunch break. Back when I had a full-time job, I was able to complete about 10 surveys each week in my breaks ( and a few in work time. ) Think how much time you waste watching TV when instead you could be earning easy cash from surveys.
Like I say, you will never get rich by this alone, but it can give you a certain amount of financial freedom. Not everyone has the know how or the desire to go out there and build their own blog and make money blogging.  This makes doing surveys even more accessible to those who want to earn a little bit more to make a massive difference in their quality of life. Anyone can do them and it's a fully online job.
What are you waiting for? Check out my top 18 best survey sites to make money online with!
Below I have listed my top 18 best survey sites that I have experience of, so that you can sign up to and start making online from surveys as a side hustle to your full time job.
Also, here is a shortlist that I consider to be the top 7 survey sites of them all.
Inbox Dollars
Toluna
Vivatic
American Consumer Opinion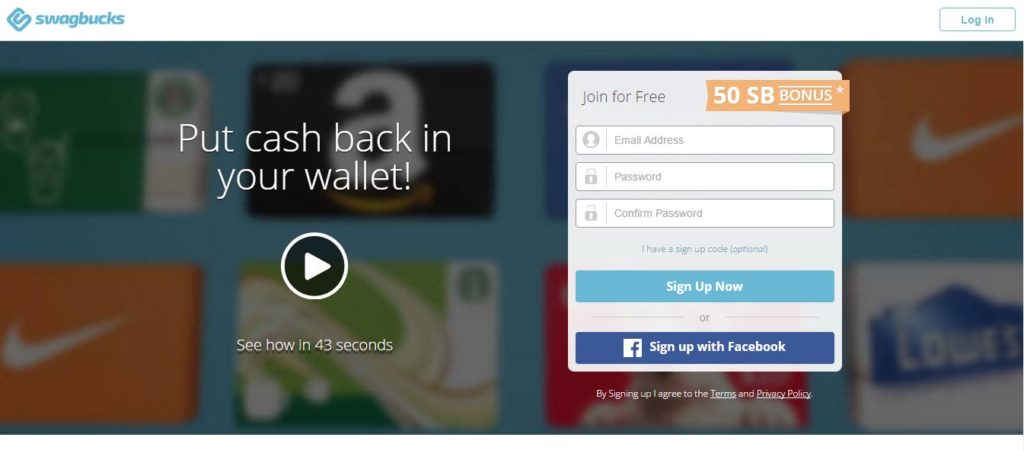 SwagBucks is one of my favourite survey sites to make money from. They are probably the most well known online marketing and survey research companies out there as they have built up a really good brand on social networks due to very successful marketing campaigns. There's a number of ways that you can earn money with Swagbucks other than completing surveys. You can complete tasks that they send you which then converts into either cash, prizes or vouchers. Tasks can include watching videos, doing some online shopping and much more.
With Swagbucks, you know exactly where you stand with them. They are very transparent when it comes to how they distribute and use your data. It's all part of their commitment to keeping everything on the table and being honest. Remember that there's a lot of survey companies that are dishonest and will sell your information to the highest bidder, and will not be transparent with how they distribute or take advantage of your information.
Swagbuck states on their website that they are "The Largest Free Online Rewards Program", and you can see why. The site looks really professional, young and fresh, which appeals to their target audience. Swagbucks is very different to your typical paid survey site.
It's certainly legit, it's not a scam and you can make money with them quite easily.
Tell me more about Swagbucks and how it works
Probably one of the more innovative rewards programs on the internet. Swagbucks have a points system called SB, and they give you SB points for successfully completing tasks that they set you. As I mentioned before, these tasks consist of completing surveys, watching videos and searching the web.
SB's are worth approximately 1 cent, so when you get a task that's worth 100 SB, it is actually just $1.00. 100SB sounds a lot better, which is a smart way SwagBucks has structured its points system to keep people interested and motivated to want to continue with completing the tasks.
Read more in my Swagbucks Review
Pros and Cons of Swagbucks
Pros:
Vast variety in tasks that you can do to earn cash / prizes.
Large variety of prizes on offer.
User friendly interface.  Simple and stylised tasks and survey layouts.
Totally FREE to use.
Cons:
Cash is a bit slow to flow into your account, hence why I recommend you sign up to other survey sites.
SB hunt is a bit addictive and can take you away from earning the cash you actually want.
Here's my rating for SwagBucks
Ease of use: 10/10 – Really quick setup  and their platform is extremely easy to understand and use. Excellent selection of tasks.
Accessibility: 10/10 – They make their platform really accessible to everyone with the use of apps for both Android and IOS.
Rewards for your time: 7 /10 – Their pricing system is quick and easy to understand. You're never going to be able to replace your full time job with SwagBucks surveys, but it will help with the small monthly bills.
Privacy: 7 /10 – Swagbucks' privacy policy is really good. You know where you stand with them and they are 100% upfront about what happens to your data. Downside is that the site does contain links to other sites who may have a different privacy policy. Something to bear in mind.
Verdict on Swagbucks
Good fun and a great way of making a few extra dollars each month. This is not a scam and is 100% legit. Try it out here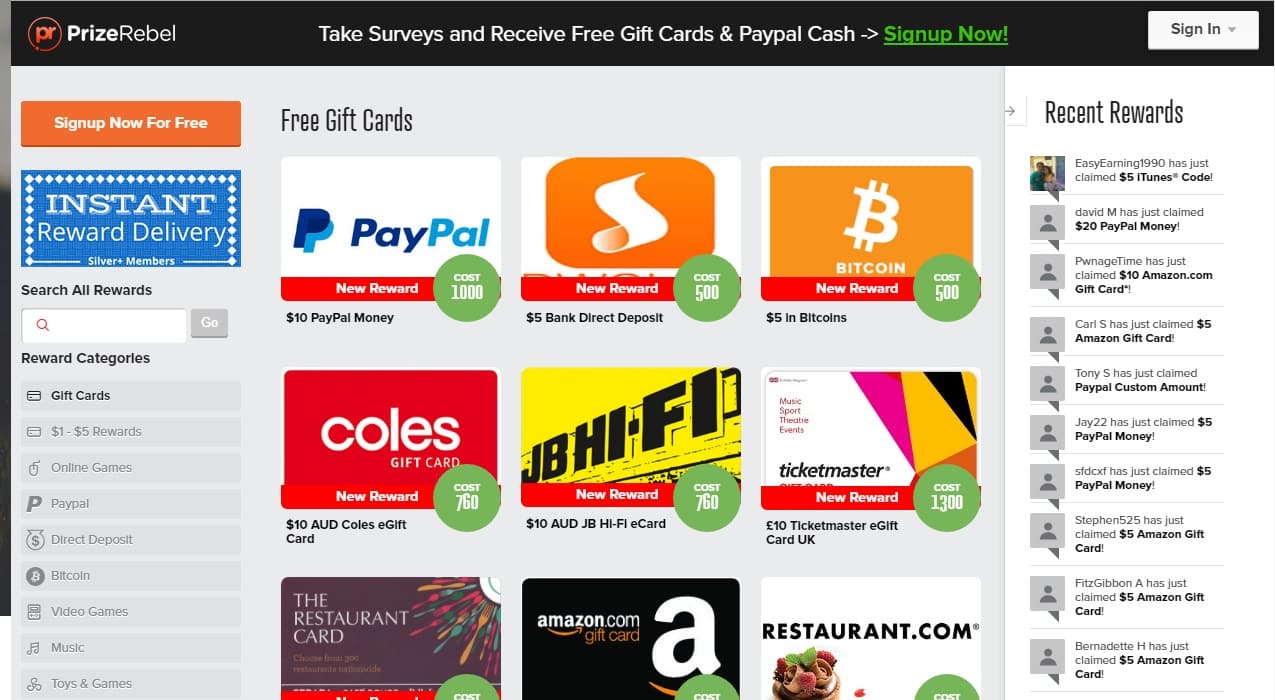 PrizeRebel is a survey site that's been around since 2007. While not as well-known as some of its competitors, the site does a pretty good job of providing members with plenty of opportunities to earn money. Traditional surveys are PrizeRebel's main game. The company works with more than 12 different survey partners. This includes established survey brands like Your Surveys, Tap Research, and more.
There are also other money-making activities you can take advantage of. You can fill out offers, watch daily videos, and perform simple tasks. PrizeRebel also holds contests and point raffles regularly to help you earn. The great thing about PrizeRebel is that you can pick and choose the activities that interest you. There are no participation requirements.
For peace of mind, PrizeRebel follows all standard security practices. All information sent to through the site is encrypted. Personal data is kept safe with SHA encryption as well.
PrizeRebel is a legitimate survey site that has a lot to offer. To date, more than 20 million dollars in cash and rewards have been given to members.
Tell Me More About PrizeRebel and How It Works
Like other survey sites, PrizeRebel operates on a points system. With every survey or activity you complete, you're rewarded with points that you can save for prizes.
The prize options are plentiful at PrizeRebel. The company offers gift cards from a wide range of stores. You can also redeem your points for PayPal cash or even invest in BitCoin. The best part is that there's a very low point threshold to start redeeming. Some rewards can be requested with as little as $5 worth of points in your account. Thanks to the daily points page, it doesn't take long to get your first payout.
Pros and Cons of PrizeRebel
Pros:
Many surveys and activities available
Open to members around the world
Low-point reward options
Free to use
Well-designed website
Cons:
Survey options may be limited based on location
Can be disqualified for some surveys
No mobile app
Here's My Rating for PrizeRebel
Ease of Use: 10/10
Signing up to PrizeRebel is easy and only takes a few minutes. The platform is user-friendly as well.
Accessibility: 8/10
The website has a sleek design. It uses a grid system, making it easy to navigate. The only downside is that there is no mobile app. However, you can access the main site with a mobile browser.
Rewards for Your Time: 7/10
Overall, PrizeRebel has a lot of great prize options to suit anyone's needs. While there are some high-paying surveys available, it will take some time to accumulate points if you want to get those big payouts.
Privacy: 7/10
PrizeRebel has some great security features and a decent privacy policy. Everything is laid out for you in the fine print. However, some of the activities involving third-party forms may not have the same dedication to security as PrizeRebel.
Verdict on PrizeRebel
All in all, PrizeRebel is definitely worth a try. It's easy to get into and has many fun activities to do. Plus, you can earn a few bucks in the process!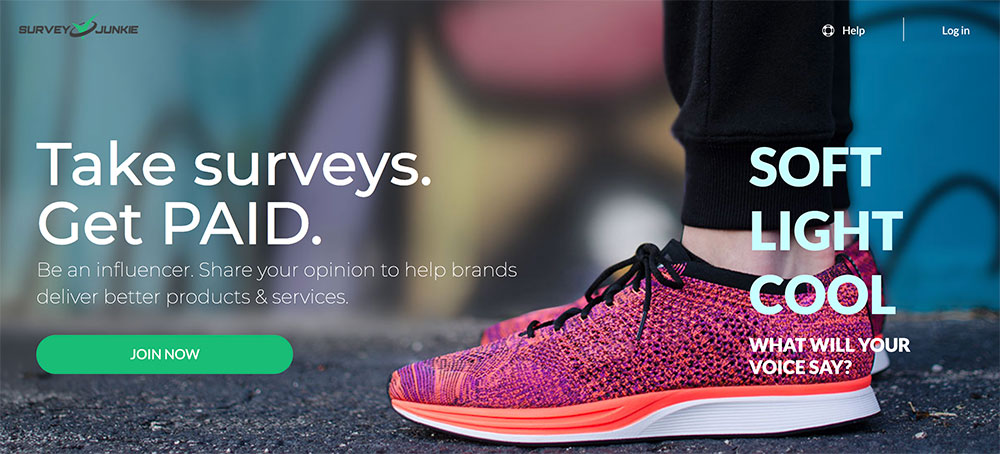 Survey Junkie is a relatively new site that was first established back in 2013. However, that hasn't stopped the company from recruiting thousands of panelists and earning a positive reputation on the web. Registration is free and only takes a few minutes. From there, the site will ask you to create a profile.
Survey Junkie works with a wide range of brands, so you won't be focused on one industry. This broadens up the availability of surveys and makes things a bit more interesting for members. Before you can gain access to a survey, you have to qualify. Typically, this is done with a few simple questions to see if you're part of the target audience that the survey is designed for. The good news is that you're often awarded a few points even if you don't qualify.
Rewards System
Like many other survey sites, Survey Junkie operates on a point system. When you first register, you can claim upwards of 115 points by creating your profile and touring the site. After that, you'll have to complete surveys to get rewarded. The site offers digital gift cards for many online stores as payment. You can also choose to cash out your points for PayPal funds.
Currently, you have to make a minimum of 1,000 points to cash out. This will reward you with $10. Each point is equal to a cent, so you'll earn $1.00 for every 100 points.
Pros:
Low cashout threshold of 1,000 points
Offers PayPal cash and gift card codes
Rewards points even if you don't qualify for a survey
Cashout is processed quickly
Provides information about surveys before taking it
Site is well-designed and easy to use
Cons:
No offers or video surveys
May send out frequent emails
Must qualify for surveys before taking them
4. LifePoints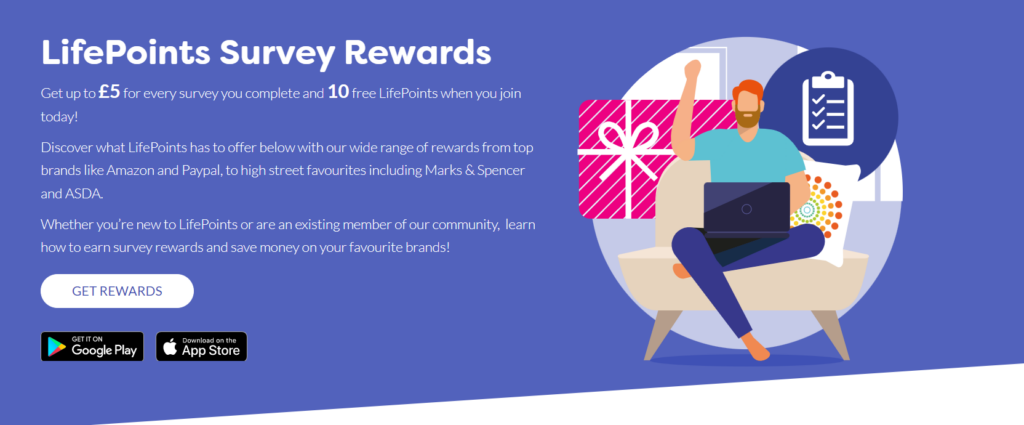 Life Points is a relatively new site. However, its roots go back several decades. The site as it is today was formed when two older survey sites, MySurvey and GlobalTestMarket, merged into one. The resources of these former sites have made Life Points into a big survey company that gathers data for 1,500 companies around the world.
Registering to Life Points is free and easy. The great thing about this site is that the minimum age requirement is only 14. Though, survey options are limited for underage members. Once an account is created, members must complete a profile survey. Life Points does reward points for this survey to get you started.
From there, you can browse through the available web surveys. There is a short pre-screening questionnaire for each survey. These qualification surveys are relatively relaxed compared to other survey sites. Many members report getting accepted for about a third of the surveys.
Rewards System
The rewards system for Life Points can be a bit confusing. While other survey sites use a simple conversion process, this site takes a slightly different approach. The points are not worth a set amount. Instead, Life Points offers different reward tiers based on how many points you have.
The lowest reward that you can earn is a Starbucks voucher worth $4.00. The highest is a cash reward of $46.00, which requires 4025 points.
Most rewards are processed pretty quickly, especially if you request cash through PayPal. However, the points may take up to 30 days to be credited to your account.
Pros and Cons of LifePoints
Pros:
Offers Starbucks voucher and PayPal cash
Quarterly cash prize
Accepts members from almost 200 countries
Members can be as young as 14
Many high-value surveys available
Good privacy practices
Cons:
Delayed rewards processing – Up to 30 days
Occasional disqualification
Point system can be complicated
Not all surveys can be accessed on mobile
Must register to get more information
Here's my rating for LifePoints
Ease of Use: 9/10 LifePoints is easy to navigate and understand, making it simple for people to complete surveys and earn rewards.
Accessibility: 8/10 The site is available in many countries and languages, making it accessible to a wide range of people.
Rewards for Your Time: 7/10 While the rewards are not huge, they are fair compared to other survey sites. You can earn points to redeem for various prizes.
Privacy: 8/10 Like Swagbucks, LifePoints takes your privacy seriously and follows strict rules to protect your personal information.
Overall, LifePoints is a user-friendly and accessible survey site that offers decent rewards and takes good care of your privacy.
5. Inbox Dollars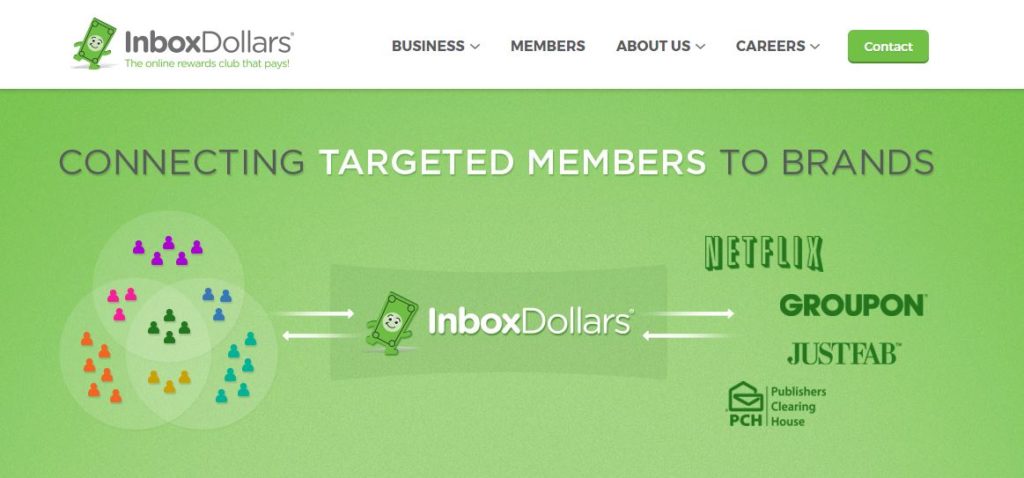 Another popular website is Inbox Dollars, but unlike some of the other choices, they don't pay nearly as much money per survey. In fact, the pay from the offers equates to pennies, and it will take a long time to accumulate enough money to cash out your earnings.
However, the company might be a good fit for people who enjoy taking surveys, getting trial offers and playing games. You can also earn money by referring others to the site.
To maximize your earnings from this company, you'll need to register for as many surveys as possible, and like other survey sites, the amount of money that you make depends on your profile and demographic information.
Pros
Great for people who really enjoy taking surveys
Earn money by referring others
Free to join
Cons
Must sign up with several different websites
Income potential is very low
6. Toluna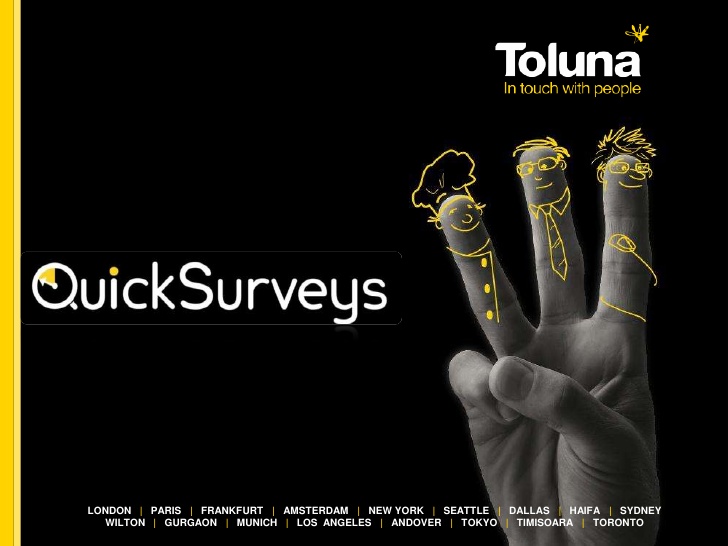 Toluna serves as a great way to test products and earn vouchers. The company behind the website is trustworthy and works with many top brands. Most of the companies that Toluna will send you offers for want to know what you think of their products and services. By providing your honest opinion, you'll be compensated for your time. Some of the rewards that you can earn from this company are prize draws, Amazon vouchers and free products.
A typical survey from Toluna can earn you between 3,000 and 6,000 points, and once you've accumulated 80,000 points, you can get a voucher that is worth about $20 USD. The minimum threshold that you must reach is 500 for prizes, and to get vouchers, the threshold is 80,000.
Although you won't always get free products, Toluna could be a great choice for people who like getting freebies. Most surveys from this company require about 15 minutes of your time, and it can take about four hours to earn enough points for a voucher.
Pros
One of the largest survey companies in existence
Free to register and use
Cash compensation
Pays additional small gifts to users
Cons
Many surveys require you to qualify for them
You might not be notified of being unqualified until after the survey
Unused points expire after only one year
7. Vivatic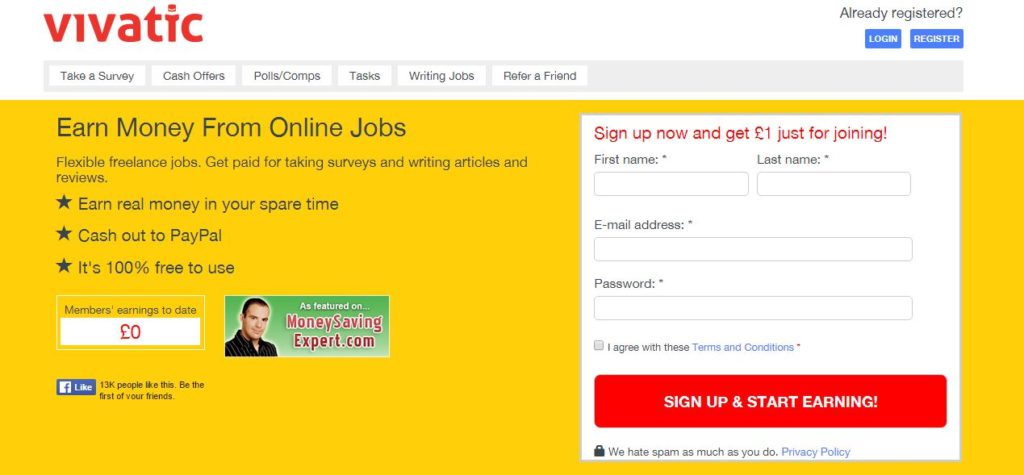 To gain access to frequent surveys, Vivatic is worth considering, and this website allows you to earn money from data entry, writing reviews and taking surveys.
One of the major benefits of working with this website is the reward system, which pays you in cash. Depending on the requirements, you can earn a few dollars per survey, and to cash out, you must reach the minimum threshold of about $30 USD.
Overall, Vivatic is reliable, trustworthy and easy to work with, and a standard survey can take about 15 minutes to finish. Since it offers a long list of ways to make money, Vivatic is one of the top websites for people who want to earn money from surveys.
Pros
Gives you plenty of surveys to choose from
Doesn't limit you to earning money only from surveys
Compensates users with cash
Surveys don't take long to complete
Cons
No daily polls
Income potential is low
Limited micro jobs for new users
8. Pro Opinion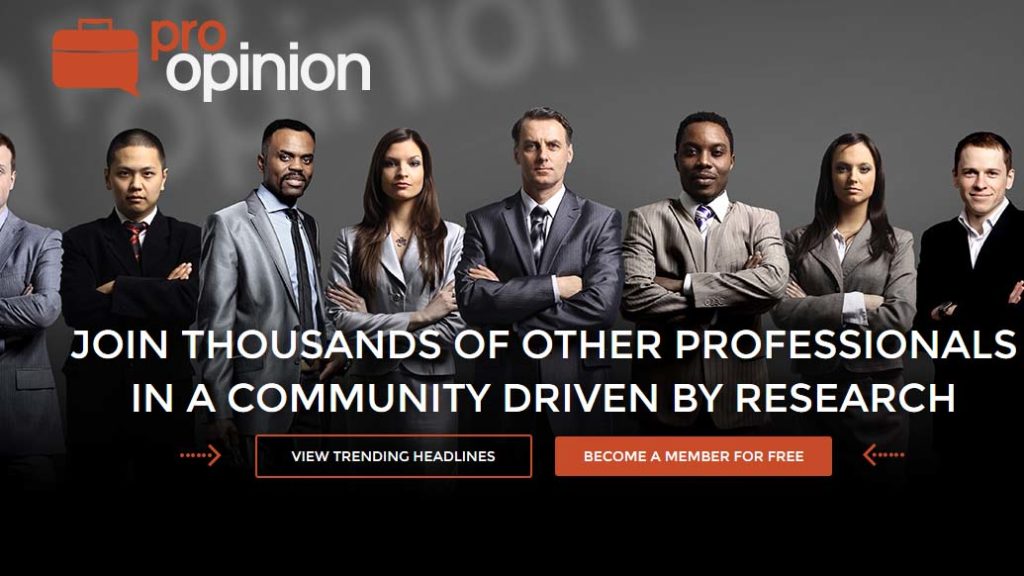 This company allows you to take surveys that are based on your expertise, and the points you earn can be redeemed for iTunes or Amazon gift cards.
Although they don't offer cash rewards, you can purchase almost anything on Amazon. A lot of people like this website because it's free to join, and it doesn't cost money to complete surveys.
The site also has a low minimum payout threshold, which allows you to cash out with a smaller amount of points. You can choose the surveys you'd like to participate in, and if you don't like the company, you can easily cancel your membership.
Pros
Large selection of surveys
Several ways to redeem your points
Minimum payout threshold is low
Doesn't take long to get paid
Cons
Initial signup is long
Surveys are very long and comprehensive
Requires a lot of profiling information
9. American Consumer Opinion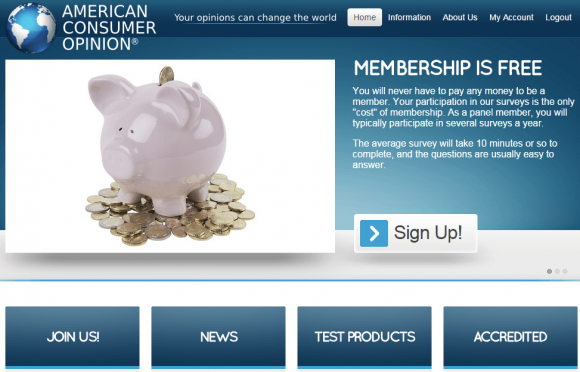 This company allows members to complete online surveys, and most surveys don't take longer than 10 minutes to complete. You might also get the chance to test various types of products.
A typical survey from American Consumer Opinion is good for about 100 points, and you can even earn up to 50 points for survey screeners. If you're looking for a way to get paid for online surveys and product testing, then this company is worth considering.
Once you have accumulated enough rewards points, you can cash out with Tango gift cards, PayPal, check or sweepstakes entries.
Before you can get money out, you'll need to accumulate at least 1,000 points, which is equal to about $10 USD. With over six million members, this website is one of the top websites for online surveys.
Pros
Most surveys take about 10 minutes
Opportunities to test cool products
Several ways to cash out your points
Company is popular and trustworthy
Cons
Not many offers for surveys
Subject of some controversial allegations
Customer service isn't very responsive
10. Opinion Outpost
Opinion Outpost has quickly grown into one of the most popular survey site options out there. This is all thanks to their quick payouts and low cashout requirements. To make things even better, Opinion Outpost provides you with plenty of opportunities to earn points. The site is owned by Survey Sampling International, which is a large company that gathers survey data from all over the world.
Signing up to the site is free. You can choose to use your email address or sign up through your social media account. The site doesn't ask for any sensitive data. However, like most survey sites, you will be asked to qualify before you can actually take a survey.
Most surveys are offered through email. Though, you can visit the website to see if you qualify for any of the open questionnaires. Surveys can be accessed on the go through your mobile device as well. To earn some extra rewards, you can refer a friend to the site. Opinion Outpost also rewards a $10,000 prize each quarter. Members get an entry to this pool for every survey they complete.
Rewards and Points
The best thing about Opinion Outpost is the rewards system. The site has one of the lowest minimum cashout thresholds available. To apply your points for PayPal cash, you'll have to earn 100 points.
However, you can also choose to redeem your points for an Amazon gift card or an iTunes code. For these rewards, you only need 50 points. If you complete a high-paying survey and earn 50 points or more, you can instantly redeem them and get access to your gift card in as little as 15 minutes.
Each point you earn on Opinion Outpost is equivalent to about 10 cents. So, 50 points will earn you a $5.00 gift card.
Pros:
Rewards include PayPal cash, Amazon gift cards, and iTunes gift cards
Higher point value
Low cashout threshold for gift cards
Quarterly drawings for cash prize
Surveys can be accessed on mobile devices
Cons:
Sends emails frequently
Clunky website
Must qualify for surveys
No rewards if you don't qualify
11. OnePoll
OnePoll is a UK-based survey site that works with pollsters all around the world. The company gathers data for several well-known brands, so it's easy to see that the site is legitimate. To further cement their professional status, the company's site is well-designed. It features sophisticated graphics and is made to be as easy to navigate as possible.
Despite the fact that OnePoll is based in the UK, anyone is allowed to join. The only requirement is that you're at least 18 years of age. The site does require you to complete a rather lengthy profile with some personal questions. This is done to find surveys that are more catered to you.
Most surveys only take a few minutes to complete, allowing you to get them done in your downtime. Unfortunately, you don't have unlimited access to open surveys. Typically, members qualify for only a few every day.
What About Rewards?
While most sites utilize a points system, OnePoll does not. Rewards are provided in the form of monetary value. It can be difficult to keep track of how much you earn. There's no way to cash out until you have earned $40. Before then, the cashout link is not even available.
For most members, earning the cashout minimum takes upwards of 5 months or more. Not only that but processing the payment can take a month to complete.
Pros:
Sleek and user-friendly website
Rewards are paid to PayPal
Accepts international members
Great member support
Referral program
Regular social media drawings for members
Cons:
High cashout threshold
Payments can take up to 30 days to process
Registration asks for some personal information
12. i-Say (IPSOS)
IPSOS is a company that's been around since 1975. They're considered to be one of the biggest and most reliable survey companies in the world. The i-Say site is their online division, which is used by hundreds of thousands of people all over the world.
To become a i-Say panelist, you must create a free account and fill out a brief profile survey. This preliminary survey is not intrusive at all and only requires some basic demographic information. The website is well-designed and easy to navigate. You can view open surveys directly on the site dashboard or through emails you receive. i-Say only has surveys and polls. The polls don't award any points. Instead, they provide entries into the regular drawings the company has for panelists.
There are plenty of ways to earn points in addition to surveys. There's a referral program, which awards 100 points per person you bring to the site, and a loyalty program, which gives you extra points based on how many surveys you complete.
Points and Available Rewards
The point system at i-Say is pretty cut and dry. Each point is worth a single cents. Surveys can award as much as 200 points. Before you request a cashout, you need to have 1000 points in your account. Monetary rewards are paid via PayPal.
i-Say does offer a handful of other prizes as well. Some of them have a lower cashout threshold than if you were to use PayPal. For example, you can get a Starbucks gift card for only 500 points. Some other prizes include a digital Target gift card worth 1,500 points and a physical prepaid Visa card worth 2,000 points.
Pros:
Trusted company
Open to members in several countries
User-friendly dashboard
Rewards points for surveys even if members don't qualify
Regular prize drawings
Unique rewards program
Low rewards threshold
Many reward options
Cons:
Only has surveys and polls
Sends regular emails
Payout may take up to 3 weeks
13. InboxPounds
Established in 2012, InboxPounds is a great survey site for those living in the UK. While this particular site is not open to people outside of the UK, the company behind InboxPounds does have a separate site for US members.
It's completely free to join InboxPounds. Once you create an account, you'll have access to many money-making opportunities. This site isn't just for surveys. You can also play games, read emails, and take advantage of offers. The site has deals from many popular retailers, giving you the chance to earn some money back when you shop.
The site also has its own search engine. This can be used any time you need to perform a web search. If you choose to use their proprietary search engine, you'll earn a small bit of cash in your account.
Payment and Rewards
InboxPounds does not use a point system. Each survey and task is awarded funds. Your account balance will accumulate over time. You can easily keep track of your earnings on the site. Before you can cash out, you must have at least £20 in your account.
Your balance can be redeemed a couple of different ways. The fastest is with merchant ecards. The company currently offers ecards for popular retailers like Amazon, iTunes, and more. Alternatively, you can get a check in the mail. Your first check will take up to 16 days to process. However, after that first payout, your account is upgraded to Gold member status. Future check payments will be processed a bit faster. Though, it will still take up to 9 days.
Pros:
Offers surveys, games, offers, and more
Gold membership tier
Website optimized for mobile
Can earn using search engine
Many gift card options
Option to get payment with check
Cons:
Higher cashout threshold
Payments can take up to 2 weeks
Does not support PayPal
14. Panel Opinion
Panel Opinion is a site that's owned and operated by the Made In Surveys Group. This company has over a decade of performing market data research. As a result, the site is considered to be one of the most dependable. The Panel Opinion website makes it easy to get information right from the get-go. The company's privacy policy is easy to find and very transparent.
Panel Opinion is only available to UK residents. Membership is free and most surveys can be completed in 10 to 20 minutes. Beyond the surveys, the site offers many ways to earn some cash. You can participate in mystery shopping tasks, focus groups, and phone interviews. Panel Opinion also has paid product testing trials for those who qualify. These types of jobs are the most lucrative, earning members as much as £150. The site also has monthly prize drawing where you can earn £250.
The great thing about Panel Opinion is that you can access surveys on the go. The company has its own mobile app. Rather than having to access the site on your mobile browser, you can get complete surveys on an app that's optimized for your device.
Payment and Rewards
Instead of rewarding points, each survey and task with Panel Opinion is paid in monetary funds. The amount you earn goes into your account once the task has been approved and verified. You can request a payment once your account balance reaches £10.
There are a couple of ways to get your cash. You can choose to take advantage of the speed of PayPal or transfer the funds directly into your bank account. The latter option can take up to 10 days to complete.
Pros:
Low payment threshold
Available mobile app
Monthly prize drawings
Transparent privacy policy
Many opportunities beyond surveys
Available high-paying tasks
Cons:
Only available to UK residents
Payments take up to 10 days
15. Pinecone Research
Pinecone Research is one of the most exclusive survey sites on the web. While other companies let anyone join, the same can't be said for Pinecone Research. You must receive an invitation and go through a qualification process.
If you are lucky enough to get chosen, you will have the opportunity to complete surveys that pay much more than other sites. You may also have the chance to test unreleased products or view clips from upcoming movies. It's not hard to see why the company is so selective. They work with many large brands that don't want their products leaking out to the public. As a result, they pay more for your discretion.
Payment and Rewards
This site does utilize a point system. One unique thing about Pinecone Research is that you're able to request payment immediately after completing your registration survey. The payment threshold is only 300 points, or $3.00. This is actually a way for the company to verify your account.
You can use your points to put cash in your PayPal account. Alternatively, you can get a physical check. Both methods take as long as 5 days to complete. Pinecone Research also offers some additional prizes, such as digital gift card codes, prepaid Visa cards, and even some unique merchandise.
Pros:
High pay
Only sent surveys you are qualified for
Opportunities to test unreleased products, view movie clips, and more
Low payment threshold
Frequent sweepstakes
Many payment and reward options
Great member support
Cons:
Invite-only
Must be approved to join
No mobile app
Website is a bit dated
16. New Vista Live
This survey site is open to UK residents who are 16 years of age or older. Surveys cover a wide range of topics. They aren't just for products or services. You can also express your opinion on politics, current affairs, and entertainment. In addition to standard surveys, New Vista Live also has community discussions. There, you can connect with other members while earning additional points.
New Vista Live also holds monthly drawings. Two £250 prizes are awarded. You can increase your chances of earning these prizes by completing more surveys. Surveys vary in length. Typically, 100 points are rewarded for every 15 minutes it takes to finish the survey.
The site does go to great lengths to make sure that members are being completely honest in their answers. Trick questions are thrown into the mix to ensure that you're not just selecting random answers to get through the questionnaire. Furthermore, you have to wait to see the points you earn reflected in your account. It can take up to a month to have those points verified and available for withdrawal.
Points System and Cashout Requirements
Upon completing the registration process, you're immediately awarded 500 points. Each point earned from New Vista Live is worth about 1 pence. Unfortunately, the site does have a higher payment threshold than other sites. You must have at least 5,000 points to request a check of £50.
The only way you can get paid for your time on the site is with a physical check. New Vista Live currently does not offer gift cards or digital payments.
Pros:
Free to join
Members can be as young as 16
Monthly sweepstake drawings
Earn 500 points just for signing up
Opportunities to earn points for community discussions
Cons:
Only available to UK residents
High cashout threshold
Payments only available in the form of a check
Points may take up to a month to appear in account
17. PopulusLive
PopulusLive is a UK-based survey site. Open to those who are 16 years of age or older, the site has survey opportunities covering a wide range of topics. The site is free to join. Like most survey sites, there is a short profile survey to fill out.
Members are not able to select open surveys like on other sites. Instead, opportunities are sent through email. Typically, members receive about 2 surveys each week. Points are rewarded based on the average amount of time it takes to complete the survey. For every 5 minutes, a point is earned.
Points and Check Payments
The points system is very simple. For every point you earn on the site, you get £1. Before you cash out, you need to have at least 50 points in your account. Once you reach that threshold, you'll be sent a check for £50. Unfortunately, PopulusLive does not offer any other forms of payment other than a physical check sent to your mailing address.
Pros:
Free for UK residents 16 and up
Monthly sweepstake drawing
Simple point system
Average of 2 survey invitations a week
Cons:
Only available to UK residents
High cashout threshold
Payments only available in the form of a check
18. Branded Surveys
Branded Surveys has a great reputation among survey takers because of the sheer number of opportunities the site offers. Formerly known as MintVine, this site always has a large collection of surveys available. Best of all, you can complete as many as you like without having to worry about cutoff limits. The site has a sleek and modern design. The user-friendly dashboard displays recommended surveys and let you complete questionnaires one after the other.
Of course, you have to qualify before you can take a survey. A few simple questions are asked to see if you fit the target demographic. If not, Branded Surveys will still award you with a few points for your trouble.
Points system
Points are awarded based on the difficulty of the survey and how long it takes. Each point is worth a single cent. To request a payout, you need to have at least 1,000 points in your account. Luckily, earning points isn't difficult. You're given 100 just for completing your profile survey.
When it comes to payment options, Branded Surveys is quite flexible. You can send cash directly to your PayPal account or redeem your points for digital Amazon gift cards.
Pros:
Low payment threshold
Points are awarded even if you're not qualified for a survey
Deals, polls, and referral program available for extra points
Leaderboards and bonus point opportunities
Beautifully designed website
Dashboard provides recommended surveys
Redeem points for gift cards and PayPal cash
Cons:
Points must be approved before they can be redeemed
High cashout threshold
Payments only available in the form of a check
May be required to provide phone number for verification
Tips for Maximizing Your Online Survey Profit
There are several tips that you can use to maximize your profits from online surveys, and they're very easy to implement and follow. One of the best tips is to make sure that you sign up for many different companies because you need to find the companies that pay the best rates.
You might sign up with 20 different websites, but the majority of the money you'll make will come from only a handful of sites. Another useful tip is to make sure that you cash out when you reach the required threshold.
Some websites have restrictions, and the earnings that you accumulate might only be valid for a short period of time, which is why it's important to always cash out as soon as possible. One of the top ways to maximize your earnings from online surveys is to avoid paying fees.
Although some sites might be worth the money, there are many companies that will charge you money to join, and they don't send enough offers to justify the membership fee.
If you want to maximize the amount of money earned from surveys, you should always keep your account information up to date. With up-to-date profile information, you'll receive the latest offers and have more opportunities to make more money.
How do you make money from surveys?
This is a question that a lot of people ask when they hear about the concept of making money online from free online survey sites. The thing that people don't realise is that market research is a massive business. Companies all over the world will pump billions and billions of dollars into finding out what consumers think of certain products/ideas before they launch it.
For them its paramount that they find out intricate and minute details of a consumer's relationship with their product. This could be a new service or advert to be shown on TV, a new product ,existing product and even new packaging. Big companies like IBM, Panasonic, and Microsoft go to incredible lengths and costs to find out what you think of their products.
One of the best ways for companies to find out if people like their products is to offer compensation for your opinion, and depending on the company, the money offered can be very reasonable.
The next bit is where you come in to the frame. Because of time constraints and the effort involved to find the right target audience, large, medium and small companies will go to these new breed of online survey takers, and give them a certain amount of budget to enable the site to get the data they need from the right people. They will then allocate a certain amount of money to gain that data via giving their members surveys to complete in exchange for a small payment.
Filling out surveys won't make you a millionaire, but with enough effort, it can provide you with some additional income. The good news is that you don't have to leave your home, and you can make money while wearing your favorite pajamas.
To make money from surveys, you must use some of your time to fill out different types of surveys from different companies. You'll be participating in market research surveys and panels, and there are hundreds of companies that are willing to pay for your opinion.
How Do Online Surveys Work?
If you have a computer and don't mind providing your opinion, you can make money with surveys. Since hundreds of different companies want to pay you for your opinion, there are plenty of opportunities to choose from. To start taking surveys, you need to find the companies that offer them.
Most of the websites that allow you to earn money from surveys are free to join, and once you've made an account, you'll need to provide your demographic and personal information. Fortunately, as long as you sign up with credible companies, you don't have to worry about them selling your personal information.
Your personal demographic information is used by companies to match you to the various offers that are available, which is why you're required to provide it. When the companies are able to match you with an offer, you'll receive an email, which will invite you to take the survey.
Once you've been qualified, you'll be able to take the survey and earn compensation. The type of compensation that you'll receive depends on the offer. Some offers will pay you cash, and others will give you free products or services.
For example, some companies will send you free products, and in exchange, you'll get to try the products out and provide your honest feedback. The compensation for some surveys is entry into a particular sweepstakes, which could lead to a big payoff.
If you're looking for a way to get free products, surveys are worth considering. In exchange for your opinion, some companies will send you products for your pets, or you might receive food or beauty products.
Top Tips For Making Money With Online Paid Surveys
When filling out online surveys, your main goal is to get compensated for your time, and with the right tips, you can maximize the amount of compensation received for every minute you spend filling out online surveys. The first major tip is to focus on survey panels that fit your preferences.
Since there are hundreds of different online panels to choose from, it's easy to get overwhelmed and choose panels that aren't a good fit for your preferences.
You should sign up with a handful of panels and monitor the offers they send you. Many companies will send offers to try pet products, and if you don't own any pets, then it doesn't make much sense to spend your time with that company.
It's also important to monitor the amount of compensation that you receive from each company because some pay significantly more than others.
1. Sign up to multiple survey sites
Each survey site may only send you a couple of surveys to complete in a month. The reason for this is that you will not fit the target audience for every survey they have.
So what you need to do is sign up to about 10 free online survey sites in order to make a reasonable amount each month. The more you sign up to, the more opportunities you will get to make some extra cash.
2. Take your time and be honest
With most of these sites, its all about building up your reputation as a serious survey taker. If you do the surveys well enough, you may get more surveys to take.
When you take a survey, they will ask you a few personal questions in order to see if you fit the bill. Don't lie. Be genuine with your answers as this will benefit you and the company giving you the survey.
Take your time and don't rush these surveys. Answer each question with accuracy as the survey company wants you to give your honest opinions so they can get the best out of your services.
3. Create a different email account for signing up to free online survey sites
It's probably best to create a new email account just so you can keep your personal or work emails separate from your survey emails. You can create free email accounts using Gmail or Outlook.com with ease.
4. Keep Your Profile Up to Date
If you want to make sure you're getting selected for great offers, you should keep your demographic profile updated. When working with several different websites, it might seem like a chore to keep your personal information up to date, but over time, it will pay off because you might be selected for offers that you wouldn't have received without your updated information.
For the best results, you should strive to update your profile at least twice per year, but if you regularly experience major lifestyle changes, then consider updating your information three to four times per year. It's also quite common for companies to send you surveys immediately after you update your profile.
5. Multiple Demographics
Another useful tip is to make sure you try to get into as many demographics as possible. When you're answering questions for your profile, you should always provide positive responses.
You don't want your answers to make it seem like you don't like certain products, and you want to show that you have a lot of experience in many different areas of life. By fitting into as many demographics as possible, you'll receive more offers, which will allow you to make more money.
There are several changes that can have a major effect on your eligibility for certain offers. A great example is having a child or coming home with a pet. Some offers are sent to people who've recently relocated, and others are sent to people who've recently changed their Internet service.
Maybe you've just started going back to school, and to make sure you're getting as many offers as possible, be sure to keep your profile up to date.
6. Be Selective
One of the best tips for doing online surveys is to make sure you're never working for free. Your time is extremely valuable, and it's something that you can never get back, which is why you must always make sure you're getting compensated for it.
If you're really desperate for extra money, then it's not a bad idea to take some surveys that don't pay much money, but whenever possible, you should make sure to spend most of your time taking offers that pay well.
Some surveys might pay $15 and take 15 minutes to complete, but other offers might only pay $5 and take an hour to complete. You must stay vigilant and make sure you're spending your time where you're going to get the greatest return.
7. Read The Terms & Conditions
Before signing up with a website, make sure to read the terms and conditions. Another area to check is the privacy policy. In most cases, these pages will tell you if the website sells your personal information to third-party vendors.
You might not have a problem with this, but a lot of people would prefer that websites don't sell their personal info. It's also a good idea to create a separate email for your survey activities because it will help you stay organized.
For convenience, you should consider using a software program that will store passwords for the various websites that you're working with. If you have accounts with 15 different websites, then it's almost impossible to remember the login information for every account you own.
Conclusion
Unfortunately, completing online surveys won't make you rich, but it can serve as a decent source of supplemental income. The amount of money that you can make from these websites depends on how much time you have to put into it, and your income potential is also limited by the number of surveys that you have available to you.
On some days, you might have an abundance of surveys to complete, but you might also have times when there aren't many offers sent to your inbox.
However, by choosing to work with reputable sites and following these useful tips, you can maximize the amount of money earned from completing online surveys and avoid wasting time watching cat videos on YouTube.
The following two tabs change content below.
Jamie Spencer
My name is Jamie Spencer and I have spent the past 10 years building money making blogs. After growing tired of the 9-5, commuting and never seeing my family I decided that I wanted to make some changes and launched my first blog. Since then I have launched lots of successful niche blogs and after selling my survivalist blog I decided to teach other people how to do the same.
Latest posts by Jamie Spencer (see all)