If there's one social media platform that has had the biggest impact on the gaming industry, it's Twitch. While YouTube has also been a huge online money-maker for the industry, Twitch has basically created an entirely new career.
Some of the biggest names on the platform are raking in millions of dollars a year! It's safe to say that the live streaming service has played a big role in bringing video game culture to the mainstream. It's created superstars and has lead to several opportunities for big-name companies and marketing agencies alike.
Still not convinced about the viability or success of Twitch? Check out these important statistics about the world's most popular game live-streaming service.
About the Twitch Platform
1. Twitch launched in 2011.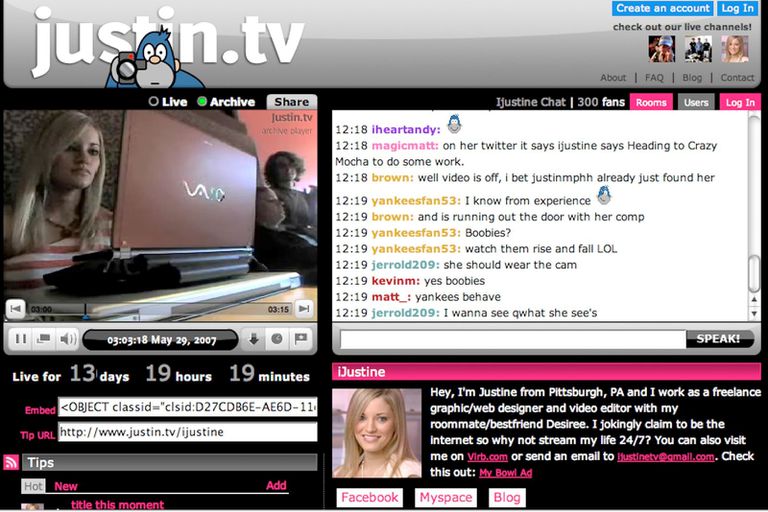 Twitch has a bit of a unique history. It was originally launched in 2007 as a multi-genre streaming service called Justin.TV. The gaming side of this platform became so popular that Justin.TV spun it off into its own thing. Called TwitchTV, the new service officially went into beta in 2011.
2. It wasn't until 2014 that Twitch really took off.
The service we all know and love today didn't really get its start until 2014. This was when Justin.TV became known as Twitch Interactive. All of the parent organization's resources went into building Twitch up into what it is today. Obviously, those efforts paid off massively.
3. The platform has been supported by generous investments.
While Twitch is a financial juggernaut today, that wasn't always the case. In its early days, Twitch relied on capital investments. The company raised funds several times throughout its history. Some of the biggest venture capital investments occurred in 2012 and 2013. Those investments netted the company 15 million and 20 million dollars respectively.
4. Growth has been steady since 2014.
After the streaming service was officially rebranded as "Twitch," it experienced pretty steady growth. During its fourth year, members streamed about 192 billion minutes of content. Since then, the user base has climbed steadily. The company experiences roughly 23 percent growth per year.
5. Twitch is the 26th most popular site in the world.
While Twitch is relatively new compared to some other sites out there, it's the 26th most-visited domain in the world. When you look at popularity in the United States alone, Twitch ranks at number 13.
Twitch Viewership and Membership Statistics
6. In 2017, 336 billion minutes have been streamed alone.
Want to get a better idea of how popular Twitch really is? According to the 2017 facts sheet published by Twitch, members spent a staggering 355 billion minutes streaming content on the platform. That's just for 2017 alone!
7. More than 185 million unique streams were broadcast in 2019
There are several popular streamers on the platform. However, the beauty of Twitch is that you don't have to be a gaming superstar to start broadcasting. There were 185 million unique streams in 2019 alone.
8. In 2019, over 404 hours of content were streamed.
Of those 185 million streams, about 404 million hours of content were created. Twitch is accessible to users all over the world. New content is being created around the clock, ensuring that members always have something to watch.
9. There are roughly 54,500 channels live at any given moment.
Speaking of viewing options, you can expect there to be well over 50,000 channels live at any time. That number has risen quite a bit compared to recent years. Twitch shows no signs of slowing down, so we expect that figure to get higher in the future.
Currently, Twitch allows members to search for specific streamers or game titles. This makes it easy to discover new content at all times.
10. Over 100 million clips have been saved.
While the service is focused on live content, members can save small clips for later viewing. This is often done to record big moments in games or funny events in the stream. The feature was introduced in 2016 and is used millions of times every day. More than 124 million clips have been saved since the feature was introduced.
11. There are more than 9 million channels
Just about anyone can create a channel on Twitch. There are a little more than 9 million channels currently on the platform. So, there's no shortage of content to find.
12. About 44 billion minutes are streamed per month
While the exact figure fluctuates quite a bit, the average monthly viewership is at more than 40 billion minutes.
13. At any given time, there are almost a million people watching streams.
Twitch is boasting an average of a little over 997,000 active users at any given moment. The average viewer count has climbed steadily since launch, so the platform is poised to break a million concurrent viewers very soon.
14. Less than a quarter of Twitch's viewers are in the United States.
A large majority of Twitch members are located in the United States. However, the service is available in many countries over the world. Collectively, most users are not located in the United States.
15. Twitch gets about 72 percent more viewers than its biggest competitor.
Who is Twitch's biggest competitor? That would be YouTube Gaming. YouTube is a powerhouse when it comes to traditional video viewing. But, the platform has not had as much success as Twitch when it comes to live streaming.
Streaming Habits and Demographics Data
16. About a fifth of viewership goes to eSports.
Competitive eSports gaming makes up about 21.3 percent of all views. eSports matches are broadcast to viewers. In fact, an eSports event holds the title of having the most concurrent viewers in one stream. Over a million members watched the event in real-time.
17. The average user spends over an hour and a half on Twitch every day.
The average user spends about 95 minutes on Twitch per day. Many of them are coming from mobile devices, making Twitch one of the most-used apps on the market.
18. A vast majority of members are male
It's been reported that about 81.5 percent of Twitch members are male. Thus, advertising generally skews towards a male audience.
19. Viewers between 18 and 34 years old make up about 55 percent of the user base.
While video games are often viewed as a hobby for kids, the viewership statistics for Twitch would beg to differ. A majority of members are young adults who fall between the ages of 18 and 34.
20. Most streams are in English.
Despite Twitch's available in many non-English speaking countries, about 62 percent of all streams are in English. Many believe that this is done purposely by non-native speakers to gain a wider audience.
21. 4 P.M. Eastern Time is peak streaming time.
At around 4:00 in the afternoon Eastern time, Twitch has the highest number of members actively online. At around 4:00 A.M. Eastern time is when viewership is at its lowest.
22. 15 million people use Twitch every day.
Regardless of when they choose to log on, Twitch sees 15 million active users each and every day. This figure includes both streamers and viewers.
Money Matters
23. CPM ranges from $2 to $10.
Streamers can earn income in many different ways. The most common is through advertisements placed within their broadcast. The average CPM for streamers ranges between $2 and $10. The exact amount varies based on many factors, including the popularity of the streamer.
24. Subscription prices vary dramatically.
The second way that streamers earn money is through subscriptions. Twitch has three subscription price points. The cheapest is $4.99. It's the most popular option. The second two are $9.99 and $24.99. The benefits of going with a higher subscription level vary. Typically, it's fewer adds and custom emotes.
25. Subscription fees are split evenly between the platform and the creator.
The pay split between Twitch and streamers is very simple. The platform gets half. This simplified split has garnered a lot of positive attention from streamers and the industry as a whole.
26. There are over 150,000 streamers in the Twitch affiliate program.
Twitch has a couple of different levels to reward successful streamers. The first are affiliates. As an affiliate, streamers can gain a bit more income from subscriptions, sales, and more. To qualify, streamers must have at least 50 followers and 500 broadcast minutes.
27. Roughly 27,000 are official partners
The next level up is the partner program. This program is reserved for only the most successful streamers. Not only do they get a bigger cut of the revenue, but the platform also provides more income streams.
28. Twitch has generated millions of dollars for charity since 2012.
Since 2012, Twitch has collected more than 75 million dollars for charity. Charity streams are held regularly to benefit a range of causes.
Popular Games and Streamers
29. Roughly 95 streamers have at least a million subscribers.
While there are millions of streamers on the platform, only a small fraction have managed to break the one-million subscriber mark.
30. The most popular streamer is Ninja.
If you're familiar with game streaming, there's no doubt that you've heard of Ninja. Ninja is, by far, the most popular streamer on the platform. He has amassed hundreds of millions of viewing hours and reportedly earns more than $100,000 a month.
31. The most popular game is Fortnite.
In 2019, the popular battle royale game Fortnite was the most popular. However, other titles like World of Warcraft, Call of Duty, Apex Legends, CS:GO, and more have also garnered a lot of attention from viewers.
32. Many streamers also participated in eSports.
One unique thing about the streaming demographic is that many of them have participated in professional eSports at one point or another. Out of the top 5 streamers on the platform, 4 are retired professional gamers.
Conclusion
Twitch is an exciting social media platform that has completely changed the face of gaming. Not only has it brought more attention to the industry as a whole, but it's allowed gamers to make legitimate careers from doing the thing that they love.
While Twitch is not as popular as Facebook, Twitter, or YouTube, it's in a good place. It may not be familiar to those who aren't fans of video games. However, it's a well-known platform for the demographic that matters most. This specialized service creates a massive user base that's dedicated and always ready to watch.
We have even more stats for you!
Chinese Social Media Statistics
Featured photo by Emmanuel
The following two tabs change content below.
Jamie Spencer
My name is Jamie Spencer and I have spent the past 10 years building money making blogs. After growing tired of the 9-5, commuting and never seeing my family I decided that I wanted to make some changes and launched my first blog. Since then I have launched lots of successful niche blogs and after selling my survivalist blog I decided to teach other people how to do the same.
Latest posts by Jamie Spencer (see all)