Understanding consumer behavior is challenging for marketers. It's almost impossible to know the mind of consumers without data and insights.
But, more importantly, is how these data impact business performance, brand building, and improve the consumer experience.
According to CMSWire, 54% of senior-level marketers believe marketing analytics haven't had the expected influence on their activities.
While another study by Invesp shows that marketers who exceeded their revenue goals use personalization techniques 83% of the time.
That's where intelligent chat nurturing comes in — improved personalization. In this interview, Anu Shukla guides us on how Botco.ai can help you improve your conversions through intelligent chat nurturing.
Why Chat Nurturing is Important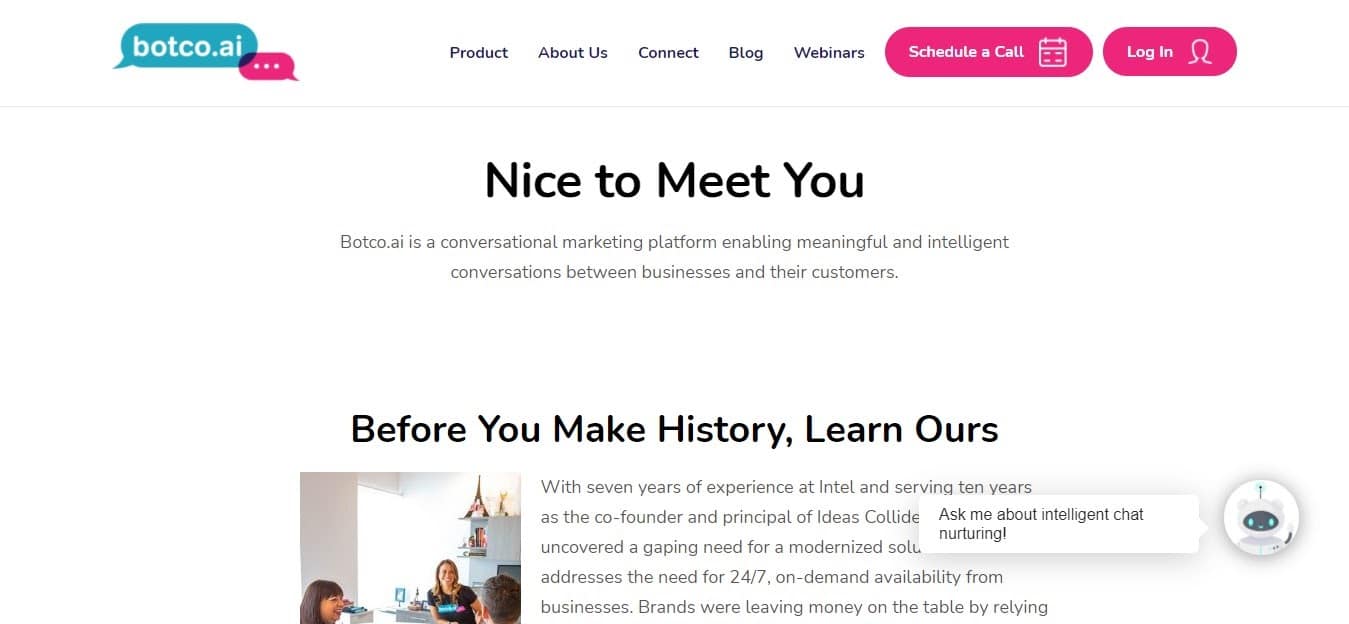 Chat nurturing provides real human interaction during an online purchase, giving customers a sense of reassurance.
Prior to this, businesses had challenges getting real-time feedback and were in less demand due to low responsiveness to customers' demands.
Here are some of the reasons you should consider chat nurturing for your business:
The average human touches their phone over 2,617 times daily.
Allows for real-time interaction between businesses and their consumers.
Seamless feedback. 69% of consumers prefer Chatbots because they give quick answers.
Chatting and texting are more immediate.
It enables the gathering of primary, unfiltered, and quality data.
In one study, 94% of customers who were proactively invited to chat were very satisfied with the experience.
The Relevance of Botco.ai to Marketers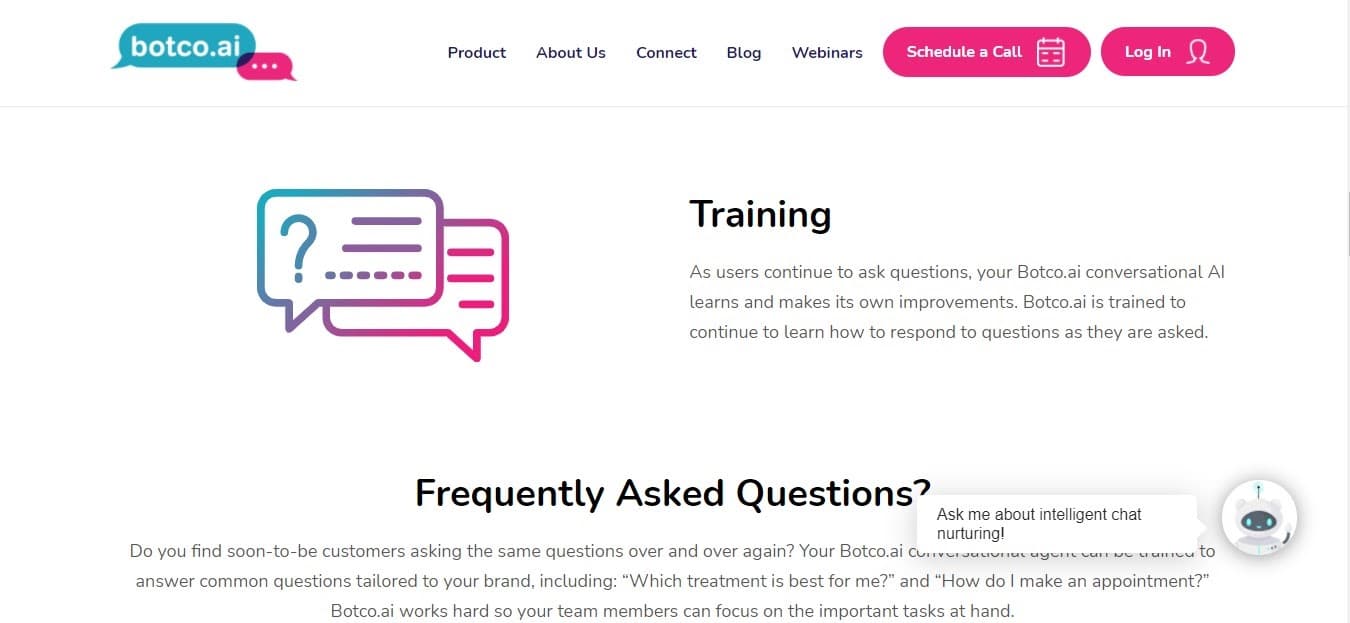 With Botco.ai intelligent bots are taking marketing automation tactics from tired email platforms and renewing them in chatbots.
With Botco.ai you can integrate images, videos, buttons, location services, and other automated conversations seamlessly.
This implies that customers can have decent conversations from start to finish.
Botco.ai helps you cut down churns in your marketing efforts.
You get to know what is important, why they should be considered, how to improve your process, and when to swing into action.
Intelligent chat gathering to support marketing automation efforts.
Enabled businesses to communicate with their customers without extensive setup and AI training.
Seamless interface for human interaction.
Monitoring customers' engagement, creating FAQs based on reliable data and responding with corresponding solutions.
It helps convert website visitors into leads.
Shortened customer acquisition process.
Gives a better Return on Investment.
Key Takeaways from the Interview
This interview is an enlightenment on the importance of chat and how to make smarter marketing decisions with them.
Here are some key points to note:
Buyers have embraced mobile devices allowing for chatting, and texting which makes chat nurturing extremely relevant.
Chat nurturing enables marketers to get more results out of their spending.
Carry out thorough market research and identify salient opportunity gaps before starting a business.
Set up a path to meet certain milestones to raise funds at a decent valuation.
Taking some risks off investors makes it easier to raise funds.
You need a lot of communication to know your co-founders' strengths and weaknesses.
Having a co-founder that holds you accountable is better than having none.
Networking offers greater business and career opportunities.
In chat nurturing, bots are used for a chat engagement and are quite intelligent.
Chat nurturing can help both businesses and customers make smarter decisions.
SaaS companies require a lot of money to grow due to their subscription-based model.
Intelligent chat nurturing performs the functions of inbound marketing technologies which capture customers' information and give them enough information to get them along to the next step.
My Conversation with Anu Shukla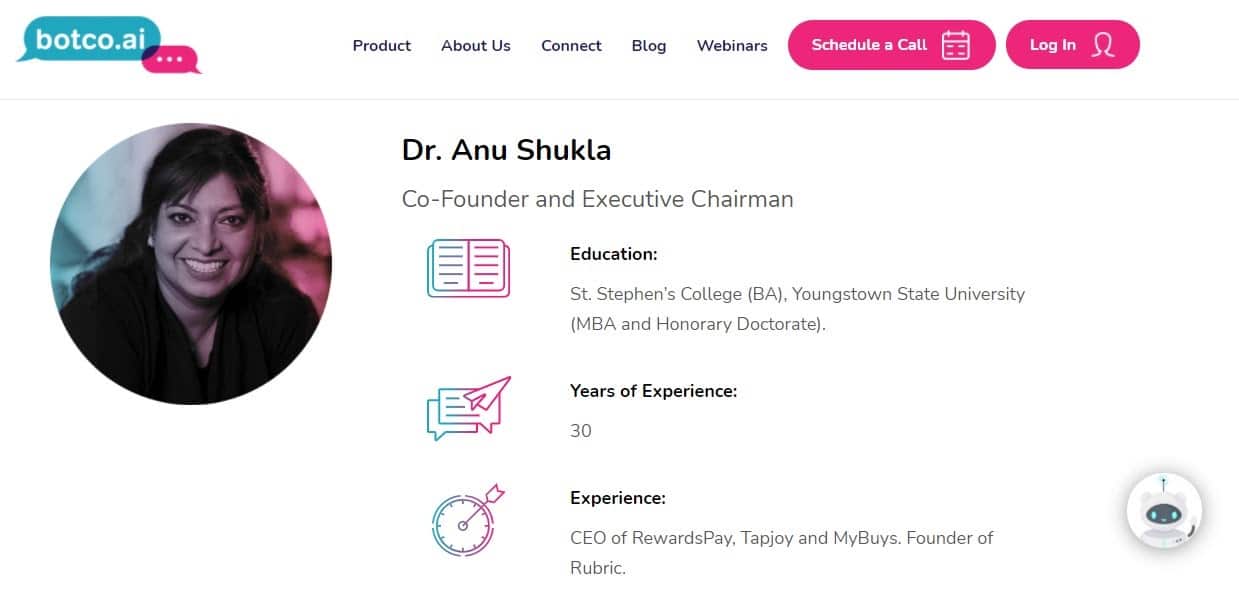 1. Hello, please introduce yourself and tell us what inspired Botco.ai and how it works?
My name is Anu Shukla. I'm a serial entrepreneur based in the Silicon Valley in California.
I've found four to five companies mostly in MarTech, Ad-tech, and payments. Many years ago, I had my first company called Rubric. It was a pioneer in enterprise marketing automation.
In fact, my first three customers were Cisco, Hewlett Packard (HP), and General Motors (the loan division).
We had come up with concepts that are common today like:
Drip marketing
Nurturing
Segments
Database
Campaign management
Workflow marketing
Workflow budgeting, and
Analytics
We introduced all these concepts about 19 years ago. And I went on my merry way.
I started to look at the field of marketing automation to see what was new and realized that nothing was new. The stuff that we'd done 19 years ago was essentially the same product.
Although, there was a little bit of video added, social, and a few other things. However, the world had moved on to mobile devices and to chatting, and texting which is more immediate.
But somehow, these capabilities which are on-demand were not being utilized in the enterprise for businesses, and in B2B or B2C applications. And that was because there were no tools available to let businesses reliably use them. And there were not enough advancements, application of natural language and artificial intelligence to enable the same.
And so the idea for Botco.ai was born from noticing these facts in the marketplace. What we wanted to do was to enable businesses to be more on-demand, in terms of responsiveness to their clients. We also wanted to enable businesses to be able to communicate with their customers without extensive setup and extensive AI training.
But as you know, marketing is campaign-driven. You have a campaign, you move on to launch a new product, then a new campaign and the process continues.
So, nobody is going to sit and train an AI for years for it to be perfect. We felt if we brought these technologies again. We could have a platform shift in marketing automation. And create something that will use the popular channels to enable marketers to get more results out of their spending. That was why we invented Botco.ai.
2. Was Botco.ai a solution to problems you or your co-founders had in your businesses? What shared values brought you together to make this tool a success?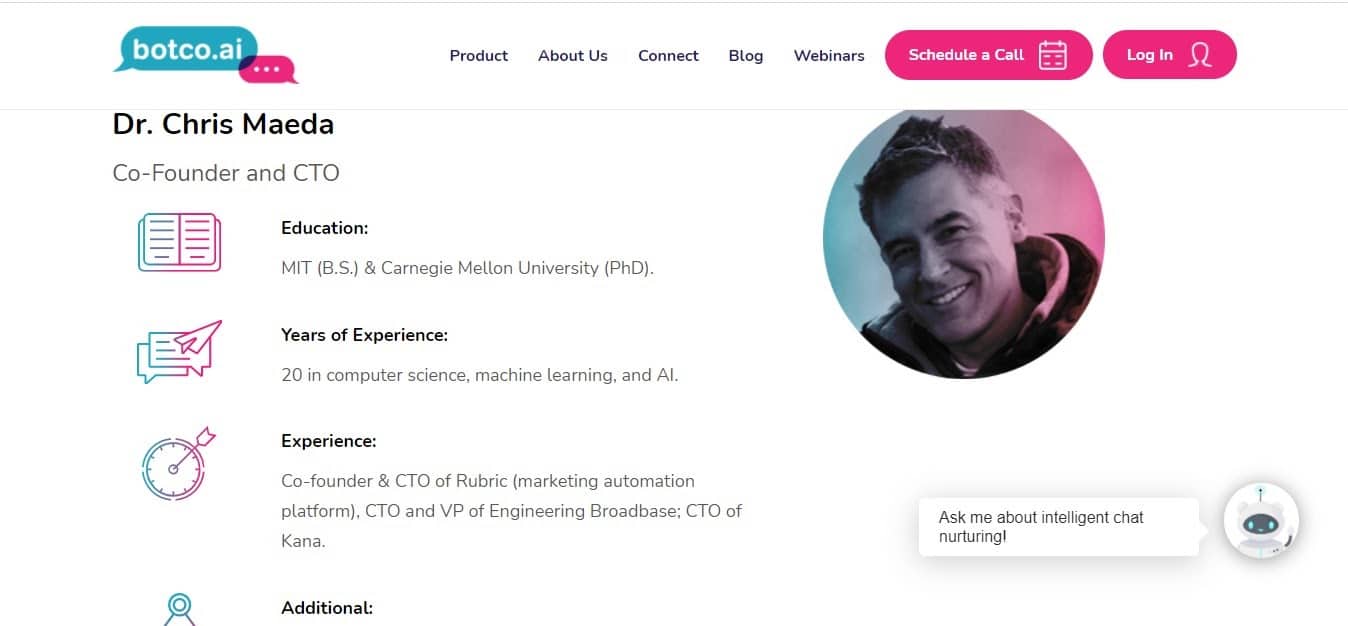 One of my co-founders is Dr. Chris Maeda. He was my co-founder from Rubrik 20 years ago. The other co-founder is our CEO who is Rebecca Clyde.
And Rebecca had been implementing marketing automation products for her business. She had and still has a very successful digital marketing agency. And so she had been working with business customers and implementing marketing automation products and had noticed a significant drop in the results that the customers were getting.
She felt that the market was ripe for a new solution that provided more intelligent chat usage that would create better results. So she and I kind of shared that need based on both our experiences.
Also, Chris, of course, had been traveling to Asia a bit and he noticed that everybody uses WeChat, including businesses.
So I do believe that chat, when presented in an appropriate platform that enterprises can rely on will be very useful for the patient or customer engagement journey. And that's one of the other reasons Botco was created.
3. What challenges did you face as a woman in the tech space and how did you respond?
I've been a serial entrepreneur for a long time, over 20 years. And I'm a venture partner at a venture firm as well — an angel investor.
I think the challenges are the same from 20 years ago to now, things haven't changed that much. But I always see a movement in the right direction.
One of the reasons I joined a venture forum as a venture partner, elevate.vc, was their mission. Their mission is to serve underserved founders; blacks, Hispanics, women, and other minority founders that are underrepresented.
I feel they were underrepresented before because there are not enough venture capitalists themselves that are women. There are not enough underrepresented founders that get funded. They just simply don't have the established networks that the mainstream has.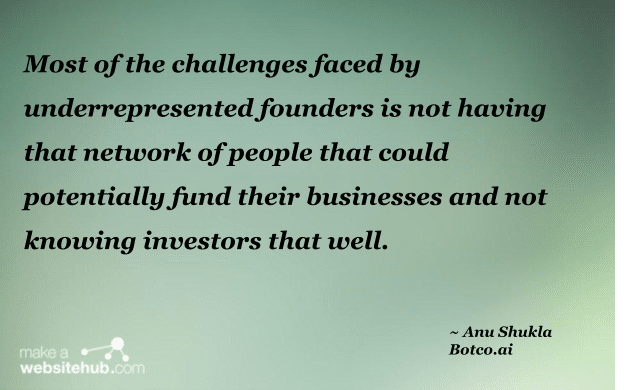 Most of the challenges they face is not having that network of people that could potentially fund their businesses and not knowing them that well. We're trying to change that now. I'm trying to do that with my activities and with other changes that are coming as well.
I do see some positive steps in that direction. But those are the problems you face, not having the connection and you have to network to get over that which we did.
4. You met your co-founder, Rebecca Clyde in a "Girls in Tech" conference. From what I gathered, the organization is not restricted to the female gender alone. In fact, one of your co-founders is a man. Can you tell us a bit about "Girls in Tech?"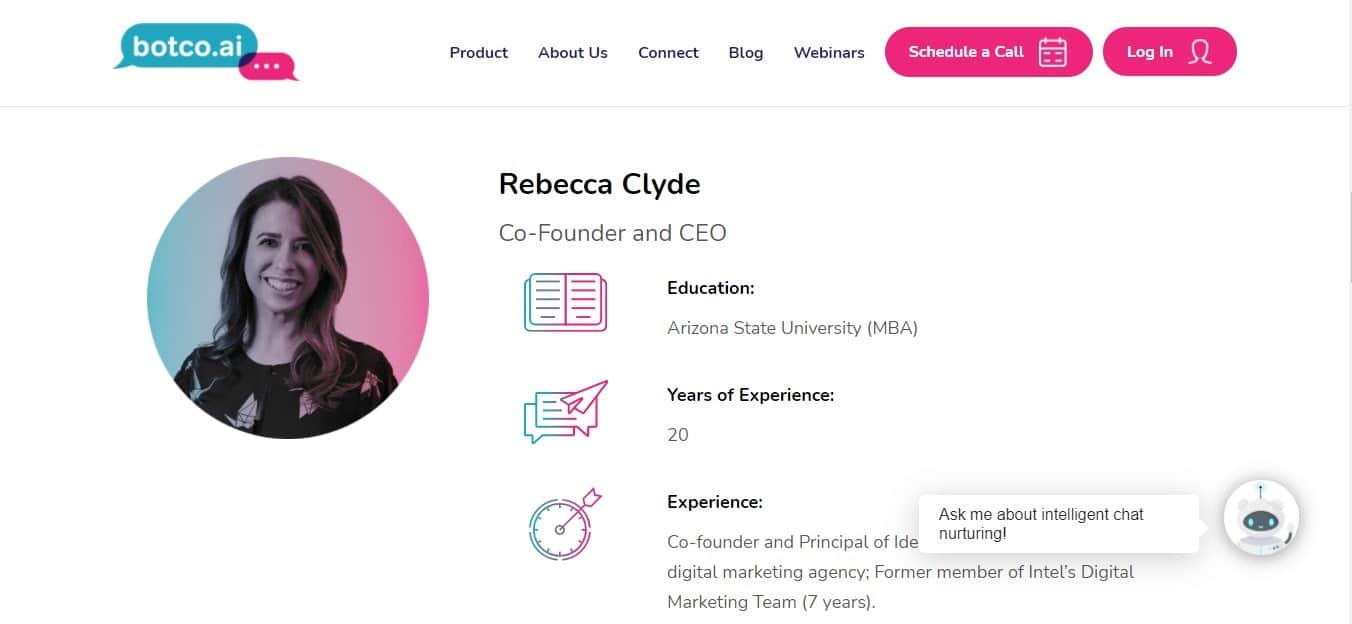 'Girls in Tech' is a global organization that is all about empowering and creating networking opportunities for women in technology.
They have an annual conference and they also have local chapters that do their own fundraising activity. It's a national organization umbrella, but they also have local chapters that are run by local entrepreneurs.
It's a place for women in technology to meet and help each other by networking at different events and share resources.
'Girls in Tech' was having their national conference in Phoenix, Arizona and I was one of the speakers. I was speaking on fundraising that was where I met one of my co-founders, Rebecca. She was there as one of the sponsors of the local event through her agency.
5. Botco.ai got funding from AZ Tech Investors, InvestU, Desert Angels, and PHX Ventures. How has funding influenced your business? How has your business grown because of this funding? You're also into funding other businesses. What lessons have you taken from being funded, passing it on to people who you've funded or you plan to fund?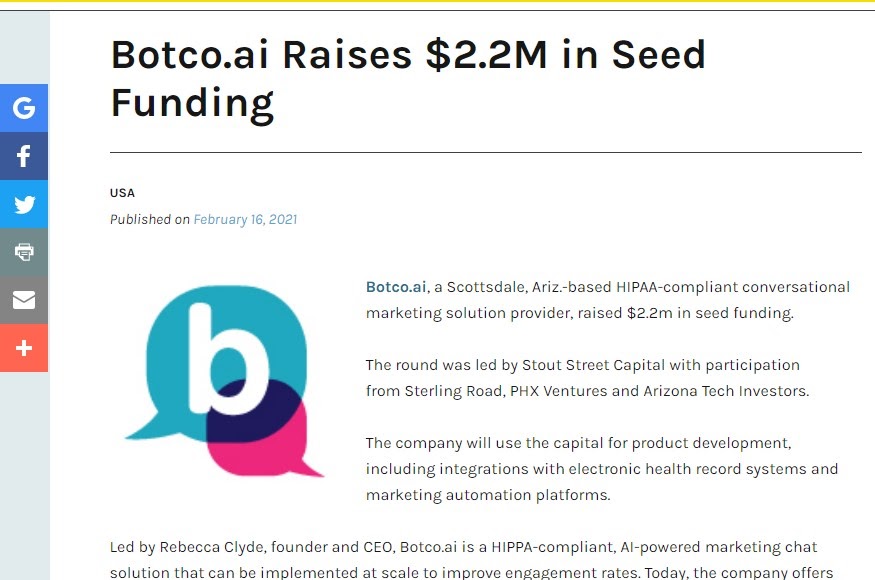 For SaaS companies, you need to raise a lot of money because SaaS companies take a lot of money to get going due to their subscription-based model.
I will say you have to set up a path where you can meet certain milestones and raise funding at a decent valuation.
What we did was we sacrificed a lot from the beginning to take out some of the risks in the product by creating a Minimum Viable Product (MVP).
We actually got paying customers on our product first. We bootstrapped it, gathered requirements from our customers, started getting revenue, then went on to get funding.
My advice to business owners is to get as far as they can to take some of the risks off their investors which will make it easier to raise funds.
Now that we've gotten funding, we can hire people, scale ourselves in marketing and other efforts to position ourselves in the marketplace for success.
We know we have to hit certain milestones before we can raise series seeds, and now we have to raise Series A.
We are looking at what are the other milestones we have to hit to get to Series A funding? Is the momentum in the sales?
Is it a certain Accounting Rate of Return (ARR) that we need to meet? Is it a certain number of customers or advancements in core technology?
We're all focused on actually meeting our objectives so that we can get the next Series A funding, and also taking out more risk for our investors.
6. When you run a business alone, you can choose to take other people's suggestions or not. Albeit, having co-founders is a different ball game entirely. How do you respond to co-founder conflicts when they happen?
Yes, it's a very good question.
Actually, I knew one of my co-founders for at least 20 years and I had co-founded a company with him before. Then, I got to know Rebecca quite a bit before we got together and all three of us started Botco.ai.
I think that one of the things that you do is to know the person, their strengths and weaknesses, and let them know yours. Then a lot of communication needs to happen between everybody so you don't create misunderstandings.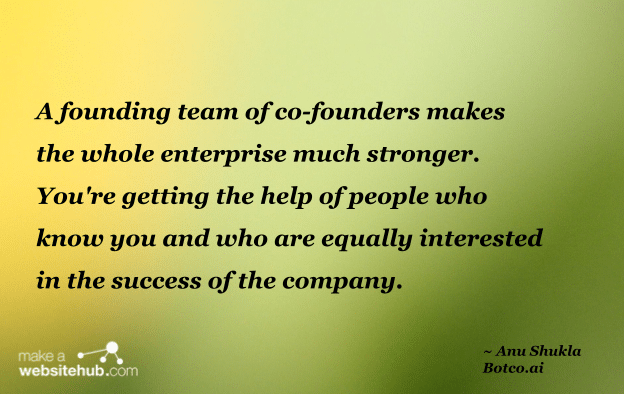 But I highly recommend co-founders. Because if you don't have co-founders, you don't have anybody who's telling you if you're doing something wrong. And if there are decisions you're making that you should question.
I think a founding team of co-founders makes the whole enterprise much stronger. You're getting the help of people who know you and who are equally interested in the success of the company.
So, get to know them before you co-found with them. When you do, you have a lot of communication and it's really important to listen and be heard as well. I think it's much better and dynamic to have co-founders than not have co-founders.
7. Botco.ai allows users to create their conversations and train the AI on their products, services, and domain. How close is Botco.ai to replicating human interaction?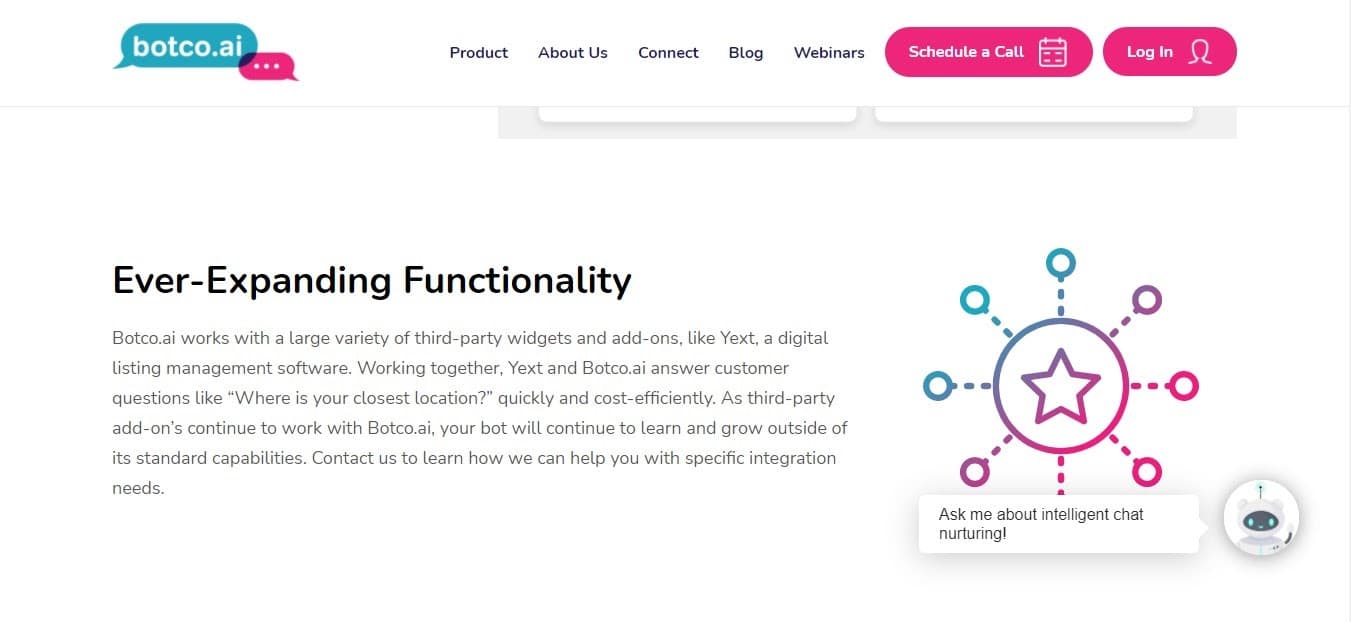 Botco.ai is specialized in the area of augmented AI. Our bots actually mimic humans.
We've built a seamless interface for human interaction within our system.
Remember I told you that we train our bots, so they're not just scripted? they're also useful.
They can actually carry on a natural language conversation. However, if anybody knows Neuro-linguistic Programming (NLP), you will know there are an unlimited amount of questions.
I mean, you can say, Hello! You can say, 'hello' without the E, you can say, Hi! There are so many ways of saying hello.
There are many ways of doing other things. What we do is rely on the conversational flow that we create to guide users along certain paths.
We rely on freeform messaging or question and answering by intent classification and training. That way the bot becomes smarter.
We also integrate with enterprise systems. So that we can say, look up somebody's balance or show them the contract expiry date or whatever the case might be.
We also have a handover. When the bot feels that there's a question that they don't understand. We can seamlessly handover to the call center, to a representative, or to live messaging.
We rely on all of these because we don't need to be a hundred percent correct like Alexa or Siri. We need to be able to give a practical solution that's very rich, intelligent, and responsive. We also need to be able to do that quickly and at a reasonable price because our applications are very much marketing-oriented.
8. How do you train the software to understand the question without taking it out of context and give the right response that creates satisfaction?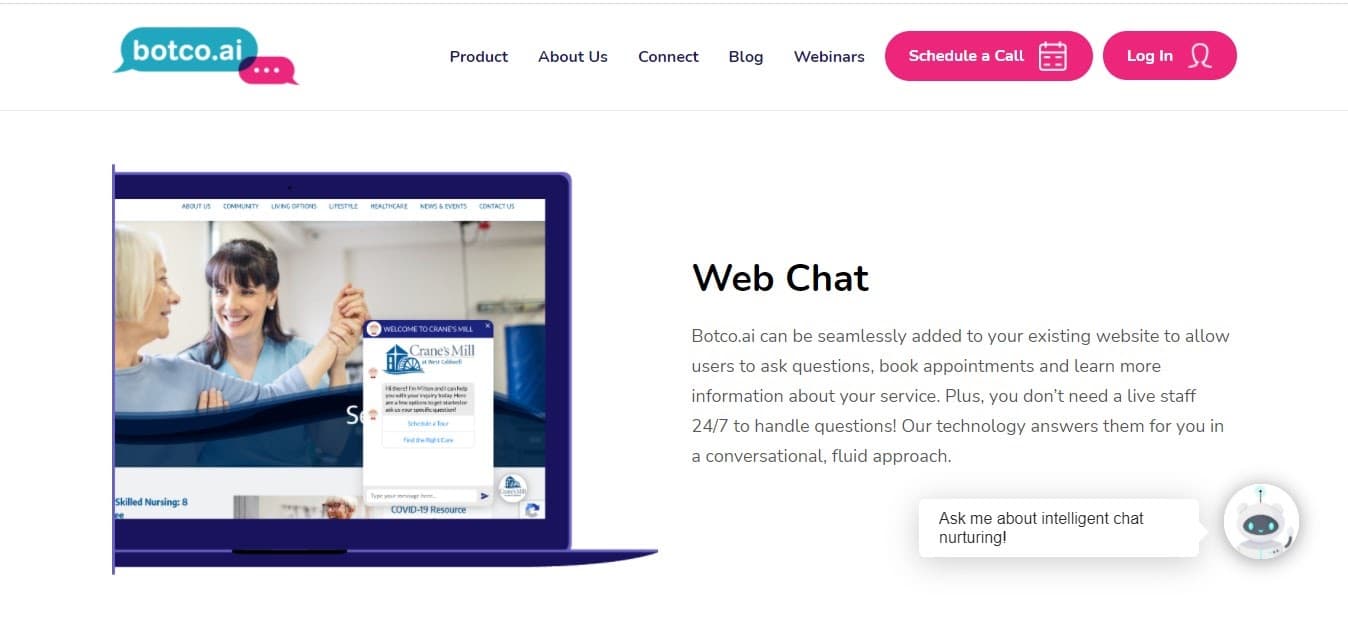 That's obviously in the training of the bots and the way you seed the bots with the initial FAQs. We have a certain amount of technology in this area. This means we can look at FAQs and call transcripts.
We actually analyze those and automatically create a question-answer pair. For instance, people are coming to your website, they're coming from a keyword like addiction, right. When they arrive on your website, they're asking questions such as:
Do you cover alcohol addiction?
Do you cover drug addiction?
Do you have on-care facilities?
Do you have it in my area?
How much does it cost?
Is it covered by my insurance?
Then, we respond with the corpus of questions that a particular company or enterprise has already answered many times. We also create the most Frequently Asked Questions into a conversational flow, adding content in various formats. Like, show them a video, a particular art, or an idea from a blog.
We advance them as much as possible so that all the repetitive questions are answered. We also allow for practical uses like 'look up their insurance.' Check, ask them to put it in the blue shield, look it up, then allows you to tell them the answers.
Then, invite them to make an appointment. You can also schedule an appointment with them immediately.
We can do all of the things that inbound marketing technologies are supposed to do. Which include:
To capture their sentiment
Capture their interest
Capture the information, and
Give them enough information to get them along to the next step
It might be for a transaction or to set up an appointment with a counselor. Those are the things we are focused on with our clients.
Many of them are:
Addiction centers
Urgent care centers
Franchise operations
Personal wellness, and more
These are all people that use our applications to do precisely what I described.
9. In some cases, when bots receive complaints from customers concerning subscription cancellations and refunds, they transfer them to a human agent. But customers lose money when the agents don't act fast. How does Botco.ai help users handle such situations?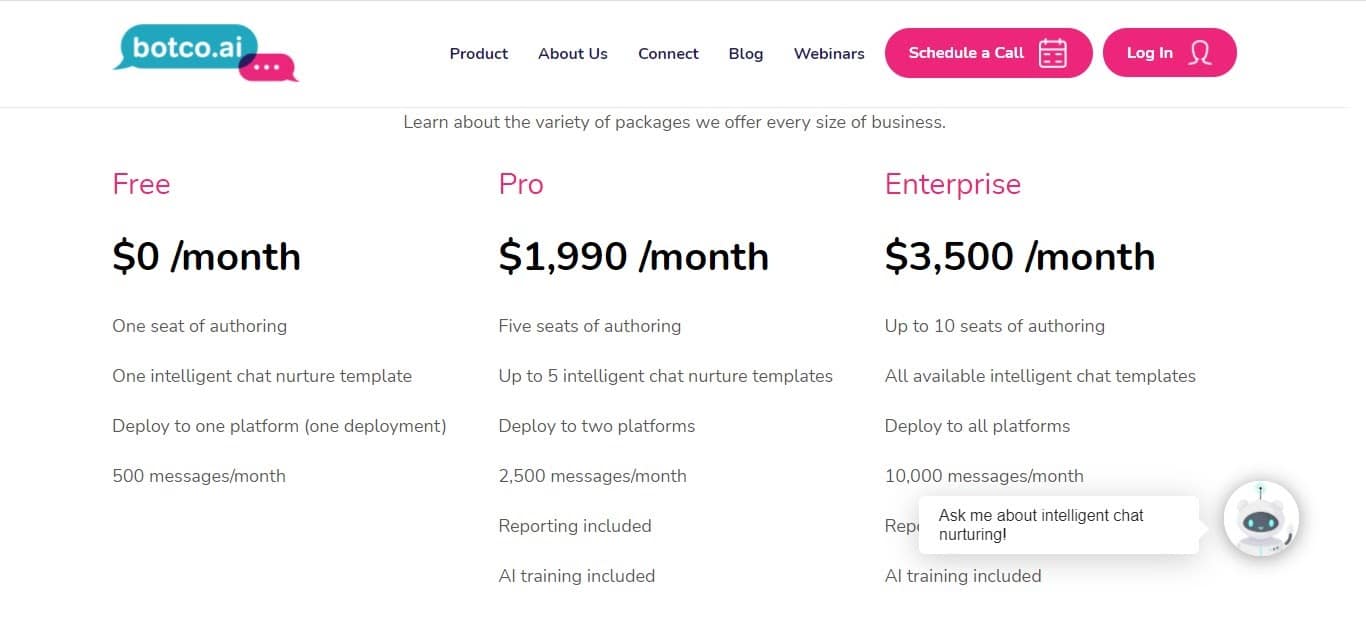 If you want a live messaging handover, you must have the staff to handle it, right?
Since we don't want to transfer to a blind spot. If a customer says look when they try to cancel, I want you to transfer them to my call center. That's exactly what we do.
That means they must have the resources to be able to handle the customer.
Regarding subscription cancellations, we had some clients during COVID19 that faced a lot of increase in people canceling subscriptions. They trained our bots on their website to prevent cancellations by putting us on the landing page for cancellation. Then asking the users why they were canceling and informing them that they could pause rather than canceling and that will be better for them financially.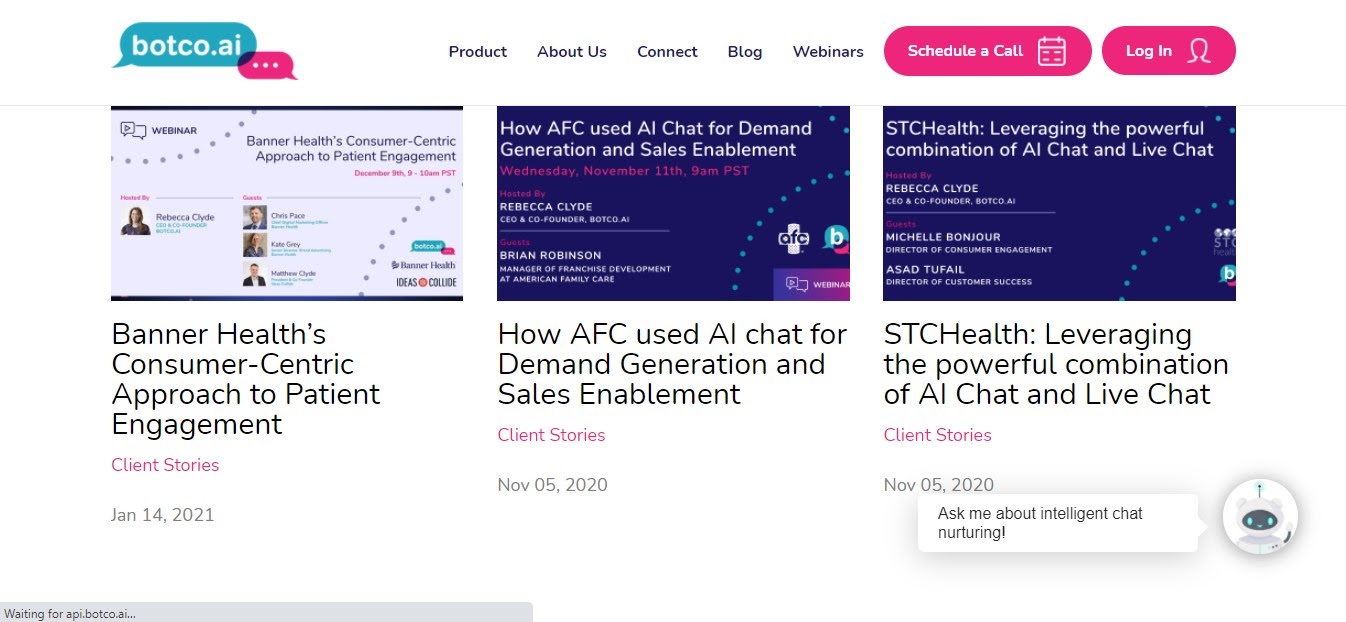 In a very short time, they were able to train the bot because our product doesn't require a lot of setups. They were able to actually prevent subscription cancellations by using the bot for a purpose that it wasn't originally designed for. It was designed to get people to subscribe but was quickly used to help people not cancel and we were able to do that with the same bot.
Bot is a term we use very carefully because we do have fully automated responsiveness. But it's much more of a conversation, chat, engagement than just what bot signifies. Maybe something too stupid.
We're not, we are actually quite intelligent.
10. Botco.ai was one of the ten winners of the "Fall 2019 round of the Arizona Innovative Challenge." What makes you stand out from your competitors?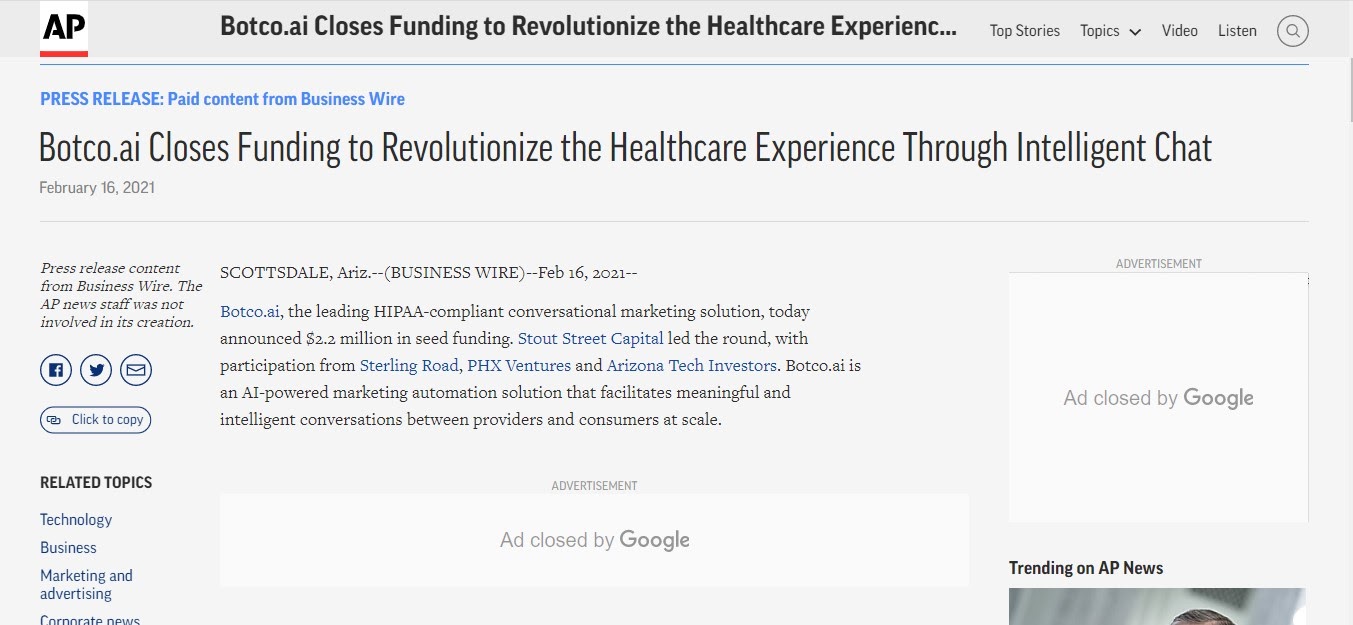 I think that since we're a female-led company, things are kind of different sometimes in some situations. Also, we have gained some great traction. We have some great clients that are getting good results from our software.
Being in an interesting category where we're trying to create value in a huge market, health care plus marketing is huge. We're doing something very unique and because of COVID19 people realize that virtual is here to stay. Hence, Digital Health Initiatives that were lagging have come to the forefront and we need virtual waiting rooms for this kind of urgency.
We need to have a digital patient engagement because we don't want patients coming in, right? Yet, we want them to talk to their doctor, fix appointments, and do other things. So, we want to engage with them and we have to do it virtually because of COVID, and our product fits in very nicely and is actually essential in that area as well.
11. Does using Botco.ai cancel the need to use forms on your website? If yes, how? And if no, how do they complement each other
Yes.
It's conversational, so you can get a huge form of about 50 fields. But people are often doing this from their phone. So, what we do is we have a conversational flow where we say:
What is your name?
What is your address?
And we get it conversationally. And what actually happens is that at the backend, we're actually creating a form and passing it on so that our customers can put it into their ticketing system. This could be in Zendesk, or a CRM system in Salesforce or their Marketing system in Marketo or whatever system of record they use.
The following two tabs change content below.
Nicholas Godwin
Nicholas Godwin is a technology researcher who tells profitable brand stories that tech buyers and businesses love. He covers technology topics on his website
TechWriteResearcher.com
, and has worked on projects for Fortune 500 companies, global tech corporations and top consulting firms, from Bloomberg Beta, Accenture, PwC, and Deloitte to HP, Shell, and AT&T.
Latest posts by Nicholas Godwin (see all)