If you want to build a website, one of the very first things you will want to do is to register a domain name for it.
If you're not sure what a domain name is, think of it as your web address. If you think of your website as a storefront, you have to secure a location before you can open your store. The same way that your physical address is how people find your store, your domain name is the web address that people type in to find your website.
Why Register Your Domain?
Considering that having a website built can run you thousands of dollars, the very first thing you are going to want to do before that even gets started is to lock down your domain name. The great thing about domains is that once they are registered, they belong to you, whether you have a website or not. Once your website is built, you can link your website to your domain and you are up and running.
Best of all, if you decide to move between web hosting companies, you get to take your domain name with you, since it was registered in your name. To that same end, you will always want to be sure that if someone is building a website for you, the domain is registered in your name, not the individual or company building your site. In that case, they own the domain, not you, and they can essentially hold your website hostage.
While you can always have someone else register your domain name for you, registering a domain is something you probably want to do for yourself, even if you have someone else build your website for you. Thankfully, registering a domain is fairly simple and straightforward and doesn't require any technical skill or know how.
Here are some easy steps to registering a domain name.
1. Find an available domain name
The first thing to understand about domain name is how they are organized. The internet utilizes a standard Domain Name System (DNS) that is universal around the globe. Your domain name or internet address consists of three different parts.
Server prefix
domain name
domain suffix (or extension)
country code (optional)
In the US, generally only the first three elements are generally utilized. So, if the internet address or domain name you wanted to register was www.susiebaker.com, then the prefix would be "www", the domain name would be "susiebaker" and the suffix or extension would be ".com". If you wanted to register your domain in the United Kingdom or another country, however, you might opt to have a country code added, so your domain name might be "www.susiebaker.co.uk".
While you do not have to add a country code, there are a few reasons you might want to. If you want to specifically be known as a company that does business in your country, you might want to add your country code to the end of your web address. On the other hand, if you want to be known as a global company or just simply want to keep your address shorter, you might opt to not add a country code.
Understanding the formatting of domains or internet addresses is important for when it comes time to choose one. Keep in mind that once you invest in building a website and building your business, having to change your domain name (web address) can potentially cost you a huge amount of business. That's why you want to get it right the first time.
To start with, list a few possible domain names that suit your business or needs. Then use a domain name registrar to see if those addresses are available. There are a number of different registration sites you can use and almost all of them will start with a domain checker to see if the domain name you want is available. If it is not, then you have several options.
Let's say you run a business called Susie's Bakery. You can check to see if www.susiesbakery.com is available, but there is a good chance it will not be. In some cases, individuals register certain addresses in hopes that someone will come looking for them. In that case, you may be able to buy the address or domain name for a fee. In other cases, the address is already being used by a functioning business, in which case you are going to have to choose another name.
Your next option might be to change the top level domain (TLD) or suffix. Today, there are a wide range of top-level domain or suffixes to choose from. You might opt for susiesbakery.biz, susiesbakery.net or susiesbakery.online. If your business or brand is tech-focused then you might be interested in the tech community favorite, .io domain extension.
One thing to be careful of, however is that .com is still the most popular suffix, so if the web address you want is already taken by a competitor, even if you choose a different top level domain, you might be sending business straight to your competitor if they have the .com registered to them.
You can also try extending your domain name to something that identifies your individual business more specifically. If, for instance, your bakery is located in Denver, CO, you might try susiesbakerydenver.com.
2. Register your name
Once you have found a domain name that you want that is also available, the next step is to register your name. There are two ways you can do this. In most cases, you can register your domain name straight through your web hosting site and it may even be free or included as part of your web hosting service charges.
For readers of this website, if you sign up for web hosting at Bluehost you will save up to 60% on the normal price and get a free domain name too.
In other cases, you can still register your domain name with your web hosting service, but they will charge you a fee. Generally, this fee is somewhere around $10-$15 but you will have to renew it every year. This is something you will want to be sure and do, however, because if you do not pay each year to renew your domain registration, you could lose your domain name altogether. Generally when you register a new domain name, you will be given the option of paying for your registration for several years.
If you already have an established business and are just building a website, you may want to register it for multiple years. If, on the other hand, you are just starting a business and aren't quite sure yet whether it is even going to take off or not, you may want to just register your domain for a year. Keep in mind, however, that if you let your registration lapse, your domain name will become available for other people to register again. If someone else purchases it and you decide to try your hand at your business again or your business suddenly and inexplicably takes off once you let your registration lapse, you may not be able to get your domain name back again or you may have to pay a hefty fee to get it back.
In some cases, you may want to register your domain name straight through a domain registrar rather than through your web hosting service, particularly as part of a package.
I highly recommend Namecheap as they provide free Whois protection for 1 year on newly registered domains.
It really is simple to register with Namecheap.com too.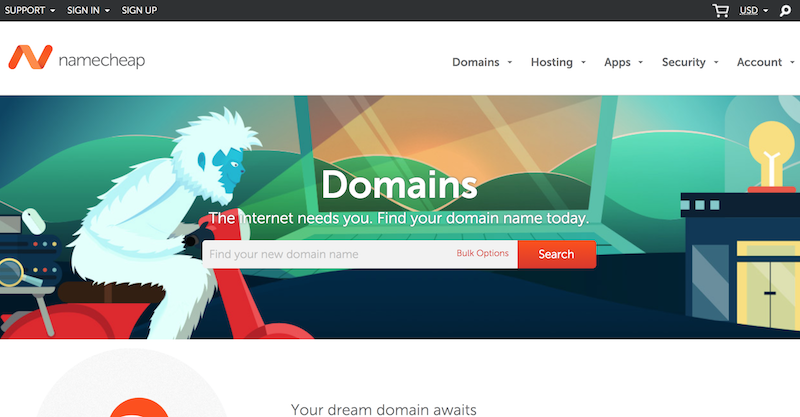 Simply enter the domain name you would like in the box on the homepage.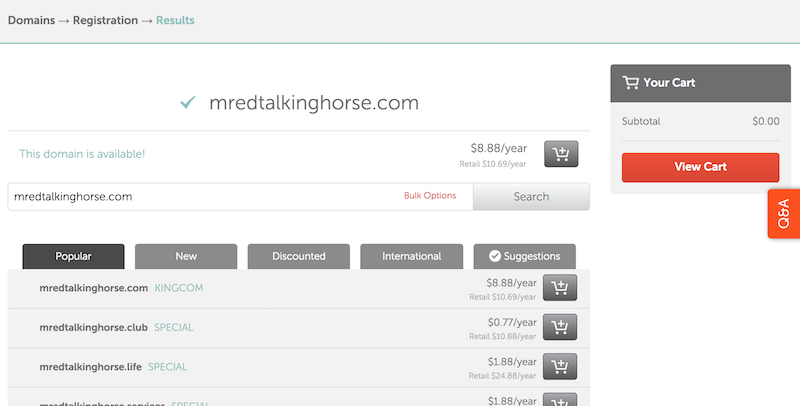 If the .com is not available you can still see the different options such as .net, .org, .info etc.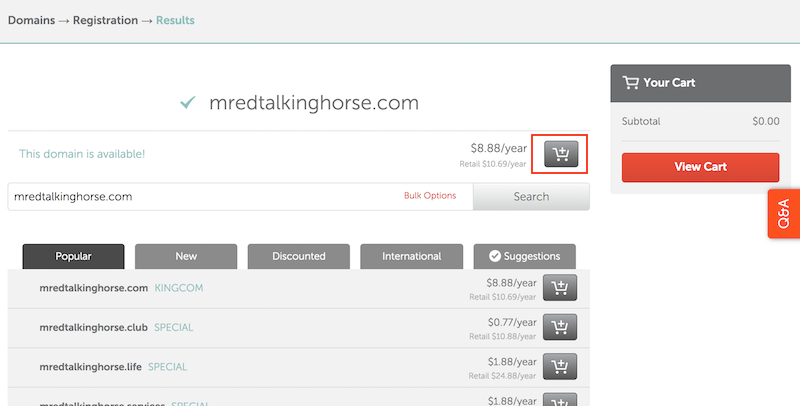 Add the domain name to your cart
Now once you are happy with the domain names you want to buy click 'View Cart'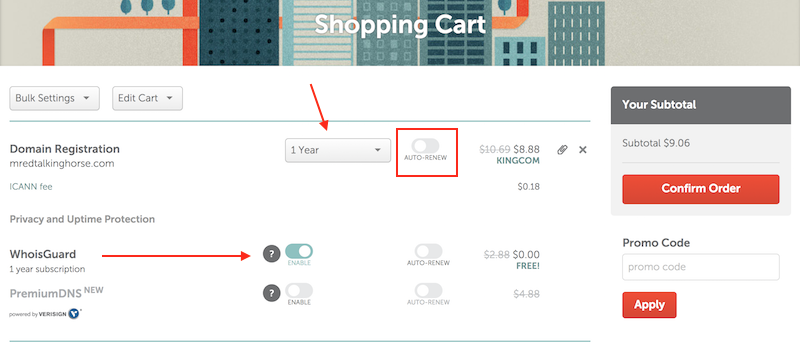 After this you can choose how long you want to register your domain name for, whether you require auto-renewal and whether you want the free 1 year WhoisGuard.
Then simply click 'Confirm order' and fill in your contact information and credit card or Paypal details.
3. Once your domain is registered
After your domain name has been registered, you have two options, depending on what you are doing with your website.
If you are going to have someone build you a website that has not been built yet, you can have your web hosting service or domain registration company "park" your address. This means it's available for your use, it just doesn't have a website attached to it yet. The other option is to use one of a wide assortment of pre-made templates generally provided by most web hosting services to design your own website. If you just want something quick, fast, cheap and easy to give you an online presence, this can be a great option.
On the other hand, if you have already hired a web designer and have a website ready to go and registering your domain name is the last thing you did, then what you want to do depends on how you registered your domain name in the first place. If you got a free registration with your web hosting service, then your web designer should know how to associate your web address with your website.
If you used a separate registrar than your web hosting service, then you will need to get information from your registrar as to how to associate your website with your domain name.
The following two tabs change content below.
Jamie
My name is Jamie Spencer and I have spent the past 5 years building money making blogs. After growing tired of the 9-5, commuting and never seeing my family I decided that I wanted to make some changes and launched my first blog. Since then I have launched lots of successful niche blogs and after selling my survivalist blog I decided to teach other people how to do the same.