As a small business, you probably need to get your product to market faster and generate a return on your investment in the shortest time possible. A no-codes web development platform helps you get this result.
They provide drag-and-drop components and WYSIWYG editors to quickly design and deploy your apps.
Such platforms provide customized workflows and functionality that allow developers and non-developers to work faster. These could include:
Pre-designed templates

Interface customization, and

Element libraries
Although small businesses can use platforms like this to scale faster, enterprise-sized businesses that need to design workflow applications and business processes at scale can benefit too. Moreover, zero code platforms help small businesses with no IT skills or small budgets to get their apps out the door without the time and money costs.
Enter Appy Pie
As of 2017, this industry generated $3.8 billion. This value is expected to reach $21.2 billion by 2022 at its current rate of adoption.
If your business wants to build apps and put them out faster, then you can benefit from Appy Pie's solutions. We talked with Abhinav Girdhar to help you make sense of how the platform can help you scale.
Benefits of Building Apps With Appy Pie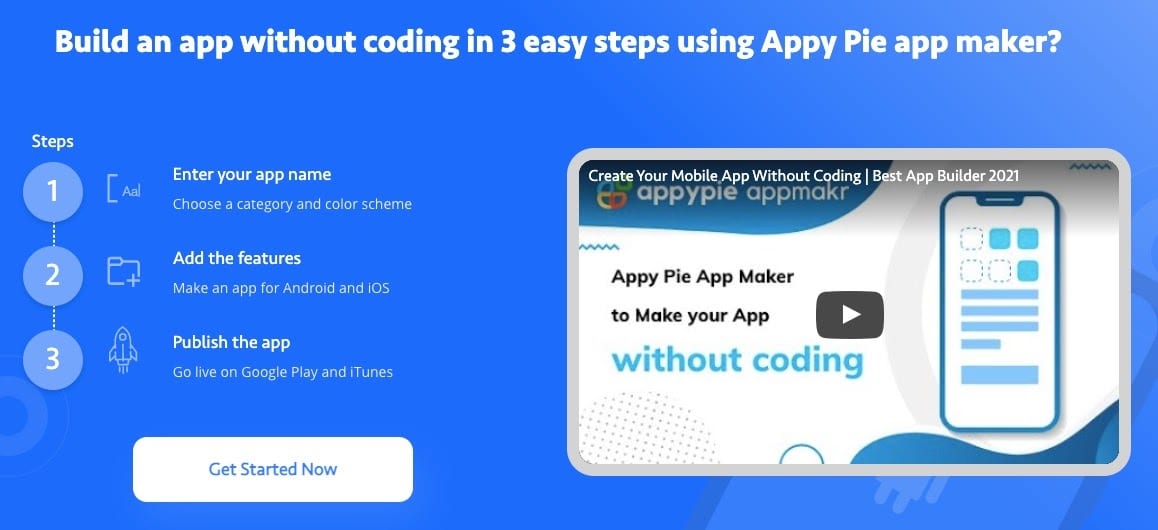 If you've ever dreamed of building an app someday, you can wake up to that reality now. With Appy Pie, you'll get all the features you need to materialize that dream—no codes needed.
Here are some benefits you'll get from using the platform:
Intuitive iOS & Android App Builder
Appy Pie provides intuitive and easy steps to follow. So, in three simple steps, your app will be complete.
Fast Apps That Work Offline
The apps you build on the platform are light and fast, Hence they deliver a better user experience. It also allows you to provide content to your users offline.
Assisted App Submission
Appy Pie allows you to submit your mobile app to Apple App Store and Google Play Store once you're satisfied with your creation.
Round the Clock Support and Real-Time Updates
You can get support on the platform at any time of the day via live chat, email, and phone calls. And every change you make on the app reflects in real-time
Data Security
Appy Pie adheres to GDPR, HIPAA, PCI, and SOC guidelines to protect your data.
Free Website with Unlimited Push Notifications
When you choose to build your mobile apps on the platform, Appy Pie gifts you a free website. Plus, at a fraction of the cost, you can get:
Unlimited push notifications

Unlimited bandwidth, and

Unlimited hosting
Who Uses Appy Pie?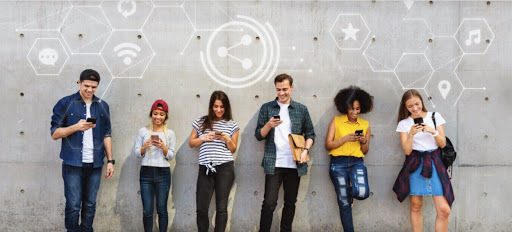 Appy Pie can service anyone who plans to scale their business regardless of the industry. However, certain businesses and institutions benefit more from owning the applications, including:
Real Estate
This business requires that you get the right leads and stay connected to them, an activity that 63% of marketers consider important. Plus, this market is competitive, so listings in directories can't be your only strategy.
Having an application here gives you direct access to your customers and makes your listing exclusive. They can ask questions, leave requests, ask for quotes, and more.
Some of the features you should look out for here are:
Photo gallery to show venues

Navigation and direction to help customers get to the property

Form builder for collecting leads

Video listings to give a virtual tour for customers

Push Notifications for updates
Restaurants
Restaurants leverage multiple apps to serve their diverse clients. Some customers dine-in, take out, or ask that you deliver it to them. It all comes down to convenience.
Some effective features to include in your food delivery or restaurant apps include:
Showcase Restaurant and Menu

Live order management

Geo Auto-Push messaging

Add single or multiple restaurants

Discount Coupons

Accept online payments
Radio and Music
If you run an online radio station, you want to build loyal customers that still want to connect to your content wherever they move to. Some features to look at here include:
Push Notifications that remind your listeners of their favorite program

Sync with smartwatches

Multi-format playlists that support Icecast or SHOUTcast playlist file

Add photos as cover art for the music playing

Forms to take requests from your listeners
Ecommerce and Mcommerce
With online shopping becoming more popular, ecommerce platforms are engaging their customers through mobile apps. This promotes loyalty and as a business owner, you can sell without having to pay commissions to other platforms.
Add bulk product listings

Coupons for discounts and promotions

Add loyalty card and programs for customer retention

Integrate social media

Set shipping rules, and

Push notifications
Religious Groups
As people move to new cities, they gradually disconnect from families and communities they once lived in. Some religious groups understand this and constantly seek ways to stay in touch with members regardless of their location.
Applications that solve this problem have to:
Calendar

Push Notifications for updates

Review materials

Surveys, polls, and RSVP

In-App Payments to receive donations

Audio or video Sermons
If your business doesn't fall under these categories, you can list what you want your app to do and be sure you'll find features for that in Appy Pie.
Key Takeaways From This Interview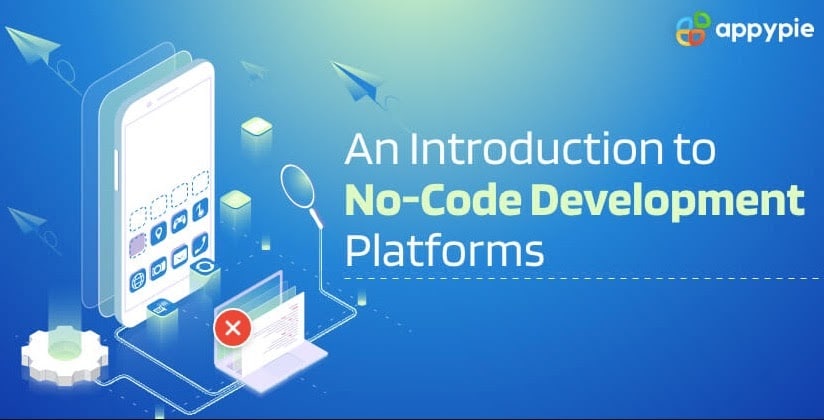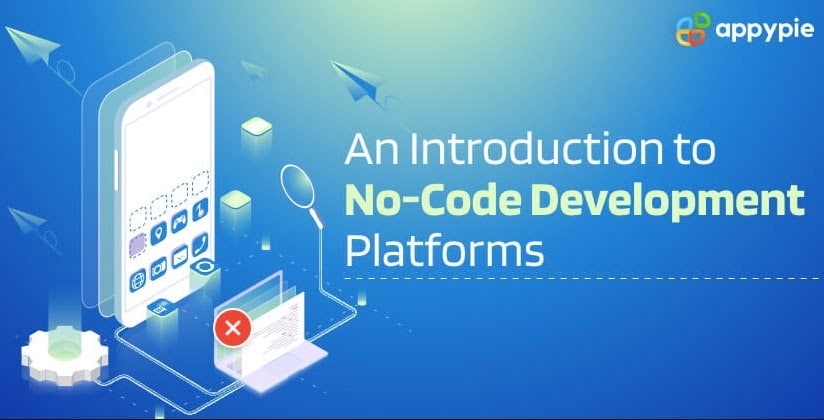 This interview shares ideas on how businesses can leverage less expensive no-code platforms to scale their businesses quickly.
Here are some key points to note:
No-code solutions allow IT experts in your organization to focus on more critical and complex tasks.

Unpleasant customer experiences are a learning opportunity for businesses. So, engage more with your customers to give them what they want.

Use a knowledge base to help customers understand the product without waiting for a representative's call or email. Understanding the product will help them feel more comfortable buying from you.

Appy Pie's free trial allows users to see what the basic version of their app looks like to their customers before they subscribe.

Product reviews are very important for any product's success. So ensure that your customers are satisfied with our products and services.

Appy Pie plans to launch the beta version of their knowledge database and management platform—Appy Pie Knowledge
My Conversation With Abhinav Girdhar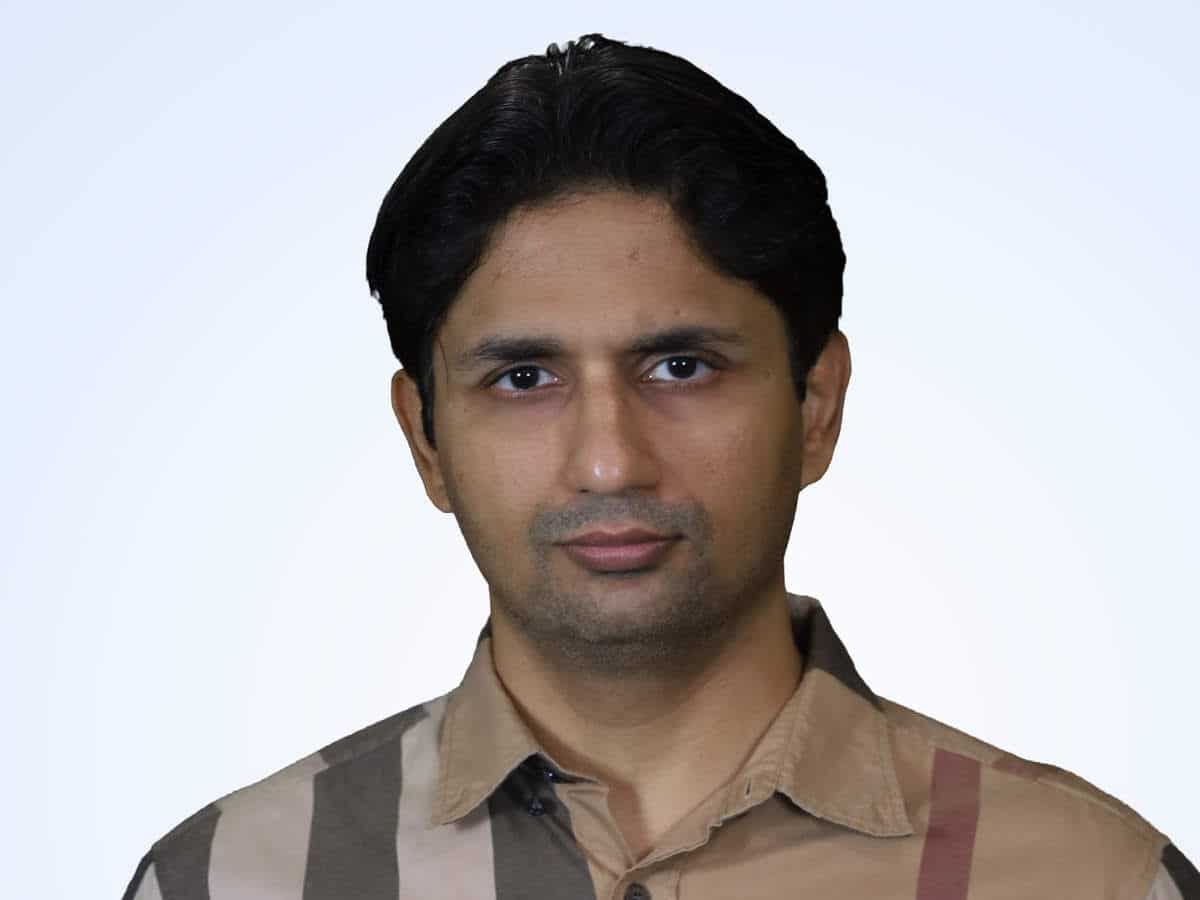 1. Please tell us about yourself and your professional experience?
I received my bachelor's degree in Information Systems from the University of Westminster, London. My professional interest areas include Search Engine Optimization, Mobile Applications, Mobile Applications, Web Analytics, Ecommerce, Entrepreneurship, and all things related to the DIY app building process.
I founded Appy Pie in 2015 with the idea of making technology accessible and affordable for everyone, irrespective of their budget and technical knowledge.
2. Let's talk about your business. Tell us about Appy Pie. How did you start? And why did you choose the name?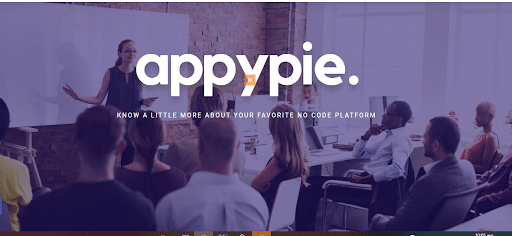 I have always been intrigued by technology, and I understand the edge technology can lend to a business of any scale or size. When I saw some of the most brilliant ideas not seeing the light of the day solely due to the lack of access to technology. I knew that I could use my knowledge in technology to fill this void.
Before Appy Pie, I ran a new media firm specializing in Website Design & Development and SEO & SEM. We started getting inquiries of mobile apps on very tight budgets, so we started researching for a CMS like WordPress for mobile apps; however, we could not find anything, so we decided to develop our own CMS.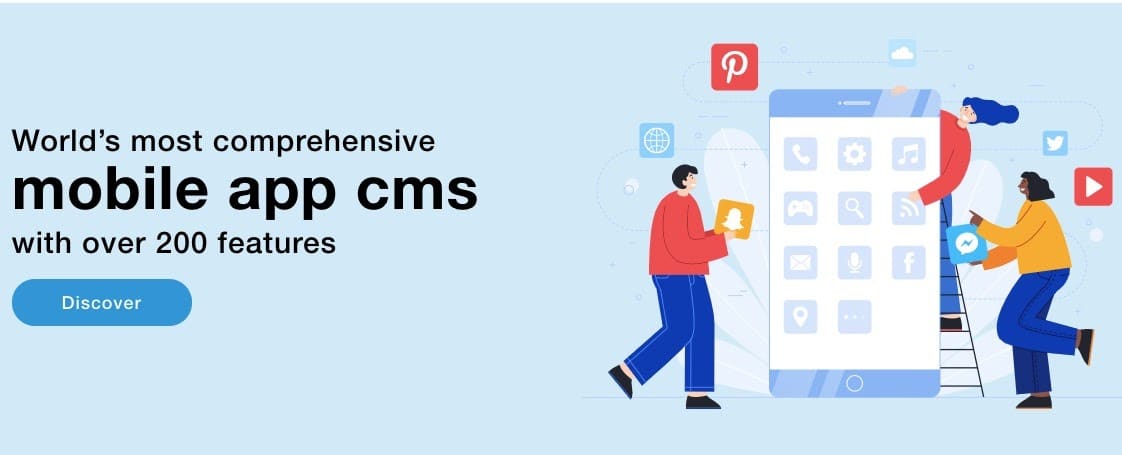 Most of the leadership team transitioned from the New Media SERVICE business to a Mobile App product business. Today we have over 220+ Team members working on the Various Appy Pie Products.
Appy Pie – Making an app as easy as pie. The name is inspired by mobile apps and the fact that making apps with us is as easy as eating a pie.
3. How far have you gone with your mission to democratize application development by empowering anyone to build digital products that meet their needs?
We work dedicatedly towards making cutting-edge technology affordable and accessible. We currently have over 7 million users and enjoying an ARR of more than $10 million.
4. Your FAQ was very specific about Appy Pie allowing small businesses to create Android and iOS mobile apps, websites, chatbots, graphic designs, knowledge base, etc., without coding. Do you also allow developer integrations for businesses that hope to expand?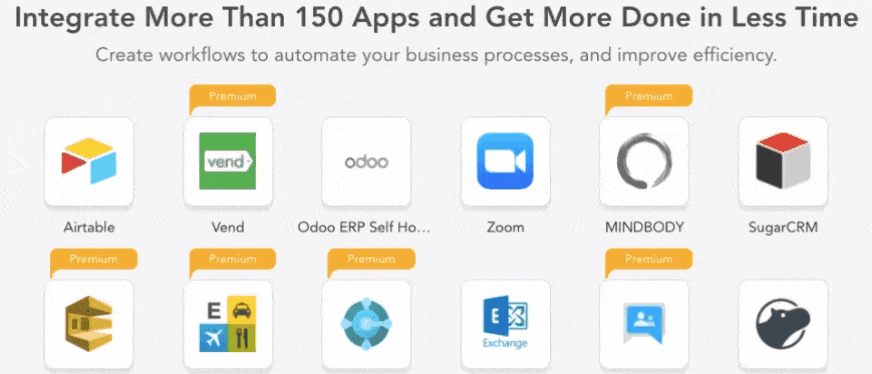 We do have an entire platform for developers.
On our developer platform, you get the following benefits:
Save development time

Get new integrations

Receive more leads

Boost customer retention

Integrate apps with In-Built AI

Free access to the platform
The platform has more than 3 million business users and more than 300 integration partners.
5. What level of access does your free trial give to new users? Do you think visitors can make an informed decision after the trial period?
The free trial users get to see a basic version of their app on their chosen device. This allows them to see how their app would appear to the users or customers.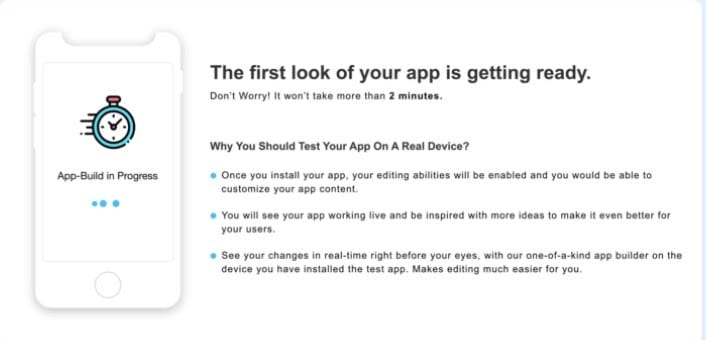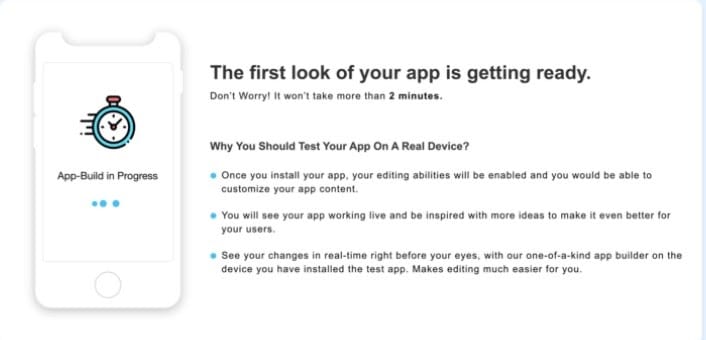 Of course, they feel confident enough to go ahead with the full subscription at the end of the trial period.
6. What questions should business owners answer before they decide what category of your plan is ideal for their model? And why?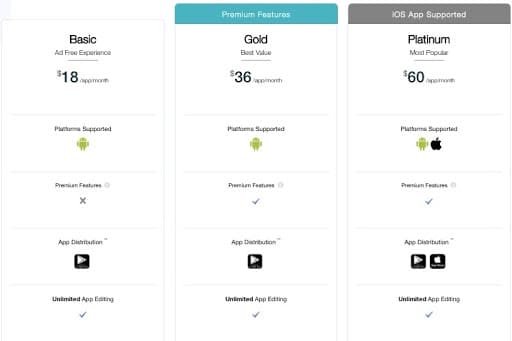 We have three plans – Basic, Gold, and Platinum. The choice of platform depends heavily on the business' audience.
If your audience base is predominantly Android and you want your app to have all the premium features, the Gold plan works the best for you. If your audience is divided between Android and iOS or leaning more towards the iOS platform, the Platinum plan is perfect for you.
For businesses who are only testing the waters and are still on the fence about building an app for their business, the Basic plan should be OK before they are convinced of the many benefits a mobile app can bring them.
7. Why is your platinum plan the only one available on the App Store?
Apple is very quality conscious when it comes to an app being available on their App Store. The App Store only approves the apps with the most comprehensive features that are unique.
To improve the chances of our customers' apps getting approved, we have added over 80 premium features to choose from in our platinum plan.
Customers can pick and choose the exact features they deem fit for their apps (depending on their unique use case) and be confident about the chances of their apps getting approved on the App Store.
8. Appy Pie has different tools to meet the needs of its users. For instance, you have Appy Pie Chatbot Builder, Appy Pie Connect, and more. Kindly tell us more about your tools and how they work?
Apart from Appy Pie, we have a whole bouquet of no-code solutions perfect for businesses of all sizes and scales. The primary goal or concept for all remains the same—making technology affordable and accessible to all.
Appy Pie Chatbot – The chatbot builder from Appy Pie lets you build your chatbot and integrate it within your website in just a few minutes.
It needs no coding or any other technical expertise. You can choose a template and customize its design, content, and more.
Appy Pie Connect – Our workflow automation platform, Appy Pie Connect, lets you create meaningful integrations so that you can automate your workflows.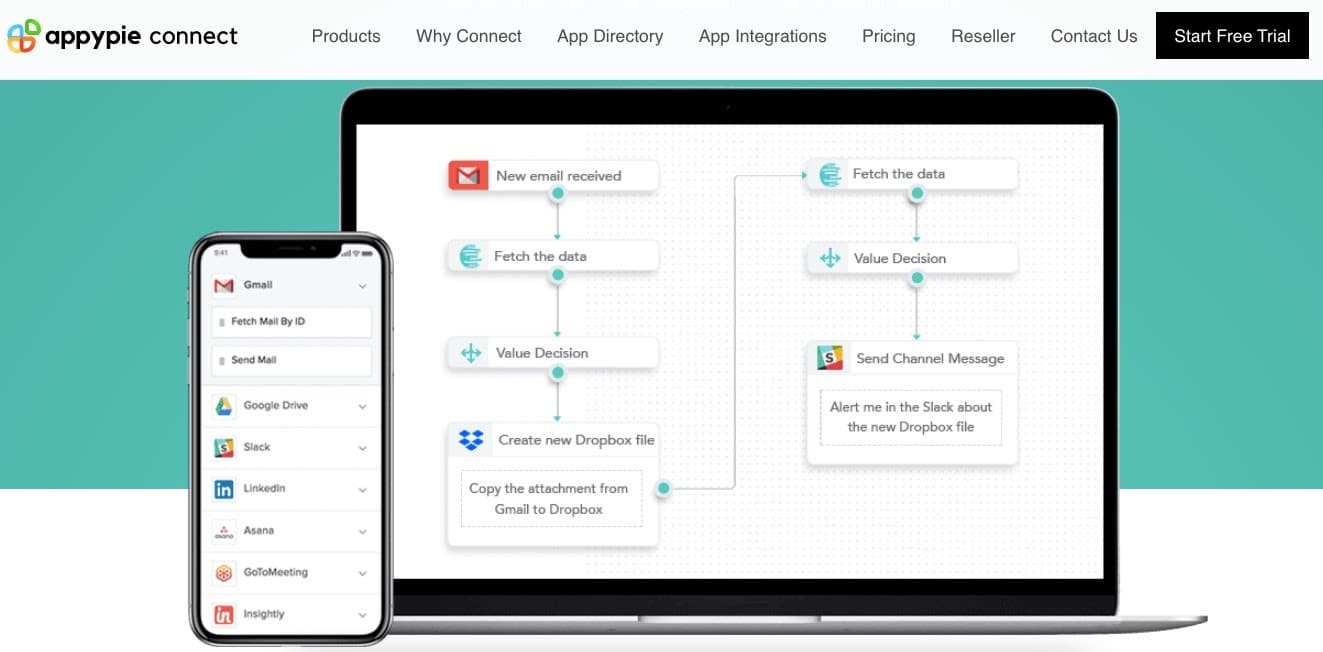 There are templated integrations and custom integrations that are easy to implement for anyone. You can choose triggers and actions between your favorite apps so that you can automate your manual, repetitive tasks and use all that time for more productive tasks.
Appy Pie Design – An online graphic design software that lets amateurs design their own graphics like banners, posters, logos, and more! Everything is saved on the cloud, you can collaborate on your design project, and use any kind of device that is connected to the internet.
It also comes with a photo editor tool, a meme generator, and a slideshow maker. The platform has hundreds of templates for each category that can be customized as per your unique needs.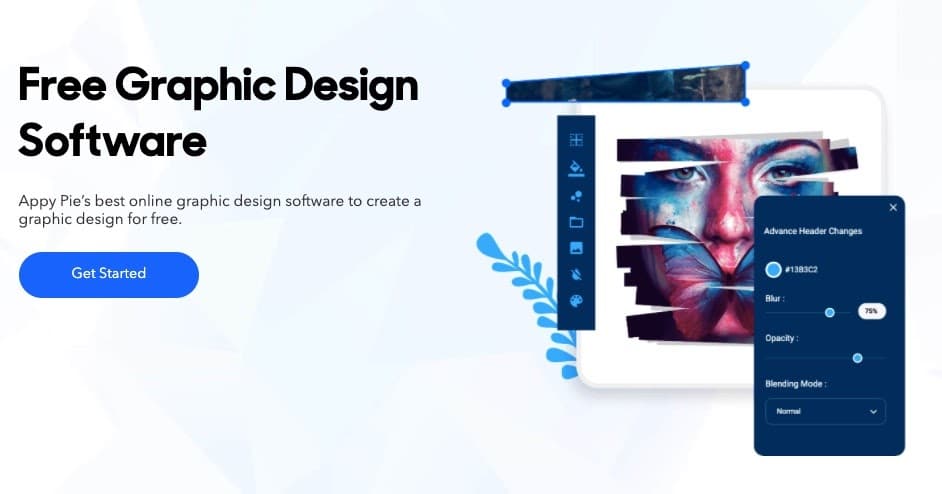 9. You are trusted by over 7 million businesses globally. That is a huge number. How did you get your first set of users without reviews? What do you do differently in your customer acquisition process?

Yes, product reviews are very important for any product's success, and at Appy Pie, client satisfaction is paramount to us.
We do our utmost to ensure that our customers are satisfied with our products and have received over 10,000 reviews from our happy customers over the last 5 yrs. You can see some of these reviews on g2.com, Trustpilot, Capterra, and Software Advice.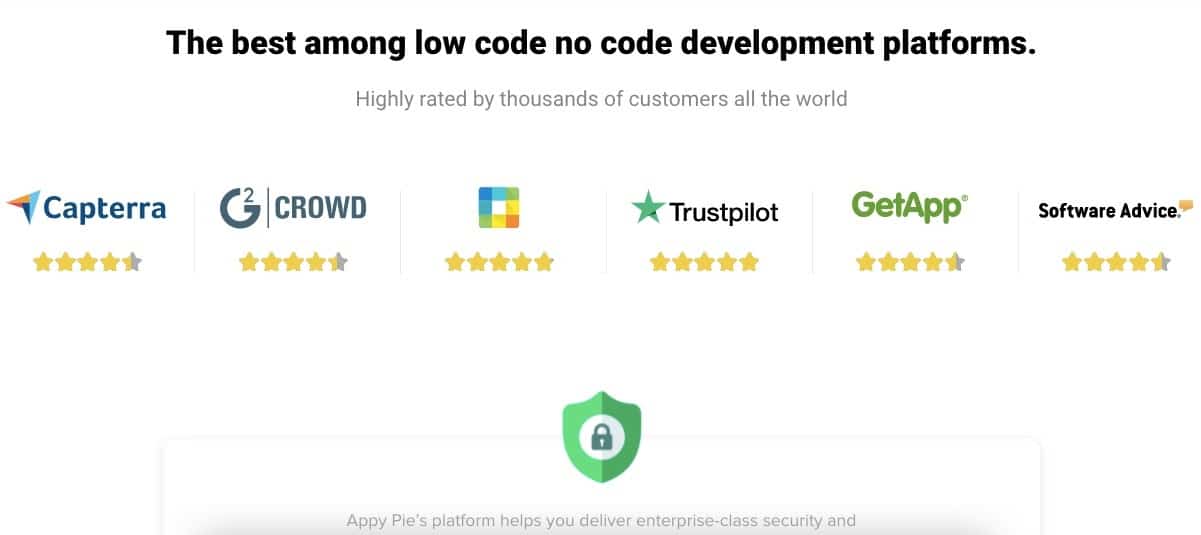 We got our first users referred to us by the search engines, and to date, we rely heavily on SEO & SEM efforts for customer acquisition.
10. By 2024, three-quarters of large enterprises will be using at least four zero code development tools for IT application development. What does this mean for Appy Pie? And small businesses likewise?


Low-code is on the rise, but no-code is really the technology to watch out for. Appy Pie has harnessed the power of no-code to provide solutions for businesses of all sizes.
Low-code is on the rise, but no-code is really the technology to watch out for.
As businesses start to accept no-code solutions for their business processes, shadow IT will be eliminated, and citizen developer's roles will gain prominence.
It means the IT division within the organization can focus on the more critical and complex tasks. Eventually, it will reduce the IT workload and allow business users to bring their ideas to life.
11. Why is it important for companies to create a knowledge base for their products or services? How does it affect sales or subscriptions?

A knowledge base helps the customers understand the product without waiting for a representative's call or email.
It also takes the pressure of purchase off of the customers. Once the customers understand how a product works and how beneficial it is for them, they feel comfortable making a purchase.
12. You have a decent 4.6 ratings on the Google play store. However, some of the 1-star ratings come from users' complaints about your new update. What do you do to resolve an unpleasant customer experience?
Unpleasant customer experiences are a learning opportunity for us. We make sure that we take each of these experiences and turn them around.
Of course, one cannot avoid them entirely. Sometimes there can be a mismatch in expectations, which remain unresolved.
13. Some of Appy Pie's users think your service is expensive. How does your pricing work? What are the factors that justify your pricing that these users might not be considering?
On the contrary, Appy Pie is the single most affordable platform in its niche. We provide no-code solutions that can help businesses in every aspect of their process, from marketing to administration, sales to automation, and communication to customer service.
We make sure that our customers get round-the-clock assistance from the moment they start their subscription with us till their app is submitted and live on the app stores.
We provide real-time, hands-on assistance with app submission even on the Apple App Store, minimizing the risk of rejection by the platform.
14. What should users of Appy Pie expect of your team in the coming months? What new features are you working on?
We are continuously working on new features for AppMakr. However, in the coming months, our users can see us launch a couple of brand new products.
We are launching the beta version of our knowledge database and management platform—Appy Pie Knowledge.
About Appy Pie
Appy Pie provides a no-code solution that allows every business owner to meet their customers' expectations using zero-code technology.
Their website, application, and chatbox builder allow businesses of all sizes to scale and integrate cutting-edge technology to grow in the shortest time possible.
Appy Pie is used by renowned businesses like Nike, Accenture, Deloitte, and over 6 million others to design and develop secured websites and applications.
Since Abhinav Girdhar founded Appy Pie in 2015, Appy Pie has been committed to democratizing technology by empowering everyone to build digital products that meet their needs using no-code technology.
The following two tabs change content below.
Nicholas Godwin
Nicholas Godwin is a technology researcher who tells profitable brand stories that tech buyers and businesses love. He covers technology topics on his website
TechWriteResearcher.com
, and has worked on projects for Fortune 500 companies, global tech corporations and top consulting firms, from Bloomberg Beta, Accenture, PwC, and Deloitte to HP, Shell, and AT&T.
Latest posts by Nicholas Godwin (see all)