Virtual board meetings are important to help your organization make decisions quickly, especially when an event like the pandemic is biting hard. However, engaging your board members remotely is hard work.
With 98% of people desiring to work remotely for the rest of their careers, you need better ways to engage your board members.
OnBoard makes it possible to run a compliant and profitable business by sharing timely information in board meetings.
In this interview, Paroon Chadha of Passageways shows us what it takes to collaborate productively with your board members.
Key takeaways from the interview

This interview offers an in-depth analysis of how organizations can engage their board members and enhance their productivity.
Here are some key points to note:
To improve team performance, have benchmarks to guide you towards those improvements

You might be able to empathize more with your customers if you spend time on the customers' end of the products or services you offer

You'll get more value out of your board members by ensuring they are fully engaged. The benefits can be in terms of their networks, advice, or in the relationships and trust you build with them.

Instead of focusing on introducing your customer's product request, measure the usage of the tool. Promote the ones they use heavily and reduce the things they don't use. Simplify your solutions, don't increase clutter.

Seek out and use technologies that help you get better results with minimal input.

Using OnBoard allows you to go from having board meetings to having some amazing and engaging interactions with your board members.

Focus on simplifying processes that produce quality products and services for your customers

Being transparent allows your customers to tell you how they truly feel about your products and services
My Conversation with Paroon Chadha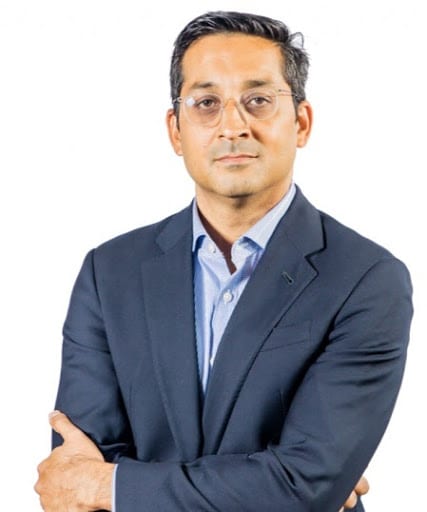 1. Please introduce yourself, and tell us about your business?
I'm Paroon Chadha. The co-founder and CEO of Passageways based in Chicago. And I'm happy to be here, thank you.
2. Why did you start Passageways? And why did you choose the name?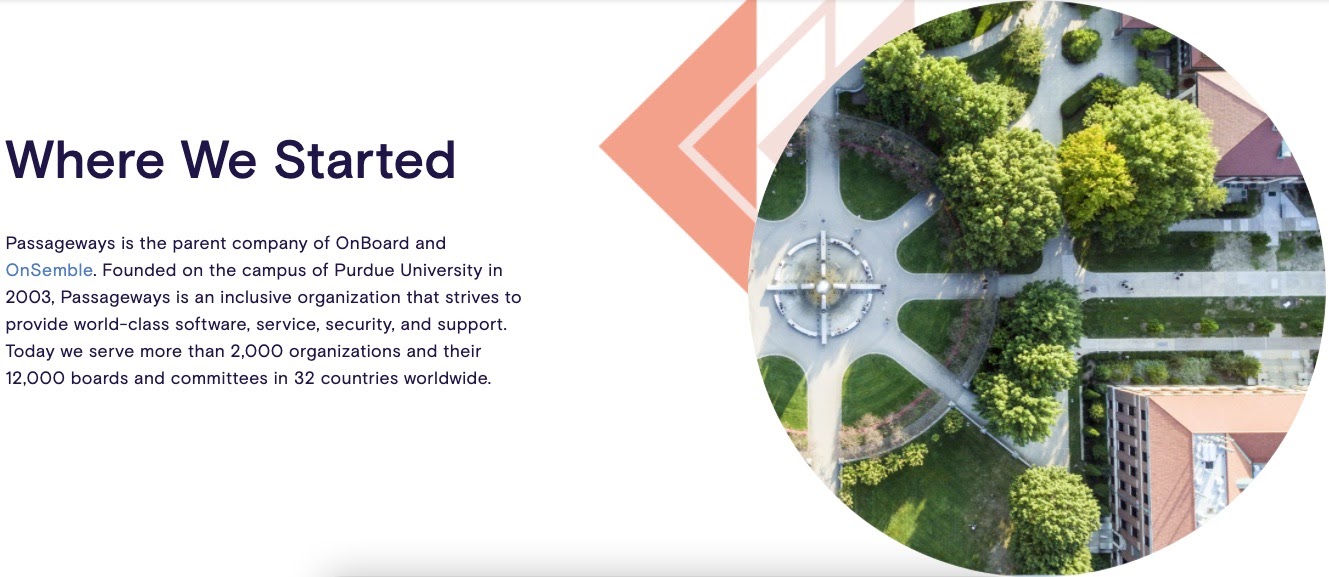 That's a good question.
This was a business plan that I'd written as an MBA student at Purdue University. While I was attending school, we won second prize at the Burton D. Morgan Competition that happens annually on campus. That's me and my co-founder, Christopher Beltran.
Chris was an undergrad and I was going through MBA school. We wrote a business plan around it and a lot of people actually looked at it.
We had lots of different ideas at that time. But the key idea that we had, as students trying to figure out what we wanted to work on, was this information explosion that was happening. And finding ways to let people be efficient about how they organize themselves and how they collaborate.
So, secured collaboration was what we wanted to do.
I remember this was back in 2003. Yahoo and eBay were big companies at that time, just like WhatsApp and TikTok and some of these other big social media giants and companies in today's time.
Yahoo was the information portal for the consumers. So, we set out to build a portal for the enterprise.
We built our first product called OnSemble before we built Onboard. The first for the internal enterprise collaboration for all the employees. And the second one for the board meeting, and the board collaboration that happens within enterprises.
3. On your website, one would assume that OnBoard is the only product you have. Is there a reason why you didn't add OnSemble on the same website with OnBoard?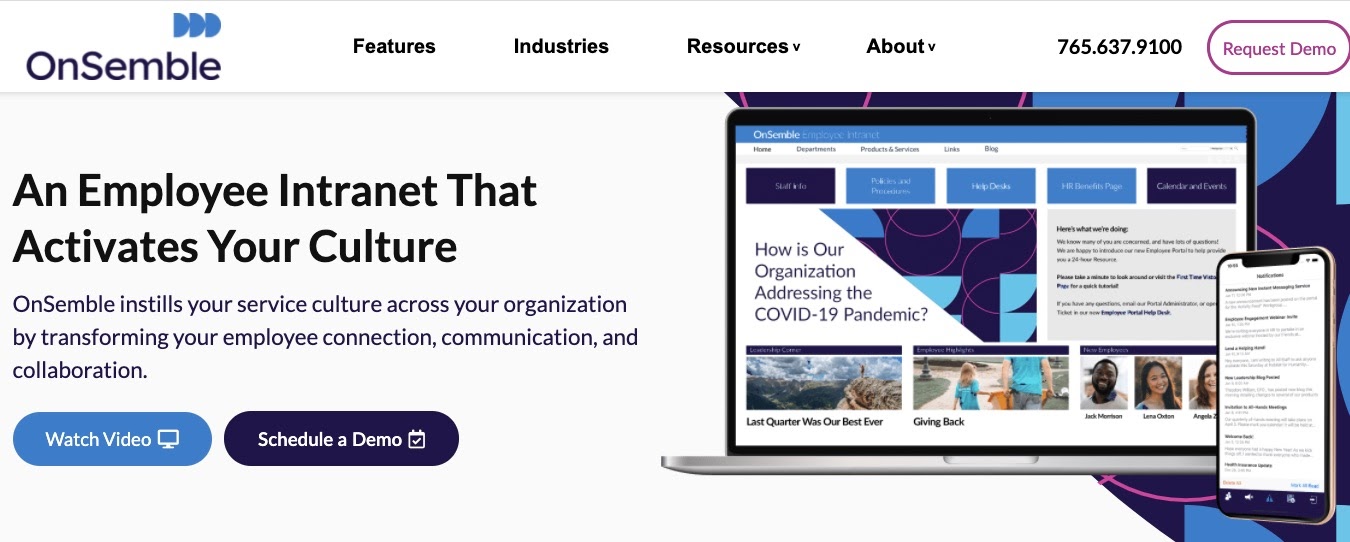 We're going through a transition here from the way we see our business. Passageways, in fact, on April 19th, 2021 would be just a holding company. And there are two business units that have progressed from it.
We created a website separate to OnSemble called onsembleintranet.com. And on that day, OnBoard will become an independent website — onboardmeetings.com.
So, passageways.com will be the place that you can go find information about these two groups and what we're doing.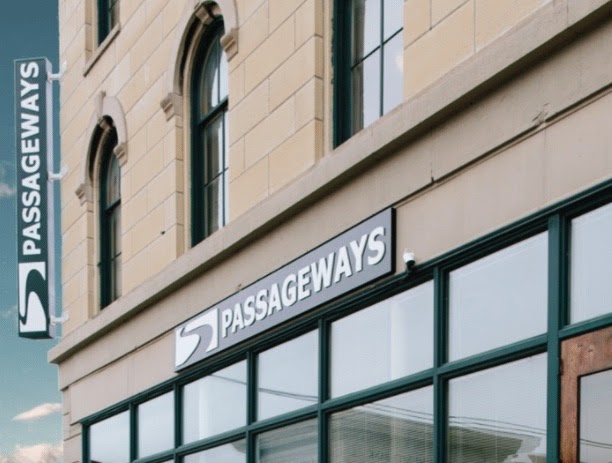 We found that we're continuing to do some very specific work in both these areas. And there's less overlap. So our employees' intranet product is something that we will continue to sell. And we'll continue to cater for the compliance-driven industry like financial services, and health care, and some non-profits.
Whereas Onboard is a more horizontal product, and we've sold it to universities, to nonprofits, venture-backed, Tech companies, and so on.
So, on one side, we have 300 customers. While we have a couple of thousand customers on the other side. And we feel there are different growth rates and different messages for different buyers of our products.
So, we want to make sure we send out the right message by separating the products. And that's why you are hitting us at a time where we're going through that switch, and OnSemble is already a different website at this point.
4. Most of your users think that OnBoard's strongest features are its simplicity and the responsiveness of your support. They can get started with minimal training. But, I'm curious to know how you got your first client on board without a reference.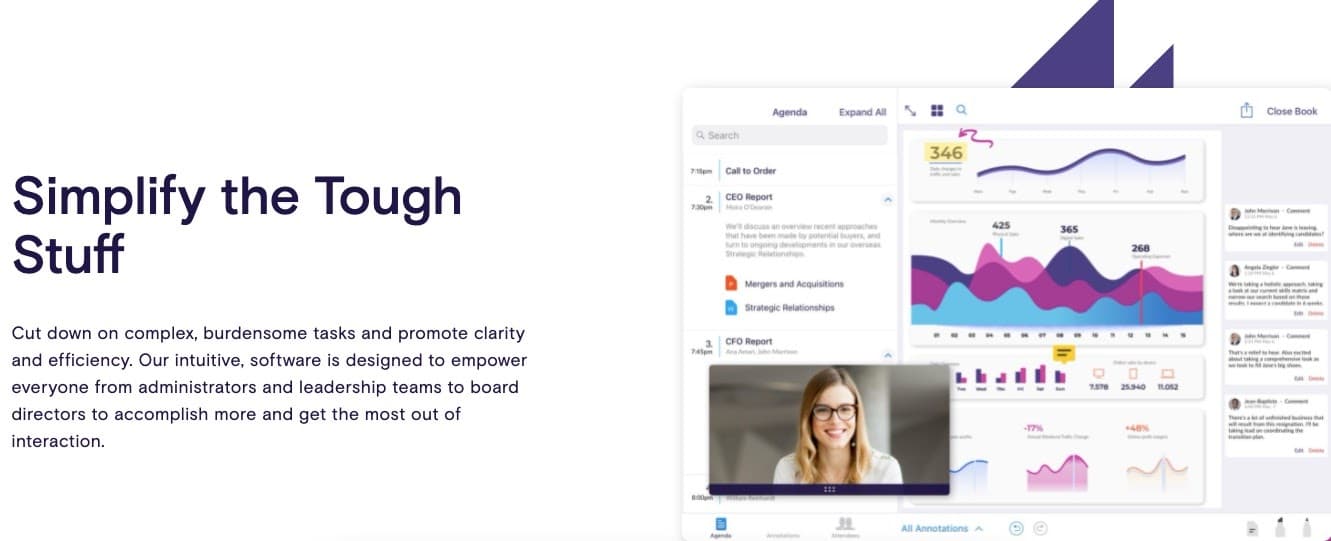 For OnSemble, we partnered with our first customer, they were also the seed investor. This was a small organization called Purdue Federal Credit Union.
We took some seed capital from them, but we also made them our first paid customer and we moved into their offices.
So, I was surrounded by 150 end-users of my product for the first several years. And we got to see how they use it.
Our customers find our products simple to use because we do a lot of product research. And our designs have become a big way we differentiate ourselves.
If something wasn't right, they'll tell us. Then we'd often observe how people are using it just to have an understanding.
So that made us very customer-focused and very knowledgeable about how the product actually gets used.
People started to use our portal on OnSemble with their boardroom and with the board group. But we realized some of the needs in the boardroom were different. In fact, most board members really want the information sent to them in a way that the portal is not much of a tool.
For OnBoard, we already had a business that was doing well. We were on the Inc 500 list of fastest-growing businesses in America. There was an installed customer base that were happy and it was just a case of cross-selling to them.

A lot of the board members have more tenure and they want to make sure they use something long-term. So, we had to design it to work on iPads and iPhones because board members are busy people moving around multiple boards. And often there's a demographic that you have to keep in mind too.

One of the reasons why customers find our products simple is because we do a lot of product research.
And our designs have become a big way we differentiate ourselves. It's not just about how the interface looks. It looks very modern as well, but it's also how it works. And I like effective and uncompromised design that helps to solve both the emotional and the practical needs of our end users.
So in the boardroom, there's a lot of information, so you don't want to overwhelm them with a lot of options.
You've got to keep it to a bare minimum, so it's simple to use. Because there's already very dense information they have to deal with the same emotional needs they have.
So, complexity has to be progressively disclosed, and all of that leads to a remarkably powerful yet simple tool. I believe simplicity is the ultimate sophistication.
And that applies to a lot of things, not just how you:
Design products

Live your life
But, how simple can you keep things so it's uncluttered? And you know that uncluttering helps really achieve the full potential. Whether it's an individual or a team or a product line or a partner program and so on.
Secondly, our customers like our support.

I was actually very fortunate to spend a lot of time inside the customer's site for several years. Now we have multiple offices in multiple countries, but back then it was simple. It was just in the basement of a Credit Union with a lot of customers.
So, it taught us how to treat customers. We saw how that moment of pain or anguish or delight really lands on end-users and that made me and my early team very customer-centric. And we've kept those values, in mind as we continue to scale.
6. How effective is OnBoard in ensuring effective collaboration among leaders? And how can small businesses leverage this to build a compliant and profitable business?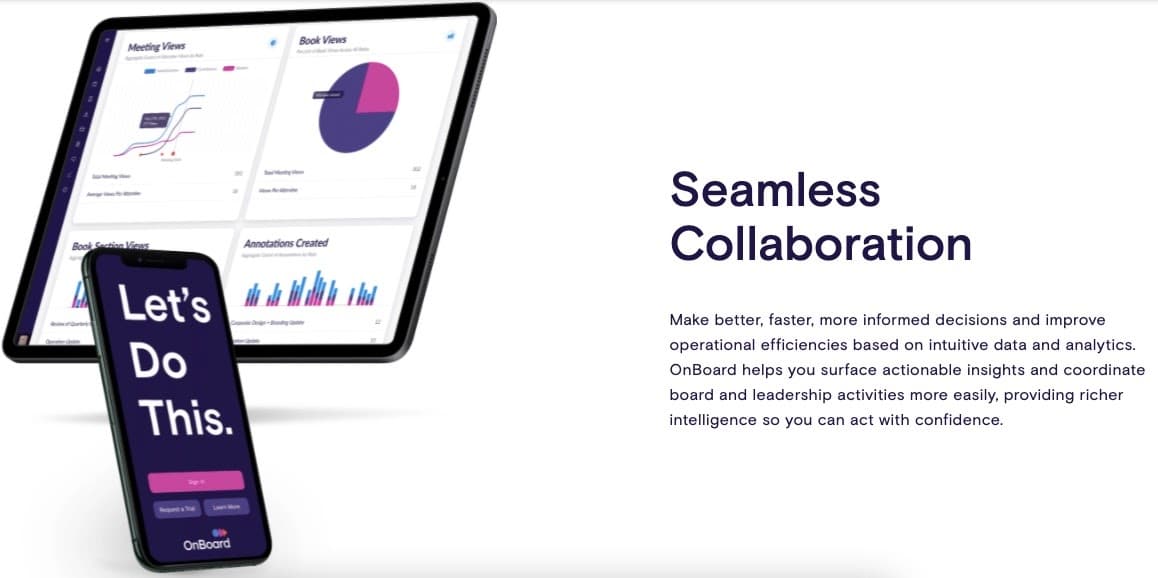 I'd say a good 50% of our businesses come from SMBs. And the mid-market is obviously very big, and the enterprise segment continues to grow.
Engaging your board members well lets you get more out of them either in form of advice, their connections, or the relationship and trust that you'll form.
So, we serve any organization that is fast-growing, whether
Non-profit or charity

Volunteer board or a paid board

A board of honors, or

Board of trustees in a university setup.
All of those situations usually occur in the inner sanctum of an organization where the CEO gets to think about the trickiest problems, possibilities, or opportunities.
So you'd better engage really well. And I feel today's technology allows you to spend very little money and get great professional results.
It's an investment. So a few thousand dollars in getting the most out of the most important meeting in the organization in a year isn't expensive for most Chief Executives when they sit down and think about it. Now in this day and age with COVID, virtual board meetings are more.
And in addition to that, what we give you is a board intelligence platform. So not only are you able to distribute the materials, conduct your business- which is approvals and making sure all the compliance requirements are met.
But you're also able to see some analytics around, what's the right time to publish a board book. How many days in advance?
How do you accurately know if your board book or your board packet is governing all the things that people are reading? On an aggregate basis, in an anonymized manner, we give you these trends that tell you if your board is tracking better or not.
So, there's an advantage. You are able to see how to better cater to your board and get the best out of them. Our board intelligence platform allows you to go from having board meetings to having some amazing, engaging interactions with innovative board members.
If you use the platform the way you know it's been designed.
7. Your Meeting Engagement Metrics offers to anonymize and aggregate real-time insight from users. Is that why admins can only get the aggregate number of attendees? If that's the case, how can admins get notified of missing mandatory signatures or votes?

We run a system and not a Big brother show. We want to make sure that board meetings are continuing to happen just the way they work.
We just want to actually help the organizations and the directors, be their best version.
So, if you knew that when you publish your board book six days in advance, then you get a certain engagement level. But if you published it eight days in advance, you are able to rachet up the engagement level you'd probably do something about it.
But we don't want to actually do that by saying, "Hey! this particular board member didn't read the board book very well. That's not the point.
In fact, we're very conscious of the fact that somebody with a legal background may be able to read some legal documents very quickly. And somebody else with a financial background may take more time, but they may read the financial section very well and so on.
So there's subjectivity involved as well.
What we do is, track the overall pattern, we anonymize, and we look at only the aggregate basis, but we can also tell you:
The sections that'll be discussed heavily

If you'll enjoy your discussion or not

Your performance relative to the last year, and more.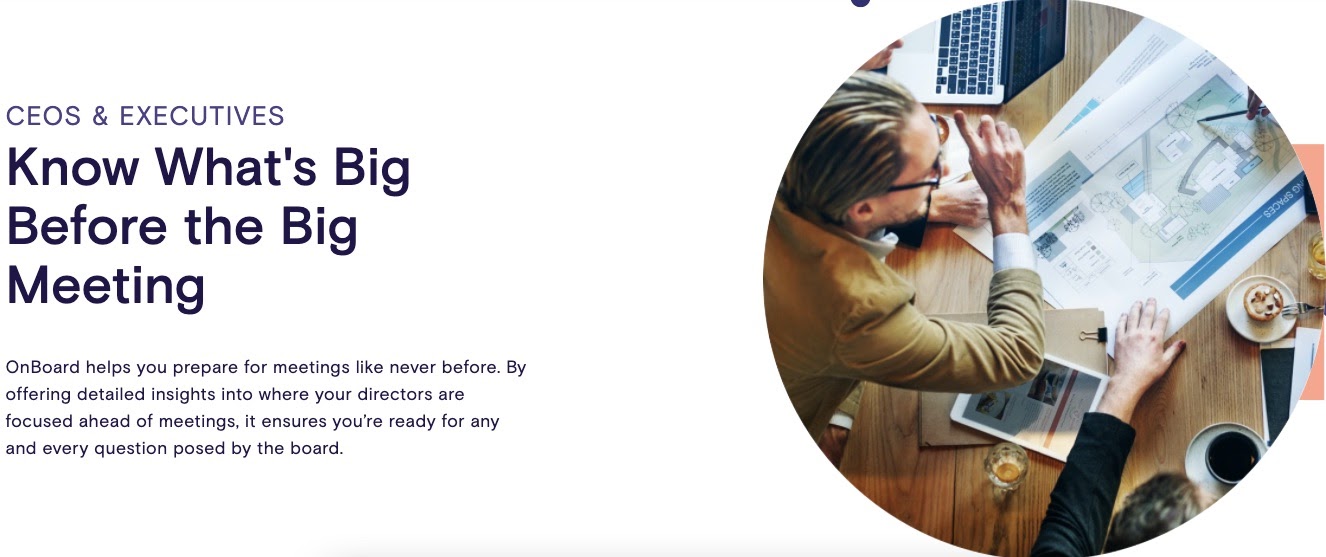 So I think those things become important and for any team to elevate their performance, they have to first measure benchmark and then work towards improvements. And that's what we are trying to bring about here.
And we are the only ones doing that too. So, this is path-breaking in a way, and that is what we are about.
8. One of your users talked about your pricing plan being based on the number of members. Albeit, businesses are particular about getting more returns on investment. How does your pricing accommodate ad hoc or temporary users who might just be invited guests and won't attend subsequent meetings?

In special situations, we don't really stop people from adding guests. For just one meeting situation, we don't expect you to buy a subscription.
But at the same time if this happens for six, eight months, people actually generally bring those discussions up with their success managers and we want to work with our customers.
Because these customers are the ones who pay all the bills. And I'm happy to accurately share with you that we always thought about how that would feel to us. We consume a lot of software ourselves.
So we do the right thing for our customers. We're pragmatic people and we want to accurately run this business and bring about the growth that we see for ourselves.
But, we have investors and we want to make sure that we continue to be prudent.
So there are situations when we really go back and work on a one-on-one basis with our customers. But we do price our software by usage, by the number of users, and by subscribers.
9. Most business owners have talked about how they've tweaked their products several times that the finished product became different from the original plan. And I know that you make constant updates as you get feedback from your customers. What do you find most interesting about running board Management software?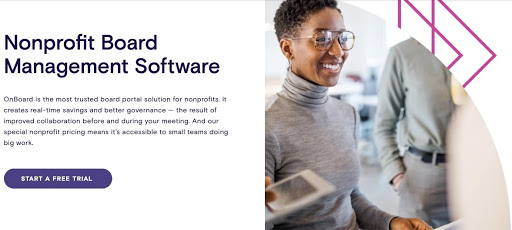 It's a very integrative business and you have to keep it going with software. I think the most interesting thing I'd share with you is that it's easy to get a concept, but it's very hard to execute it. Especially when it comes to keeping things simple for the customers.
Customers will come back and request something that they would need at just that moment. But every other time, 90% of the customers will never use it.
In trying to keep that discipline, keeping things simple is our hardest challenge but the most rewarding piece.
…it is easy to get a concept, but it's very hard to execute it.
And that has reflected in the customer feedback that we get. That has also reflected in how people feel when they switch from another platform to our platform.
And the first thing they'll tell us is "this is amazing. It's so simple, I didn't realize all the other stuff that we had was not needed."
Some of the most important organizations in the world are using our product. Some top five law firms, about 600 banks, 300 universities, hospitals, and non-profits associated in that space. They're all using our product.
There are more than 500 nonprofits using our product in general. A lot of high-tech businesses are using our product, and we want to keep it simple and cater to all of them.
And I think that's where the challenge lies. And that's where the sophistication comes in.
10. It's amazing that even when your users talked about the cons of any of your products, they were sure that your support would do something about the problem. How did you manage to create that level of confidence in your customers for your company?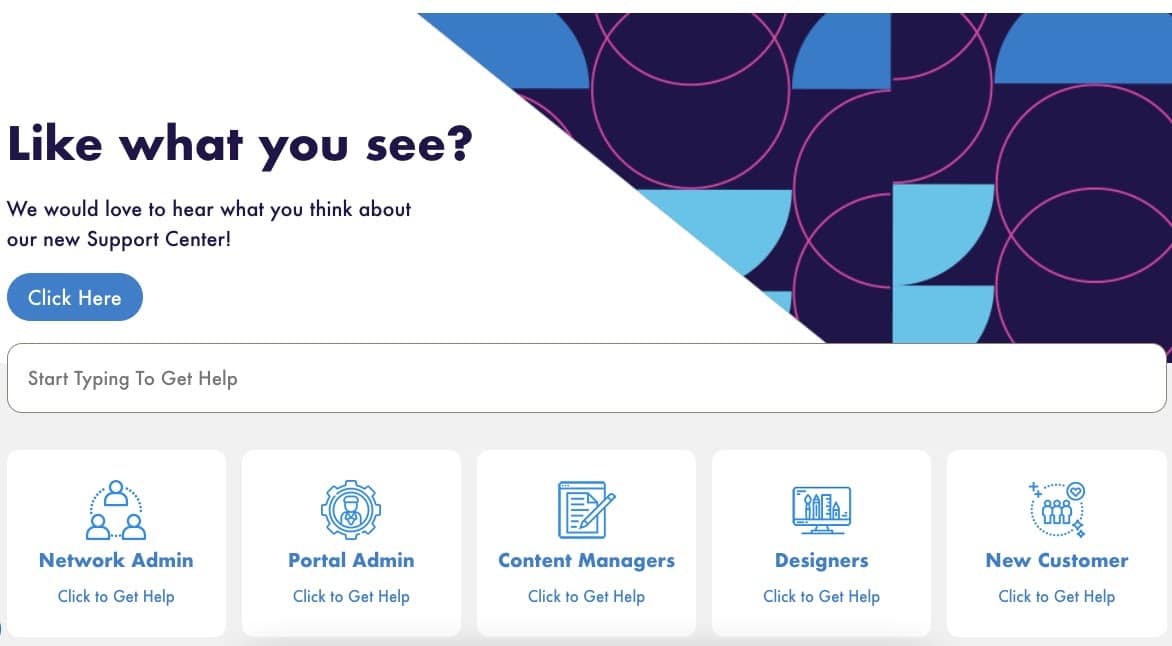 I've been very blessed. I think it goes back to the team that you pick and how everybody sees you make decisions.
I've attended every single sprint review that's ever happened at Passageways. I care for the customer to the point where it's common for me to say "if a customer was on this call, how do you think they'll feel right now?"
…we are very transparent, such that when the customers feel like when we are not where we need to be, they come and tell us.
And those reminders are sometimes needed. That said, I believe it's our culture of caring that the right things happen that make that happen.
I've not met anybody in our Australia team or the Sydney team. So there are other people hiring folks that we rely on to make sure we're bringing on the right people.
And we're so transparent that our customers can tell us when they feel we aren't where we need to be.
11. Today, OnBoard is a feature-rich product used by board members in over 2000 companies. How customizable is it for each of these companies? In other words, how can users ensure that more of the features that are useful to them are easily accessible?

Again, we're not in the business of making every bell on the whistles. We are in the business of simplifying and bringing about a quality product.
So there are a lot of configuration options, but we have somehow managed to not have to really customize the product in a way that makes it complex.
Think about a bank versus a high-tech company versus a hospital versus a university.
They have different use cases. Thankfully, in the board space, all board meetings are about the same. Although there are some differences between non-profits and government organizations and their board meetings compared to some venture-backed private companies.
We try to steer the course, and not go too close to the edge. And yeah, configurations not customizations is the mantra that I actually live by.
12. You hit $17 million in 2020. What does this mean for your company? And how has it impacted your business growth?

Revenue's always good. I think it just gives you scale and you know that number is already way back in the past.
We've already gone beyond one of the better quarters in our planning history. Obviously, every quarter is a record quarter now. It means that you have the scale to be ambitious and get to your vision.
My vision is to inspire and enable boards, to achieve their full potential in this digital world. And I think, the more we have, the more we're able to execute, and the more chance we have to bring about what we stands for.
13. What should users of OnBoard expect from you this year? What are you working on?

The future is full of opportunities here.
Board meetings are one of the most important transactions. And for some odd reason, the invisible hand of digital transformation never really reached the boardroom. While people have gone digital, they're not leveraging the power of digital.
Board meetings are one of the most important transactions. And for some odd reason, the invisible hand of digital transformation never really reached the boardroom.
We have a product that can help:
The chief executives achieve more with their board investment

Chairpersons get more out of all the time they spend

Every director have a bigger impact on their organization
And we do that by helping organizations see how they interact. And identify some key areas where they can improve their engagement.
And I think the platform is going to continue to enable and then certainly inspire them to be their best version. That's what lies ahead as I think about Passageways.
14. What's the best thing anyone ever said to you about Passageways and your products?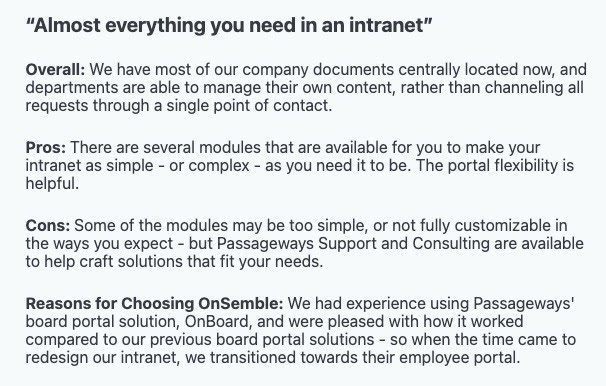 Yeah! I mean, I've had to hire people and partner with a lot of folks. Board meetings are full of anxiety, and the biggest compliment that we get is that a lot when of people review our product they come back and tell us that our product took off one of the most stressful elements of their work and it is a delightful experience for them.
I believe that's the ultimate compliment.
That's what we aim for. That's what we hire for. That's what we invest for.
And I think I've heard that from people we've hired from other competitive organizations and from partners who switched from other organizations to us. And also from customers that remain. Our goal on a day-to-day basis is aiming to make people's lives simpler so they can achieve more.
15. What's one feature or a number of things do you think that users don't use the most, and they could really benefit a lot from?
I don't have a specific answer for that, but we constantly look at the usage of the tools. Then we reduce things that aren't constantly used and promote those that are used powerfully. This is a constant iterative cycle in our work.
About Passageways
Passageways is the parent company of OnSemble and OnBoard.
OnSemble provides software that enables teams to do their best work by delivering world-class intranet solutions to midsize consumer service organizations. Whereas OnBoard helps company boards function at a higher level so every organization can make a bigger difference in the world.
Passageways has been in business for nearly twenty years with their solutions currently serving over 2000 companies.
Through OnBoard, Passageway visionary leadership with elegant technology that frees boards and leadership teams to make better decisions and pursue bold action.
The following two tabs change content below.
Nicholas Godwin
Nicholas Godwin is a technology researcher who tells profitable brand stories that tech buyers and businesses love. He covers technology topics on his website
TechWriteResearcher.com
, and has worked on projects for Fortune 500 companies, global tech corporations and top consulting firms, from Bloomberg Beta, Accenture, PwC, and Deloitte to HP, Shell, and AT&T.
Latest posts by Nicholas Godwin (see all)