On Making Your Website accessible to People with Disabilities and Why It Matters
How do people without arms use a website? People with vision challenges or those with difficulty understanding texts, sounds, or images, dyslexic, or anyone living with a disability — how do they access web pages?
Most webmasters do not factor in potential user experience issues relating to people with disabilities. For them, UX is all about site speed, site security, navigation, and other well-known issues.
Yes, it's scary to hear that companies like Amazon lose $220,318 every minute the site is down.
But that's half the story.
What about accessibility for people dealing with a disability?
Aha, lots of eCommerce sites don't account for this two-billion-people-strong audience. Talk about flushing money down the drains.
These people rely on assistive technologies like eye or motion trackers, head pointers, and magnification software to browse web content. Until now these accessibility features were expensive and complicated to implement.
Today, accessiBe is changing that narrative for webmasters and users alike.
Barriers to Website Accessibility
There are several things that can make your website inaccessible to people with disabilities. This all depends on the disability and the person in question. Let's explore these common barriers.
Speech Barriers
Individuals with cluttering, apraxia, or mutism struggle with websites that require speech interaction. That's why it becomes difficult for them to interact with sites where their contact information needs voice interaction.
Neurological and Cognitive Barriers
Neurological and cognitive disabilities affect the brain or nervous system. Hence, it impacts how people interpret information, speak, move, hear, and see. So, if your website has moving content or complex mechanisms that cannot be disabled and complicated page navigation, people with disabilities would have an issue with your website.
Visual Problems
Blindness and color-blindness make it hard for some people to go through websites without custom color combinations, non-visual cues, and text alternatives for images.
Auditory Issues
If your website capitalizes on sound, it becomes difficult for people with hearing issues to fully interact with your content. Some of these auditory barriers include interactions based on the use of sound, lack of sign language to describe the content, and media players without subtitles.
Regulations for Website Accessibility
In some cases, we've seen the need for accessibility being extended to the legal space. Some laws require websites purchased or developed by the United States Federal Government to provide accessibility to disabled individuals.
Laws like this will only become more normal over time.
The United States Department of Justice also requires that information and government forms online should be accessible to people with disabilities.
The UN has also set up accessibility guidelines on their website.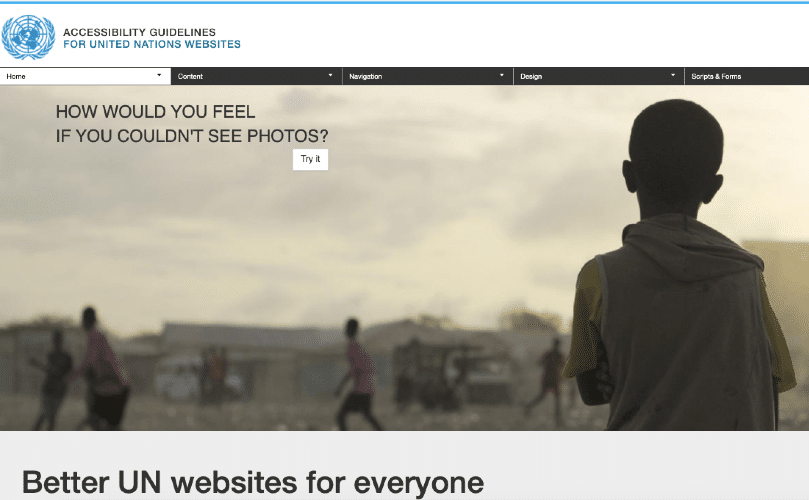 Additionally, the courts have made it a requirement for specific websites to conform with the Americans with Disabilities Act. Even academic institutions have been advised to have accessible websites.
Though there are no binding laws that state that all websites should be accessible to people with disabilities, the ADA requires that businesses with physical locations provide accessibility. Recent research by Seyfarth Shaw LLP shows that, since early 2015, the federal court has had over 200 cases related to inaccessibility. These cases have been coming in since 2000 and keep rising.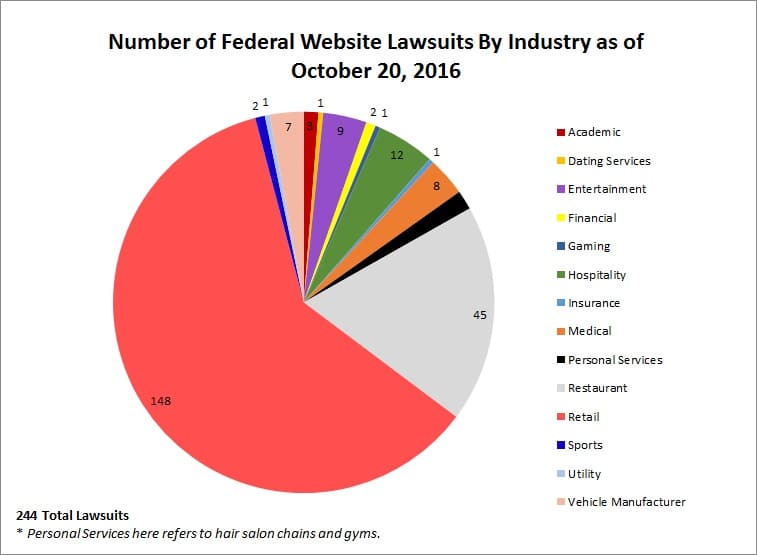 On one hand, you have the benefits that websites provide people dealing with disabilities. On the other hand, the legal ramifications of not meeting accessibility standards.
Over time, governments and independent organizations have created accessibility standards for website designers. These standards ensure that people with disabilities can fully utilize the functionalities and information on websites.
Although making accessibility run smoothly is tough work, accessiBe.com makes it a breeze through automation. In this interview with accessiBe's CEO, Shir Ekerling, you'll discover why you need to make your website accessible to people with disabilities.
My Discussion with Shir Ekerling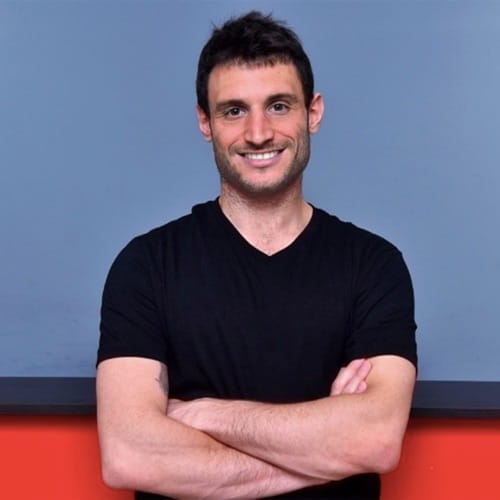 1. Hello, please introduce yourself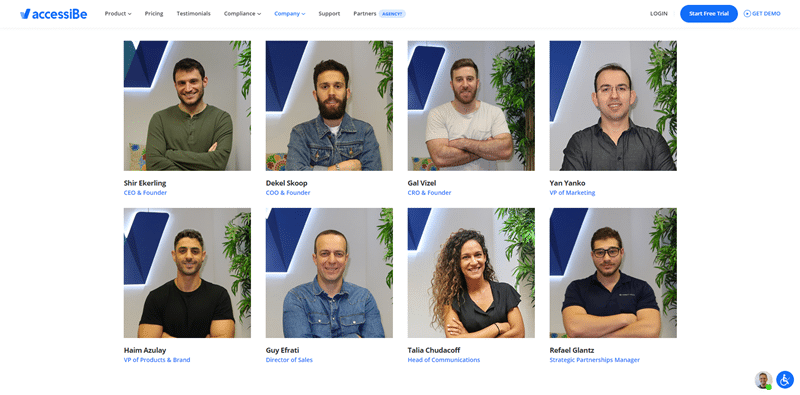 My name is Shir; I am the CEO and co-founder of accessiBe.com. I'm also the leading engineer on our solution and head all of the technological aspects of accessiBe.
2. What does "accessiBe" the name stand for? Please give us a brief history of accessiBe.
The name is as simple as what we aim to do: accessiBe, be accessible.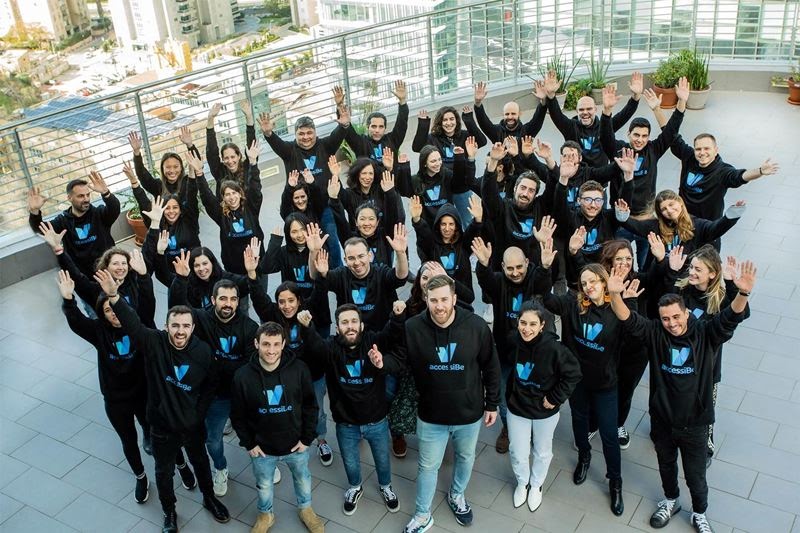 In 2015, we owned a marketing, design, and web development agency when we heard that a law was about to be issued in Israel requiring businesses to make their websites accessible to people with disabilities. Thanks to our history with web developments and web accessibility, we knew how much time and money it took to make websites properly accessible, so the new law made us a bit nervous.
We knew that web developers like us would end up being the ones to absorb the costs of accessibility, because clients wouldn't agree to pay another 50% of the project's value, only to become accessible. We were positioned to lose projects and our income. We were also worried that a client might receive a lawsuit against their website, which would eventually roll over to us, as their web designers and developers.
Time went on, and we began to delve into the regulations and the requirements. We also started to offer manual services for making websites accessible and realized the extent to which disabled people are excluded from the digital world. We found ourselves feeling enormous sympathy for people with disabilities and frustrated with the new accessibility law because it stuck businesses and web developers like us between a rock and a hard place.
In its essence, the law is supposed to create equal access for people with disabilities, but in the process, it puts a burden on SMBs, who can't afford a lawsuit but also can't afford to make their site accessible.
We made a decision. As tech people, we will find a solution that will benefit business owners and people with disabilities alike.
We began by getting in touch with people with different disabilities willing to help us perfect the solution, and we worked together with them for more than 18 months. We also consulted lawyers and web accessibility experts to make sure that our product:
Provides a real and effective solution for people with disabilities

Meets international legislation and standards, like WCAG 2.1 and ADA

Is fully automated, without requiring any manual programming

Is stable enough to work on any website and any platform
It took 18 months of intensive work to produce the first version that met these four criteria.
In March 2018, we released the first version and kept improving it until full fruition in February 2019. Thanks to cooperation and feedback from thousands of people who use our system daily, accessiBe has become the best automated solution that can make all websites fully accessible. It doesn't just meet compliance standards — it goes beyond them, solving pressing issues raised by users with disabilities.
It took us a little over a year (July 2020) to cross the 50,000 websites mark, and are now growing exponentially towards our goal of making the entire online world accessible to people with disabilities by 2025.
3. What prompted the need to help people with disabilities?
Through my own experience of using the web to learn everything that I know about software, engineering, and coding, I realized how vital access to the internet was to learn, teach, and spread progress throughout society.
But as sophisticated as the internet is, it's inaccessible to people with disabilities. When a website can't be appropriately navigated and used, people with disabilities are deprived of opportunities that everyone else has with no way around it. Just think of all the contributions people with disabilities could make to society if they had access.
This, together with legislation, made us understand how important it is to open the internet to people with disabilities.
4. Building and sustaining a business is not an easy task. What challenges did you face while developing accessiBe? How did you manage those challenges?

Our challenges arise when it comes to awareness because web accessibility is a relatively new concept for most website owners. There are matters of legislation that are naturally not clear to everyone, just like with most laws, so we find it a challenge.
But more importantly, it's making web accessibility a priority, regardless of the law. Web accessibility needs to be second nature to building websites. We're changing how people look at web accessibility from "should I do that?" to "how to do that?".
5. What does it mean for a website to be WCAG 2.1 and ADA compliant? And why is it important?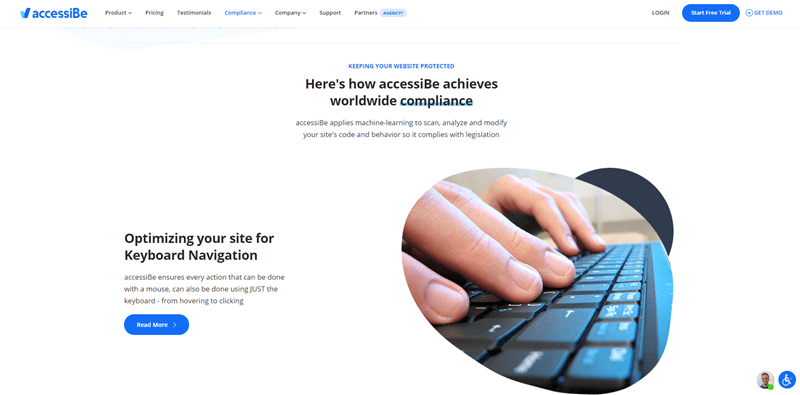 The ADA, or the Americans with Disabilities Act, basically says that it's illegal to discriminate against someone who has a disability in every part of society, including public accommodations. This includes websites, ever since the DOJ affirmed in 2018 that websites are an extension of brick-and-mortar businesses and should be accessible.
For businesses to comply with the ADA on their websites, they must remediate it according to the WCAG 2.1 AA, or Web Content Accessibility Guidelines, which are the most widely adopted standards for web accessibility and referred to by most ADA court rulings. So if you comply with the WCAG 2.1 AA, it means your website is ADA compliant and accessible to people with disabilities.
6. About 25% of the world's population, 2 billion people, live with a disability. Following advances in technology and health sciences, do you expect this number to fall in the future? How will a change in this population influence the value offering of accessiBe?
The advances in technology and health sciences won't cause this number to fall but rather increase the services and options available for people with disabilities to improve their quality of life. These advancements may not necessarily have to do with web accessibility, but they will still contribute to an increase in the awareness of people with disabilities, which will undoubtedly positively impact accessiBe's value offering.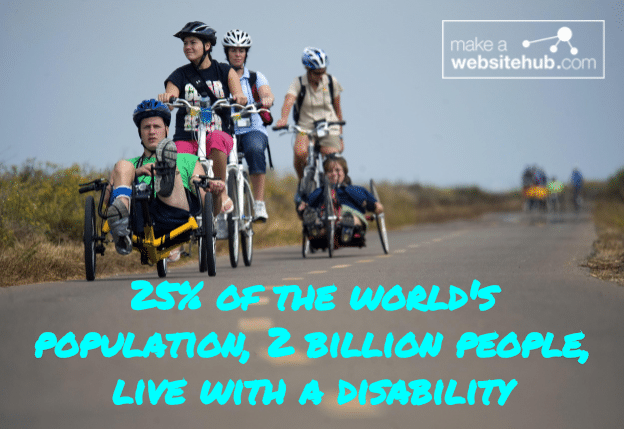 7. In 2011 WHO reported that 100 countries ratified the Convention on the Rights of Persons with Disabilities (CRPD). That number has risen to 177 countries. Does the CRPD or other international treaties require websites to be compliant with accessibility laws? Or are accessibility laws for websites limited to specific counties?
While many countries have laws in place protecting the rights of people with disabilities on and offline, the regulations aren't international. This means that every country or region has its own law and way of regulating it. However, almost all rulings refer to the WCAG as the standard by which to remediate an inaccessible website, including court rulings of the USA's ADA, Europe's EAA/EN 301549, Israel's IS 5568, Canada's ACA, and many more.
The rise in web accessibility lawsuits shows that people with disabilities are becoming increasingly motivated to demand equal access to the web. Businesses that comply with web accessibility legislation sooner rather than later will benefit by providing an equal experience for all and avoid web accessibility lawsuits.
8. How many non-compliance to accessibility laws by small business and freelancer websites lead to litigation?

It's hard to quantify. We know that there are thousands of lawsuits against businesses and more demand letters. Some websites are served with enough time to remediate their site and settle the dispute. Some websites close down as a result of being served, and some make it to court with huge settlement fees.
The thing is, most of the cases are closed before reaching the litigation stage. Only around 5% of all demand letters proceed to lawsuits. Others are settled beforehand. So there is no real way to know the full scale of it.
9. What's the best thing anyone ever said about accessiBe?
To be honest, this is a tough one because we get ongoing positive feedback from our customers, partners, and people with disabilities that justify what we do and make us better. Recently one of our Partnership Managers, Gemma, shared with me the reaction of her sister, who has epilepsy, to our new Accessibility Profiles, which warmed my heart:
Really incredible how much difference those adjustments have made. I hope it's ok that I have told my sister about this. She has epilepsy, and although she is not visually affected, in the epilepsy community, she knows many that have been triggered into "status epilepticus" (deadly seizures) from certain websites. So, she is beyond amazed by our solution and how many lives it could potentially save.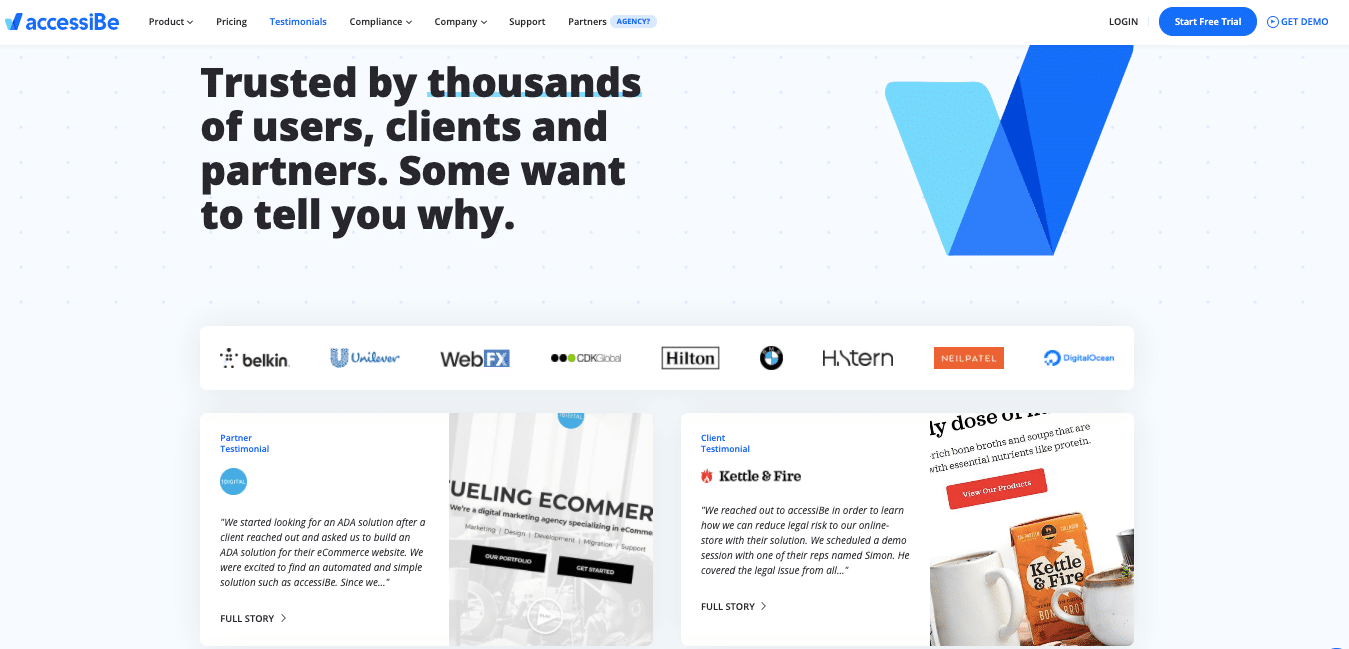 10. It's normal for businesses to get negative feedback. What's the worst you've had and how did you handle it?
Although we've grown extraordinarily fast, it's still essential for the team and me to consider the negative feedback we get and consider it, no matter how minor it seems.
We had one constant feedback we got from our customers that related to the pricing packaging. For a while, like many SaaS companies, we offered three different pricing options, based on the page count of a website. After a while, we began receiving feedback that there is a need for a fourth option, dedicated to a growing business. So we decided to introduce the current pricing offering, which includes four different options.
11. accessiBe is said to be the first and only automated web accessibility solution that allows every business to meet ADA and WCAG compliance standards in 48 hours for only $490 per year. What other features give you an edge over other competitors?
Since COVID-19, we also offer our solution for $49/m, which helps small businesses with web accessibility during this challenging time.
We use robust AI to experience a website like a person would to address all web accessibility deficiencies and then fix them accordingly. So it's not just about noticing errors, it's about designing a solution that knows precisely if and where a change needs to be made, specific to that website, according to the WCAG 2.1 AA.
accessiBe's solution also provides round-the-clock maintenance after the initial remediation, to ensure that any changes made to your site are WCAG 2.1 AA and ADA compliant, at no extra cost or time. No matter what solution you're looking at, this is a priority because, as we all know, websites are dynamic, and people like to update content and make changes. You need to make sure whatever adjustments you make on your site are still compliant and accessible.
12. You have the vision to make the entire internet fully accessible to people with disabilities by 2025. How close are you to achieving this vision?
We've taken on this challenge because we know we can do it. Every website that we make accessible helps our solution become stronger, faster, and more comprehensive, allowing us to make even more websites accessible, and so on.
We've come so far so fast that we realize that our vision is more of a reality at this point. In a sense, it's possible to achieve our vision within 48 hours because of our solution's nature. It depends solely on how many people will realize just how important it's to make their website accessible.
13. How has the COVID-19 pandemic impacted your 2025 vision or business? And how are you responding to the likely changes to follow post-coronavirus?
COVID-19 proved how crucial it's to make websites accessible. People are more indoors and rely heavily on the internet to purchase goods and services, work from home, remain entertained, and communicate with loved ones.
We know we have a huge responsibility towards the community of people with disabilities, which's our main concern. This is why we also introduced our new monthly payment, so more businesses, especially now, can make their websites accessible to people with disabilities who desperately need it.
The changes we see are a quicker adoption of e-commerce from both businesses and people with disabilities. Since accessiBe is suitable for any platform, we don't need to make any special adjustments to our product. We do see a rise in ecommerce businesses seeking our solution.
14. People with disabilities account for 2 billion of the world's population. The pandemic is intensifying the inequalities people with disabilities face and is producing new threats. The United Nations Secretary-General, Antonio Guterres came up with the following actions that should be considered to attain the highest attainable standard of health for people with disabilities:
Strengthen national legislation and policies on health care in line with the CRPD.

Identify and eliminate obstacles and barriers to accessibility in health-care facilities.

Improve health-care coverage and affordability for persons with disabilities as part of universal approaches to health care.

Train health-care personnel on disability inclusion and improve service delivery for persons with disabilities.

Empower persons with disabilities to take control over their own health-care decisions, on the basis of informed consent.

Prohibit discriminatory practices in health insurance and promote health insurance coverage for assistive products and rehabilitation services.

Improve research and data to monitor, evaluate, and strengthen health systems to include and deliver for persons with disabilities.
What are your thoughts on these points from Mr. Guterres, and how is accessiBe aligning to UN actions?
We support all actions taken toward improving the quality of life for people with disabilities. But we do know that a lot of these standards can be achieved only if people with disabilities have equal access to health-related websites. What would any initiative or data help people with disabilities if they can't access this information?
15. What improvements are you making at the moment for accessiBe users?
We just released our newest update, Accessibility Profiles, and we already see such a significant impact! As part of our ongoing research to improve the user experience for people with disabilities, we've enabled profiles that bundle together a few accessibility features that, combined, enhance the user experience for a specific disability.
For example, we have a Visually Impaired profile that enhances website elements for people with visual impairments. The user chooses the profile that's right for them, and all the features are simultaneously activated, instead of having to turn on each feature, one by one. It's effective and cool to see, to be honest.
Let's Discuss accessiBe's User Experience
16. How are you using artificial intelligence (AI) to make accessiBe empathetic to users' needs?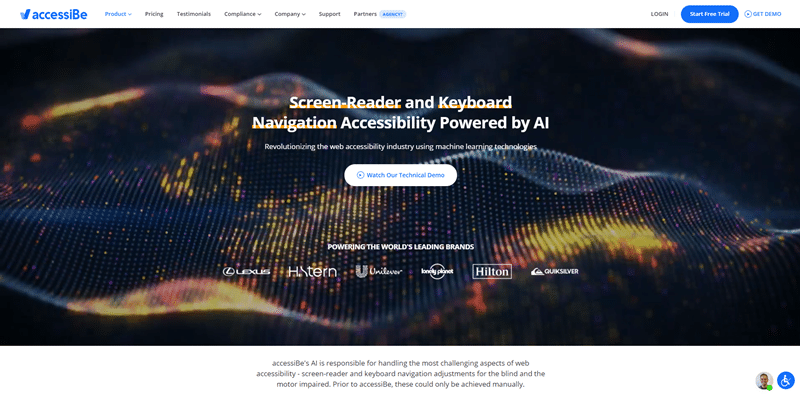 Our AI is designed to experience a website, just like a person with disabilities would. So if there is something that would reduce from their experience, our AI will notice it and fix it. It also works the other way, if the AI spots some sort of error on a site, but not one that will necessarily affect the users' experience, it 'knows' that it's not a web accessibility error. So it's not just about having a WCAG checklist, which is very basic, it's about honing in on what an excellent digital experience feels like for people with disabilities and aiming towards that.
17. In the age of cybersecurity, how is accessiBe managing the collection and use of website users' personal or identifiable data to preserve their security or privacy?
We don't collect any personal data from websites or users and don't affect data-privacy compliance such as GDPR and CCPA.
18. Does accessiBe guide its users on how to maximize their platform for success? Are there any resources and guides to help improve the learning curve of the service?
Our solution is as effortless as it gets. Except for a five minutes installation of a single line of code, nothing more is needed. After the installation, accessiBe's AI kicks in and starts the heavy lifting process of web accessibility. No guidance is required since everything is made 100% automatically.
Still, users can reach out, ask for walkthroughs, use our online chat to ask questions, or use any of our installations' guides on the website.
19. One of the ways users of accessiBe can make a website become accessible is by using the tab key. Are there other ways?
Tab key is a way to navigate a website, which, in return, makes it accessible to people who can only use keyboard navigation. When a website isn't accessible, the navigation will be flawed. With accessiBe, the navigation using the Tab key is flawless. Like the tab key, people can also navigate using skip-links and a navigation menu we add to the website when a user presses the Alt+1 keys.
20. Can you briefly explain how accessiBe's automatic screen reader helps users identify social media icons, logos, or banners that are unidentifiable by visually impaired users?
accessiBe doesn't have a screen-reader; instead, it makes the website readable to a screen reader. An inaccessible website will make no sense to a user using a screen reader. accessiBe makes the website "sound" logical to users who use screen readers. The way accessiBe does it's by incorporating machine learning and AI that can describe the functionality of different elements on the website (e.g., button) and images (e.g. "image contains text that says 30% off").
21. Can accessiBe work for users with multiple disabilities, as an individual with epilepsy and visual impairments?
Absolutely. accessiBe's interface offers profiles with bundled accessibility options and also standalone adjustments. This means that a user can choose any feature depending on their disabilities and what works for them.
Regarding the example, this user can enable the 'Visually Impaired Profile,' which will activate adjustments for visual impairments and then click 'stop animations' to reduce the risk of seizures. All of this will work simultaneously on the website.
Pricing, Funding, Partnerships, and the Future
22. Tell us about your pricing and why it's ideal for small businesses?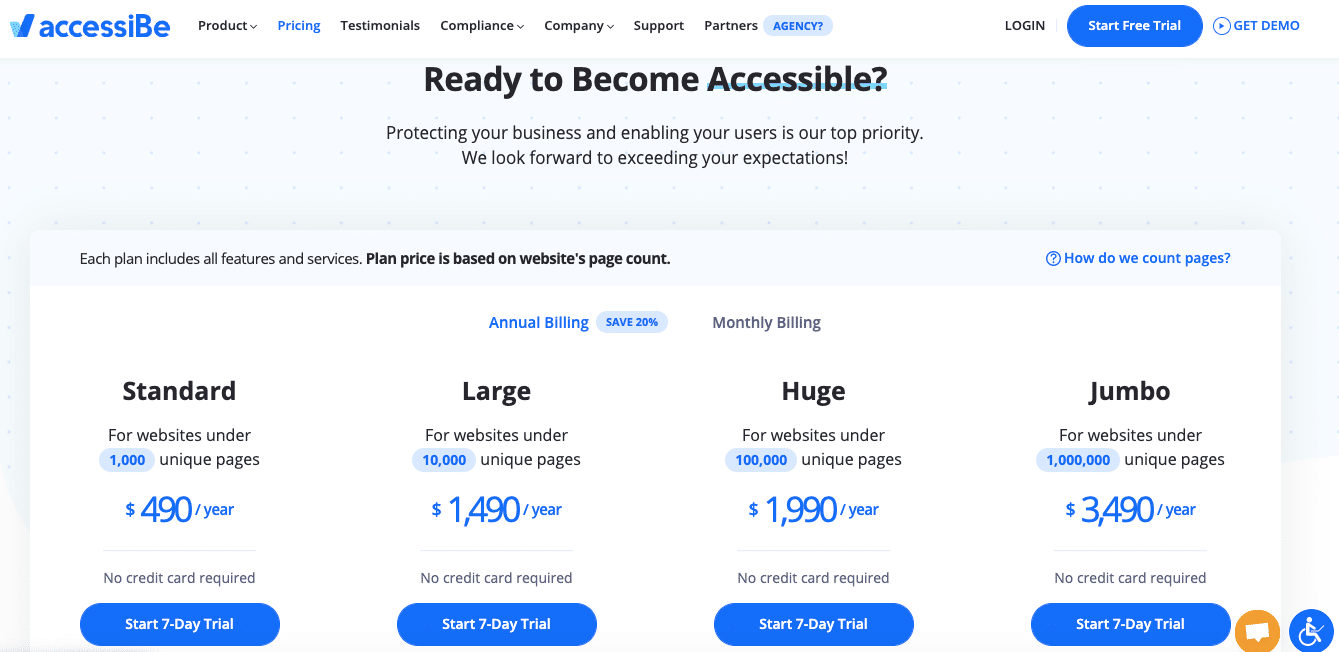 accessiBe's AI-driven and automated nature allows us to reduce costs for website owners significantly, making our solution affordable even for mom and pop shops. This is because instead of paying thousands for manual labor and ongoing maintenance, accessiBe does the job for a fraction of the time, so it's a fraction of the cost. The pricing is based on the number of pages a website has, and it starts for as low as $490/year or $49/month.
23. accessiBe offers a partner's program for referrals. Who is the partner program for, and what are the benefits?
Our partners' program is built for agencies, mostly digital agencies, that seek to make sure their clients are accessible. We partner with the best agencies around who share the same goals of improving digital experiences for people with disabilities and ensuring that websites have the tools they need to make this happen.
Our partners gain commission on sales, peace of mind that their clients are protected, and acknowledgement from the community for promoting accessibility for people with disabilities.
24. You recently secured a $12 Million Series A funding. How is that helping you grow, and what is next?

Yes, we're proud of what we've been able to accomplish and what's to come now that we can actualize more goals that we've had in mind for a long time. We have a lot coming up, but the goal stays the same; we will use our funding to raise awareness for the importance of making the entire internet open to people with disabilities.
25. What is one fascinating thing about your service that you have never talked about to anyone?
To be honest, we talk about everything. We're not shy of our failures as we're proud of our successes.
accessiBe is a web accessibility and ADA compliance solution founded in 2018 by Shir Ekerling, Dekel Skoop, and Gal Vizel. The company currently powers more than 55,000 websites and aims to make the entire internet accessible by 2025.
The following two tabs change content below.
Nicholas Godwin
Nicholas Godwin is a technology researcher who tells profitable brand stories that tech buyers and businesses love. He covers technology topics on his website
TechWriteResearcher.com
, and has worked on projects for Fortune 500 companies, global tech corporations and top consulting firms, from Bloomberg Beta, Accenture, PwC, and Deloitte to HP, Shell, and AT&T.
Latest posts by Nicholas Godwin (see all)