If you have dreams of scaling your small business into an enterprise brand but don't have the budget for the workflow to drive that growth, you're in luck. In this interview, NetHunt's Andrei Petrik shared some wisdom you can put to use, instantly.
You're probably using Gmail already. Or you're part of the 6 million paying customers on the G-Suit platform. Notwithstanding their popularity, Gmail and G-Suite have some little-known, but potent features you'll want to learn about.
When integrated with tools like NetHunt, your Gmail becomes a CRM and can handle
Data management

Segmentation

Marketing campaigns

Profit margins and workflows improvement, and more
Dealing with sales doesn't have to be harder than it is already. Although you can't take the human out of sales, you can leverage automation to get the job done faster, better, cheaper, and more effortlessly.
Google's emphasis on user experience and simplicity and NetHunt's flexibility makes this drive for automation a good fit for any business.
Effective Sales Management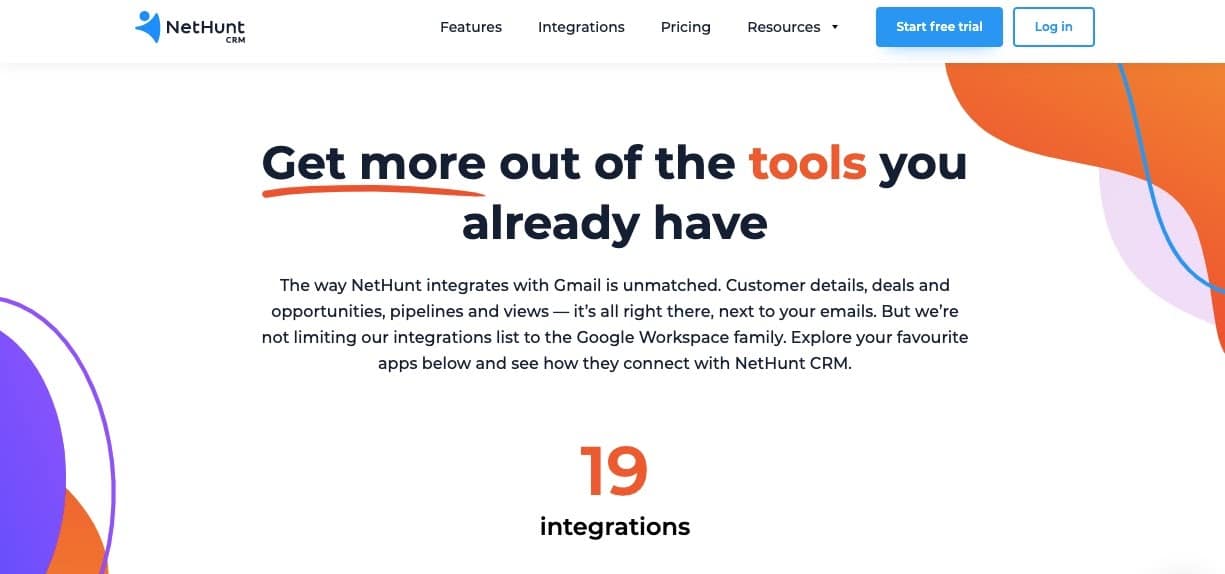 Sales processes are repetitive. The path is pretty much the same: A salesperson takes a prospective buyer from seeing the need for a product to eventually buying it.
Truly, sales is a numbers game, but it demands structure. A report from the Sales Management Association says that of the best-performing companies in terms of sales, 90 percent of them use formal, guided processes.
Effective sales management involves measuring performance and monitoring sales processes to meet sales targets consistently.
Hence, these high performers have been able to improve forecasting accuracy, revenue, time management, and performance.
Ninety-two percent of NetHunt users say their customer data became deeper and more accurate as a result of using a Gmail CRM. And 64 percent of them claim that the ability to automate manual, routine tasks and have everything under a single tab helped them save up to two hours daily.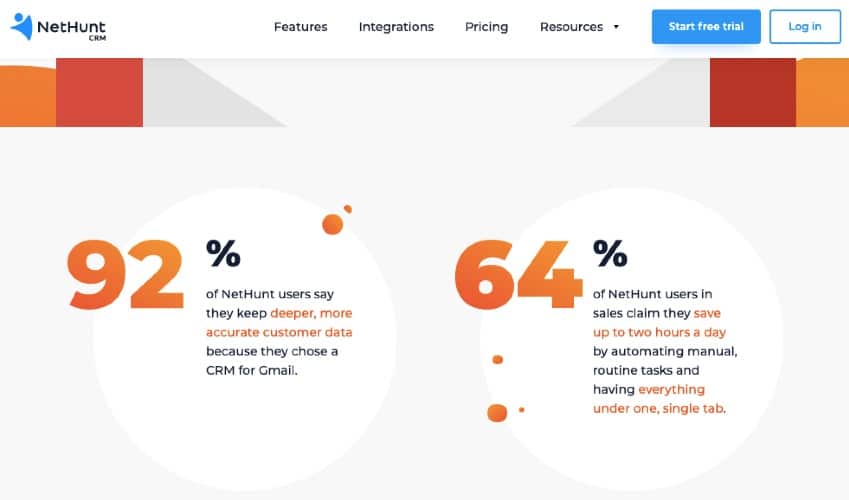 Some of the benefits you get from effective sales management include:
A unified team structure

Realistic and measurable goals

Increased ease of finding leads

More empathy for customers

Better sales forecasts

Reduced sales inefficiencies

Consistent customer experience

Faster onboarding

A better understanding of the competition, and more
Sales Management with NetHunt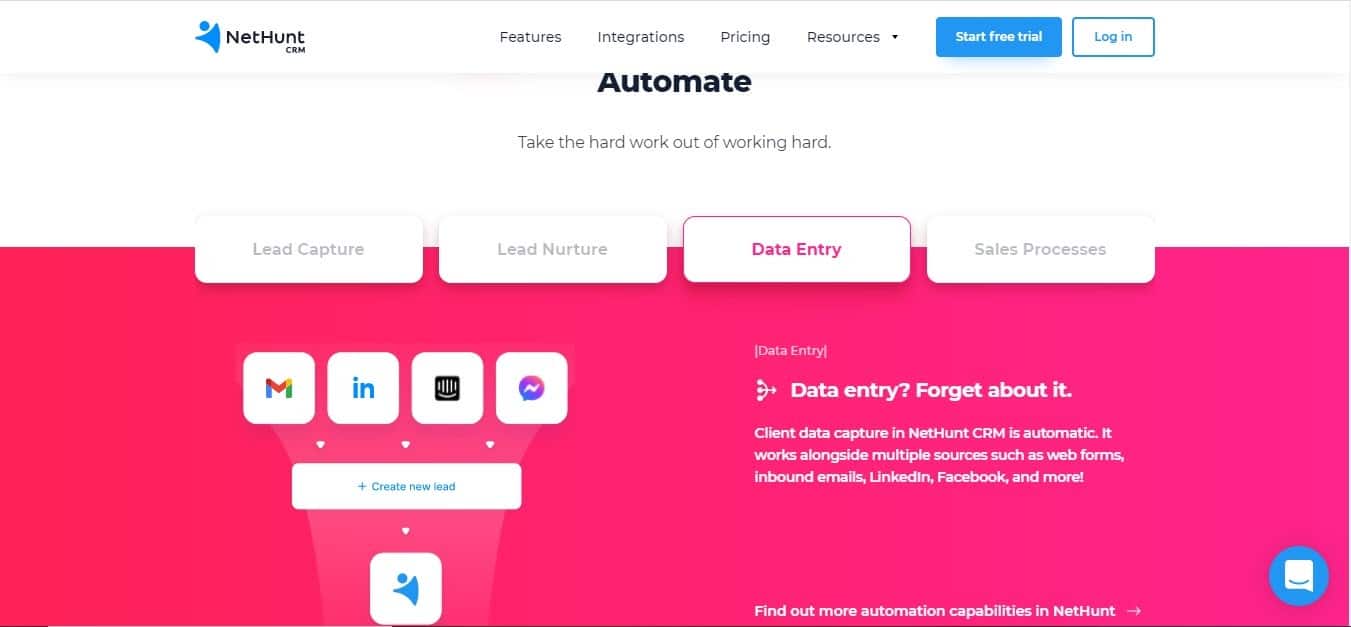 NetHunt is not just another extension or sidebar. It's a fully-featured sales automation tool for Gmail. It completely transforms your Gmail into a CRM with all the capabilities to manage your sales.
This CRM shows the main details of a customer in every email. And with a click from your chats, email, and social profiles, you can create leads. It also helps you send personalized email campaigns that show relevant analytics.
You can choose to use it as a Google Chrome extension or as a standalone web application.
Some of the features of NetHunt CRM include
Full integration with Gmail

Its shared dashboard

Merge and tracking features for email campaign

Integration with G Suite apps like Calendar, Drive, and Hangouts

Integration with third-party apps like Zapier

Customizable filters and views for valuable sales processes

Bulk email campaigns with trackable performance

Unlimited address book

Unlimited daily email sends

Responsive customer support

Mobile app for Android and iOS

User roles and permission

Customizable sales pipeline, and

Downloadable statistics and reports
Key Takeaway From The Interview
This interview sheds more light on how businesses can effectively manage their sales processes.
Here are some key takeaway:
As opposed to support that uses one-time solutions for one-time questions, Customer Success uses foresight, research, and better communication to stop those problems from ever occurring.

In the CRM industry, you gain more users by helping more customers succeed.

A CRM system should be flexible enough to fit a company's processes, and never the other way round.

In choosing a CRM, make sure the systems that you already use for business integrate with your chosen CRM system into a single ecosystem.

Integrating sales and marketing can help targeted content achieve a product-channel fit.

Feedback is always useful, whether good or bad.

Personalized experience is an important part of the customer success model.
My Conversation with Andrei Petrik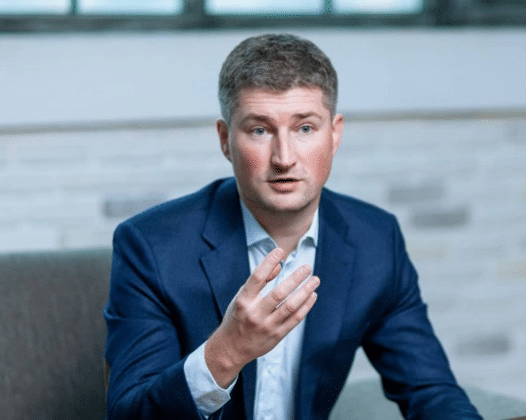 1. Hello, please introduce yourself. Tell us about your professional journey?
Hello! I'm Andrei Petrik, and I'm the CEO and co-founder of NetHunt CRM.
NetHunt is a bonafide, fully-featured sales automation tool that works as part of your everyday Gmail inbox.
We help our users generate, organize, and nurture leads; automate their sales and marketing processes, and generally stay on top of and grow their businesses.
2. Why did you start NetHunt CRM? And how has the journey been so far?
The epiphany, like most of life's great epiphanies, came to us whilst we were enjoying a beer or two.
We worked for a company that helped to integrate an enterprise-sized CRM, implementing servers, holding two-week training sessions, and charging them how-ever-many dollars per user, per month.
We wondered why CRM wasn't flexible enough to bend to fit a business, rather than the other way round.
Why can't a CRM be easy-to-use as Skype, where you just download it and it's up and running.
We asked why it couldn't just be a simple Chrome extension that keeps your whole business under one tab.
I'm gonna get this line in early and out of the way – we wanted to take the hard work out of working hard.
3. How did you manage to scale the business at the early stage? What were your strategies?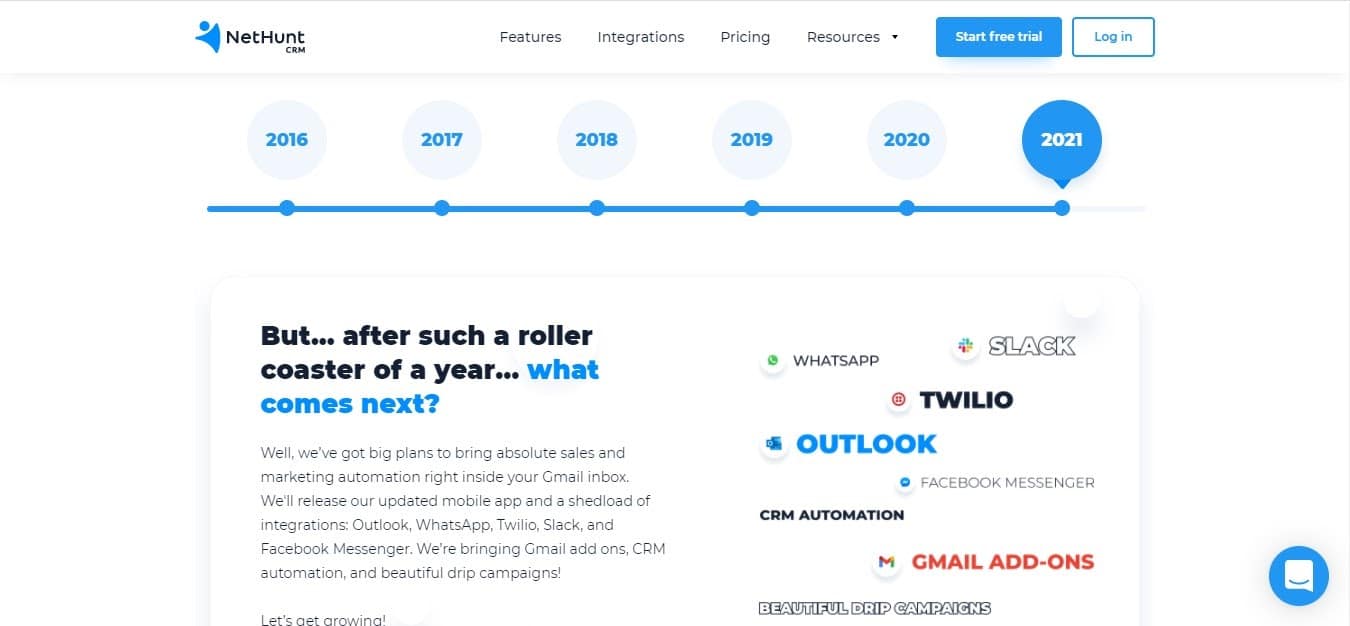 Well, we don't innovate for the sake of innovating. We follow something called a Customer Success (CS) Model.
It replaced our Customer Support Team and is focused on proactivity.
Where a support team responds to one-time questions with one-time solutions, a CS team uses foresight, research, and better communication to stop those problems from ever occurring.
It helps us make sure that our clients get the desired outcomes from the CRM and satisfy their initial requirements.
In the CRM industry, the more successful our customers are, the more users we gain.
Their businesses grow with our solution, and we grow with them.
Listening to customers; giving them what they want.
4. You worked at InvisibleCRM, both as the Head of the Professional Services Department and as Product Management director. How has your professional experience contributed to the success of NetHunt?
InvisibleCRM taught me the industry, showed me the ropes, and I had a hugely educational experience working for them.
They gave me what I needed to push on and set up my own thing, and I'm so grateful that I could be part of their team. Good times!
5. NetHunt allows for email tracking, bulk email campaigns, data filters, team collaboration, and several others. How does it work? Kindly take us through a step-by-step guide?
A step-by-step guide? We'd be here all day! I'll try to give you a short answer to that question.
NetHunt works as a Google Chrome extension and as a standalone web application.
Once you register and set up, you can download your existing customer data or start generating a new one.
We've got a bunch of different integrations to scrape that data, but you get the picture.
Originally you have three folders for your deals, companies, and contacts.
The system is customizable, so you can change existing folders and new ones if needed.
Within the records, you can store as much data as you need in different fields, and the record structure is customizable as well.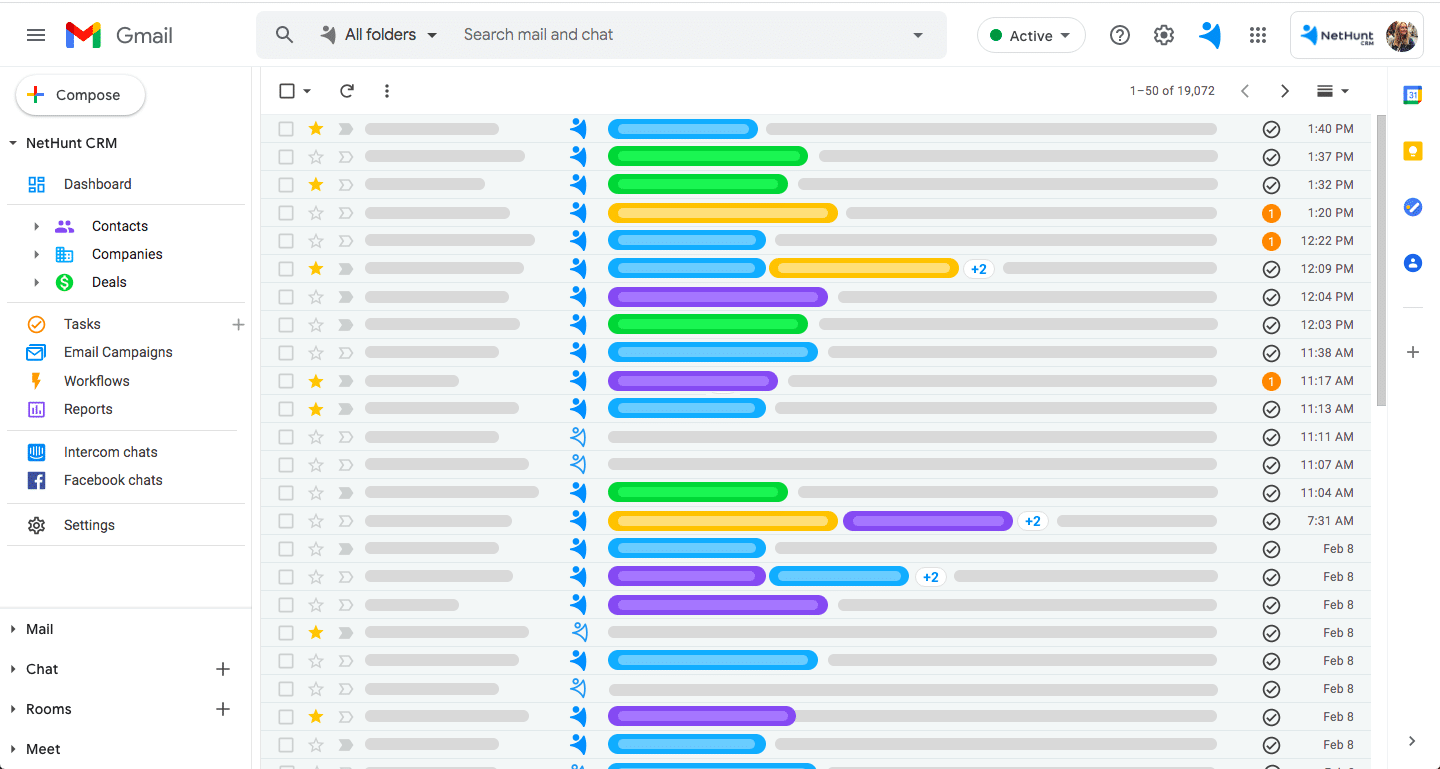 Now the record exists, every interaction that person had with a deal is recorded there for everyone on the team to see.
Either a client or lead sends you an email or messages you via the online chat on the website; all these conversations are linked to the client profile.
If you're selling to that person, you can start moving them down visualized pipelines with automated lead nurturing activities and as well get 5X more leads.
Set a triggered drip campaign to send emails based on different behavior or receive notifications for major occurrences in your pipeline and nurture them yourself.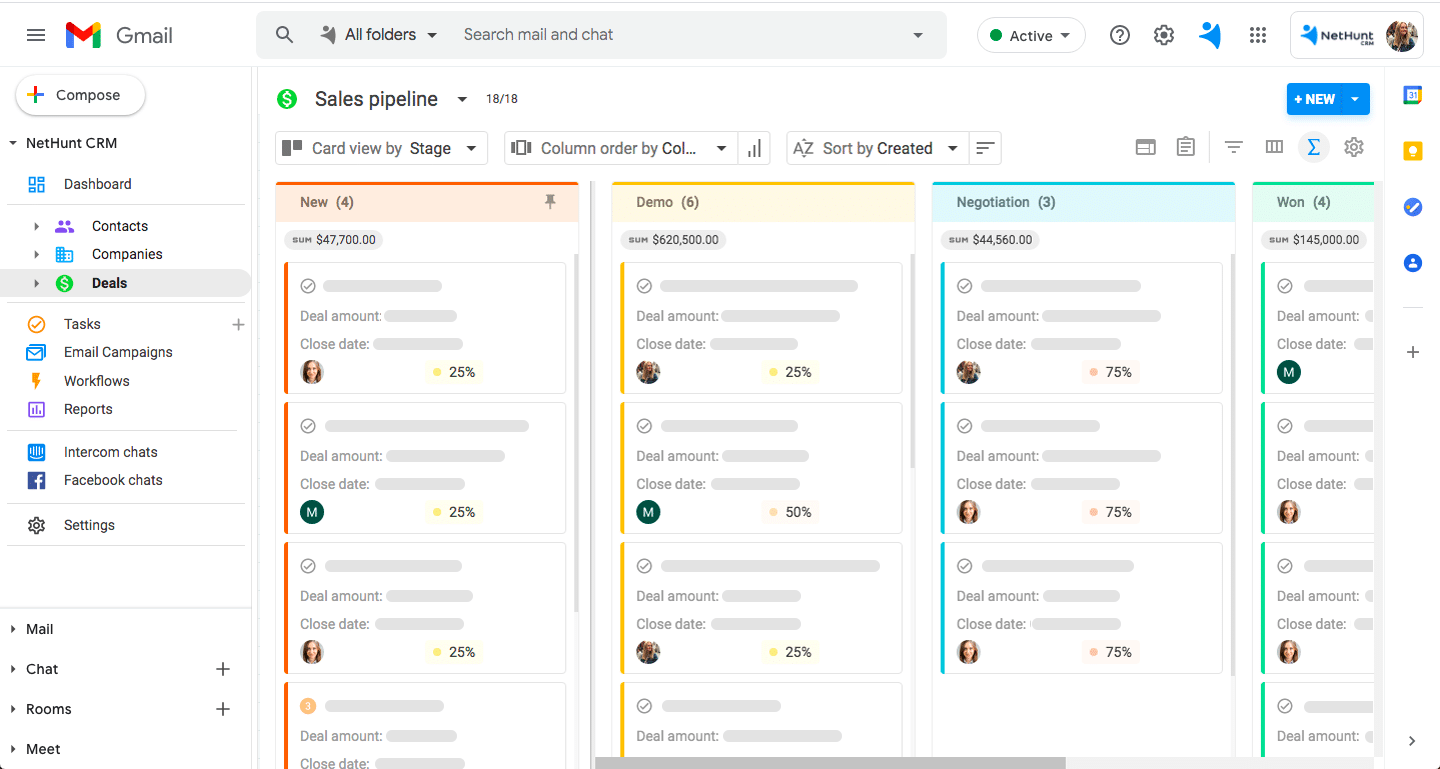 Personalized bulk email campaigns, segmentation, email tracking, unsubscribe email feature, and a bunch of integrations. I could keep going, but I'm worried you'll cut me off.
6. A lot of platforms offer similar services to yours. But what makes NetHunt unique? What are your Unique Value Propositions?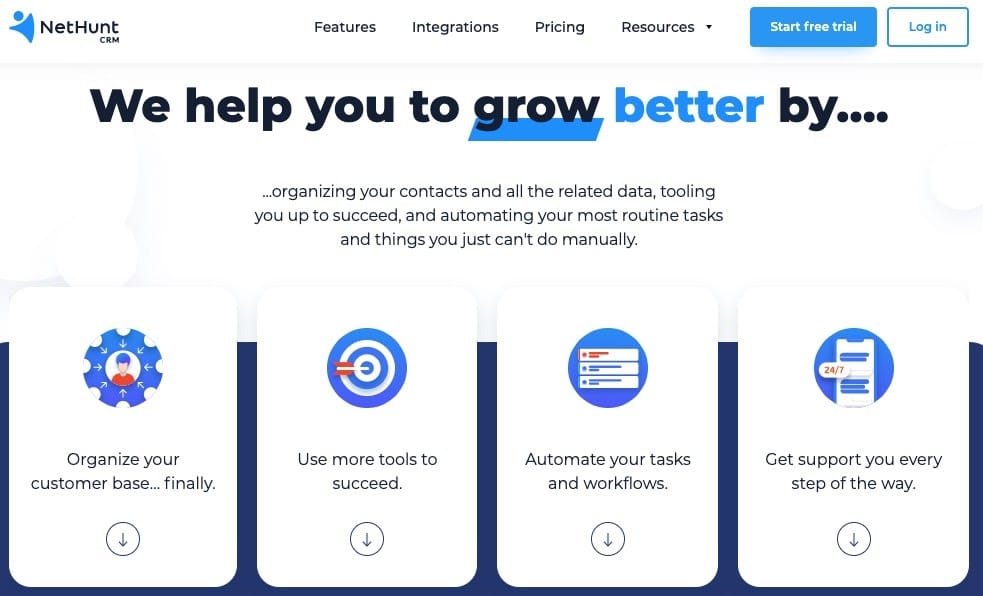 Well, a lot of our competitors are also Gmail CRMs, but what they offer is slightly different from NetHunt.
What they offer is a sidebar solution. Instead, we offer full Gmail integration. NetHunt blends effortlessly with Gmail like it was always there from the start.
This complete integration means we can offer even more features without overbulking our system and letting its functionality sag.
We're bringing everything under one blue umbrella, with integrations to systems that our customers need integrating.
We want our users to be able to manage their contacts, track deals progress, set up email campaigns, keep an eye on their performance.
And automate their whole working day whilst still providing a personalized, conversational experience. Directly from Gmail.
7. NetHunt allows for integration with multi-platforms. Which of these platforms do you consider most effective? Can all these platforms be managed via a single platform (For example, via Gmail)?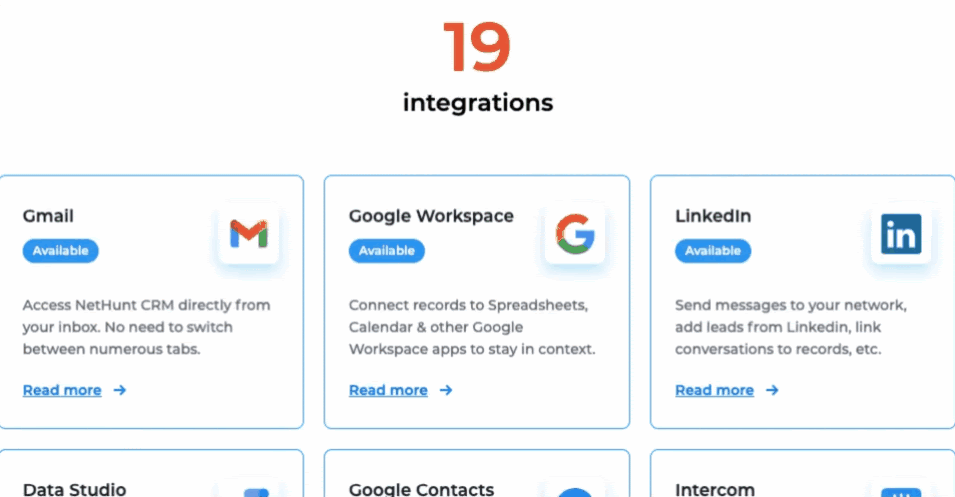 We love integrations! We want to keep everything neat and tidy underneath the Gmail tab.
You're asking for a favorite? It's like choosing which of my kids is my favorite!
I suppose, for me, it would have to be that LinkedIn integration.
LinkedIn is just good, isn't it? Lead generation, social selling, bigging up your friends.
Our LinkedIn integration helps users take advantage of all those lead generation opportunities, accelerating their results.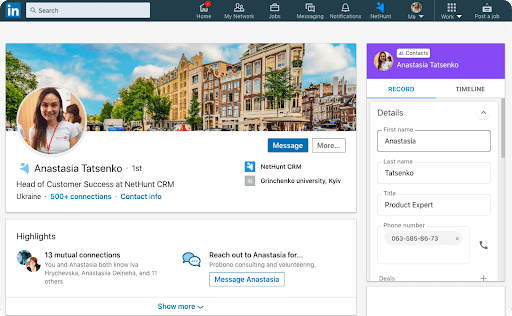 8. What resources have you put in place or updated to help new users get started or personalize the platform to suit their business needs?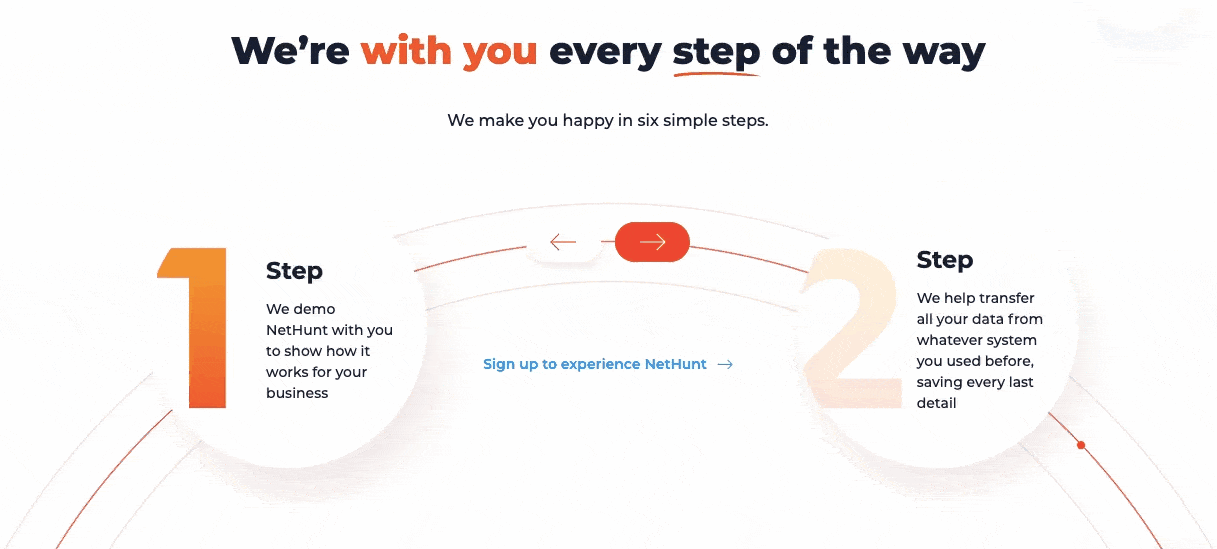 Well, as I said, we love that personal touch.
Each new customer attends a demo call and gets to know the Customer Success (CS) team; the team gains an understanding of the customer, their objectives, and their industry.
The CS team is always available to those customers throughout their journey with us.
They write help centre articles and feature in YouTube videos. Marketing is busy writing those videos, alongside educational blog articles, guides.
Webinars, too. That's before we get to the in-product hints and notifications.
Every user passes through the in-product onboarding that helps reach the 'aha' moment faster; we push our users to their desired outcome with the product.
Yeah, it's important that customers really get the most out of our tool!
9. What features should small businesses consider a priority when choosing a Customer Relationship Management platform? And why?

A CRM system should be flexible enough to fit a company's processes, and never the other way round.
If you're changing business processes that already work to fit this new tool. Then you're doing it wrong. It's not the CRM for you. As the English say – if it isn't broke, don't fix it!
A CRM system should enhance those business processes, not replace them.
So, you need to make sure of a few things really…
Make sure the systems that you already use for business integrate with your chosen CRM system into a single ecosystem.
If there's no native integration, there might be a chance for a Zapier third-party integration. If your business uses a lot of emails, then make sure your chosen CRM has extended emailing featurability.
Bulk emails, sequences, templates, click tracking; that kind of stuff. Automation is where the technology is going.
So, choose an innovative CRM provider which is going in the right direction.
Make your working hours easier and more efficient. Cloud-based CRMs are great, but maybe I'm biased.
No, it's just true. Nobody wants honking servers in the office coat cupboard.
You need portable but powerful.
10. How can small businesses use NetHunt effectively in their sales efforts?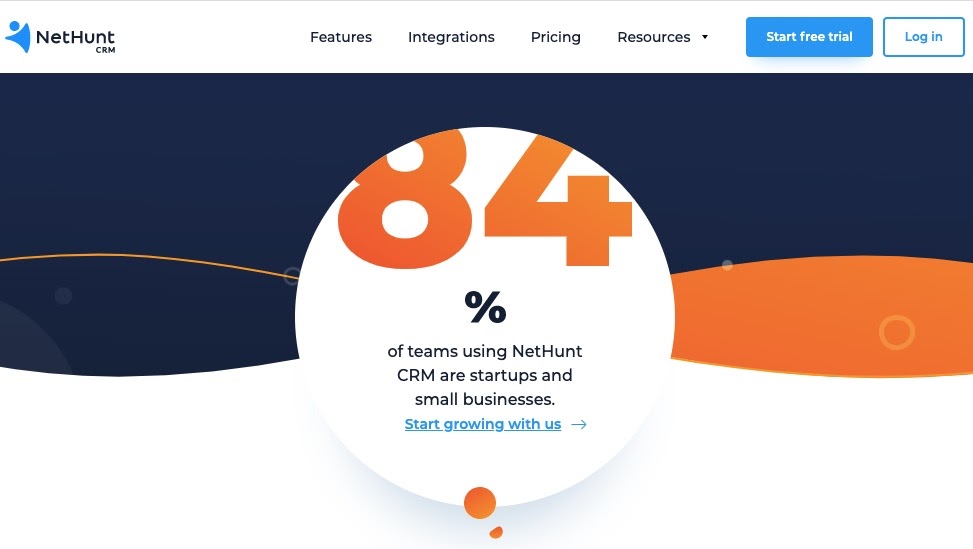 Well, they can automate their whole customer journey.
We've got functionality coming out of our ears to store and manage customer data, nurture client relationships, automate sales workflows, track deal progress, and to get leads down the funnel faster.
You can do loads more with Gmail; send personalized bulk email campaigns, set up email sequences, and analyze their performance.
Inter-team communication improves, daily tasks become accounted for and get done. Organization, automation, and eventually growth.
I'll say it again for those at the back – everything under the same blue umbrella!
11. A 5% increase in customer retention leads to a 25 to 95% increase in profit. What do you do differently in your user acquisition processes that keep your customers from leaving?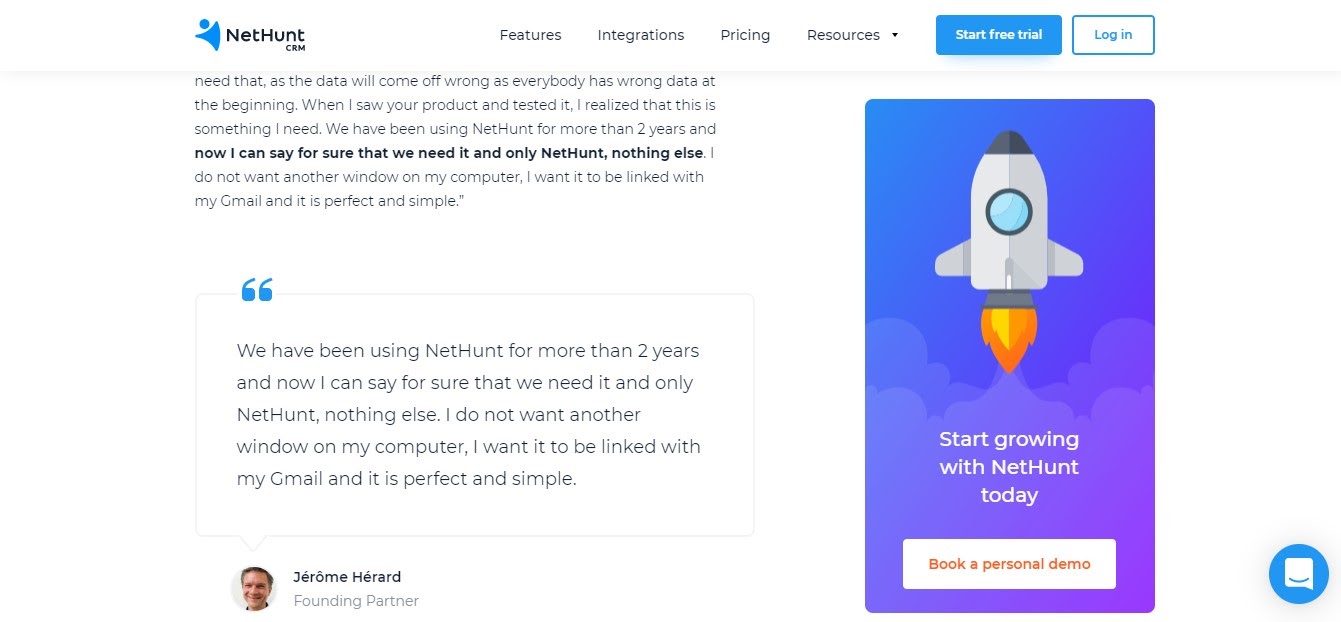 I'm all about taking a combined Smarketing approach with the development team in there for good measure.
With the sales and marketing teams working together as a two-pronged front for customer engagements.
We can put one line out and everybody knows what's going on at any one time; the data is right there in front of them.
The CS team is proactive, making sure they know as much as possible about each customer's individual business, their needs, challenges, particular qualities for every industry and role.
They report back to the development team what the people want, and that's exactly what we try and give to the people.
It also helps our marketing team to create targeted content and achieve product-channel fit.
In short, we provide a fully personalized experience; right down to the features we put out.
12. How do you manage negative feedback from customers? What approach do you recommend for small businesses with a similar concern?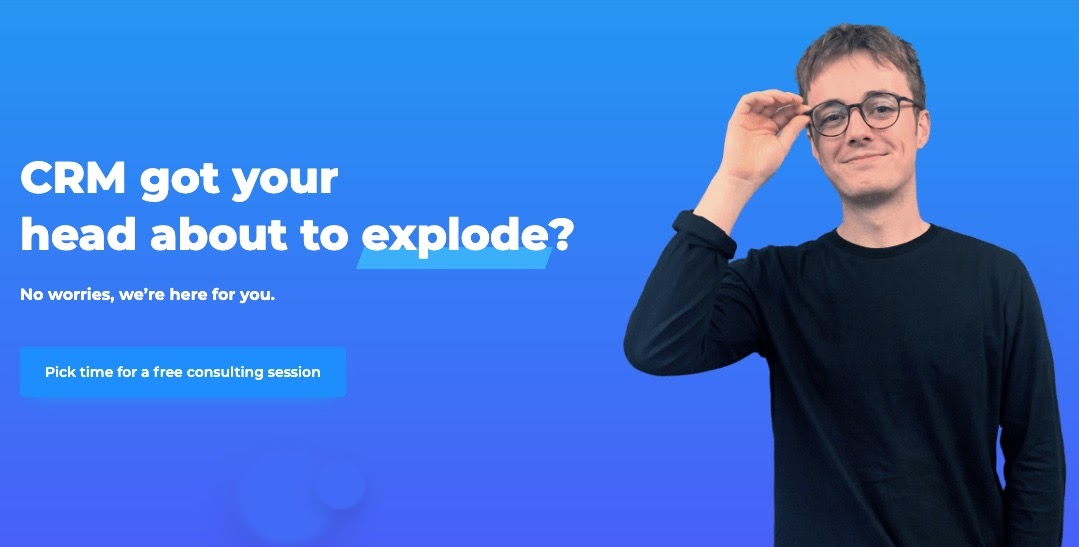 Feedback, good or bad, is always useful.
Bad feedback is probably more useful than good feedback, to be honest. Still, we all like to be told we're doing something cool.
When we receive bad feedback, we work hard to fix it… it's as simple as that.
Luckily, our lovely, eclectic user base is full of great people – they're not too mean when they do have a suggestion!
13. Some NetHunt users think your mobile app isn't as strong as your desktop app, hence it's not ideal for people who work from their phones. What are your plans regarding that? Seeing that mobile apps take 90% of the time spent on mobile phones.
Who said that?! I want names!
No, I'd agree with them based on the feedback we've received.
Which is why, in early-2021 we released an updated, and I believe a vastly-improved, version of our Android app.
We're working on the iOS app right now, making sure our customers have a seamless NetHunt experience across all our platforms. Spinning plates!
14. In a Capterra review, a customer said that one of NetHunt's drawbacks is the need to use Zapier to make other integrations work. Albeit, they hope for more native integrations since your platform allows limitless expansion and integrations. What do you have to say about this?
The integrations are coming people!
We added a few native integrations last year; obviously we're planning to add more in 2021.
It's hard because there are so many cool things you can do with integrations, so many great platforms and functions out there to integrate with, and it takes time to do what we want to do with it.
We get app integration requests every day, and we take note of every single one.
To that lovely Capterra reviewer – email me! Tell me what you need!
15. In your view, what do you see in the sales and marketing industry today that were not there a decade ago?
The change never stops. So much is different. In fact, just consider how much has changed in the last year alone.
Processes have changed, priorities have changed, and new names are constantly entering the market.
There are new tools changing the world every day, making new trends appear in social selling, conversational customer experiences, customer retention and putting customers at the heart of your business, and building better relations with them.
The community grows and provides new competition for us, which only drives us to get better at what we do. I love it.
16. How do you think COVID-19 will affect the sales and marketing industry? What innovation should experts, especially startups expect?

Well, offline industries were hit the hardest. Travel, tourism, and leisure the most.
I hope those industries can bounce right back once all this awful stuff is over.
At the end of the day, it's all about adapting your business to work with the pandemic. We've just got to try and roll with it, and I appreciate it's not easy.
George from our marketing team wrote a blog all about how Chinese businesses adapted to the coronavirus. Check it out, it's a great read!
17. Of course, technological advancement is fast displacing many experts in other industries. How do you think this should affect sales and marketing experts?
Business comes at you fast. Duck and weave. Grow with the times.
Stay in the loop and adapt your product and message.
18. What should your users look out for in the nearest future? What new feature are you working on?
Automation, automation, automation. Workflows is still a work-in-progress – it's constantly having new functionality tagged onto it; new filters, triggers, and all that stuff!
Like I said before, integrations are incoming. We've got loads in the pipeline, and we're going to help our users provide lovely, multi-channel outreach and engagement.
Thanks for having me!
About NetHunt
NetHunt automates leads capture, drip campaigns, sales processes and allows users to integrate with their everyday-applications within 2-minute.
Their Gmail CRM brings sales automation and drip campaigns straight to their users' inbox. With NetHunt's 'CRM Everywhere' idea, CRM actually works for users by adding powerful CRM functionality to the applications they use daily.
NetHunt offers more features without overbulking their system and letting its functionality sag.
The following two tabs change content below.
Nicholas Godwin
Nicholas Godwin is a technology researcher who tells profitable brand stories that tech buyers and businesses love. He covers technology topics on his website
TechWriteResearcher.com
, and has worked on projects for Fortune 500 companies, global tech corporations and top consulting firms, from Bloomberg Beta, Accenture, PwC, and Deloitte to HP, Shell, and AT&T.
Latest posts by Nicholas Godwin (see all)