We'll show you how to get more followers on instagram in just a few easy steps!
Instagram is quickly becoming the new Facebook. The more followers and likes someone can generate per picture on Instagram, the greater their posts visibility. However, with so many people posting pictures every second of every day, it can be difficult to stand out from the crowd. There's quite a few decent Instagram tools out there to help, but if you're looking for something a lot cheaper to help you increase your audience, then my infographic below might just be of some use to you.
Whether you're trying to grow a presence on Instagram for business purpose, or you just want to gain a lot of followers and became an Insta-Star, there are a few ways to approach the situation. Here's how to start getting more followers and likes on Instagram.

The Basics
There are a few basic things to understand about Instagram that you need to know before trying to become an Instagram rock star.Once you've got the basics under wraps, the more complicated aspects will be easy to handle.
Hashtags
Many people don't know anything about posting photos on Instagram. They assume it's simply a matter of quickly snapping a shot and posting it, but unless they already have a decent following, it isn't likely that anyone will see the photo. Instagram works much like Twitter when it comes to labeling photographs – while there is much more than a 140 character limit, hashtags are vitally important. Adding relevant hashtags will allow users searching for specific types of photographs to find yours. On the other hand, using hashtags that don't have anything to do with the image can alienate potential followers.
Make note – Facebook is beginning to implement hashtag use into its formula, so you'll see them become much more common as time goes on. Get used to using them now, and you'll be ahead of the curve.
Connect Facebook with Instagram
More than 20% of all Instagram users also use Facebook, and quite a few of them post images to Facebook through Instagram. By linking the two accounts, you can gain followers from Facebook. Anecdotal evidence places the number around 3% of your Facebook friends; however, requesting that people follow you can increase that number.
Another way to gain followers from Facebook is to ask Instagram to post images to Facebook at the same time you upload them to the service. The second phase of the image-uploading process allows you to do this with a single click of a button.
Numerous experiments have shown that liking thousands of photos per day will bring in a high number of Instagram followers. However, this can be very tedious, and you often gain a large number of bots as followers – around 16.6% or so, according to some sources. However, this can be one of the most effective ways of growing a following.
Commenting on pictures is a much more effective way of getting a response than simply liking it. It makes you memorable, and the receiver is more likely to respond to you and follow.
Fill out your profile.
When you first sign up for Instagram, you're given the option to write a short bio. This filed only has a 150 character limit, but you should take advantage of it. Filling it out with a few important details about who you are increases the chance that someone will follow you; people are interested in other people, not one-dimensional faces.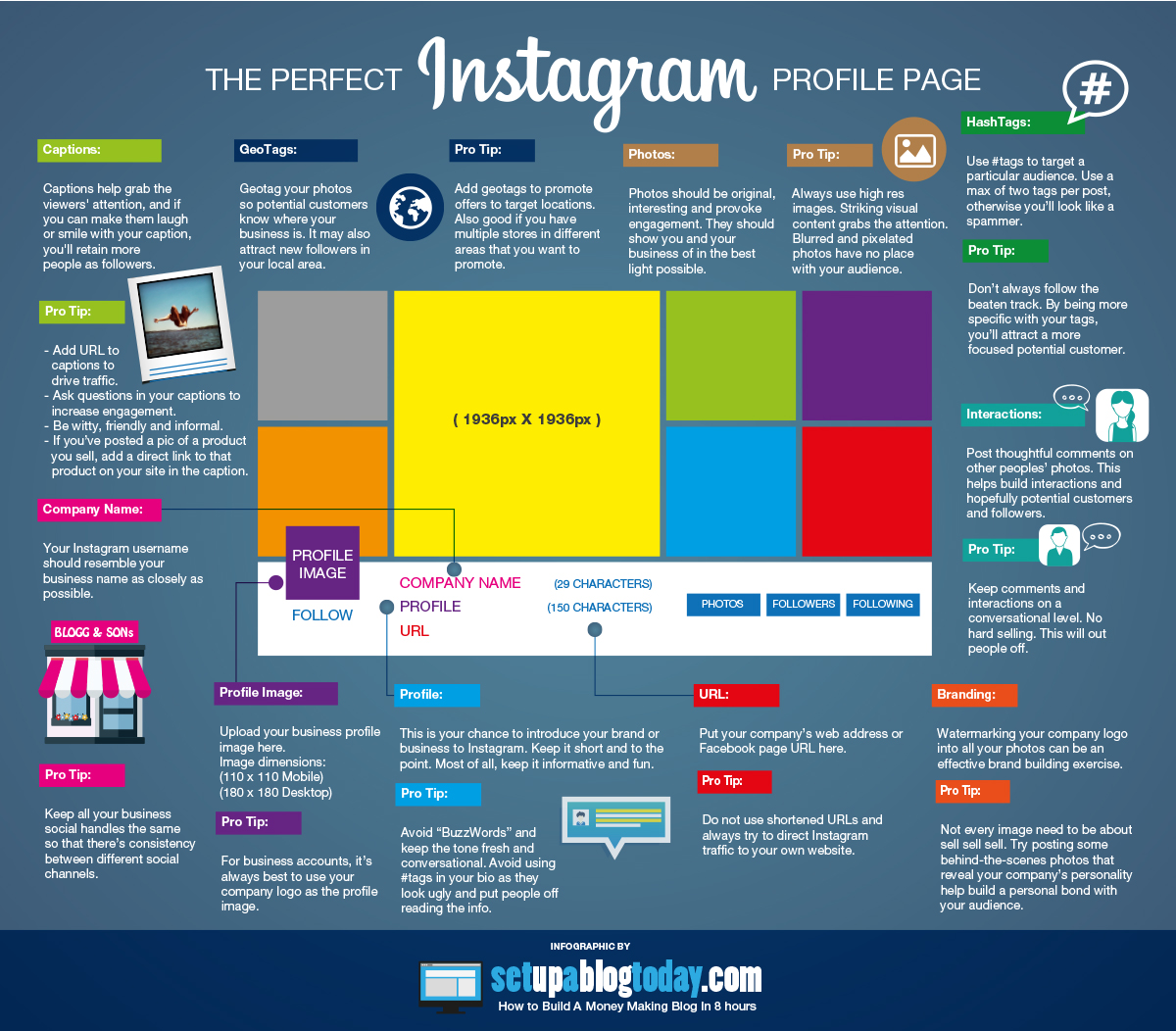 Understanding Hashtags
Now that you understand how hashtags are meant to be used, you need to understand something else: the most popular tags are not necessarily the best. Here is a list of the most popular Instagram hashtags:
#love
#instagood
#nofilter
#me
#tbt
#cute
#photooftheday
#instamood
#iphonesia
#picoftheday
#girl
#tweegram
#beautiful
#instadaily
#summer
#instagramhub
#follow
#iphoneonly
#igdaily
#bestoftheday
Taking a look at the hashtags, it's easy to understand why they may be so popular. Most of the commonly used hashtags promote happiness and joy; however, this also means that literally thousands of photographs are being posted every second using these same tags. While certain ones like #bestoftheday or #photooftheday might work to bring attention to your photos, you should try to avoid bland, non-descriptive tags such as #girl or #beautiful.
Instead, focus on a very specific naming system. Instead of posting a photograph of your dog with the tag #dog, label it as #germanshepherd or #yorkie. This way, you're targeting a much more closely grouped subset of people than if you take the more scattershot approach with broad categories.
Do Your Research.
Skim through photographs like the one you want to post and find out what common tags they share. An example taken from the Instagram blog shows that users posting images of Volkswagen vans use #vw as a tag almost twice as much as the actual world #volkswagen; however, since you aren't limited in hashtag use, you could tap into both of those subsets by using both tags.
A good rule of thumb is, the less pictures that show up with that hashtag, the less popular it is. However, if it has consistent activity, it's a good way to find a very specialized niche of people.
Tell a story.
One of the most popular groups to follow on Instagram is National Geographic, and if you pay attention, they don't simply post a photo and go on their way. While an image may be worth 1000 words, having a bit of explanation to go along with that image can help readers understand and relate to it much more easily. There is no character limit to Instagram descriptions, so feel free to make it the story as long as you want; however, make sure it is also relevant. Don't wander off on tangents. For example, if you were to post an image of a sunset, you could include this story:
"We had just crested the top of the hill and struck #camp after 8 hours of hiking. Tired yet happy, I took a few moments away from setting up the tent to snap this shot of the #sunset over the #Alps."
That's much more appealing than just saying, "Look at this sunset!" And take note – hashtags are used in that story. The placement of hashtags has no effect on their usefulness, and placing them throughout the story allows you to implement them more effectively, instead of shoving as many as possible in at the bottom of the description.
Get Your Pictures Right
When it comes to the actual pictures you post, there are a few ways you can hit the nail on the head each and every time. Here's what to do.
Post images that people relate to.
Like all of social networks, Instagram is a way for people across the globe to connect with one another. Posting pictures that are human, such as someone you love laughing or a beloved pet making a goofy face, are things everyone can relate to. At the same time, a stunning sunrise can have the same effect as a field full of stars. However, don't be afraid to let a bit of emotion bleed through into the photo; it's part of the human condition, and people are more likely to follow that.
Post them at the right time.
Social media experts have long noted trends in activity levels. If you want the most recognition for the least effort, you need to make sure you post your pictures at just the right time. On Instagram, this tends to be Wednesday between 5 and 6 PM – although more people post on Thursday, they seem to be more active in the evenings on Wednesday more than any other day in the week. Your photo will only show up for a few hours before it is completely buried by others, so you have to make the most of the limited window of time.
Include a call to action.
When you post your photo, don't just end it. Include a call to action at the end, such as "Double Tap to Like" will increase the number of likes you receive. This is a common tactic in sales psychology, and you often hear it on television commercials in the form of, "Call this toll free number today!" There's a reason it is used so often: it works.
Keep to a shtick.
Many of the most famous posters on Instagram have one theme their posts tend to revolve around. If you can develop a theme like this for yourself, you'll gain more followers very quickly. For some people, this means posting a lot of selfies. For others, this can mean hundreds of images of cute dogs. Whatever you decide to make your specialty, don't veer too far away from it or you risk losing followers.
On the other hand, simply posting images about your day to day life and interests can also earn you a lot of followers. It makes you feel more like a real person rather than a source of entertainment for slow parts of the day.
Stick to a schedule.
Posting regularly will earn you a lot of followers. If you go inactive, people will begin to think you are stopped using Instagram and unfollow you; however, if they know to expect a new photo once per week, then you can count on a steady increase.
Filter, filter, filter.
Using the right filters for the right photos will earn you followers the old fashioned way: by making your images fun to see. Knowing what the right filter for an image is takes time, and largely depends on the sort of emotion you're trying to evoke with the photo. However, Instagram has 20 filters already included in the app, and more are available through a variety of image editing programs. Don't be afraid to experiment and find out what works for you.
Instagram is a rising star in the social media world, quickly gaining users to the point that it may soon compete with Facebook. Don't miss out. By learning how to work the system now, you can become a superstar on Instagram and earn more likes and followers than you know what to do with.
The following two tabs change content below.
Jamie Spencer
My name is Jamie Spencer and I have spent the past 10 years building money making blogs. After growing tired of the 9-5, commuting and never seeing my family I decided that I wanted to make some changes and launched my first blog. Since then I have launched lots of successful niche blogs and after selling my survivalist blog I decided to teach other people how to do the same.
Latest posts by Jamie Spencer (see all)