With Instagram recently announcing that there are now over 1 billion Instagram accounts in active monthly use, this social media giant is a key platform for any business or brand that is looking to market products or services. But if you want to be truly successful on Instagram, then you need to track your social analytics.
Monitoring your brand's performance on Instagram, and understanding who your audience is and how they behave, is key to creating effective content, growing your customer base, and driving engagement. There are numerous Instagram analytics tools that will help you track your Instagram data, and help you make decisions to inform your Instagram strategy, improve future campaigns, and increase your Instagram success.
In this article, we look in-depth at a range of impressive free and premium Instagram analytics tools. We will discuss the different metrics they report on, and how these insights can help you to tailor your brand's Instagram behavior. By the end of reading, you will have a good idea of the features and functionalities each tool provides, as well as how to analyze the data provided, and then use this data to improve your Instagram performance. Let's get started…
Why You Should Track Your Instagram Analytics
No two Instagram analytics tools are the same and each tool that we discuss in this guide will track different metrics. However, there are overarching benefits to tracking your Instagram performance, whatever metrics you focus on. So, what can you learn from monitoring your Instagram analytics?…
Learn What Content Works
Using one of the Instagram analytics tools that we will discuss in this article, you can monitor the success of each piece of content you post on Instagram. As well as how many likes, shares, and comments an image receives, you can also monitor follower growth, and overall reach and impressions made. This information will help you understand what content is working on Instagram and what isn't. You can then shape your content management strategy accordingly.
Understand Your Audience
Instagram analytics tools can give you great insight into who your audience are and how they behave on social media. Demographics such as age, location, language, and gender, can help you understand exactly who makes up your Instagram audience. And learning more about the interests and online behavior of your followers can then help you tailor content that will directly engage with your target audience.
Track the Performance of Your Promoted Posts
Tracking the performance of your Instagram ads and promoted posts is a crucial task. You need to know if your ads are achieving their goals, and if you are seeing a return on your investment. By split testing, you can also find out what ad designs best appeal to your audience and ensure that you display ads that will see top results.
Use Metrics to Inform Your Instagram Strategy
By understanding how your brand is performing on Instagram you will get a clear picture of how to move forward. You will be able to plan for future content, select successful filters and hashtags, understand key times to post, and much more. Understanding your Instagram metrics will enable you to set appropriate targets, adjust and achieve objectives to drive engagement, and ultimately convert against your long term goals.
Measure Your Performance
Justifying spending time and money on Instagram can be difficult. Analytics will enable you to track results, prove ROI, and detail how your Instagram presence is impacting your business.
Evidently, moniting Instagram analytics is extremely important if you want your brand to see success on Instagram. So let's now consider the numerous Instagram analytics tools that are available, and find out what metrics they each focus on and track…
Instagram Analytics Tools
Many of the Instagram analytics tools that we will discuss in this guide have similar and overlapping features. To save me repeating myself, for each tool I will concentrate on just a couple of its top features. These features will be discussed in-depth, giving you a good idea of how each feature can be used to help improve your Instagram performance. I will try and select features that are unique to each individual tool, or are a main focus for each solution.
As well as this, I will also try and give a brief overview of other analytical tracking features that each tool provides. This should help you understand what each tool offers, how they differ from each other, and which tool is a best fit for your brand. You will also get a good insight into the analytical possibilities of these tools, what metrics you can track, and how these results can be interpreted and ultimately help with your Instagram campaign.
I have tried to include a mixture of free and premium Instagram analytics tools, although most of the solutions mentioned will cost you. It is also worth mentioning that these tools are in no particular order, as the solution you choose should be based on your Instagram needs, not the recommendation of someone who doesn't know your business or audience. Let's get started…
Instagram Insights
Instagram Insights is Instagrams very own analytics tool, which is available if you upgrade your Instagram account to Instagram business. This is free to do and a very quick and easy process simply involving connecting your Instagram account to your Facebook page. To do so, simply open your Instagram app, select Settings > Switch to Business Profile, and then follow the steps in the process.

Once your Instagram account has been switched to Business, you will gain access to your account's analytics. Here you can view insights into your posts, profile, stories, and promoted posts. Let's take a look more closely at what you can learn from Instagram Insights…
View Instagram Profile Information
Instagram Insights provides a range of metrics based on your profile page. You can view profile visits, the number of followers you have and how many you have gained or lost over the past week. You can also see how many click throughs you have had from your Instagram bio link.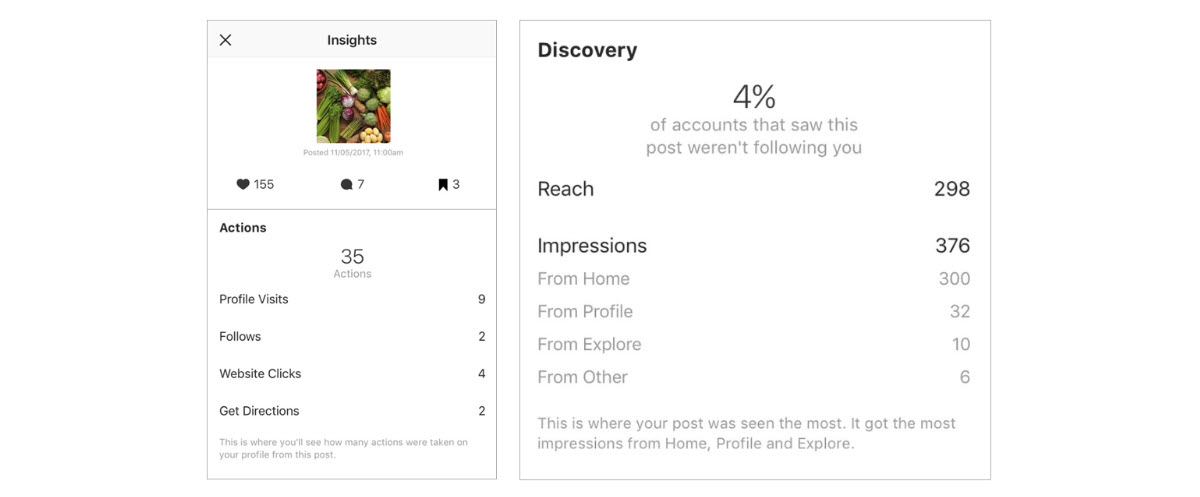 This data enables you to see at a glance the recent success of your Instagram profile, whether your following is growing, and if your Instagram presence is driving traffic to your chosen URL.
Learn How Your Posts are Performing
Instagram Insights provides a useful breakdown of how your posts are performing, and how your audience is reacting to them. You can view…
Likes – How many people have liked each post.
Comments – How many comments each post has received.
Saves – The number of users who have saved each post.
Actions – The number of actions that took place after a post has been viewed (ie – following your profile after viewing a post).
Discover – This displays metrics on reach and impressions, helping you understand where your posts are being discovered.
This information will enable you to see which posts are engaging with your audience, and give you a good overview of how your Instagram posts are performing.
Other Analytical Tracking Features from Instagram Insights
Let's have a quick look at a few other key analytics that Instagram Insights enables you to track…
Access information on audience demographics.
Learn how your promoted posts are performing.
Monitor the performance of your Instagram Stories.
As you can see, Instagram Insights provides a range of metrics that are great for influencers, small businesses, and those just wanting a clearer picture of their Instagram analytics. However, for those of you wanting more advanced and in-depth reporting, then you should consider using one of these following Instagram analytics tools…
Sendible
Sendible is an in-depth social media management tool, that will enable your team to manage numerous clients from within one central dashboard. Use this solution to organize content across all social media platforms, simplify publishing processes, and monitor results. But what Instagram analytics tools do Sendible offer? Let's find out…
Track the Impact Instagram Has On a Website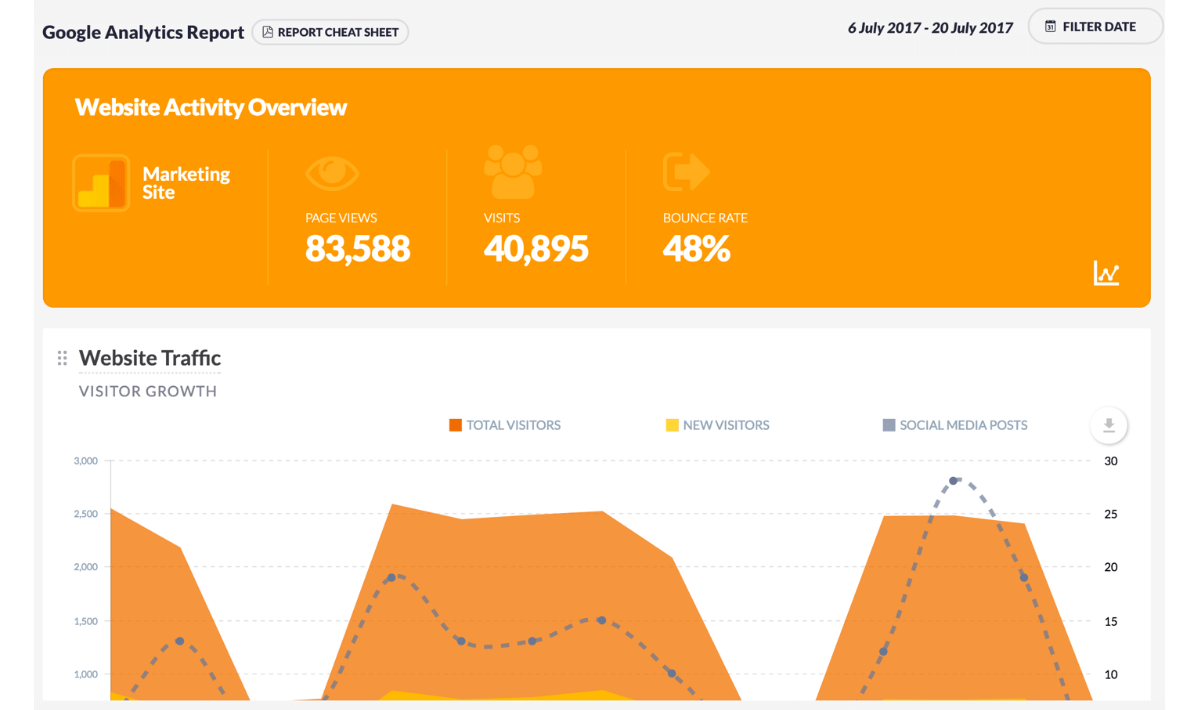 Google Analytics is at the foundation of Sendible and will help you understand the impact your Instagram strategy is having on a website. You can track the effects social media campaigns are having on a site's visitor numbers, page views, content popularity, and much more. This is powerful information that will help you prove the worth of your Instagram campaigns to clients.
Create Custom Reports

Sendible will enable you to create custom reports, allowing you to show your clients information on exactly what they have asked for. Break down data and create presentation-ready reports, which will not only show clients how their brands are performing on Instagram, but also demonstrate and justify your teams' work.
Other Analytical Tracking Features from Sendible
Sendible is an ideal tool for large social media management organizations, departments, and teams. So let's see what else it offers…
Monitor Instagram engagement.
Track mentions of your brands across all social media channels.
Measure the response times of your team.
Identify optimal times to post.
For the services it provides, Sendible is surprisingly cheap. Costing anywhere between $20 a month for solopreneurs, to $200 for large social media management teams, Sendible caters for all budgets and Instagram analytics needs. Sign up here for a free 30 day trial.
Iconosquare
Iconosquare is an Instagram and Facebook marketing tool. You can use it to schedule posts, manage your online presence, and track your social metrics. Inconosquare tracks a wide range of metrics, making it a great tool for influencers and businesses alike.
Track Your Community Growth Over Time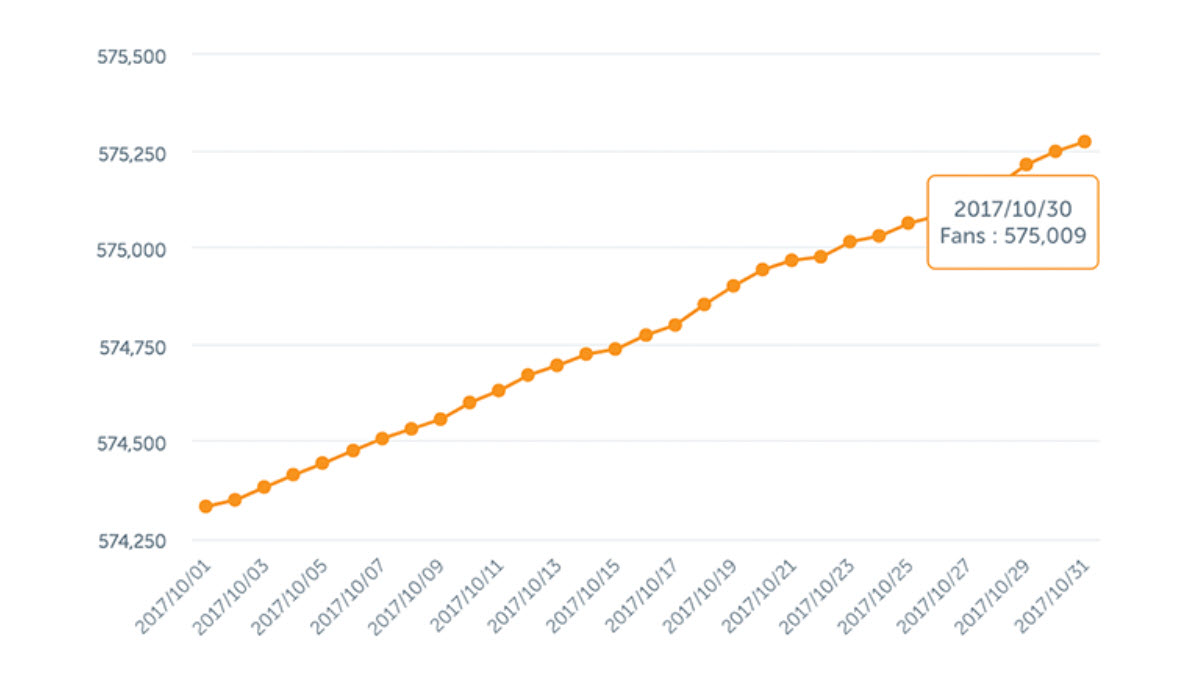 Inconosquare enables you to track your community growth over time. Reported in a visual graph format, you will be able to quickly see at a glance whether follower numbers are increasing or decreasing and what your current follower numbers look like. This data will help you pinpoint any spikes, or downturns, in follower numbers, and act as an indicator that your Instagram strategy is on track.
Discover Audience Demographics
Another useful area of reporting from Iconosqaure is the audience information that they provide. This enables you to find out where your followers are from, whether they are male or female, their ages, and more.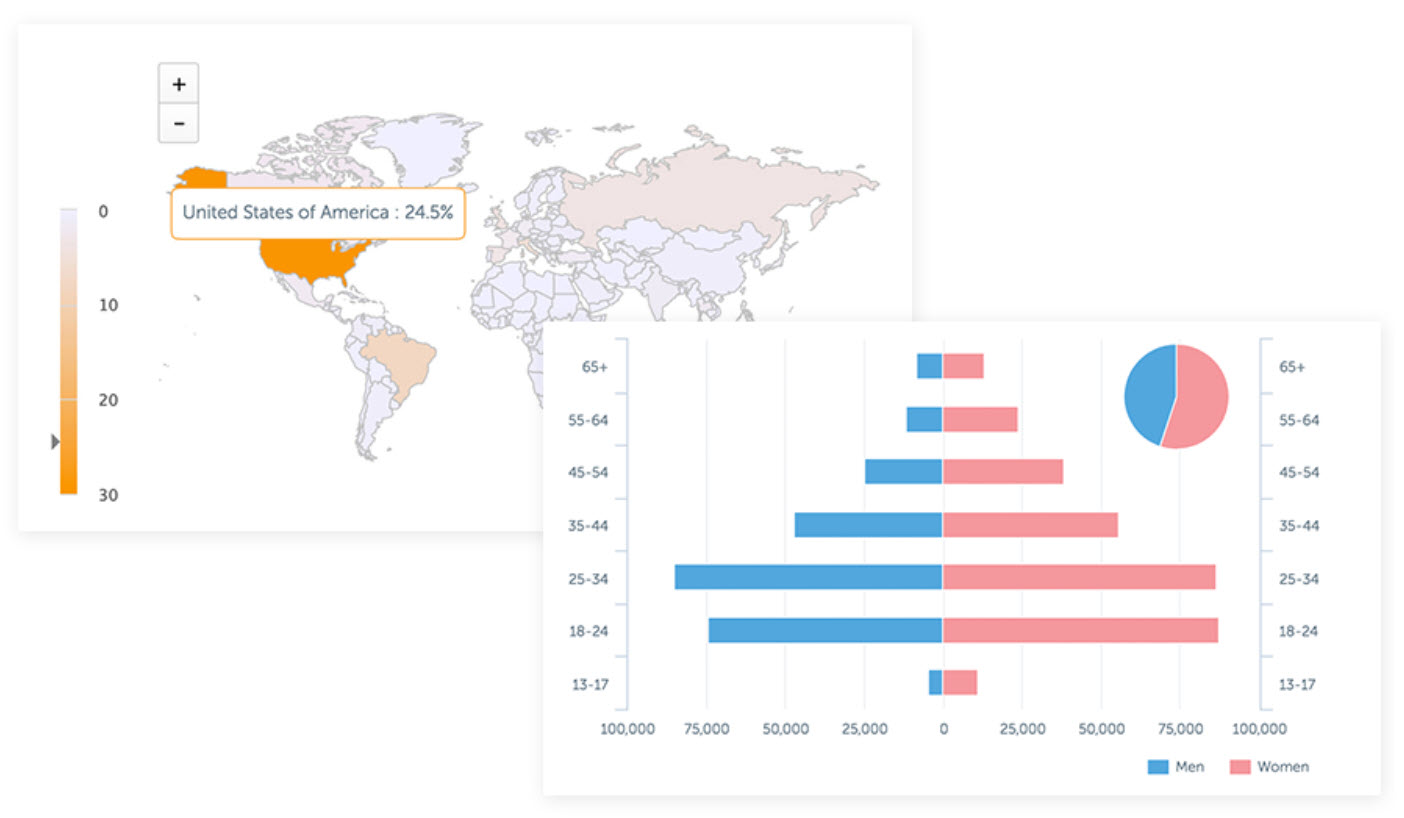 You can use this data to build a picture of your audience base on Instagram, which may well differ from other social platforms. You should then tailor your content, and Instagram presence, accordingly to help you specifically target and engage with this following.
Other Analytical Tracking Features from Iconosquare
Iconosquare is a feature-rich tracking tool and we have hardly touched the sides in terms of what it offers. Here are some further Iconosquare features that need a mention…
Compare how your posts are performing in real-time.
Measure reach and impressions for your profile and posts.
Monitor different types of engagement on each post, like comments, likes, and more.
Access detailed insights on Stories.
Track hashtag performance.
The Iconosqaure service starts at $39 a month, with plans catering for small businesses and professional marketers, to marketing teams and agencies.
SquareLovin
SquareLovin is a social media solution that which boasts an effective Instagram analytics tool. Using SquareLovin you can get insights into your recent posts, Instagram growth, your communities' preferences and interests, and much more. Let's take a look…
Learn From Community Interaction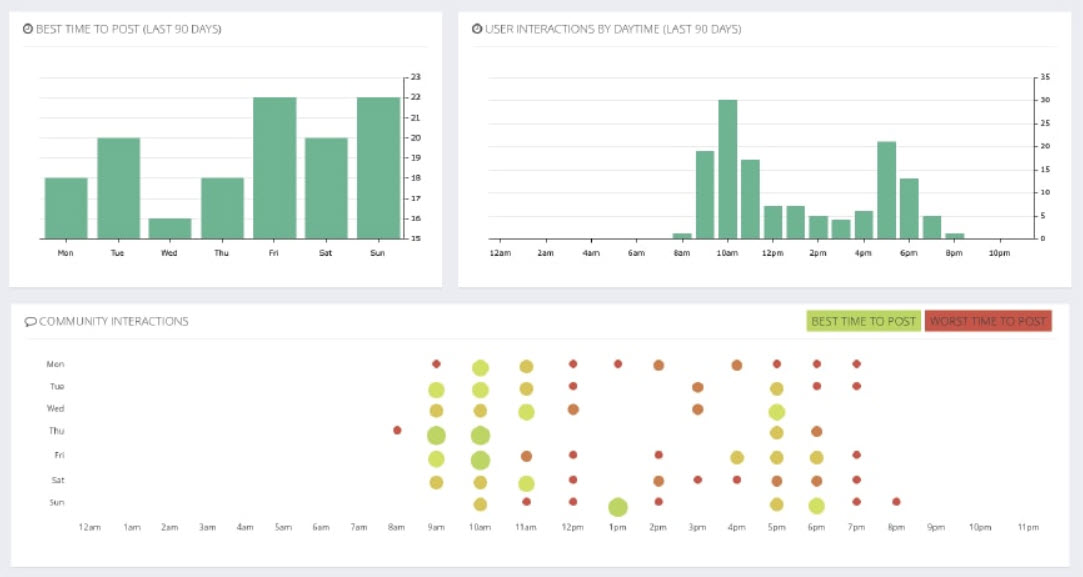 SquareLovin provides a number of reports on community interaction. This data will help you to identify when your audience is present and engaging with your content on Instagram. By publishing photos and images on Instagram when your key audience is online, your posts will receive higher engagement levels and reach a wider audience. Importantly, this is also the time when you should be online, commenting, liking and generally interacting with your community.
Monitor Hashtags
Instagram analytics tools can give you a great insight into popular hashtags, helping you understand which hashtags improve engagement. Squarelovin enables you to track trends in your hashtag usage, so you can make decisions on which hashtags to use based on actual data.
Other Analytical Tracking Features from SquareLovin
SquareLovin works with some big names including Schwarzkopf, Paul Hewitt, Jack Wolfskin, and Marc O'Polo. Here's a roundup of further features SquareLovin offers…
Review individual posts' performance.
Track what type of media most appeal to your Instagram audience.
Find out which filters receive the highest engagement levels.
Learn more about your followers.
The SquareLovin Instagram tool is free to use. Simply sign up, connect your Instagram account, and get analyzing.
Simply Measured
The Simply Measured mission is to 'help marketers generate actionable insights from social data'. With the information provided by Simply Measured, you can do your job better and faster. So what does Simply Measured measure?
View Data from Instagram Stories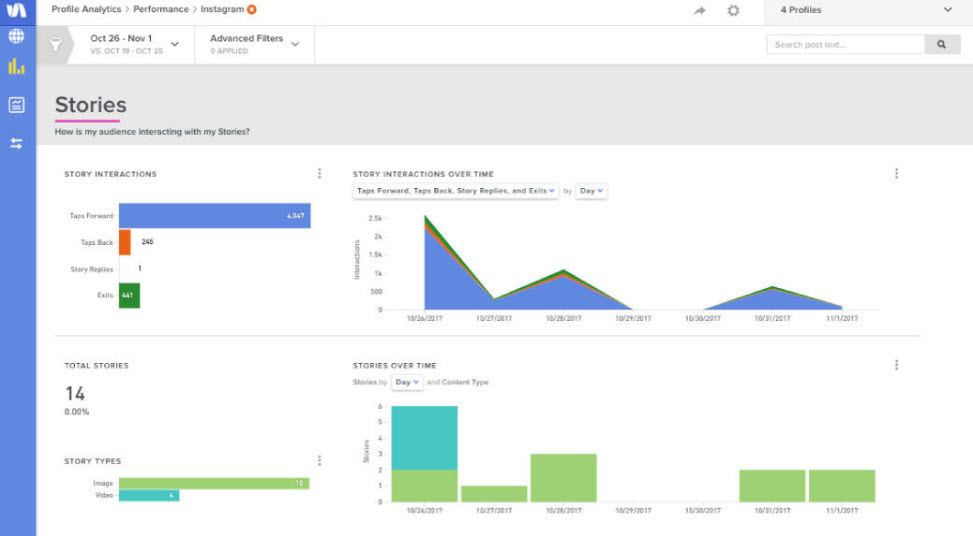 Simply Measured enables you to closely track Instagram Stories, to see what content is engaging your audience. With Instagram Stories insights you can set strategic goals and track results including impressions, reach, views, replies, exits, and more. This data can help you to understand what is working, and should be used to inform your future Stories campaigns.
Compare Daily Engagement Across Social Media Platforms
Another useful feature from Simply Measured is the tracking of engagement across social channels. Learn at a glance how each channel is performing on a daily basis. Then filter by channel, media type, text, and hashtags, to get in-depth analysis on engagement.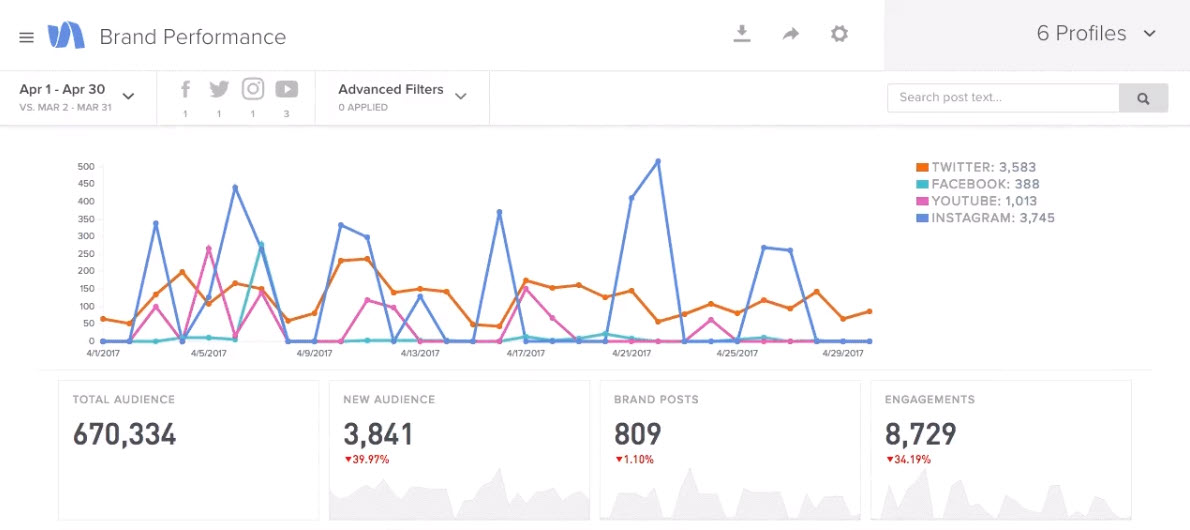 This information can be used to see how Instagram is performing in contrast to other social channels. Each social channel needs to be treated differently, and this data will help highlight what elements work where, and ultimately streamline your Instagram strategy.
Other Analytical Tracking Features from Simply Measured
Simply Measured provides a wide assortment of tracking tools and data. Here are a few more features that need to be mentioned…
Track impressions, reach and engagement rates.
View post type stats, including videos views and carousel data.
Monitor word, phrase, and hashtag filtering.
Apply custom tags to posts to track campaign performance.
Receive automatically generated reports created from your Instagram data.
Providing analytics for big businesses like Adidas, Brooks, and Redfin, Simply Measured is an ideal solution for those with a large Instagram and social media presence. Prices from Simply Measured are provided on request.
Hootsuite
Hootsuite is a popular and impressive social media tool that caters for a whole range of social media needs. Features include post scheduling, content filtering, ad management, and of course analytics tracking, to name a few.
Monitor Social Sentiment Around Your Brand
It is important to monitor the sentiment around your brand, helping you understand how people feel about your business, and how this feeling is changing over time. With Hootsuite, you can not only measure sentiment, but also filter sentiment metrics by location, language, and gender. This knowledge will enable you to manage any negative sentiments, or capitalize on the positive.
Tap into Insights From Over 100+ Million Sources
Hootsuite Insights accesses data from over 100+ million sources, across 25+ social networks and other platforms, and in 50+ languages. This allows you to tap into conversations happening across the web, letting you know what is trending, and helping you to plan your Instagram content strategy accordingly.
Other Analytical Tracking Features from Hootsuite
Let's see what else Hootsuite offers in the way of analytics…
Measure the performance of your posts, monitor hashtags, and monitor social growth over time.
Track commonly used words and phrases used in searches for your brand.
Keep track of competitors.
Export reports to prove your social ROI.
Set alerts to notify you instantly if there is a change in sentiment around your brand, engagement volume spikes, or another measure dramatically alters.
Hootsuite has a range of free and premium plans to choose from. So whether you have just started growing your Instagram following, or you are part of a large organization or team, Hootsuite will have something to fit your needs.
Socialbakers
Socialbakers is a free Instagram analytics tool for personal and business profiles. You can view statistics on your Instagram posts, find out which images are most popular, learn what increases engagement, and much more. Let's have a closer look at some of Socialbakers' top features…
Track Your Most-Liked Posts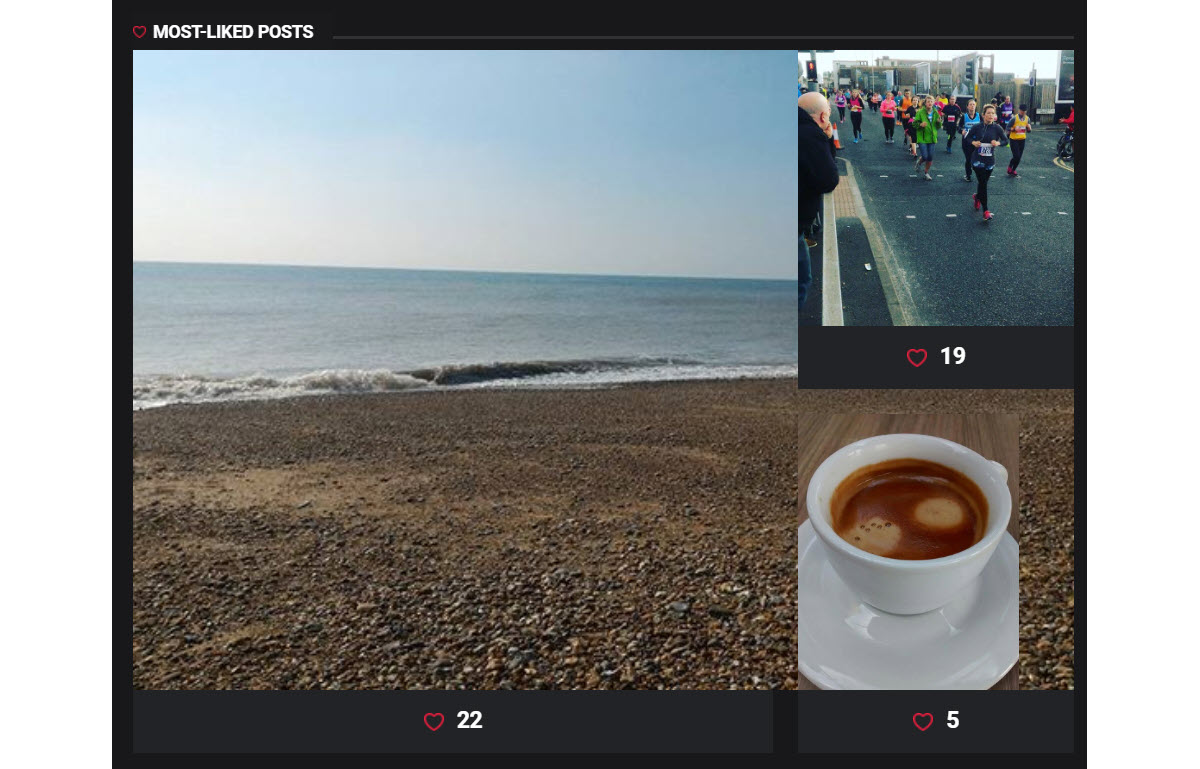 Socialbakers provides a break down of your most liked posts. It displays a visual list of the posts, along with the number of likes each post has received, enabling you to quickly see at a glance what content is making an impact with your audience.
This information is basic but extremely important. By understanding what images are pulling in the most likes, you can quickly tailor your Instagram content strategy to produce more of the same, or similar, posts.
View Your Top Filters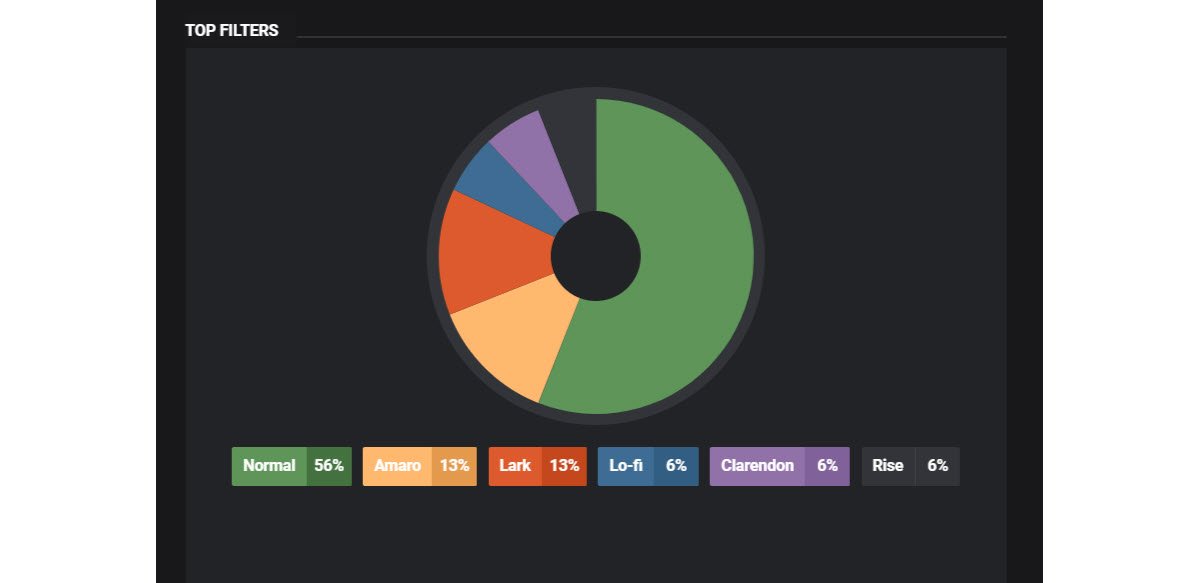 Socialbakers reports on your top filters, breaking down the results into an easy to access pie chart. This data can be useful during the design process for each Instagram post. If your audience is particularly responding to one filter type, then you should consider using this filter as your go-to for the majority of your images.
Other Analytical Tracking Features from Socialbakers
Although this free tool does provide fairly basic reports, it is a great solution for those just starting off in the world of Instagram analytics. Let's take a look at some other features from Socialbakers that you can make use…
View your distribution of posts per month.
Monitoring hashtag use.
Track your most-tagged users.
Monitor your most commented-on posts.
If you are looking for more advanced features, but like the layout and user-friendly experience that Socialbakers provides, check out their premium solution, Socialbakers Suite…
Socialbakers Suite
Socialbakers Suite is an impressive tool, that offers a wide assortment of features for in-depth tracking of Instagram analytics. Here is a couple of its best…
Generate Customer Personas

Socialbakers Suite can use AI to generate personas for your audience and customers. This is extremely useful, as these personas can then be analyzed, and from the information, customer-centric content, that resonates with your target audience, can be produced.
Create head-to-head Facebook and Instagram Comparisons
For many brands, Facebook and Instagram are the two key social media platforms where most of the social media marketing budget will be spent. Therefore, analyzing your brand's performance on these two platforms, and how the results compare, is an important task.
Marketing on every social media platform differs dramatically, and you will often find that you connect with a very different audience on Facebook than the one present on Instagram. Comparison results between the performance on Facebook and Instagram will enable you to pinpoint how your approaches to each platform should differ. Importantly, these reports will also help you distribute resources and budget in the future.
Other Analytical Tracking Features from Socialbakers Suite
As you can see Socialbakers Suite is much more feature-rich than its free counterpart Socialbakers. Here are some of its other offerings…
Track and respond to conversations about your brand.
Analyze your brand's performance across all social media channels.
Compare your Instagram presence and success to your rivals.
Easily share automated reports with your team.
Socialbakers Suite starts from just $20 a month, per social profile. For larger businesses, prices are available upon request. Socialbakers Suite also offers a free personalized trial of their solution to give you a good insight into the services they provide.
Sprout Social
Sprout Social is a powerful social media solution that helps businesses, brands, and professionals manage all areas of social media. From publishing and engagement tools to analytics, Sprout Social can support any company throughout their social journey. Sprout Social also provides an Instagram Analytics Suite, helping you to analyze your data and make better Instagram related decisions. Let's take a look…
Track Your Latest Instagram Campaign
Within Sprout Social's Instagram Analytics Suite, you can easily track your latest organic campaign to gain an understanding of how it is being received. Simply tag your posts and then view data showing the numbers on impressions, reach, and click throughs.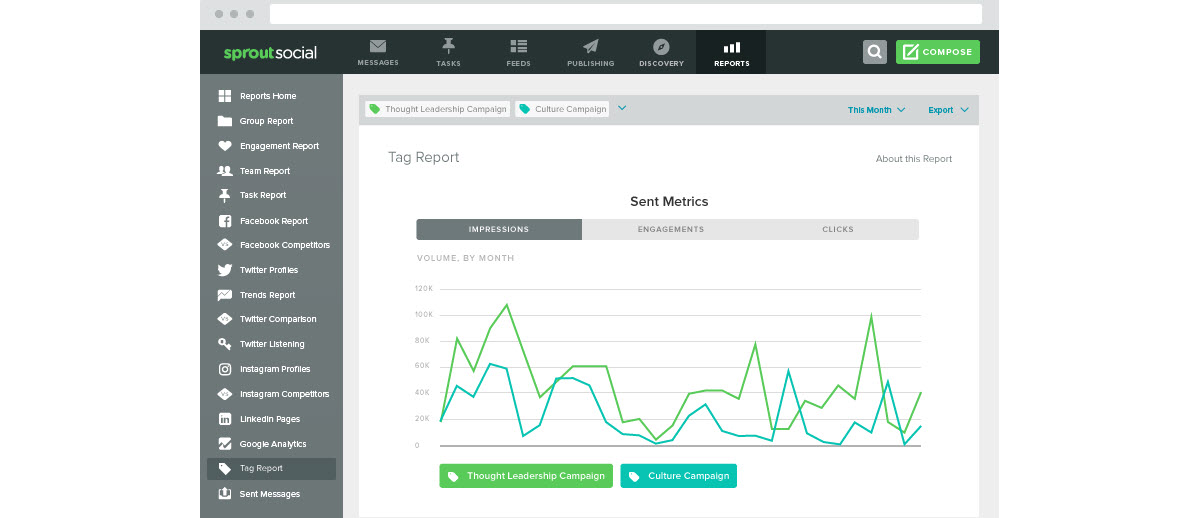 With Sprout Social's Instagram Analytics Suite, campaigns can be compared, and data can be tracked across set time periods. You can use this data to analyze and quantify how successful each Instagram campaign has been.
Monitor Your Team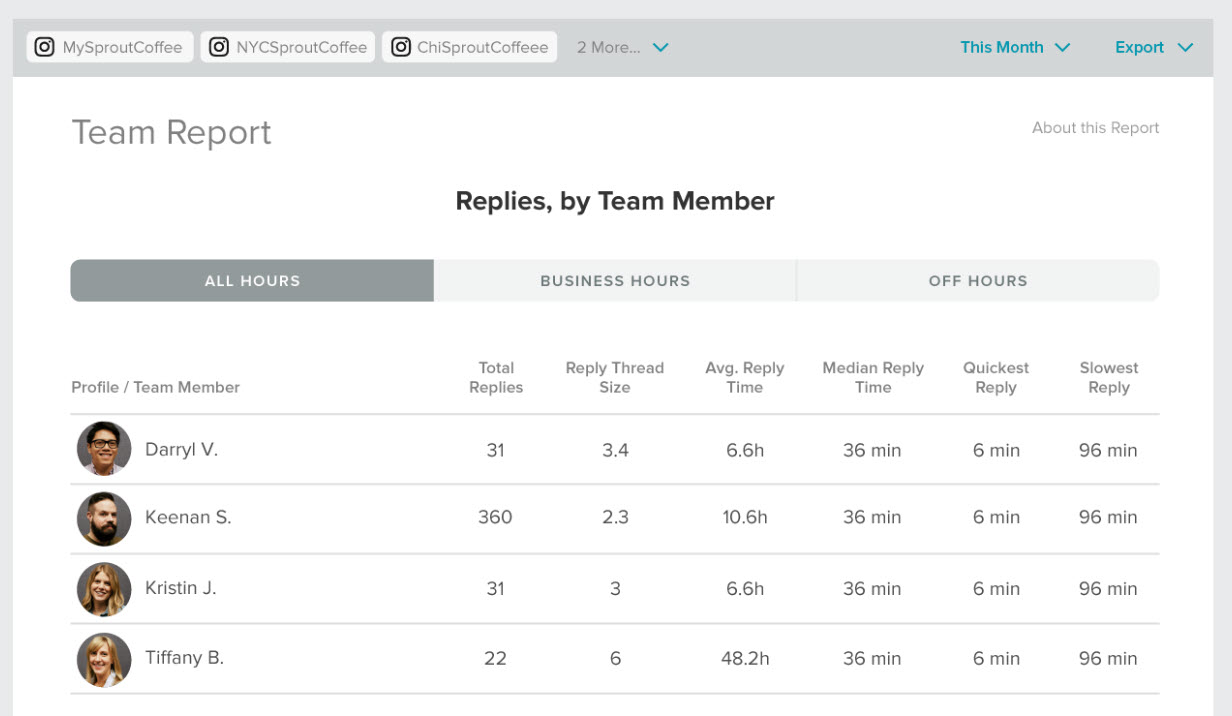 A useful feature for large organizations is a team reporting tool. Sprout Social reports on team performance, breaking down data so you can see exactly how each team member performed. Find out the total number of replies each team member made on Instagram during a fixed time frame, what their average reply time was, and much more. This data can be used to hold your team to account, as well as reward and motivate individuals.
Other Analytical Tracking Features from Sprout Social
The numerous analytical tools and features that Sprout Social provides is extensive. Here are a few more useful reports that Sprout Social will product if you sign up with their service…
Access reports on your competitors' performance.
View data regarding your Instagram profile.
Monitor hashtags.
Track engagement of your posts across Instagram.
Sprout Social starts at $99 a month, with a 30-day free trial. Current happy Social Sprout customers include Dropbox, Titleist, Penn, Hyatt, and many more.
KeyHole
Keyhole is a social media analytics company that measures metrics across Instagram, Twitter, Facebook, and YouTube. Results are displayed in easy to read graphs and layouts, taking the pain out of interpreting data.
Track Keywords

An impressive tool that Keyhole offers is their keyword and hashtag tracker. This tool enables you to track keywords, as well as hashtags, in real time on Instagram. Simply type in the keyword, and Keyhole will produce a variety of metrics based on your search, including the number of users mentioning it, top posts including the keyword, the demographics of those using the keyword, and much more.
You can use this information to gain an understanding of how your audience is responding to your keywords. Keyhole also gives you a number of related keywords, which you can then plan into your Instagram strategy if appropriate.
Find Influencers to Promote Your Brand

Another useful feature Keyhole provides is their influencer tracker. Keyhole tracks the most influential people who are engaging with your brand. Once you know who these people are, you can then reach out to them to promote your content and gain exposure for your business.
Other Analytical Tracking Features from Keyhole
Keyhole provides a range of Instagram metrics. Here are some of its other useful tracking and reporting features…
Learn how to create top posts from the optimization data Keyhole provides.
Access hashtag analytics.
Uncover competitor strategies.
View all data in real time.
Keyhole prices start from $179 a month, so it isn't for the smaller business. That said, they have some impressive customers, including Google, Shopify, Uber, Mashable, and L'Oreal, so if your budget can stretch to it, Keyhole is worth considering.
Pixlee
Pixlee provides a free Instagram analytics tool that will enable you to monitor your brand, identify top content, and discover emerging influencers in your niche. Let's take a look at some of Pixalee's top features…
Track Account Growth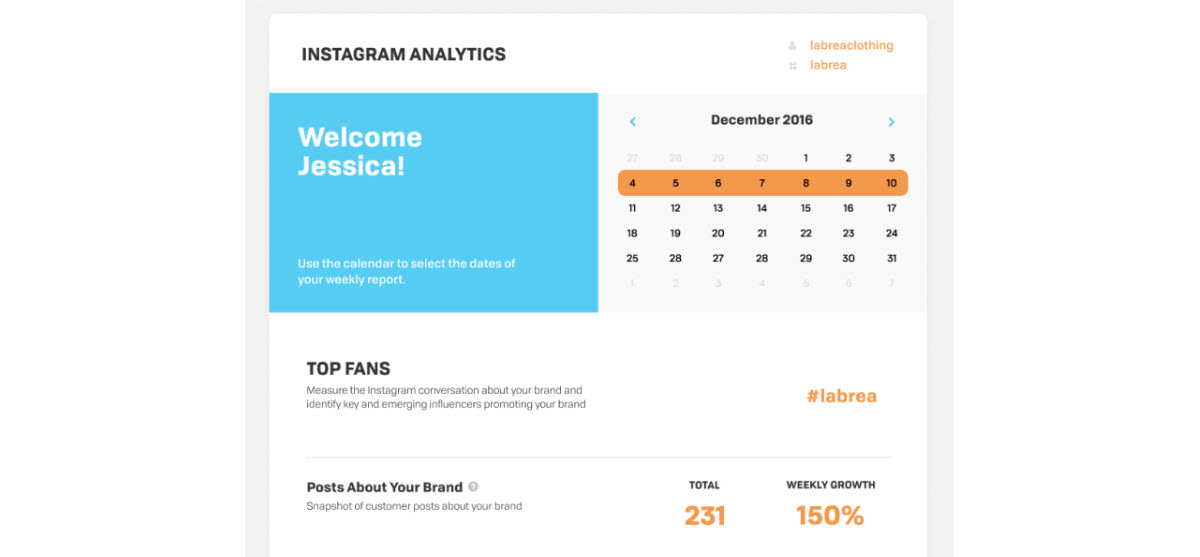 Pixlee provides a number of reports to show how your Instagram account has grown over time. You can track a range of metrics including followers, interactions, likes, comments, and more, all over a set time period. This will give you an insight into your Instagram performance, and help you make forward predictions based on this past data.
Track Your Most-Commented-On Posts
Another useful feature that Pixlee provides is the ability to track your most commented-on posts. You can then use this data for further research. Burrow down to analyze what catalysts generated so much interaction for each post. It could be the type of image you used, a particular question or call-to-action you wrote in the image description, a hashtag that exposed your posts to a new audience, or something else. Once identified, these tactics can then be re-used during future campaigns to increase engagement.
Other Analytical Tracking Features from Pixalee
Although Pixlee doesn't offer the same in-depth features that some Instagram analytics tools provide, compared to other free solutions it is a useful solution. Other features it provides include…
Hashtag statistics and monitoring.
Identifying top performing content.
Monitoring what brand advocates are posting about your brand.
Shareable weekly reports.
Pixalee maybe isn't a great option for large brands, but for Instagram influencers, or small businesses, this is an ideal solution.
Minter
Minter provides a range of tools for agencies and businesses, as well as individuals. Using Minter, you can easily manage multiple accounts all from one dashboard, create unlimited reports, and integrate your account with Slack to enable you to share data with your team and clients. So what metrics can you track…
Find Out Which Post Types Best Engage Your Audience

Minter displays user-friendly pie charts and graphs to enable you to see at a glance which post types best engage your audience. Instagram provides numerous ways to display your images, from single image posts, to carousel, and video, to name a few. It is important to understand which post types your audience responds too, so you can ensure your future posts are designed with this data in mind.
Track your Instagram Traffic to Your Website
Minter will track how much traffic is arriving at your website from your Instagram profile. By adding a trackable link to your Instagram bio, you can gain valuable insights into whether your Instagram following is converting to website visitors. You can also schedule your bio link to change automatically at a specific time and date in the future.
Other Analytical Tracking Features from Minter
As with all the other Instagram analytics tools we have mentioned so far, Minter has a wide assortment of features for tracking your Instagram performance. Let's take a look at what you can do with it…
Measure audience growth.
Find out which posts best resonate with your audience.
Track profile data.
Monitor your Instagram Stories.
Prices for Minter start from just $9 a month, and for agencies and businesses from $16 a month. You can also sign up for a free trial, no credit card required.
Quintly
Quintly enables you to track, benchmark, and optimize your social media performance. Providing analytics for a range of platforms, including Facebook, Twitter, YouTube, Google+, Pinterest, and of course Instagram, you can easily monitor how your brand is performing across the board. But let's take a closer look at what Quintly offers in terms of Instagram analytics…
Compare Your Social Presence with Competitors
Quintly will allow you to conduct competitive analysis by comparing your brand to others in your industry. You can create custom groupings and benchmark your data against competitors. This will help you to understand the performance of your brand, as well as give you insight into your competitors successful Instagram strategies.
Create Custom Metrics with QQL
QQL, the language of social analytics, allows you to define and write your own custom metrics. Therefore, using QQL, you can adapt any metric to your own marketing and Instagram goals. This personalization of analytics enables you to track what is important to your business, and ensure you receive data from Quintly that matters.
Other Analytical Tracking Features from Quintly
Quintly is an extremely feature-rich analytics tool. Let's take a look at some of its other impressive features…
Measure all relevant follower metrics.
Analyze reactions to your Instagram content.
Monitor reach and impressions of all posts.
Track the performance of your Instagram Stories.
Quintly offers a number of plans, with the cheapest starting at $100 a month. This Small plan will enable you to connect up to five social profiles, making it a suitable choice if your key focus is mainly Instagram.
Rival IQ
Rival IQ is a powerful social media analytics software, that will enable you to make smarter social media decisions. You can use this tool to track your social media success, strengthen your social media strategy, and monitor your competition.
Track Profile Engagements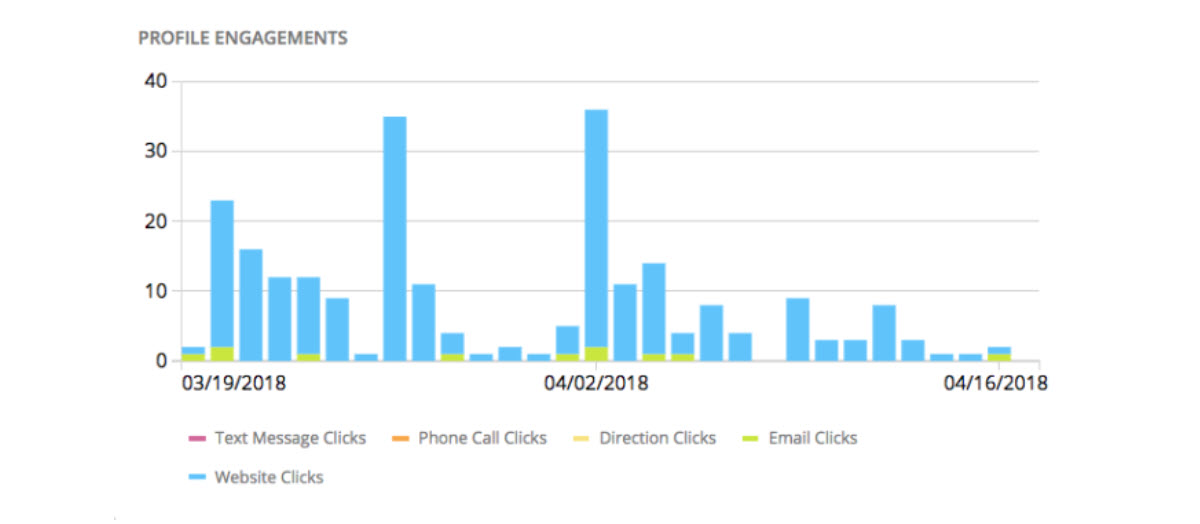 Rival IQ enables you to track how your audience engages with the information you display on your profile. You can monitor how your followers interact with your bio link and contact info like email and phone number. By tracking the clicks these links receive, you will gain an insight into how your audience best connects with you. You can then change the information you display on your bio, including the link, accordingly.
Track Ad Analytics
Rival IQ suite will enable you to track your ad analytics, adding context to your social media spending, and enabling you to gauge return on investment. Track your ad campaigns across a range of key metrics, including total ad spend, advertising engagement, ad costs, and content performance.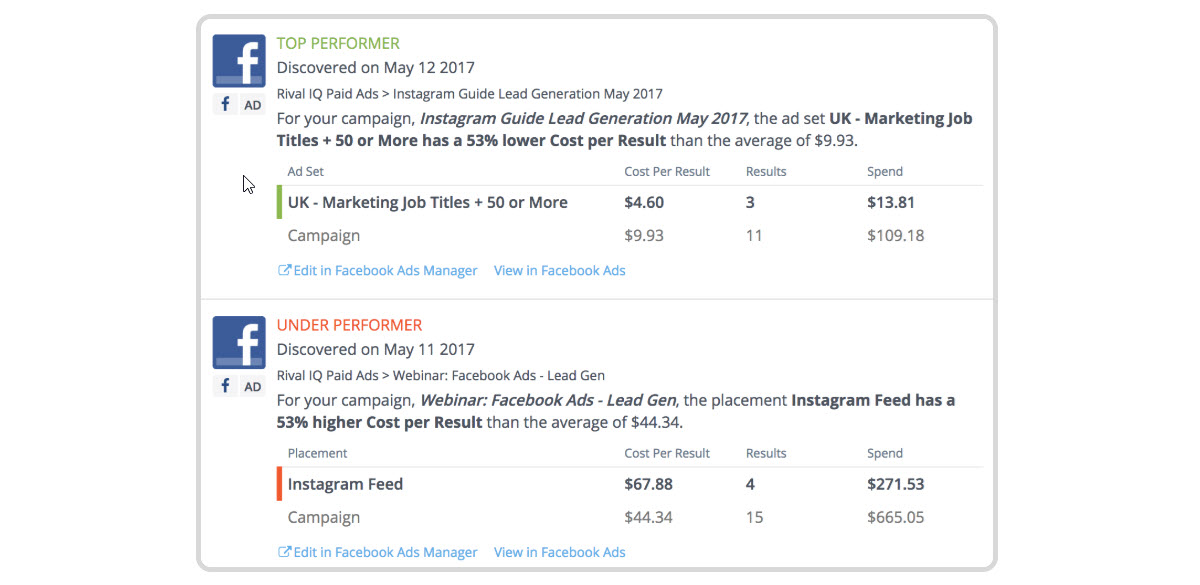 Understanding your ads performance across a range of metrics is a crucial element of advertising, and advertising on Instagram should be no different. By tracking ad performance, you can monitor whether your ads are achieving their goals, whether they are cost effective, what is working, and what isn't. You can then tailor your advertising campaign as needed.
Other Analytical Tracking Features from Rival IQ
Rival IQ tracks a wide assortment of metrics across numerous social media platforms. Let's see what else it offers in terms of Instagram analytics tracking…
Benchmark your performance against the competition.
Monitor trends to discover new content ideas.
Track your Instagram Stories performance.
View audience demographics.
Understand how followers engage with your profile across a range of metrics.
Rival IQ offers three premium plans, starting at $199 a month, However, for specific Instagram insights tracking you will need to opt for one of their top two plans, starting at $349 a month.
Union Metrics
Union Metrics is a powerful tool that provides insightful metrics for Facebook, Twitter, and Instagram. Using its intelligent data, you can confidently and quickly make decisions that will greatly impact on your social strategies. Let's take a look at what Union Metrics offers in the way of Instagram analytics…
Track New Trends
With Union Metrics you can keep up to date with trends, and identify new trends as they emerge. This information will enable you to capitalize on new conversations from the get-go, and ensure you keep ahead of your competition.
Real Time Results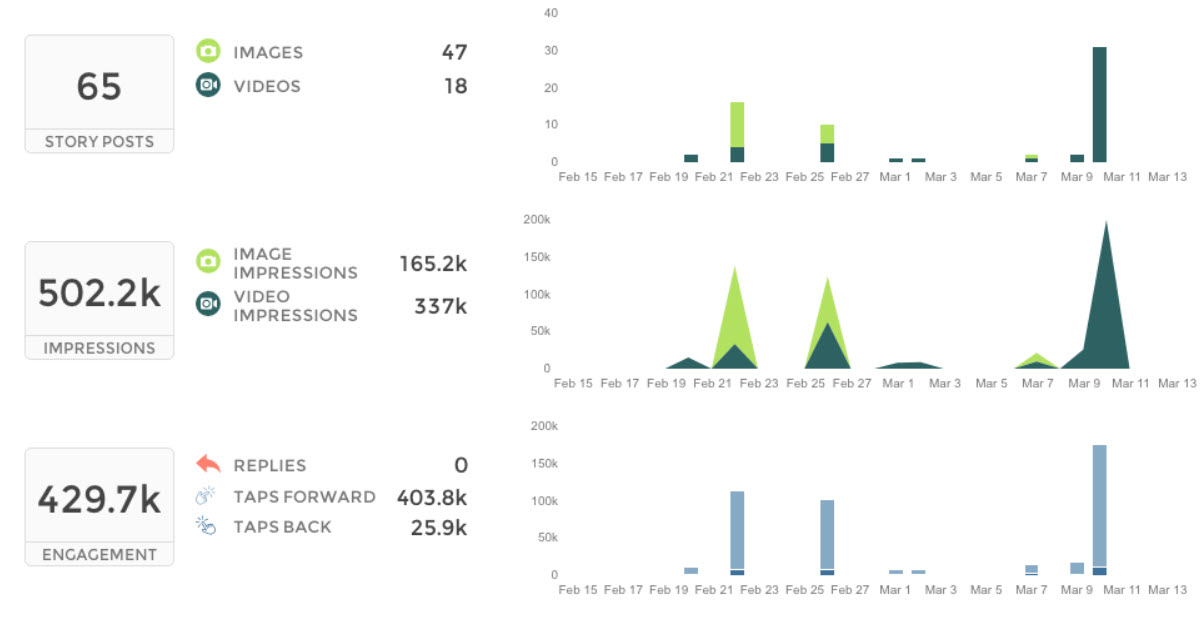 Union Metrics pride themselves on reporting data in real time. Your Union Metrics' dashboard will always be up to date with the latest insights, so you can track and react to interactions with your Instagram profile, posts, and campaigns, as they are happening.
Other Analytical Tracking Features from Union Metrics
Union Metrics isn't an expensive product, but in contrast, its features are extensive. Let's see what else it offers…
Measure the engagement of your posts and profile.
Track engagement over time.
View Instagram Stories data.
Track sentiment around your brand.
Union Metrics starts from just $23 a month, making this tool an ideal choice for small businesses and influencers, as well as larger brands and companies.
TalkWalker
TalkWalker enables you to centralize all your social media data within the one dashboard. With this tool, you can analyze key metrics from numerous social profiles, and gather data about your followers, customers, campaigns, and competitors.
Filter Influencers
Many Instagram analytics tools will collect data to enable you to find potential influencers in your field. TalkWalker takes this feature one step further, as it provides the tools to let you filter influencers to find those who are a best fit for your brand.

You can filter by country, language, media, reach, engagement rate, sentiment, and much more. You can also track what your influencers are talking about, and what hashtags they are using, to name a few metrics. This will enable you to find the most influential Instagrammers in your niche, which in turn will lead to an increase in followers for your brand, and help ensure ROI for your influencer strategy.
Use TalkWalker's Image Recognition Software
Talkwalker has created an image recognition software which will enable you to track your brand across Instagram, as well as across the web. You can use this software to monitor your brand's visual presence online. You can find all mentions of your logo, and ensure you never miss a mention of your brand in text or visuals. This data is crucial to understand the full reach and engagement of your business.
Other Analytical Tracking Features from TalkWalker
Let's check out what else TalkWalker offers…
Monitor results in real time.
Track campaign and events performance.
View sentiment metrics.
Track social media ROI.
Talkwalker isn't cheap, starting at $500 a month. However, it has an impressive range of tools that make it well worth the price tag, if you can afford it.
Final Thoughts on Instagram Analytics Tools
As you can see, there are numerous Instagram analytics tools available, catering for a range of needs, and tracking a plethora of social metrics. The tool you select should depend on your type of business and audience, and the metrics that you need to track. Once you have selected a solution and have begun monitoring your analytics, ensure that you then use the data to impact your Instagram strategies. By analyzing and learning from the data that these Instagram analytics tools provide, you will be able to improve your Instagram performance across the board, which should lead to further success for your brand.
Which one of these many Instagram analytics tools grabs your attention? Please share any thoughts you may have on this topic in the comments below…
The following two tabs change content below.
Jamie Spencer
My name is Jamie Spencer and I have spent the past 10 years building money making blogs. After growing tired of the 9-5, commuting and never seeing my family I decided that I wanted to make some changes and launched my first blog. Since then I have launched lots of successful niche blogs and after selling my survivalist blog I decided to teach other people how to do the same.
Latest posts by Jamie Spencer (see all)