For many, the all-in-one eCommerce solution offered by Shopify is a great venue for their website, blog, or online store.
The Canadian company was founded in 2004 and its software was originally used for an online snowboard store. It's an eCommerce solution that provides bumper to bumper coverage for online shops with only a minimal amount of technical savvy needed to set up a store in a short period of time. Shopify exclusively serves as an eCommerce solution unlike some of its competitors that primarily provide related services but also offer eCommerce plans.
It's not for everyone though. While Shopify has a lot to offer online businesses and people starting a new business, it has an on-board blogging platform that's not as easy to use and full-featured as WordPress, a customization set up called Liquid that has a steep learning curve, and terms that aren't as commonly used and take some time to get used to (for example, collections is used where more commonly it would be called categories).
If you're looking for a strong alternative to Shopify for your online business, we've put together a list of similar eCommerce solutions for you to consider, ordered from beginner to advanced options. There's something here for users of all experience levels and all business types.
Keep in mind that Shopify offers a hosted solution which means they take care of the domain (a subdomain, if you want your own domain name you can purchase it from Shopify but you need a little tech savvy to point it to your site), web hosting, shopping cart software, and SSL (Secure Socket Layer) protection for your customers. That also means they handle security upgrades and configurations. Some of the Shopify alternatives on our list are also hosted solutions for convenience.
A few are self-hosted meaning you'd need to acquire the domain name and web hosting yourself then install your software and setup it up as desired for your business. You would be responsible for any software and security upgrades to keep your site fully protected, and providing your own SSL which is a lot less expensive than it once was per year and now, much easier for the non-technical to implement and install.
There's more work for you to go with a self-hosted option, and some know-how required unless you can hire a coder, but it allows for greater freedom of customization and control over your online store. It also allows you to keep your data private from third party companies.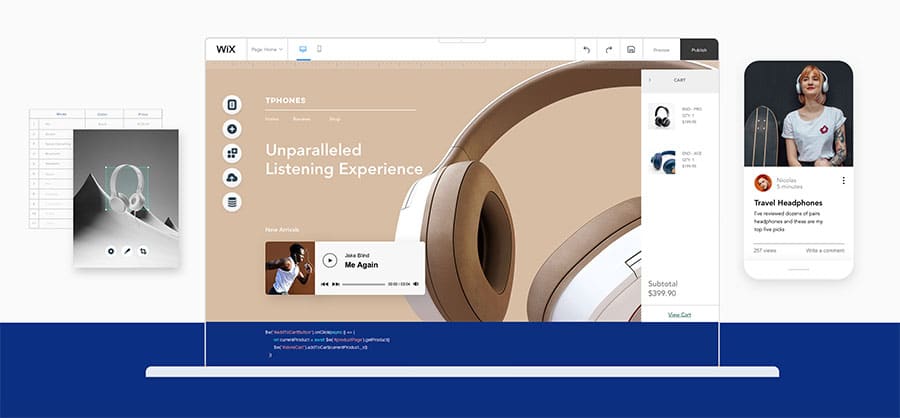 Wix, an Israeli-based company founded in 2006, is very similar to Weebly in that it offers the use of online drag-and-drop tools, but is a lot better in terms of usability and functionality. Wix is a cloud-based platform that allows users to create HTML5 and mobile sites easily and add a variety of plugins, apps, and features. Wix earns its revenue through premium services and users will must sign up for at least the $17 per-month plan to gain access to Wix's eCommerce services.
Wix doesn't offer the wide variety of features that others on this list have, but it's a suitable option for those who want a basic shop and to avoid technical issues. They have a great support staff available to help you build your site and help you with any snags you hit while running it. They allow the integration of several third party tools, also, like Google Analytics, without compromising usability.
Wix is a cost-effective, easy-to-use option for new businesses or those who want to get their business online.
How Wix Compares to Shopify
While Shopify may have a slight advantage over Wix in terms of available templates, features, and number of payment processors it offers, Wix still offers great ease of use with its drag-and-drop capabilities. The only drawback on design for Wix the inability to write actual HTML/CSS, so customizations are out. All of the website elements, design, pages, navigation – are straightforward and easy to configure though.
The prices of the two services are comparable and both offer a 14-day free trial period. Wix doesn't ask for a commission or percentage of sales which is appealing to newer business owners. Wix has some really great core marketing options built in with an app store to provide extensions to those. Wix hosted service provides great speed and security to keep your site safe and running fast to help you make those sales.
Learn more in my Wix Review.
Sign Up For A Free Trial At Wix.com
Weebly – Beginners Option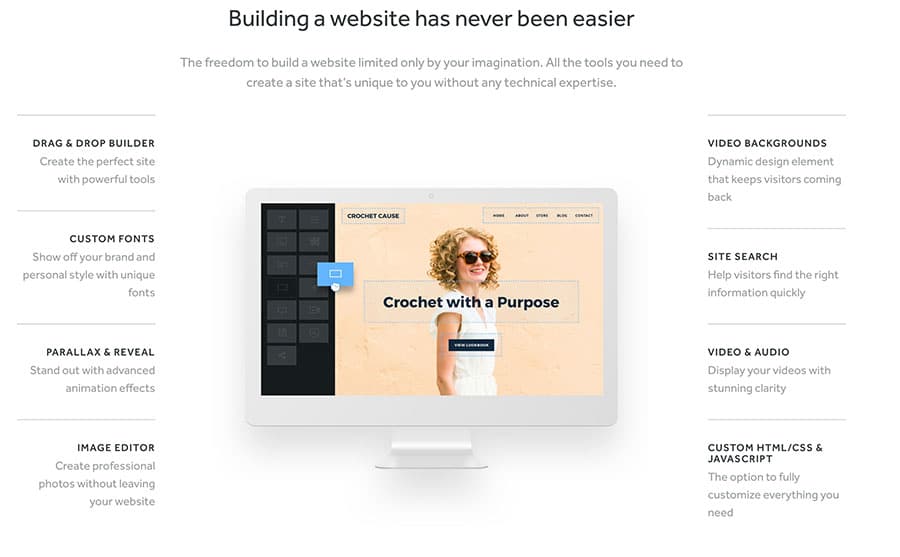 San Francisco-based Weebly, started in 2006, is a web-hosting service offering a drag-and-drop website builder which is perfect for users with little to no HTML or coding experience. It's free online website creator uses a widget-based builder that runs inside the web browser. Each site component is drag-and-drop and a mobile version of each website is generated automatically.
Weebly's eCommerce services offer the same features with hundreds of eye-catching themes to choose from. A 2016 eCommerce update brought in abandoned cart functions along with calculated rates for taxes and shipping. Like Shopify, it's an all-in-one solution that is perfect for someone just starting a business or just getting their business online.
Weebly offers eCommerce in both hosted and self-hosted versions. While the cloud-based (applications, services or resources available to users on demand via the internet from a cloud computing provider's servers) hosted option is available, it's recommended to download Weebly to a dedicated or virtual server with a reputable hosting service instead.
How Weebly Compares to Shopify
Weebly is more user-friendly than Shopify. It's unnecessary for users to master HTML or CSS with Weebly's website builder. By selecting a template and customizing it to suit your needs, you'll enjoy the intuitive interface and simple web design tools available. The customization options are wonderful and make switching up the entire style of the site quick and easy. With the ability to inject custom CSS and PHP code, if you have the know-how, you can create quite a professional-looking site.
Weebly holds its own against Shopify in feature offerings and customer support. It's simple to manage inventory with their well-organized back-end interface, along with your SSL certificates, unlimited storage, listings and bandwidth, coupons, tax and shipping calculator and digital goods tools.
Where Shopify offers a free 14-day trial, Weebly has a free eCommerce plan. They also offer a full-featured online shop you can add unlimited products to, with no transaction fees, for about half the cost of a comparable plan at Shopify.
BigCommerce – Intermediate Option

BigCommerce has a lot in common with Shopify. The Texas-based company has seen incredible growth year after year since their launch in 2009 and their high-powered platform earns high marks for its uptime and performance. The high-quality marketing and conversion tools available at BigCommerce help boost the sales of thousands of clients who use their service.
BigCommerce is a hosted service offering four plans – Standard, Plus, Pro and Enterprise, starting at $29.95. While it's the most expensive Shopify alternative on our list, sellers can begin with a 15-day free trial to take it for a test drive. Regardless of plan, BigCommerce lets you sell unlimited products via multiple channels with no transaction fees. The higher-level plans offer several desirable features like abandoned cart tools, powerful search capabilities, fraud monitoring, analytics, and filtering options.
How BigCommerce Compares to Shopify
While BigCommerce offers a free trial and prices comparable to Shopify's, it offers clients many more ready-to-use features at no extra cost. Users can set up BOGO discounts, gift wrapping options, and much more on the front end of things. It also handles other important issues business owners must take care of such as security implementations and PCI compliance. If there happens to be a feature BigCommerce doesn't offer with your plan, there's an app store like Shopify's and it's likely you'll find it there. Chances are, however, your plan will have everything you need as BigCommerce offers more advanced tools in their plans than Shopify.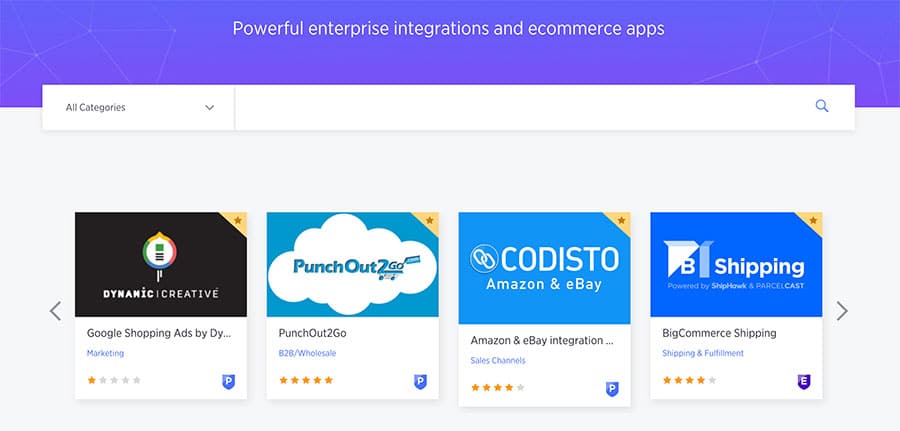 The BigCommerce admin panel is extremely user-friendly, requiring little to no training beforehand. Site owners can easily maintain the site, manipulating their data, categories, and filters without having to hire a coder or delegate to another team member. It's all very easy to understand and use.
BigCommerce offers 24/7 customer service and technical support via phone, email, and live chat. Many other eCommerce services can't make that claim. With someone available to help you any time of the day or night, you can enjoy peace of mind in setting up and running your site there.
Did we mention BigCommerce can be used with over 40 payment processors? They have an agreement with Paypal that possibly offers lower fees than other processors. Shopify can be used with more payment processors than BigCommerce and will waive transactions fees if their in-house payment processor is used. There have been claims, however, that the rules governing use of Shopify's payment processor are very strict and not available to all users.
Check out my guide to BigCommerce vs Shopify
WooCommerce – Intermediate Option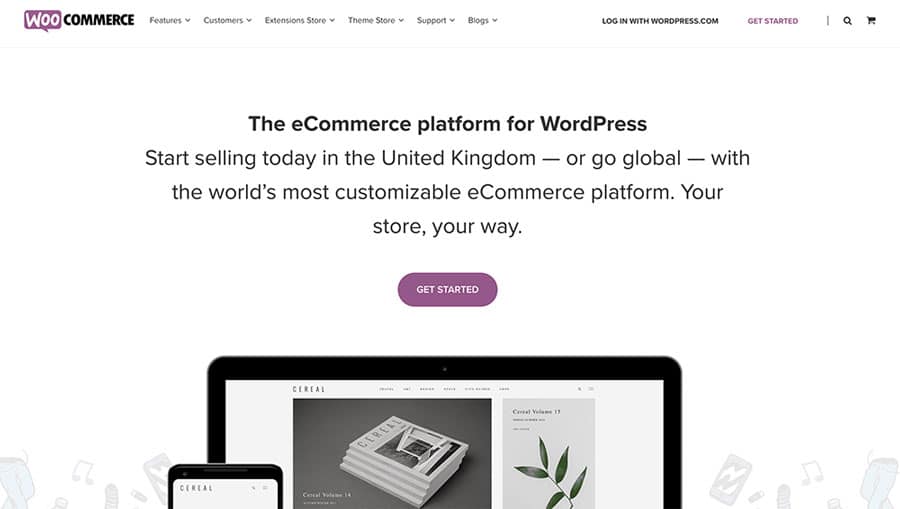 WooCommerce is an open source (software where the original source code is freely available and can be redistributed and modified) ecommerce WordPress plugin, designed for small to large businesses using WordPress. It quickly became popular after its release in 2011 for its simplicity in installing and customizing it. It works seamlessly with WordPress and is very mobile-friendly. That it was free made it even more popular. Today WooCommerce claims on their site to power 29% of all online stores which is an impressive number.
WordPress, the platform necessary to use WooCommerce, is easily the most powerful and user-friendly content management system (CMS) in use today. It's not only free but offered for easy download and installation at most web hosting companies. Using the WooCommerce plugin to create an ecommerce WordPress site is a self-hosted alternative to Shopify.
However, many web hosting companies offer plans that are WordPress specific, such as WP Engine, and usually for those plans the host manages upgrades to WordPress, its themes and plugins for you along with security updates which give this option an advantage over Magento, another self-hosted service, for less experienced users.
While there's a learning curve for those new to WordPress, most find it easy to use in a short period of time and there are countless WordPress how-to guides and tutorials and be sure to check out my beginners guide on starting a WordPress website.
WooCommerce can be used with numerous payment processors and doesn't charge any transaction fees. There are a lot of extensions and add-ons for additional functionality, many of which aren't free.
Aside from that, and your web hosting, there are no other charges to use WooCommerce.
How WordPress Compares to Shopify
WooCommerce offers great flexibility and scalability. Like Magento, it also offers you a way to keep your data independent from a third-party venue. When you consider many of the additional features for Shopify are monthly subscriptions and extensions and add-ons for WooCommerce are usually a one-time fee, it's easy to see how you could save money with WooCommerce long term.
Woocommerce also provides a wide array of analytic tools that you'll need for your business. Shopify only provides such tools/reports starting with their $79 per month plan but with Woocommerce, they are free.
Analytics are important so you can measure the sales of products and sort and analyze the data according to date and brand, measure the statistics for different customers individually or in groups, calculate total sales daily and monthly, measure the number of orders received, track the orders customers are placing, determine peak delivery areas, times and more — all without having to download a separate plugin or add-on or hire additional staff for this purpose.
One final advantage of WooCommerce is security. The point-of-sale (POS) on Woocommerce is not just secure, but supports a variety of transaction types meaning a large number of consumers can use the platform.
Learn more in my guide to WooCommerce vs Shopify
Magento – Advanced Option
Magento, originated by Varian, Inc. of Culver City, CA in 2008, is a worthy self-hosted alternative to Shopify. It's a free, open-source shopping cart, written in PHP that works best for larger businesses. Magento, as of April 2017, is both downloadable and cloud-based. It is recommended, however, even with the new cloud edition, that you run Magento on a dedicated or virtual server which means you'll need to find a hosting service.
Magento offers versatile content management with an intuitive, visual-based editor that allows you to build and customize your shop on the fly. Its mobile-friendly configuration ensures that it will look great across all devices. Magento's platform can support more than 500,000 products on a single site and manage more than 80,000 orders in an hour. SEO efficiency is built in, ensuring an ever-increasing ranking in all of the leading search engines.
Magento handles third-party integrations like a champ, allowing you to connect with Paypal, Ebay, Quickbooks, Mail Chimp, and more. There are a wealth of extensions and plugins available for Magento, saving you from having to build from the ground up — a real time-saver.
Yes, Magento is for those experienced with code or who have the capital to hire someone to put it together for them. The end result for those who can is a powerful, scalable online site that will take your business to new heights.
How Magento Compares to Shopify
While Magento can't be used by everyone, it is the better choice for businesses who want complete control over their online store. Again, you must arrange for the design, hosting, and security yourself. If that isn't a problem, Magento itself is free and offers better on-board multi-lingual support than Shopify.
Did we mention the intelligent filtered shopper search? Magento allows you to improve your customers' experiences with dynamic search features that filter products according to a wide variety of parameters. Utilizing a unique search terms cloud, product reviews, product tag filters, recently viewed products, and the ability to use auto-suggested terms to configure a search.
In addition to all those features, it also offers custom configurations to optimize load-time performance, thousands of apps and add-ons. When all put together, Magento offers businesses an unparalleled level of control over their store and all aspects of it.
Making The Right Choice For Your Business
There are additional ecommerce solutions you can consider as a competitor to Shopify that we'll give honorable mentions to such as Lemonstand, Volusion, Big Cartel, 3dcart, MarketPress Ecommerce (a plugin for WordPress that's similar to WooCommerce) and more.
As you evaluate different ecommerce platforms, you'll want to consider the size of your stock and make sure you're paying the minimum amount of money for the services you require. You'll want to be certain of what products you're selling because the platform you select to sell digital downloads might not be the same venue you'd go with to sell physical goods.
You'll want to know what payment methods you'll accept, whether it is best for you to select a hosted service or a self-hosted service, and determine any outsourcing that will be necessary to establish your online business. Last but not least, you'll want to determine your budget and know exactly how much you can spend on monthly expenses like ecommerce service plans or web hosting.
Also thinking about the future of your business now could save you time in the future. The more affordable option may work just fine for your business at the beginning but if the platform doesn't offer scalabilty, you will face starting over at a future point with an eCommerce service that can accommodate your growth.
If service is important to you, you might consider contacting the support teams at the companies whose services you're considering and asking any questions that you have. Have your questions ready in advance and contact the companies in whatever way you would normally feel most comfortable. In the case of self-hosted ecommerce platforms, take a look at web hosting providers and contact their support teams. See what they can tell you about the ecommerce solution, about their company, and how they can serve your business needs.
Once you've narrowed down the the specific needs of your company, determine which services are the best match. Since most of the options we've talked about offer at least a free trial period, you can try the services you are most interested in out and see which work best for you and your individual business. Going through the trial periods of the services you're interested in will take a little time, but in the long run, you'll be happy you made the effort and, hopefully, rewarded with a successful, growing online business that will be a source of income for years to come.
The following two tabs change content below.
Jamie Spencer
My name is Jamie Spencer and I have spent the past 10 years building money making blogs. After growing tired of the 9-5, commuting and never seeing my family I decided that I wanted to make some changes and launched my first blog. Since then I have launched lots of successful niche blogs and after selling my survivalist blog I decided to teach other people how to do the same.
Latest posts by Jamie Spencer (see all)