Over the past few years, the number of domain name registrars and website hosting companies has grown. Because there are so many to choose from, it can be tricky to decide which one is right for you and your business.
After all, you want to be sure you are making the right choice.
Don't worry though, that's why we're here!
Today we're going to be comparing two of the most well-known domain and web hosting providers side by side. That's right; we're looking at Namecheap vs GoDaddy.
We're going to be looking at exactly what each of these top players offers with their domains and hosting plans. After reading this article, you will have all the information you need to decide which one is right for you.
Let's begin.
How to Select a Reliable Domain Registrar
When you are doing your research, an important thing to remember that all these companies have access to the same domain names and URLs. Basically, no company can provide you with better URLs than another.
Some registrars specialize in selling domain names. Others sell extra features such as web hosting, security, email marketing solutions, and cloud services. With some domain registrars, the list of services they offer is endless.
Here are a few questions you should ask yourself before you select a domain registrar.
What features come with the domain registry package?
Is the price competitive?
If not, what features make up for the price difference?
Is it easy for you to manage your services without help?
8 Important things to look out for when choosing a domain registrar:
More or hidden fees associated with transferring your domain name
History and reputation of providing quality services
Reasonably-priced services
Accredited by the Internet Corporation for Assigned of Names and Numbers (ICANN)
Easy domain transfer and forwarding services
24/7 customer support
Private WhoIs registration
Manual and automatic renewal features
When you are checking out possible domain registrar's websites, stay focused on what you came for. Because of all the available services, it's easy to get distracted by other offers on the website.
Competitive pricing should be a factor as you select your domain registrar. It certainly shouldn't be the only factor though! Make your final decision by looking at all the features that we mentioned above.
Many experts recommend using a different domain registrar to your website hosting service. This is because you might want to switch to another host further down the line. Having your domain name with the same company can complicate the matter.
If you're unsure, you can always ask. They will let you know if switching your domain to another host in the future will cause any problems.
Namecheap vs GoDaddy – Which Domain Registrar is the Best?
If you're not sure whether to choose Namecheap or GoDaddy, you're not alone. This article will give you everything you need to make an informed decision on which one is right for you.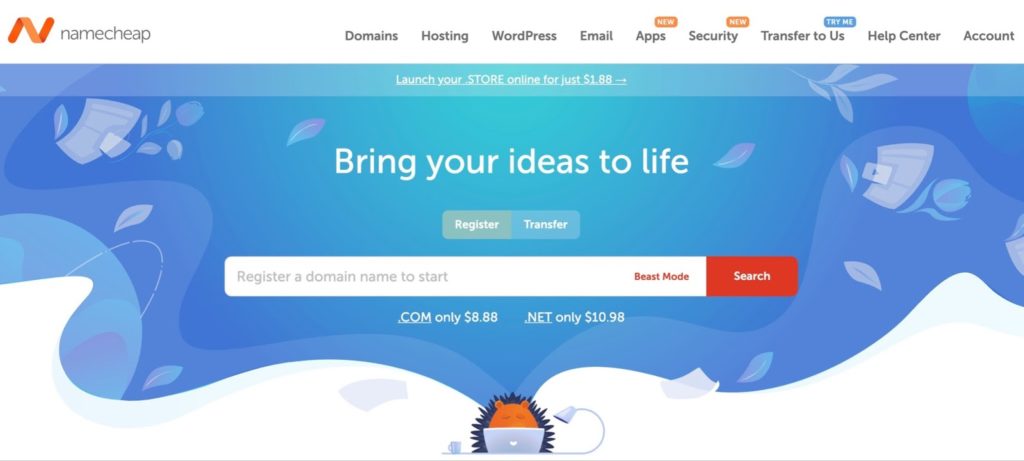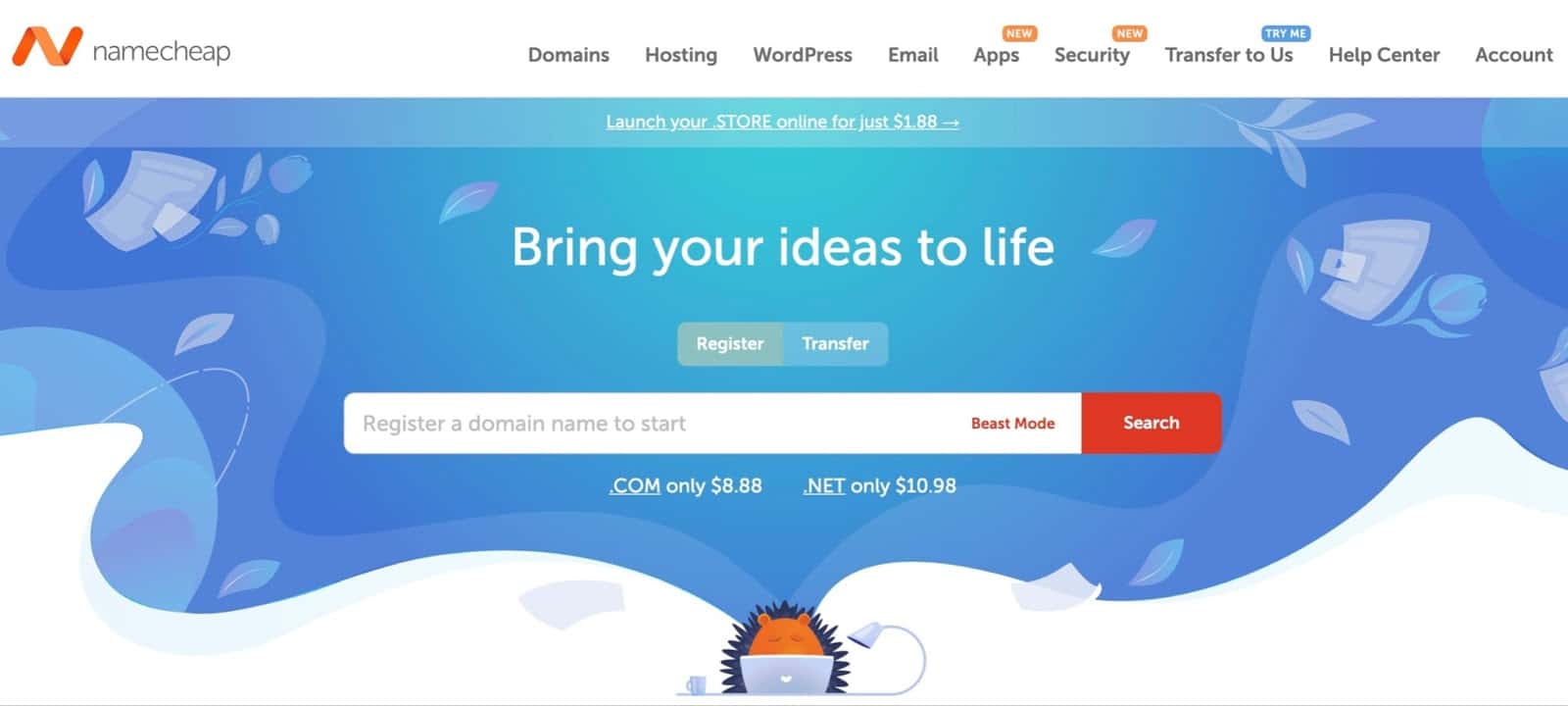 Namecheap is the leading domain registrar accredited by ICANN. It has developed a huge market share since it was founded in 2000.
It has provided over 4 million domain names to customers throughout the world. Although Namecheap's core business is domain registry, it offers a range of other services too.
These include web hosting, email hosting, security, and cloud-based services.
You can learn more about what they offer in my Namecheap Review.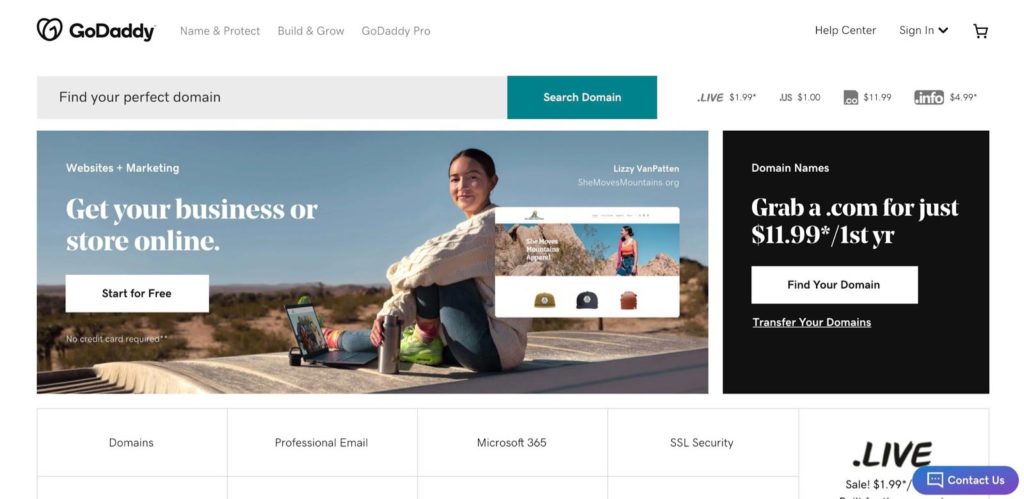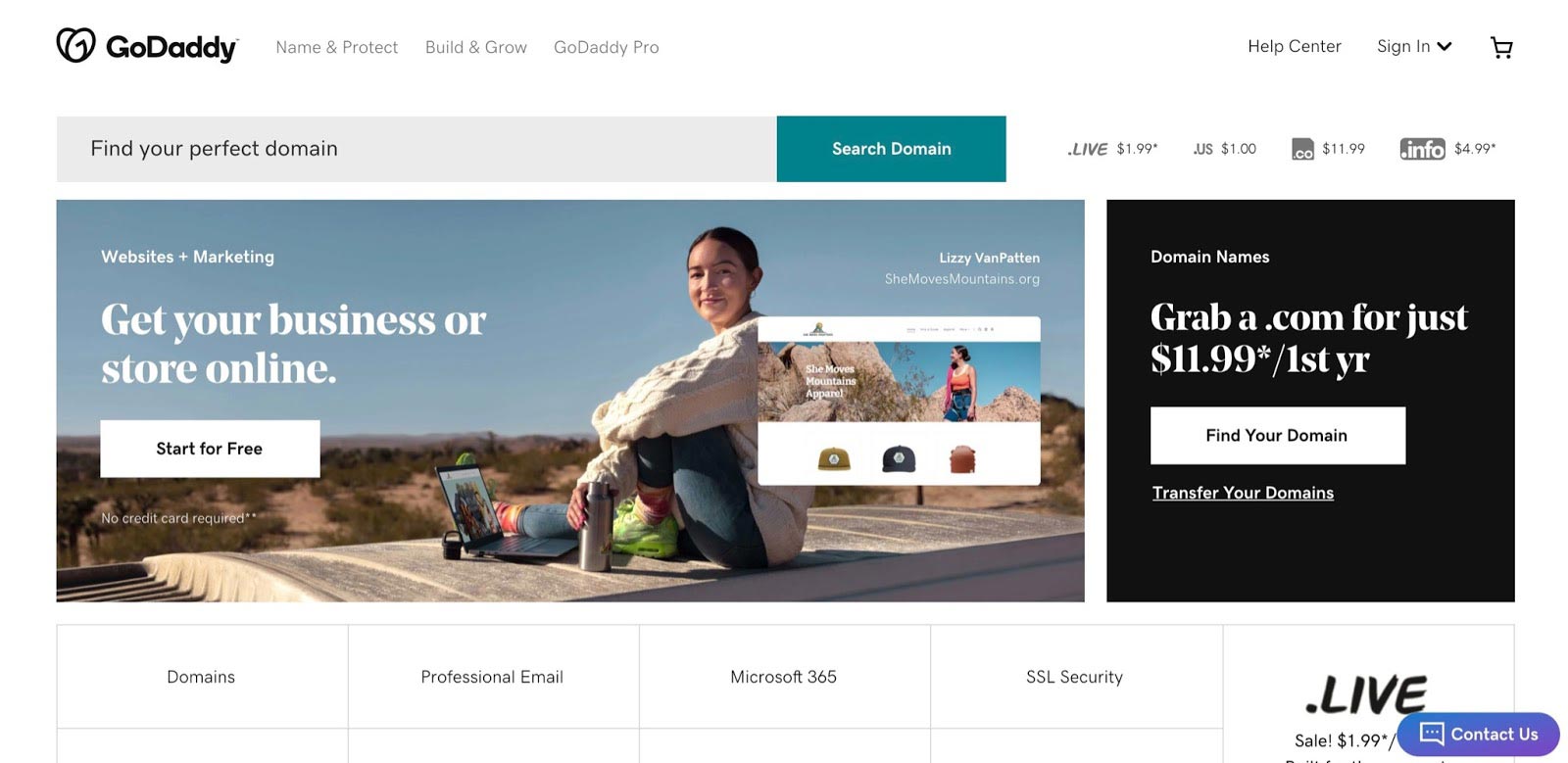 When it comes to size and market domination, GoDaddy is the largest domain registrar around. They hold over 30 percent of the domain registry market share!
They have provided more than 59 million domain names registered throughout the world. GoDaddy offers lots of other services too, including:
Email services
Marketing tools
SEO tools
Privacy protection
Subdomains
Hosting services
Namecheap vs. GoDaddy: Domain Name Pricing
It's time to look at how these two companies measure up when it comes to pricing for their domain registration service. To keep things fair for this review, we will compare the price of a 1-year renewal rate for domain names of each site.
Namecheap Pricing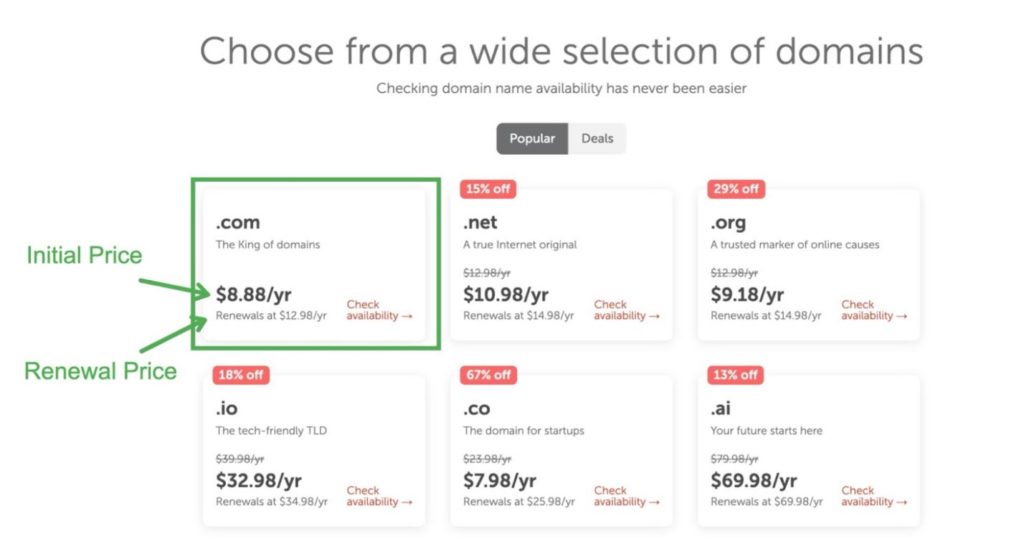 Namecheap costs $8.88 for the first year for a '.com' domain and $8.88 + ICANN fee for new domain name registrations. After the initial offer period, it renews at $12.98 per year.
GoDaddy
GoDaddy costs $11.99 each year to purchase a .com domain and renews at $18.99 per year.
Both Namecheap and GoDaddy offer various prices on .net, .org, .info, .co, .biz .io and .us domains.
On both GoDaddy and Namecheap, you can receive a discount if you pay in full for service for more than one year. Both companies allow you to register your domain name for up to 10 years. There are also several GoDaddy alternatives.
Overall, prices are lower with Namecheap. Not only is their initial offer price cheaper, but their renewal price is lower too. They also offer you Privacy Protection for FREE, whereas with GoDaddy, this is a premium add-on.
Namecheap and GoDaddy – Pros and Cons
When looking for a domain service, remember there's no perfect company. Every domain registrar has its good and bad aspects.
With that said, there are pros and cons associated with Namecheap and GoDaddy.
Namcheap Pros & Cons
Pros – Namecheap
Good service and security features
ICANN Accreditation
Domains are simple to transfer
Minimal upsell tactics
Knowledgeable help desk
24/7 customer support via help desk
Competitive price points for all services
Cons – Namecheap
Some new domain extensions can be very expensive.
Customer support needs improving – They don't offer phone support
GoDaddy Pros & Cons
Pros – GoDaddy
A large trusted brand in the domain name registry industry
Easy to choose and buy a domain name
Website is easy to navigate and understand the offerings
24/7 customer support
A wide range of services with GoDaddy Pro
Customer support representatives are helpful and knowledgeable
Accredited ICANN
Cons – GoDaddy
The check-out process can cause confusion
Domain manager is not integrated into the same window as other features
The domain transfer process can be difficult
Too many instances of upselling
Long customer support wait times
Due to promotions and upsell tactics, there are a lot of pop-up specials on the screen. This can be annoying when you are trying to navigate quickly around the site.
As you compare Namecheap and GoDaddy, be mindful that GoDaddy is a larger company. There are some problems that large companies experience. For example, GoDaddy may not have as many personal touches as Namecheap.
Namecheap is a smaller company. As a result, it can provide more personalized services to its customers.
Namecheap vs GoDaddy: User Experience
There are few things worse than trying to change something relating to your domain and not being able to. Offering a good user experience is essential. Your domain registrar should provide an easy-to-use and intuitive user experience for you.
Now we will explore the user experience for each of these providers. We're going to look at everything from the point of purchase, to ease of use and navigation.
Namecheap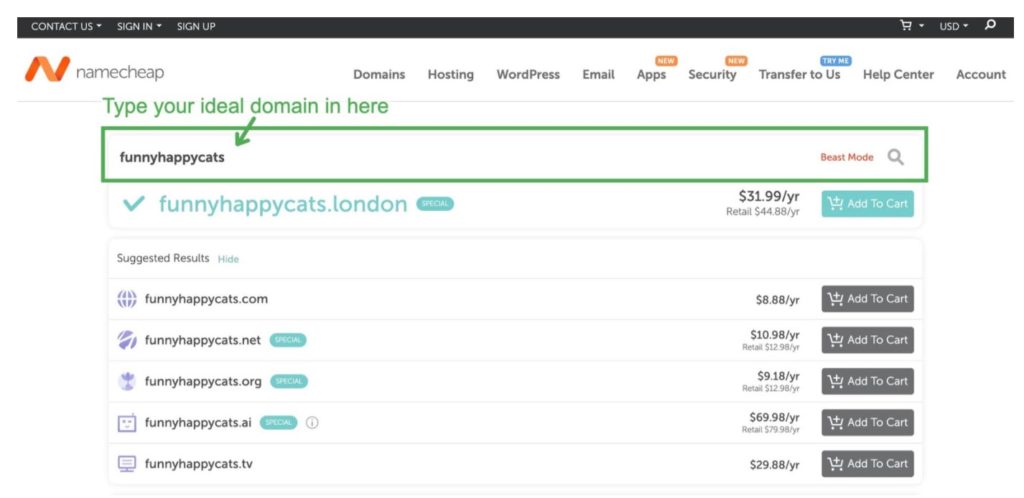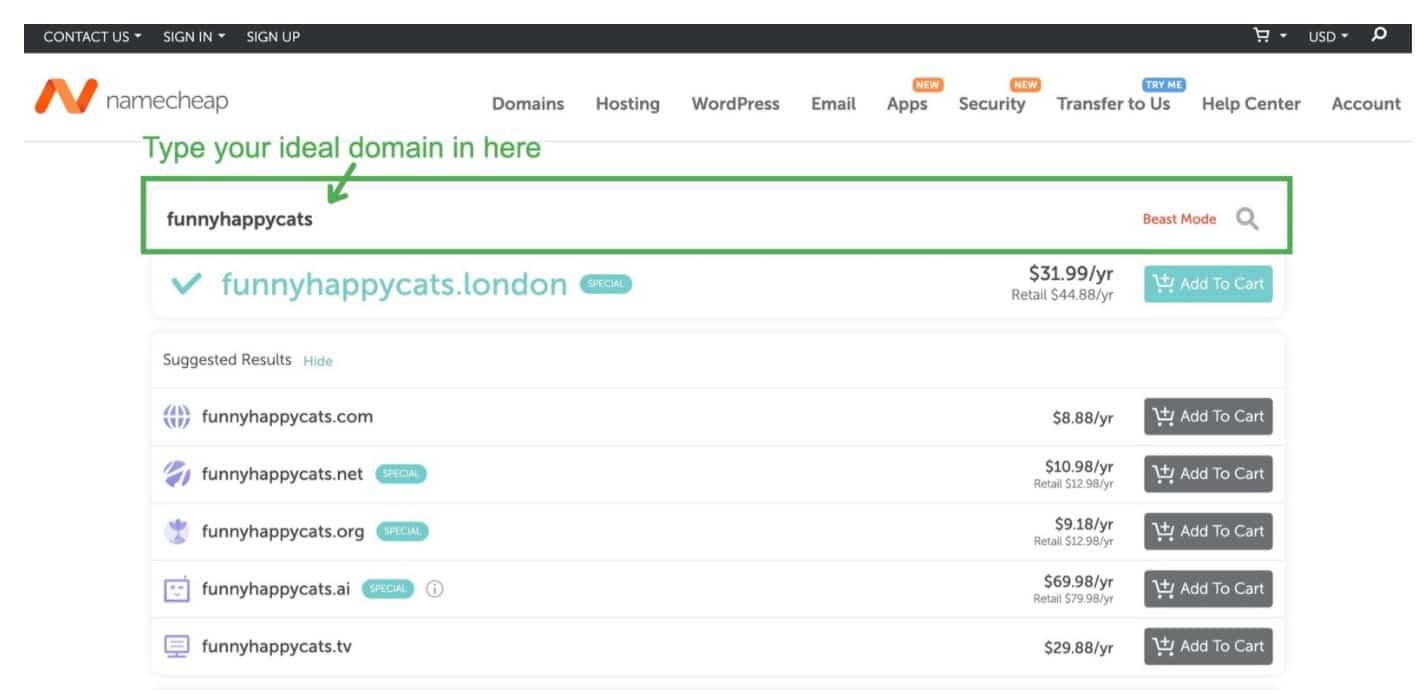 The check-out process for Namecheap is quick and seamless. It's easy to use, and there are very few upselling tactics to disrupt your experience.
Namecheap provides a good search engine for domain name suggestions. You will also notice that Namecheap does not have as many bells and whistles as GoDaddy. It's famous for being straightforward and easy to use.
If you need to contact customer services, Namecheap offers a quick live chat feature. Unfortunately it lacks telephone support services, which may be a deal-breaker for some.
Read our guide on how to register a domain name with Namecheap.
GoDaddy
The GoDaddy website experience is lively and colorful. Straight away you will see that they have a lot to offer. But, the hustle and bustle associated with this website can be confusing.
First of all, GoDaddy loves to upsell. With every click, you will be bombarded with an advert for a different special offer. If you want to get a domain name quickly, the constant upsells can slow you down.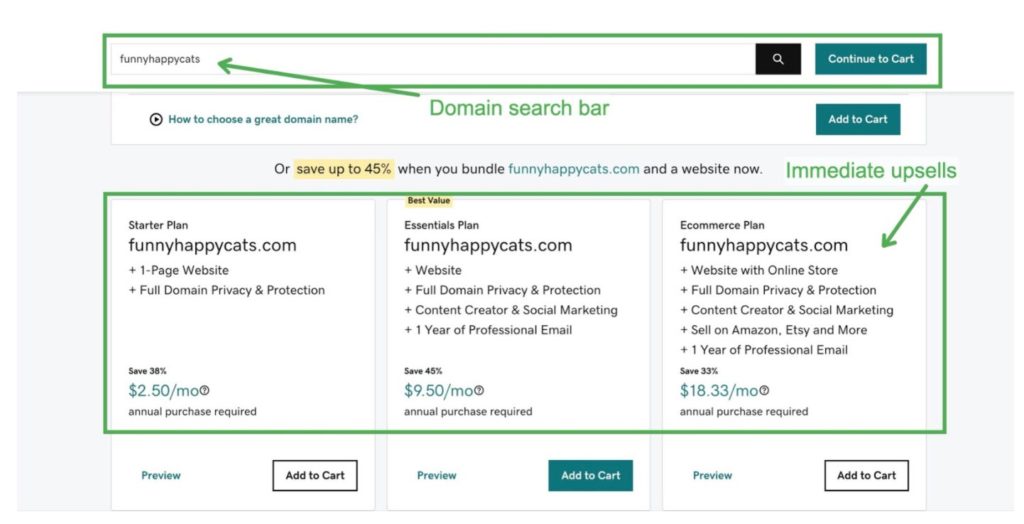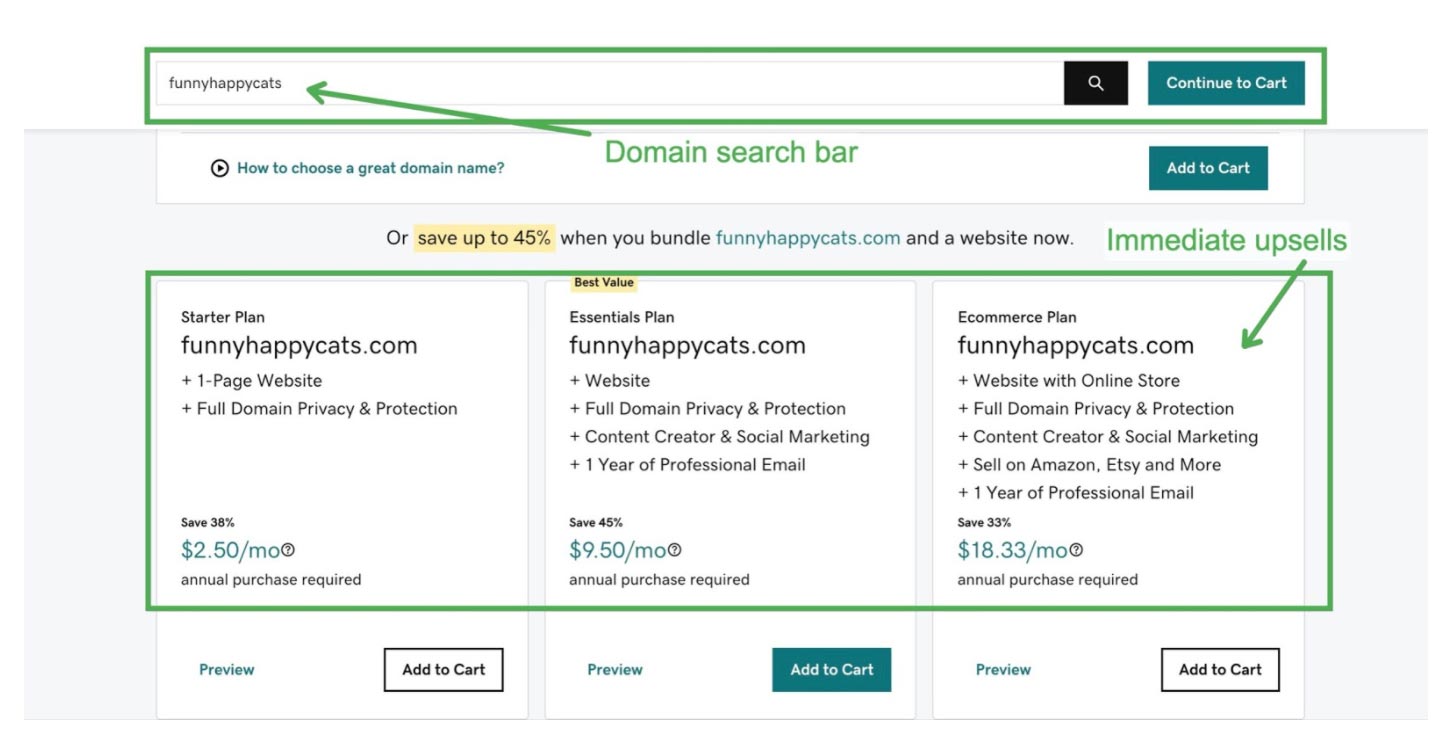 GoDaddy offers both telephone and live chat support options. This is a great feature to have if you need help with a problem that you cannot figure out yourself.
GoDaddy offers a domain management feature. However, the domain manager opens in another window. This feature makes the user experience feel segmented and disjointed.
DNS Management Interface
The DNS management window is the section that enables you to make changes involving your domain. Unless you have a tech manager, you will be making all your DNS changes manually.
You may have to reroute your DNS to your web host, configure subdomains and set up emails related to your domain. Because of this, the DNS interface must be user-friendly.
Namecheap's DNS Management Interface
Namecheap offers an easy-to-use DNS interface. It is free from clutter, and unnecessary upsell offers. Namecheap's layout is straightforward. It is constructed in a way that minimizes the time it takes for you to make changes and leave the site quickly.
GoDaddy's DNS Management Interface
GoDaddy has a more cluttered DNS management interface. There are extra features on the management interface that do not add value to the customer experience.
For example, you may notice features on your DNS management interface that you did not buy. This part of the site features extra settings for GoDaddy's upsell subscriptions. These features get in the way and can make the user experience clunky.
Namecheap Vs GoDaddy Extras – Domain Name Extras
It is not uncommon for domain registrars to provide extra services included in the price of your subscription. After all, there is so much competition that they need to make an extra effort to differentiate their services from their competitors.
Namecheap Extras
100 percent free email forwarding services
Reliable DNS (no history of company being hacked)
WhoIs privacy feature is bundled
Namecheap charges $3 for photo storage and limited hosting package
Free custom name servers
GoDaddy Extras
GoDaddy charges an extra fee for custom name servers
They offer a limited hosted package and photo storage for free for one year
GoDaddy charges an extra fee for WHOIS guard
Email accounts are offered as an upsell package
GoDaddy offers a reliable DNS, but note that the site has been hacked in the past.
Namecheap vs GoDaddy: Shared Hosting Plans
Namecheap and GoDaddy offer affordable hosting plans, including WordPress hosting and shared hosting. Let's compare their shared hosting plans to see exactly what's included in the price.
Namecheap Shared Hosting Plans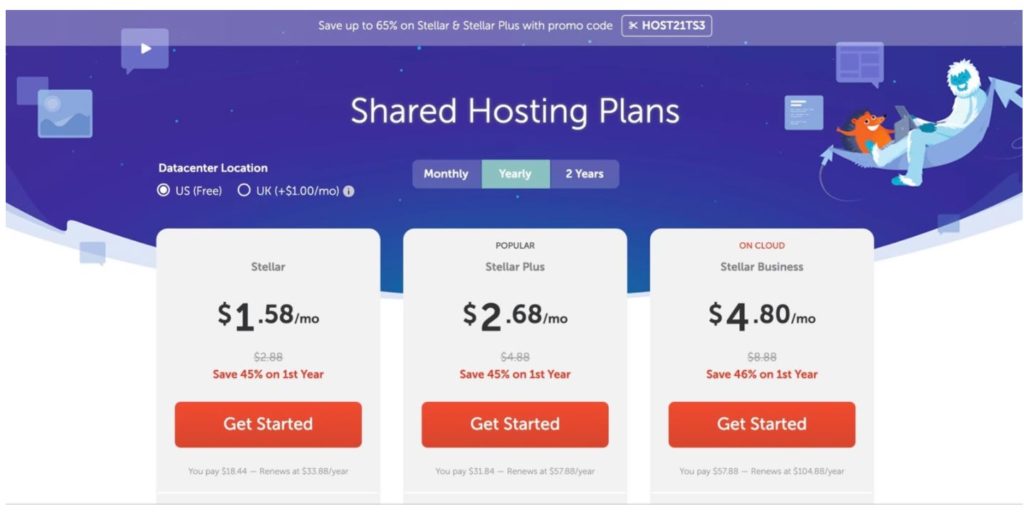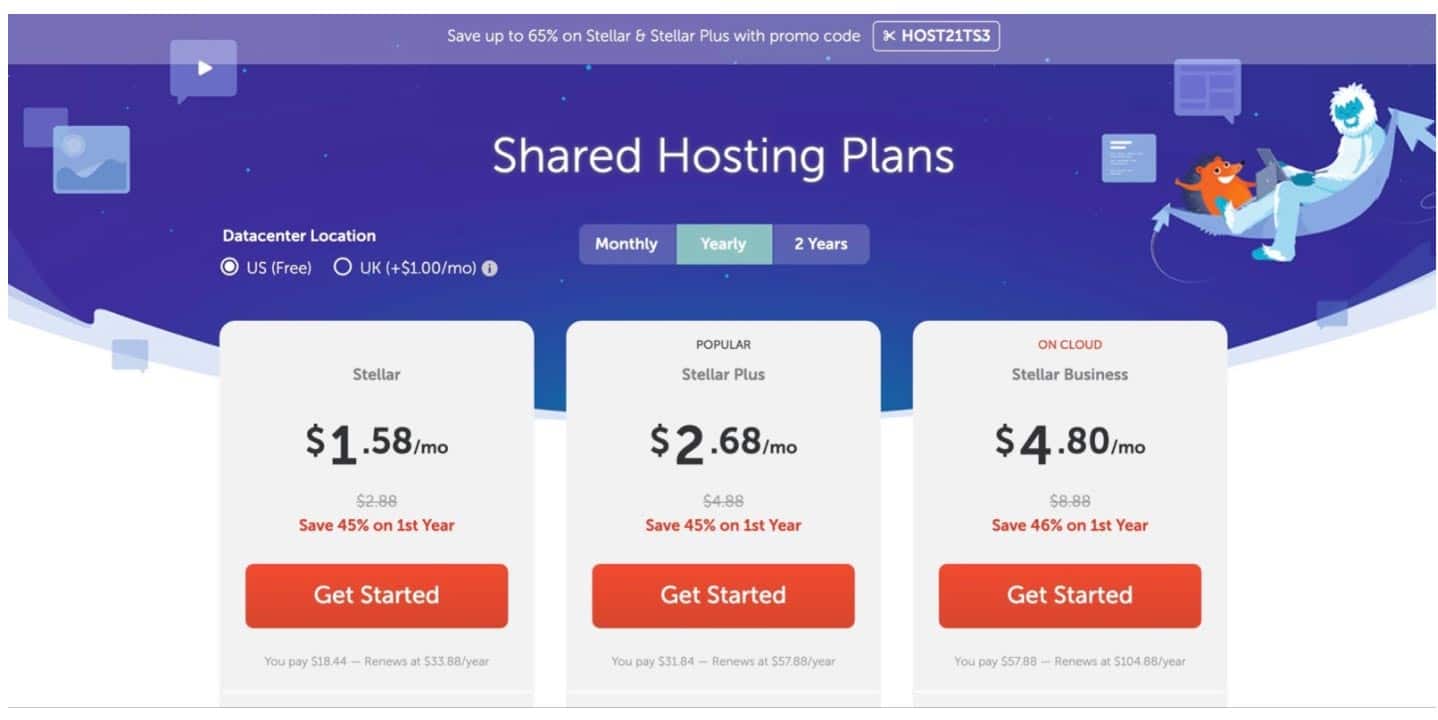 Name cheap offers three shared hosting plans depending on your needs.
First up is the starter plan, called Stellar, which starts at $1.58/month and renews at $2.88/month. This plan includes 20GB SSD storage, a Free domain name (Limited TLDs available), up to 3 websites, and free CDN.
Next up is Stellar Plus, which starts at $2.68/month and renews at $4.88/month. This plan includes unmetered SSD, unlimited websites, domain names, and free CDN.
And last but not least is Stellar Business which starts at $4.80/month and renews at $8.88. This plan includes everything from the Stellar Plus plan and 50GB SSD and Cloud Storage.
All plans also include:
Free SSL Certificate
Unmetered bandwidth
Free website builder
Domain privacy protection
Free supersonic CDN
30-day money-back guarantee
If you want to give Namecheap a try, head over to their website, where you can check out their hosting plans in more detail.
Now, let's check out what GoDaddy has on offer.
GoDaddy Shared Hosting Plans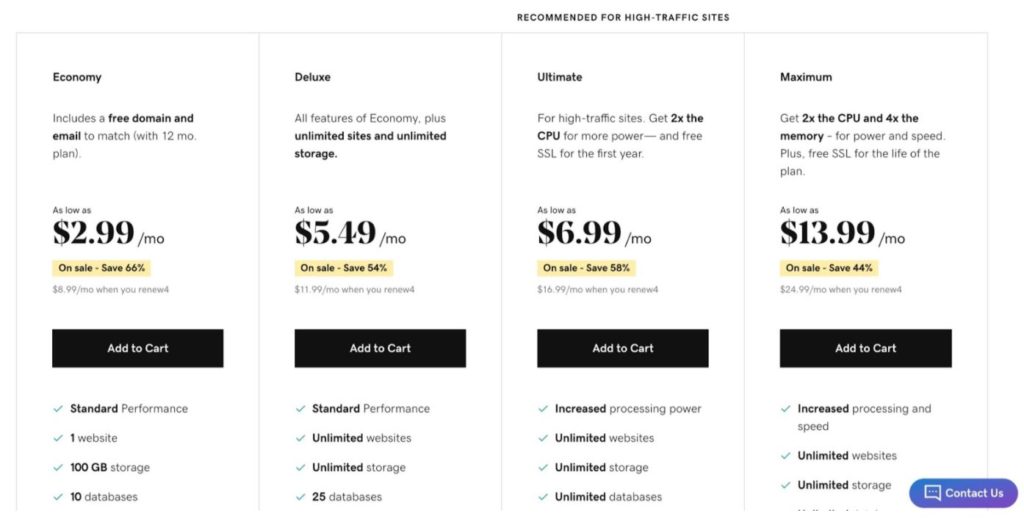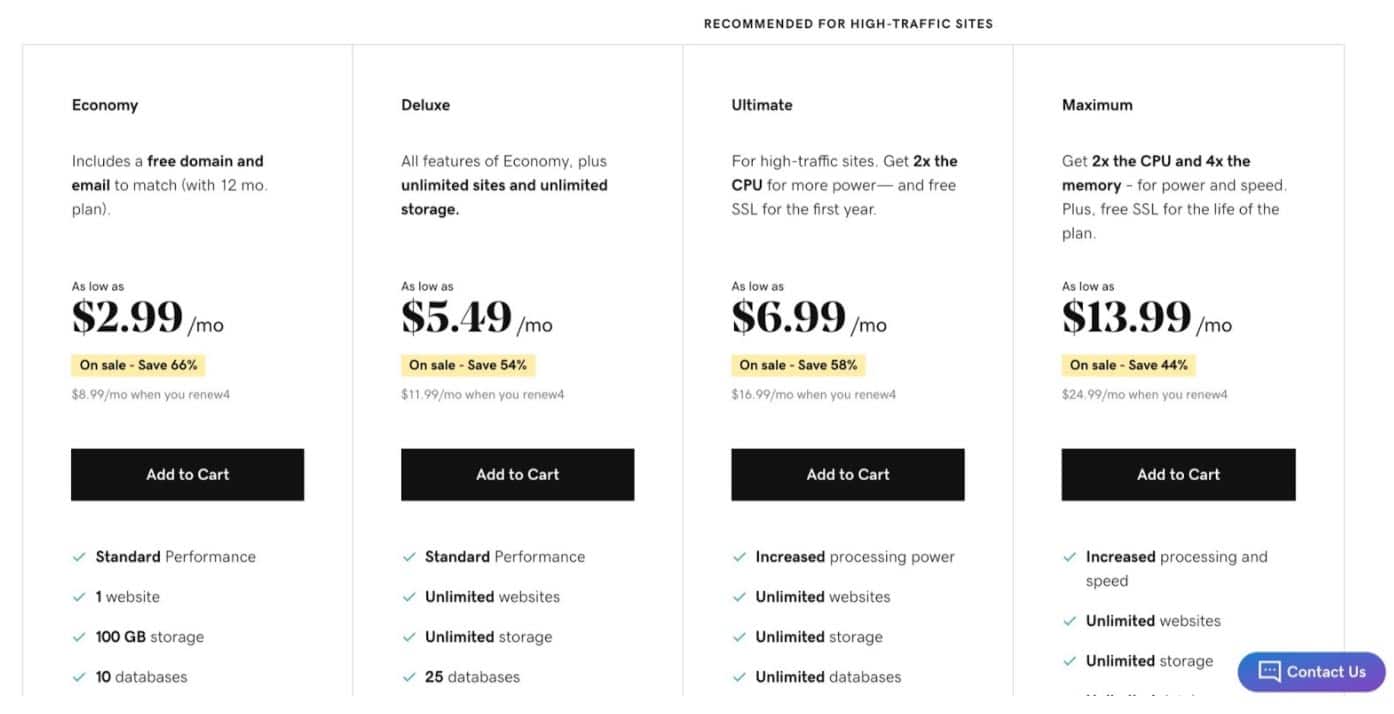 GoDaddy has four different hosting plans available, depending on your needs. Economy, Deluxe, Ultimate, and Maximum.
The Economy plan starts at $2.99/month and renews at $8.99/month. This plan include one website, 100GB storage, ten databases, and unmetered bandwidth. It also comes with free 1-click WordPress installation.
The Deluxe plan starts at $5.49/month and renews at $11.99/month. This plan includes everything from the Economy plan. It also includes unlimited websites, unlimited storage, and 25 databases.
The Ultimate plan starts at $6.99/month and renews at $16.99/month. It includes everything from the Deluxe plan. This plan also offers increased processing power, unlimited databases and a free SSL certificate.
The Maximum plan starts at $13.99/month and renews at $24.99/month. This plan includes everything from the Ultimate plan. It also includes free unlimited SSL certificates for all your websites.
All plans also include:
1-click domain name setup
24/7 security
1GB database storage
1-click install on over 150 free apps
Easy to use C-panel
If you want to give GoDaddy a try, head over to their website to check out their hosting plans in more detail.
There are a few differences when you compare these two hosting providers side by side. The main difference is, of course, the price. Namecheap offers much more affordable hosting plans. Best of all, all plans include a free SSL certificate.
Namecheap allows you to build three websites even on the most basic plan. This makes Namecheap a very affordable option for anyone wanting to start a website or a blog on a budget.
Namecheap VS GoDaddy – Upsell Tactics
Both of these companies are in the business to make money. It is not unusual for both Namecheap and GoDaddy to upsell to their customers. There's nothing wrong with this. Upselling is actually valuable to customers, bundling items together in return for a hefty discount. It's also a great sales opportunity for domain registrars, giving them more revenue per customer.
When it comes to using upsell tactics, GoDaddy is a lot more 'in your face. The annoying upsell advertisements do not give you time to make a conscious decision about whether you need to buy the extra service. If you don't like pushy upsells when you're trying to make a simple purchase, GoDaddy might frustrate you.
In terms of upsells, Namecheap and GoDaddy offer some of the same packages for hosting and storage. One of the most common upsells for GoDaddy is SSL certificates.
Namecheap VS GoDaddy – Company Values
Most people prefer to support companies that have admirable company values. By supporting any company, you provide them with the means to further their message and position in the marketplace.
Namecheap publicly opposes the Stop Internet Piracy Act (SOPA). The purpose of this legislation was to limit the freedom of internet users. Namecheap believes that everyone should have the right to use the internet as they desire. As long as they are using it responsibly of course, without legislative restraints.
GoDaddy actively supports the SOPA legislation. They have also been known to be involved with some shady marketing practices, which may be off-putting to some. This became clear in their controversial Super Bowl ads.
Although many of these practices may not offend you, it is good to be aware of the values of each of the companies.
Namecheap vs. GoDaddy – The Verdict
After comparing these two domains and hosting providers side by side, we can see that they both have great offerings. However, there are quite a few minor differences that might mean one would suit you better than the other.
But who is the winner here?
Our opinion is that NameCheap is the the best.
The reason Namecheap stands out as the winner in our eyes is its affordable pricing and its intuitive user interface. Namecheap offers cheaper plans when it comes to hosting, as well as registering domain names. They also provide a free SSL with all hosting plans, saving you the hassle of purchasing one separately.
Namecheap is a dream to use, and whether or not you choose to buy hosting from them, you will have a great user experience. It's also a great choice if you don't like being constantly upsold and advertised to. Whether you are a blogger or a small business owner, Namecheap will be suitable for you.
That being said, GoDaddy certainly isn't a bad choice. Although it's a little pricier, GoDaddy might be a better option for you if you want access to phone support. If you need lots of services and are not bothered by an interface that features several upsell tactics, GoDaddy could work for you.
Final Thoughts
Overall, Namecheap and GoDaddy are both good domain registrars in their own right. They both provide domain names and web hosting services at reasonable prices. Both have solid security features, flexible domain management services. They also offer around-the-clock customer support and dynamic DNS performance.
Want to try Namecheap? Head over to their website now to check out their hosting plans in more detail.
If you think GoDaddy might be a better choice for you, head over to their website to view their plans in more detail.
The following two tabs change content below.
Jamie Spencer
My name is Jamie Spencer and I have spent the past 10 years building money making blogs. After growing tired of the 9-5, commuting and never seeing my family I decided that I wanted to make some changes and launched my first blog. Since then I have launched lots of successful niche blogs and after selling my survivalist blog I decided to teach other people how to do the same.
Latest posts by Jamie Spencer (see all)