Want to learn how to make money on Pinterest?
Since you're here, more than likely, your answer is yes.
After all, you probably got here by searching for how to make money on Pinterest or how do you make money on Pinterest. Am I right?
You've also probably heard several online influencers and popular bloggers talk about Pinterest a lot.
However, up until now, you may have ignored the idea of making money on Pinterest because you didn't think you could do it. Think again.
Don't get me wrong, you have every right to be skeptical. I was too at one point; but after learning and implementing certain strategies, I now know it's not only possible to ditch the 9-5 grind and make money online, but it's actually pretty easy.
There are a number of ways to achieve online success, but since we're talking about Pinterest, we'll stick to this platform and try not to stray too far off topic.
That's a good thing, because Pinterest is a goldmine with endless money-making opportunities.
Real people just like me and you are making thousands each month from Pinterest alone, and guess what, after reading this you'll know exactly how you can join the ranks and make money with Pinterest too!
This popular female-oriented search engine will no longer be an enigma. You'll know very clearly what it is and how you can make money from it.
So, if you're ready to finally crack the Pinterest code, let's dive right in and learn all about how to make money on Pinterest today!
How to Make Money on Pinterest: Step-by-Step Guide
Right before our very eyes, people are making money hand over fist on Pinterest.
You obviously know about the groundbreaking digital revolution sparked by Google and later Facebook and then YouTube with its teenage millionaires.
Right now, however, a similar revolution is happening with Pinterest – it's just a bit quieter.
Sshhh….do you hear that? It's money being printed.
Thousands of women are raking it in with Pinterest and living the life they want to live how they want to live it.
If you build an audience by following your passion, you will make money on Pinterest. It's that simple, but how exactly do you do that?
Well, it starts by understanding Pinterest itself.
Unlike Google, Facebook, or YouTube, the overwhelming majority of Pinterest users are women. In fact, women make up 81 percent of its userbase.
Also, over 90 percent of pinners admit to using Pinterest regularly for planning their purchases. This means there's 300 million+ women out there who control their household spending using Pinterest each and every month.
Needless to say, the money-making opportunities with Pinterest are very, very real.
Now it's your turn to profit from Pinterest' popularity.
You can make money on Pinterest two ways.
The first way to make money on Pinterest, which I recommend, is to start a blog. The other way doesn't involve a blog, but I'll get into that in a bit.
Regardless of which route you take, no experience is needed to start.
In fact, I've heard tons of stories about people with absolutely no experience crushing it on Pinterest. Sure, your progress may be slow at first, but you'll eventually earn your first $1,000, and then your first $2,000, and so on. It really is a snowball effect.
Want to start making $5,000 or $10,000 a month on Pinterest? You can, and you don't have to be special in any way!
You don't have to be a great writer or super tech savvy to make money on Pinterest by starting a blog.
As long as you are enthusiastic to learn, have a little bit of patience, and actually implement what I'm going to teach you in just a minute, then you can begin profiting from the popularity of Pinterest as soon as tomorrow.
Sound too good to be true? If you follow the methods I'm about to show you, you'll see that it isn't.
Let's start with how to make money on Pinterest with a blog, which in my opinion, is one of the most rewarding and lucrative options.
How to Make Money on Pinterest with a Blog
Step 1 – Start a Blog for Cheap
Before you even create a Pinterest account, the very first thing you'll need to do is start a blog. You can start a Blogger or WordPress.com blog completely free, but I don't recommend going that route. If you want to be taken seriously and actually make money, a self-hosted blog is a must.
This simply means you'll be hosting your blog yourself with a hosting provider. I highly recommend Bluehost.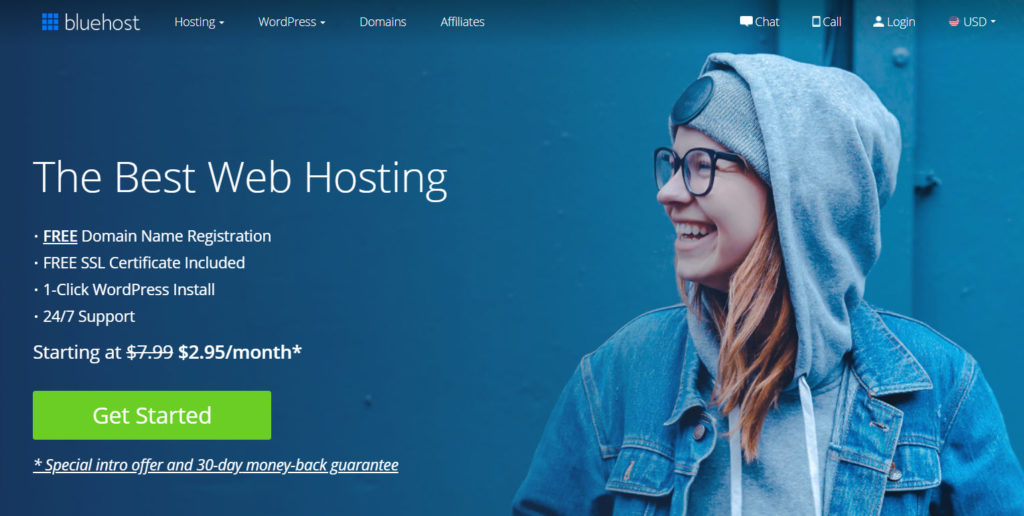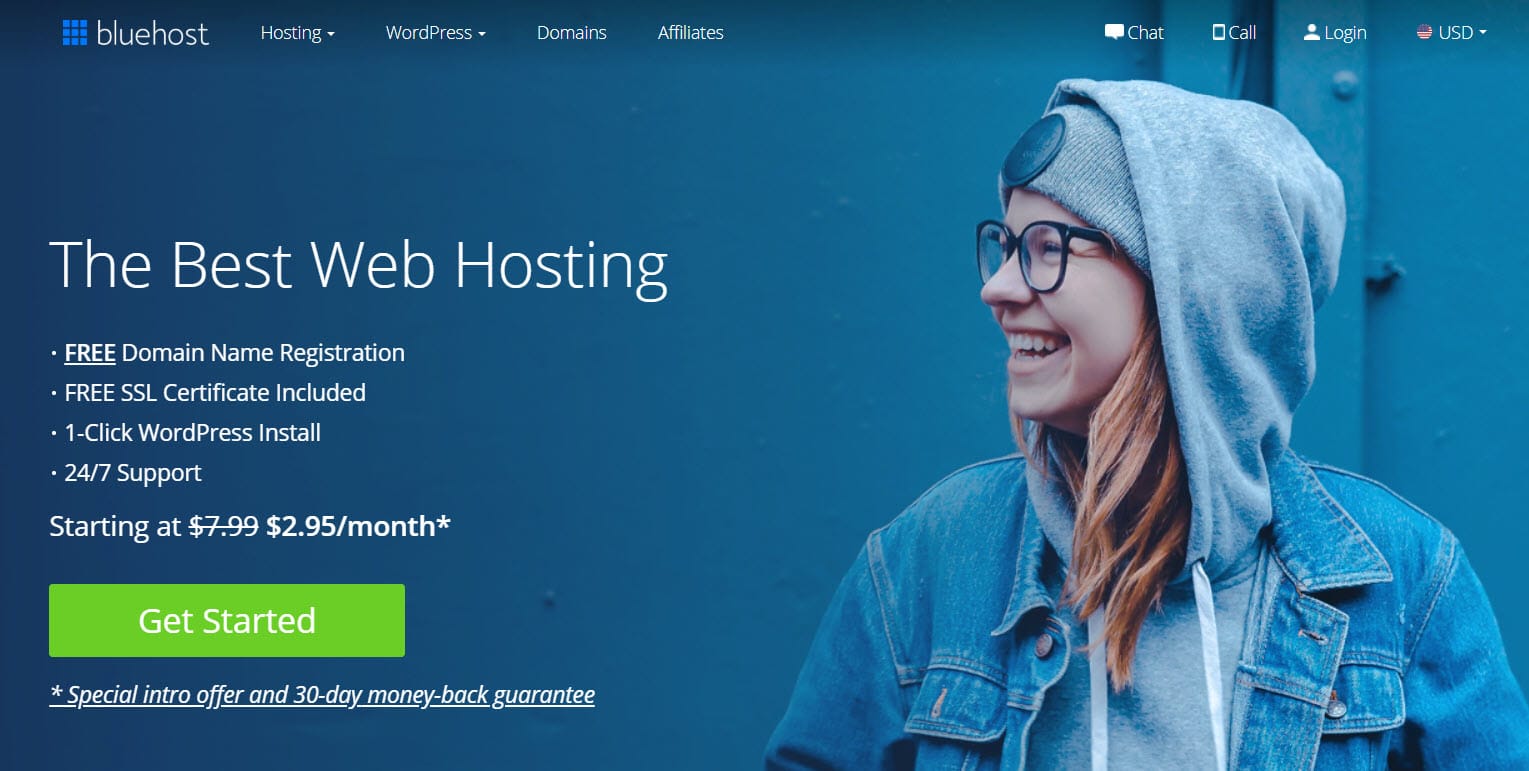 Not only do they have really cheap hosting plans and great customer service, but Bluehost also gives you a free domain name for a year, for an instant savings of $15 or more. Prices start from $2.95 per month + Free domain + Free email account.
Step 2 – Write Helpful, Memorable Content
When you've got your blog set up, it's time to start writing. Think about some problems the readers in your niche face and write a handful of epic posts that will solve them.
However, before you begin writing, you need to figure out who you're writing to. In other words, who's your target audience?
When blogging, I recommend writing about a topic you're interested in and like talking about.
Never choose a topic simply because you think it'll make you money. Instead, pick something you're genuinely interested in.
Not only will this keep your blog from feeling like a chore, but it will help you relate better to your readers and seem much more "real."
Here are a few things to keep in mind when picking the theme of your blog or a blog post topic:
• Passion – The most successful bloggers blog about topics they have a passion for.
• Skills – You should also know what you're blogging about. So, think about what you know and what you're good at.
• Demand – Search engine data can be your best friend, and guess what, Pinterest is a search engine. What are some of the most popular Google or Pinterest search topics? There are billions of people out there looking for solutions to their problems. A good tool like SEMRush can help you find them.
Ideally, you would be able to hit on each of these three elements.
Remember, whether it's advice on buying a four-season tent or choosing the right color blush for your skin tone, your readers will be coming to you for help with something.
So, you not only need to pick a popular niche, but you also need to choose one in which you can deliver real value.
If you put in the time to figure this out now and get off on the right foot, the rewards will soon come flooding in!
Top Tip:
You don't need to be a professional baker to know how to whip out beautiful and delicious cakes, cookies, and pies. Contrary to what I've just been saying, you also don't really need to be skilled in what you're blogging about.
You can always go the journey route by tackling a new challenge or doing something you've always wanted to do and teach your readers what you learn along the way.
Step 3 – Create a Pinterest Account
Now, it's officially time to start your Pinterest cash machine by signing up for a Pinterest business account. It's completely free of charge to create.
Once you've created your Pinterest account, simply follow their idiot-proof instructions to set up your website on Pinterest. They make the process a piece of cake.
Top Tip:
When filling out your profile bio, make sure to include as many relevant keywords as possible. By doing so, you'll make it easier for Pinterest users to find you.
Step 4 – Create Your Pinterest Boards and Start Pinning
With your account set up, you can now begin creating boards and pinning. When just starting out, I recommend making pins with Canva. It's free to use and makes making pins really easy.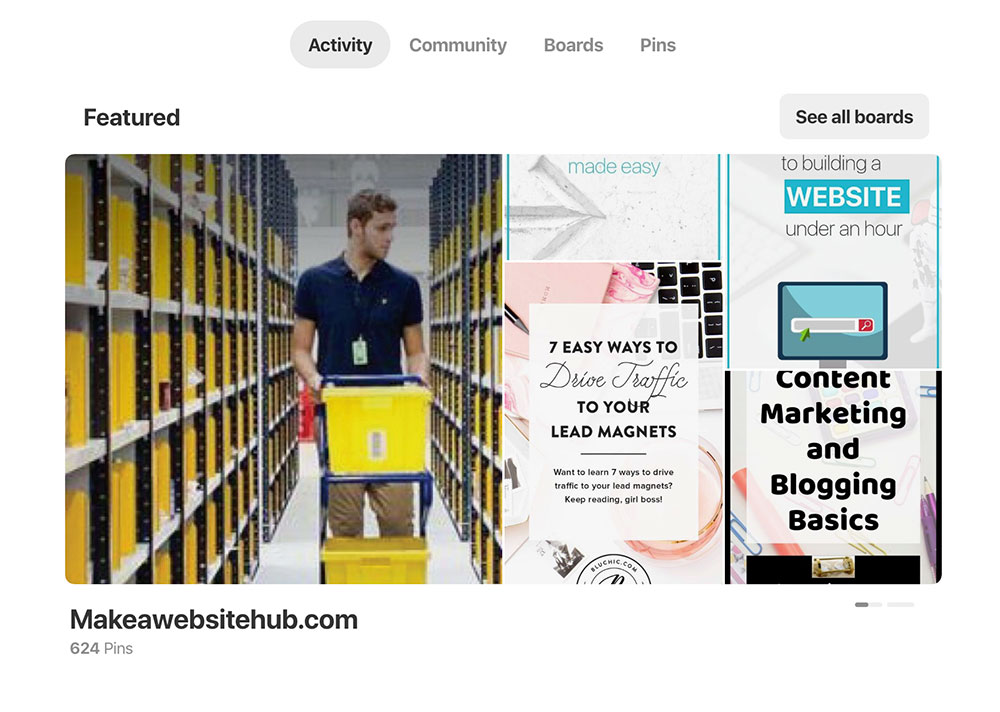 Similar to what you did with your bio description, make sure to include some relevant keywords in both your boards and pin descriptions. Just don't stuff too many of them in there. Sprinkle them in instead.
Step 5 – Join Some Group Boards
Group boards can't drive traffic by the boatload like they once did, but I still recommend joining some group boards relevant to your niche.
Sure, more emphasis is now placed on personal boards and you should definitely focus on creating them, but you should still try to join some top-quality group boards as well. Just make sure they don't have too many contributors, because Pinterest tends to like smaller group boards.
Top Tip:
If you're serious about making money on Pinterest, consider giving Tailwind a try.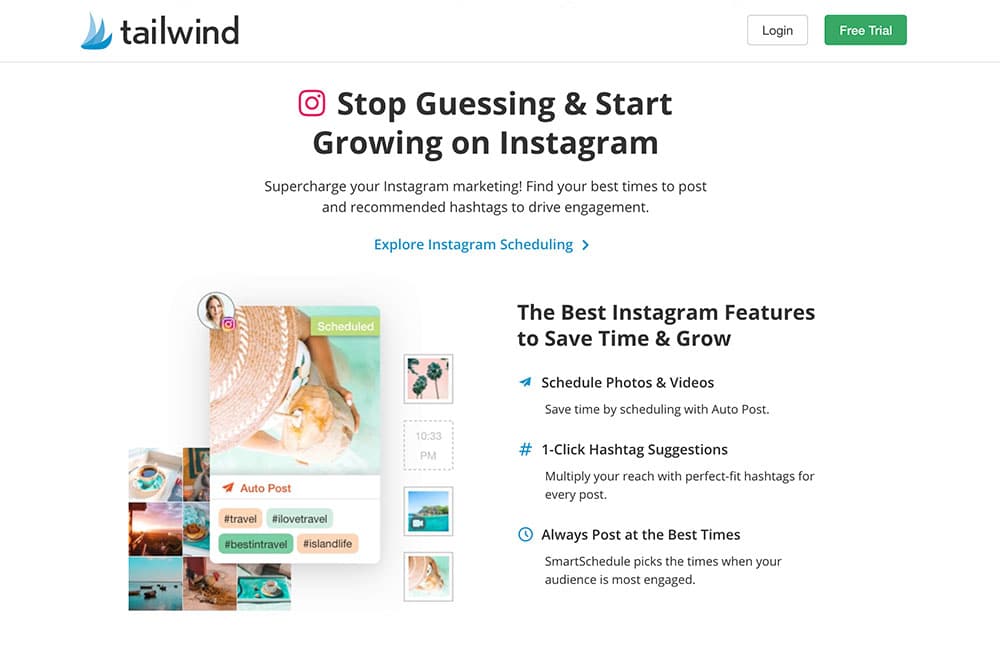 It's a neat tool you can use to automatically schedule pins to both personal and group boards. Not only will it allow you to automate the process, but it will automatically drive traffic to your boards and blog as well.
Step 6 – Implement Display Ads
With your blog and Pinterest account up and running, it's now time to make some money. Again, your blog posts need to add value and help your readers.
With that out of the way, there are two ways to make money on Pinterest with a blog.
The first way is with display ads.
Depending on which ad network you go with, the popularity of your blog, and the number of ads you place on it, you can make upwards of $10 for every 1,000 page views your blog receives each day, which is more than doable.
Best of all, that's just with Google AdSense. Although AdSense is great if you're just starting out because there's no minimum number of page views you need to receive, they definitely don't pay the best.
Fortunately, there are plenty of other higher paying ad networks out there to choose from. Take a look at my Google Adsense alternatives.
If you really want to boost your display ad income, I recommend Mediavine. After switching from AdSense to Mediavine, I was able to basically double my daily income from display ads with the same number of page views.
As you're able to drive more and more traffic from Pinterest to your blog, your income will grow right along with it. Within a few months, you can easily begin earning $1,000 a month or more from display ads alone.
That said, I recommend starting with Google AdSense simply because Mediavine requires any blog or website to be at least three months old and have 25,000 or more monthly sessions before joining their network.
However, if you can be patient during this period and be content with growing your blog, Pinterest boards, and following, it will definitely pay off.
The point here is making money on Pinterest with a blog is possible. It just depends on how badly you want to make money and how much you want, which leads to the next step.
Top Tip:
Invest in yourself and the right blogging education. Nothing in life is 100 percent guaranteed, but the right training and education can significantly improve the odds of your Pinterest and blogging success.
The best investments aren't in Bitcoin or weed stocks. According to multi-billionaire investor Warren Buffet,
"The best investment you can make is in yourself."
I fully agree!
By investing in yourself and following this simple, tried and true money-making Pinterest strategy, you will get results. It's that simple.
Step 7 – Implement Affiliate Links
The people really raking it in with Pinterest began their ascent towards financial freedom by searching how to make money on Pinterest with affiliate links.
Why? Well, because unless you're making and selling your own products, affiliate marketing is where most of your online income will likely come from. This is especially true if you decide to make money on Pinterest with a blog.
While AdSense and Mediavine can provide you with a nice monthly income, when done right, affiliate marketing can explode it.
You can make money on Pinterest via affiliate links with or without a blog, but first I'll go over the blog method. Not only does this method work, but it works well for both short and long-term income.
Sounds great, but what is affiliate marketing?
Affiliate marketing has been around for forever and responsible for minting countless online millionaires, so you probably know all about it already.
However, if the term is new to you, it's simply recommending products you believe in to your online audience. It allows you to improve their lives while earning commissions on their purchases at the same time.
Not too shabby, right?
Well, with commissions of up to 80 percent for some affiliate programs, affiliate marketing via a blog and Pinterest traffic can be lifechanging, but you need to know how to go about it the right way.
So, how do you make money on Pinterest with affiliate programs?
First, you need to have your blog set up with five or more posts. Once this is done, you can then apply to some affiliate networks to receive access to affiliate offers.
There are dozens of different affiliate networks out there you can join, but two of my favorites are FlexOffers and Awin.
Once you're accepted into one of these or another affiliate network, you can then begin applying to a variety of companies and begin promoting their products on your blog. Just remember, only promote things you genuinely like, believe in, and think will help out your readers.
They'll supply you with a link unique to you with your affiliate ID. You simply include the link in any relevant blog posts you create and you'll receive a commission whenever someone clicks on the link and purchases the product.
Easy peasy, right?
Well, it is and it isn't. There are actually entire courses out there that go over everything in a lot more detail, but this is how the general process works.
The real difficult part of making money with display ads and/or affiliate marketing is traffic generation. After all, just because you build it doesn't mean they'll come.
Since the more eyeballs there are reading what you write and checking out what you recommend, the more money you can make, what can you do to attract more eyeballs?
The good news is Pinterest is one giant traffic engine. You simply need to create dynamic boards and engaging pins to attract as many Pinners as possible.
The more people view your boards and pins, the more people you'll have clicking through to your blog. The more people clicking through to your blog, the more your ads will be seen, the more products you'll sell, and the more money you'll make.
Top Tip: Try out Canva when making your pins. It can help you create some real pretty pins designed to drive boatloads of traffic to your posts. The free version has all the features and capabilities any beginner could possibly need.
Just to reiterate, making money on Pinterest with a blog and affiliate marketing is real! It's very real!
Within a few months, I was able to make job-quitting income by directing traffic from Pinterest to my blog, where I simply write about what I love, provide value to my readers, and recommend great products that happen to earn me nice monthly commission checks.
Don't forget about the display ad revenue. In my case, monthly revenue from affiliate marketing is about twice the revenue generated from the display ads on my blog.
So, if you're experience is anything like mine and you generate $5,000 a month in affiliate sales from your blog, you should expect to make at least $2,500 a month just from your display ads. But again, each case is different.
How to Make Money on Pinterest Without a Blog
Up until this point, I've only talked about how to make money on Pinterest with a blog. However, if you're not interested in creating a blog, you can still make money on Pinterest without one.
In fact, here are three ways to do exactly that:
1. Make Money on Pinterest with Affiliate Marketing
You don't have to start a blog in order to make money on Pinterest with affiliate marketing.
That's right; rather than making money with affiliate links by driving traffic from Pinterest to your blog, you can simply paste affiliate links right into your Pinterest pins, which would lead Pinterest users directly to the products or services you're promoting.
Yes, you can place affiliate links right in your Pinterest pins! Nice!
That said, I still recommend going the blog route. Why? Because a blog will give you so many more potential income opportunities.
Also, Amazon and some other companies don't allow users to place their affiliate links directly on Pinterest pins. In my experience, blogs seem to convert better as well.
So, it just makes sense to go the extra step of creating a blog. Trust me, you don't need to have a larger than life persona or be a great writer like E.L. James in order to start a blog and make it a success.
Nonetheless, feel free to test out which approach works best for you.
However, if you do take the direct affiliate approach, do yourself a favor and use hashtags like #affiliate in the pin description to disclose your status as an affiliate with fellow Pinterest users.
Sure, your sales will suffer, but it's better than being put on the naughty list.
2. Make Money by Becoming a Pinterest Virtual Assistant
Pinterest won't pay you directly to pin on their platform, but other people may pay you to manage their Pinterest account. As you can imagine, this may involve quite a bit of pinning activity.
Many online influencers and professional bloggers are way too busy to actively manage their Pinterest and other social media accounts. You can play an integral role in their business by doing it for them as a virtual assistant.
Pinterest has proven to be an extremely powerful platform for generating traffic and revenue for bloggers and businesses big and small. If you love Pinterest and fancy yourself a Pinterest expert, then going the virtual assistant route is a great option for making money on Pinterest.
Who knows, it may even be your dream job. While it won't provide you with the income ceiling or type of freedom being a successful blog owner can, good Pinterest VAs can earn upwards of $40-$50 an hour. Talk about skills worth mastering! Check out my How To Become A Virtual Assistant guide for more information.
If you want to find out more about how to become a VA and work from home, check out Gina's awesome guide on working as a Virtual Assistant.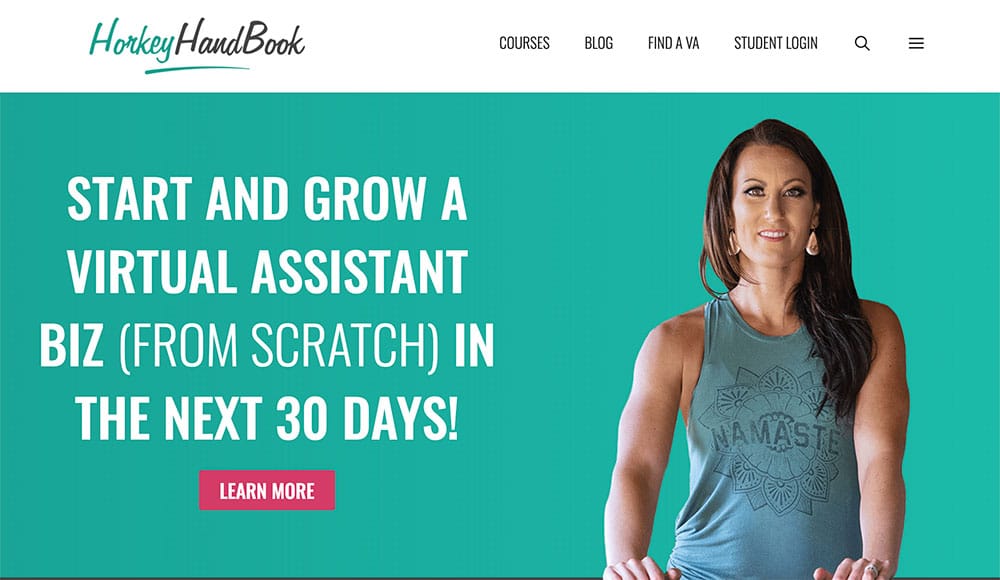 3. Make and Market Your Own Products
Ever think about starting an Etsy store? Guess what, you don't need to. You may be able to sell your wares directly from Pinterest.
From clothing and accessories to furniture and home décor, if you make it, chances are you can sell it on Pinterest.
As mentioned, you can also use Canva to create pins and sell items you think will help your target audience as an affiliate.
Your Turn to Make Money on Pinterest Starts Now
Are you excited to join the thousands of others making money on Pinterest each and every day?
With a blog or without one, there's money to be made, you just need to decide to crawl out on the limb and grab it. The time to make money with Pinterest is now!
Did you enjoy this post? If so, don't forget to share!
The following two tabs change content below.
Jamie Spencer
My name is Jamie Spencer and I have spent the past 10 years building money making blogs. After growing tired of the 9-5, commuting and never seeing my family I decided that I wanted to make some changes and launched my first blog. Since then I have launched lots of successful niche blogs and after selling my survivalist blog I decided to teach other people how to do the same.
Latest posts by Jamie Spencer (see all)