The top-level domain you choose for your website is just as important as the domain itself. Also referred to as TLDs for short, the top-level domain is at the highest level in the hierarchal system used by Internet services to categorize sites and direct visitors. These domain extensions follow your website name and play an integral part in your overall web address.
There are over 1,500 TLDs available as of 2020. New generic top-level domains hit the scene in the last decade to tempt even more people to get online, start a blog, an online business or a personal site. But, two domain name extensions continue to prevail.
The .net and .com extensions are some of the most recognizable on the Internet. Available since the dawn of the World Wide Web, they are still heavily used among big commercial businesses and small blogs alike. Up for grabs at many hosting providers and domain registrars, these domains are highly sought-after and are often the first to get snatched up for popular keyword-based domains!
So, which one is right for you?
The .com domain extension and .net domain extension both have a lot to offer webmasters and site owners. They're instantly recognizable and hold a lot of value among Internet users. But, subtle differences in public perception may affect the domain's performance for your site. To understand which extension is the best choice, you have to understand their similarities and differences.
What Are Domain Extensions?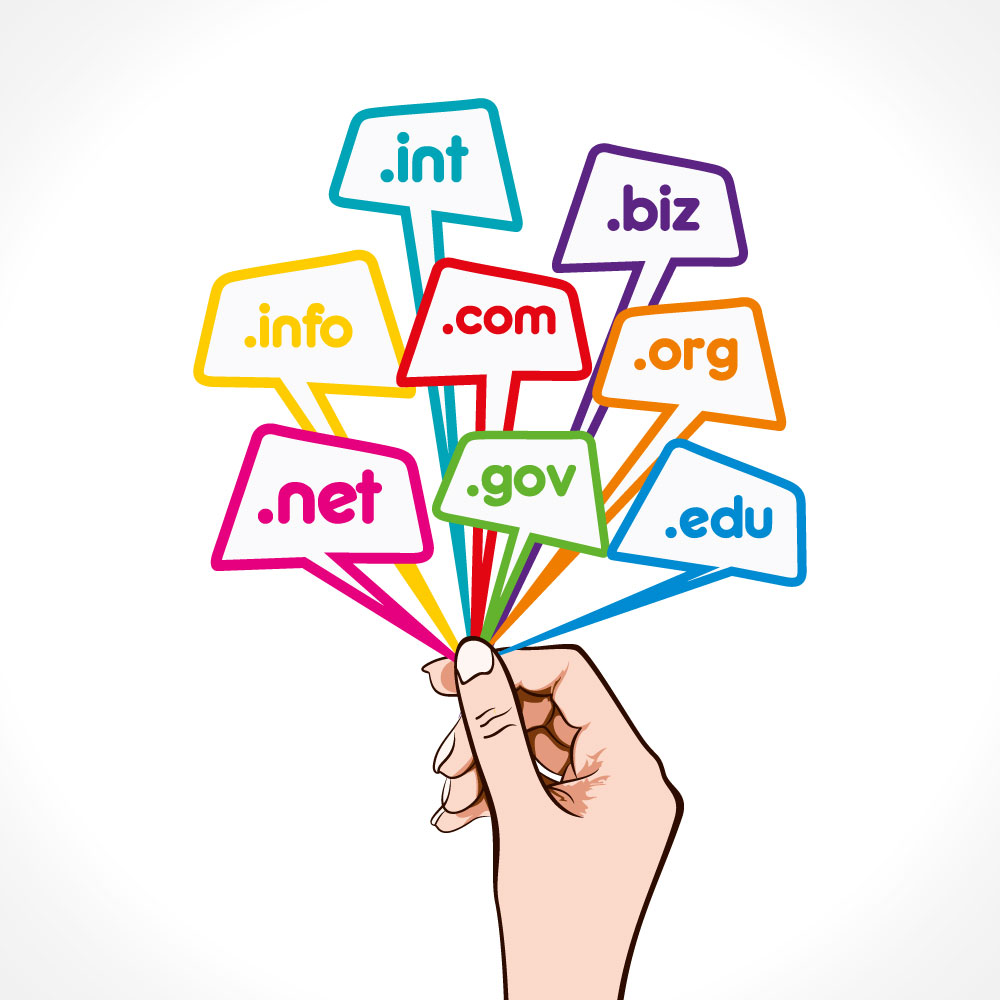 As mentioned earlier, domain extensions are part of the hierarchy system for the Domain Name System of the Internet. When you take a look at your website address, you'll notice that it's split into several distinct parts.
Let's take, for example, www.google.com.
In this case, .com would be the domain extension and top-level domain. The "google" portion is the specific domain name. Usually, it's the name of your personal website, blog, or company.
Every web address has one. Without it, your visitors wouldn't be able to find the specific web space you own! The browser utilizes it to narrow down the search and divert traffic to the right hosted space.
Think of it as your own last name. Millions of people can have the same domain name. But that small extension on the end creates a unique address that only your site can have.
There are many extensions available. Some are reserved for specific types of websites. For example, government entities can only use .gov. Some jurisdictions also have country codes. But for the most part, .com and .net are open to anyone who wants to buy it.
Why is the Domain Extension Important?
Believe it or not, the extension you choose can ultimately impact the performance of your site. But, it doesn't influence as many metrics as some would believe.
There's a popular misconception out there that a TLD will negatively or positively influence search engine optimization efforts. The exact ranking parameters for search engines like Google are still a mystery. But, many believe that there are more than 200 ranking factors in Google's algorithm. The TLD is just one of them. As a result, it has little to no effect.
The domain name itself is more important, as you can take advantage of pertinent keywords.
The biggest impression your domain extension will have is in public perception. More people are inclined to click on sites with a domain they recognize. The Internet is fraught with "spammy" links and lower-quality websites. If a search engine user is presented with a list of websites to visit, they are more likely to click on the ones with extensions they know.
In this sense, your domain extension can make or break your SEO efforts. Google and other popular search engines favor high-traffic sites with exceptional quality. The smartest choice to get your site seen would be to get a domain that people recognize. That way, your site is viewed more favorably by search engines that can drive your traffic even more.
About the .net Domain Extension
The .net domain name was officially created in 1985. To put things into perspective, the World Wide Web we know today wasn't a thing until 1989! .net was one of the earliest domain extensions on the Internet.
It's an original top-level domain that was first developed as an alternative to .com. Back then, it was intended for organizations that dealt with networking services. For example, it was popular with Internet service providers, email services, and other forms of Internet infrastructure.
It belongs to a group of other service-focused domains. .org was created at the same time and was supposed to be for non-profit entities. The same goes for .biz and .edu. The former is meant for businesses, while the latter focused on educational institutions.
The original classification idea was never enforced, so .net became a hugely popular alternative to more popular domains during the dot-com bubble.
Today, .net is still quite popular. According to the Domain Name Industry Report, upwards of 13.4 million registered domain names use the extension!
Cost of a .NET domain name extension
Both .net & .com domains are very affordable. Most people expect domain names to be expensive. In fact you can pick up a cheap domain name for as little as $1 (depending on the domain extension that is)
You can get a .net domain from Domain.com for $12.99
Or get a domain name for free when you buy hosting from Bluehost ($2.95 pm)
About the .com Domain Extension
The .com extension is, by far, the most recognizable. It, too, is one of the original top-level domains. Created in January of 1985, the first-ever .com domain was claimed by a now-defunct communications company in March of that year.
The three-letter extension is derived from the word commercial. As you can probably guess, this domain initially catered to for-profit companies. It was the antithesis to .org, which was made for non-profit organizations.
Of course, the adoption of .com domain extensions spread rapidly. When business and investors saw the potential for money-making endeavors online, the extension boomed! In addition to online businesses snatching it up, every website owner in the United States and beyond wanted a piece of the pie!
It's largely responsible for the dot-com boom and has undoubtedly shaped the Internet as we know it!
Estimates for the number of websites that use this extension vary from one report to the next. Some estimate that more than half of all websites use it. According to the Domain Name Industry Brief, over 145.4 million websites used it in March of 2020!
One thing we can be sure of is that the .com extension is the most well-known of all the top-level domains.
Cost of a .COM domain name extension
You can get a .com domain from Domain.com for $12.99
Or get a domain name for free when you buy hosting from Bluehost ($2.95 pm)
When to Use the .net Extension
While not as popular as it once was, the .net extension still has a big online presence. There are no restrictions to use the domain, but it can still benefit you in many instances.
It makes sense the most for Internet-based services and websites. It's a popular choice for everything from web hosting companies to email hosting providers.
The extension still has a strong association with the word "network," so you can take advantage of that connection to make your website stand out.
In the last decade, several social networking platforms have emerged. Even today, newer networking sites continue to pop up to stake a claim in the vast social environment. The .net domain makes perfect sense for those types of websites.
Networks of any kind are all about connection. Whether you have a network of people looking to communicate or you have a niche website that's designed to help artists network with other artists, the domain fits.
Of course, you don't have to limit yourself with domain extensions. Thanks to the absence of usage restrictions, .net is also famous for blogging and commercial purposes.
One common tactic is to grab the domain when a .com version is not available. Rather than shelling the cash to purchase a .com website from an existing owner or someone who parked it, you can go for the .net version instead.
It still has plenty of credibility and recognition to long-term Internet users. You can capitalize on the extension's familiarity even though it's not as well-known as the alternative.
When to Use the .com Extension
There's no doubt that a .com website will draw in more visitors. It's the oldest and largest domain extension. The domain won't guarantee success, but if you have a well-made site that's well-optimized for search engines, the extension will likely attract more traffic.
That's because it has built-in credibility. Of all the 100 most-visited sites on the web, a vast majority are tagged with the .com extension! Website addresses with the top-level domain are typically easier to remember. Plus, it's well-suited for mobile viewing.
Many smartphone keyboards these days have a dedicated ".com" key for browsers, allowing visitors to finish off the address with one tap.
A .com domain name implies that you run a for-profit business website. It's a favorite among eCommerce platforms and commercial websites. Even small businesses and startups have a lot to gain from the innate familiarity.
Like .net, this extension does not have any restrictions. So, you're free to use it regardless of the type of site you run. That said, there is one problem that many site owners run into: Availability!
Do one quick search on a popular registrar like Bluehost, and you'll quickly see that it's rarely available for popular keywords. Unless you have a unique business name or niche domain, it's hard to get your hands on a .com website. In the instances it is available, it might cost you substantially more than other generic top-level domains.
You can also use this handy little tool to see if your domain name idea is available to buy.
That's the trade-off you have to consider—a high-ranking domain name with a .com extension can be a worthy investment. It's something that most people will flock to on a search engine results page, which can ultimately make your website more successful.
Generally, we recommend going for a .com extension when it's available. The benefits of doing so are undeniable!
How to Buy Your .net or .com Domain Name
No matter which domain extension you choose, the first step is to see what's available. For most, this is going to be the final deciding factor!
Domains are available at dedicated registrars and web hosting companies. Oftentimes, web hosting providers act as a domain registrar to purchase the domain on your behalf and complete proper registration steps. Some will even provide a free domain to get you started! Though, it might not always have a .com or .net extension.
Visit a hosting service or domain registrar, such as Bluehost. Then, perform a simple domain search to see what's available.
There's two great choices to buy your .net or .com domain name.
#1 – Bluehost.com – You can get a domain name for free when you buy a hosting plan. Prices start from $2.95 p/m
#2 – Domain.com – Use coupon code SITEHUB and get 25% off your domain.
You can type in your desired keywords or website name. In most cases, the registrar will present available extensions. If the .net and .com extensions are up for grabs, they're usually at the top of the list!
The cool thing about registrars is that you will see options even if the extensions aren't available. You can make changes to your domain name or choose one of the open options. After some simple registration steps and payment, the domain name is all yours! Connect it to your hosted website, and your visitors can start seeing your site!
Domain names have to be renewed every year. Unless you purchase multi-year plans ahead of time, don't forget to renew your registration! Otherwise, you'll lose the domain. With the popularity of .net and .com extensions, staying on top of registration dates is crucial!
.net vs .com: Which is Better?

Always try and get a .com
Simple as that. It's the most desirable domain extension.
A .com extension will serve for any purpose, especially profit websites, eCommerce platforms the best.
Both extension domains have their pros and cons. It all depends on the type of website you have. Generally, .net extensions are good for Internet-based services and networking platforms.
If visibility and credibility are what you're after, .com extensions fare better. As the most widely used domain, it's more mobile-friendly. Not only that, but it's seen as more trustworthy in the eyes of most Internet users.
As always, a domain extension is only as good as the website it's attached to! For matters concerning SEO, your digital space's content will have a more significant impact than any domain extension. The domain extension is just one small piece of your web address. While it's essential to choose one that serves your site well, don't let matters of visibility prevent you from creating a top-notch site that your visitors will enjoy! Do a bit of research into your niche and see what's available. The possibilities for domain registration are endless!
More Domain Name Related Content
If you want to read more about all things domain names then check out the following guides:
The following two tabs change content below.
Jamie Spencer
My name is Jamie Spencer and I have spent the past 10 years building money making blogs. After growing tired of the 9-5, commuting and never seeing my family I decided that I wanted to make some changes and launched my first blog. Since then I have launched lots of successful niche blogs and after selling my survivalist blog I decided to teach other people how to do the same.
Latest posts by Jamie Spencer (see all)