Let's cut to the chase.
For me, .COM wins hands down all the time.
It's the McDonalds or the BitCoin of the domain name world.
Dot Com is more sought after and more credible than any other domain extension.
FACT!!!
Ok, now that's done, you might want to read the rest of the article which highlights the benefits and uses of having a .org domain extension….
.Org and .com domain name extensions are used at the end of website URLs in order to help categorize them. They are also called TLDs ( Top Level Domains ) .Org is primarily used by non-profit organizations, while .com is used mostly by for-profit businesses.
Many would argue that choosing the right domain name extension is even more important than the domain itself, as it will add instant credibility and align your website with your brand.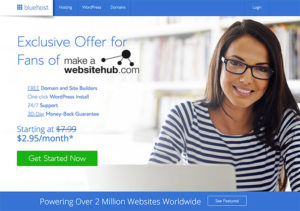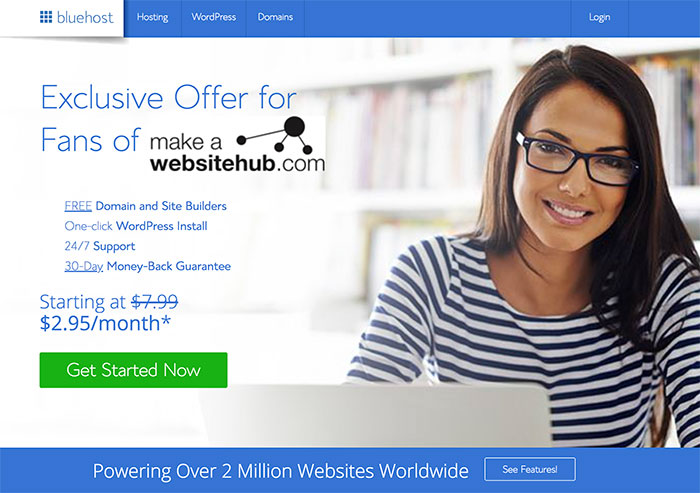 After settling on a .org or .com domain name extension, you can then search for the perfect domain name with a top-quality registrar like Bluehost, who offer a free domain name when you buy hosting.
At Bluehost, you'll find both .org and .com domain extensions and a wide-range of plans with awesome features like free email accounts, SSL certificates, and more.
Alternatively you can get 25% OFF your domain and hosting with Domain.com (use coupon code – Sitehub)
First, however, you need to figure out which type of domain name extension is right for you. To do that, you need to understand their differences.
.Org vs .Com – What's the Difference Between These Two TLDs?
What Does .ORG Mean?
The .Org domain extension stands for "organization" and is more appropriate for non-profit organizations, but also has a wide range of uses in for-profit websites. They can also be used for websites that provide people with free resources and information. Example: animalcorner.org is a free educational website that teaches kids about animals.
What Does .COM Mean?
The .com domain extension stands for "company" and is the No.1 premium domain extension. Although businesses commonly use both .com and .org extensions, .com is almost exclusively used by for-profit businesses.
.Com extensions are also more mobile-friendly, allowing them to better capitalize on the continuing mobile trend. However, when searching for the perfect domain name, you'll find that there are many more .org extensions available to purchase. In fact, competition for a great domain with a .com extension can be fierce.
.Org and .Com Domain Extensions – Comparing the Two
.Org:
• Typically used by – Non-profit businesses and organizations
• Price – $8+/year
• Mobile-friendly – Not really
• Availability – Very high; only used by 5.2 percent of websites
• Credibility – Very credible for non-profit organizations and some types of businesses
.Com:
• Typically used by – All types of for-profit businesses
• Price – $8+/year
• Mobile-friendly – Yes
• Availability – Poor; Nearly 50 percent of websites use a .com domain
• Credibility – Very credible for any type of business/much more credible than .net, .biz, and other alternatives
When Should You Use a .Org Extension?
As mentioned, .org extensions are commonly used by non-profit organizations, but they're also sometimes used by other types of websites. For instance, some websites that provide the public with free information and resources but profit via ads being displayed on their site also use a .org domain extension. .Org extensions are also sometimes used by open source online networks.
Here are the different types of websites that commonly use a .org extension:
• Charity and Other Non-Profit Organization Websites
A .org extension should be used by a charity or non-profit organization for several reasons. For one, it adds credibility. It also sends a positive public message that the purpose of the site is to serve the greater good of the public, not to make a profit. Plus, people searching for a non-profit organization tend to automatically add.org to the end of its name hoping the right website will show up. With a .org extension, you'll show up first.
• Open Source Websites
While many open source software companies don't designate themselves as being non-profit, they also commonly use .org domain extensions. They do so to tell the public their software, forum, and/or user network are available for free.
• Educational Websites
Educational websites whose sole purpose is to provide free education to people also regularly use .org extensions to indicate their information is available free of charge. This is often even the case with websites that don't receive any donations at all. As a result, sites using a .org extension are much more trusted than they would be if another domain name extension was used.
When Should You Use a .Com Extension?
While .org refers to "organization," .com refers to "commercial." Therefore, it's used for the websites of commercial, for-profit companies whose aim is to generate a profit from advertising or selling goods and services. Since .com websites are generally more trusted by consumers than non-.com or .org websites, most of today's websites use a .com extension.
Here are the different types of websites that commonly use a .com extension:
• Online Shops and Service Websites
The .com extension is ideal for companies with websites that sell products or services online, offline, or both. It can be used for selling traditional goods and services as well online-only subscription services.
• Blogs
While most blogs don't sell anything per se and simply link to other websites that do, many of them use .com domain name extensions for added credibility. By using a .com extension for your blog, you'll place it in the same arena as big, established .com sites, giving it a professional appearance and online presence. Opting for a cheaper .net, .info, or .biz extension says you don't take your blog seriously, so why should anyone else? Choosing the right domain for your blog is just as important as choosing the right blogging platform for your blog.
• Non-Profit Websites That Sell Goods
Some non-profit organizations selling certain items use a .com domain extension in order to capture visitors looking to buy their goods. As long as the profit goes towards the cause the non-profit is serving, they're able to use this extension while keeping their credibility. However, if this is your goal, you may be better off purchasing both extensions and redirecting the .com traffic to the .org domain.
Using a .com domain extension is also really helpful for delivering email newsletter content. Several hosting providers offer free email addresses that will match your domain name and extension, giving you the ability to send and receive mail from "name@yoursite.com" for example. A professional email address adds major credibility to your emails, resulting in higher open rates and greater profit potential.
.Org vs. .Com – What are the Pros and Cons?
.Org Pros and Cons
A .org domain name extension provides the websites of non-profit organizations with added credibility while making them more memorable and offering more domain name options to choose from. However, .org extensions are less mobile-friendly than .com domains and generally less versatile as well.
Pros:
• More Credible – Similar to the way .com extensions make for-profit businesses seem more credible, .org extensions make non-profit organizations appear legitimate. It sends a clear message that the site is providing information or a service with no intention of making a profit.
• More Searchable – People associate the .org domain extension with non-profit organizations, so more people search for non-profits using the .org extension.
• More Choices – Only around five percent of all of the world's websites use a .org extension. This means there are many more domains to choose from with a .org extension than there are domains with a .com extension. In other words, you'll be more likely to snag your first choice.
Cons:
• Less Mobile-Friendly – .Org domain names are a little more difficult to enter than .com domains on mobile devices. This is because many smartphones and tablets don't have ".org" buttons like they do ".com" buttons. As a result, many organizations purchase both a .org and a .com domain, allowing them to re-route the .com traffic to the .org site.
• Less Flexible – Since .org domain name extensions are only appropriate for non-profit organizations, their usage is much more limited, and so is their flexibility.
.Com Pros and Cons
Whether you're selling something or not, a .com extension can make your site more memorable, credible, and mobile-friendly. Unfortunately, due to their popularity, there are fewer .com domains out there to choose from, and the ones that are available are often more expensive.
Pros:
• More Credible – Thanks to its longtime association with several well-known and respected brands, the .com extension adds credibility to any website using it. Websites using other more widely available domain name extensions like .info and .biz, on the other hand, are viewed as spammy or low-quality by comparison.
• More Searchable – Since the .com extension is used by nearly 50 percent of all business websites across the globe, it's the first domain name extension people use in their business searches. In other words, people are consumers are more likely to search for perfectpleats.com than perfectpleats.info, perfectpleats.biz, perfectpleats.net, and so on.
More Mobile-Friendly – Since .com extensions are so popular, most mobile devices have a .com button to make typing URLs as quick and easy as possible. No other domain name extensions have these mobile shortcut buttons.
Cons:
• Less Genuine – A .com extension automatically indicates that a website is trying to sell something. Therefore, visitors can feel a sense of bias and like the website is trying to convince them to hit the "Buy" button. This is why blog posts can sometimes seem less authoritative or genuine with a .com extension.
• Less Budget-Friendly – Sure, you can still find some real .com gems out there for $15 or less a year, but these are often few and far between. More often than not, if you want a relevant, catchy .com domain with no hyphens or symbols, you'll have to pay more for it. Conversely, you'll find plenty of .info extensions and the like for under $5.
Where to Get Your Domain Name
You can research available domain names and get one with a .org or .com extension at any domain name registrar. I've reviewed dozens of today's most popular registrars to find the best of the best.
Here's what I found:
Best Domain Name Registrar – Bluehost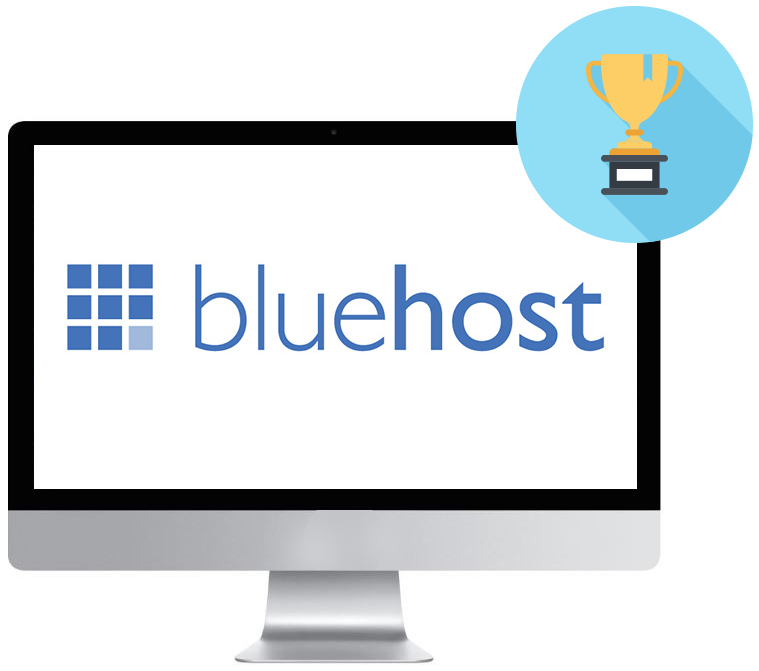 Bluehost is a hosting provider and domain name registrar specializing in WordPress sites. Since WordPress is by far the most popular website builder for businesses of all shapes and sizes, this is a good thing.
At Bluehost, you can get a .com domain for $11.99 a year and a .org domain for $8.99. However, you actually don't even need to pay a thing, because you get a free domain whenever you sign up for a basic hosting plan. At $2.75 a month, it's a steal of a deal.
Despite being a cheap entry-level plan, it comes with great features like one-click WordPress installs, multiple email accounts, and domain privacy and security. Bluehost servers are also super-fast and reliable, and the company's customer service is top-ranked as well.
Domain.com offers a variety of web hosting plans for just about every type of website owner. They offer shared hosting, VPS hosting, WordPress hosting, e-commerce hosting, and more. They also offer an easy-to-use website builder, unlimited disc space, and free domain names for both .org and .com extensions.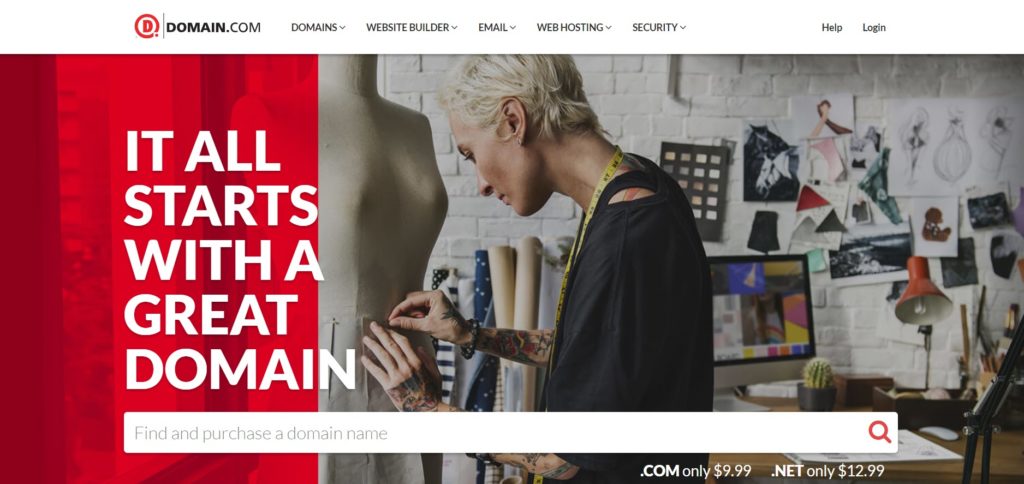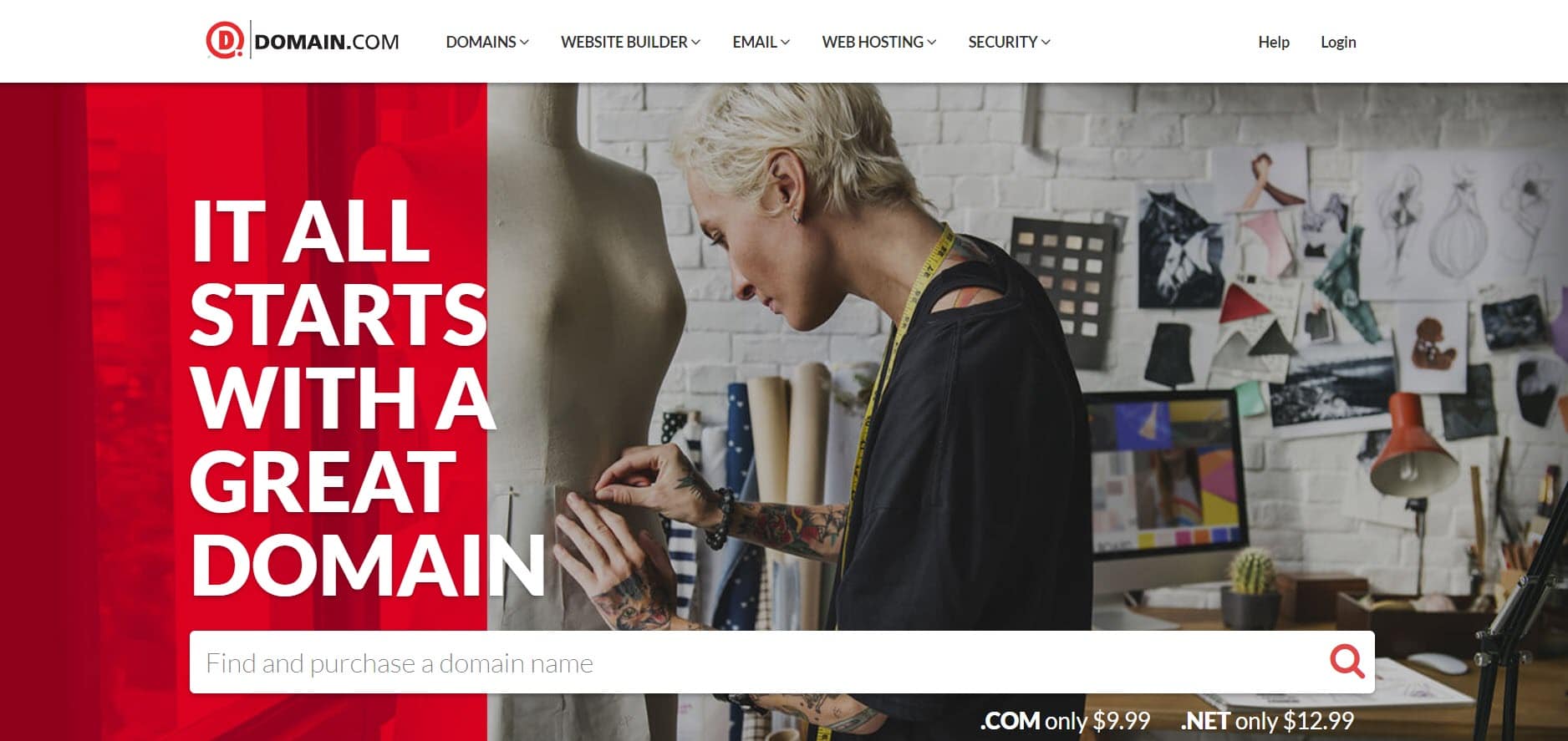 The hosting provider and domain registrar doesn't offer as many plans and flexible pricing options as Bluehost, but it's a more than serviceable one-stop shop to get your website online fast.
The Basic plan begins at $3.75 a month. With it, you get unlimited disc space and up to 100 email addresses. Next is the Deluxe plan at $6.75 a month, which allows for 250 email addresses and hosting of unlimited domains. For $13.75 a month, the Ultra plan adds unlimited email.
Use coupon code SITEHUB to get a further 25% OFF everything.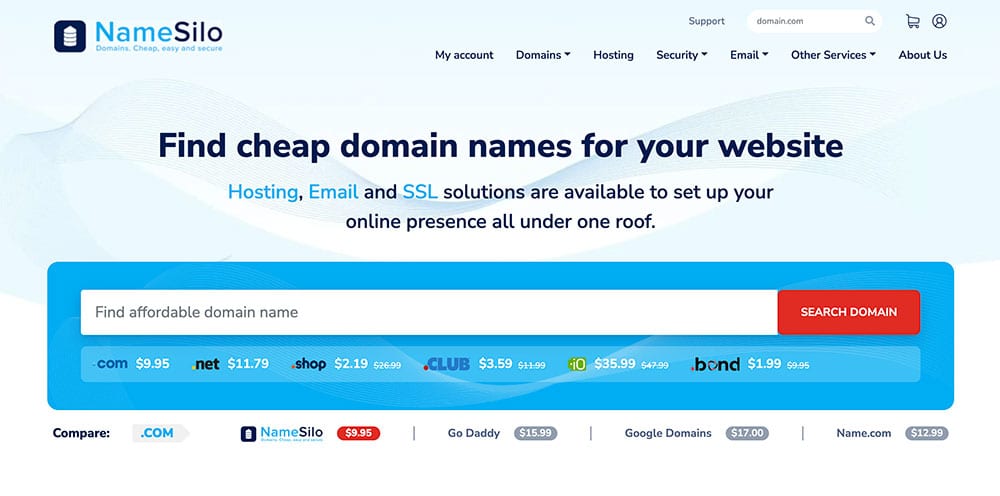 I've used NameSilo for years and have always rated their service and pricing. They are one of the true specialists in the domain registration market, as in they focus mainly on domains.
As well as cheap domain extensions, they also offer additional services such as web hosting, SSL certificates and Google Workspace email.
Their domain pricing starts at a very cheap $1.39 and are one of the cheapest domain registrars on the market.
The control panel is a bit dated, but simple to use. It looks a bit 2005, but there's more to a domain service than a pretty user interface.
NameSilo has a no nonsense pricing structure, with useful features added in each package. These useful add-ons include full access DNS management, free WHOIS privacy, free email forwarding service, domain protection, and domain parking.
.ORG vs .COM FAQs
What's the difference between .org and .com?
Short for ".commercial," .com is generally used for the domain name of a for-profit business website. On the other hand, .org is short for ".organization" and is most often used by non-profit organizations. That said, both domain extensions are high-quality, equally memorable, and add credibility to the websites they represent.
Can a for-profit business register a .org extension?
Yes, .org domains can be purchased and registered by anyone. However, as you now know, .org extensions should only be used for non-profit organizations. While it may be tempting to go the .org route to get the domain name you really want, it can actually send the wrong message and have an adverse effect.
Is .org more credible than .com?
Yes and no. Although .com extensions have been used by the world's biggest websites for years and definitely add credibility, .org extensions showcase the non-profit status of organizations and let visitors know the website's sole purpose is to provide valuable, useful information – not turn a profit.
Do .org or .com domain name extensions affect SEO?
Several studies show that domain name extensions, including .org and .com extensions, have very little effect on a website's SEO ranking. The only exception to this is with countries other than the US as these searches often favor country-specific extensions like .uk or .au over .org, .com, and the others. Generally, your content, backlinks, and directory listings will play a much bigger role in your Google search rankings than your domain extension.
How can I get a website with a .org or .com extension?
To get a website with a .org or .com extension, you need to choose a hosting provider like Bluehost to select a domain name and hosting plan. Once you do, you can use a drag-n-drop website builder to get your site up and running in no time at all.
.ORG vs .COM – The Bottom Line
Both .org and .com domain name extensions are added to the end of websites to identify whether or not they represent a non-profit organization or a for-profit business. .Org is short for ".organization" and .com is short for ".commercial."
Deciding on the right one will make your site more credible and searchable, which I'm sure you'll agree, are critical to its success.
To get a domain name with a .org or .com extension, you'll need to use a reputable domain registrar like Domain.com or Bluehost. Widely considered one of the best registrars and hosting companies, they offer a variety of affordable, feature-rich hosting plans to get your site off the ground in the blink of an eye.
More Domain Name Related Content
If you want to read more about all things domain names then check out the following guides:
The following two tabs change content below.
Jamie Spencer
My name is Jamie Spencer and I have spent the past 10 years building money making blogs. After growing tired of the 9-5, commuting and never seeing my family I decided that I wanted to make some changes and launched my first blog. Since then I have launched lots of successful niche blogs and after selling my survivalist blog I decided to teach other people how to do the same.
Latest posts by Jamie Spencer (see all)