A great presentation can help you create a positive impression about your products and services. But, it doesn't stop at what other people think of you. It can translate to better business results too.
Naturally, achieving more of what you want makes you feel more confident. That explains why 91% of presenters feel more confident with a well-designed slide deck.
From making a good first impression with your corporate messaging and ads to building an ongoing positive brand identity, your presentation matters. You want to be ahead of the pack—about 79% of people agree that most presentations are boring.
Enter Mr. Prezident.
Top brands turn to this presentation solution to win important contracts, sharpen the efficacy of their messaging, and deliver brand experiences that stick.
In this interview, Nicholas van der Kwast tells us how businesses can attract and engage their audience through presentations.
Read on to discover how.
"One of my clients has told me that our presentation is worth a billion dollars… So, he'd made a billion dollars."

Nicholas van der Kwast
Key Takeaway From The Interview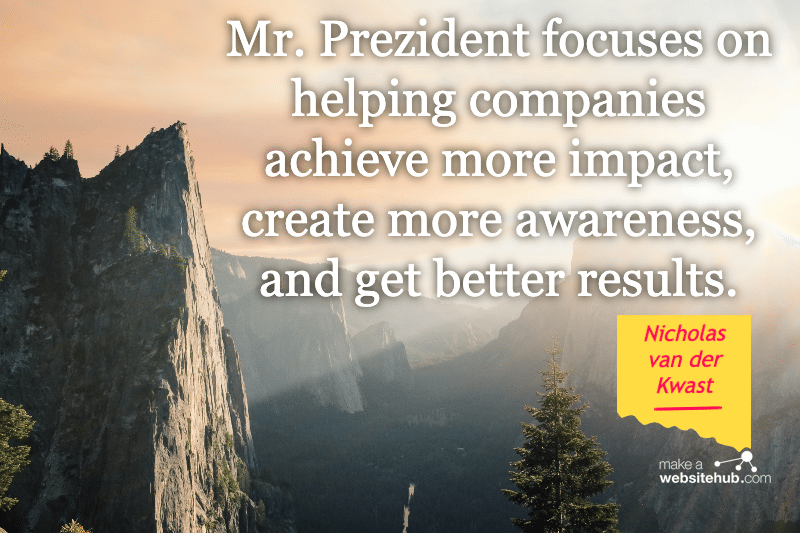 This interview shares insights on how businesses can leverage their presentations to boost their growth and awareness.
Here are some key points to note:
Don't put your presentation quality on the back burner, creating that impression on people is everything. Put in the effort to ensure your presentation sticks

Remarkable presentations are not so much about just the medium or the message but about blending the medium and message in ways that deliver desired business results. Think of syncing up the medium and message, not choosing one over the other

Make such investments as deliberately improving your storyline, design, and public speaking skills, these skills have verifiable business results.

Presentations create valuable assets that your business relies on to sell to investors, win customers, and organize your teams, so you want to set aside a budget for it.

If you sell high-end services to enterprise buyers, you can turn your processes into templates for small businesses to benefit from. Mr. Prezident turned their high-ticket-client processes to templates that businesses that don't need to do presentations so often can use.

Great presentations might be worth a billion dollars. That's why paying attention to the details matter.
My Conversation With Nicholas van der Kwast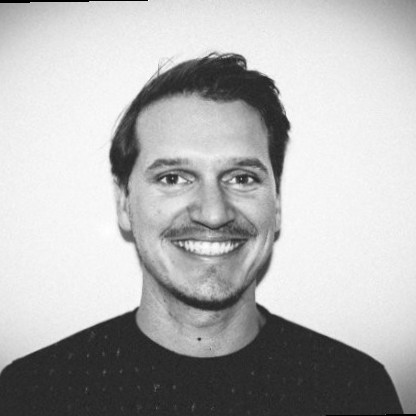 1. Introduce yourself and tell us about Mr. Prezident.
My name is Nicholas Van Der Kwest. I work for a company called Mr. Prezident, which is a presentation agency.
Mr. Prezident focuses on helping clients achieve more through presentations. And what we really mean by that is to achieve more impact, create more awareness, and get better results.
It's a litany of things that people are trying to achieve with their presentation. So, our objective is to make sure that they're achieving their objectives, and more, through their presentation.
2. So, can you tell us the story behind the name, Mr. Prezident?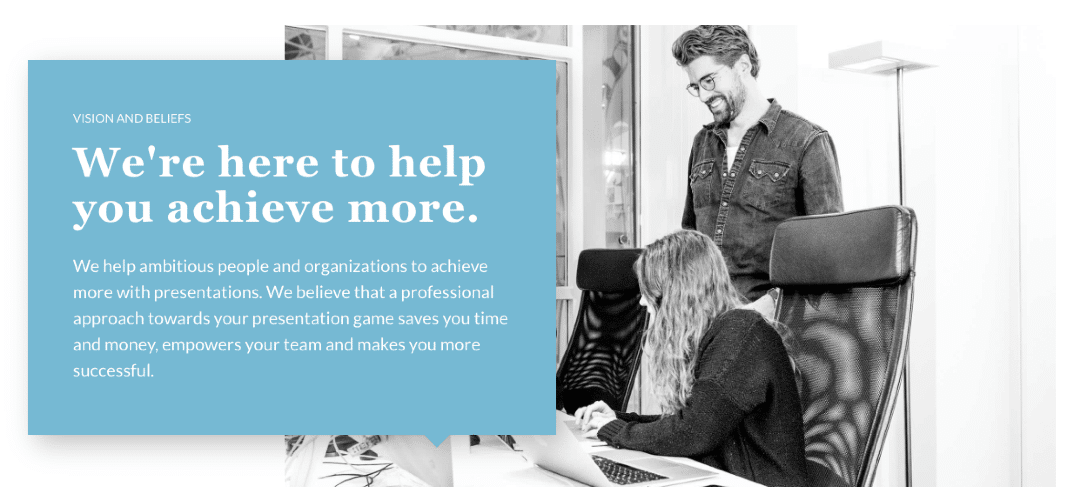 Yeah, of course.
Mr. Prezident originally started as a Prezi agency. If you've heard of the presentation software tool called Prezi, it's an open canvas software that you can design presentations with. It allows a lot of flexibility in terms of moving in and out without having that slide-to-slide transition.
So, two founders, based in Amsterdam, started Mr. Prezident. One of them was working at another big agency called Ogilvy and they were just creating presentations for them all the time.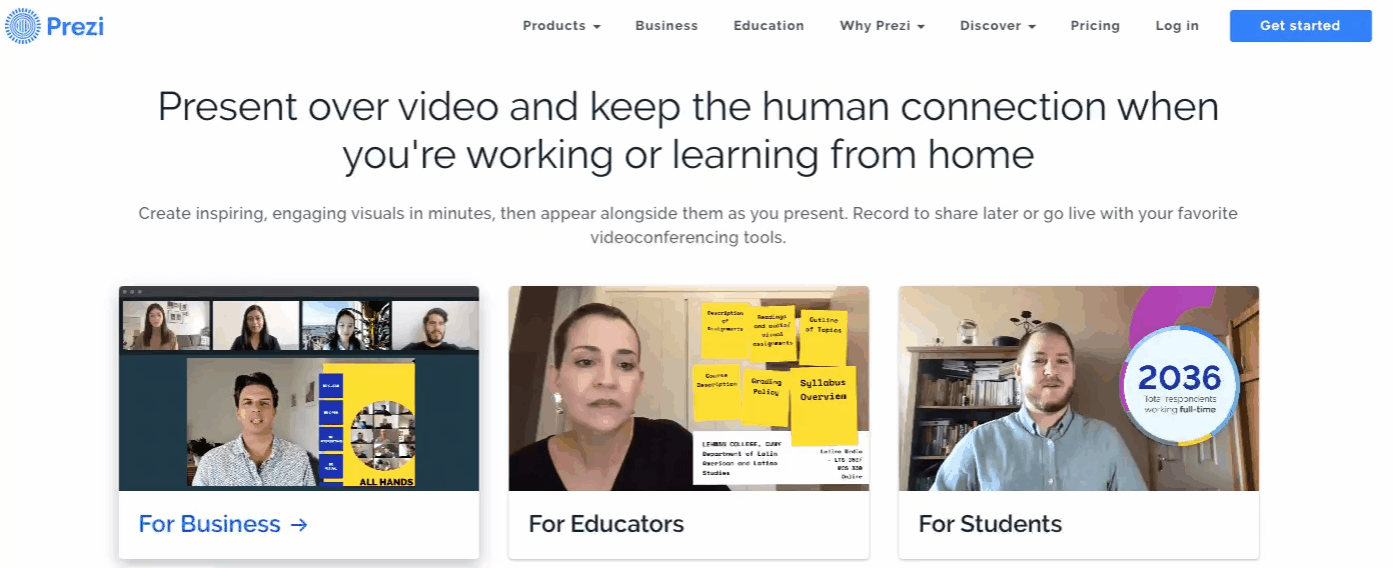 Prezi was the new presentation software on the market and it was hot. And one of the founders got into it and started understanding everything you could and couldn't do with it. And then he started doing all the presentations for Ogilvy in this tool.
Eventually, it became such a high-demand tool that he decided to start an entire agency around this software. Ogilvy permitted him to start his new agency within the Ogilvy structure and right away he was making use of Ogilvy's facilities and know-how. Because Mr. Prezident was the first agency to focus on Prezi, companies started coming to us directly.
So, we had tons of inbound success while working with this tool. The tool obviously lent itself to the name. So Prezi then became Mr. Prezident We have since expanded to a full-service presentation agency.
About five years ago, we decided that Prezi was still very interesting, but we know we wanted to do much more for our clients than just work within one software. We want to find the software that best matches the client's needs.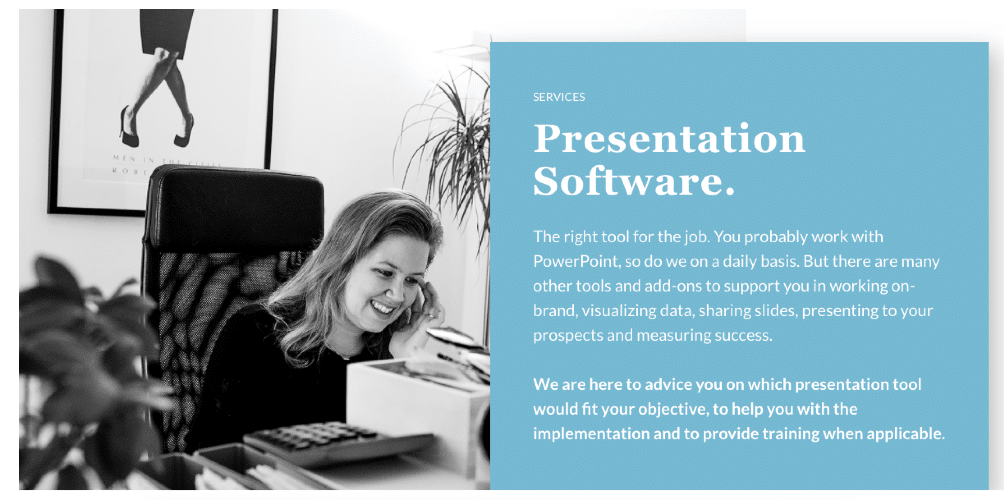 So it's not just about the medium, it's about the message. The message should determine the medium, the type of tool, and the technology you're using to present especially in today's climate almost everyday.
People either presented online or more often in person. Today, technology has become such an important factor in presentations because you're presenting online in front of thousands of people.
So:
What presentation software are you using to present?

What conferencing tool are you using?

How does that align with the presentation tool?

Do these tools sync up with what you're trying to achieve with the presentation?
Sorry! (laughs). That's a lot of information.
3. What has it been like so far since the company started? Especially when you transitioned from Prezi to other tools. What's been your experience so far? What did you learn from that transition?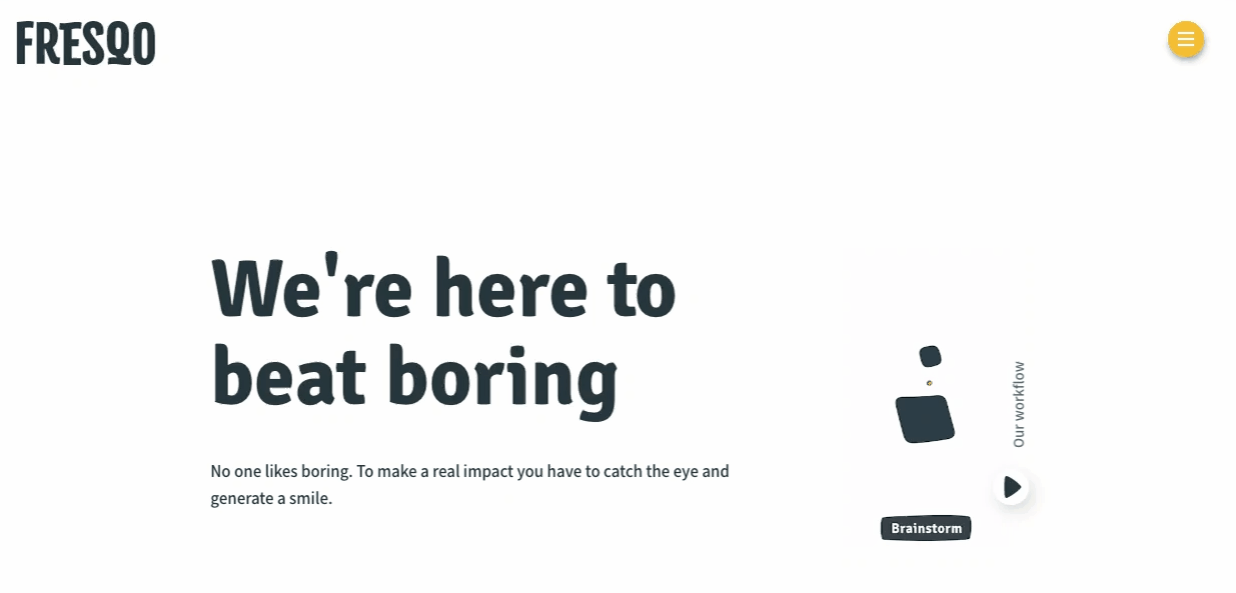 I've learned a ton.
I stepped into Mr. Prezident right when this transition started happening. At the time it was kind of a startup agency.
We were just focused on creating Prezis all the time. Once in a while, they were doing other small offshoots if it was a specific request from a client.
In that time we also started another agency called Fresqo.com because of a lot of the stuff we were creating in our presentations worked well in other mediums. Fresqo was launched to meet our clients' additional design and storytelling needs.
At the same time, we wanted to keep Mr. Prezident as a niche agency, so launching Fresqo was a perfect solution.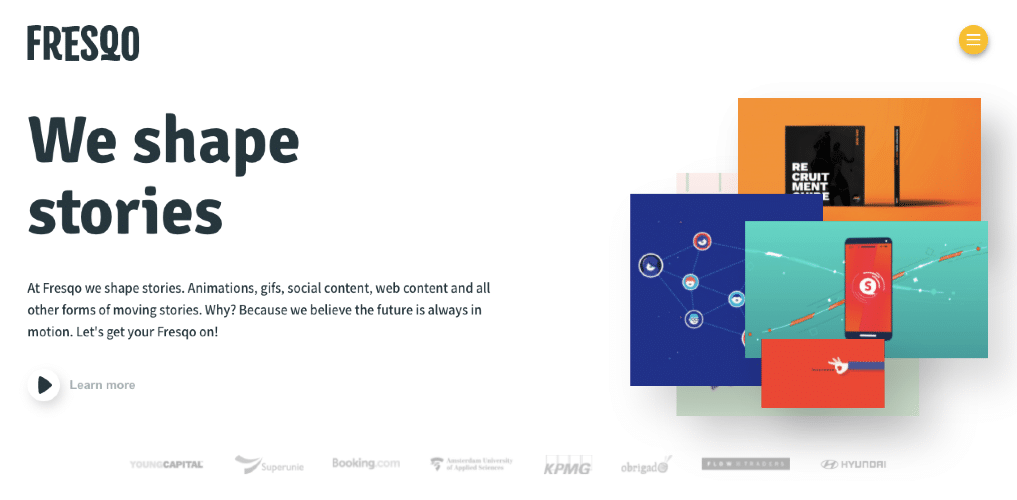 In the early days, we experienced rapid growth. We've always had major clients from the offset. Recognizable global companies like Starbucks, Coca-Cola, and HBO have all been clients almost from day one.
We've expanded our business internationally with offices in Amsterdam and New York. We are clients all around the world, creating presentations 24/7, in a variety of formats.
I go back to what I said earlier. It's not just the medium or the message, it's very much about aligning the two.
How are we telling those stories?

How are we crafting those stories?

What does that look like in design, and

What tools are we using?
So we look at it from a holistic perspective, ensuring that presentations aren't just your run-of-the-mill PowerPoints. People often underestimate what a presentation means.
There's often no budget set aside to create presentations within companies. Yet when you're presenting this information in your investor meetings or your board meetings, or you're trying to tell your company's story or sell a product—these often create assets (presentations) that aren't thought about often end up having the biggest impact on the company.
It's been a big learning for companies and it's an educational process for our clients too. They learn how important these presentations are, and how they should invest time and money into them.
4. Okay. So I'm curious, you said something now. You decided to stay a niche, instead of expanding and adding other features. So what was the thought? Why did you choose to create a separate entity for all these other requests from your clients?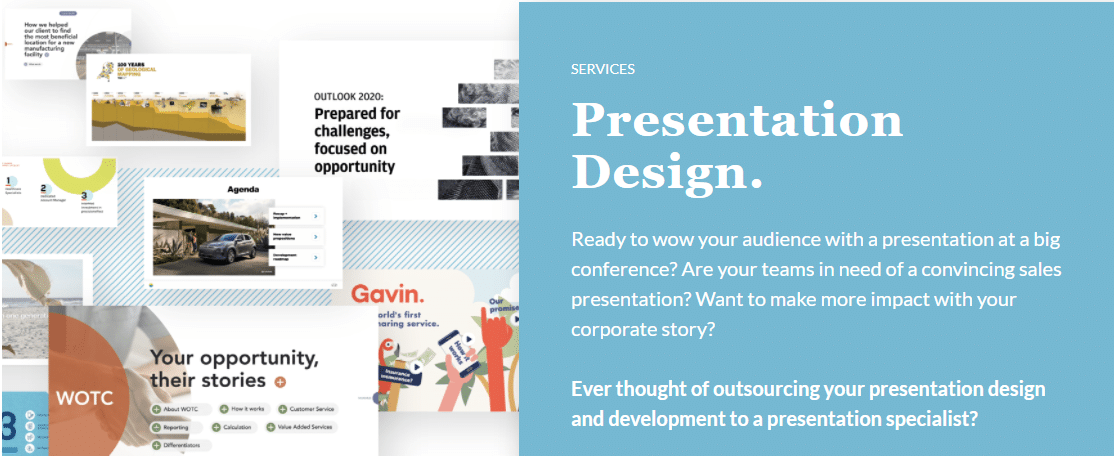 We're very fortunate and still are because there are thousands of design agencies in the world.
There are however, very few agencies that so specifically focus on presentation design. And because we are, that sets us apart.
I also think obviously through the merit of our work, that a lot of clients come to us and search for us.
Whereas if you're searching for a design agency and you type in "design agency" in Google, you'll get a thousand options that just pop up. If you search for "presentation agency", if you're looking for our presentation expert, you'll maybe get a dozen that hit that filter.

And then obviously our list of partners and our work speaks for themselves. That really helps in terms of just getting through the noise.
5. Okay. Now, you've talked of working with really large companies. But do you build services and products that fit small businesses? And how can small businesses leverage this?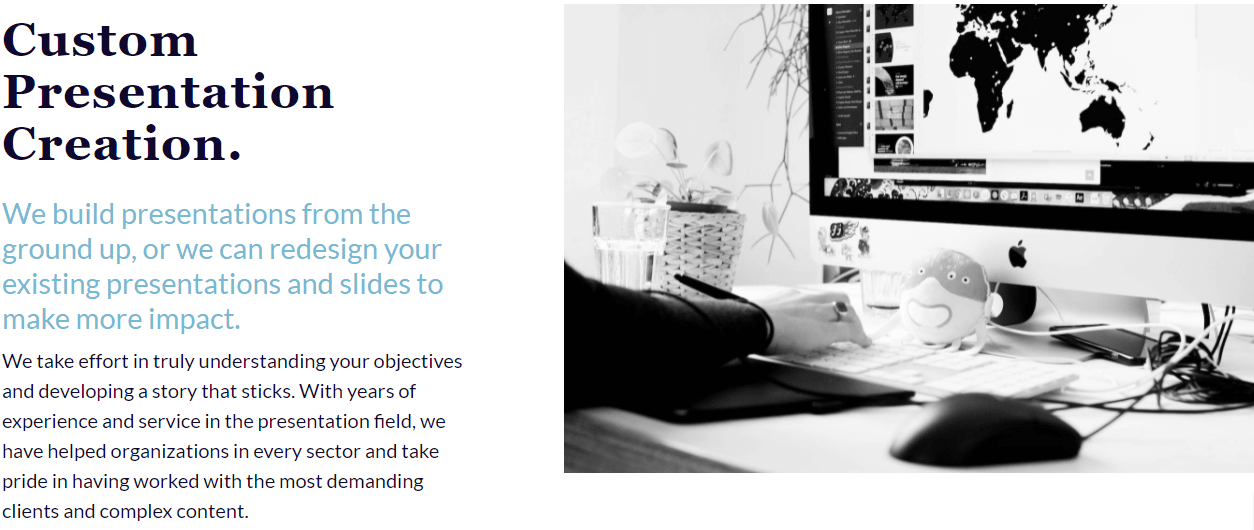 Yes! So there are several ways we work with smaller businesses as well.
Our ambition is to become a presentation partner for your organization. So that can sometimes be a hurdle in building small businesses with a limited budget.
They don't set aside the budgets to create presentations in an ongoing fashion throughout the year. That's why larger enterprise companies are a better fit typically. But we work with smaller companies on their investor decks or one-time general company sales presentations.
We also build templates for smaller businesses. So, we can build a presentation template design that's fully customized to their company.
We have different product offerings where they can select different template packages. The number of slides, they need and how customized it is for them.
But we also do presentation training. You can find more about that on our website.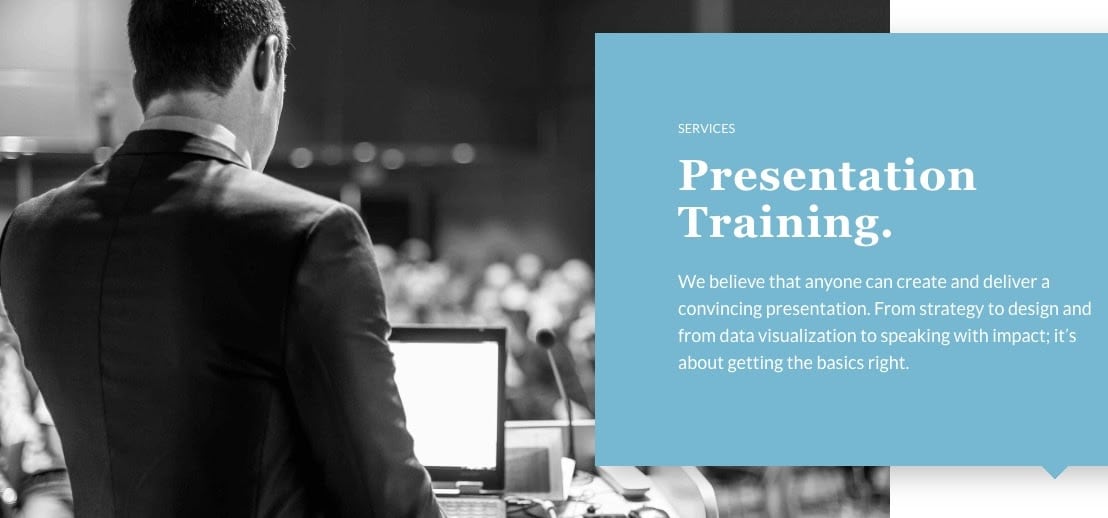 We can help small businesses take on their presentation design themselves and empower them to become better presentation designers. But also better presenters and storytellers.
And while that's a less cost-prohibitive way of working with us, it empowers them to take on a lot of this work themselves.
It may not be the same design level in the end, but they'll at least be aware of the design principles that will help along the way. Creating a story that is going to definitely take what they know to the next level and their general presentation game up a notch.
6. Mr. Prezident promises to make clients "presentation Masters" in just three sessions. And I've seen the quality of your presentations. What are these sessions like? And what makes you feel confident that you can do that with just about anyone?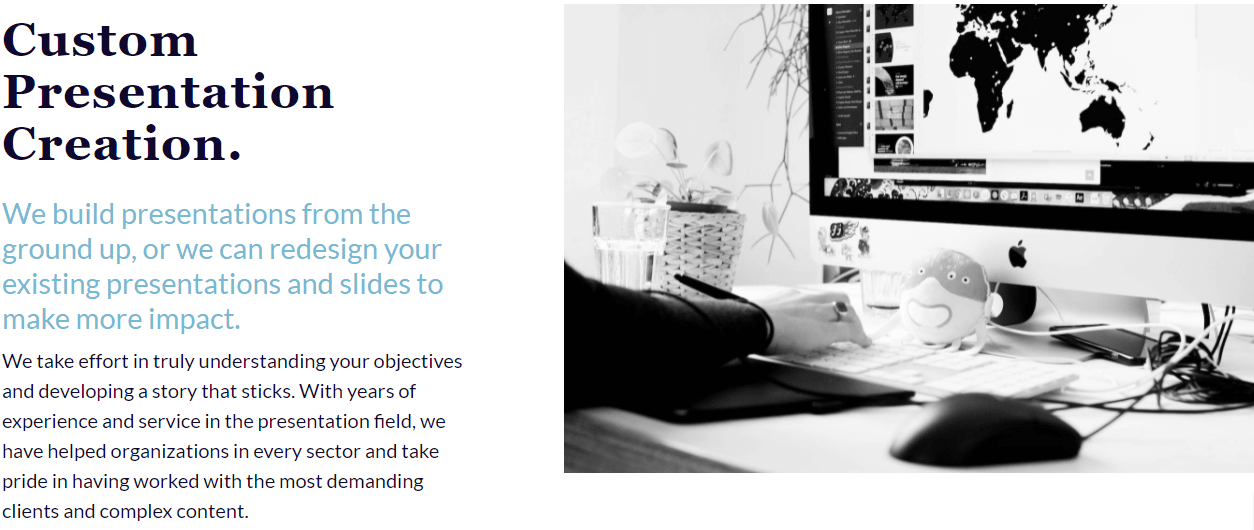 Well, you don't have to become a professional designer, right?
But you can learn the design principles, storytelling principles, and some other tips with regards to public speaking. Learn to present in different formats, whether it be on stage or on camera. There are so many things that you can learn in a short amount of time that will really enhance your general presentation skills.
We focus on these three different segments.
The first is the storyline rather than focusing on putting some slides together. I think it's really important that when we create these training sessions, understanding:
What the story is about

What the product is, and what you're trying to achieve

What is the impact you're going to go for?

Question if the story you're putting together would get you the result you're looking for
That's the first session that really focuses on the story and these sessions are all very workshopped.
So while we give you these principles, we're putting them into practice right away, right? So we try to work on live scenarios to give you that experience.
Once we've crafted that story, the next master session would be on focusing on the design.
So now that we've crafted the story,
How does that fit into actually building the presentation?

What does the structure of the presentation look like?

How do we go through that presentation?

What did the slides look like?

How does that fit with your branding?

How does that messaging look on the slide?
As for the number of words on a slide, we definitely believe less is more when it comes to presenting visuals, presenting the super important.
We're a presentation agency but we believe that the presentation should come second to your story. That might be bad for business but it's true. When the presenter speaks, everything that's behind you on a slide or next to you doesn't matter as much, it needs to only empower and further enhance the message of the presenter. That's far more important.
And then the next session is about actually presenting, right?
So what are the strengths that come across when you're doing public speaking? It's really important nowadays that we learn how to adapt those public speaking skills and engagement skills, for an online situation with COVID and people working from home.
How do we make sure that you're able to transition those skills that maybe you have on stage—or don't yet—to an on-camera situation? There are different tricks to do that as well.
Taking a step back

Knowing when to engage with your audience

Integrating live polls

Incorporating moments of humor in your presentation
All sorts of different tips and tricks that we can do through the public speaking aspect of presenting.
7. Now, you design presentations for people and you train people to do that for themselves as well. Since 66% of people want to design their presentations themselves, based on statistics. What's it been like when people design versus when you design? Have you measured what's really happening in there?

In full transparency, I don't have data on the effect of people designing their own presentations versus working with a professional agency.
I can tell you that, in our experience, people come to us because they don't want to design their own presentations. They're in search of professional support. And when we have been involved, we've achieved great things with our partner clients, be it raising an X amount of money or blowing away an audience during the Ted talk.
These are the things that people want to achieve with their presentations. And that's what we strive to do.
Sometimes, clients come to us and they've already created their presentation. And I can tell you, without wanting to speak down to anybody, it's often not up to standard.
They might think, "I've done an okay job here, but I can really take this to another level." Even then there's so much more that people can achieve.
They're not taking into consideration the design principles. They're not taking into consideration the structure of their story and building in those moments of impact in their presentation.
There's a lot of things missing in a standard presentation that people are creating on their own. Not that people are forgetting, but they might just not be aware of what's all possible.
8. Okay. Now, even if I know these design principles and understand how to design a really awesome presentation, does it make sense to still consult with you and just be double sure. More like, having an expert look at what I've done?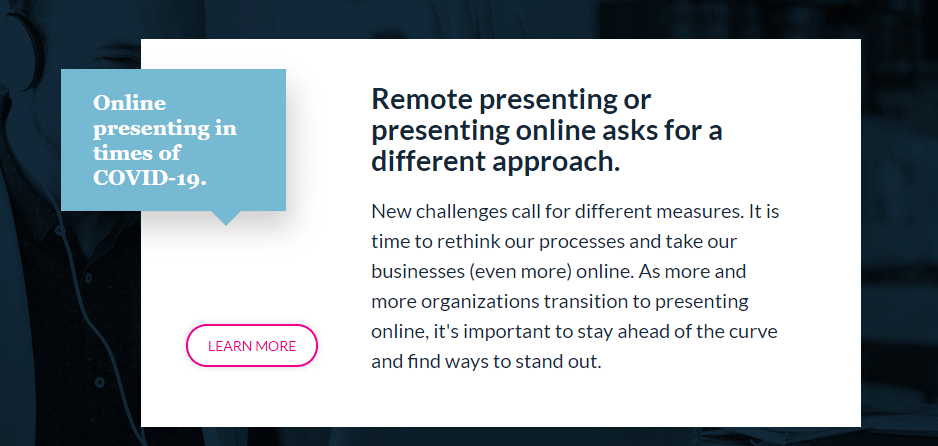 We're happy to always jump on a call and have an initial look and share our two cents. Obviously, during this call, we can present some first ideas and points of feedback.
Then it's either up to them to implement them on their own or work with us, where we can further explore opportunities to enhance the presentation. And contribute to the overall design.
But if they have the capabilities and the means to do it in-house on their own, I would suggest they invest in that. That said, it doesn't hurt to consult presentation experts.
We work on thousands of presentations throughout the year. So we have quite some expertise on what works and what doesn't work.
9. Are you seeing any competition in this space or do you think you're not pressured at all?

Oh, there's definitely competition. There are other great, very good, talented, presentation experts out there.
There are some agencies that focus just on the design aspect or some agencies that focus more on the technology aspect. We partner with a few event agencies, they do all the logistics around the event. But we're actually the presentation agency that gets brought in to create the content that goes on the screens for those keynote speakers and more.
There's competition regionally, in Amsterdam and in New York.
But there's also competition all around the world. There are presentation agencies in Brazil and Australia and Japan, and they all have their skill sets.
At Mr. Prezident, we try to stay focused on innovative technologies to present. So what are the best tools to present your message? And we focus on the story and crafting that in line with the design. But there's also freelance competition.
There are also freelance presentation designers. What we find there, though, is obviously they can typically work better with smaller budgets. Or you're usually getting one side of the coin instead of the full approach.
When we create and work on projects, we're typically working on any given presentation with three to four people on each project. From technology consultants to presentation strategists, to designers, to a dedicated project manager.
But when you're working with a freelancer, it's just one person you typically send your slides to. "Hey, this is what I want to do." And they create and design within their skillset.
And that could be great for what you're looking for and for your budget. It's just about matching the customer up with the right service that they need.
10. Are there aspects of what you do that you think people are not probably taking advantage of enough?

I'm sure there are. I see tons of presentations that are so subpar.
We work with huge corporations and clients sometimes from around the world that still send us presentations and slides that look like they're from the 90s.
The aspect ratios are off and so many other things that people don't consider and it's so important.
Presentation is everything, right? Creating that impression on people is everything. But, it's often forgotten and put on the back burner.
And what we like to do is bring the importance of that to the forefront and try to remind people of the impact that your presentations can have. Especially nowadays that we're all in these monotonous online daily calls.
If you can create something that's of importance and keep people engaged and really make difference within your organization, I think it's important to invest in that.
11. Are you paying any attention to these other spinoffs that some of your clients are beginning to request? These designs they want you to incorporate into their website and all these other external things? Are you trying to grow that in any way?

Yes of course. We have several clients that we have dedicated partnerships with outside of presentation design. We do a lot of work for them.
We do a lot of animation work through our other agency, fresco, but if it's somewhat presentation-related, we keep it under the Mr. Prezident brand. We have partners that do backend development.
So if there are companies and partners we've started working with on their presentations, they might want to move some of that presentation content to other formats. It might be into e-learning formats and develop special online applications for their presentations. Or to do their onboarding process and things like that.
We work with development agencies. We have partners in that segment as well to co-create. So we create the presentation materials with the backend stuff as well.
So yeah, there are all sorts of offshoots that we're working on all the time.
12. What's the best thing anyone ever told you about Mr. Prezident?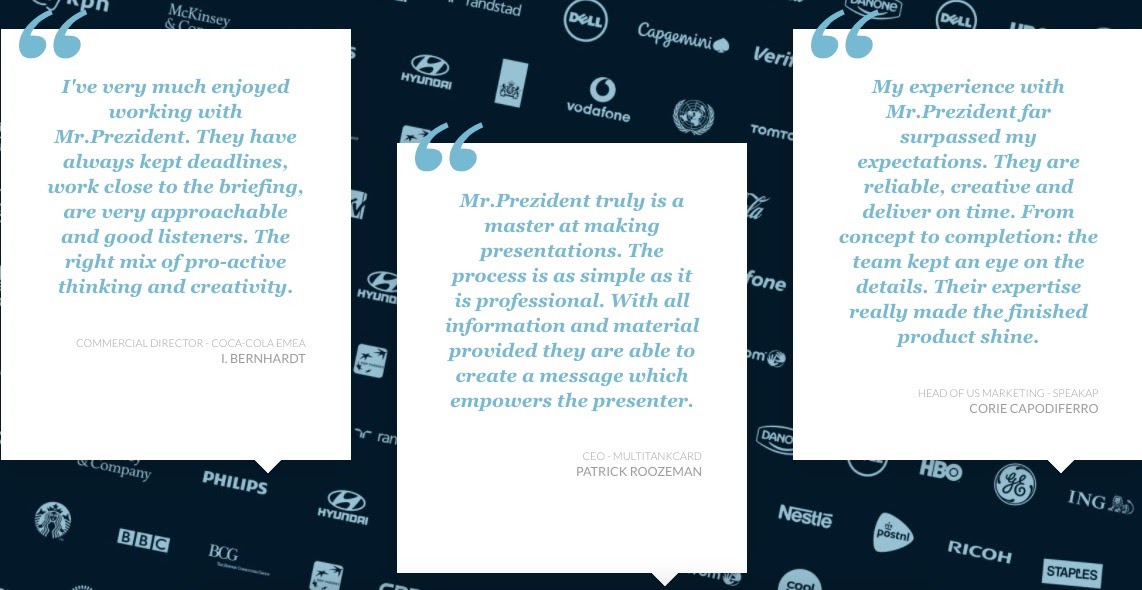 The best thing anybody's ever said to me about Mr. Prezident? (Laughs)
I haven't been given permission to reference the client, at least not off the top of my head. But one of my clients has told me that our presentation is worth a million dollars.
About Mr. Prezident
Mr.Prezident is the leading agency for presentation development. We make a difference by creating impactful presentations in various tools such as PowerPoint, Prezi, and Google Slides.
We won the Prezi Awards of 2014, 2015, 2017, and 2018.
Over the past years, we've closely collaborated with known big-boys like Nike, Coca-Cola, Dell, MTV, Starbucks, PwC, McKinsey, and Adidas. However, we're not just here for the rich and famous. We're here for everyone that wants to tell an inspiring visual story.
We're in this business because we understand the power of well-crafted and beautiful presentations. Our goal is to help you tell your story in a way that captivates your audience. Behold, the end of dull presentations is upon us!
If you are interested in our services or if you want to learn more about Prezi, feel free to contact us.
The following two tabs change content below.
Nicholas Godwin
Nicholas Godwin is a technology researcher who tells profitable brand stories that tech buyers and businesses love. He covers technology topics on his website
TechWriteResearcher.com
, and has worked on projects for Fortune 500 companies, global tech corporations and top consulting firms, from Bloomberg Beta, Accenture, PwC, and Deloitte to HP, Shell, and AT&T.
Latest posts by Nicholas Godwin (see all)