Cloudways WooCommerce Review
A Hosting Service Your Online Store
Needs To Grow
Written by Jamie Spencer – Updated 22nd August 2021
WooCommerce store owners often find themselves surrounded by unexpected trouble caused by their hosting service.
This is not only frustrating but can seriously damage the online business and therefore it is crucial for
these businesses to have an up and running website all the time to serve their customers.
Though there are several hosting options available to choose from but not every option fits in every requirement. Therefore, understanding the hosting requirements specific to your online business can play an integral part in its success.
In this article, we will try to address this fundamental yet very important element of running an online business successfully.
Table of Contents
Types of Web Hosting

Shared
VPS
Dedicated
Cloud Hosting


Cloudways – Managed Solution for WordPress

Performance
Flexibility
Features
Pricing


Launch a WooCommerce Store on Cloudways

Select WordPress
Pick a provider
Server Size
Data-center
Point Domain
Install SSL
CloudwaysCDN
Types of Web Hosting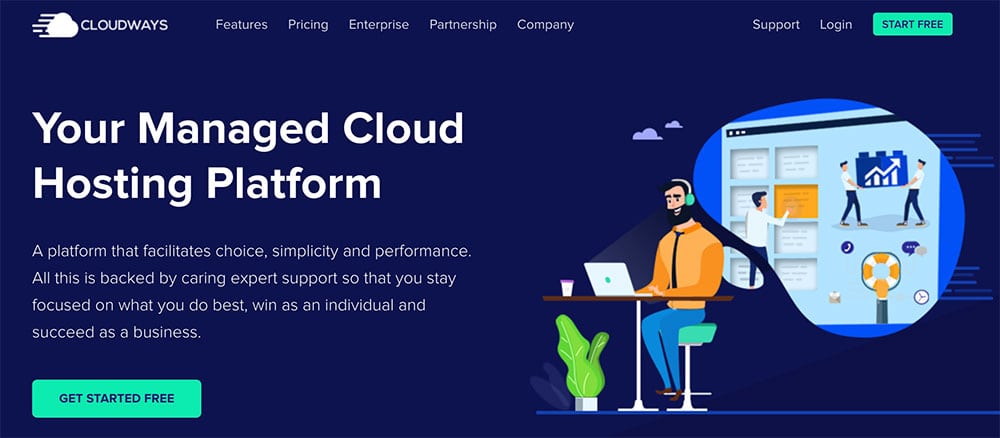 You can host your e-commerce store on a variety of web hosting services depending upon your budget, technical skills, and hosting requirements. Let's look at the most popular categories to understand the difference.
Shared
In shared hosting, several websites are hosted on a single server without any resource allocation. For example, your eCommerce site might be hosted on a large server but due to other websites eating up the same server resources, your online store will experience regular downtime.
Shared hosting is not suitable for medium to large-sized businesses as it is not a scalable solution and comes with various security issues. Since there are no boundaries separating the websites from each other; one compromised site can affect other sites on the same server.
VPS (Virtual Private Server)
As compared to shared hosting, VPS offers better performance and security. In VPS hosting, specific server resources are allocated just for your website. Other websites hosted on the same server have no impact on the resources allocated to your website.
Due to a certain level of segregation in place, websites hosted on a VPS are better protected than in shared hosting. Although, all the websites share the same server each has its own virtual environment which protects them from external vulnerabilities.
Dedicated
In dedicated hosting, you simply own the whole server/machine. It means you have control over the whole machine and you can allocate resources whichever way you feel like. Dedicated hosting offers better reliability and security than VPS or shared.
Since no other website shares resources; you can have an operating system of your choice and install packages as per your requirements. All of this sounds great but this flexibility comes with a price. The price of managing the server yourself. For that, you either need technical skills or need to hire a sys-admin who can manage the server for you.
Cloud Hosting
Cloud hosting is a modern way of hosting websites. It is fast, reliable, and secure. It is a sweet spot between a VPS and dedicated hosting. It offers better reliability and hardware than any other traditional web hosting solution.
Some providers also offer managed cloud hosting solutions in which your server is fully managed and you just have to run your website. Let's look at one such provider Cloudways, which is a managed cloud hosting solution for PHP based web applications.
Cloudways – Managed Solution for WooCommerce
Cloudways is a renowned cloud platform popular for hosting WooCommerce based online stores. Its platform is equipped with modern features built to run online businesses conveniently. It is a preferred hosting solution for several SMBs and agencies due to the flexibility, performance, and scalability it offers to its customers.
Performance
Performance is probably the first thing you will notice after migrating to Cloudways and there is a solid reason for that. The secret lies inside the powerful state-of-the-art stack Cloudways built over the years for performance.
This SSD based hosting boosts the performance of your WordPress site through various elements present in its stack. For web servers, it uses the combination of Apache and NGINX which offers both flexibility and performance.
Cloudways also supports a wide range of PHP versions (5.6 till 7.4) so its customers can run compatibility tests and run a variety of websites. It also has a built-in cache mechanism in place that consists of Varnish, Redis, and Memcached. With this cache, your server process requests faster and improves user-experience for the end-user.
Flexibility
Unlike many managed WordPress hosting providers, Cloudways does not limit its users to use a single cloud infrastructure provider. In fact, it gives the option to choose the server from any top five cloud providers like AWS, Google Cloud, DigitalOcean, Vultr, and Linode. Together, they have over 60+ data centers spread across the world.
Similarly, it does not impose any restrictions on the number of websites hosted on a server. You can host multiple WordPress sites on a single server with ease. Migrating to Cloudways is also very simple. You can either use their migrator plugin to migrate unlimited WordPress sites to your new cloud server or request an assisted migration done by an engineer.
You can also scale server resources on Cloudways on a click of a button. It allows its customers to scale up server resources when needed and also add block storage to add additional storage capabilities.
Features
Cloudways offers a wide range of features for both developers and businesses. These features enable its customers to manage their websites, workflows and team members efficiently. This feature-rich platform gives the convenience of a truly managed cloud hosting solution for your business.
The most highlighted features include 1-Click actions – from server launch to SSL integration; everything is done on a click of a button. Collaborating on a project is seamless with the Team Collaboration feature. An ideal feature for SMBs and e-commerce businesses where cross-team collaboration is needed.
Pricing
A solution such as Cloudways is quite comprehensive and offers great features to run an ecommerce business. Services like this are usually expensive but surprisingly Cloudways is a budget-friendly solution.
It offers pay-as-you-go pricing which means you only pay for the resources you consume. You are billed through an hourly rate which gives you immense control over your hosting budget. You can start as low as $10/mo and host as many websites as you wish. You are not charged by the number of websites but for the server resources, you utilize.
How to Launch a WooCommerce Store on Cloudways
Let's take a look at the Cloudways platform and the best way to do this is to launch a full-fledged WooCommerce store using Cloudways.
To get started, you need to sign up for the Cloudways account. After that, you get a 3 days free trial to try out the platform.
Select WooCommerce
After logging into the Cloudways platform, the first thing you need to do is to choose WordPress with WooCommerce from the list of available applications.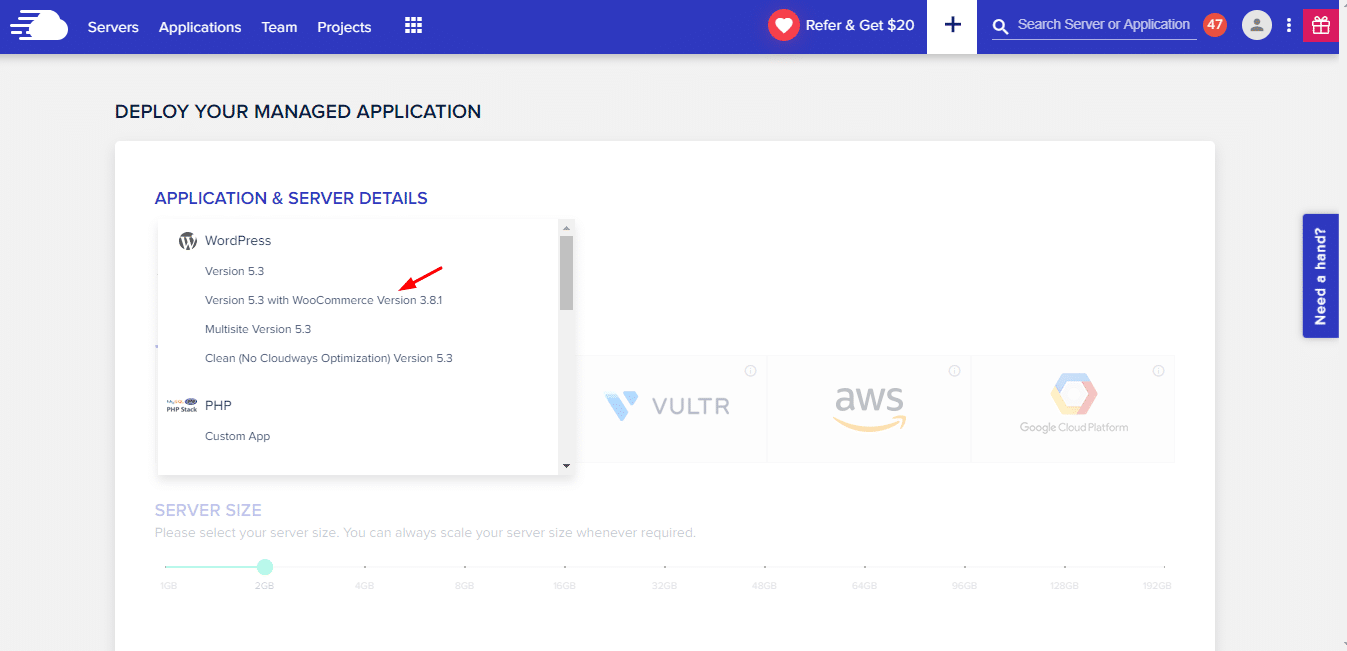 After that, name your online store and the server.
Pick a Provider
In this step, choose the desired cloud infrastructure provider. Cloudways give you five options to choose from.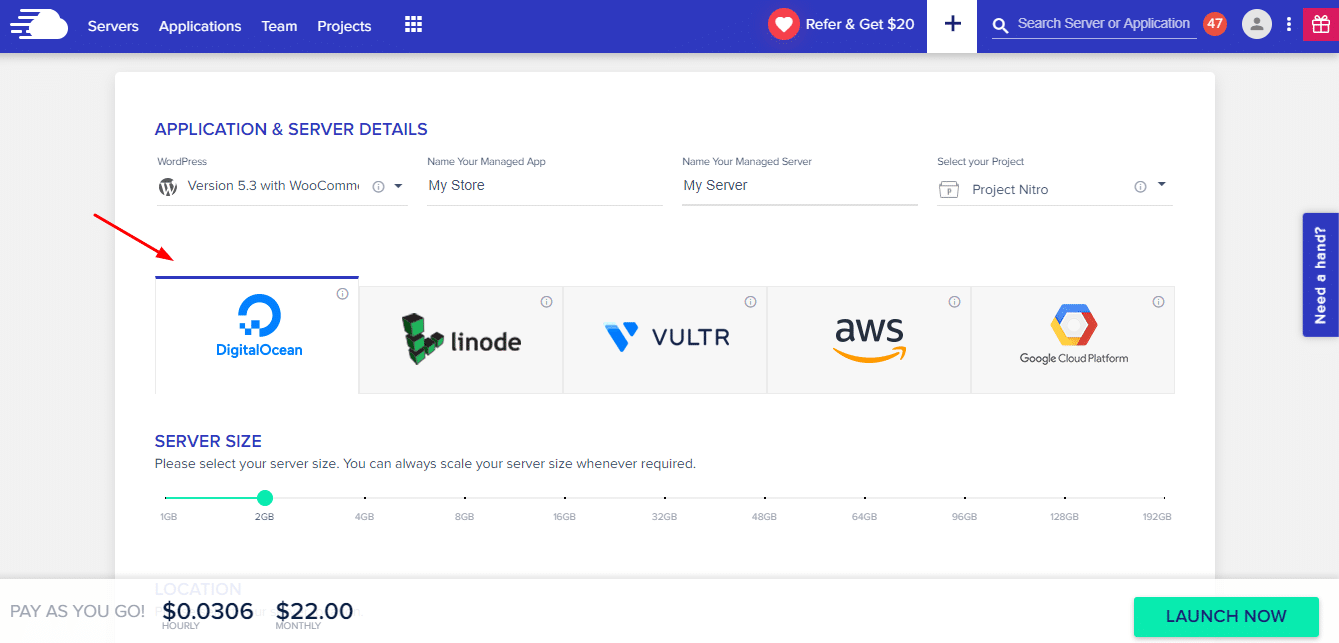 Server Size
After selecting the provider, it's time to choose the right server size which depends upon the nature of your store. If you have an established online store with a decent amount of monthly visitors then pick a large server to accommodate the hosting requirements.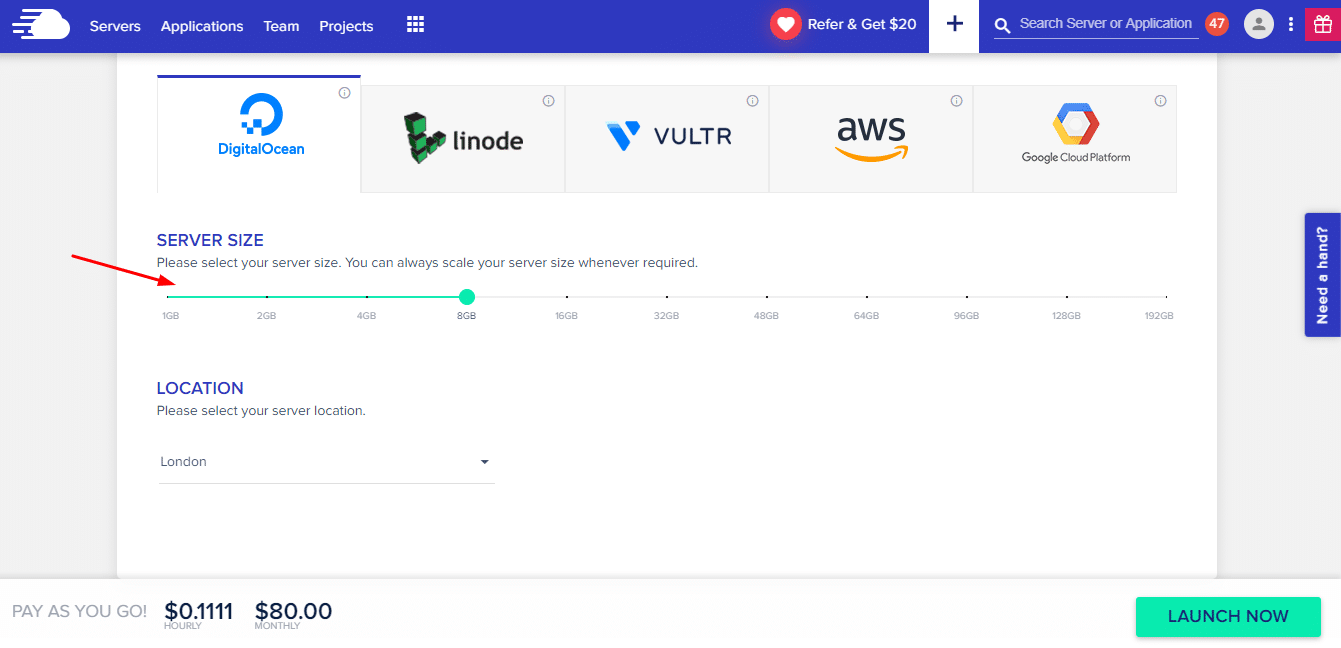 You can, however, scale up the resources anytime you wish to without switching to a new server.
Data-center
Data-center determines the physical location of your server. While selecting the data-center, keep in mind the location of your targeted audience and choose the one which is nearest to your audience.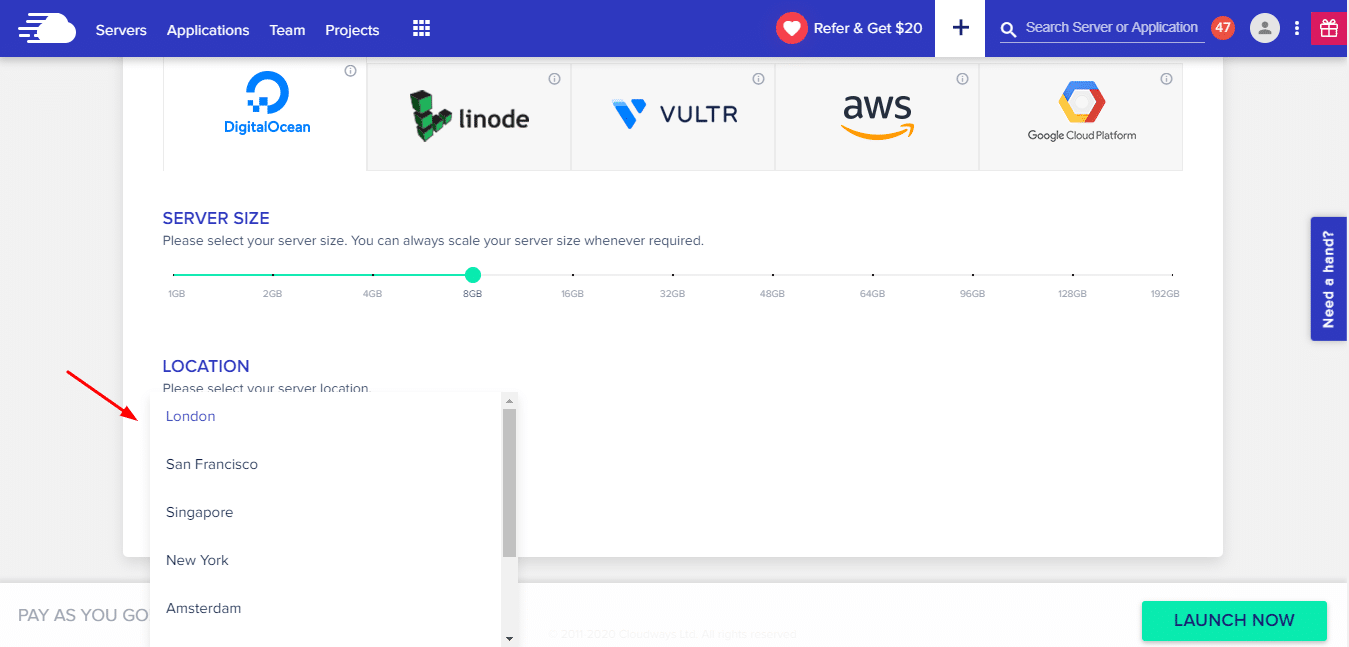 With Cloudways you have the option of choosing data centers from 60+ locations. This helps you serve your online store locally from anywhere in the World.
After selecting the data-center, hit the 'LAUNCH NOW' button and within a few minutes your server will be ready with a WooCommerce store already setup!
Point Domain
With Cloudways, pointing a domain is as simple as it can get. All you need to do is to navigate to your Application Management → Domain Management and enter the domain name.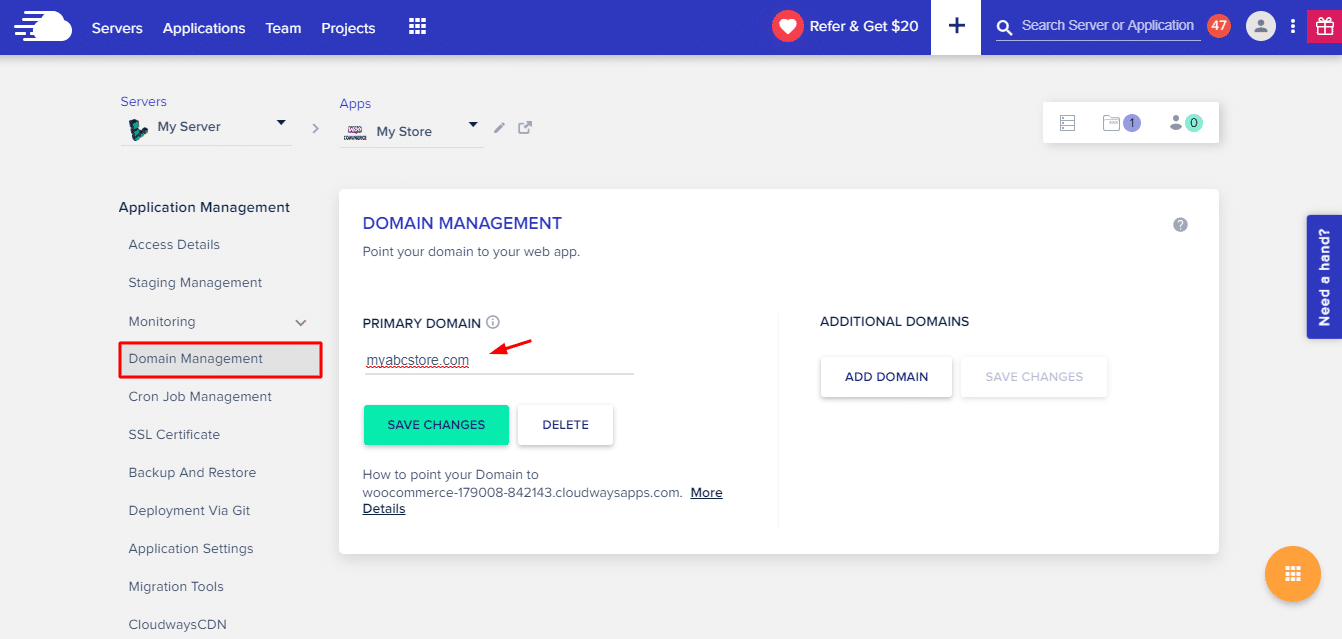 After adding the domain here, log into your domain registrar to add relevant DNS records. Once the DNS is propagated; your online store will be live on the domain.
Install SSL
SSL is important if you run an online store as it is an essential security protocol. It is also one of the mandatory requirements by the majority of the payment gateways. Not only that, Google also considers it as one of the key ranking factors.
Cloudways offer Free SSL via Let's Encrypt to its customers which can be integrated easily right from the platform.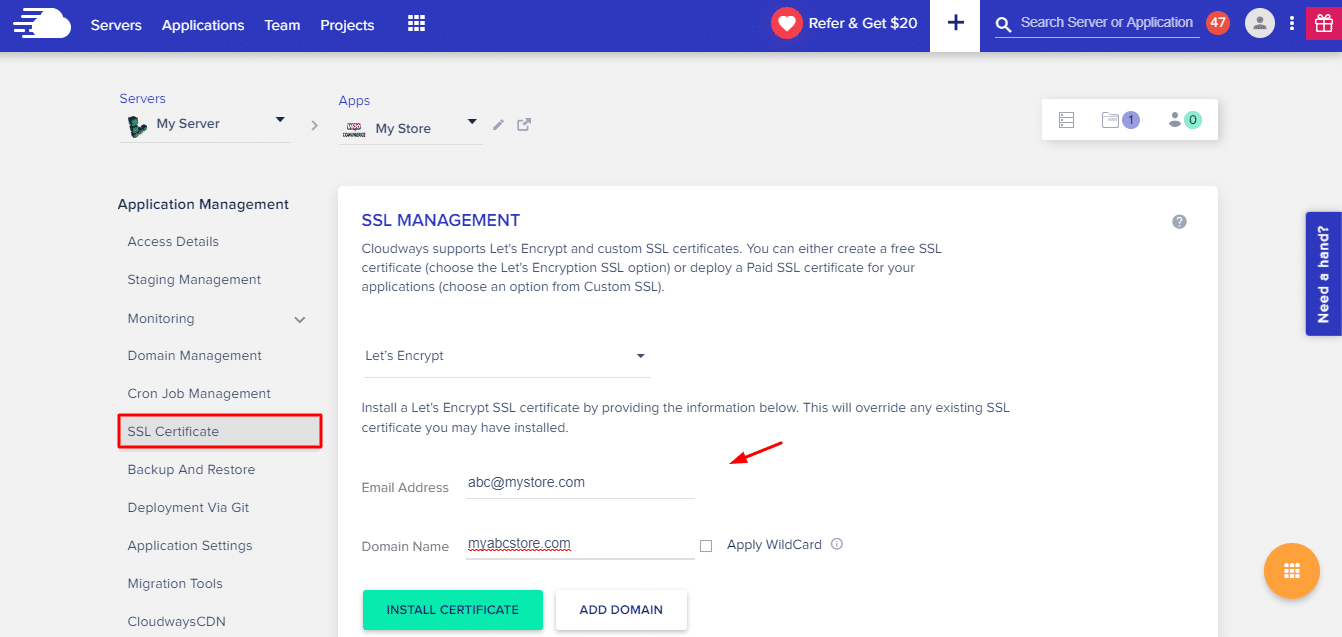 To add the SSL, simply add your email address and the domain name. To use the SSL on subdomains, you may also use the WildCard feature.
CloudwaysCDN
Cloudways also offers add-ons to its users who wish to have additional services such as CDN. CDN or a Content Delivery Network is used to deliver website content across the globe with consistent performance.
Cloudways customers can opt for CloudwaysCDN right from their platform. To enable the CDN service, navigate to Application Management → CloudwaysCDN.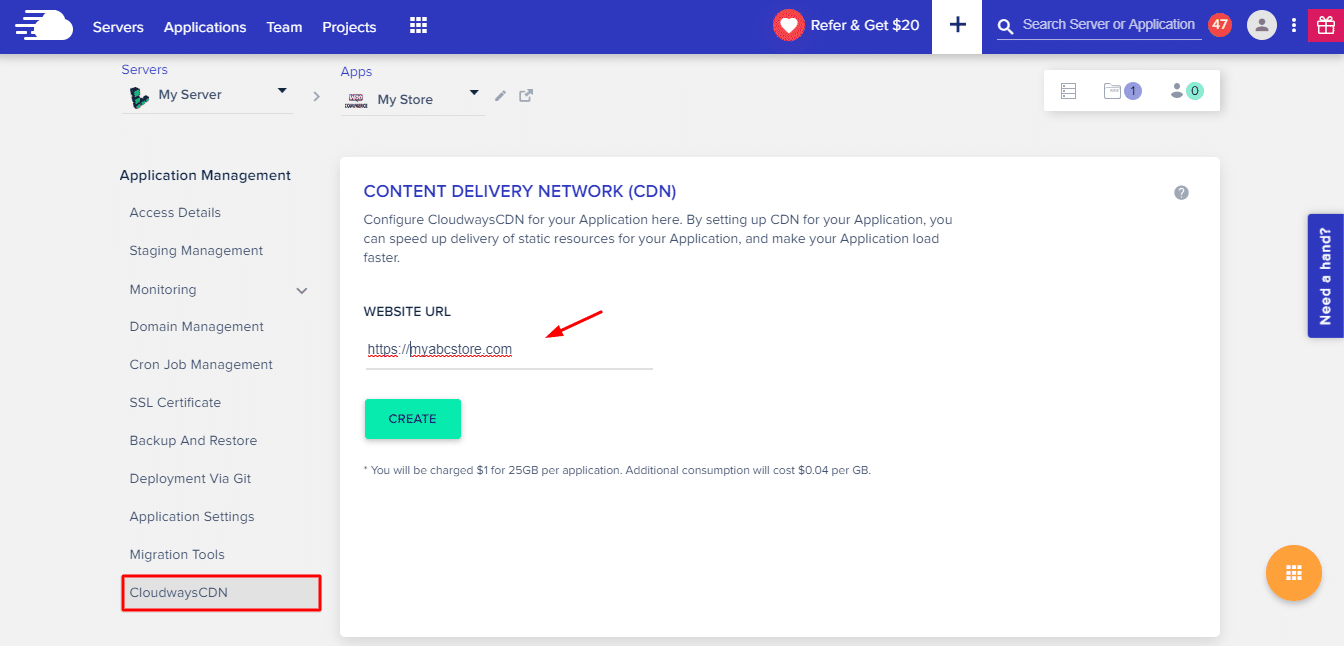 Add the website URL and click on 'CREATE'.
Final Words
For any online business, time and resources are limited and investing these valuable resources on managing the server does not make sense in these competitive times. Therefore it is wise to choose a solution that does not only offer great performance but also manages the server for you. Cloudways is an intuitive yet robust cloud hosting solution for your WooCommerce based business.