If you are looking to create a new website, choosing the right platform for your project can be a hard decision. Both Wix and WordPress are powerful solutions and will enable you to create beautiful pages and posts. However, they also both provide extremely different design and user experiences. So which one is right for you?
In this Wix vs WordPress guide, we look in-depth at both solutions and consider the pros and cons of each. We will discuss their top features, their similarities and differences, and give you a complete understanding of what these platforms offer. By the end of reading, you will know whether it is Wix or WordPress that will help you design your next site.
Wix: An Introduction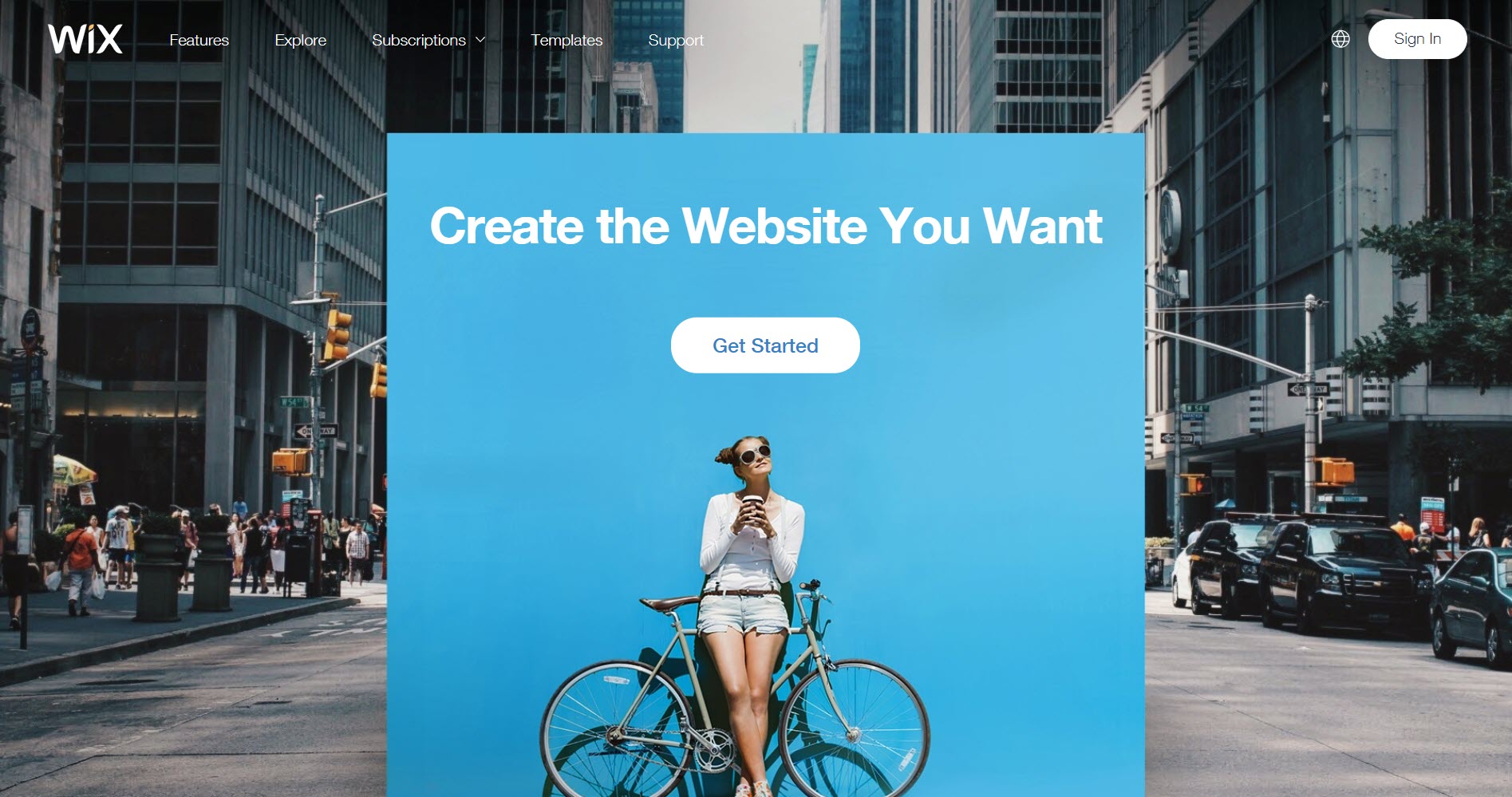 Wix is an all-in-one website building solution, that will enable you to design a beautiful website within minutes. Currently powering over 110 million websites, in over 190 countries, whatever your skill set or industry, Wix can cater for your needs.
Wix provides an extremely user-friendly experience. You can easily design a website, using one of the 500+ free customizable templates available, within the Wix Editor. Or get a website designed for you using the Wix Artificial Design Intelligence (ADI) technology. Wix is also a fully hosted solution, which means that if you create a site with Wix, all hosting, security, and maintenance is taken care of for you.
Other top features include…
Free and Premium Wix Packages
Fully Responsive Templates for All Industries and Niches
SEO, Marketing, and Analytics Tools
Extensive Free and Premium Apps
24/7 Wix Support
At first glance, Wix looks like an impressive website builder. So how does it compare to WordPress?
WordPress: An Introduction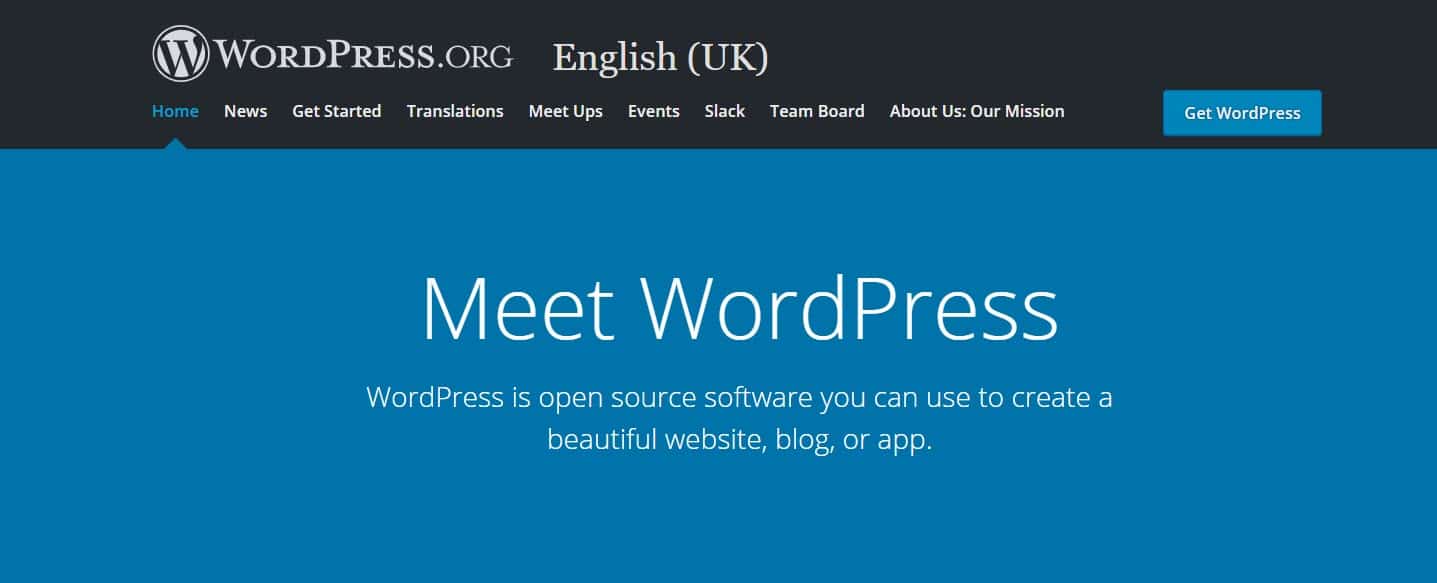 Here at Make a Website Hub, WordPress is our platform of choice, and the solution that we nearly always recommend. However, we know that WordPress isn't for everyone, so we endeavor to ensure that this Wix vs WordPress guide isn't biased and sticks to the facts. It is also important to mention that, when we refer to WordPress in this article, we are talking about WordPress.org, and not the hosted solution WordPress.com.
WordPress.org is a content management system that will enable you to create any type and style of website necessary. This free open source software will give you total control over the design and customization of your website. The WordPress community also spans the globe, providing thousands of WordPress themes, plugins, products, and services for all industries.
Other top features include…
Free to Use Software
Ownership of Your Website (WordPress is self-hosted, so your site is 100% yours).
Numerous Customization Options and Tools
A Wide Assortment of Free and Premium Products
Extensive Support from a Global Community
So now you know a little about both of these solutions, let's next look more in-depth at the features and functionality that they offer.
Wix vs WordPress: Pricing
The range of pricing options for these two solutions differs greatly. Here is a break down of what building a website with Wix and with WordPress will cost you…
Wix Pricing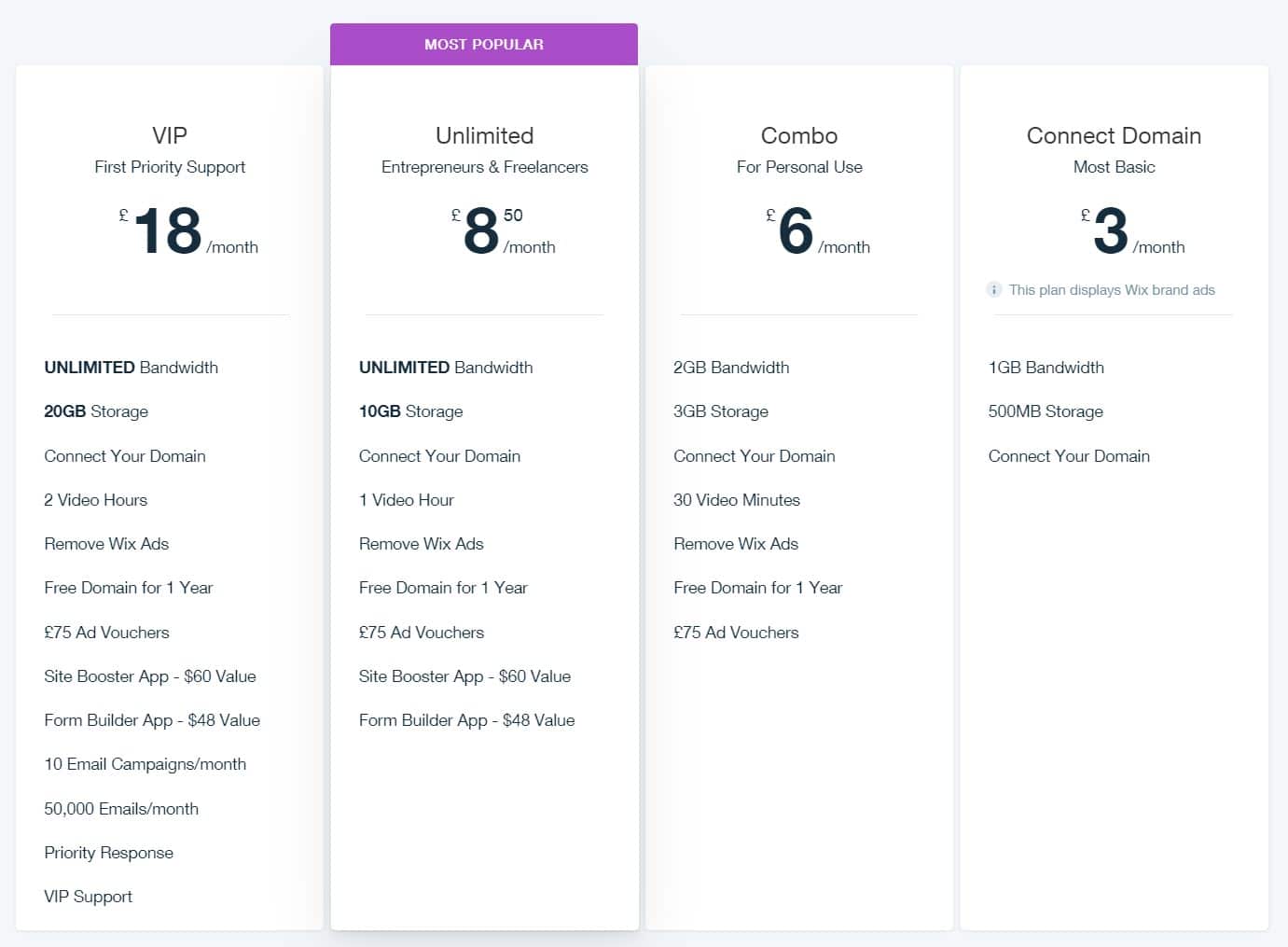 Wix is a freemium website builder. That means that it offers both free and premium packages for users who build a website on this platform. Let's take a look at these packages to see what Wix will cost you…
Free – The free version of Wix gives you full access to the Wix templates, ADI, Wix Editor, and a selection of apps. However, there are a number of downsides to the free plan, including having to use a sub-domain, Wix ads on your website, and limited bandwidth and storage.
Connect Domain ($5 a month, billed annually) – This plan is similar to the free plan, except that it allows you to connect your own domain with your website.
Combo ($10 a month billed annually) – Connect your own domain name or get a free domain for a year, receive $75 ad vouchers, and ensure your site is Wix ad-free.
Unlimited ($14 a month billed annually) – A great option for freelancers and entrepreneurs, this plan gifts the Site Booster and Form Builder apps, worth $100+.
VIP ($25 a month billed annually) – With this plan you gain access to VIP support and priority response, as well as 10 email campaigns and 50,000 emails a month.
Wix also provides a number of eCommerce plans for those looking to run their own online store. Here is a rundown of the eCommerce packages…
Business Basic ($18 a month billed annually) – This plan will allow you to take online payments on your site and is 100% commission free.
Business Unlimited ($22 a month billed annually) – As well as commision free online payments, this plan provides up to 20 email campaigns and 100,000 emails a month.
Business VIP ($30 a month billed annually) – The daddy of eCommerce plans, Business VIP incorporates the numerous features from Business Unlimited, as well as VIP support, priority response, and 50GB of storage.
The Wix prices shown above reflect annual billing. If you choose to pay monthly, the prices increase slightly. Wix also offers a 14-day money back guarantee, so if you decide Wix isn't for you, you can quickly get a refund.
WordPress Pricing
As we have mentioned, the WordPress software is totally free to use and always will be. That said, running a website using WordPress isn't free, as you will still need to pay for hosting and a domain. (Prices for hosting and domain names are covered next in the next section, but it is worth noting that for these you will need to pay a monthly and annual fee respectively).
As for other products, services, and tools, there are thousands of free and premium options. However, potential cost points can include…
Themes
Plugins
Images/Videos
On-Going Maintenance
Web Design Agency/Content Writer/Social Media Manager Fees
For a full break down on the cost of a WordPress website check out our article – How Much Does a Website Cost?
Wix vs WordPress: Hosting and Domain Names
Wix and WordPress have very different processes when it comes to arranging hosting and domain names. Let's take a look…
Wix Hosting
As we have already mentioned, Wix is a fully hosted solution, so hosting is included in the price of Wix plans. Even with the free plan, hosting is included. However, the offset of this is that Wix will display ads on your website.
The other point worth mentioning with hosting is that the bandwidth and storage available alters depending on the plan. Let's have a quick look at how this breaks down…
Connect Domain – 1GB Bandwidth / 500MB Storage
Combo – 2GB Bandwidth / 3GB Storage
Unlimited – Unlimited Bandwidth / 10 GB Storage
VIP – Unlimited Bandwidth / 20 GB Storage
Business Basic – Unlimited Bandwidth / 20 GB Storage
Business Unlimited – Unlimited Bandwidth / 35 GB Storage
VIP Business – Unlimited Bandwidth / 50 GB Storage
As you can see, hosting features improve in quality with the more expensive plans.
WordPress Hosting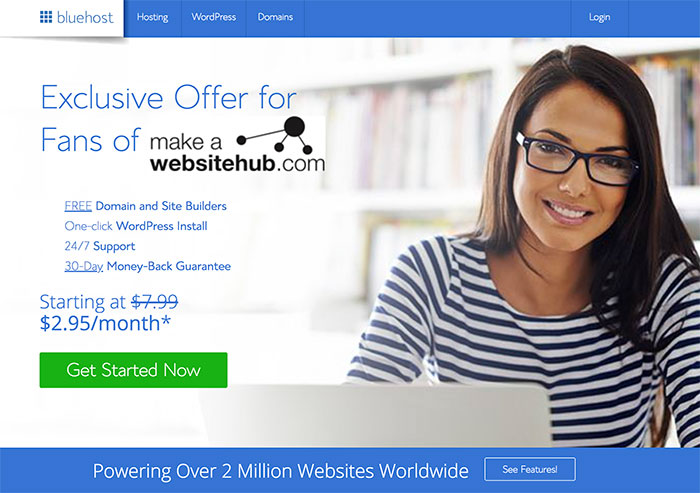 If you decide to use WordPress to create your website, then you will need to pay for hosting. There are numerous hosting companies and packages, that vary greatly in price and features. Here are a few hosting options to consider…
BlueHost – A cheap and extremely popular hosting solution offering a free domain and SSL certificate, a one-click WordPress install and 24/7 support. Prices start from just $2.95 a month. Get your free domain here.
HostGator – Another budget option for hosting, HostGator provides unmetered bandwidth, free SSL, free domain name, free emails and a one-click WordPress install. Prices start from $3 a month.
Liquid Web – An upmarket hosting experience, Liquid Web offers managed WordPress hosting, pre-installed WordPress, free SSL, migration, one-click staging sites, and much more. Prices start from $99 a month.
To find out more about WordPress hosting, check out our guide to the Best WordPress Hosting.
Wix Domain Names
Wix provides a free subdomain to anyone who chooses to create a website on its platform. A Wix subdomain looks something like this 'mysitename'.wix.com. Although this is fine for a small project or personal blog, if you want a professional website, you need to use a proper domain name.
Wix provides a couple of options for purchasing a domain name…
Purchase a Domain Name via Wix – When you sign up for a premium plan with Wix, you are credited with a year's free domain. However, after that you will be charged a yearly fee to keep your domain name, which will cost a minimum of $14.95.
Connect a Third Party Domain Name to Your Wix Site – A cheaper long-term option is to purchase a domain name from a third party registrar. NameCheap is a popular option, but there are a number of alternatives which also provide a good service. (Note: If you want to connect your Wix site with a third party domain you will need to upgrade to a premium Wix plan).
There is also the option of transferring your third-party domain to Wix. The benefit of this is that you can then manage your online presence from just one place.
WordPress Domain Names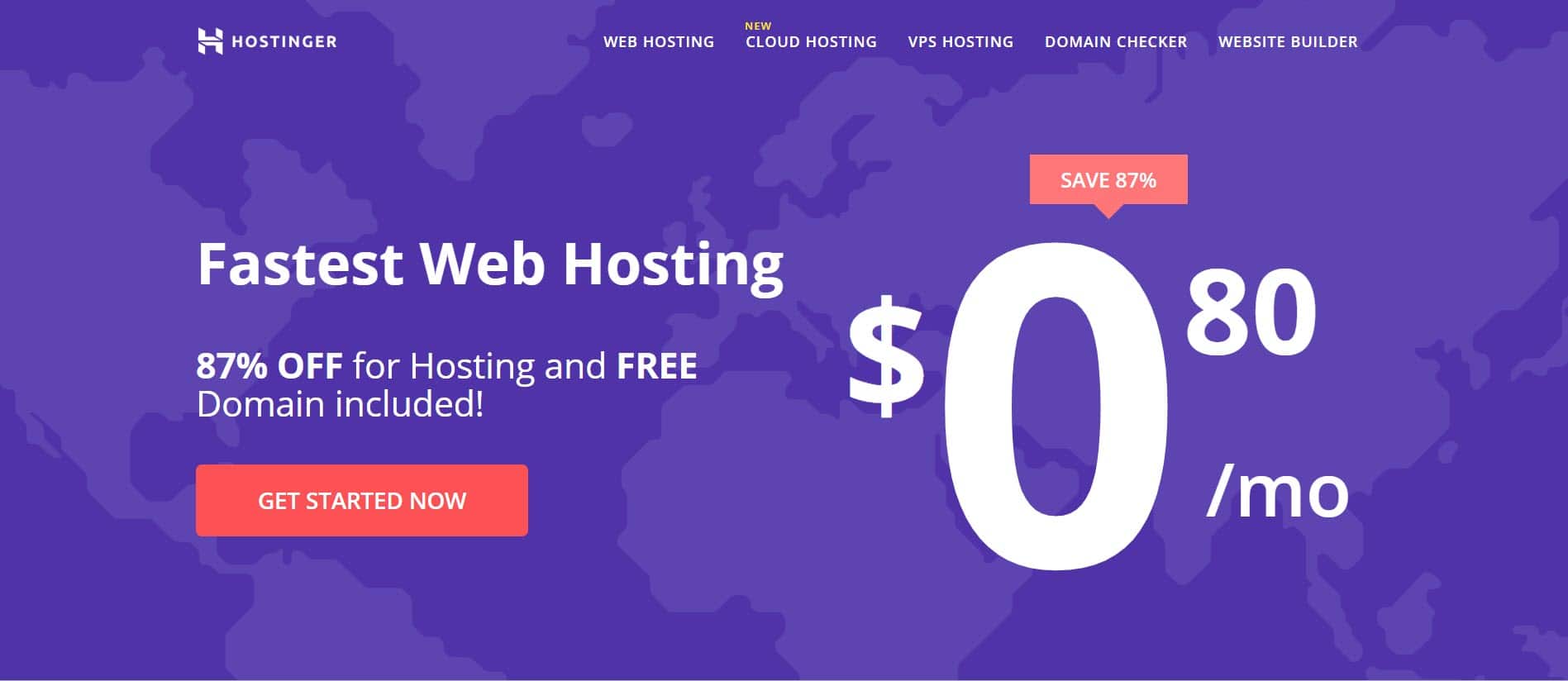 With WordPress, you have two main choices when it comes registering a domain name for your website. The first option is to purchase a domain name through a stand-alone registrar, like NameCheap, as we have just discussed.
The second option is to select a hosting provider that includes a free domain as part of the hosting package. Let's have a look at a few of hosts that provide this service…
DreamHost – A budget hosting provider, DreamHost offers shared hosting, including a free SSL certificate and domain name, from $7.99 a month.
Hostinger – A no-frills host, with its $3.49 a month Premium plan you will receive a free domain, unlimited bandwidth, and much more.
GoDaddy – If you opt for one of GoDaddy's WordPress hosting plans, you will receive 10 GB of storage, SFTP access, and a free domain, for just $3.99 a month.
If you are struggling to come up with a good domain name for your website, try using a domain name generator to help point you in the right direction.
Hosting and Domains Compared
As you can see, if you build a website using WordPress, then hosting and your site's domain will be an ongoing financial commitment. The benefit is that you get to choose your hosting company and domain registrar, and you can change hosting services whenever you want.
In contrast, Wix includes hosting in all of the packages. However, if you build a website using Wix, you have no control over the hosting options. Wix will host, maintain, and secure your website. At first glance this may appear to be a benefit, but in fact it gives you no control or ownership over your website, which is a risk for any business.
Wix also provides a years domain name for free, but the cost of renewal is steep, so if your website is a long-term project, it is best to register your domain with a stand-alone domain service.
Wix vs WordPress: User Experience (Ease of Use vs Customization)
So now we have a good understanding of the price of creating a website with Wix and WordPress, and the pros and cons of the hosting and domain name process. Next, we will consider the all-important user experience.
When we discuss the user experience of Wix vs WordPress, really we are looking at Ease of Use vs Customization. Wix is extremely easy to use, and will enable you to set up a website in a matter of minutes if you so wish. However, the offset of this is that its customization options are limited in comparison with WordPress.
WordPress, on the other hand, has a slightly steeper learning curve, and doesn't provide the immediately intuitive user experience that is integral to Wix. That said, WordPress can be quite quickly learned, and once users have acquired the relevant skills, this software provides unlimited customization options. The result is that, with WordPress, you can create totally unique websites, that match exactly with the needs of your audience and business.
Let's take a look at the user experience of these two solutions in more detail…
Wix User Experience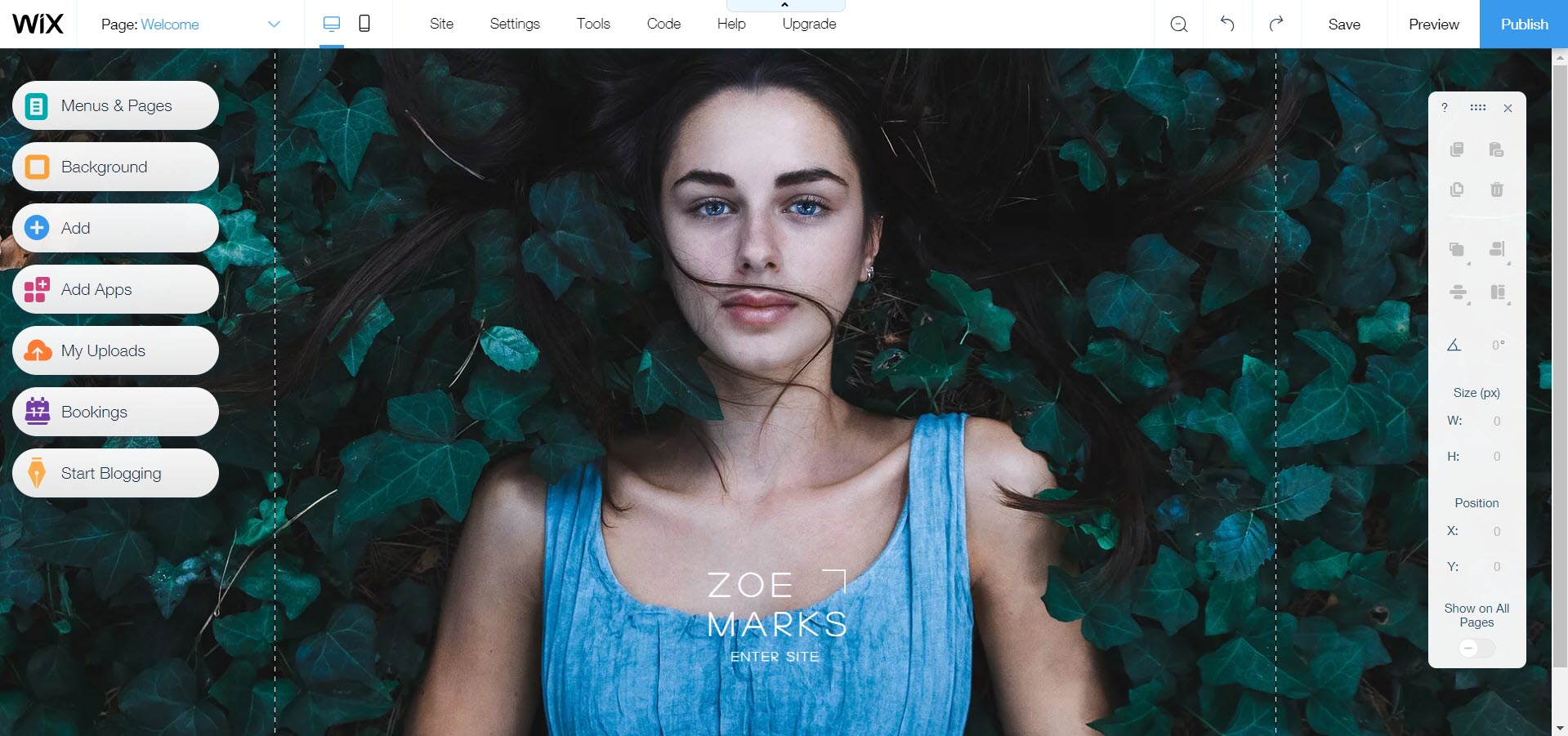 The Wix step up is extremely easy. Simply sign up and then choose one of three ways to create a website. Here are the options…
ADI (Artificial Design Intelligence) – Use ADI to create a website for you. Simply answer some questions about your website's needs, then sit back and wait. Once your website has been designed, you can customize the colors, text, and more within the ADI Editor. This is a great option if you are short of time or have little-to-no design skills.
Wix Editor – The Wix Editor is an effective tool, extremely user-friendly and yet flexible in the design elements and modifications that it offers. Using the Wix Editor, you can select a template for your website and then make any necessary customizations using this drag-and-drop website builder. Add text, images, videos, and many more design elements, all without having to touch a line of code.
Wix Code – A relatively new addition to Wix is the option of using Javascript and Wix Code APIs to build custom web applications and websites.
Out of the three, the preferred web design method by most is the Wix Editor. This is due to its ease of use, intuitive interface, stunning templates, large library of design elements and media, and simple drag and drop tools. Combined, all these features ensure that the design experience for the user is quick, uncomplicated, and fun.
However, in comparison to WordPress, the downside of Wix is the lack of customization options. This is apparent within the Wix Editor, and even for those who opt to work with the Wix Code. So let's now look at what WordPress has to offer in regards to ease of use and customization possibilities, to see how the two solutions match up…
WordPress User Experience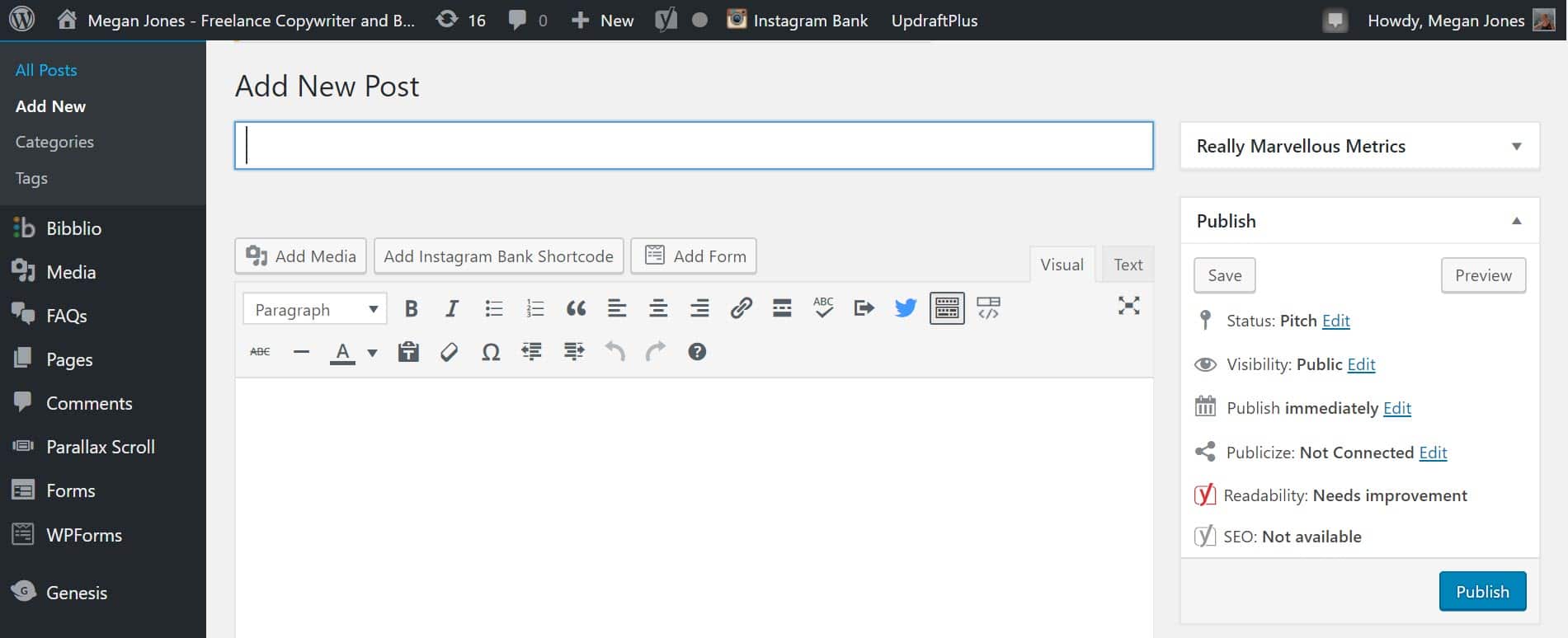 The WordPress user experience is extremely different from Wix. Firstly the setup process takes longer, as you need to purchase a domain name, register with a hosting service, and install WordPress (this is extremely easy and can be done via your hosting service in usually just one click).
Only then will you find yourself within the WordPress dashboard of your website and ready to choose and customize a theme. There is no denying the WordPress dashboard does have a bit of a learning curve compared to Wix. However, once you have become accustomed with the basics of the WordPress dashboard, it won't take long until you are easily accessing its range of features.
To customize your WordPress website, you have a number of options, catering for all design needs and experience…
Drag and Drop Page Builder – Many premium themes include a drag-and-drop builder, or there are numerous page builder plugins that you can purchase. A premium page builder will enable you to customize any aspect of your page, and all by simply dragging and dropping design elements around the page.
Live Customizer – Most themes will enable you to customize certain elements of your site on the front end using the Customizer. This is a quick and easy way to make changes in real time to your website.
Theme Options Panel – Many themes provide extensive customization options via the Theme Options Panel. This is another straightforward option if you want to make universal changes across your website.
As well as the above features and tools, WordPress also provides the option altering the code of a theme, or in fact coding a completely new theme. Coding a website enables you to make specific alterations, and create a truly original site.
User Experience Compared
Both Wix and WordPress offer an impressive user experience, but for different reasons. Wix has the upper hand on ease of use, whereas WordPress wins hands down on customization possibilities.
Your own web design experience will play a real part here in which solution you think has the better user experience. If you have little to no design experience, and don't have the time or inclination to learn the ins-and-outs of WordPress, then Wix is for you.
Alternatively, if you pick up web design applications quickly, and need a solution that will create a website exactly to your specifications, then WordPress is the better choice.
Before we move on, it is also important to note, that although the Wix customization options are lacking in comparison to WordPress, they are still plentiful and will be just fine for most basic site needs. Equally, although WordPress isn't initially as user-friendly as Wix, it won't take long for even a beginner to soon feel confident navigating around the WordPress dashboard. In a nutshell, both Wix and WordPress are impressive solutions, and neither will see you lacking.
Wix vs WordPress: Templates and Themes
Both Wix and WordPress provide a range of beautiful and stylish templates and themes to ensure your website is fully functioning, well optimized, and engages with your target audience. So let's take a closer look at these WordPress themes and Wix templates…
Wix Templates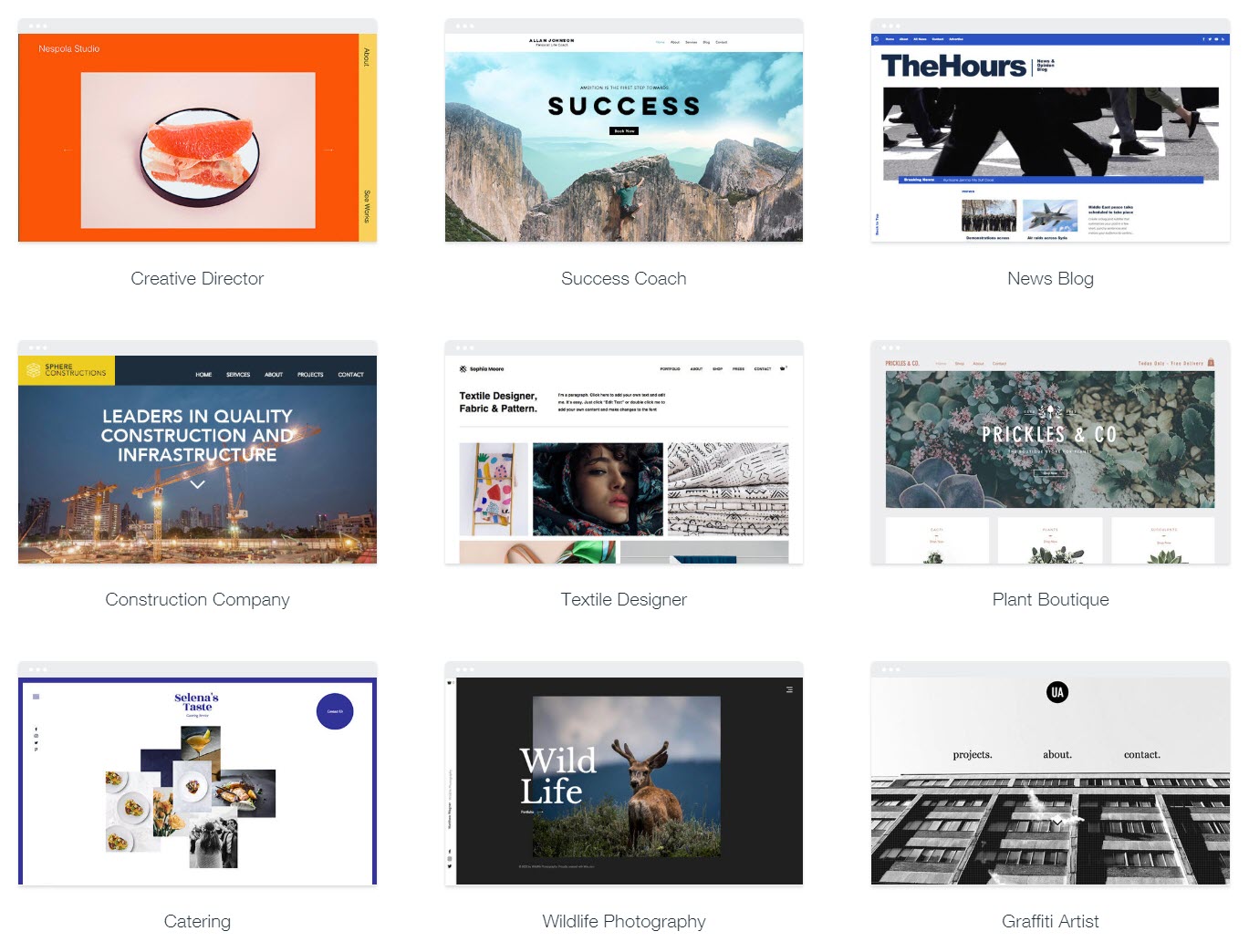 Wix provides over 500 stunning templates for users to select from. Templates cater for a range of niches and industries, including business, photography, food, health, and education, to name a few. Wix is also constantly releasing new templates, ensuring that their template library is always expanding.
All templates are free to use and can be easily edited within the Wix Editor. Templates ship with all content included, so you can use as much or as little of the demo content as you wish. Wix also provides a range of blank templates, so you can create your own site from scratch.
WordPress Themes
In comparison, if you build a website with WordPress you will have thousands of themes to choose from. You will find a wide assortment of both free and premium WordPress themes, both which will enable you to create beautiful websites.
Free WordPress Themes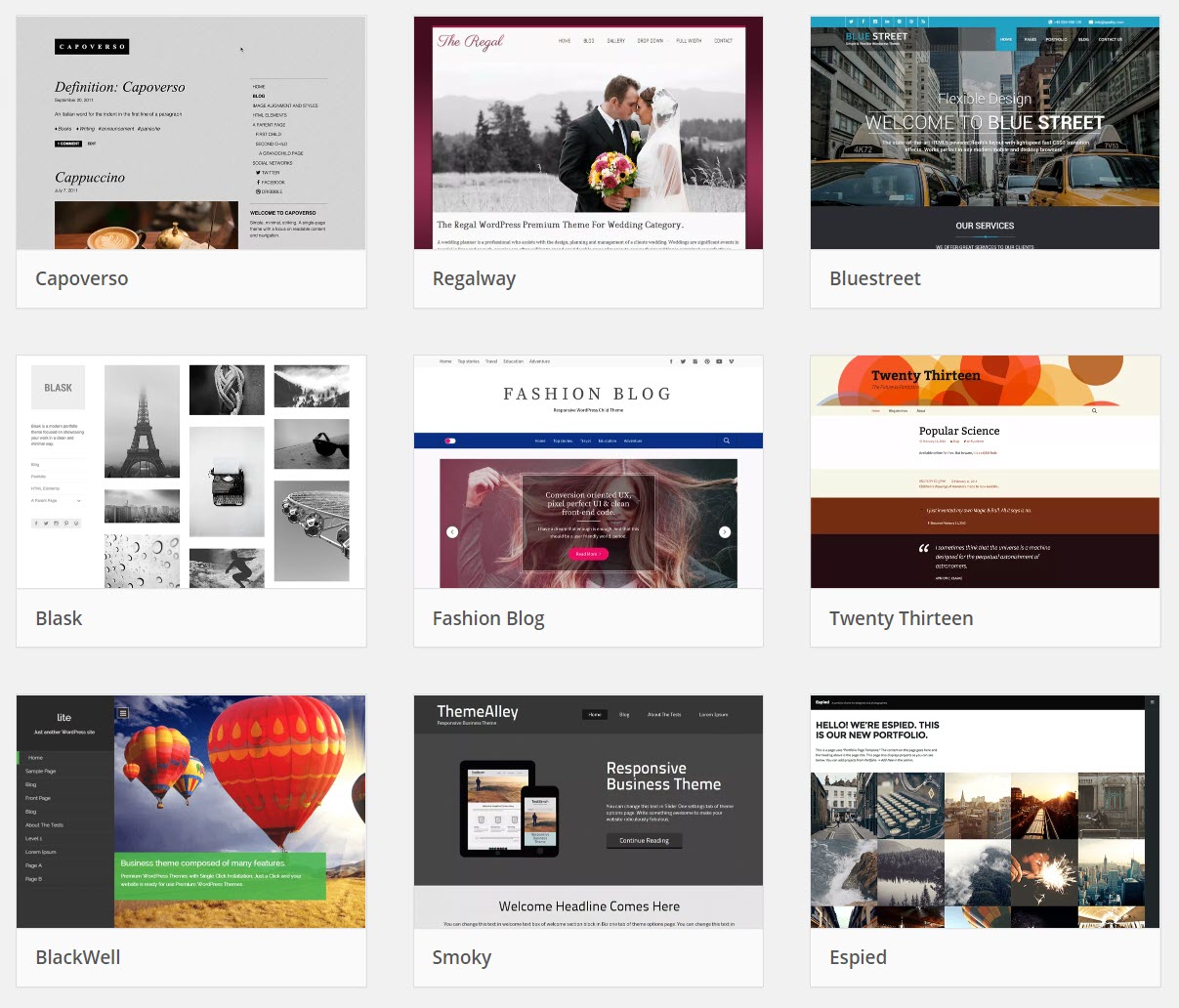 Free themes can be found in the WordPress repository, and are perfect for those on a budget or just starting out in the WordPress sphere. The free themes have undergone a rigorous vetting process to win a place in the WordPress repository, and often come complete with a range of layout types and useful necessary features. They are also compatible with prominent plugins, so you can add extra functionality to your site as-and-when you need.
The downside to choosing a free theme is usually the lack of superior features, as well as the lack of support. Often, as your website grows, you will need to pay to upgrade your themes' features and functionality, which may end up costing you more in plugins than a high-quality premium theme would have cost in the first place.
Premium WordPress Themes
Premium WordPress themes can range in price from $20 to $100+. These premium themes are usually packed with extra features and functions, demo content, premium plugins, and much more. Themes come in the form of multi-purpose themes, catering for any industry, or built-for-purpose themes, which will include all the appropriate features for your site's niche.
Premium themes also usually come with extensive set-up documentation and support, regular updates, and access to community forums. When selecting a premium theme, make sure you purchase from a reputable theme shop or web developer. Reliable sites to buy a theme from, and a good place to start browsing for a theme, include Themeforest, Elegant Themes, and Studio Press.
Templates and Themes Compared
Both Wix and WordPress have an impressive selection of themes and templates on offer. However, there is no doubt that WordPress boasts the larger number of themes, and therefore provides a more varied theme choice.
Furthermore, due to the sheer number of themes on offer, and the extensive customization options that WordPress provides, designing a site with WordPress increases the possibility of creating a totally unique website that doesn't resemble any other site online.
Wix vs WordPress: Apps and Plugins
Wix and WordPress both provide a wide assortment of apps and plugins to enable users to add extra features and functionality to their websites. Here's a closer look at what's on offer…
Wix Apps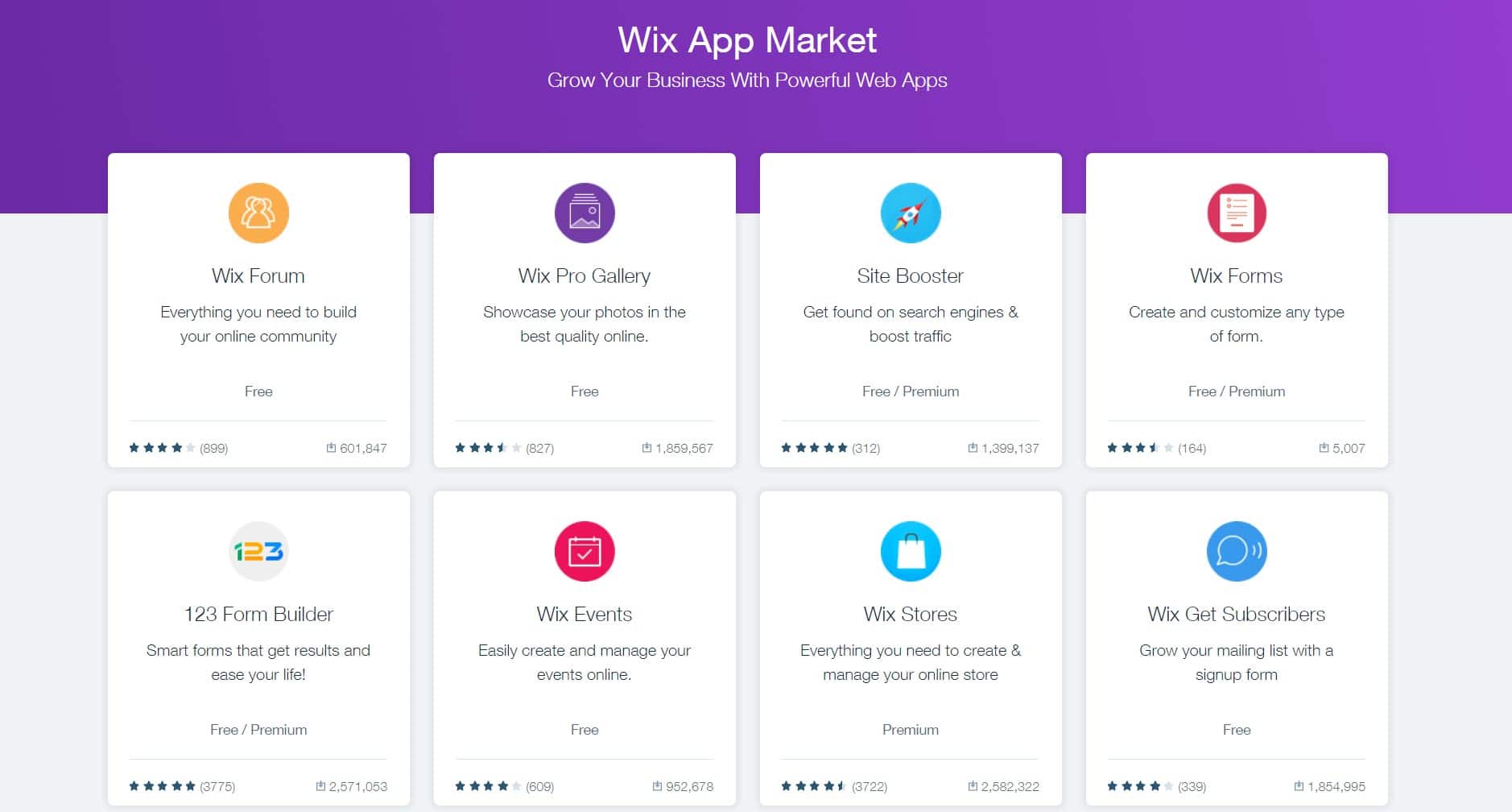 The Wix Editor comes with built-in design features and elements that can be applied to any template. These include media galleries, video backgrounds, parallax effect, a library of images, videos, music, and many other design elements.
However, as well as these built-in features, you can also add extra functionality to your website via Wix apps. The Wix App Marketplace displays over 250 apps that will help improve your website and grow your business.
Wix apps come in many categories including…
Design Tools
Marketing Tools
Social Media
Events and Bookings
Analytics
You can quickly add apps to your site with just a click, immediately enhancing your site and content. Although many are free, the majority of apps will cost you, either charging a one-off payment, or an ongoing monthly subscription.
WordPress Plugins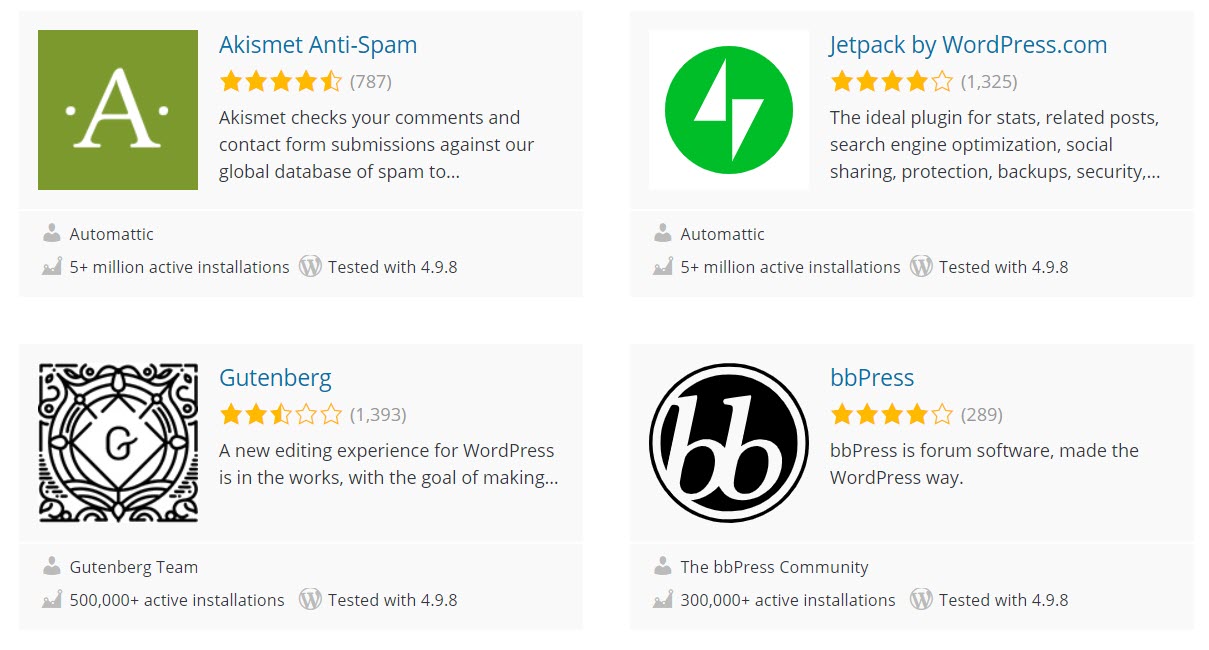 The default WordPress dashboard and editor, in comparison to Wix, has little in the way of design features to boast of. However, many WordPress themes ship with countless features. And if you find your theme doesn't have a particular tool or function you need, you can quickly install it via a WordPress plugin.
Here are just a few types of plugin that you can add to your WordPress website…
Lead Generation Plugins
Image, Video and Other Media Plugins
Page Builders
Security, Backup and Maintenance Plugins
Social Media Plugins
If you decide to create your website with WordPress, there are thousands of plugins to choose from that you can use to upgrade your site. Free WordPress plugins can be found in the WordPress repository and can be installed on your site in just a few clicks.
Premium plugins can be purchased from CodeCanyon, or directly from plugin developers. Premium plugins range greatly in price, from a one-off payment of $15, to monthly payments of $50+. As with WordPress themes, premium plugins on the whole provide a higher quality product. That said, always read reviews and do your research before making a purchase.
Apps and Plugins Compared
If you choose to use Wix to build your website, the Wix apps are a valuable asset. However, as with WordPress themes, the sheer number of WordPress plugins, alongside their superior quality and extensive functionality options, gives them the upper hand over the Wix apps.
Wix vs WordPress: SEO
SEO is an important aspect of any website. Both Wix and WordPress have a number of tools and features to help ensure your website ranks well and gains exposure to potential traffic. Let's take a look…
Wix SEO
The Wix cloud based platform comes with the majority of SEO features built-in. There are also a number of free and premium SEO apps to choose from to help enhance your site's SEO.
Wix SEO Wiz – This impressive tool will create a personalized step-by-step plan for SEO on your site. Not only will it analyze your keywords, it will also walk you through how to add meta tags, alt tags, text hyperlinks, and many more SEO strategies.
Site Booster – A premium app, Site Booster will make it easy to list your business information with local popular directories like Google Search, Bing, Yelp, Yahoo, and more.
Google Analytics – Understand who your visitors are and where they come from to help inform your SEO strategies going forwards.
Mobile Optimization – Wiz makes it easy to adapt your website to look great on any device and size screen. This will help your site rank in Google's mobile search.
Other SEO Apps – Other useful Wix apps include Rabbit SEO, SEO Ranking Coach, and Get Traffic, to name a few.
Evidently, Wix provides numerous tools to help optimize your website, and ensure it ranks in the search engines. So how does this compare to WordPress?
WordPress SEO

All modern WordPress themes, particularly the premium themes, are well optimized for the search engines. Clean code, breadcrumb navigation, meta tags, and other built-in SEO features ensure that WordPress themes are mobile responsive, fast loading, and boast high SEO performance.
However, there are also many WordPress plugins that can help improve your site's rankings in the search engines, as well as overall site performance and speed, which all contribute to improved SEO. Here are a few that we would recommend…
These are just a few of the many plugins available to help with the speed, performance, and ultimately the optimization of your website for the search engines. However, all of the plugins mentioned here are either free or have free versions, making them great options.
SEO Compared
As you can see, both Wix and WordPress have numerous SEO tools and options that you can access if you choose either of these solutions.
The Wix features are mainly built-in, or quickly accessible via apps (although some of these are premium products). However, even with these tools, you will still need to take some responsibility for your site's SEO.
The majority of WordPress themes also have impressive SEO setups and once you have installed the above plugins your site will be well positioned to rank in the search engines.
Wix vs WordPress: Security and Maintenance
Because Wix takes care of hosting for you, if you choose to build your website with Wix you don't need to worry about any security or maintenance issues. Wix will look after your site security, will secure your site with an SSL certificate, and ensure the Wix software is always up-to-date, running smoothly, and performing.
The WordPress core software is also very secure. That said, it is imperative that WordPress users are pro-active when it comes to their site security. Here are some useful plugins that ensure your website stays up-to-date and safe…
Security and maintenance issues are not a problem with either Wix or WordPress. With Wix, all issues are taken care of for you, leaving you to concentrate solely on your website. With WordPress, however, you will need a much more hands-on approach to security, but the plus side of this is that you have full control over the ongoing maintenance, performance, and safety of your site.
Wix vs WordPress: Support
Ensuring that the solution you use to build your website provides enough support for your needs is an important aspect to consider before you make a decision on whether Wix or WordPress is for you. Both Wix and WordPress users will find extensive help and support for these products, but the way the support is offered does differ.
Wix Support

Wix provides all its support directly from its website. Here are its key areas of support…
Wix has a well thought out and uniformed support network, provided solely by Wix themselves. This is in stark contrast to WordPress support, as we will find out next…
WordPress Support
WordPress support comes from a global network of WordPress enthusiasts and experts that span the globe. Here are just some examples of where you can find support…
WordPress.org – Here you will find documentation and forums to help you get started and answer any WordPress related questions you may have. That said, the WordPress.org website isn't the most user-friendly resource and, especially for beginners, there are much better-written help guides.
Premium Products – Premium themes and plugins, on the whole, come with much more detailed support documentation, including video tutorials, extensive set-up articles, and chat, email, or phone support.
Online Courses – You will find a range of free and premium online courses, video series, webinars, and much more, all aimed teaching WordPress users how to get the most out of this software.
Blogs – A wide assortment of blogs and websites, aimed at informing and sharing WordPress best practice, are a simple Google search away.
Word Camps – The WordPress community organizes numerous meetups across the globe in the form of Word Camps, encouraging users to come together and increase and share their knowledge about this software.
Above are just some of the invaluable WordPress resources you can find on and offline, ensuring that no user ever finds themselves totally in the dark with their website.
Support Compared
Both Wix and WordPress provide impressive support to their users. Wix support is extremely well organized and user-friendly, ensuring that people can easily find the information they need, or quickly get in contact with someone who can help them.
Although WordPress help and support can't be found in one central database, like Wix support, whatever your question or query your answer will be immediately obtainable via a quick Google search.
The downside of WordPress support is the sheer amount of information that is actually available. However, once you have been using WordPress for a while you will soon find your favorite go-to blogs and resources to help you solve any issues you may be having.
Wix vs WordPress: eCommerce
If you are looking to create an eCommerce store then either Wix or WordPress could be the solution for you. So let's find out what these platforms offer in the way of eCommerce…
Wix eCommerce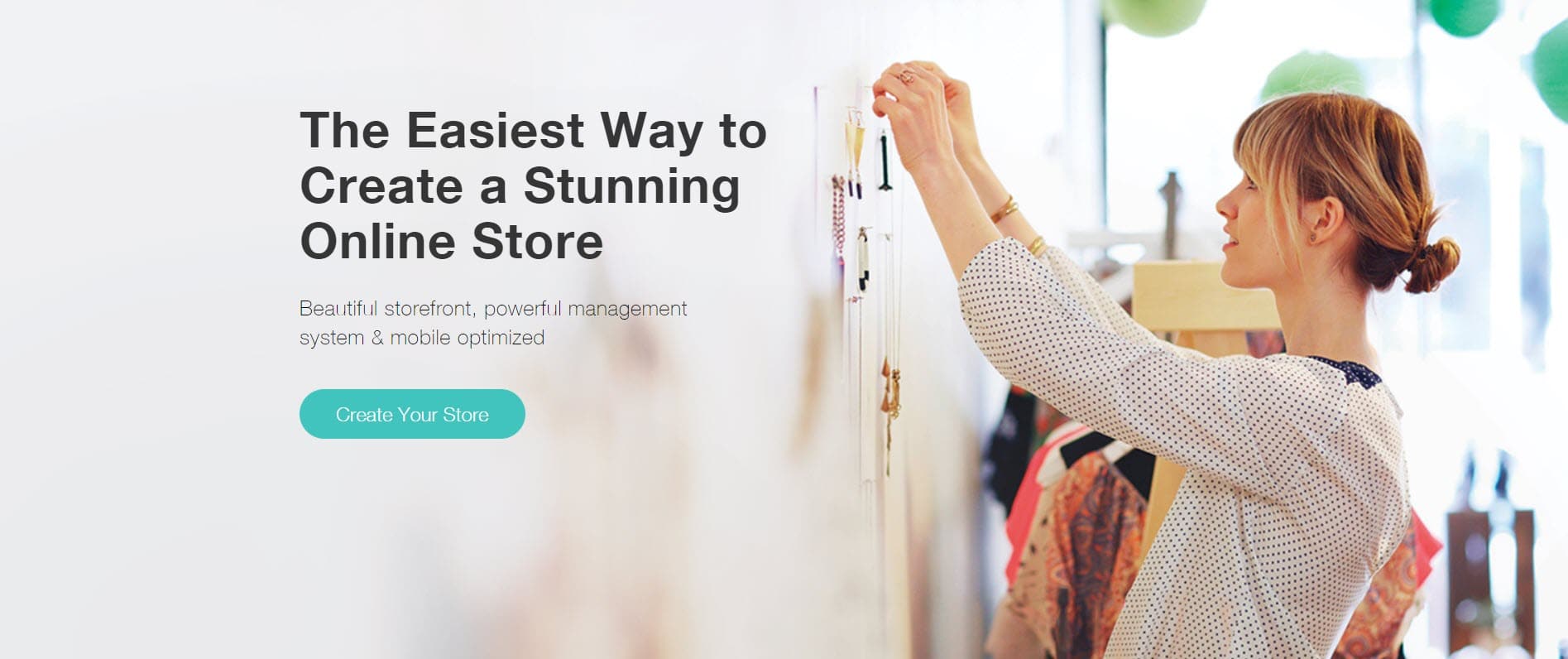 If you want to create an online store with Wix, then you will need to opt for one of the Business eCommerce plans, which start at $18 a month (billed annually).
Wix provides over 100 storefront template to help you design a professional and beautiful shop. These templates can all be customized in the Wix Editor, enabling you to create a store that reflects your brand.
Wix also provides a powerful management system, enabling you to manage and sell products on your site. Features include…
Product Management and Inventory Tracking
Secure Shopping Cart and Checkout
Multiple Payment Solutions (including PayPal, credit cards, and more)
Global Tax and Shipping Management
Coupons and Discounts
Wix also charges 0% commission on all sales, so you aren't giving away your profits.
WordPress eCommerce

There are numerous solutions that will enable you to turn your WordPress website into a fully functioning shop. However, the most popular option by far is WooCommerce.
This freemium plugin will enable you to create a stunning online shop, and manage all your inventory from your WordPress dashboard. Let's take a look at the key built-in features offered by WooCommerce…
Sell Anything (from physical products, to digital items, subscriptions and more).
Works Seamlessly with Countless WordPress Themes
Create Beautiful Galleries, Product Pages, Landing Pages and More
Built-in Payment Processing from Leading Providers (PayPal, Stripe, and more).
Inventory, Order, and Shipping Management
Although the core WooCommerce software is free to install and use, to enhance your website WooCommerce provides a range of free and premium extensions which can lend the extra functionality that your shop may need.
eCommerce Compared
The Wix and WordPress eCommerce experience does differ. Here particularly, you will find that WordPress gives you full control and flexibility over your site. This enables you, with the help of WooCommerce, to create and grow an online store that will enable your business to really become successful and profitable.
That isn't to say that a Wix store can't be profitable. But to access the full range of Wix eCommerce features will cost you, and even then these premium features do not compare with the extensive features and tools that you can access with WordPress and WooCommerce.
Final Thoughts on Wix vs WordPress
You should now have a very clear picture of the features and user-experience that Wix and WordPress provide. Both solutions have pros and cons, and both will enable you to create stylish and user-friendly websites.
Ultimately, the decision between Wix and WordPress should be based on your needs, experience, and budget, as well as the needs of your project. However, although Wix appears to initially be a better fit with beginners, if you are looking to create a successful online blog or business that will grow over time, then we would always recommend WordPress.
Wix vs WordPress – which solution will you choose? Please share your thoughts in the comments below…
The following two tabs change content below.
Jamie Spencer
My name is Jamie Spencer and I have spent the past 10 years building money making blogs. After growing tired of the 9-5, commuting and never seeing my family I decided that I wanted to make some changes and launched my first blog. Since then I have launched lots of successful niche blogs and after selling my survivalist blog I decided to teach other people how to do the same.
Latest posts by Jamie Spencer (see all)