Anymail Finder on Finding and Validating Emails to Grow Your Business
Businesses take email seriously and for obvious reasons. Their customers prefer communicating over email, and the channel has a reputation of converting leads to buyers.
In a study published by MarketingSherpa a while ago, 72 percent of participants said that they prefer email when communicating with brands or businesses. In a more recent study, 79 percent of some users said they prefer email.
In spite of this preference for email, it's still tough to find accurate email addresses of target persons at a company. So, if you have a solution to offer a company and want to send the CMO, CEO, CFO, CTO, or anyone else a message, you might struggle to find their email validated addresses.
That's the problem that Anymail Finder solves.
I got Cameron James who heads marketing in the company to share his insights on finding and validating email addresses to grow your business. He also addresses the coming trends you should expect with email marketing.
My Conversation with Cameron James from Anymail Finder
1. Hello, please introduce yourself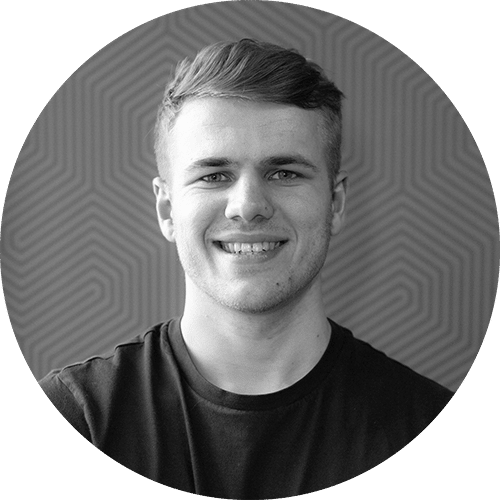 Hi! My name is Cameron and I'm the Head of Marketing for Anymail Finder.
2. Anymail Finder is a result of the 2015 Thrust and Makesmail merger. How does this merger give Anymail Finder an edge?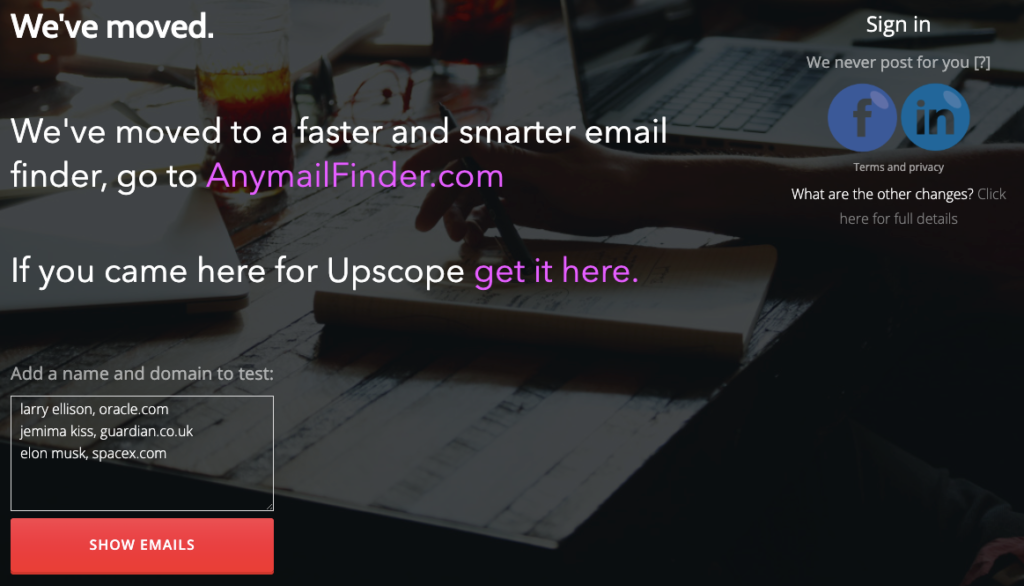 The main edge this gives us is that we have a founding team that knows what it takes to take a product from concept to execution, as well as an overall appreciation for every department of the business.
3. What personal experiences or realizations inspired Anymail Finder? Please give us a brief history of Anymail Finder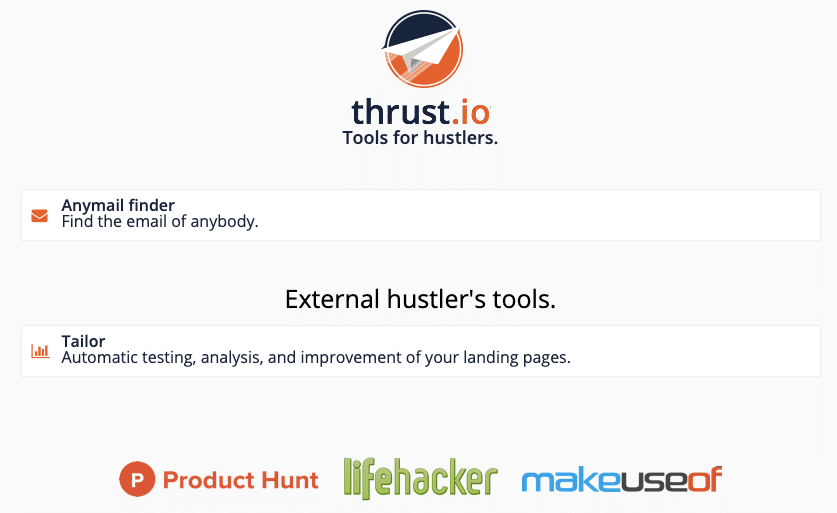 Sure! So, as you've mentioned in the previous question, Joe and Pardeep (our two co-founders) were running Thrust and Makesmail individually, and on their own. This meant that all the product strategy, marketing, support and development were all being managed by one pair of hands.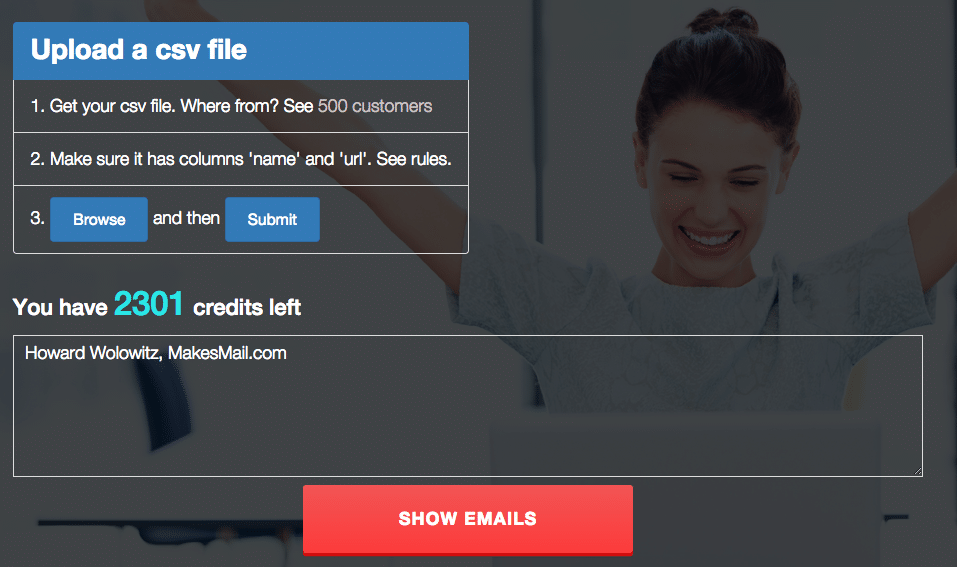 When they got talking and realised the synergies between their products and their respective skillsets, they made the wise decision to merge their resources and start building out a better product as a duo.
Individually both simply saw the market need for an email finder and verification tool, both knew the technical application of this type of product and went ahead and built it! There's lots of other factors which inspired them individually but that's the gist of it.
From 2015 things have been steadily growing ever since and we have a pretty good user base at the moment! This provided the team with the resources to go ahead and build another awesome product called Upscope.io.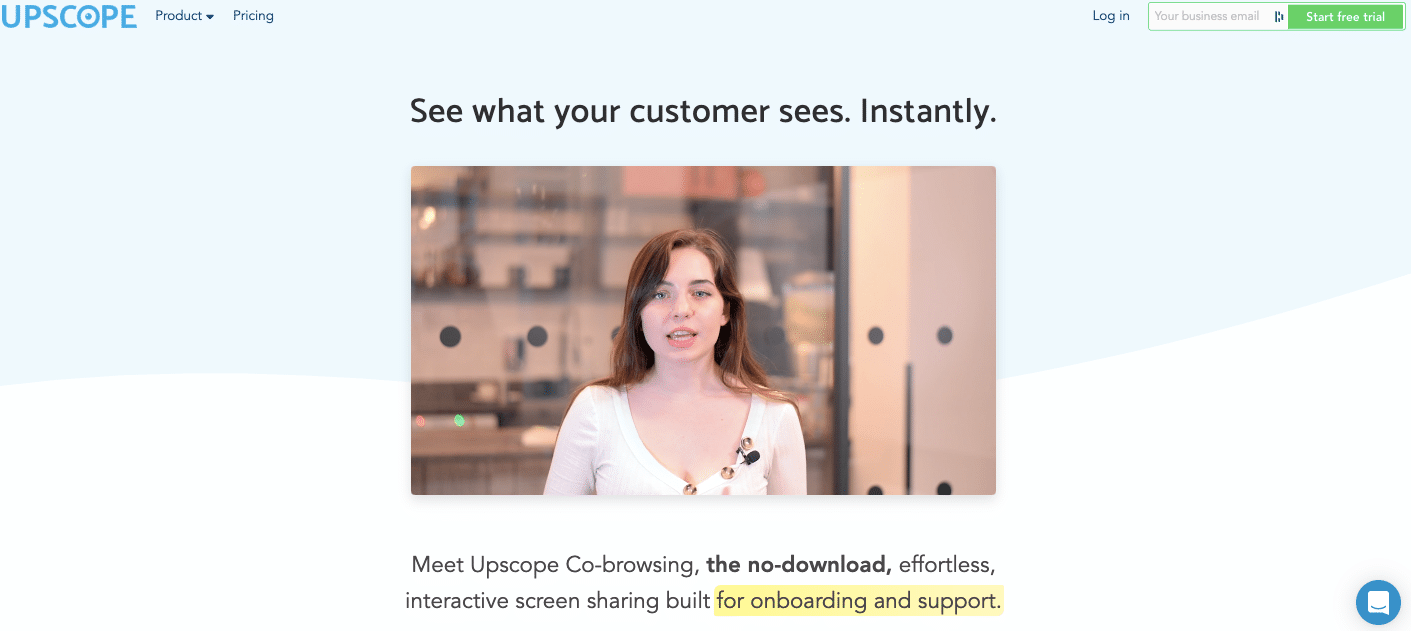 With me joining in January however, my focus is solely on growing Anymail Finder, building out better marketing systems, and helping more people find the emails they're looking for.
This takes us to where we are now as a team.
4. Of all the business challenges that marketers and outreach profs face, why is finding and validating email addresses your top priority problem to solve?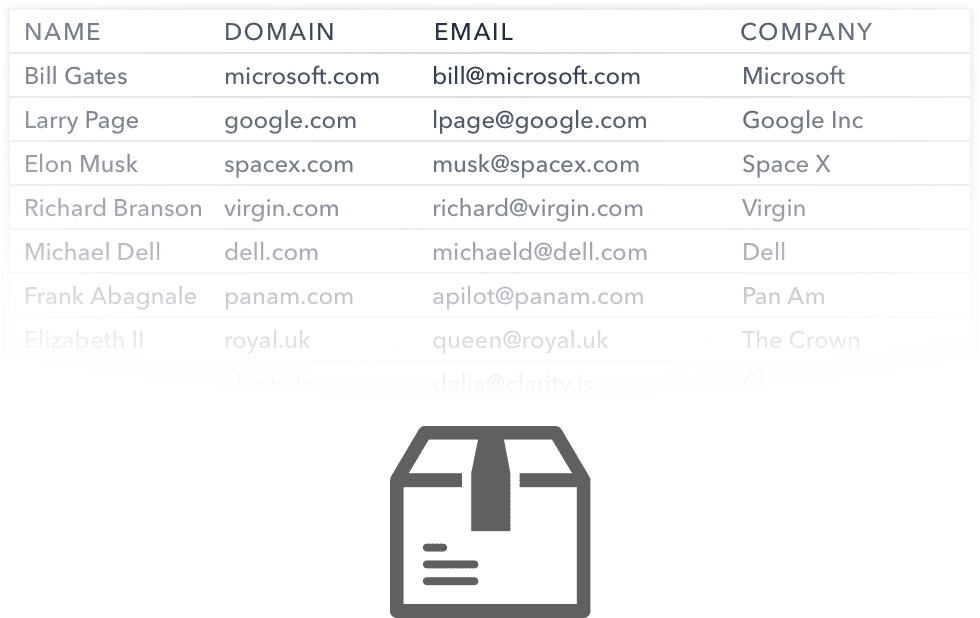 This has remained our top priority because emails are the fuel which feed the entire sales/lead pipeline in a lot of businesses. For a lot of businesses, prospecting potential leads and working out who best fits their target market is the first thing they need to do.
Next is the more tricky part… hunting down their contact details! Finding their email is a key part of this process.
Additionally, marketers and outreach professionals need to protect their domain health score, and the quickest way to kill that is by sending out emails to faulty or expired email addresses. By using Anymail Finder they can guarantee that the emails they send will be delivered to accurate addresses, protecting their domain health score in the process.
5. Is it possible to have created something this big and not have encountered problems? What challenges did you face in developing Anymail Finder? How did you manage those challenges?
Absolutely not! Problems are a completely natural part of growing a business.
And, as a broader principle, it's what sets you apart from newcomers in the industry, (they're yet to go through all the problems you have!).
One of the main challenges the team has had to deal with is building an email tool that can deliver results to users looking for addresses across many different niches and geographic locations. With this comes complications in scaling our database, language barriers, domain accuracy, and digging down into SMEs and their emails. To manage this we've just had to constantly improve our database overtime focusing on the most popular niches for our customers.
Secondly, spammers using bots and multiple accounts to take advantage of our free trial. We've now built in sophisticated geographic blocking systems to combat these people, but this was a source of lost revenue in the beginning. I think most online services with a free trial feature suffer from this issue.
6. What improvements are you making at the moment for Anymail Finder users?
We're currently adapting our scraping tools and database builder in order to deliver a higher percentage of positive results. While adding new features is great, building the best database and only charging for verified results is what sets us apart from the competition.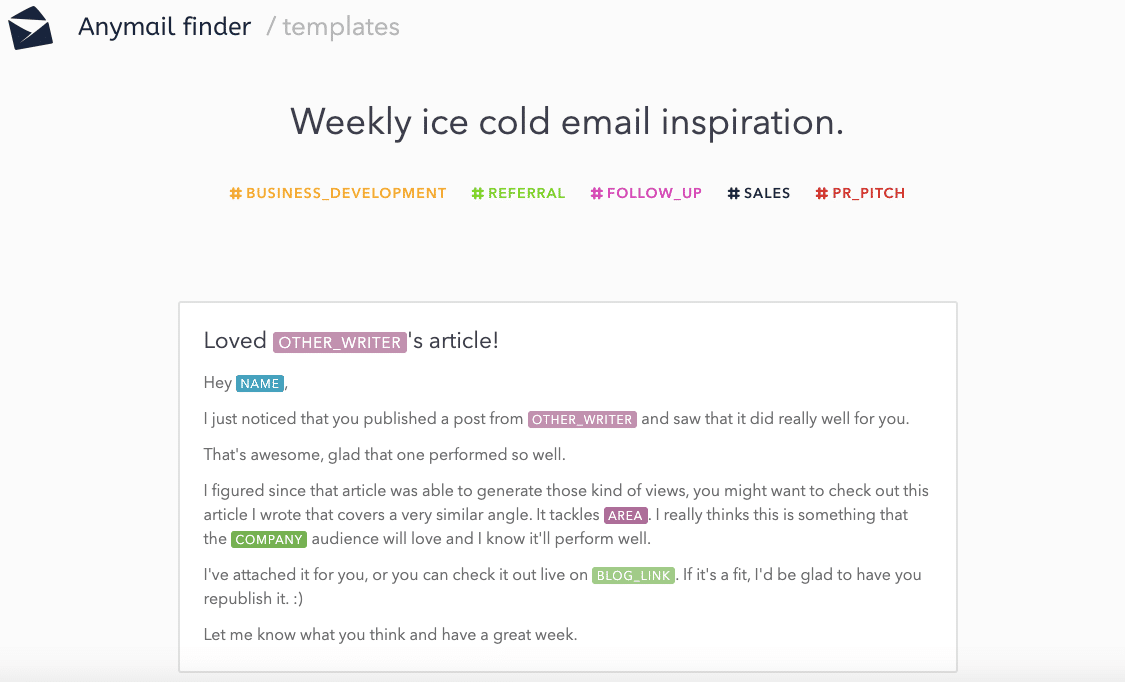 We're also putting together some awesome comprehensive guides for finding leads using Anymail Finder, and supercharging our process with other tools and plugins. This is to help people build out a full-proof automated lead generation and outreach system.
We also want to provide our users with multiple case studies, outreach email templates and pre-built excel sheets to make their use of Anymail Finder dead simple.
Finally, in a few months, we're going to start re-designing the platform and brand in order to make it more user friendly and appealing to new users!
7. Are regulatory and national shifts like the GDPR and Brexit influencing how Anymail Finder works or will it'll work in the future? How and why?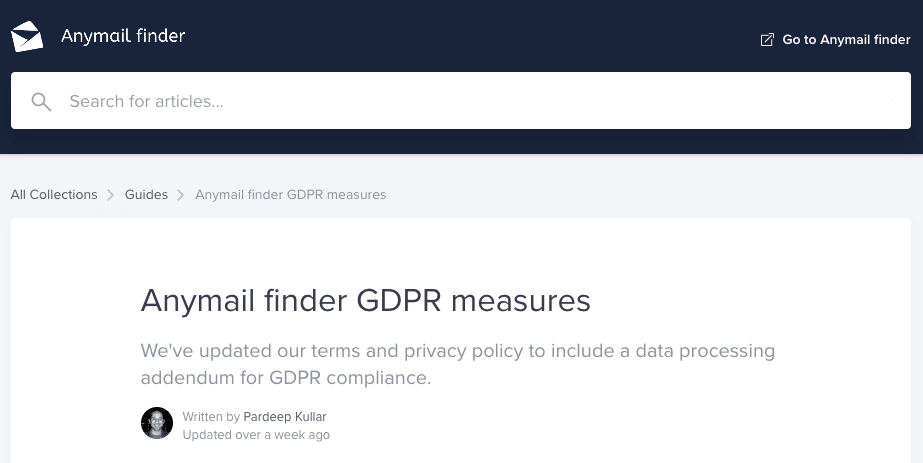 We had to put in a great deal of time in understanding GDPR and applying its rules to Anymail finder. It imposed restrictions on the results we could return for European countries. We don't yet know how Brexit will impact GDPR and currently we don't expect any changes. We've noticed that some organisations, like Google, have already made moves to transfer UK data to the US and the implications of that are as yet unknown.
8. What's the best thing anyone ever said of your service?

They've often mentioned both the quality of the support and the fact that we only charge for verified emails. Our support culture began from the start. We'd have our phones set to ring even at 4am if a support query came in.
Things are a little more work life balanced now but in the beginning, when it's your first business, there's a lot of pressure to immediately reply at all hours of the day when people are paying for your service. The whole 4am phone call thing was a little extreme but even now we reply to 99% of emails the same day from morning until night.
In the last 2 years we've responded to 3,323 support requests and median response time is 1 hour and 12 minutes. It would be lower, as we get back to people in minutes during the day, but of course we do sleep at night and we get queries from Asia which we can only answer in the morning.
9. We all know that every product receives negative comments. What's the worst you've received? And how did you handle it?
We once sent out an email and someone told us that 'THIS IS THE WORST EMAIL I HAVE EVER RECEIVED".
Why did they say that?
We use Intercom live chat which charges per user we support. We wanted to send out an email to ask old users if they still wanted to use Anymail finder and if not, we would need to remove them from the system.
However, we didn't word it properly and it sounded like we were deleting their accounts without reason and that's the response we got. We then had to apologise and the guy was fine. They were all fine.
Besides that, running a live chat system involves taking a lot of abuse from around the world. People turn and swear at you because they wanted a free product and, while we have a free trial, you'd need to pay for it after that runs out. We don't tend to let them get to us these days!
10. What makes Anymail Finder stand out from its competitors?
The main thing that sets Anymail Finder apart from its competitors is the fact that we only charge for verified emails. We've tried all the tools out there and the one thing we've noticed is that it's difficult to grasp what precisely a "credit" is worth.

People end up paying credits for searching, or even pay credits for found but unverified emails. We didn't want this from our tool, so we only charge users a credit once they find a 97%+ accurate email.
11. What's one fascinating thing about your product you've never talked about to anyone?
One thing we've learned and it's almost odd. The biggest cost that Anymail finder has is support time. Yes, the servers cost a lot and unusually we work out of an office and not as a remote team (because we enjoy working from an office together), but the server and office costs are nothing near the technical and customer support time required to run it. To reduce support time, being transparent about emails was essential.
If you want to reduce the number of arguments over emails, then charge for those that are 100% verified and give the rest away for free, even if they are accurate in most cases. In some ways this is not great for business, it does not maximise revenue and it might even be stupid but it damn well maximises peace of mind. If we were funded we might have to think differently but being bootstrapped allows for less friction.
12. What's the difference between "verified and not-verified" emails on Anymail Finder? And why does it matter to know these differences?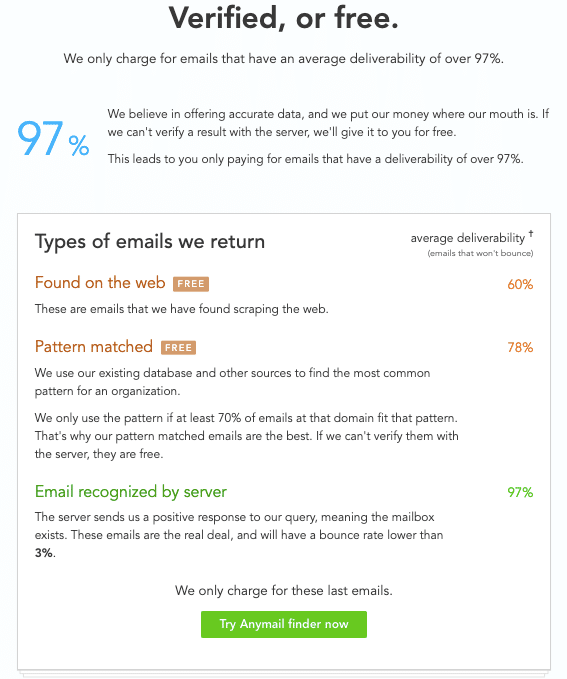 In the Anymail Finder process we use various different methods to find the emails our users are looking for. While I won't go into the details of each method (there's quite a few) we cap each process off by sending a request to that domain's server in order to verify its existence. If we get back a positive result we say that the email is 97%+ accurate and "Verified".
Some servers, however, don't accept external requests and so, while we're fairly confident that the email address is accurate, we cannot verify it and so we do return it to our users, but class it as "Unverified."
13. What is a "credit" on Anymail Finder
A credit on Anymail Finder = One 97%+ verified email. Every email we locate, (or pattern match), but cannot verify we give to our users for free.
14. What's the difference in using the Anymail finder API instead of running checks directly on your website? Which one is better and why?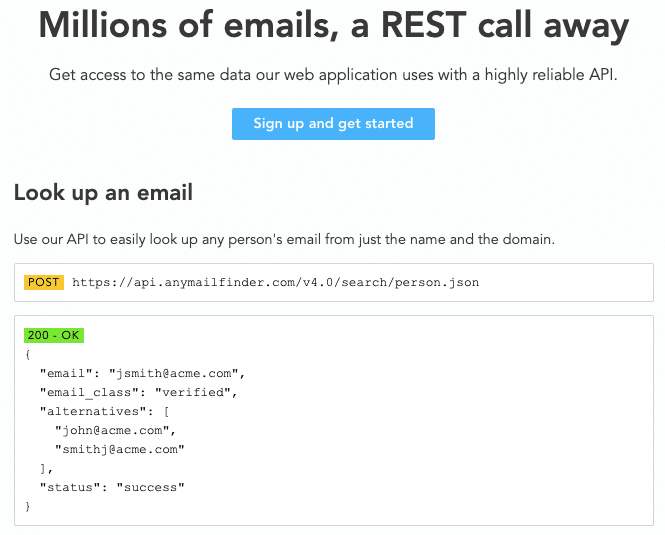 The API is most often used by lead generation companies that have built Anymail Finder directly into their own systems and don't want to manually upload files. Customers who upload files one by one often get that data from 3rd party tools that let them download files whereas lead gen companies might directly plug into a 3rd party API to get data and then pass that into Anymail Finder to get the emails.
15. Does Anymail Finder guide its users on how to maximize the platform for success? How can PR profs, journalists, bloggers, marketers, etc, benefit from using Anymail Finder?
So we're in the process of creating a huge amount of content to direct our users towards success in all their email endeavours, not necessarily on just how to use Anymail Finder. But yes, we currently have a considerable array of blog posts which guide our users on how to use our platform to its fullest potential.
I'm also in the process of creating some short explainer videos for more visual learners. We'll likely have all these new lessons and guides finished by the summer!
16. This question would be from someone who's never used Anymail Finder but has heard that they can grow their business by finding and verifying thousands of emails on the platform. If such a person got curious and read this interview, what would be your best advice to them on using the platform for their goals?
There will always be a few customers who arrive at our tool really excited by the prospect of finding tonnes of new customers. But it's important to know we are the "HOW" not the "WHO", i.e. if you don't know who your ideal customer is, you can't exactly go out and find them!
So I'd say identify who your ideal customer is first, build a large CSV file of all the companies you want to work with in one column, and then the role title of the individual who you need to get a hold of in the other, and then use our "File Upload" tool. That's the most efficient and effective way of going about it!
Apart from that, I'm really excited by the new Anymail Finder guides, walkthroughs, cheat sheets and walkthroughs we're going to be producing, as these will be what I'd recommend for brand new users in the future!
17. How can small businesses benefit from Anymail Finder "Affiliate program?"
The affiliate programme has been designed to reward people for recommending Anymail Finder to their network, clients or friends, as well as content creators who create content sharing their tips and tricks on tools such as ours.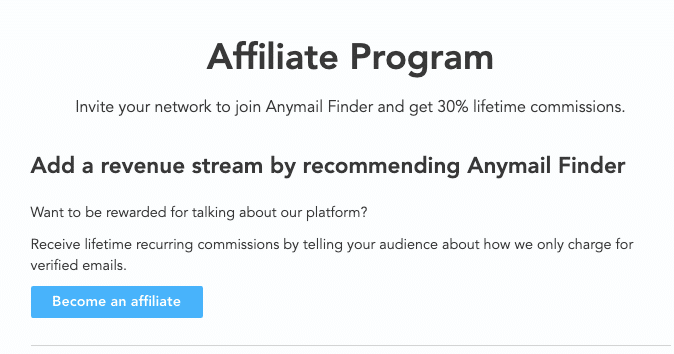 Small businesses can use their email subscriber list or their blog traffic to promote their service alongside Anymail Finder and start earning recurring affiliate commissions. So it has the potential to be an additional (and potentially lucrative) revenue stream.
18. How effective is "credit rollover" on Anymail Finder? How have your users responded to it so far?
It's one of our main differences between our top competitors. We understand that for some businesses lead generation cycles aren't necessarily a month to month endeavor and so we want to offer flexibility to those who want to spend their credits every two months for example.
A lot of them list it as their favourite feature! So we're more than happy to keep it that way.
19. Are any Anymail Finder features or pricing arrangements limited by geographical region or not available to some users everywhere? If any, why the limitation?
The pricing is pretty much the same everywhere. We don't have any specific regional restrictions though we do use a 3rd party spam detection system that might block some IP ranges.
20. In a webinar hosted by Litmus, the email marketing platform, they said that "Pure email outreach will become less effective but still prevalent in companies' strategies." Do you share this view and how are you responding to it?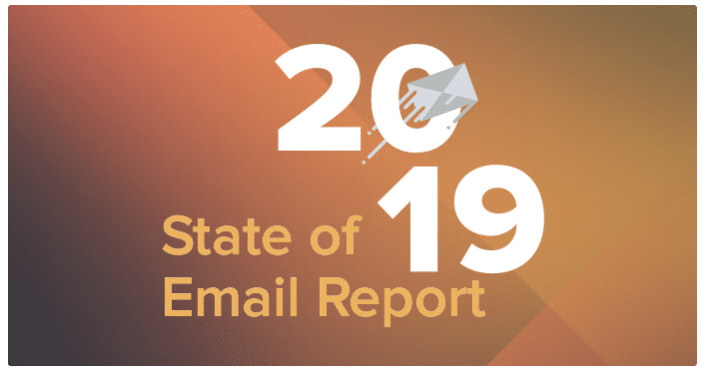 I'm sure there's evidence to suggest that pure email outreach will become less effective, but there's still a few undeniable facts that keep email amongst the most effective outreach techniques.
Apart from software costs, it'll always be free to send an email.
While some say Generation Z "Don't use email", they will once they start working!
Email cuts out the middle section of most marketing strategies and allows you to directly contact the decision maker
If your email deliverability is good, you are almost guaranteed impressions on your campaign and thus you can measure the results far more accurately.
But yes, email in comparison to how effective it may have been in the past may be less utilised as time goes on, but it'll still be highly effective and will still help people build hugely successful businesses.
21. Is Anymail Finder causing any major shifts or changes in the email finding and verification space?
Nothing industry changing …. Yet. We have been talking about some interesting shifts we might explore a little further down the line. In the meantime we're looking to become the best database at our price point, as well as provide the best email marketing resources in the industry.
21. Tell us about your pricing and why it's ideal for small businesses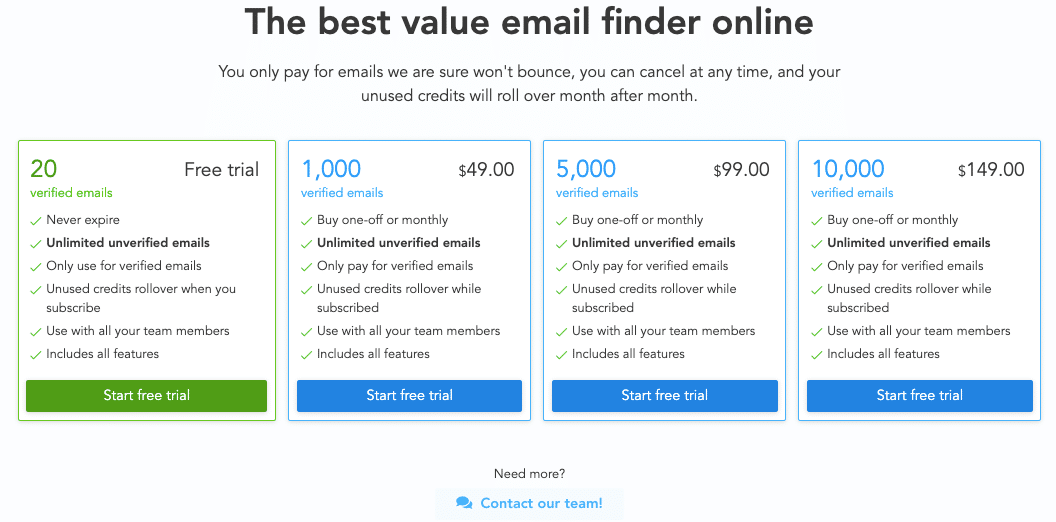 Cold-emailing is a fairly targeted endeavor which is more accurate and smaller scale than PPC or other digital marketing strategies. So it's important that the pricing remains flexible and accessible for people who require a few hundred emails, due to the fact their business can only really handle a few leads/customers at any one stage or they have a fairly niche target base.
The structure also can scale for businesses who have the capabilities of managing thousands of leads.
22. What's the big picture—where would Anymail Finder be in the next five to ten years?
We aim to triple the size of the team we currently have now, across app development, marketing and operations. With this we'll be able to manage and develop incredible features to help marketers prospect clients even more effectively at scale, as well as building out industry leading campaign tools.
Education is also a strong vision for Anymail Finder as we want to provide industry leading email automation training which will enable everyone from SMEs to Fortune 500 companies to craft better email campaigns.
While our database remains strong, we want to be at a stage to provide email finding and lead generation tools to niche and tailored cases, rather than remaining broad we'd like to go deep for a handful of use cases.
With all of this in mind, we aim to reach $1 million in ARR in the next 5-10 years.
Cameron James is the Head of Marketing for Anymail Finder, a dedicated email finder that only charges their users for fully verified emails. Working with multiple start-ups and early stage businesses, Cameron was formerly part of the crack team under growth hacking sensation Vin Clancy. He describes himself as a full-stack marketer with a knack for copywriting and email marketing. A contributor to Better Marketing, Cameron's key interests include: SaaS, Email marketing, startups, and copywriting.
The following two tabs change content below.
Nicholas Godwin
Nicholas Godwin is a technology researcher who tells profitable brand stories that tech buyers and businesses love. He covers technology topics on his website
TechWriteResearcher.com
, and has worked on projects for Fortune 500 companies, global tech corporations and top consulting firms, from Bloomberg Beta, Accenture, PwC, and Deloitte to HP, Shell, and AT&T.
Latest posts by Nicholas Godwin (see all)