When you want to share a photo or a gallery with friends, family, a message board, or even the entire Internet, an image hosting site is the best way to upload, store, and share your files. However, there are many image hosting sites, all with different features. The best site for you will depend on how many photos you need to upload, how much time you want to spend uploading, and the reason you're uploading the photos.
I had the original idea for this article back in 2017 because Photobucket were charging $400 for people to hot link images… Since then I have kept this post up to date as new sites came online or went offline.
Of course if you are a professional photographer then you may want to consider using a portfolio web builder or building your own website with WordPress and paying for web hosting.
You can also use a number of free online portfolio creators to do the job as well.
If you are interested in getting your own web hosting account you can check out my website hosting reviews.
List of the Best Free image hosting sites
Google Photos
Wix
Imgur
Dropbox
Flickr
500px
Smugmug
Free Image Hosting
PostImage
ImageShack
Image Venue
1. Google Photos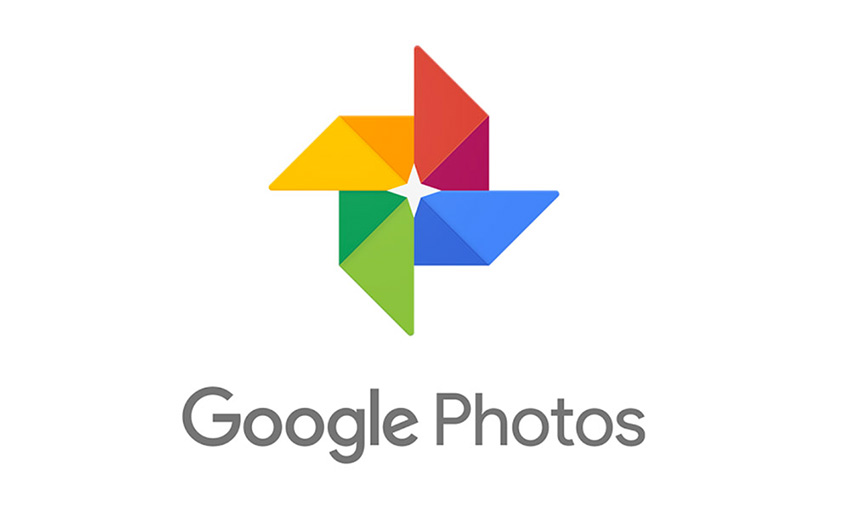 Google Photos is one of the best free image hosting sites for uploading high-quality photos in large quantities. The site has an automatic backup feature, so you don't have to worry about losing any of your photos. Google Photos allows you to edit and organize your photos, and you can easily find older photos again with a visual search. As you use the platform more and more, it will recognize your photo habits and learn to automatically sort your photos, reducing the amount of work you need to do to keep your photos organized.
You can either go to photos.google.com to use Google Photos, or you can download the Google Photos app. The app will automatically upload all of your photos to the platform and sync them with your account. Since most people already have Google accounts, it's easy to set up a Google Photos account and start uploading.
Google Photos offers unlimited free storage for photos you take with a smartphone or a point-and-shoot camera. You can use your storage space from your Google account for photos from a DSLR camera. The platform also allows you to upload videos in 1080p. You can upload a variety of filename formats such as PNGs, JPGs and GIF images.
Wix is a site-building and hosting service provider that has rocketed to superstardom in recent years. With the many photo-centric features available, it's not hard to see why! In the photography realm, Wix is one of the best platforms to host images. Not only can you create a gallery for all to see, but you can create a store to license and sell your work as you see fit!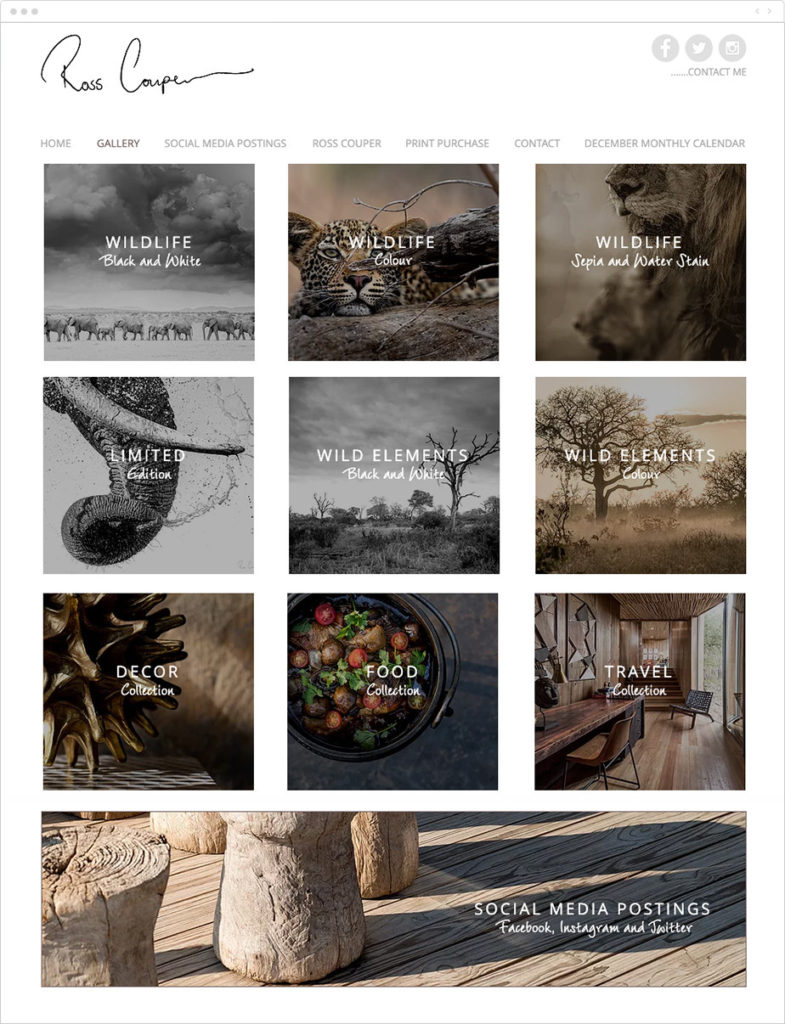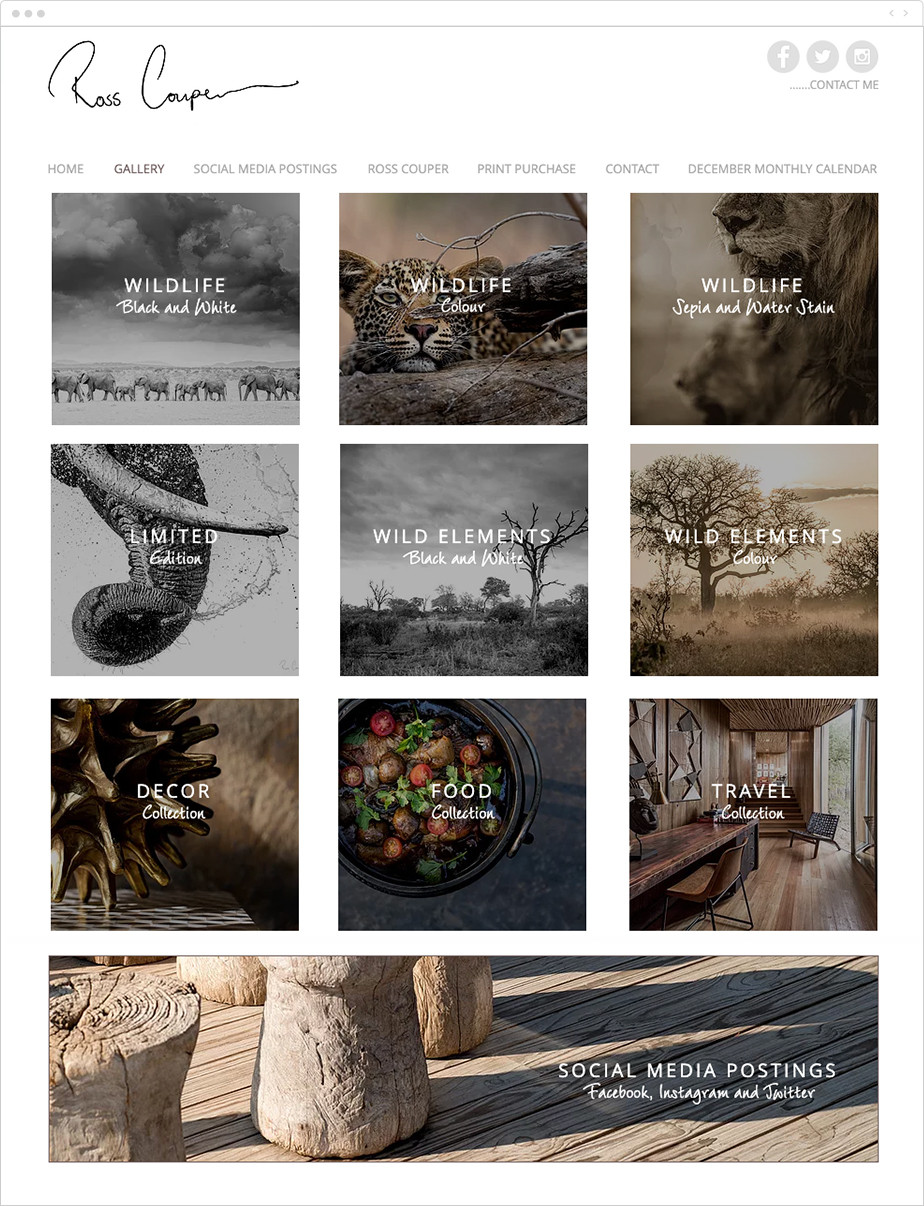 Several pre-made layouts are available to help you create a stunning site in seconds. But of course, you can tweak design elements to your heart's content. With tons of features at your disposal, you can host images your way.
Take advantage of the Wix art store feature to license custom digital art. To keep your work safe, Wix also has watermarking features. Plus, you get all of the excellent social-media implementations Wix is known for.
The Wix Pro Gallery feature is one of the best for showcasing images. It offers unrivaled control and customizability. Build the perfect photography site to advertise your service, impress potential clients, and grow your brand! Or, you can make a private photo album to limit sharing among close friends. The choice is yours.
The hosting service lets you upload a wide array of file types while preserving the quality of your photos. If you're not sure about the technical side of things, don't worry. Wix has automatic image optimization that fine-tunes settings based on your viewer's equipment. Whether they visit on a desktop or mobile device, your hosted images look fantastic.
Wix has several plans with various storage capabilities and prices. If you're not ready to commit to a paid plan, you can use the free hosting option. It includes 500MB of cloud storage to get you started.
Pros of using Wix to host your images
Easy indexing on Google and other search engines so that your images get found.
Easily customizable.
Excellent quality for your photos, both on desktop and mobile.
Sell photos online, both in print and digital form (100% commission free).
Create and share private photo albums.
3. Imgur

With Imgur, you can store an unlimited number of photos without worrying about your photos expiring. You don't need an account to upload photos to Imgur, but you can create a free account if you want to create albums, add captions, and upload your images via email attachments. They allow direct linking, and they give you a link for each image to post it in forums or embed it in HTML.
To upload a photo to Imgur, paste the photo onto the Imgur website, enter the image's URL, or select an image from your computer. There are several apps available that help you upload photos from desktop computers and mobile devices.
You can upload JPG, JPEG, PNG, APNG, TIF, GIF, Animated GIF TIFF, BMP, PDF, and XCF filename formats to Imgur. The site supports non-animated files up to 20 MB and GIFs up to 200 MB.
Imgur is the most popular image-hosting site for Reddit, and it lets you upload photos quickly and painlessly. You can share photos with their generated embed code.
You can share the images easily on just about any social networking site, so it's one of the most highly-rated image hosting platforms.
Learn more about when to use different image formats such as PNG, TIFF JPEG and BMP.
4. Dropbox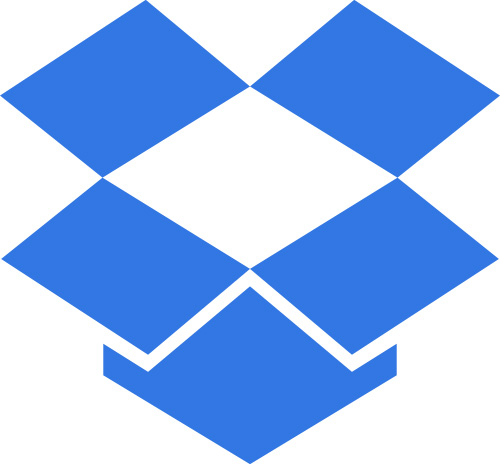 Dropbox lets you upload and store many types of file formats, including photos. It's a free cloud storage provider that provides you with shareable links to individual files or folders. Like Google Photos, it offers automatic backup, which is an important feature if you plan to upload most of your photos.
Dropbox doesn't change, edit, or resize the photos you upload in any way. Your original, unaltered photos will always be available on Dropbox. You can also sync your photos to a Dropbox folder on your desktop.
You can easily create folders and sub-galleries to organize your photos, either on your desktop or your smartphone. To share a photo, you just have to right-click on it, copy the link, and paste it wherever you want to share it. You can also import your contacts and directly email them the link to your photo or entire gallery. If you allow them to, visitors can even download your photos or albums.
Dropbox offers 3 GB of storage. The platform is a straightforward, simple way to store and share photos. Although it doesn't offer editing tools, it's a great option if you just need to upload the original, unedited versions of your photos.
5. Flickr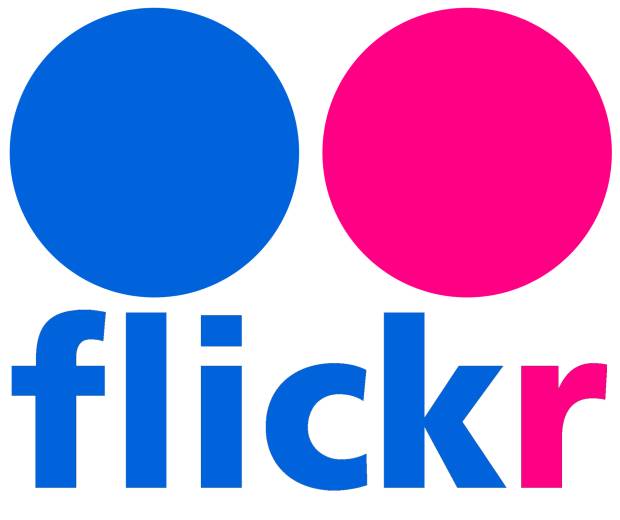 Flickr is one of the most famous image sharing sites on the web, and even though it's gone through changes since being purchased by Yahoo, it's still very popular with photographers. In addition to offering free hosting, it provides editing tools and allows you to organize your images into albums.
Flickr is also a social networking site, so you can share your photos with the entire Flickr community. There are many groups for different interests and topics, including nature, black and white photography, and fashion. Users can favorite others' photos and leave comments. If you want more privacy, you can edit your privacy settings so you'll only share photos with selected individuals.
With Flickr, you can easily upload photos with your phone, email, or other photo applications. The mobile app is very helpful and easy-to-use. Flickr also offers an uploader tool, which lets you back up photos from your computer, Dropbox, iPhoto or other locations.
Flickr will now host 1000 images for free. You used to get 1TB. Ahh the good old days.
6. 500px

500px is another image hosting site with social networking features. Professional and amateur photographers can both share their work, comment on photos, and follow their favorite users. Everyone can upload any photos they want to 500px, but the site is primarily used to showcase photography.
You can build a profile on 500px, and photographers can sell usage of their photos through the site. However, you can't directly link to photos on other websites. If you're looking for a platform to upload photos to share on social media or other sites 500px probably isn't the best option for you. The primary benefit of 500px is the opportunity to display your work and network with other photographers.
You can upload 20 photos per week with a free membership. If you purchase the annual membership for $25, you can upload unlimited photos, access online photography classes, and view statistics about your photos. The Pro membership also offers a listing in the site's directory and a Pro Profile. The Pro+ membership provides you with a customizable website and an online store.
7. SmugMug


SmugMug is similar to Flickr in that it gives photographers a place to showcase their work. Although it isn't as focused on the social media aspect of photo sharing as Flickr is, users can share their photos and view other work.
When you create a SmugMug account, you create a customizable photo site. There are plenty of designs you can choose from, and the site has built-in editing tools to make changes to the design templates.
SmugMug has no option for free accounts, so it's usually only used by photographers who want a platform to display and sell their work. The cost of their plans range from $40 per year to $300 per year. More expensive plans offer more storage, more customization options, and other features. You can also set up an eCommerce shop with SmugMug to sell prints or photos. You can use SmugMug within your own domain name, too.
8. Free Image Hosting.net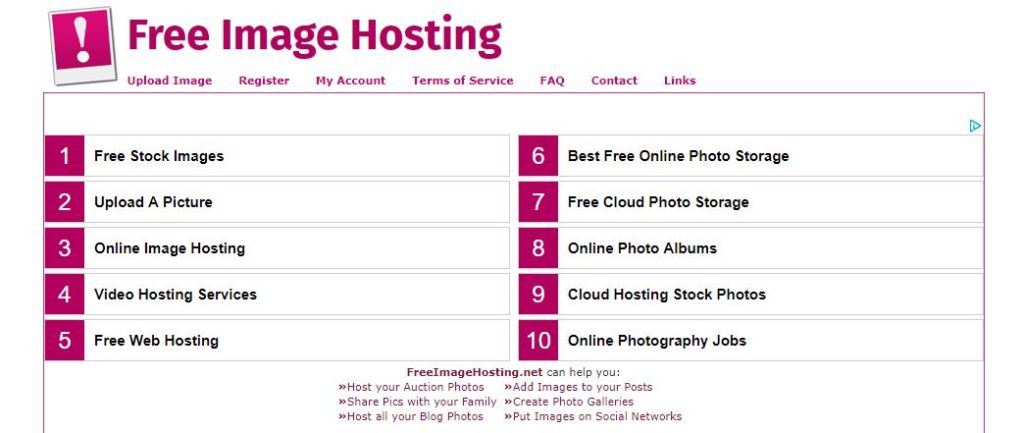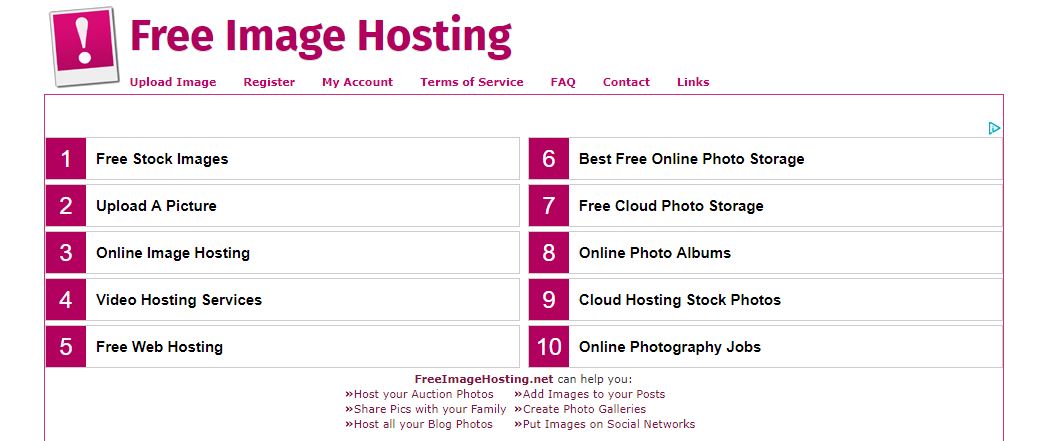 Free Image Hosting is very similar to Imgur. You don't need an account to upload photos, and your photos will be stored on the site forever. The site gives you an HTML code to a link to your photo, which lets you easily share your files.
The site supports JPEG, PNG, GIF, and BMP files up to 3 MB. The maximum file size is 3,000 KB.
Free Image Hosting is a fast and convenient way to upload photos. It doesn't have the hyperlink shortener that Imgur offers, but you can still share your photos on other sites. The site's homepage has large ads, but if you just need a place to quickly upload a picture to share, it's a great, quick option.
9. PostImage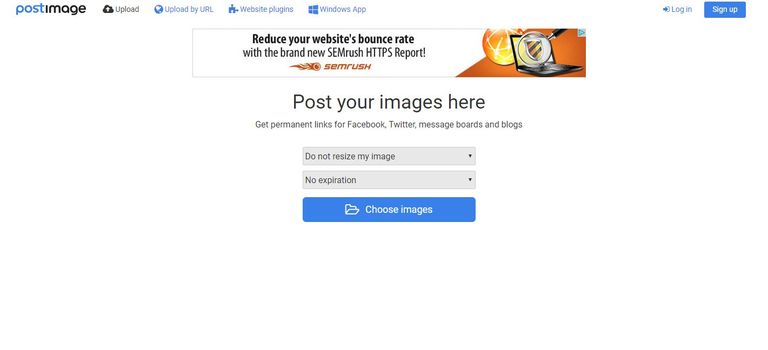 With PostImage, you can store your photos permanently without creating an account. You can use the website or the desktop software to upload images up to 8 MB. You can also upload images from their URL. The site supports JPG, PNG, GIF, BMP, TIFF, PDF, and PSD files.
PostImage allows you to create a gallery with a unique link to share with others. Individual files also each have a direct link that you can share with others. You can resize your photos when you upload them. If you're planning on only sharing an image once, you can choose to let the photo expire after one day, one week, or one month. If you don't want the photos to expire, they'll stay on the site forever.
PostImage is popular for sharing images on forums and message boards. The site has an image upload mod that forum visitors can use to easily share images. The resizing feature is also helpful for forum use because it allows users to resize images to use as avatars.
10. ImageShack

ImageShack has a great interface that showcases its best photos in a layout similar to Pinterest's. You have to create an account to upload photos, but the free account offers many helpful features. You can organize your photos into albums, and you can add tags to keep track of your images and let other users discover your work. If you don't want the ImageShack community to view your photos, you can keep your images private or only share them with a selected audience.
The site offers a 30-day free trial of the premium version, which offers unlimited space, direct linking, watermarking, and image stats. With a free account, you'll receive 10 GB per month for storage space.
ImageShack also offers multiple mobile and web applications that make uploading and sharing photos easier. For example, the ShackIt app provides an image uploader button for your web browser, so you can quickly upload photos to your account. The ImageShack Resize app lets you resize, crop, and edit images.
11. ImageVenue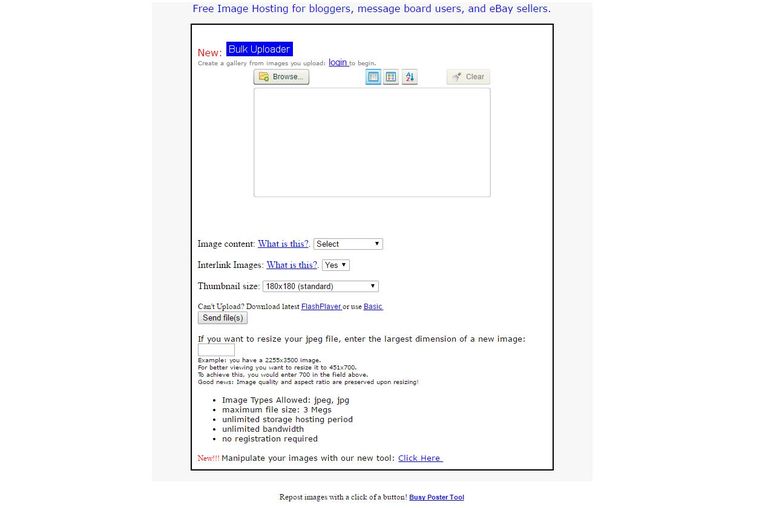 ImageVenue allows you to upload JPEG images, and it resizes larger pictures while retaining the quality when you upload them. You can upload images up to 3 MB in size, and the site allows a maximum storage size of 3 GB per month.
ImageVenue is ideal for people who need to upload and sort large amounts of images to share with others. It's a popular platform for bloggers, forum or message board users, and eBay sellers.
Check out this cheat sheet of different social media image dimensions.
If you have used any other free image hosting sites that I haven't mentioned in this post, then feel free to leave a comment and I'll consider adding them to this post at a later date.
Other Resources You Might Be Interested In
The following two tabs change content below.
Jamie Spencer
My name is Jamie Spencer and I have spent the past 10 years building money making blogs. After growing tired of the 9-5, commuting and never seeing my family I decided that I wanted to make some changes and launched my first blog. Since then I have launched lots of successful niche blogs and after selling my survivalist blog I decided to teach other people how to do the same.
Latest posts by Jamie Spencer (see all)