The Best Hosting Management Tools 2021
Most hosting environments utilize an intuitive cPanel to help users manage their hosting environments. Without these graphical interfaces, it would be difficult for most beginner website owners to actually manage their hosting and set up their sites.
Hosting web panels are something you're going to spend a lot of time in if you're managing your own website. Below we take a look at 19 of the most commonly used web panels, chances are the host you end up choosing will be using one of the control panels we highlight below.
For the entirety of this review, we'll use the terms web panel and control panel interchangeably.
Why Use a Web Panel?
A web panel provides you with a graphical interface that will help you manage your website. Essentially its a hosting management tool. You'll be able to do things like, manage your site's files, applications, email, and a lot more. All of the best web hosts on the market will have a web panel to help its customers effectively manage their websites.
Without a graphical interface, you'd have to login to the server yourself and manage all of your site's files the old school way. Some users prefer this method, but it does require extensive development knowledge and experience. Just one misplaced file and you risk breaking your website.
Since most websites are started by beginners with no programming experience, control panels allow these users to accomplish complex tasks with the click of a button.
Want to install WordPress on your site? Just use the one-click-install app. You can also do this for other blogging platforms and not just WordPress. Want to create a subdomain to build out a new site? Use a control panel app. Want to setup an email account that's associated with your domain name? Use the control panel email app.
The tasks highlighted above are just skimming the surface of what you'll be able to do within your own web panel. Below we look at the most common features of existing web panels.
Common Web Panel Features
No matter what web panel you end up using you'll probably have access to a similar set of features. Below we take a look at what these features are and why you'll want them.
1. DNS Management
DNS stands for domain name management system. Most web panels provide you with the necessary tools to manage your domains, link them to an existing website, do domain forwarding, and much more.
2. FTP Management
This allows you to manage your website's files. With FTP management you'll be able to access your site's files. Plus, do things like managing users, and manage any associated website passwords.
3. Email Management
Having an email address associated with your domain name will help your site appear more professional. With email management features you'll be able to setup a domain-specific email address, send and receive emails, and more.
4. File Access
With web-based file access, you'll be able to edit, delete, and move any files that are associated with your website. This is much easier than logging into your website via an offline software using your IP address.
5. Database Management
If you're using a CMS, or another system to manage your website, then you'll probably be using a database. Most beginner-level users won't be modifying databases by themselves, but they are an absolutely necessary feature if you're using a tool like WordPress. Commonly supported databases include MySQL and PostgreSQL.
6. Backup Management
Backing up your website is incredibly important. It's a great way to help mitigate risk if your site is hacked, or experiences an issue that takes your site offline. With a regular backup system, you can simply restore an earlier version of your site.
Most web panels provide you with a way to setup the backup process, manage along with restoring any previous backups.
7. Apps and Software Installation
Most control panels have various software and apps you can install. One of the most common is some version of one-click install, which lets you install popular software like Joomla, or WordPress, with the click of a button.
The suite of apps and software you have available to install will depend upon your hosting environment and web panel.
Of course, the web panel you end up using will have more features than those highlighted above, but the above feature list is generally enough to accomplish most website tasks.
The Ultimate List of Web Panels
The web panels we highlight below have a wide range of features. Some are Linux only environments, while others support Windows hosting as well. Based on your needs, some of the control panels will be best suited for shared hosting customers, while others will be a much better fit for sites hosted with Cloud or VPS hosting as well as the cheaper VPS hosting options.
However, regardless of the web panel you're using you'll be amazed at the overall usefulness and ease of use a web panel environment provides you with.
cPanel

cPanel is one of the most popular and widely used control panels out there. A lot of website owners think it's one of the best control panel's available. Judging by its wide use by web hosts, this is probably true. However, it's currently only available on a Linux environment.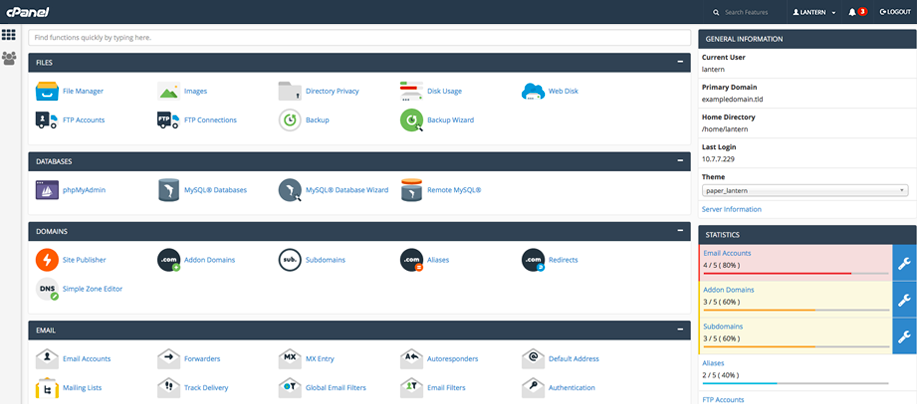 It offers both a user end interface with cPanel, and a server-side management interface through WHM. These environments work together to offer site management and hosting tools, along with useful server admin tools.
Recent updates have greatly improved the speed and performance of cPanel.
cPanel and WHM offers users the following array of features:
Advanced DNS editor and management tools
High-end security measures, like password-protected directories, IP denials, and more
Email account management and protection, along with spam protection
A wide variety of third-party apps to extend the functionality
File manager and FTP access
MySQL database management and creation
Website and server performance monitoring and tracking
Create and manage user accounts and pricing tiers
In-depth server monitoring
Automatic backups and transfers
Backend branding for a custom cPanel experience
cPanel and WHM is one of the most popular web panels available today. With its wide variety of features, intuitive web panel, and extensive customization options it's designed to suit a broad spectrum of hosting needs.
Hosting companies that use cpanel are Hostgator and Web Hosting Hub.
Plesk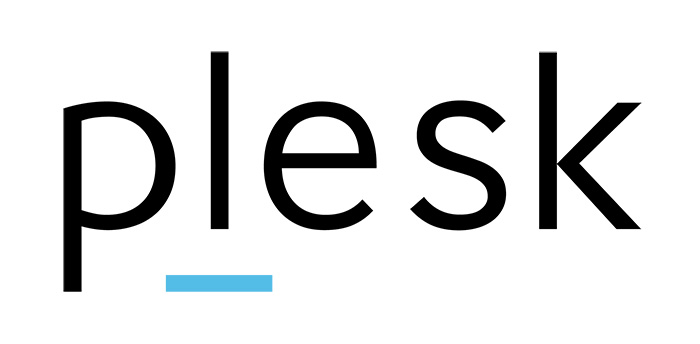 Plesk is available for both Linux and Windows hosting environments. It's one of the easier to use control panels that are available for the Windows hosting environment. It's also widely used across the European hosting environment.
It offers a very clean user interface, and multiple product options to suit different hosting environments. Plus, it easily caters to server clustering, and allows end user access management.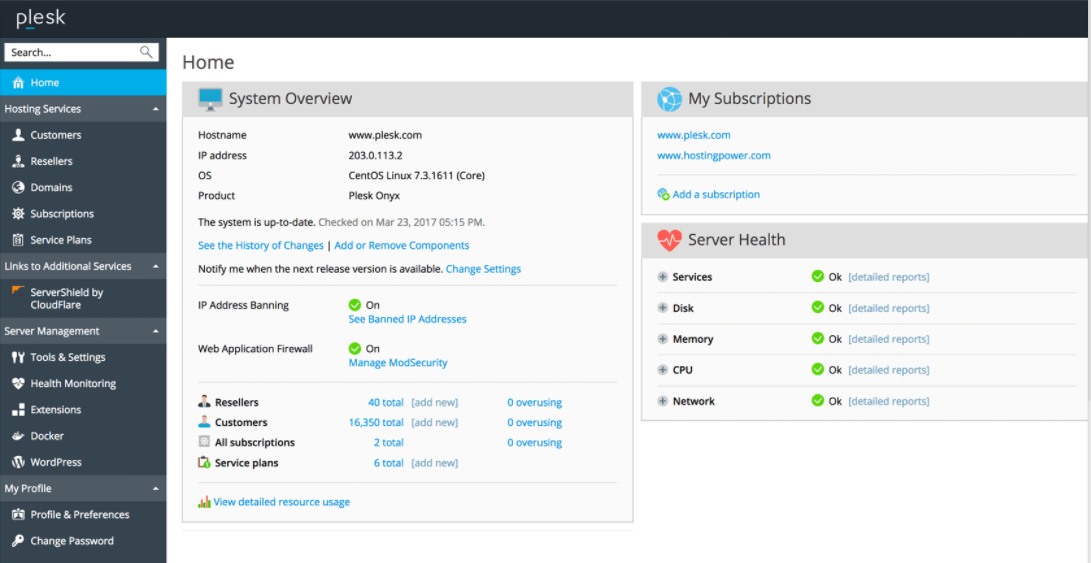 It's intuitive graphical interface is designed to take the hard work out of managing your host. Plus, it offers a suite of security tools to enhance the security of your website and hosting environment. It also offers a variety of different automation tools, so you can focus on your websites, and not maintaining the infrastructure.
If you're looking for further customization options, you can install one of many extensions to your web panel. Plesk is commonly used by a lot of large hosting companies, just like cPanel.
Webmin
Webmin boasts a completely free control panel, plus a setup that's highly customizable. It doesn't have the most intuitive web panel and the design interface is a little lacking, but it does get the job done, and the customization options allow it to be completely custom-tailored to your needs. Plus, it runs on both Linux and Unix.
Webmin allows you to accomplish a variety of system administration tasks. You'll be able to do things like, setup user accounts, manage your DNS, manage file sharing, and much more. You can manage your system files remotely, or directly from the console.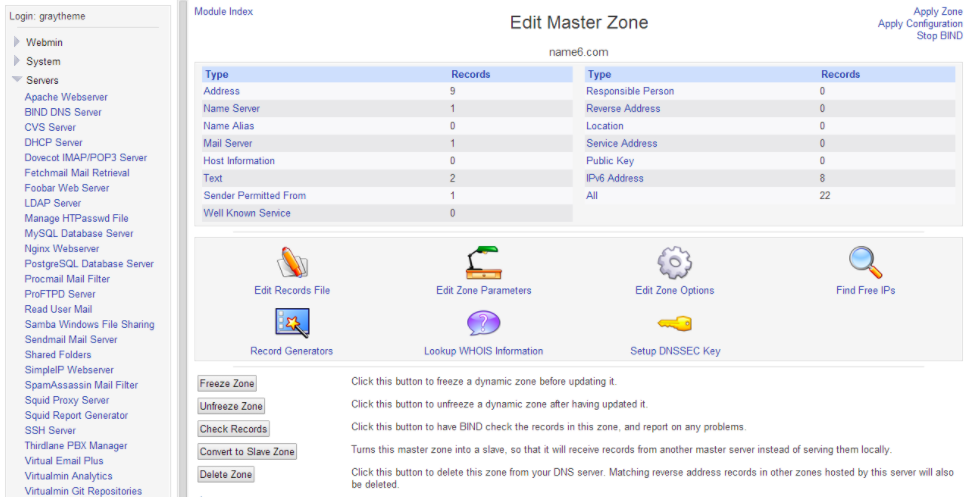 It offers a variety of modules you can use to customize your web panel. Some of the common modules are highlighted below:
An Apache webserver to configure Apache directives and features
The BIND DNS server to create and edits domains and DNS records
The Backula Backup System to configure and perform regular backups
Bandwidth monitoring to monitor and report bandwidth usage
To full list of available installable modules can be found here.
If you're interested in managing virtual systems, then you'll be able to do that with Cloudmin. It's designed for VPS companies who want to sell a virtual system to their customers.
Dreamhost has created their very own control panel for people who use one of their hosting packages. It's designed with beginner website owners in mind. With their web panel, you'll be able to do things like, manage your domains and email addresses, manage MySQL databases, configure VPS or dedicated servers, or even build out your website.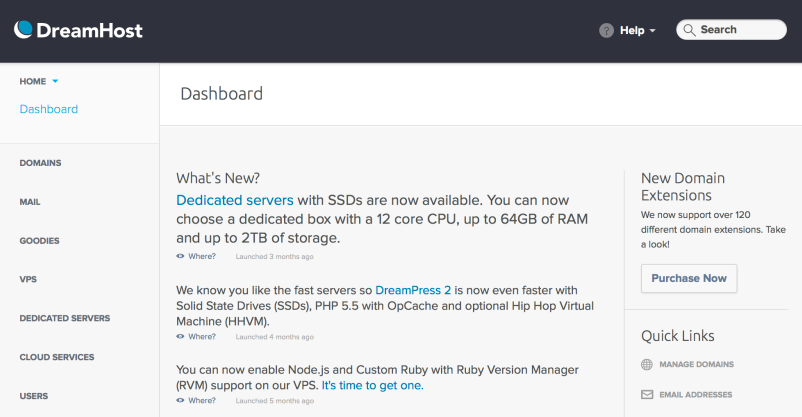 You can only use their web panel with an active Dreamhost account. Overall, it's not the best for high-level users, but beginners will find the intuitive nature of the web panel valuable. It packs a smaller feature set than the other control panel's on this list but will be enough if you're trying to accomplish simple hosting-related and website tasks.
Go To Dreamhost
Read Dreamhost Review
ISPConfig

ISPConfig is an open source Linux-based web panel that provides both enterprise and single user solutions. It's quite flexible and offers an array of features to suit most hosting environments. Smaller companies or individual website owners might find the array of features overwhelming, but corporate environments or companies with dozens of website properties will find this web panel incredibly valuable.
This web panel can be installed on either physical or virtual servers and lets you manage multiple servers from a single control panel. It offers a few different access levels, including, reseller, clients, and administrator.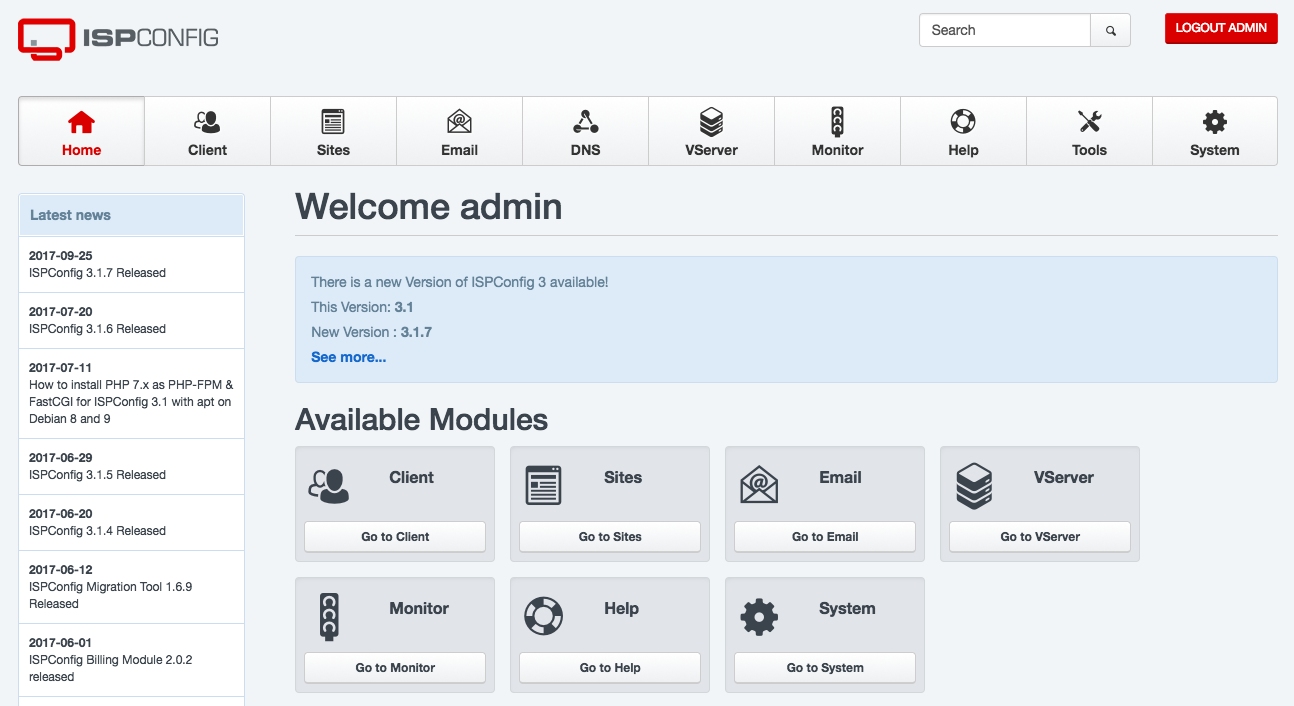 Plus, it offers support for over 20 different languages, so there's no need to worry if your clients or resellers don't speak English.
It supports the following software modules:
POP3/IMAP configuration via Courier and Dovecot
FTP via PureFTPd
DNS management via BIND and MyDNS
MySQL database management
OpenVZ virtualization
Website data and statistics via Webalizer and AWStats
Froxlor

Froxlor is yet another open source web panel that's very lightweight. The interface is very clean and easy to use and helps to take the hassle out of managing your hosting environment. It's designed by a team of experienced server administrators, so it has all the features you've come to expect in a web panel.
Some of its most useful features are highlighted below:
Multiple PHP configuration support, and per server PHP configurations
Advanced SSL management and port or domain SSL assignment
Reseller resource management and user assignment
HTTP, FTP, and email traffic tracking and data
Backend theme creation or customization for a unique web panel experience
Multistack support with IPv4 or IPv6 address configuration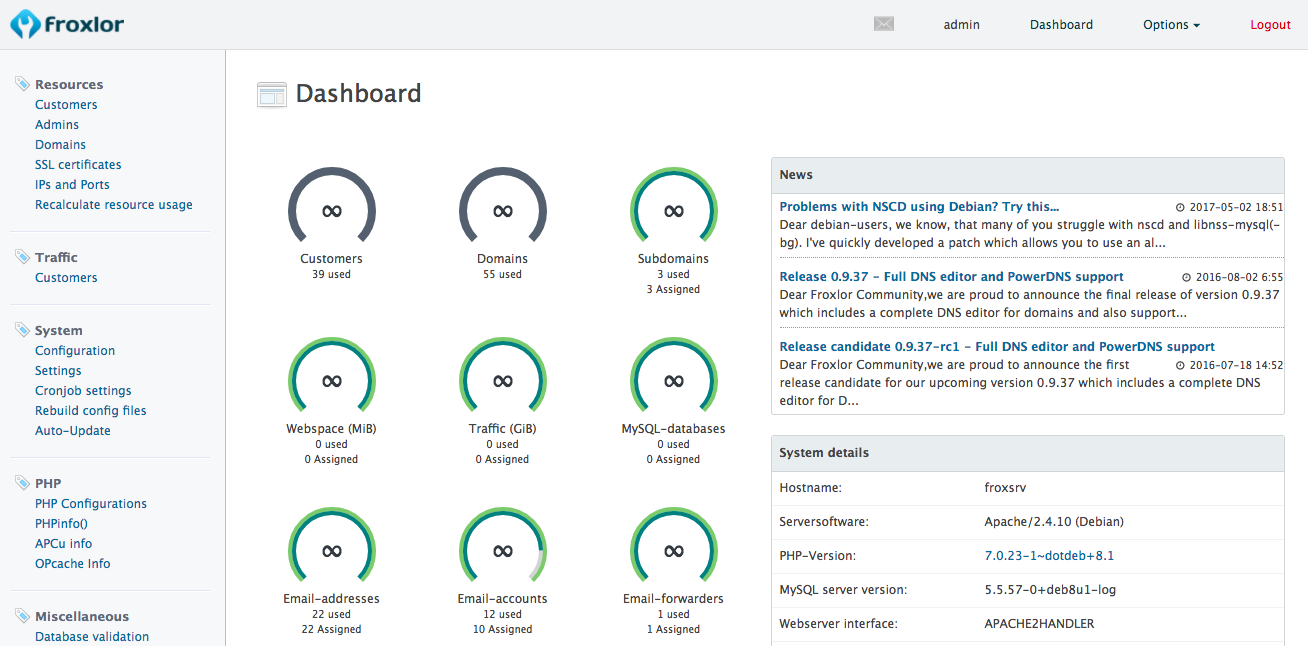 Some web panels provide you with all the features you need, but user experience takes a backseat. With Froxlor you'll have access to all the features you require, all in an easy to use control panel.
ISPmanager
ISPmanager is a Linux-based web panel that's the most popular web panel across Eastern European countries. It currently offers two different control panel solutions to support its wide user base. The first is a Lite solution geared towards dedicated and VPS hosting environments, while the seed is better suited for shared and reseller hosting environments.
ISPmanager Lite features:
Unlimited user and domain support
Built-in data encryption
Anti-virus scans
Website management, user creation, domain and email management, and database support

ISPmanager Business features:
Manage multiple servers, known as hosting clusters.
Ability to manage data on both local and remote servers.
The configuration of user roles and client-based access.
Beyond the above features, it's equipped with traditional control panel features like website server setup, email account management, DNS control, file manager access, built-in backups, database creation, control panel branding and a lot more.
Finally, there are multiple extensions you can use to extend the functionality of your web panel, including, Let's Encrypt, Virusdie, Site Pro website builder, and Softaculous.
ZPanel
ZPanel an open source web panel geared towards enterprise-level web hosts. It also offers support for unlimited resellers. Its control panel runs on top of PHP, Apache, and MySQL. Plus, it works with both Windows and POSIX based servers, making it highly flexible.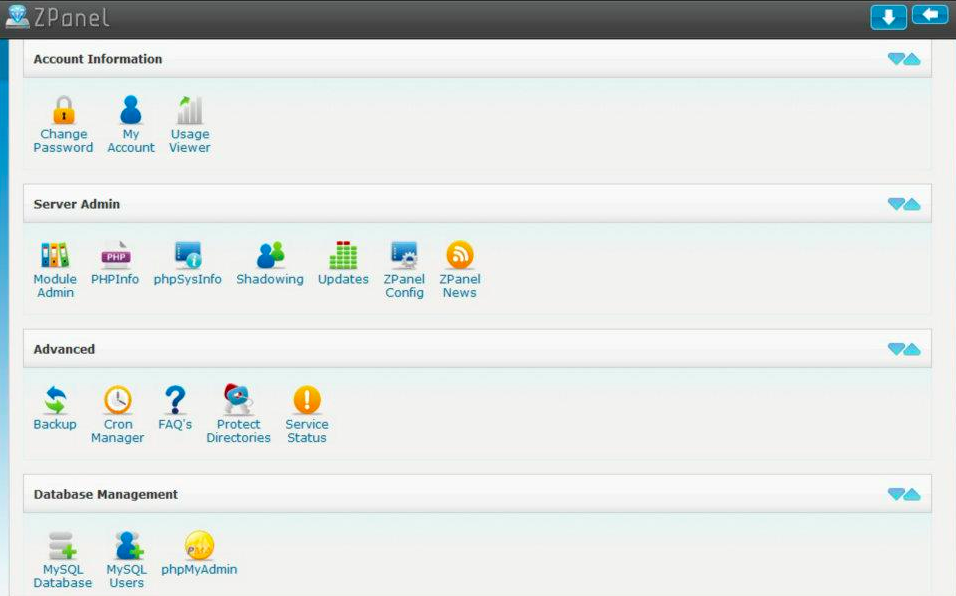 Right out of the box it's equipped with the following features:
Account management features like, uptime monitoring, usage viewer, and password manager
Bandwidth throttling
DNS manager
Permission manager
Cron manager
The ability to create password protected directories
MySQL user creator and database manager
Email management
Reseller management
File manager and FTP access
This web panel is highly flexible, has an intuitive interface, and comes equipped with all the features you need to manage your sites. Plus, it's open source you'll be able to use the software for free.
H-Sphere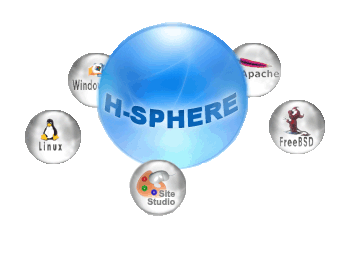 H-Sphere is a feature-rich web panel that can be used across every major operating system. Its feature set can easily cater to multi-server cluster setups. However, its massive feature set does make this web panel less intuitive and easy to use than other web panels on this list.
It's easily scalable, all you have to do is add more database, web, mail, and DNS servers, all without any downtime. The H-Sphere control panel can be configured to work with just about every existing server environment. Plus, the setup and management process can be automated to save time.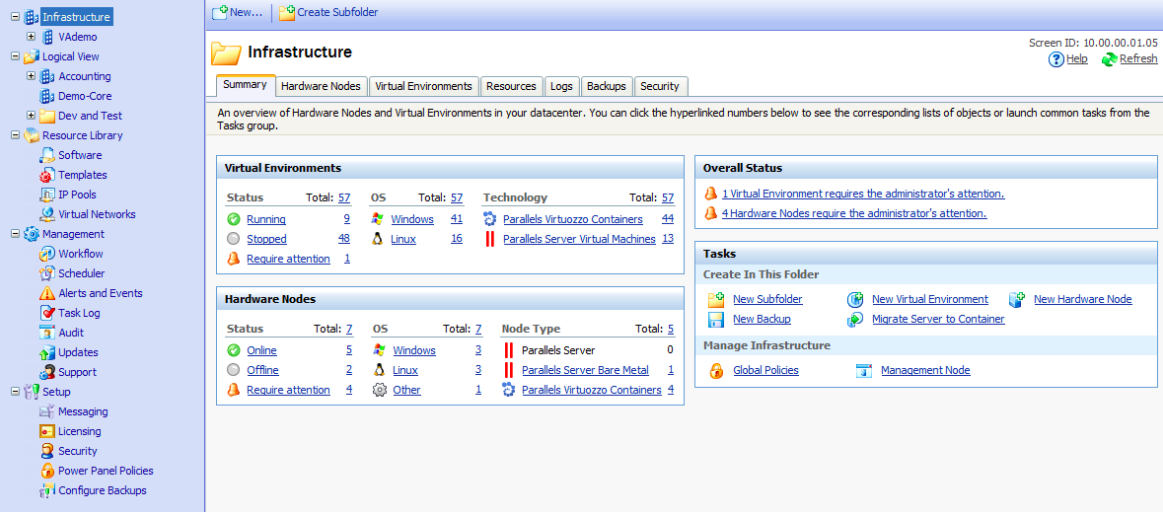 It caters to high-level users with its suite of features like:
Hosting reseller support with a brandable control panel
Advanced mail system, included integrated WebMail
DNS management
Database hosting
A version available for single servers
Cross-platform hosting
Installable packages to add additional features
Shared FTP access
SSL support
If you demand a wide array of features and have the patience to learn the intricacies of this web panel, then H-Sphere could be a great panel for your needs.
Virtualmin
Virtualmin is an open source web panel that offers three different products to cater to a wide variety of users.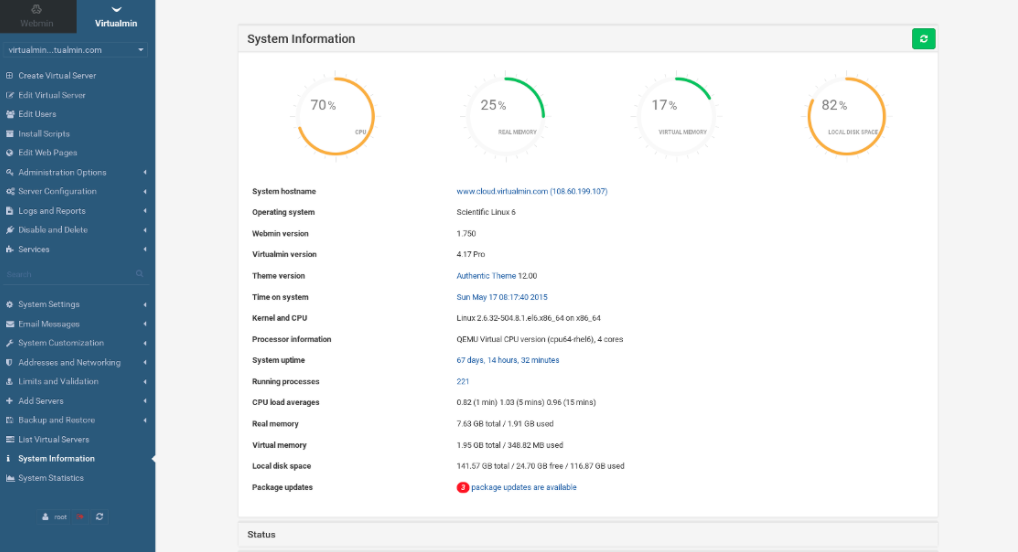 It currently boasts over 100,000 installations across the globe. Below we take a look at some of its most compelling features:
Powerful and flexible domain accounts which allow for delegation of privileges like, DNS, databases, mail, and more
Email clients like Roundcube and Squirrelmail, along with built-in spam and antivirus scans
User and reseller account support
Built-in security tools include two-factor authentication, brute force protection, and certificate logins
Analytic and data reports, plus advanced system monitoring
Regular backups and integration with existing cloud backup providers
Database management, creation, and delegation
Easy script installation from their library of over 100 web applications
Beyond the features highlighted above, you're also able to easily customize your UI for a unique and custom-tailored user experience.
The three different product versions are highlighted below:
Virtualmin is their core web panel offering. It offers multiple means of managing your server, from the web, through a mobile, app, using the command line, or even using a remote HTTP API.
Virtualmin Professional is a higher level of their core offerings and comes with upgrades like commercial level support, and the ability to host a higher number of domains on each server.
Cloudmin is based upon the Virtualmin framework and helps users build out and deploy cloud services. It offers support for Xen, OpenVZ, Amazon EC2, KVM, and Google Compute Engine.
DirectAdmin
DirectAdmin is a very easy to use control panel for Linux and BSD systems. It's very stable, fast, and intuitive. Plus, its low price point makes it accessible to most website managers. It also offers support for managing multiple customer setups.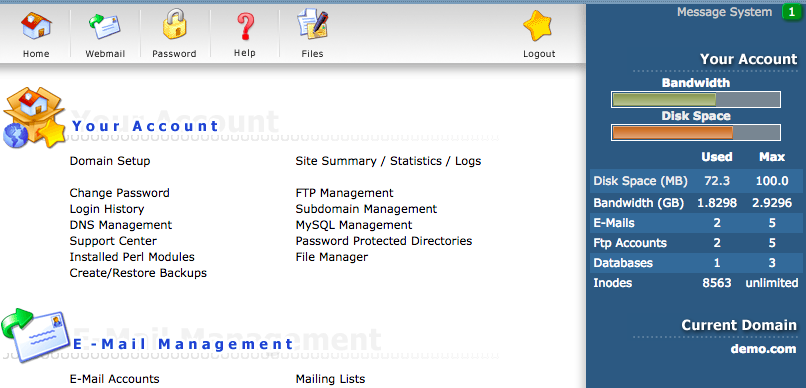 It offers you three different access levels, Admin, User, and Reseller, and offers you a wide variety of features, which we highlight below:
Easily create additional admin or reseller accounts
Create, modify, or delete any DNS records in the system
IP address manager
Ability to view the complete usage statistics
DNS clustering
Built-in spam fighting tools
FTP management
MySQL database creation and management
Regular site backups
A selection of plugins to further extend the functionality of your web panel
BlueOnyx
BlueOnyx is an open source Linux web panel that utilizes the Scientific Linux and CentOS distributions to run. Although the interface isn't as intuitive as some of the other control panel's highlighted, it does offer a GUI interface and all of the features you've come to expect.
Some of its most useful features include:
Preconfigured software like ProFTPd, Sendmail, Apache, MySQL/MariaDB, Mailman, and Dovecot, and much more
Reseller management to enable the creation of multiple virtual sites, along with end-user GUI access and service management
Brute force login protection and detection
Ability to use different versions of PHP on different sites
SSL certificate installation and management
Creation and management of MySQL databases
Email account management and email message import and export
Built-in site traffic analytics
Third-party apps and integrations are available, both free and premium
Multi-lingual support and GUI availability
If you're looking for an open source web panel that will let you manage multiple sites from a single dashboard, and you require a Linux environment, this is a solid choice.
Core-Admin
Core-Admin is designed for more advanced level users. One of its core functions is to provide users with the ability to manage multiple server environments via a single control panel. It has common features, like, real-time log analysis, IP blocking, cron management, process and services viewers, and much more.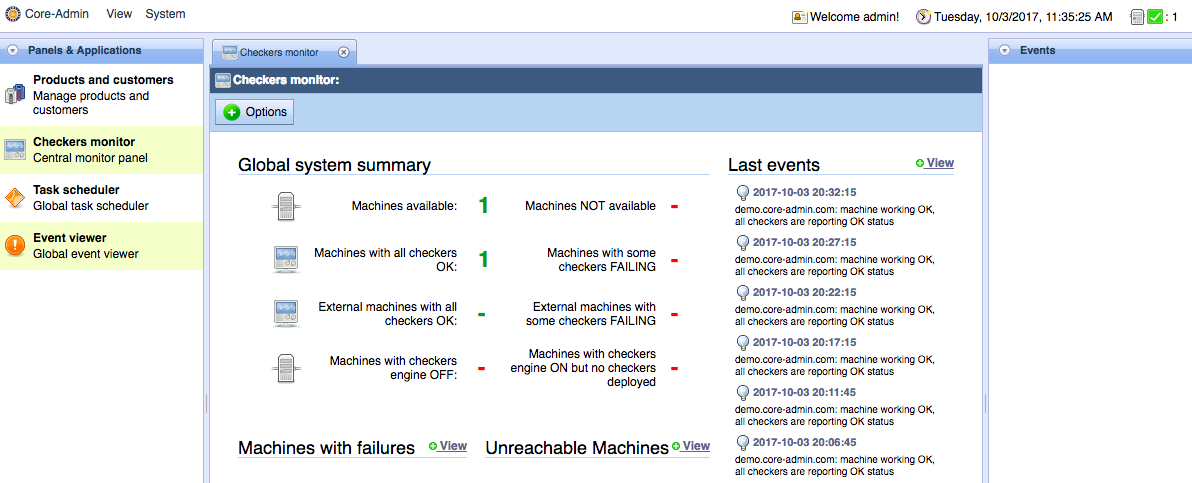 It also boasts a powerful permissions system that lets you easily delegate permissions at a platform, machine, or application level. Other features offered by Core-Admin include:
Extensive security options to block and manage threats
ISP ready, including mail servers, DNS, web servers, and FTP servers
Real-time file watching to know the exact moment changes take place
Secure TLS connection
If you run multiple servers and want to access them from a single easy to manage location, then this is the control panel for you.
InterWorx
Interworx is a control panel that lets you manage your web hosting along with your Linux servers. It's highly flexible and can be customized to suit the needs of the sites you're managing. It's broken down into two different web panels that serve different customer needs. The first is called NodeWorx, which helps you manage your SiteWorx hosting account. The second is called SiteWorx, which allows you and your customers to manage their hosting accounts. Below we offer a feature breakdown of the two.
NodeWorx offers a wide array of server management tools. You'll be able to do things like:
Set up various hosting plans and accounts
Manage server resources
Create reseller hosting accounts along with permissions
Create and manage MySQL databases
Manage your DNS
Setup spam and virus protection, and firewalls
Create and manage domain-specific email accounts
SiteWorx offers an easy to use interface that will allow your users to manage individual hosting accounts.
Some of its features include:
Manage your domain names
Set up email accounts
Manage MySQL databases
Install additional software with Softaculous
Analyze your traffic
Backup your website
i-MSCP
i-MSCP is an open source control panel that shines in its flexibility. It's designed to suit the needs of hosting service providers, IT professionals, and ISPs. It can help to simplify shared hosting management on Linux servers.

It's equipped with a wide range of different modules that can be used to customize your setup. Plus, it readily integrates with existing services like Dovecot, Bind9, Courier, ProFTPd, and Apache2. You'll also find a plugin store that will allow you to add even more features to your setup. Some of the most popular plugins offered, include:
SpamAssassin to help you manage email spam
LetsEncrypt to provide free SSL certificates
Monitorrix for improved system monitoring
PhpSwitches to provide additional versions of PHP
Vesta
Vesta is an open source web panel that's very speedy and lightweight. It doesn't require a ton of resources to run and still has very high performance. It's not particularly geared towards enterprise-level users who demand multiple server management but instead caters to users who manage single or multiple sites on the same server.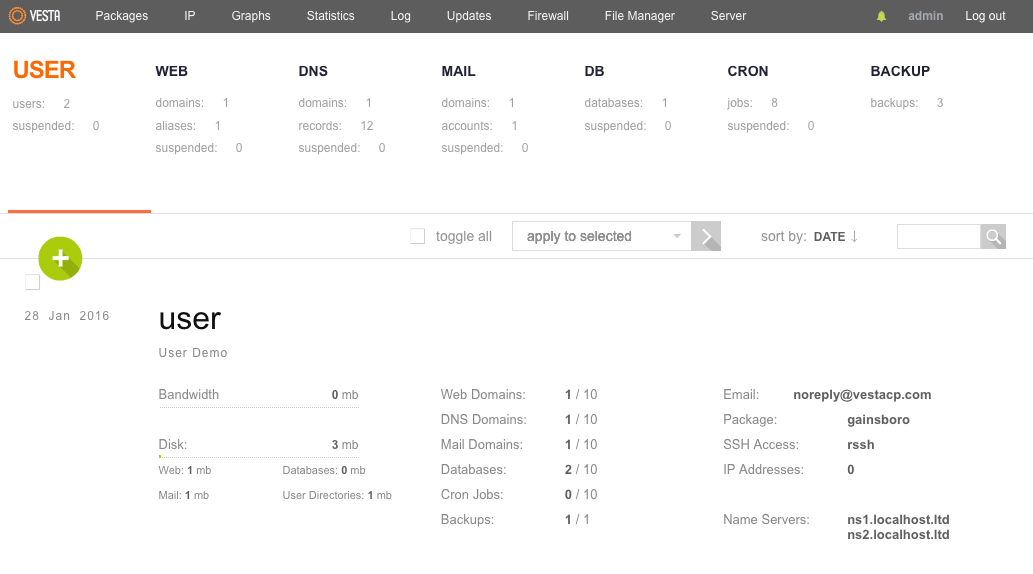 It utilizes Apache for back-end management and Nginx for the front-end. Some of the core features of this web panel include:
Firewall protection and password management
Support for over 26 different languages
Server monitoring and analytics
An integrated backup system
A CLI interface for users who prefer terminal
DNS management
Email management
MySQL and PostgreSQL database management and creation
FTP management
If you're looking for a very fast control panel with a clean and intuitive interface, then Vesta can be a great option for your needs. Plus, since it's open source it's entirely free to use.
Sentora
Sentora was founded by a previous team member of ZPanel. It's based upon the foundation of Panel and provides small to medium-sized ISPs with a flexible and easy to use web panel. It's designed to be incredibly simple and straightforward. Plus, there are a variety of add-ons that allow you to customize your control panel as you see fit.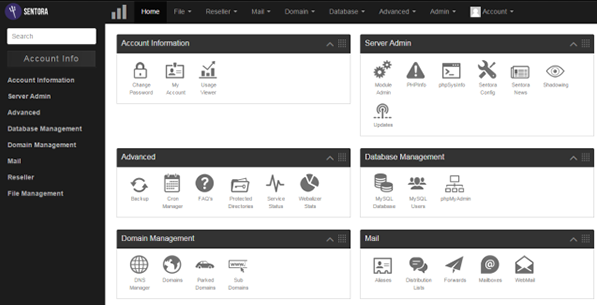 Some core features of Sentora include:
The ability to manage multiple clients from a single server
The ability to manage various user quotas including, mailboxes, domains, bandwidth, and more
Branding to download custom themes or build your own for a unique backend
Multiple-language support and translation packs for virtually any language
The ability to offer reseller hosting and sell in a "white label" environment
Another advantage is that Sentora is very easy and fast to setup. It's bundled with multiple modules, so you can have your hosting environment up and running as quickly as possible.
Ajenti
Ajenti is a unique control panel in that it's Python-based. It's very lightweight and has a clean and intuitive user interface, which should simplify task management. Ajenti also boasts incredibly high download numbers.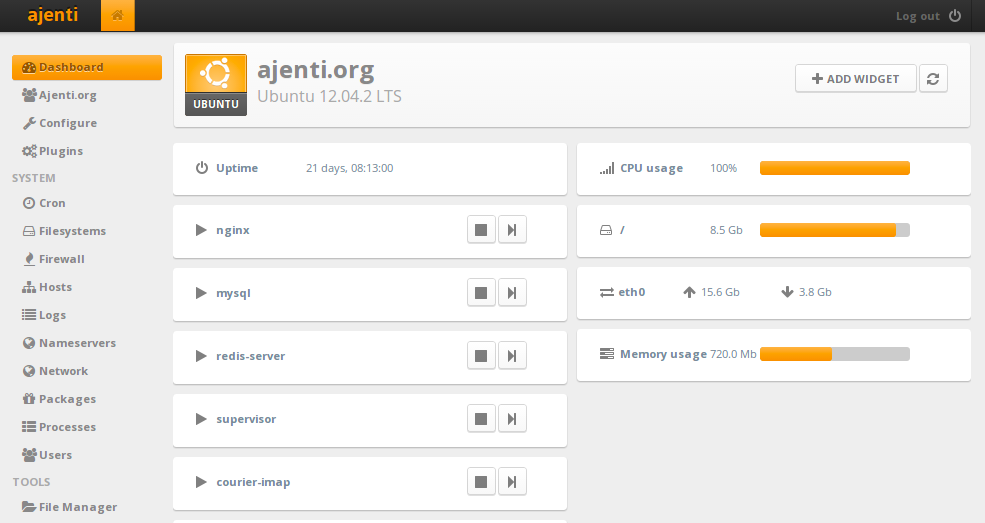 It includes additional plugins to help with server and system configuration, management, and overall monitoring. Plus, it doesn't mess with your existing configuration, so you can install it safely. It offers you all of the features you could potentially want in a web panel, including:
An easy to access file manager
Firewall setup and protection
Terminal access
Bundled software including, MySQL, NGINX, and OpenVPN
DNS management
Server monitoring and analytics
User permissions
CentOS Web Panel
CentOS is a free open source web panel designed to help you quickly and easily manage both dedicated and VPS servers. It's incredibly feature-rich and offers a variety of modules to help customize your setup.
Below we highlight the core features of this web panel:
System management, including service and hardware status, network configuration, and a backup manager
MySQL database management, along with live monitoring
Easy user management, permissions, and monitoring
FTP and file manager access
DNS manager
Email management including RoundCube access, and built-in anti-spam and antivirus
Shell access manager
Built-in firewall
SSL certificate creation and management

If you're looking to extend the functionality of your control panel even further, then you can use the Softaculous auto installer to install one of the 337 scripts, or 1115 PHP classes available. Plus, if you're switching from cPanel to CentOS, there's a migration tool which will restore your MySQL databases, users, and website files.
Closing Words
The web panels profiled above are the most commonly used and updated. However, there are still dozens more control panels in existence. If you're interested in learning more about the various control panels out there today, then check out this resource.
Hopefully, the overview of the above web panels will help you make a better decision about which one is best suited for your needs. All of the options above are solid choices. There is no best web panel, but simply the one that's best suited for your needs. Some web panels are better suited for advanced users, while others cater more readily to those who don't come from a development background.
If you're using a beginner hosting environment, then chances are the control panel will already be bundled in with your hosting package. However, if you're an advanced level user, then you may have more control over which control panel you want to use to manage your site.
Now, over to you. What's your absolute favorite control panel for managing your website? Please share in the comments below.
The following two tabs change content below.
Jamie Spencer
My name is Jamie Spencer and I have spent the past 10 years building money making blogs. After growing tired of the 9-5, commuting and never seeing my family I decided that I wanted to make some changes and launched my first blog. Since then I have launched lots of successful niche blogs and after selling my survivalist blog I decided to teach other people how to do the same.
Latest posts by Jamie Spencer (see all)